A product page is like a salesman.
It should be able to answer the customer's questions about the product, make it really clear why they should purchase, and make it easy for them to get the item they want.
That's a lot for one page. Especially when it can only have a one-way conversation with a user who will judge your site in less than 50 milliseconds.
Not only that, with thousands of eCommerce sites out there, it's hard to know what works and what doesn't.
The Gorillas at HQ have poured over the findings from Conversion XL, the leaders in all things website optimisation, to bring you 4 small changes you can make to your product pages to spend less time stressing, and more time selling.
1. Big Clear Images
If you have to squint to see what your product looks like, I have news for you friend. Your image is too small.
Think about it this way. People purchasing on the internet miss out on the tangible element of buying a product. They can't touch it or move it around with their hands to see it at all angles, so they have to do it with a screen and their eyes.
Make sure you have images of your product from different angles with a plain background to make the product stand out. Don't forget to make them a high resolution too, so users can zoom in.
Simone Perele even includes a video of their product to show you how it moves on the person. All these angles, videos and images can help replace that ability to feel it.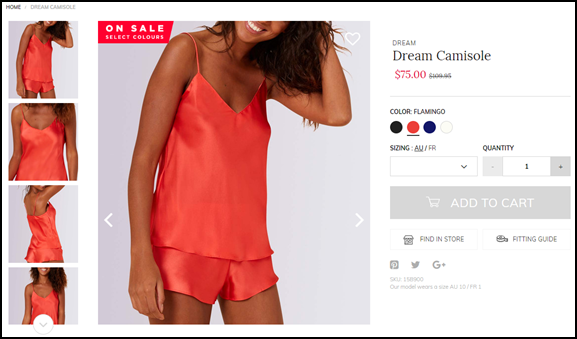 Does your product come in different sizes?
Show it!
It's one thing to say it is 7", it's another to show it in context. ThinkGeek shows you Timmy Spock next to a man to clearly show his size.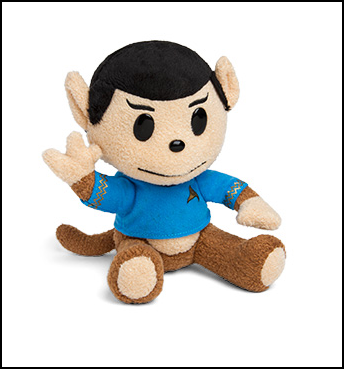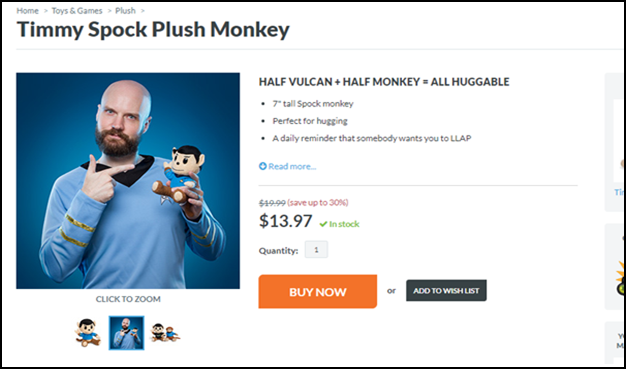 2. Offer Clear Concise Product Information
You have them on the hook with your beautiful clear images, now it's time to tell them what your product is all about.
Clear, concise information is always going to work better than your best sales content. Shoppers these days are pretty savvy. No doubt they have multiple sites open and are comparing products as we speak.
Avoid things like "World Famous Gorilla Whisperer". Can you back that statement up? Try something like "Voted #1 Gorilla Whisperer by Gorilla Magazine 5 years in a row". Be specific.
What are the fears, uncertainties or doubts they have about your products? Make sure you answer them on your product page. If you can answer their question as they are thinking about it, they can move on and make their decision faster.
Amazon do a great job of this. They have the key features outlined in dot points above them for easy scanning, then for those who want to dive into more technical info, they can read on down the page.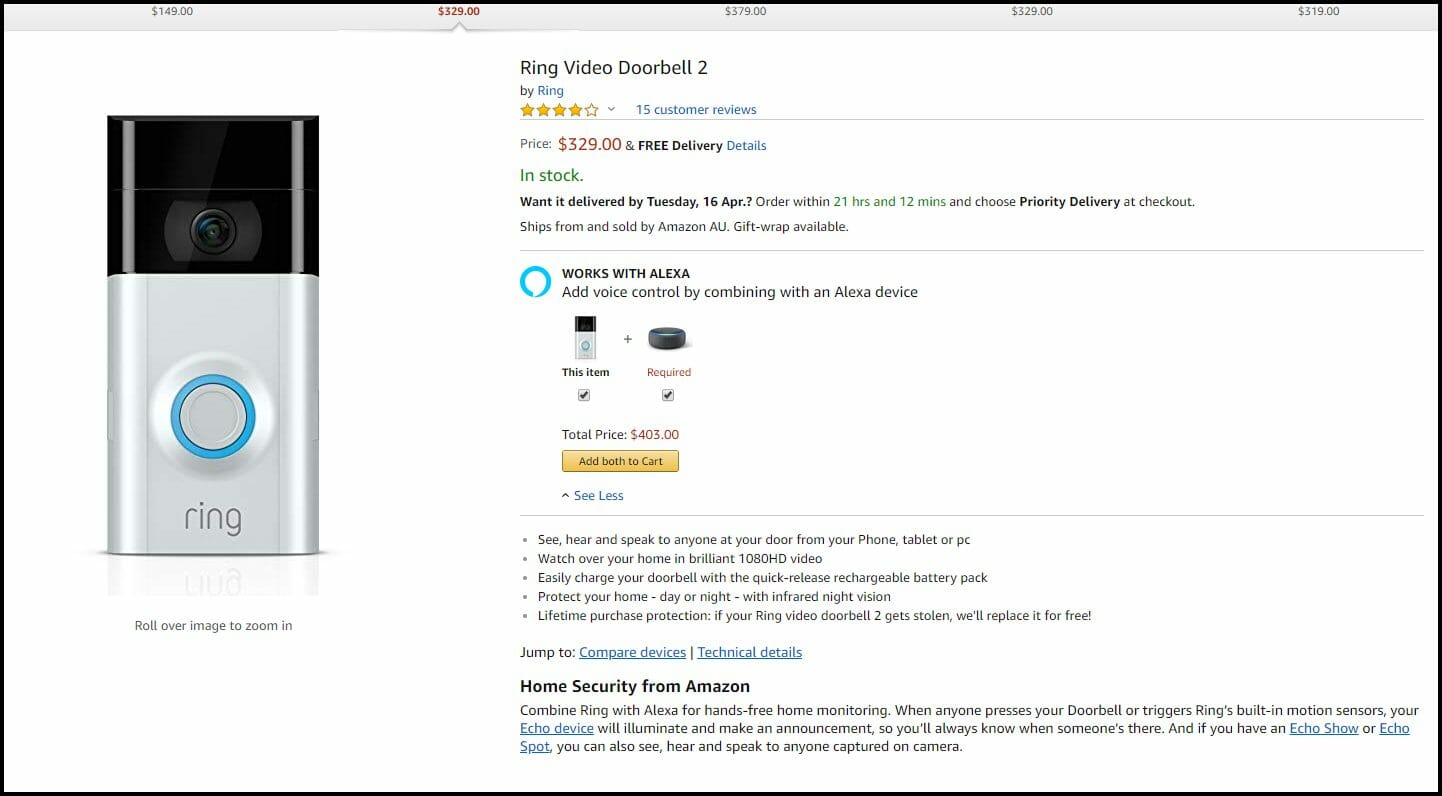 3. Easily Identifiable Call To Action
You captured their attention with your amazing photos, you clarified what the product is about and you addressed all their fears, doubts and uncertainties about buying your product. Now it's time for your customer to take the next step and click that buy button.
Whatever you do, make sure you colour to contrast your Call to Action. While the jury is out on the colour it should be, ultimately it isn't about the colour. It's about the contrast.
EB Games is a great example of this. They use a big green button that stands out against the blue used throughout the site. There is no mistaking it. I can get my VR Headset by clicking on the green button.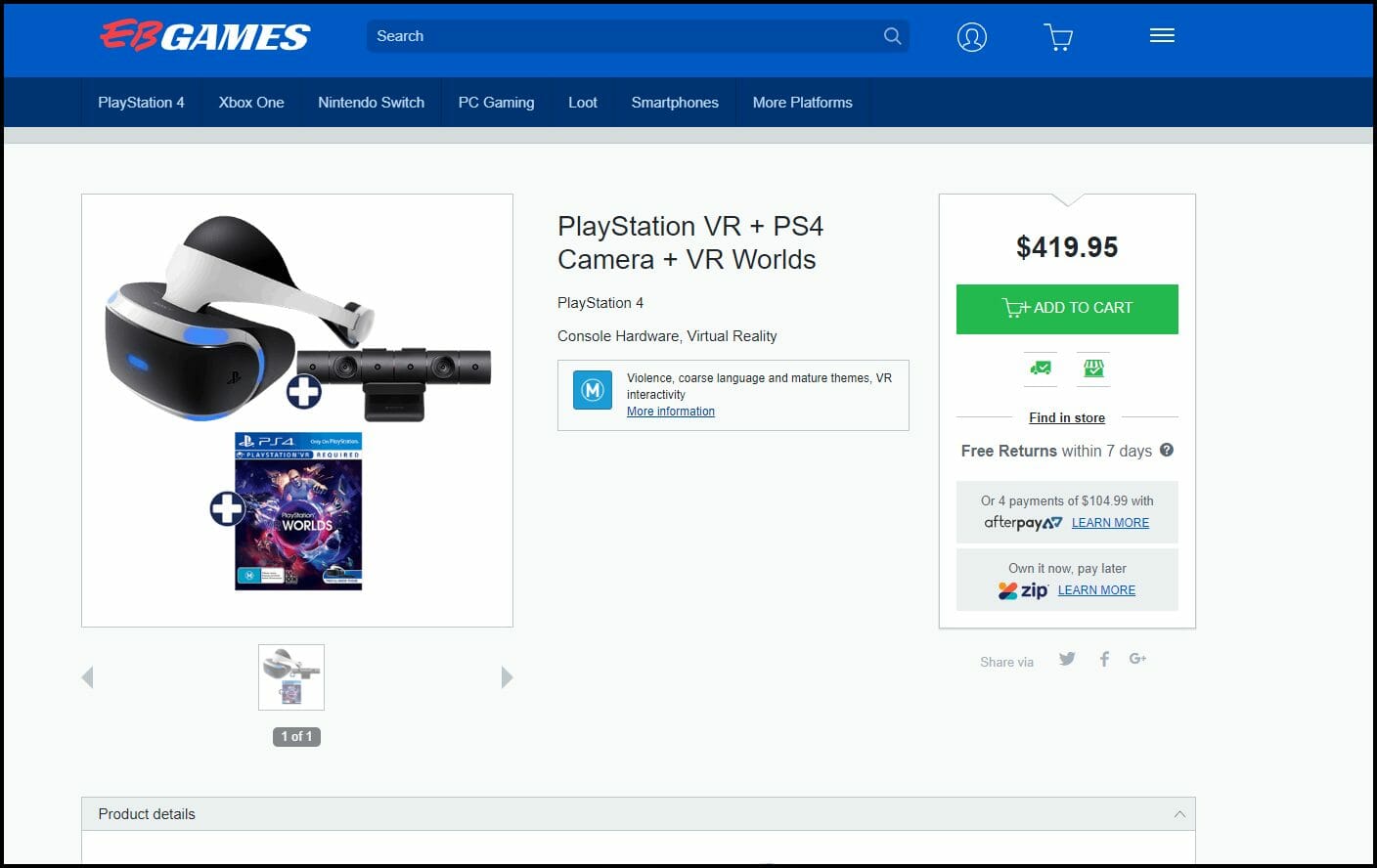 The call to action itself is pretty important too.  Do you use "Buy Now", "Add to Cart" or "Order Now"? While there are a couple of factors that determine this, like industry and product type, it's important to test this on your own site. "Add to Cart" performs the best in a lot of situations. It feels like the customer can back out at any time. They aren't locked into the purchase.
4. Credibility Indicators
People are pretty protective of their details. They aren't just going to give them out to any ol' website – especially if that website looks dated. If your site looks dated, who's to say your site security isn't out of date too?
If you are like most businesses, you don't have the luxury of being someone well known (like Amazon). So you need to work extra hard to prove yourself.
While maintaining a modern and relevant design is important, there are a couple of other things to consider too.
This sounds simple, but adding your shipping & returns info is a no-brainer way of helping people trust you. They want to know if they don't like it, they can return it. Or if they order today, it will arrive in 3 days. Adding simple things like this can make a world of difference.
You can take it a step further too with handy things known as trust symbols.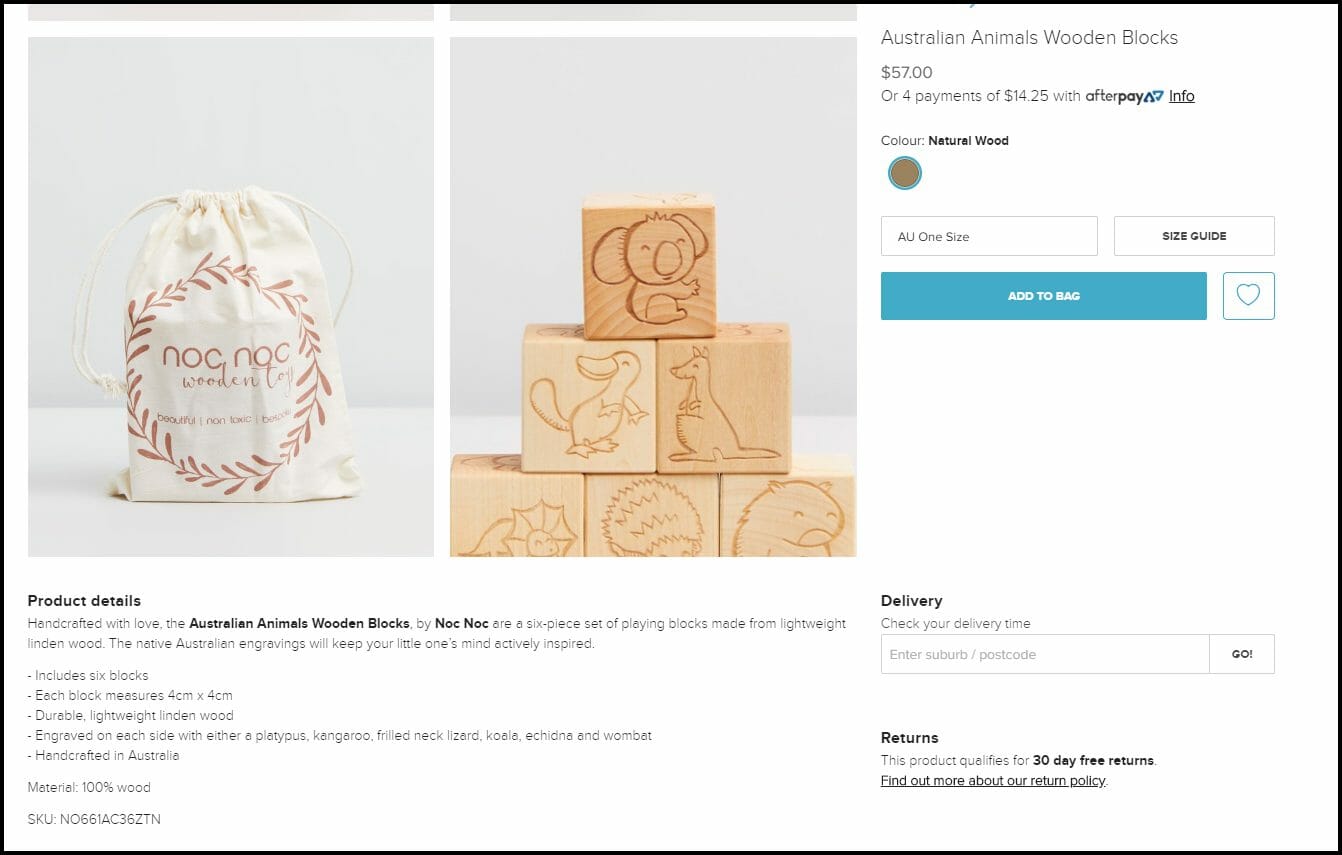 Trust me when I say trust symbols are important. Do you have Free Returns? Say it! Do you have Afterpay? Then show it. People like to have reassurance, especially if they are purchasing for the first time.
Elements like this might be small, but they are mighty. Once they've purchased from you and have seen how amazing your customer service and products are, you move from having surface credibility to earned credibility in their eyes.
At the end of the day, not every website and the product page are the same, but by adjusting these key elements, you can improve your conversion rate and turn those visitors into repeat customers.
Why not try some of these tips for yourself?
Want to take things a little further? Let us help you identify areas to improve your website. Give us a call or shoot over an email to see how we can help!