There's nothing worse than getting a negative review on Google.
Finding a one-star review and some harsh words from a customer or client can knock your confidence around. Most business owners would lose sleep over it, wondering what went wrong and whether it's going to affect the number of customers converting online.
Negative reviews can have a major impact on click-through-rate. According to a recent survey conducted by marketing gurus, Duct Tape Marketing Consultants, 54% of people read online reviews before purchasing from a local or online business, and even less click through to a website with less than 4.5 stars – in fact, 60% of people who read negative reviews choose not to engage with that business.
Reviews matter. A lot.
People want to know that the business they're engaging with is reputable and trustworthy. Seeing a sour review from a fellow shopper doesn't build much confidence in your customer base or clientele. So how do you deal with negative reviews on Google My Business?
Rule #1. Please, for the love of the gods, don't panic and lash out
The absolute worst thing to do in response to a negative review is get mad. Arguing with a customer or client in an online forum is an absolute no-no.
Ever heard the phrase "the customer is always right?"
As much as no one in customer service likes hearing that, the same rule applies online. Challenging the person who left the review will look worse on your end and than theirs.
For example, calling them names and using all caps (as you speedily type a response in between ordering more stock and filing receipts with accounts) will make you look like a nutcase, causing future customers who see the review to steer clear of your business.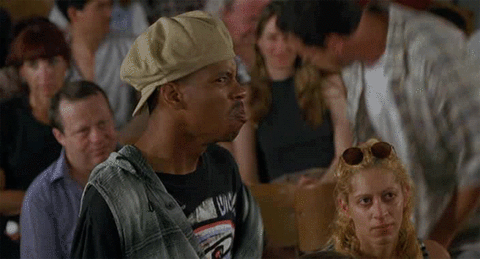 Don't get emotional. Instead, assess the situation and check your records to get some context on the situation.
If the reviewer was a customer, look at what they bought and the time of service. The more you know about the situation, the more equipped you are to handle it and learn from past mistakes.
Rule #2. Respond as quickly and calmly as possible
It's important to respond to reviews as fast as possible – good or bad.
Quick response times show your commitment to customer service and satisfaction, while also engaging with customers on a personal, positive level. Responding to negative reviews also pacifies cranky customers while showing potential customers how you respond to customer dissatisfaction, reassuring them that the same won't happen to them.
Here are a few tips for responding to negative Google My Business reviews:
Show empathy and apologise, even if you know you're the one in the right.

Don't make excuses. It doesn't fix the problem. Leave the past in the past and own up to the problem.

If their complaint is legitimate and it did happen, assure them it won't happen again.

Offer some sort of solution. Whether it's a replacement item, a refund, a discount, or another consultation – give them the option and give yourself a chance for redemption.

Keep it brief. The reviewer doesn't want to read a 12-page monologue of excuses.
Rule #3. Respond to fake reviews – but still flag it with Google
Did you know some people get paid to leave positive and negative reviews online? Yep! Some reviews are bound to be fake, but it's still good to respond because these are still comments customers can see. Apologise and offer solutions as normal.
You can flag a fake review with Google My Business. Log into your account and navigate to the "Reviews" tab in the menu on the left hand side of the page.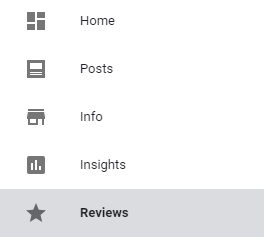 Find the fake review and click the three dots on the right hand side. A box should pop up which says "flag as inappropriate".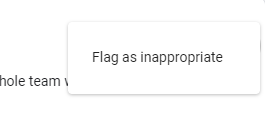 Think your negative reviews might be fake? Keep a look out for these characteristics in their comments:
Their complaints lack detail. If their comment seems general and provides no clear reasoning, it could be a fake.

The reviewer leaves a one star review but no comment.

Their name doesn't seem legitimate. Sure, some people have amazing names, but "Rocky Stallone" ain't going to fly.
Rule #4. Take the criticism and learn from it
Keep getting negative reviews on Google My Business?
It might be time to change things up a bit. If customers and clients keep leaving the same mediocre reviews, it's time to accept that it's not them.
It's you.
If something isn't working for your customers, spend some time working through the issues and come up with some constructive, proactive solutions to help improve your business.
This could involve providing more customer service training for staff, reevaluating the roles of some team members, rewording advertising material to be clearer for customers, or even updating the website to be more user-friendly.
Look at this confronting, uncomfortable experience as a learning curve. It could be a turning point for your business. See more tips on Google My Business here
Always respond to your reviews, even if they break your heart
Receiving bad feedback is painful. No one likes hearing complaints about the sweat, blood and tears that have gone into their own business… however, it's going to hurt more in the long run if you let those nasty comments sit and fester in Google My Business.
In 2018, 78% of customers like hearing from management about their reviews. It makes them believe the business cares about them. Whether their review was good or bad, it's essential to respond and show your customers you appreciate their business.
Need more advice about responding to Google My Business Reviews? Get in touch with the team from Gorilla 360. We can offer some guidance on the touchy subject.