Clickbait headline, right?
The Ecommerce Jungle Gym is no place for empty promises.
The ecommerce content marketing tactic I'm talking about will help you get a head start on the Amazon's of your niche.
And you don't need to wait until the end of the article for the big reveal.
The tactic: targeting informational keywords with valuable content.

What is an informational keyword?
How can this content help you beat Amazon?
For those answers, you'll have to read on!
Short On Time? Your Skim-Read Summary:
Too busy to read the whole thing? We get it: logistics, synergies, KPI's – all that stuff. Here's the skim read version. You really should read the whole article though…
You can click on the dot point that takes your fancy and head straight to the relevant section.
Ecommerce sites face the temptation to focus solely on keywords that include indicators of a strong buying intent.
Phrases like "buy," "discount," "cheap," and "best," loom with magnetism for any online retail pro.
Sales pay the bills, and add-to-cart clicks are the only ones we want to pay for.
But informational and educational keywords (like "how to…" and "I need to…") offer ecommerce websites a huge opportunity to establish authority and credibility at an early stage in the buyer's journey.
Visitors coming to your website to learn or research a question may not immediately convert – but traffic your site earns from informational keywords gives you the chance to associate your brand in the minds of visitors as the go-to resource in your niche.
When these researching shoppers are informed and ready to buy – your brand has already earned their trust. You don't need to beg, promote or discount. Your helpfulness is likely to be rewarded with a full-price purchase.
Why targeting informational keywords can help you take down the biggest of retailers
This ecommerce content marketing tactic comes with one juicy advantage.
Informational keywords are generally less competitive than commercial keywords.
This makes it easier for you to find keyword opportunities for which your site has a higher ranking probability score.
The Amazon, Walmart, or Ebay of your niche will be hard to knock out of the number one ranking for commercial-intent keywords. Oh, and don't even think about bidding for paid Google ads against the gargantuans of your industry (unless you can afford to keep paying for customers over and over again).
But these huge brands can't match the intimate knowledge, passion and expertise you and your team of real human beings have about your customer's intrerests. You can snatch those potential customers right out from underneath their nose.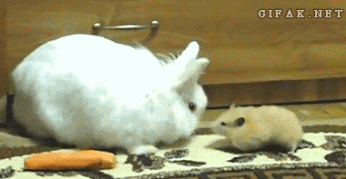 I want to teach you how to snatch the carrot just like this little guy.
I want to show you how to attract more customers for nothing before they're ready to buy.
Your helpful content will build your authority, position you as the trusted resource, and establish your brand as the number one option when your prospect is ready to purchase.
If you want an inexpensive, targeted and enduring way to find more loyal repeat customers, you need to read on so I can explain how smart ecommerce brands can use content marketing to rank for important informational keywords.
The ecommerce SEO technique the big retailers aren't using
87% of consumers turn to search as their first resource when they have a question or a need, according to a Google study on consumer behavior.
To explain how informational keyword targeting pays off in practice, I want to share six important questions I used Google to solve.
We'll dissect the smart SEO and content marketing tactics 6 successful ecommerce brands used to rank for my search query, answer my question with helpful content, and convert me into a satisfied online store customer.
#1. When I learned to stand up paddleboard in Hawaii
#2. I hosted a gazillion people for Easter brunch
#3. I started raising chickens
#4. I moved into a new home
#5. I was tasked with dessert duty at family night dinner
#6. I travelled across the country for a friend's wedding
Oh, and there's one really, really important thing to consider before we explore the helpfulness of these educational online retailers.
You know who wasn't there to answer my questions like "what do baby chicks need" and "how to maximize a tiny living space"?
Amazon.
Ebay.
Walmart.
And that, my friend, represents an opportunity for you to outrank the giants.
I know how passionate The Gorillas are about helping ecommerce Davids take down their Goliath.
I'm about to expose an Achilles heel.
All you need to do is load up your slingshot and fire the weapon!
#1. REI and the Knowledge-Packed Tutorial
Earlier this year, I had the pleasure of visiting family in Hawaii.
And what's the first thing you do after you exchange your first 'Alohas'?
The beautiful blue seas were calling my name, and we had a brand spanking new paddleboard begging us to get amongst the waves.
The only problem?
Nobody knew how to use it!
And I definitely didn't want to end up like this guy…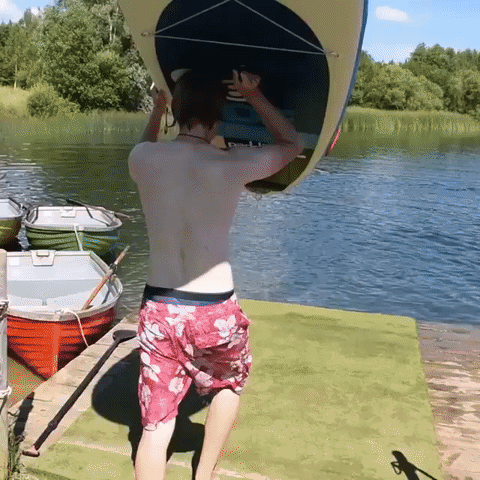 So off to all-knowing Google I went.
"How to stand up paddleboard" was my query.
But here's what I really wanted to know:
How do I even get that enormous board 100 meters from the garage door to the water?
And what should I be wearing when I do this?
How can I prevent myself from looking like a fool when I take this thing into the water?
And once I'm up, what do I do?
Is there a "right" way to fall off?
There to address every single one of my SUP-related fears and anxieties was the brand just rated the most respectful and the most authentic, in C Space's Customer Quotient study.
I'm referring to the content marketing adventurists – REI.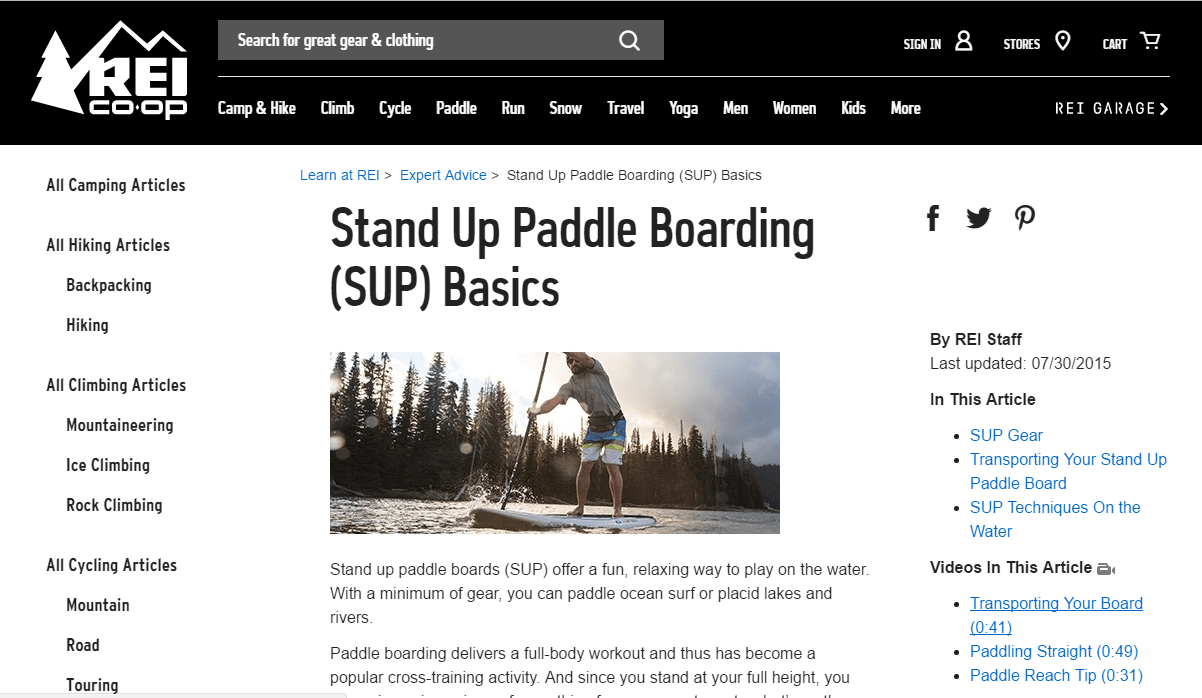 This REI tutorial is a brilliant example of amazingly useful content.
Apart from positioning REI as an expert source for information on stand up paddleboarding – REI gains the SEO benefit of having relevant, thematic content that supports their brand. This article (and the clicks that accompany it) tell Google and co. REI is the go-to supplier of clothing, gear, and footwear for outdoor activities.
What lessons can we take away from REI's informational keyword targeting?
Be thorough

. You may be trying to target the keyword "how to stand up paddleboard", but why stop there? Anticipate your reader's follow up questions. Give them the information they need to know to be successful. Prevent your reader from having to go back to the search engines to find someone else with more expertise than you.
Show and tell.

One thing I find so helpful about REI's tutorial is the combined use of text, images, and video. It's fine to use text (and perhaps images) to provide an outline of the gear someone will need to get started with the sport. But it's far better to

show

someone how to paddle with beautiful, responsive multimedia.
Make it easy

for your readers to find what they need. No, they may not be in purchase mode straight away. But if they love their first experience out on the water with a borrowed board, they'll be back to pick up their own gear. Remember,

68% of people use search

to help with things they want to address at some point in the

future

. You can prove you understand their needs so they'll come back when they're ready.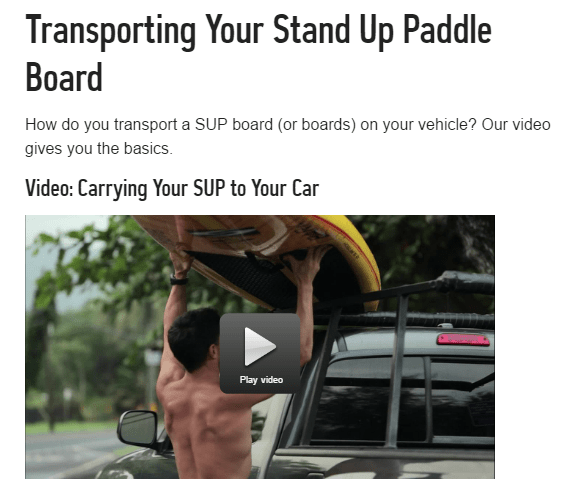 #2. Wayfair and the Comprehensive Resource Page
On to stop two on our tour of ecommerce sites that are totally crushing it with excellent content.
The backstory: I love hosting company for special occasions. Sometimes I go overboard and invite way too many people, and then freak out about how on earth I'll be able to pull off Easter brunch for 30 friends and family members.
What am I looking for when I Google "hosting Easter brunch"?
What I'm really hoping for is someone to equip me with everything I need to know to pull off looking like a brilliant hostess, an excellent cook, a dazzling decorator, and an all-around Superwoman.
And who came through for me?
Wayfair – an ecommerce brand – with their ultimate guide to hosting Easter brunch.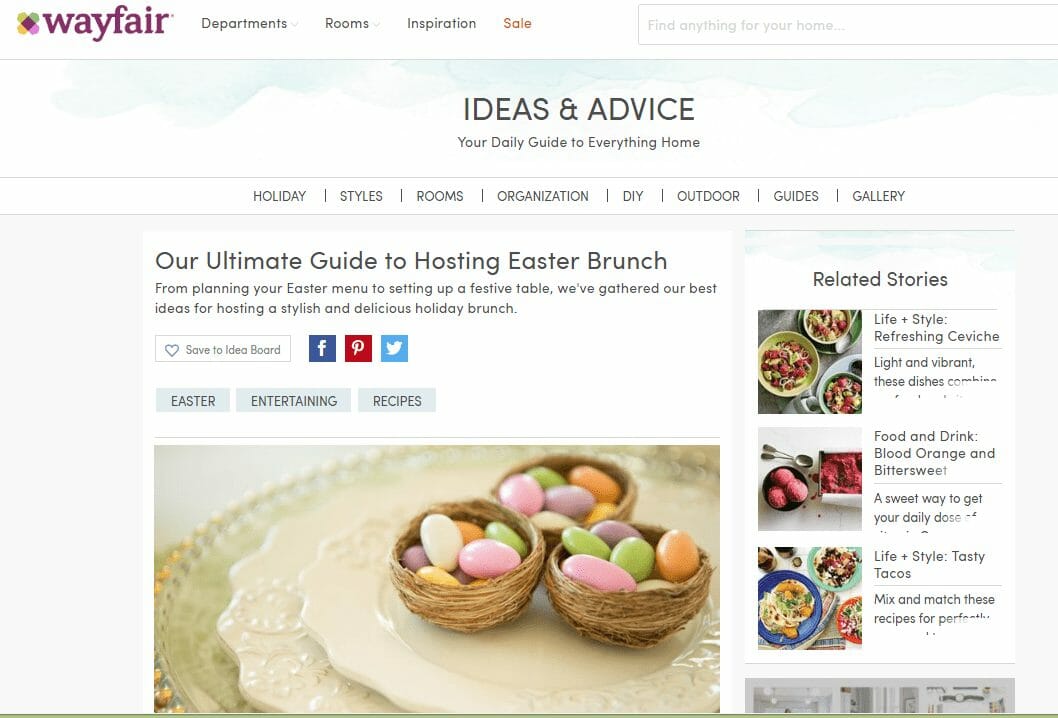 Wayfair's guide is a well-organized, image-rich resource page covering all aspects of this major entertaining feat.
The page is crammed full of helpful recipes, table centrepiece ideas, and links to individual tutorial articles for Easter crafts, decorations, and more.
What lessons can we take away from Wayfair's informational keyword targeting?
Curate for comprehensiveness. Wayfair is not in the business of developing recipes. These guys are more interior designers than celebrity chefs. But you can't claim to have an ultimate guide to hosting Easter brunch without some insights on preparing the actual feast. So for "Favorite Easter recipes", Wayfair links to a curated list gathered from Country Living's online magazine. If you don't have all the answers to a topic for which you're producing content, don't shy away from providing a curated list of external resources. Also, keep in mind that linking out to bloggers, influencers, and trusted experts with an existing audience will help you promote your work, and build relationships with a big group of potential customers.
Inform, don't sell. It can be difficult for eCommerce sites to succeed with informational content if you prioritise outright promotion over helpful education. The ability to avoid pushy salespeople is part of the appeal of online shopping. Don't try to embed a virtual version of that irritating shop assistant spruiker. Remember why your users found your page – to be informed and find an answer. Earn their trust first. Repeat sales will follow.
Internal links. Big resource pages like this Wayfair example act as a list of your site's greatest hits. This allows you to link back to all of the related content you've created in the past. Both humans and search engines appreciate this because it helps them find relevant information quickly and conveniently.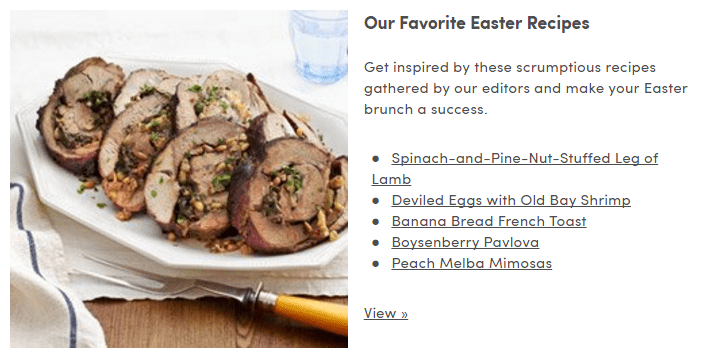 #3. MyPetChicken and the Expert Guide
Earlier this year, I found myself going through a whole lot of cage-free, organic eggs every week.
So I decided that it would be perfectly sensible to raise a flock of chickens in my yard to have an ongoing source of fresh eggs. Off I went to Google!
"How to care for baby chicks" was the query.
The winning content?
MyPetChicken – an ecommerce store/blog hybrid that provides everything you need to know about raising chickens from day one.
As you can see from the screenshot – there's nothing especially fancy about MyPetChicken's guide.
There are no photos, videos or infographics like you saw in REI's tutorial.
What this guide does have going for it is exhaustive detail. There's no question about chicken care left unanswered.
What lessons can we take away from My Pet Chicken's informational keyword targeting?
Low-tech can rank too

. You don't have to be a giant global brand with millions of dollars to create content packed with the information visitors seek. You just need to be comprehensive. Share all knowledge you possibly can on a subject by anticipating and answering the questions a novice might have.
Make it easy to find the products you mention

. While no one wants a pushy sales pitch in an informational guide, they also don't want to have to go rummaging through your site to find something you mentioned is critical for their new chicks. Link out to any relevant products the reader may be interested in with relevant anchor text. Remember –

internal linking

is one of the most underrated ways to dominate ecommerce SEO.
#4. One Kings Lane with Options and Ideas
Another huge event in my life this year was our big move into a new living space. Figuring out how to fit all our old furniture into a smaller new space took some significant research and planning.
The query I Googled: "furniture layout ideas."
And there with a very clever response was the ecommerce homewares giant, One Kings Lane.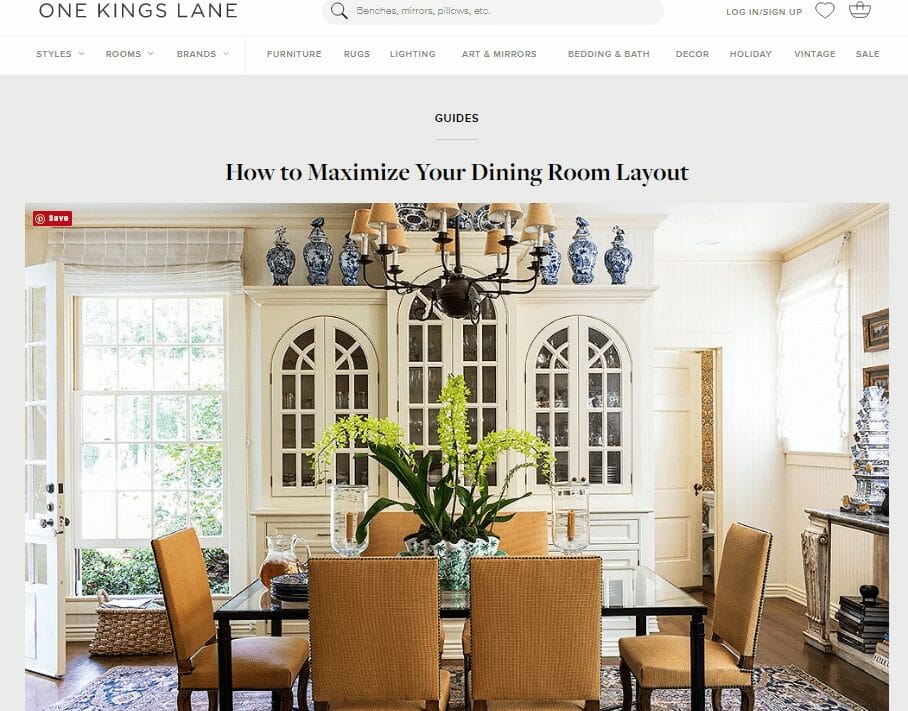 The One Kings Lane guide on furniture layout is broken down into three concepts: formal dining room, pass-through dining room, and dual-purpose dining room.
Each concept includes a quote from an expert that sums up the layout, an outline of the elements you need to make the layout work in your home, a really cool looking diagram that shows you what the layout looks like, and a few furniture pieces and accents (that you can buy at One Kings Lane!) to go with each furniture layout.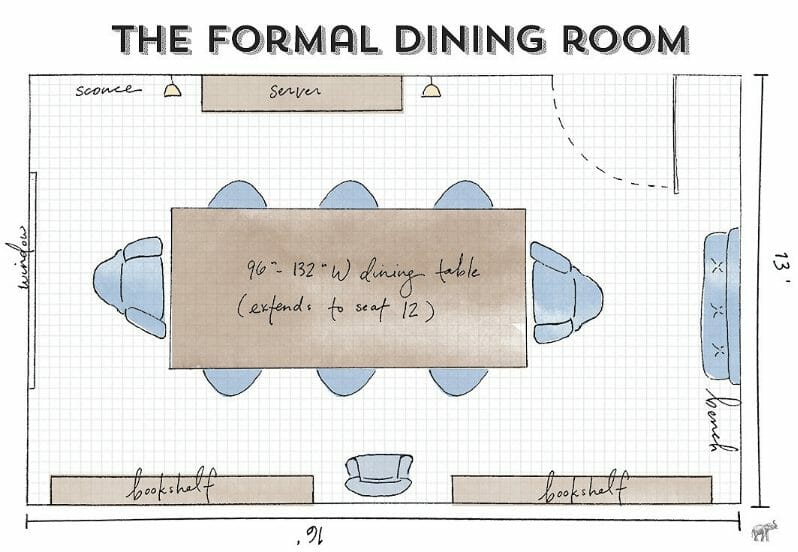 What lessons can we take away from One Kings Lane's informational keyword targeting?

Present options and ideas

. Sometimes the answer needs detail. Other times, your audience is looking for some helpful, creative suggestions to solve the problem. If you're tackling a keyword that includes the word 'ideas' (eg "dorm room decorating ideas", "gift ideas for dad", etc), Give the reader a collection of expert opinions to explore. Your content is not designed to explain or lecture – more to inspire and provoke thought.
Mix your media

. One Kings Lane gives us an example of how to use photos, styled text, diagrams, and mini product grids to create a visually interesting piece of content that the reader will enjoy reading, pinning, and sharing.
Incorporate your products. In my experience, incorporating product images or details within informational content doesn't usually lead to exceptional conversion rates. But that's not the purpose. Instead, product details inserted into blog content adds visual interest, provides a path for the customer to explore, and establishes your store as a trusted seller in your niche – as long as it is contextually relevant, adding value to the experience for the reader.
#5. Bavarian Clockworks Thinks Way Outside the Box
Every Thursday night, I get together with friends for a tradition we call Family Night Dinner.
My favorite thing to contribute is definitely dessert.
Each guest brings something centered around the evening's theme. For our delightful Oktoberfest dinner this year, I had no option but to attempt a Bavarian Black Forest Cake.
Recipe forums and food bloggers tend to dominate the search results pages for food-related keywords. But that didn't keep ecommerce site Bavarian Clockworks (yes – you're right – these guys are a cuckoo clock e-retailer) from competing in this space with their recipe on the "best Black Forest cake".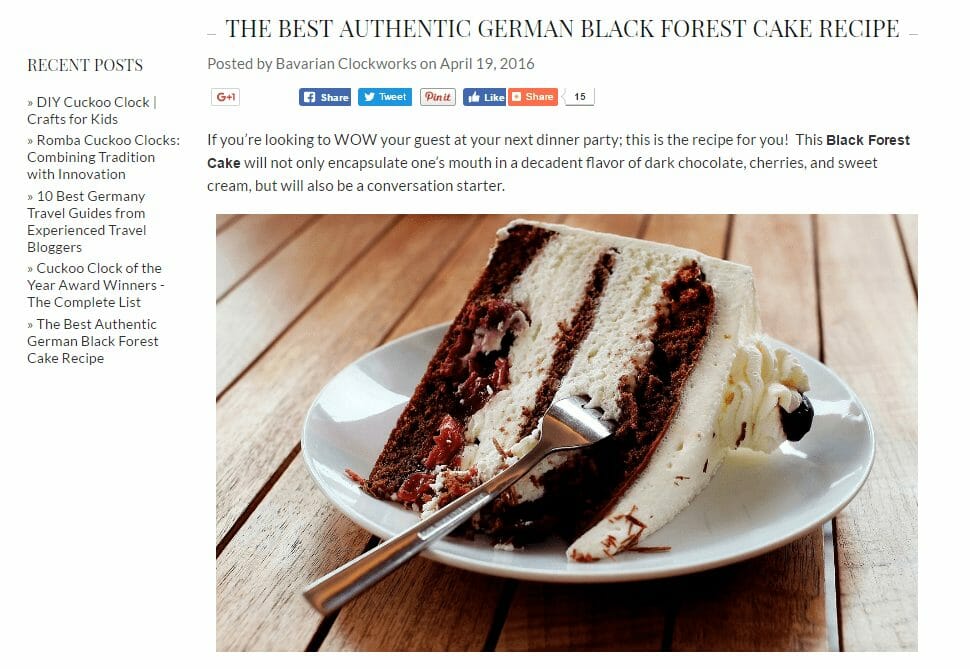 So exactly why would a German clock retailer be blogging about cake?
Think deeper, and the answer becomes clear. There are only so many truly interesting blog posts to write about cuckoo clocks – but smaller ecommerce brands know content marketing is crucial to your SEO success.
If your brand deals in a narrow niche, you may need to think way outside your products and services to attract your target audience. You need to consider the interests of your customer that relate to your brand's values, beliefs and lifetsyle. Don't just focus on the features and benefits of your products.
Some questions to help you think creatively with your content marketing:
What are related activities or ideas that my customers are likely to be excited about?

What are questions, problems, pain points and frustrations people who use my products might have?

Is there an aspect of the company –such as strong ties to a particular geographical location, the founder's story, or a particular social cause the company champions – that is interesting in its own right?
What are the emotional stories your target audience truly cares passionately about?
What lessons can we take away from Bavarian Clockworks' informational keyword targeting?
Give your brand meaning. Create content about the interests your audience shares that your brand believes in. If you can earn your reader's trust – you have a great chance of turning them into a loyal customer.
Write about your audiences interest – not your products.

If you too find yourself producing content about unconventional, distantly-related topics, just be sure to connect the dots for your readers and the search engines.

Explain why your brand cares about something like Blackforest Cake. Bavarian Clockworks are a passionate German brand. Their audience can appreciate the link.
#6. Birchbox and the Art of the CTA
Life hacks. IKEA hacks. Marketing hacks. Kitchen hacks. Optimisation hacks.
It's the new avocado toast.
Everyone wants to know how to 'hack' everything.
This fall, I was in the market for a few travel hacks as I travelled cross country (via plane, train, AND automobile) to get to a friend's wedding.
One of the top rankers for the query "travel hacks" is subscription box e-retailer Birchbox, with their list of 23 genius travel hacks.
Birchbox's listicle features 23 simple "I-wish-I'd-thought-of-that-30-plane-trips-ago" tips, and offers a few big takeaways for your own content marketing.

What lessons can we take away from Birchbox's informational keyword targeting?
Work in product mentions sparingly.

Birchbox's list of travel hacks is not a sales pitch. But they don't waste the opportunity to link to a handful of products that readers might be interested in. Out of 23 tips, four include anchor text linking to products in their store.
Consider a CTA overlay

. When a reader lands on the Birchbox list of travel hacks, they're greeted by a sticky overlay that takes up about 1/8th of the screen. The overlay contains a call-to-action to "Get a monthly box of five personalized beauty samples" with a button to learn more. This is an ingenious way to drive visitors to a more commercial page (a collection or category page) for interested users.
Answer Questions To Attract New Customers
These six ecommerce sites were able to earn top rankings, and generate new traffic by providing the most helpful, valuable content for users searching informational keywords.
This tactic allows you to beat the big guys without the big budget. You don't need to compete with the likes of Amazon and Ebay on price or value – you just need to create the best possible content that answers your potential customers' questions, addresses their anxieties, and provides genuine value.
You can earn your reader's trust, and convert their interest into regular repeat purchases.
If you want more ecommerce-specific SEO and content marketing advice – be sure to check out the 27-page guide to Ecommerce SEO.
The guide is packed full of paractical insights on topics like link building, off-page SEO, optimising category pages, and much more. Download it now to learn from six experienced ecommerce marketing experts including Gorilla 360's very own James Dillon!