Ready to learn the secrets behind Google's new Goal-optimised Shopping campaigns?
In June, I was lucky enough to visit Sydney's Google HQ for a Shopping Bootcamp.
This bootcamp didn't involve any tire swings, vines to climb or cargo net crawls (although I would have been completely alright with that).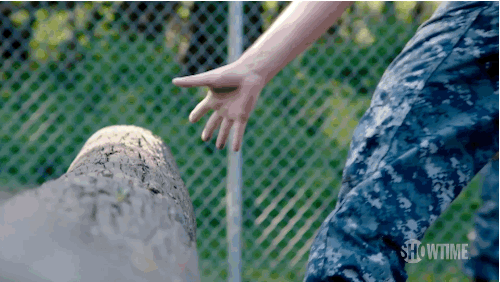 Instead, I walked into the presentation room and took a seat. With a Google pen and notebook in hand, I was ready to begin. But not before some quick networking.
I sat next to a girl named Jess (what a coincidence). Jess spent five years managing AdWords accounts. In front of us, another AdWords assassin had a few extra years experience on top of that. And guess what?
Everyone had several years of AdWords Shopping experience.
Why am I telling you this?
There were roughly 150 people in the room that day (and that was just the Sydney boot camp). Let's say each AdWords pro in that room manages 30 Shopping AdWords accounts, that's 4,400 other companies using Google Shopping in Sydney alone! You've got a bit of competition on your hands.
If you don't have a thorough knowledge of Shopping campaigns then you're at a serious disadvantage.
Shopping pros spend every waking minute of the day optimising product feeds, ensuring all GTINs are added and ensuring your feeds don't get disapproved or worse, your account being suspended.
Running Shopping campaigns is pretty advanced stuff so you need to get it right.
So refine.
And refine again. For the rest of your list (or until you decide to stop running shopping ads).
That's why I want you to be prepared for the new goal-optimised Shopping campaigns. You're going to learn:
What are goal-optimised shopping campaigns and how do they work?

How will goal-optimised shopping campaigns benefit your ecommerce store?

The different goal-optimised shopping strategies

How to get started with Goal-optimised Shopping campaigns
Still not convinced?  Here's one more reason to pay attention.
During the bootcamp, Google hinted that sometime in 2019 (we don't know when) the current Shopping campaigns will be switched off and you'll be using the new format.
What are goal-optimised shopping campaigns and how do they work?
The benefit of Goal-optimised Shopping campaigns is that you can define what you want to happen (the goal). Google then applies user data to match ads to customers (minimising wasted ad spend and maximising conversion rates).
Goal-optimised Shopping campaigns combine your existing product feed with Google's fancy robots to show ads to people who are likely to convert at your chosen return on ad spend.
Here's everything you need to consider when using the current Shopping Campaign set up:
Audience targeting

Device targeting

Managing multiple campaigns

Bid adjustments

Placements
Here's how Goal-optimised campaigns work.
Step one: Google asks you to set up your business goals based on your objectives, it will ask how much you are willing to spend for an enquiry or conversion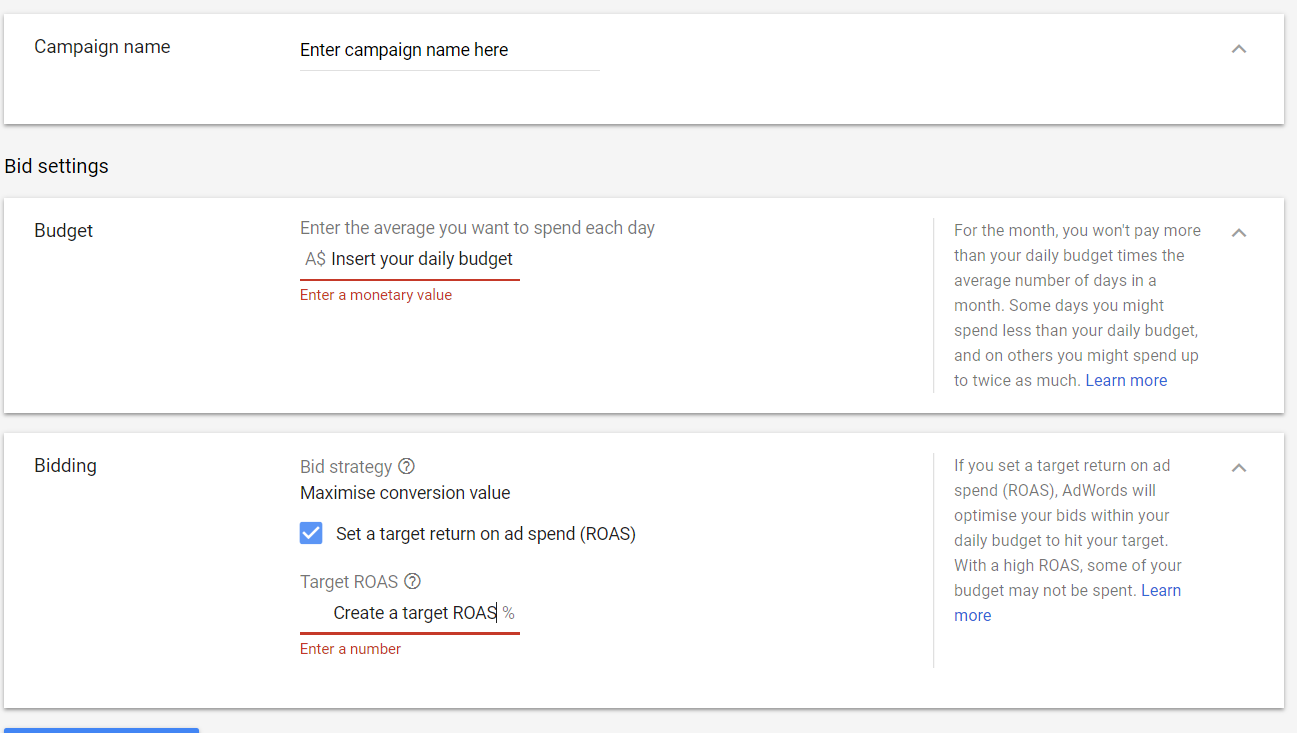 Step two: Google will use its advanced algorithms to estimate the probability of a searcher converting, and will adjust bids on your behalf. It uses the following data to determine whether a user is likely to convert:
Context signals

— device, geolocation, time of day, browser

Product attributes

— price competitiveness, the price of the product

User's past search habits

— bids increase or decrease depending on the likelihood of conversion
Step three: Consider combining Shopping and Remarketing to reach potential customers on the Search, Display, YouTube and Gmail

Step four: Once the goal-optimised campaigns are up and running, potential customers will be able to view and interact with your ads.
Let's say a searcher looks up, "red dress," on Google. Your ecommerce store sells red dresses and is using Goal-optimised Shopping ads.
Google will place an appropriate bid on your behalf by using the searcher's past search behaviour to determine whether they are likely to click your ad and make a purchase.
The searcher will then see the ads most relevant to them and will be able to interact with the ad most relevant to their needs and interests.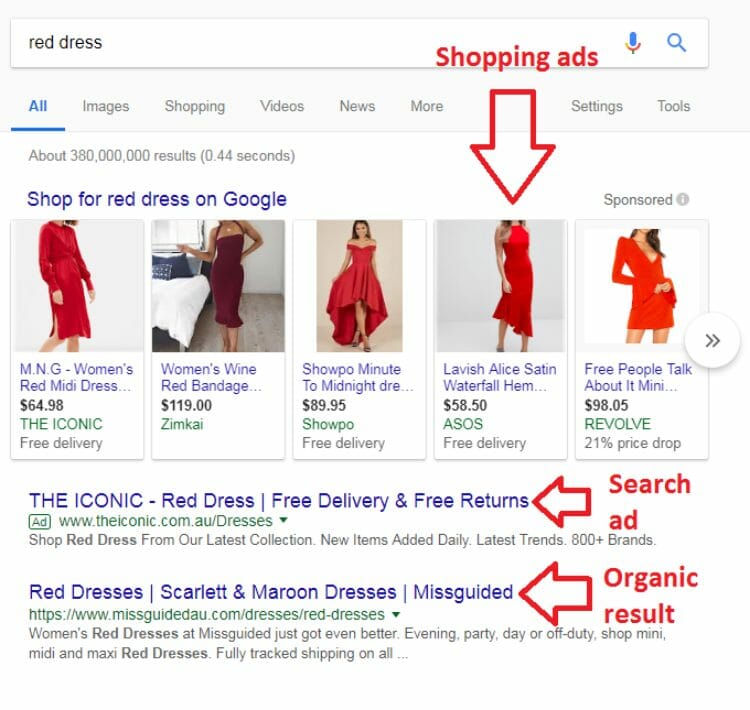 Let's say the searcher clicks the first Shopping result, the M.N.G dress from The Iconic and then purchases the dress. Google's algorithms will store information such as the user is likely to buy dresses from The Iconic and will use the data to adjust bids for that particular customer in the future.
How will goal-optimised shopping campaigns benefit my ecommerce store?
You ecommerce store stands to benefit big time from goal optimised shopping campaigns. Here's why.
Spend less time fiddling around with campaign settings and budgets: Managing campaigns has grown more complex and time intensive. We don't have time to spend two hours or more a day monitoring campaign budgets. Allowing Google's robots to do the grunt work. This will free up your time to plan your approach to emerging marketing challenges such as;
74% of smartphone users agree they look for more relevant information regardless of the company providing the information (say goodbye to loyal customers)

53% of smartphone users have made purchases from a company/brand other than the one they intended to buy from because the information provided was relevant to the person's current situation (We learned these stats during the 2018 June Google Shopping Bootcamp).
Increase visibility when consumers are looking for your products:

Goal-optimised Shopping campaigns allow you to find the right user on the right channel, at scale. This means Google can focus on adjusting bids and finding the highest converting customers whilst you focus on your

product feeds

ensuring they're spot on.
Which goal-optimised shopping campaign strategy is best for my business?
There are two strategies to choose from, full opt-in versus partial opt-in.
To be eligible to use goal-optimised shopping ads you need the following:
Have a minimum of 20 conversions in 45 days for a full opt-in — all your online store products will need to use the goal-optimised shopping campaign strategy

Have a minimum of 50 conversions in 45 days for a partial opt-in — this is suitable for businesses who want to test the new goal-optimised ads for a particular product category
If you're eligible for both, I recommend starting on a partial-opt in for a particular product category (like shirts). This way, you can measure the performance over a given time (preferably 30 days but a minimum of two weeks) and compare with the previous results.
Reasons for a partial opt-in include:
Peace of mind. If your current campaigns are performing well then using a partial opt-in will stop you from checking your campaign performance every two hours to see if results have changed

You still have 'old' Shopping campaigns running if (worst case scenario) the machines get it wrong

They allow you to test particular product categories
Once you've tested out partial campaigns and are happy with the performance, I recommend then completing a full opt-in. Either way, have a chat with your AdWords Specialist before you decide to make any account changes.
If you want to use goal-optimise shopping campaigns but aren't achieving the conversions then talk to your AdWords specialist. Otherwise, you may want to check whether you are using up your entire daily budget and consider optimising the product feed. And if you've got a spare 30 days, download our 30 day ecommerce marketing bootcamp to get your online store looking in tip-top shape (and help it increase conversions).
I want to use goal-optimised shopping campaigns. How do I get started?
To get started, you will need an existing:
Goal-optimised Shopping ads are pretty complex. We covered a lot of concepts in this article so let's summarise them to make sure you didn't miss anything important.
Goal-optimised Shopping ads are Google's newest campaign structure and are at the moment only available to ecommerce stores achieving a minimum of 20 conversions in 45 days.
Goal-optimised campaigns can benefit your ecommerce store by giving you more time to focus on analysing results and less time fiddling with settings to ensure you're getting the best return on ad spend.
There are two goal-optimised campaign strategies, partial and full opt-it. It's best to start with a partial opt-in and test the results before moving into the full-opt in, but for many stores, you'll only be able to see the partial-opt in setting for the time being.
Sometime in 2019, the old shopping campaigns will be switched off and you'll need to use goal-optimised ads, so use this as your opportunity to start testing the new ads!
Get ahead of your competitors! Talk to us today about launching goal optimised ads.