Google Places is all about local SEO. As with SEO as a whole, there are guidelines to maximise results without rubbing Google the wrong way. Here are our top five tips.
Claim your Hyper-local listings
Lots of SEO sources will stress the importance of accuracy when providing your business information on Google Places. Making sure that your NAP (Name, Address and Phone number) and operating hours are 100% valid is critical.
Equally important in increasing the visibility and credibility of your business, is ensuring that the same accurate information is provided on business citation websites or web directories. Sites like Yellow Pages, Truelocal, Start Local and Hot Frog feature free business listings, but they don't always contain the complete or updated information about your business. A few minutes spent updating citation sites, including local business chambers and directories, is time well spent. On one hand it helps rank algorithms and on the other, it lets your customers know that your business is an active part of the community.
Use Hyper-localised keywords in media titles
In addition to adding high quality media to your Google Places and your website, it's an effective SEO practice to hyper-localise them. What this fancy sounding term really means is naming your files (like images) using the name of your city or town, as well as the name of the service you provide. A perfect way to optimise each of the images Google Places allows you on your listing is to use keyword targeting. For example, imagine you own a coffee shop business called Caffeine Time, located in Balmain:
Image Title 1: Caffeine Time coffee shop Balmain
Images Title 2: Caffeine Time coffee shop Balmain NSW
Use hyper-localised words in webpages
This simple SEO trick is similar to the one you use for media in the above example and it can be used in the webpages of your company site, blog or social networking sites like Facebook or Pinterest. The only difference is that your optimisation in webpages will be far more effective if you use the 'industry + company name' or, 'industry + city name + company name' convention. It should read like this on your webpage:
Coffee Shop | Caffeine Time (or),
Coffee Shop | State | Caffeine Time
This is key, not only in boosting your SERPS rank, but it also lets customers know the nature of your business as given the keywords 'coffee shop' or 'Balmain coffee' are generally what a potential customer would have used in their search.
These two hyper-localising tips can be further enhanced by creating a webpage on image upload sites such as Flickr and using geotargeting tactics to improve your rankings in search engines. Flickr lets you map your images by supplying a business name, address and tags.
Get reviewed and respond
Encouraging your customers to review your business and provide guest blog posts that link to your Google Places listing will help with link building. You should also respond to the reviews you get. It's a great way to engage your customers and show the spirit of community while increasing your rank. It's in your best interest to remember that as search engine ranking technology advances, so does its spam filters. Make sure your reviews are ethical.
Review and adjust Google Analytics
By keeping tabs on Google Analytics, you can evaluate your website's keyword success and adjust your listing to make sure you continue to use content which has the greatest number of impressions from customers.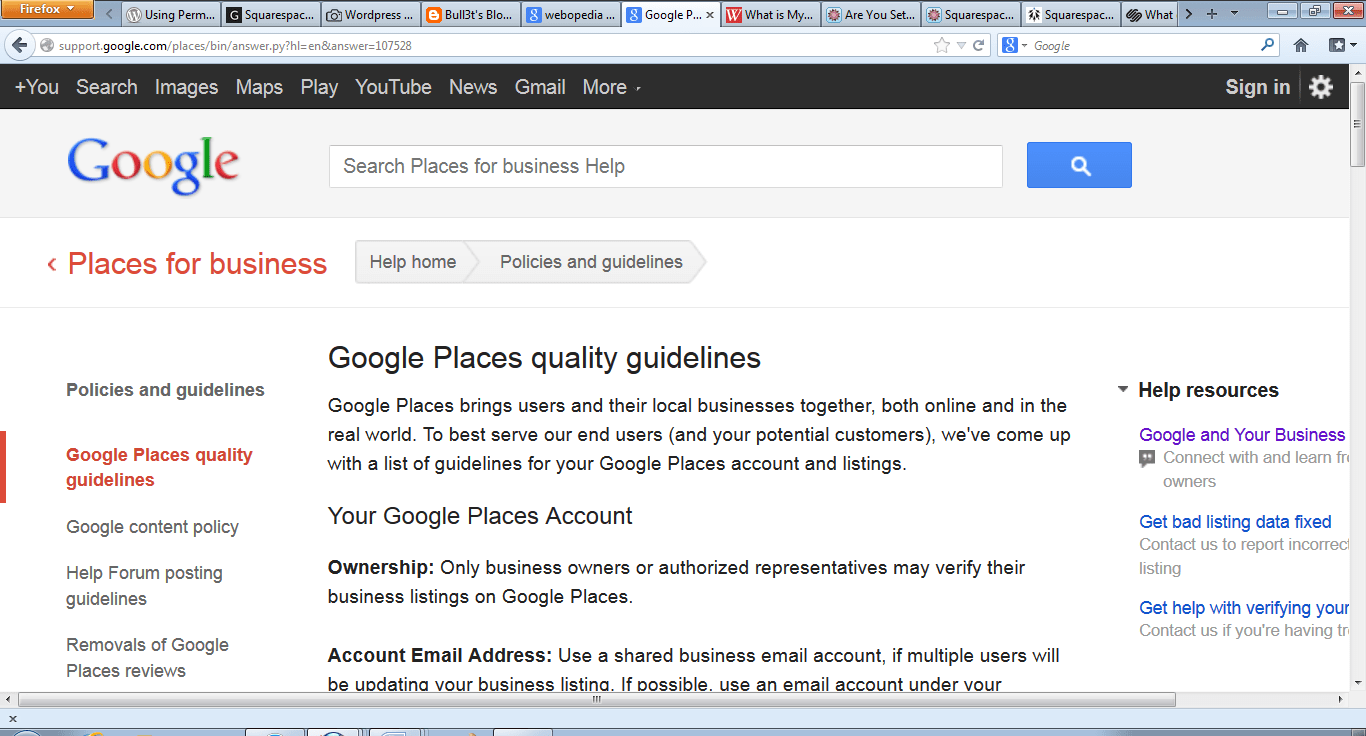 Google Places is a great online marketing tool for your business but make sure you remember to follow Google Places guidelines and policies. Here are three more parting tips to bear in mind:
Do not capitalise more than four words in your Google Places listing
Toll free numbers and P.O. box entries are forbidden
Do not use banned words: The list in this link was researched and compiled by world-renowned Google Places expert and local SEO guru, Mike Blumenthal.