If you're familiar with Google Ads then you would have heard the term 'quality score' floating around.
As a business owner, 'quality score' is one of those metrics that the Google Ads Specialists seem to obsess over. Whether your quality score is 4 or 10, it probably doesn't mean a whole bunch to you. You care about securing leads and sales.
For Google Ads Specialists, a high-quality score is a glorious metric we love to brag about. We know we're doing our job properly when we see a quality score of ten. That means your landing page, keywords and ads are working at their highest potential.
So why should you care about obtaining a high-quality score?
Achieving a high-quality score is a team effort. Our chimps dominate the online advertising jungle by crafting juicy ad copy and creating well-structured campaigns but we need your help on a few aspects too. Quality score is made up of three elements:
Expected keyword click-through rate

Ad copy relevance

Landing page experience
We can craft, click-worthy ad copy but it's up to you to approve keywords with a high expected click-through-rate and create lead-generating landing pages.
If you only learn three things about Google's ad quality score in your entire life, make it these:
What quality score is

The relationship between quality score and achieving an increase in leads/enquiries/sales

Practical steps you can take to improve quality score
By the time you've finished this blog, you'll be ready to jump into your Google ads account and add some quick wins to improve the quality score of your ads.
What is quality score?
The content marketing gurus over at WordStream shared the formal meaning of quality score.
"Quality score is Google's rating of the quality and relevance of both your keywords and pay per click ads. It is used to determine your cost per click and multiplied by your maximum bid to determine your ad rank in the ad auction process."
The Gorilla-fied (easy-to-understand version):
Quality score is made up of three elements:
The expected keyword click-through rate –

Google will use your account's historical data and the keyword search volume to predict each keyword's click-through-rate. Say there is a medium to high search volume and Google predicts you to have a strong click-through rate, then you'll also be rewarded with a higher quality score.
How relevant the ad copy is –

Does the ad copy contain your keyword? Including your keyword (or a close variation) in your ad copy shows Google that your ad is relevant. This will result in an increased quality score.
Landing page relevance and experience –

Does your landing page contain the keywords? Does the page provide the user with a good experience? If you're directing clicks to the homepage or another generic page on your website then you really should be using specific landing pages to help increase conversions. Optimising landing pages is a huge, valuable topic. It's so important that we've written an entire article about

improving landing pages

. You really should invest some time into reading the article if you want to increase your total amount of conversions or sales.
One other, smaller factor to consider:
Historical Google Ads performance –

Do people regularly click your ads and convert? Although this isn't a direct metric Google uses, it's still important to consider your previous quality scores compared to where you are today. Allen Finn wrote a handy short article about

quality score reporting

.
You should now be able to rattle off the three elements of Google's quality score. But the main question still remains: why, as a business owner, should you care?
Why is it important to improve quality score?
A high-quality score is linked to a lower conversion cost.
The team over at Wordstream conducted a study about the relationship between quality score and cost per conversion. They analysed thousands of Google Ads accounts and found a direct correlation between quality score impacting the cost per conversion.
In short, here's what the study suggests:
High-quality score = a lower cost per conversion

Low-quality score = a higher cost per conversion
Here's a visual image of the strong impact quality score has on the cost per conversion.
The horizontal line shows quality score while the vertical line portrays the average cost per conversion (enquiry or sale).
The higher the quality score, the less you pay to acquire a conversion. Whereas a lower quality score can end up costing you well above the cost of your actual product or service.
Keep in mind, this study was based on a variety of industry sectors with budgets ranging from a few hundred a month to hundreds of thousands of dollars.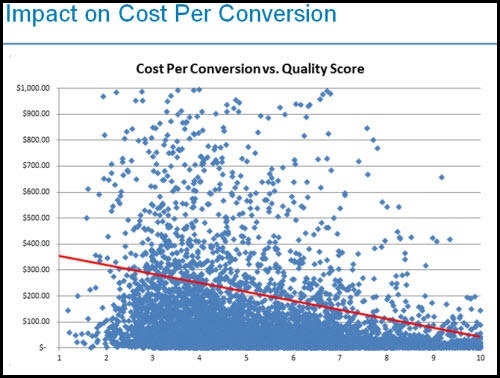 No one wants to pay more for an enquiry, lead or sale.
That's why you need to improve your quality score ASAP.
And I'm going to show you how.
Where to find quality score in your Google Ads account
Learning the lingo can make you sound like a Google Ads expert but now it's time to walk the walk.
Here are some step-by-step instructions you can follow in between ordering stock and stopping your kid from swallowing a lego man.
In your Google Ads account, head to the keywords tab (on the left hand menu).
Click the columns icon in the menu.

Now click modify columns and a list of metrics will appear.
In the search bar, type, quality score.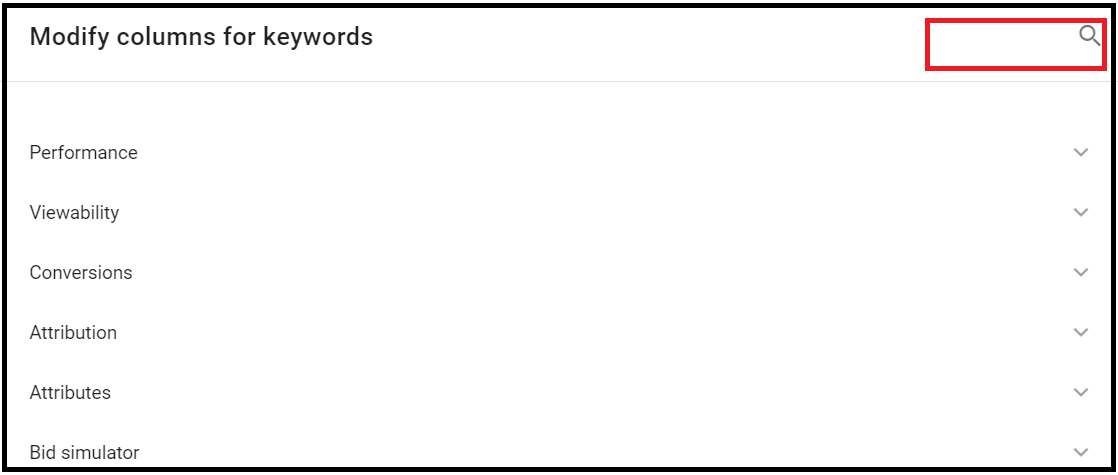 A menu with quality score metrics will appear. Tick the following:
Exp. CTR (expected click-through-rate)

Ad relevance

Landing page experience

Quality score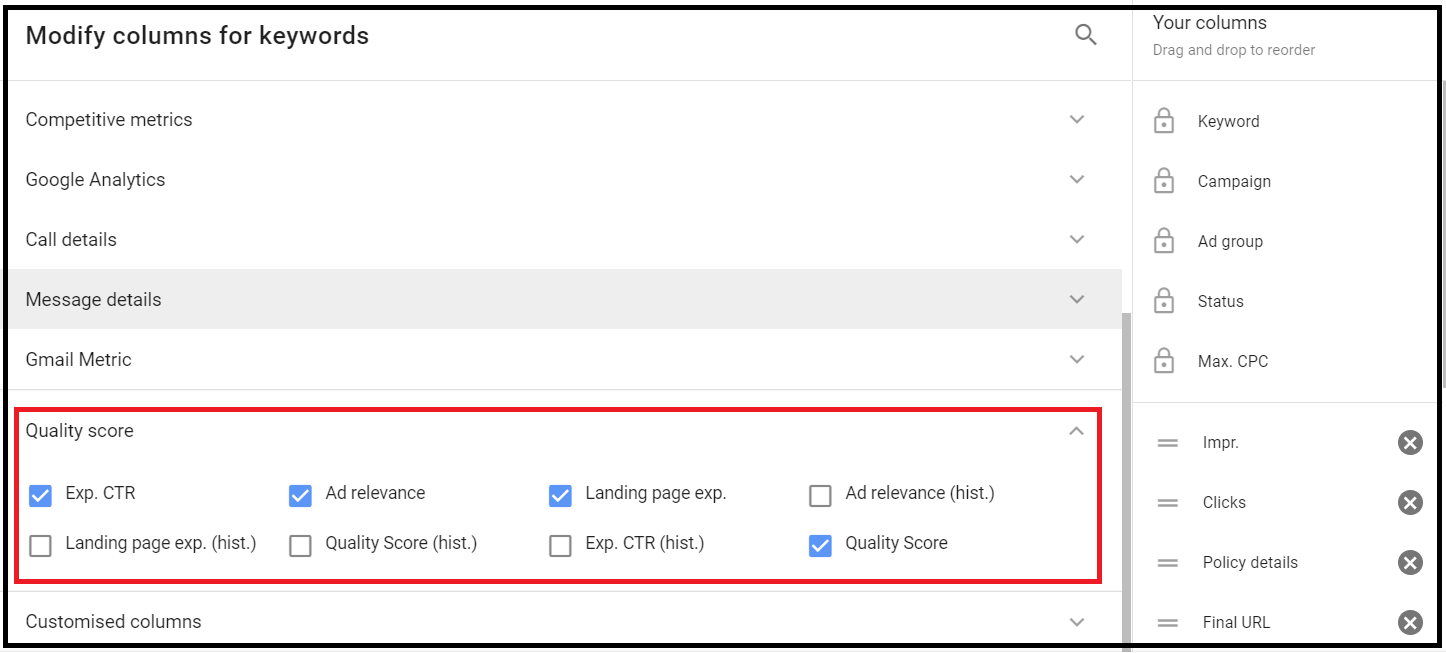 Click apply.
Now you'll see be able to see if you rank above or below the average for each of the three quality score components.
You have control over your landing page.
You can tell us what keywords you want to target.
We can create content potential customers will love.
If you need a hand with any of the elements then we can help. The next section explains how together we can improve your account's quality score.
Practical steps you can take to improve quality score
Improving quality score is like setting up email automation or a new Google Shopping feed for the first time – the elements need to work together for positive results.
Your Google Ads Manager can write compelling ad copy and suggest keywords that are likely to convert. You have the ability to create highly relevant landing pages. We can lend a hand with advice, developer instructions and wireframes but ultimately the power to create an effective landing page is in your hands.
In the last step, you learned how to check your quality score. Now we're going to help you improve your results. Follow these steps to help improve quality score:
Campaign structure –

Split your keywords into categories or themes. For example, you could have an adgroup for red couches and another adgroup for navy couches.
Keyword research –

Use

Google's keyword planner

to search keyword search volumes in your target area/s. Pause low performing keywords (keywords without any clicks, impressions or conversions).
Ad copy –

Include keywords (or similar variations into your ad copy).
Create ad variations –

Include at least three ads per adgroup and test the results. If one ad has better performing results then turn off the other ads and test new copy against the better performing ad.
Dynamic Keyword Insertion –

include

dynamic keywords

to increase click-through-rate.
Landing pages:

Create landing pages that directly connect correspond with keywords. If you're targeting workout tights and you direct someone to a workout tops page then the user won't have a good experience and won't convert.
Destination URL –

include your keywords in your destination URL.
Your quality score checklist
Give yourself a good old pat on the back. We've covered some pretty advanced stuff in a short amount of time.
You've learnt highly valuable marketing tactics that can help decrease your Google Ads cost and increase the number of sales and enquiries.
Here's what we've covered:
Next steps?
Start off by creating a list of the lowest scoring keywords in your account.

Now go back to the practical steps you can take to improve quality score section in this article.

Schedule yourself an hour to implement our practical steps to help boost your quality score.

Test, test, test! Keep reviewing your account and look for opportunities to improve.