Is this one of those blog posts that wades through the pro's and con's of a highly debated issue pumped up by a collection of attention seeking "commentators" only to offer a fence-sitting conclusion asking us all to stay tuned?
It's a no on both counts.
SEO is most assuredly not dead. And no splinters here.
But that's not the end of the article.
Gorilla SEO has gone the way of a page 50 Google ranking. It's gone, banished, exiled, never to be seen again.
Don't fret – we gorillas are still here to help you dominate the online jungle, but we need to explain to you why we decided to make the most important decision in the history of our business tribe.
You see, it had a lot to do with the so-called 'death of SEO'.
Why 3 little letters have caused so much drama
S.E.O.
Those 3 letters, when combined, are enough to strike a shiver of fear into almost any marketing professional.
This search engine optimisation caper used to seem so confusing and complicated. Now, a chunk of our industry is questioning whether SEO is even a legitimate marketing investment.

Sure, 'SEO' has changed over the years, and perhaps the old SEO is dead (or at least it should be).
The very old days of hundreds of keywords smushed at the bottom of a page cloaked in the same colour as the background – these days have thankfully been banished. Maybe the SEO naysayers are referring to this type of devious game playing when pronouncing the industry dead, pointing the finger at the black-masked SEO ninjas creeping around the shadows of the Google giant.
If not, these so-called "expert commentators" are misinformed.
Or perhaps, the doomsday clickbait headlines are intended to chase a slew of cheap click-throughs in an ironic twist on the very practices that have tarnished the contemporary SEO professional.
SEO is not dead, it's just different (and better)
Gaming the google system is dying.
The increased pageviews success metric is dying.
Quantity over quality is dying.
But the need to find more potential customers from Google searches – it's as strong as ever.
The best SEO professionals are getting better and better at finding sustainable ways to promote content to attract more potential customers through search engines.
SEO has evolved to the point where the title of "search engine optimisation" doesn't do the industry justice.
No matter how much we explain our quality focus, no matter the volume of measurable results we point to, no matter how hard Google comes down on the villains, SEO is still seen by the online majority as a conniving dark art.
How old school SEO has changed
Thankfully the Google police (and a collection of our industry's own noble self-regulators) have all but wiped out the race of 'black hat' SEO practitioners.
Post Google-induced genocide, an SEO's job involves much more than keywords and link building. While these two areas are still important in maximising a website's exposure to search engines, most professionals have evolved to become more 'online marketer' than 'keyword hacking, link builder'.
Just as you shouldn't smear Ocean's 11 because Ocean's 12 cheated you out of 2 hours of your life, you shouldn't write off SEO due to the wrongs of times past.
This cracking quote from Sam McRoberts goes a long way to answering if SEO is dead, and explaining how all of us gorillas feel about this industry-wide conundrum:
"…the answer really depends on how you define SEO. If, when you say SEO, what you really mean is manipulating search engines to place sites that don't really deserve to rank well at the top of the SERPs…then yes, I'd say that's dead (or dying at least, as some manipulative tactics still work quite well).

However, even though some SEOs work to game the system, I've never really felt like that was the correct definition of SEO.

Because we so often use the SEO acronym, we forget sometimes that it stands for Search Engine Optimization. SEO, at its heart, is the process of making websites more accessible and understandable to search engines. It shouldn't be, and really doesn't need to be, manipulative."
The bad rep we SEO folk just can't shake
It seems clear that the title 'SEO' is scarred.
There is no better evidence of this reality than the decision of the industry's pre-eminent authority source SEOMoz, to changed their name to Moz.
Wizard of Moz, (when he is not clutching his staff, he is more conventionally known as the Founder) Rand Fishkin articulates SEO's guilty by association challenge:
"We've fought over the last decade to make marketers and organizations think more holistically about organic search, but the branding of the past remains. SEO is seen as a narrow set of activities that move rankings up and bring search visitors in.

To truly help with SEO, we have to do more than just place keywords, make sites accessible, and build links, but first we need the influence to make these changes. A broader marketer is often granted that influence, while pure SEOs still, unfairly, must strive for it.

For many folks outside of our community, the acronym SEO has (unfair) associations with spam or manipulation.

To quote an all-too-frequent comment we see when our site is mentioned around the web, 'Don't trust any domain with SEO in the name.' That feedback is hard to hear, and it's wrong, but that doesn't change the impact. What we are not doing, and I am most certainly not doing, is giving up on the fight for the legitimacy, value, and importance of SEO."
Just like Moz, we receive this type of feedback almost every week. Only those who genuinely understand the techniques of quality SEO practitioners are not suspicious at the mere mention of the term.
Our 360° online marketing approach
At Gorilla, we help our clients with so much more than 'search engine optimisation'.
In order to rank highly for relevant Google results your content needs to be the best possible resource for your potential customer performing the search.
Who decides what content is 'best'?
Well, directly, Google. Indirectly, the internet.
While SEO knowledge used to serve as dictator, the number 1 search engine spot is a close as ever to democracy. If your content is deemed most relevant and important, you'll find yourself at the top.
Relevancy and importance is determined in no small part by the popular vote. SEO tactics still help, but content that doesn't help the searcher cannot win out any longer.
Our job at Gorilla is to create and promote content that customers love.
We're not just about rankings and page views. We use our customer-delighting content to bring interested visitors to websites. But we don't just leave the rest to chance…
We entice potential customers to exchange their email address for helpful, entertaining and educational information. Then we keep on sharing said content over time. Gradually, we prove our expertise, and establish their trust to the point where buying from a competitor would feel like adultery.
We help businesses build an audience of loyal, repeat customers. 
This involves a whole bunch more than search engine optimisation.
We are digital marketing professionals.
We are online marketing customer matchmakers.
We are no longer just 'SEO's'.
Why we've changed 3 letters to 3 numbers
We explain to our clients and friends that we are in the business of content creation and promotion.
Sadly SEO just doesn't cut it anymore.
This is why we've changed our name to Gorilla 360.

We'll still be striving to dominate the internet jungle as usual. We just want everyone to know we've come full circle.
We're not just SEO professionals. We're online marketing all-rounders. Our job never ends. We're continually working to create and promote content customers will love.
We're never finished. We don't do campaigns. When we get to number 1, we work on getting so good that we can stay there forever.
That's why those 3 tarnished letters after Gorilla have changed into 3 numbers that mean so much to our tribe of dedicated online marketing primates.
As for our business, nothing much has changed. We're still continually evolving. We're still using the same quality search engine optimisation practices. We're still experimenting with new ways to create and promote content that customers will love.
We've just changed 3 letters in our name.
We'll leave you with Rand Fishkin's call to arms which we have seared into the soul of our business:
"Organic search remains my personal passion, and one of the most powerful marketing channels in history. For as long as I'm active in the field, I will be shouting the value of SEO from the stages on which I present, the publications where I write, and the social channels where I share.

Tragically, a lot of marketing sucks.

Together, we can change that. Marketers who are… passionate about bringing value from their efforts without compromising ethics or burning bridges with customers… want to constantly push the world of marketing to join them and do better."
We still believe in Search Engine Optimisation
We'll never stop on our quest to dominate the online jungle with marketing people love.
We just changed 3 letters in our name to numbers.
We will continue to fight the battle to educate the business world on the real value of quality SEO within the context of an integrated marketing strategy.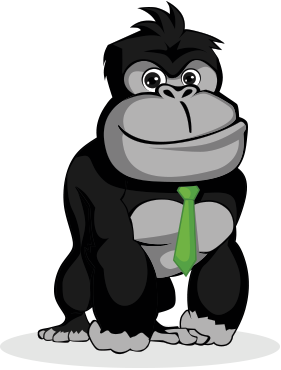 This little guy on the right will have you meeting, greeting and keeping more customers online for many years to come.
We've got some exciting plans to take our marketing helpfulness to the next level, so we can teach you how to dominate your online jungle like never before.
We hope to bring you along for the Gorilla 360 evolution.
(Oh, and don't worry – we're much more approachable than your average primate!)
Gorilla out.