Typing on a smartphone is old school.
Voice search is where it's at.
By the time you have taken out your phone, opened your browser, typed in the query, scanned the results and clicked on your preferred answer, maybe you've wasted 30 seconds?
Compared this to voice search and you'll get an answer in the next five seconds.
We're time-poor. We multi-task. We want answers now.
Voice search is quenching our information thirst, giving us the answers we need, hands-free. In this roundup, you'll find out more about how voice search is changing the world of marketing.
Aside from the voice search trends, if you're an AdWords buff then you'll want to read up on the new affiliate extensions which are a real competitive advantage.
Got a bricks and mortar store? Check out insights on the three factors you absolutely must consider when building a local presence.
For my fellow content writers out there, you'll definitely want to dive into the 20 platforms to distribute blog content part of this month's bundle.
(Your round-up mini-directory)
Too busy to read the whole thing? We get it: logistics, synergies, KPIs – all that stuff. Here's the skim-read version. You really should read the whole article though…You can click on the dot point that takes your fancy and head straight to the relevant section.
In this month's digital marketing roundup:
Should I be worried about the increase in voice search?
The World Wide Web is only 29 years young and will gain the big 3 – 0 on the 12th of March in 2019. But the consumer friendly 'world wide web' really only boomed in the late 1990's.
During pre-internet days consumers used directories, watched the news or read books to find out information. Businesses relied on word-of-mouth and traditional forms of communication like radio, tv and billboards.
Then came the world of The Internet. Suddenly businesses had innovative new ways to market their services.
As a store owner, you probably said something along these lines when you started online marketing…
"Goodbye carrier pigeons, fly free, your services are no longer needed. I've now got this advanced technology called, 'Email'.
All I need is my customer's email address.
Or if someone visits my website then I can use these advanced things called 'Cookies' to remarket my product."
Fast forward to 2018.
"Everyone is using mobile devices. I'm going to use location targeting to target potential customers near my store.
I'm even going to give them instructions on how to get to my store using Google maps because let's face it, millennials don't know how to use old school maps anymore. All they want is to use the latest technology.
Speaking of new technology, I hear Google Home and Alexa are gaining popularity.
I might need to look into the future of voice search and get ahead of the crowd."
The increase in voice search has brought up a very valid question. Kevin Gibbons, Co-Founder and CEO of BlueGlass SEO and marketing agency put his two-cents into the voice search debate,
"If ComScore is correct and half of all searches by 2020 are made via voice, a crucial question arises: will we still need websites?"
It's safe to say carrier pigeons are no longer an effective method of marketing, especially if you're looking to target 1,000+ people.
As for email. My previous post-purchase email blog series shows that emails are still an important marketing tactic to turn one-off purchases into repeat, loyal customers.
Mobile devices continue to soar, back in 2015, Google announced mobile searches had exceeded desktop queries on a global basis and looking more locally at the Australian desktop versus mobile market, desktop still covers about 50% of searches with about 38% using mobile and 10% using tablet devices (please remember this figure will change depending on the industry).
Together, this data suggests that even with the increase of voice search, websites will not be redundant. Rather, businesses will need to focus their SEO efforts to focus on optimising for voice (like we currently optimise for mobile search).
Ready for an even deeper dive into the world of voice search? Check out our "Are you talkin' to me? – Google voice search, SEO & user intent" You'll find everything you need to know about the voice search boom.
Using affiliate location extensions to take over the online advertising world
I'm a passionate AdWords warrior. Having completed all the AdWords Certifications, when I see new changes I'll admit I get a rush of excitement. Last month, I attended Google's Shopping Bootcamp in Sydney where I learned all about the new goal-optimised shopping ads.
Fast forward a few weeks and Google has launched yet another AdWords update.
Introducing affiliate location extensions.
Search Engine Land posted a useful explainer about location extensions.
"Google has launched affiliate location extensions in Search and Display campaigns to help brands and manufacturers show users nearby retail chains where their products are carried. Those ad extensions can now appear in TrueView in-stream and bumper ads on YouTube.
When a user clicks on an affiliate location extension, it brings up a Maps page of nearby retailers where the product is sold."
Ginny Marvin, who wrote the helpful article, even added a visual explainer of location extensions: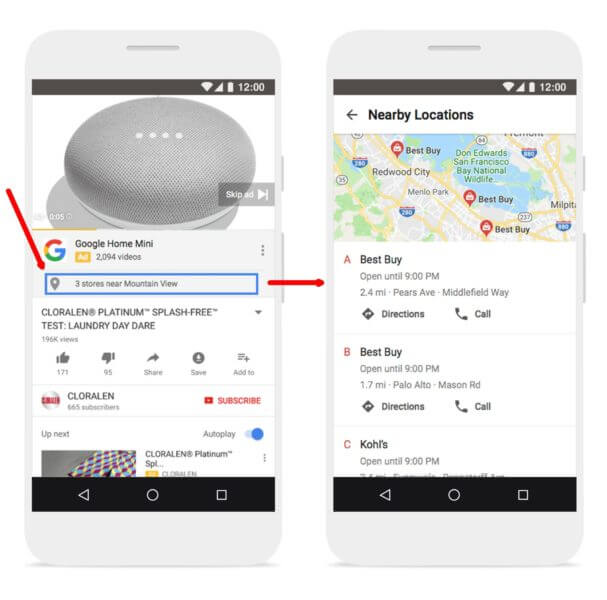 We suggest anyone with a local business presence who is already using location targeting gives this one a go. For smaller budgets, try sticking to the traditional search location ads whereas larger budgets (with room to test) should trial the new In-Stream and True-View ads to help increase awareness of nearby customers.
3 factors to consider when building a local presence
The last section of this blog quote hinted at using AdWords affiliate location extensions.
Pretty advanced stuff, right? But what if you are still focusing on building an online presence?
What do you need to consider?
First stop, and read Pratik Dholakiya's helpful article about the three factors to consider when building a local presence.
"Over the past few years, local SEO has become one of the biggest buzzwords in the marketing world," says Pratik. And I couldn't agree with him more. I've penned a few monthly bundles now and it's no coincidence that local search has popped upon more than one occasion. Last month's bundle was all about marketing for local businesses!
Studies find almost half of all Google searches are localised and as more businesses recognise the importance of optimising for local search, the competition in search results will only get more fierce.
Here's a short list of ways to get ahead of your competition:
Prepare for the future of voice search

—

it's estimated

that 50% of all searches will be done with voice by 2020 so ensure your website is mobile friendly and consider adding an FAQ page to your website to optimise for long-tail voice searches

Focus customer sentiment around local keywords

– monitoring relevant online conversations and interactions around local keywords is crucial to understanding how people interact with your brand and content online
Maintain consistent reviews:

Local reviews

are some of the most powerful in your SEO strategy. In fact,

85% of consumers

trust online reviews as much as their friends opinions
If you want the full read then be sure to check out Pratik's article.
20 platforms to distribute blog content
More than 3 million blog posts are published daily.
Including yours.
Have you ever written and published a blog, promoted it on Facebook and LinkedIn, then moved onto the next task? Sure, in the short term you might have gained a few likes and some content engagement. What we're really interested in is what happens a week, a month and a year from now.
One week later. The views have dried up. The likes and shares are few and far between. One month later. Your post is fading off into content folklore.
One year later. Yep. Silence. Not a peep.
You (or a dedicated copywriter) spent valuable time energy and effort crafting a compelling piece, only for it to be cast upon the content scrapheap. Often, when the content promotion tap gets turned off, the drought becomes instantly unbearable. The end-goal should be to create shareable, helpful content. It's when people start linking to your blogs that they really gain SEO value.
So where can you share your content? And how can you get people to link back to it?
The key is to have an ongoing strategy.
Promote your content on a few social media platforms now and after a few months time, go back to your blog and see how you can make it better. Kevin Rowe, founder of Rowe Digital a link-building agency wrote an insightful article for Search Engine Journal about 20 places to share content.
I've shared my top three picks from Kevin's article:
Twitter

– It makes sense that people who are interested in certain topics will want to read about them. Use the appropriate hashtags and look for industry-related Twitter chats to share your blogs on.
LinkedIn Groups

– LinkedIn is like Facebook for B2B workers. Everyone in the group shares a common interest. Just make sure you engage with others' content too.
Brand Facebook page

– Grab a good quote from your content (such as an interesting stat) and share it with your community.
Interested in learning more ways to share content? Read Kevin's full article for more content sharing platforms.
Digital Marketing Short Takes
All the most important digital marketing news, insights and advice from around the online jungle blogosphere this month.
Starting as of the 24th July 2018, the new AdWords will become the exclusive way to manage your account and access to the previous experience will no longer be available. To get ready for the change take the

guided tour

of the new AdWords experience and review the

quick reference map

to quickly find the most commonly used features in the new experience.
AdWords is retiring! Don't worry, it's not going away but it is facing major rebranding. The new name will be

Google Ads

.
Effective as of July,

Google's Chrome browser

will mark non-HTTPS sites as 'not secure'. After years of pushing towards 'secure by default' websites, Google will identify insecure sites in the Chrome browser as of this month.
Do you use AdWords? There are five things you need to do before the old

AdWords interface

is phased out.