If you own a local business then you'll want to listen up.
There are a bunch of digital marketing industry changes that will impact how you operate your business, but don't be scared. These changes are a good thing. In fact, they can help you bring in more customers in the long run.
This is a helpful guide for business owners and marketers who want to make the most of these changes and be ahead of your competitors. This month, we'll focus on local business but will also offer guidance for a few major changes happening in the online marketing world including AdWords changes, new GDPR regulations, and Google Shopping changes (We'll even give you insider knowledge from our Google Shopping day).
(Your round-up mini-directory)
Too busy to read the whole thing? We get it: logistics, synergies, KPIs – all that stuff. Here's the skim-read version. You really should read the whole article though…You can click on the dot point that takes your fancy and head straight to the relevant section.
In this month's digital marketing roundup:
How To Survive Google's New Local Search World
Every coffee connoisseur has the same challenge: finding the perfect cup of richly intense and delicately aromatic coffee.
The hunt for the perfect brew can be a bittersweet one unless you're clever and use Google on your phone.
Just Google "best coffee in (insert suburb here)"
FYI – if you're a Novocastrian, head to The Press. It's the best, hands down.
Caffeine addiction aside – instead of listing a bunch of websites, Google's search results show local coffee shops near you.
Over the past few months, Google hasn't made any attempt to hide its enthusiasm for local search content. In today's society, we want answers fast. We don't want to spend valuable seconds or minutes of our lives sorting through pages of content to find what we need. Google understands this which is why they've invested big bucks into local search.
Google's algorithms have begun to understand what we as consumers need.
So when someone searches 'best coffee' at nine o'clock in the morning, Google knows the searcher is likely looking for a cafe, not an informative article about 'best coffee' or 'how to make the best coffee'.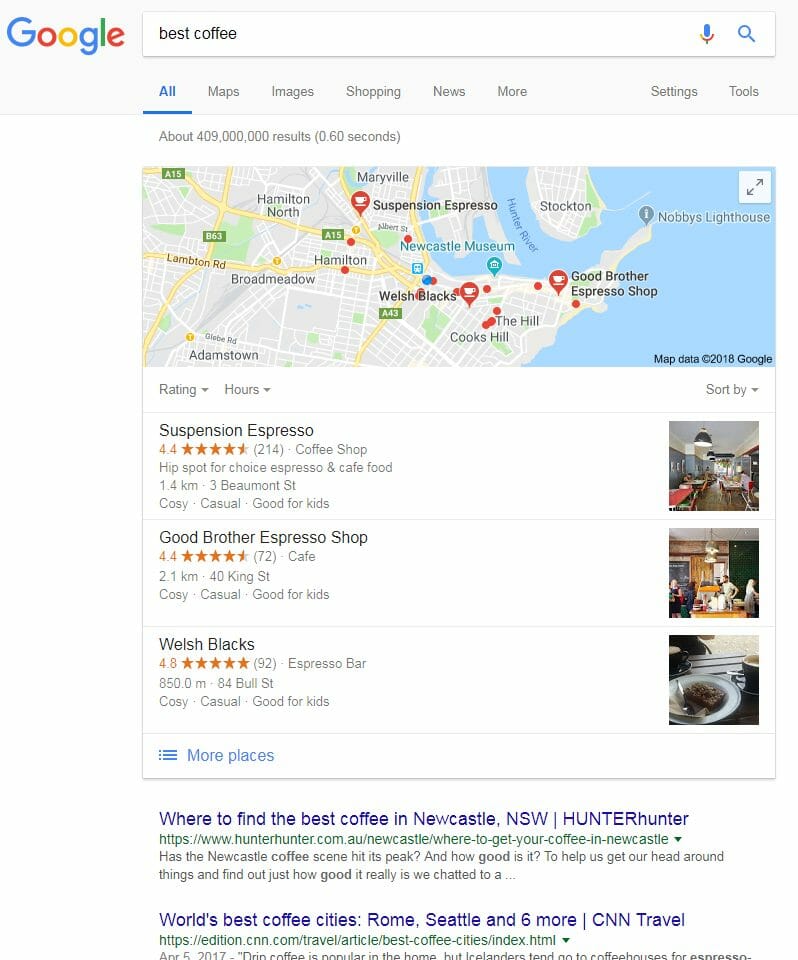 As Google turns towards local search, how can we direct our marketing to make it easier for Google to find our business when consumers are ready to buy?
Local Search Association Vice President of Public Affairs, Wesley Young wrote an article for Search Engine Land about surviving Google's new local search changes.  
The article explains how Google is less concerned about displaying organic web pages and more interested in featuring Google Products (or local searches). Along with his article, Young made suggestions to help local businesses boost their search rankings with Google features. Here are some of his suggestions:
#1. Optimise your business account by using

Google Posts

,

Q&A

and

Google Bookings

#2. Actively manage your Google My Business listing

#3. Consider using Google ads if you want to appear in the top search results

#4. Restructure your web content to provide answers to questions
Your Guide to Facebook Page Optimisation
Local search isn't the only optimisation technique you should be considering. If you've got a local storefront, you likely also have a Facebook page for that store – if you don't, you should.
Why? A Facebook page allows you to grow brand recognition and promote the value your business brings.
Did you there are 15 million Australians who are active Facebook users?
That's a fair chunk of people using the social media platform.
So how can Facebook help your business grow?
Victoria Edwards, Senior Marketing Manager at GuideWell Connect, has been working in SEO and Social Media for 10 years. Recently, she shared an article with Search Engine Journal about her tips on optimising Facebook for businesses.
Here are the key takeaways from the article:
Location pages: Have a business in one location? Two locations? Maybe you have multiple storefronts. Victoria recommends using a Facebook 'parent' page for your brand and 'child' pages for your locations.
Business operation hours: Is your store closed on public holidays or weekends? Or maybe your store closes at 4:30 pm on a Sunday instead of 6 pm like every other day. It's essential you convey your business hours on your Facebook page, and it's equally important to update them whenever times change.
Call to action button: Under the cover photo, you have the option to include a call-to-action button. Adding a button helps to encourage users to interact with your Facebook page.
Customer reviews and comments: Facebook is an effective tool to help resolve customer issues and learn new ways to improve your business through surveys and reviews. We suggest you read Victoria's article if you're interested in turning on the review tab to ensure you make the most of this setting.
Messenger: Like reviews, Facebook Messenger shows your business is willing to communicate with customers.
If you're looking to improve your Facebook page or want to learn more about setting one up, then be sure to apply some of these optimisation techniques. By optimising your page, you have the opportunity to seek new, loyal lifetime customers. This is an opportunity you can't afford to miss.
Digital Assistant – Hello Google
We Gorillas have been counting down for our Google Home to arrive at the office. Now that it's finally here, we've been testing out Google's cool new features to see just how a digital assistant can improve the lives of consumers.
Turns out Google Home can host a trivia game, tell you about the weather and if you're up for a chat, hey, so is she.
But aside from all the fun perks, we've found Google Home has a range of other helpful features such as telling you where the nearest cafe is or where you can buy flowers.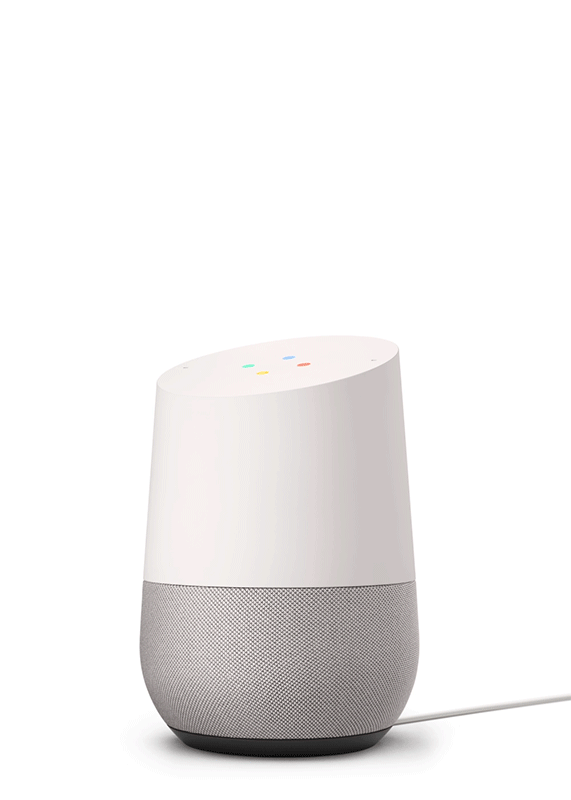 Voice search opens up a world of opportunity for businesses. How can you get ahead of the crowd? What do you need to do now?
Nancy Lim, Director of Marketing at CallRail, found almost half of Americans use voice search technology. And it's predicted Australia will catch on in the next few years too.
How will people use voice search? In Nancy's article, 'Every Digital Assistant You Need To Know And Understand,' she says people are moving towards using voice technology to interact with brands, creating shopping lists and requesting information about products or every-day news on demand.
Want to start using a digital assistant? Aside from the Google Assistant, here are the other popular voice recognition devices on the market:  
Siri (Apple)

Alexa (Amazon)

Cortana (Microsoft)
If you're making a decision about which one is best suited to your business needs check out Nancy's article – she explains each device in detail.
GDPR – What Is It And What You Need To Do, Now
On 25 May 2018, GDPR came into effect.
And if you're hearing about this change for the first time then you may want to listen up.
GDPR stands for General Data Protection Regulation.
Allen Finn from Wordstream summed up the GDPR in just a few, digestible sentences:
"It's a package of new legislative rules being introduced by the European Union to make it easier for residents of EU countries to protect their personal data online. The regulation was officially approved on April 27, 2016, and will formally go into effect across the entirety of the EU by May 25, 2018."
This means, if you're using any kind of Google product to track who has visited your website and want to use this data at some point in the future to show ads to those people, then you'll need to ensure you acquire users' consent to do so.
If the new change impacts your business, read Allen's article for more information about responding to the GDPR.
Regardless if your website is using remarketing or not, you should have a policy on your website.
Coming Soon – More Responsive Search Ads
Search Engine Land released an article explaining responsive search ads are coming to AdWords.
At the moment the ads are still in beta testing, but you'll want to jump on them once they become live for everyone to use.
What are they?
In plain English, when creating a responsive ad you create a headline, a description and a final URL (the page you want to link to). Google will then use its algorithms to read (or crawl) your webpage – so when someone searches a query such as 'dog desexing near me' Google will alter the ad creative to include the keywords 'dog dexexing' into the ad copy.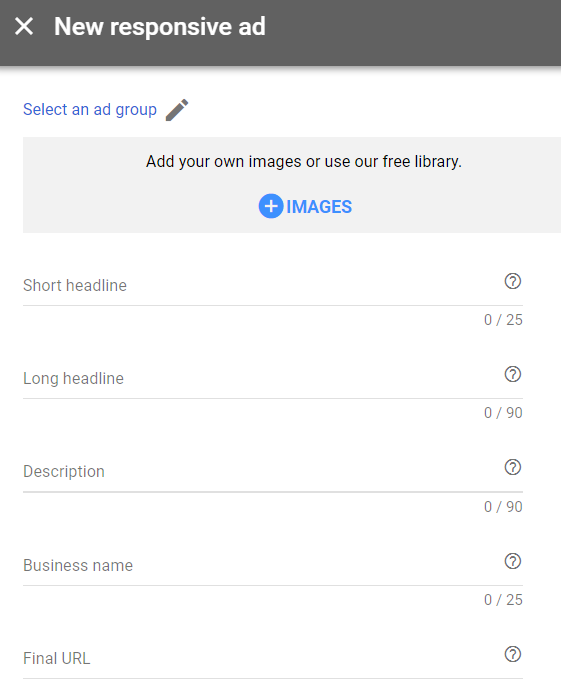 What will change?
Search Engine Land released an image of the upcoming dynamic search interface.
The main changes you'll see include more headline and description variation opportunities. This means you will be able to include more headlines and Google will test the different copy and optimise the campaign for the best performing combination of headline and description.
What can you do in the meantime?
While the new interface is in beta, chat with your AdWords specialist to find out more about how your ads are performing.
The Paid Search Podcast
Last week, I travelled to Sydney for a Google Shopping Training Day. Spending three hours on a train each way opens up a world of opportunities.
I spent my time listening to a podcast called 'The Paid Search Podcast'. All you need to know is it's about two guys with years of AdWords experience who sit down for about 30 minutes each week and talk about AdWords related concepts.
They include real-life situations and practical examples, which makes the podcast easily digestible.
I listened to a bunch of episodes by these guys and one I found particularly interesting was: "Number 103: Don't Confuse Your Ad Copy With Keywords".
This particular podcast outlines the importance of not always repeating your keywords in ad copy.
If you're after something AdWords specific, then you have over 100 podcasts to choose from. Here are some other helpful ones I've listened to:
101: How To Find The Best AdWords Management Company and 098: Tips For Transitioning From SEO To AdWords.
Google Shopping Changes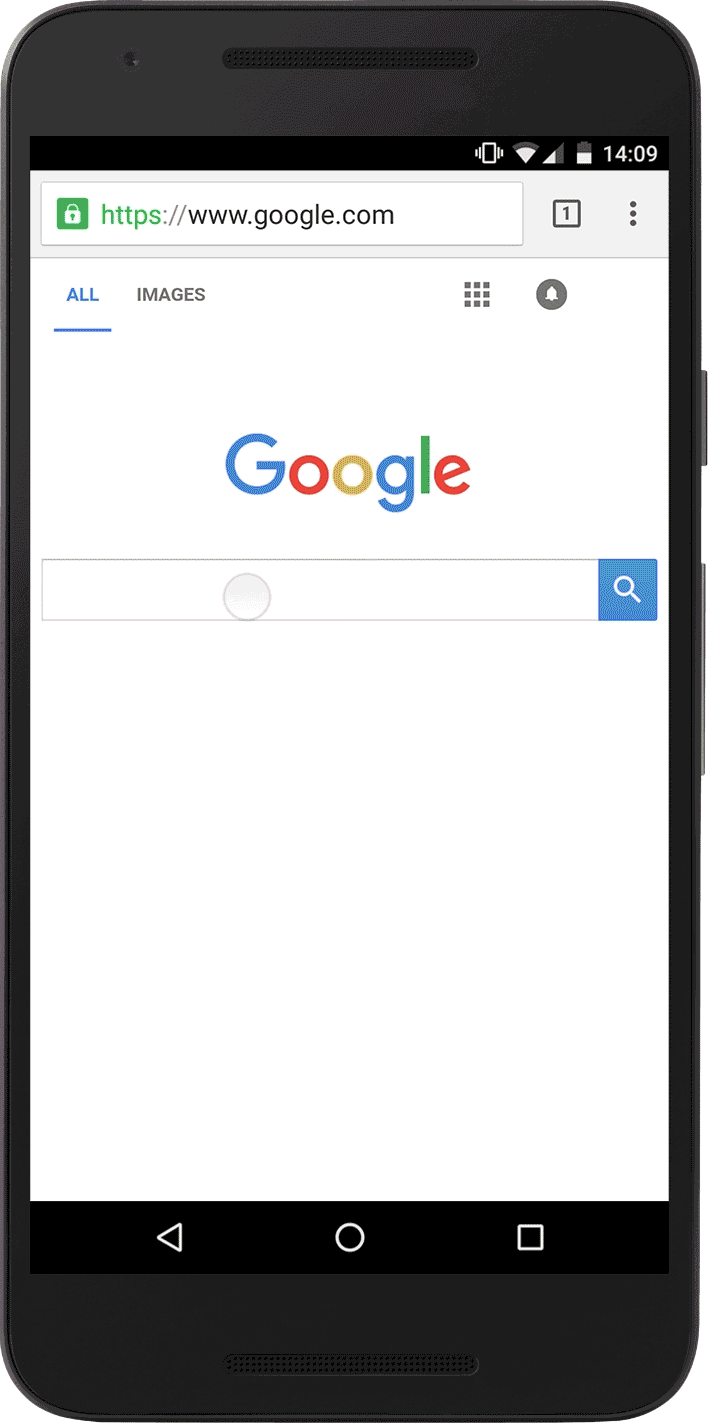 I've mentioned travelling to Sydney for a Google Shopping Training day. Without giving too many secrets away, the major change you need to be aware of is Google Shopping is changing.
In the past, when creating a Google Shopping campaign, you'd create, upload and optimise a feed. Once your feed was running, you could then use AdWords to create specific ads for your shopping campaigns.
Next year, the way we use Google Shopping will change. The Google-universe is steering towards shopping through local search, so it's expected Google will be putting more time and resources into shopping campaigns.
Next year all shopping ads will be called goal-based shopping campaigns.
You don't need to wait until next year for the change! As long as you have a minimum of 20 conversions in the past 45 days, you should see the option to use goal-based shopping ads.
Here's what Google recommends:
If you have 20 shopping conversions in the past 45 days you can fully opt-in – this means using the goal-based campaign across all of your products

If you have 50 products in 45 days then you can use a partial opt in, such as only applying the new campaign to a certain category
Not sure whether to test? Best to have a chat with your AdWords specialist. They'll be able to look at your conversion history and make a decision on whether you should start testing the new campaigns now or in a few months time.
Interested in more information about this change? Google's support team has released an article about how it works and the requirements.
Digital Marketing Short Takes
All the most important digital marketing news, insights and advice from around the online jungle blogosphere this month.
Want to learn more about how the Google Shopping changes will affect your business? Or are you interested in finding out more about optimising your Adwords campaigns for local search? Talk to one of our friendly gorillas today.