Are you using Google Ads?
Are you directing ad click clicks to your homepage?
If the answer is yes then you could be jeopardising your return on ad spend.
How many competitors are in your industry? Tens, hundreds, maybe even thousands? How many of those competitors are advertising online?
The marketing jungle is full of fierce advertising professionals fighting to win valuable customers. They are climbing over each other to earn new customers. And don't think for a second that they won't try to steal your customers with their high-converting Google Ads Campaign.
What are their secrets to success?
How do they entice customers to convert?
I'm going to tell you exactly how the best chimps in the industry create high-converting landing pages to help increase average cart size.
This article will equip you with essential knowledge in 3 key areas to give you a competitive edge:
#1. An introduction to Google Ads landing pages.

#2. An explanation of how landing pages can reduce your cost-per-click.

#3. The secrets to creating high-converting landing pages.
And lastly, I'm going to show you a kick-ass example of a high-converting landing page that can be applied to any industry.
Grab a notepad. These next eight minutes are going to blow your mind.
What are landing pages?
If online ads are the movie trailer, then the landing page is the main event. A hint of interest from a cleverly crafted ad will have your audience glued to your landing page like it's a Spielberg epic.
Landing pages provide the experience that captures customers attention and entices them to come back to the store. Matt Brennan author of Write Right – Sell Now provides a landing page explainer:
"A landing page can be on your main site or stand alone, and is designed to convert traffic into leads. They can be used in a pay per click campaign, or as part of other marketing efforts to bring people into your sales funnel."
Effective landing pages are captivating and simple to navigate. You now understand the purpose of landing pages, now let's jump into how effective landing pages can reduce your cost per click on Google Ads.
How can an effective landing page reduce your cost per click?
The amount you pay for a click is determined by your bid, quality score and your competitors bids and quality score. Landing pages are a factor that make up quality score. By creating a highly engaging landing page, you have the opportunity to lower your cost per click and increase your number of sales or enquiries.
Quality score is made up of three elements:
#1. The landing page experience

#2. Ad relevance

#3. Expected keyword click-through rate
These three factors are adjusted to create a score out of 10 which is used in conjunction with your keyword bid to help determine how much you pay per click.
Once Google determines your bid and quality score, competitors bids and quality scores are also taken into the equation. Google combines all this information to determine your final cost per click.
By improving your quality score, you have the ability to reduce your keywords bids and maintain or improve your ad rank.
Your landing page is an important factor contributing to quality score. Relevant landing pages are an important Google metric. Ensure to your Google Ads keywords in your landing pages.
Potential customers resonate better with landing pages which include the keywords from your Google ads campaign because they know what they're reading is relevant to their search. If Google sees you using similar keywords in your ads and on your landing page then it will reward you by improving your ad quality score which will potentially reduce your cost per click.
For more on information on how effective landing pages reduce cost per click, I highly suggest you read WordStream's article, "AdWords Landing Page – Create High-Quality Landing Pages for Google Ads." The team at Wordstream live and breathe online advertising and offer stacks helpful advice.
Key takeaway — quality score affects cost per click.
Common characteristics of effective landing pages that reduce the overall cost per click
There are a few key elements of effective landing pages. Over the years, we've created a handy checklist that you can use as a reference. You don't need to apply all the elements, just focus on a few and test different elements on different pages to see what works for your business.
Incorporate the keywords targeted in your Google Ads campaign into the page title, heading, sub heading and content

Design a landing page that

works well

on desktop and mobile

Use a narrow header with slogan reinforcing credibility and easy to access phone number

Steer clear of navigation menus or links away from page to focus the visitor on the desired conversion pathway

Place an enquiry form front and centre that contrasts and stands out from rest of page

Provide easy to digest benefits of working with the company e.g. Compare and save, same day approvals, low rates

Use credibility indicators e.g. partners

Add answers to frequently asked questions

Include imagery and engaging graphics related to the industry

Show testimonials from clients

Outline the process from enquiring or purchasing to receiving the product or service.

Incorporate the time taken to complete quote within call to action e.g. Get a 30 sec free quote

Use a strong call to action statement e.g. Our average customers save up to 15% on their caravan finance! Quick & Easy Car Loans from 5.51%.
Looking for more inspiration on landing pages? Frederick Vallaeys, a former Google AdWords Evangelist is right here to help you out with his helpful guide.
Feeling inspired and want to get underway with your landing pages? Keep reading to see some real life example.
An example of an effective Google Ads landing pages

As we've seen in the previous section, effective landing pages have a few characteristics in common which can be applied to any industry. It's now time to see them in practice.
The example I'm going to show you is from the finance industry. Don't be scared if you are in another industry, the same elements apply.
Savvy
Savvy is a financial partner for car loans, bike loans and more. The company has been operating since 2010 and boy does it know how to create a highly engaging landing page. Let's take a look at what makes this landing page an effective one that will help reduce your cost per click.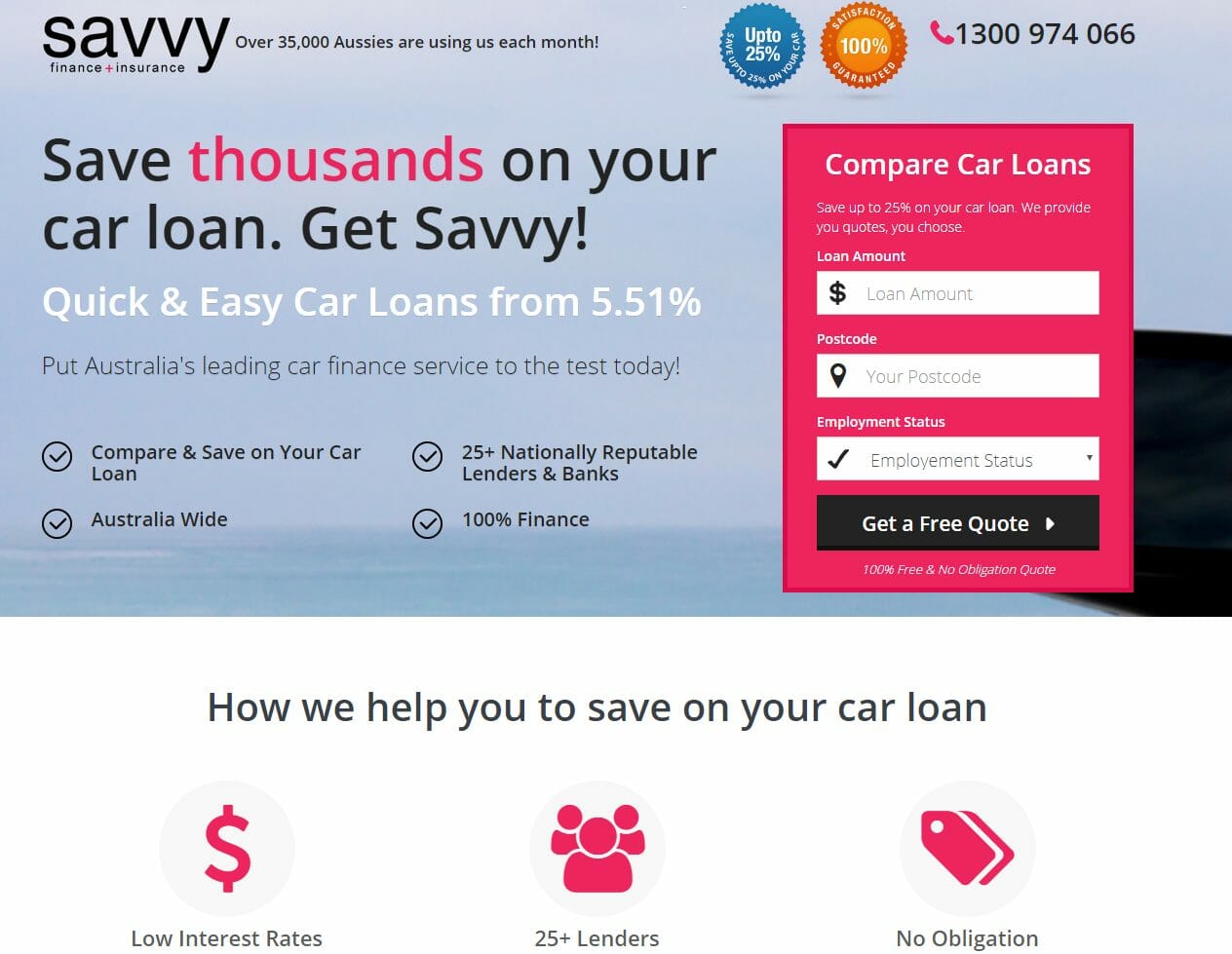 The top-fold of the landing pages includes some very important elements from our checklist.
An easily seen enquiry form that's simple to fill out: 

No messing about. All you need to do is include three factors and you get a free quote.

Engaging copy: 

"Save thousands on your car loan." This is a great value preposition. It directly tells you the benefit of choosing Savvy over any of its competitors.

Benefits:

Savvy's made it easy to compare different lenders, it's already shouting from the rooftops what benefits you'll receive from financing with them, low interest rates, no obligations, 25+ lenders.
Another important point on our checklist is credibility.
Potential buyers want proof that they won't get duped, especially when they're potentially spending thousands of dollars on a product or service.
Savvy has overcome this barrier by outlining all the different types of lenders that they compare against to help you get the best deal.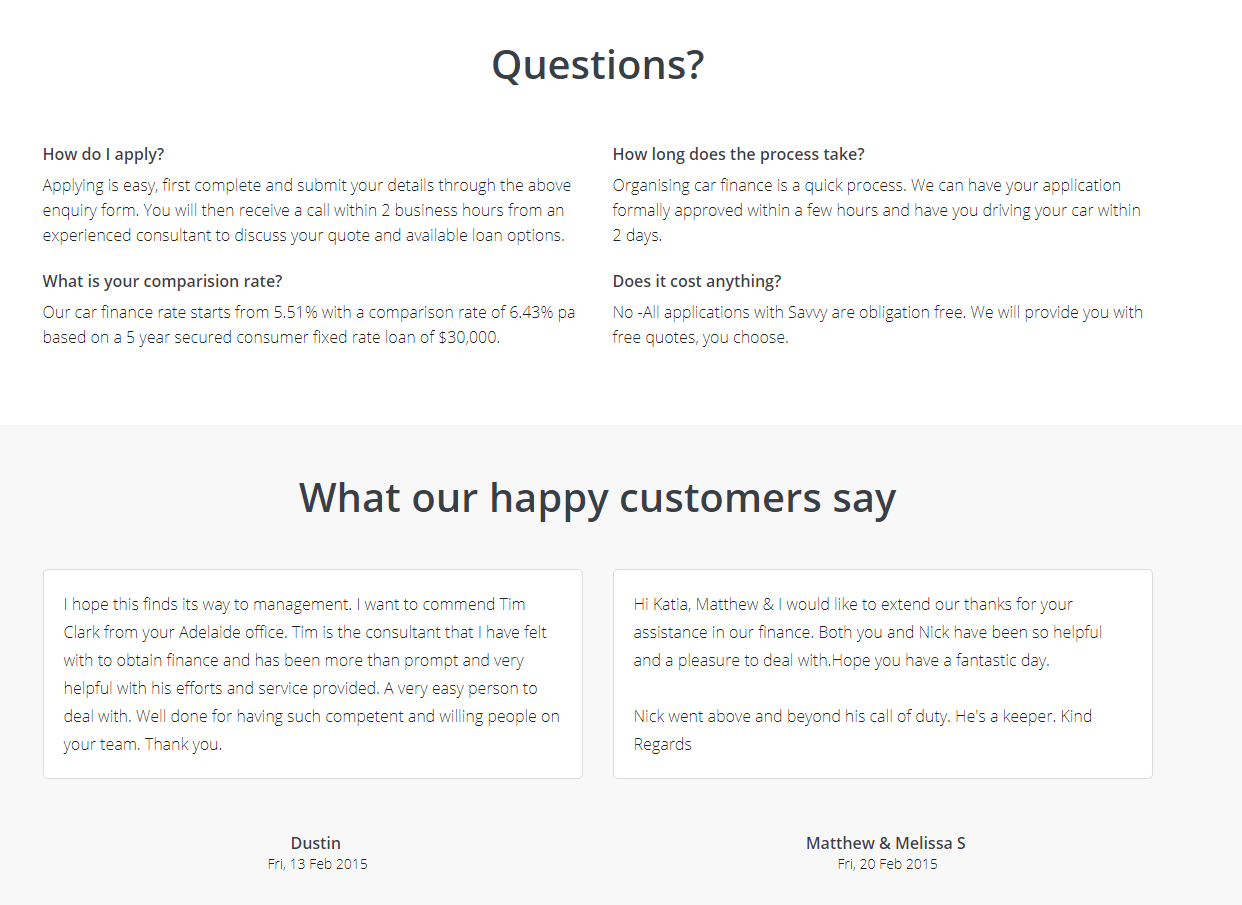 The next section of the page contains two very important elements:
#1. A FAQ section

#2. Testimonials
Both of these elements provide credibility. It means your potential buyers don't need to go fishing for answers. Instead, they see the answers front and center.
Customers are time poor.
The more they need to research your website to find the answers to their questions, the less likely they are to buy. Therefore, it's best to include all relevant information in an easily digestible way.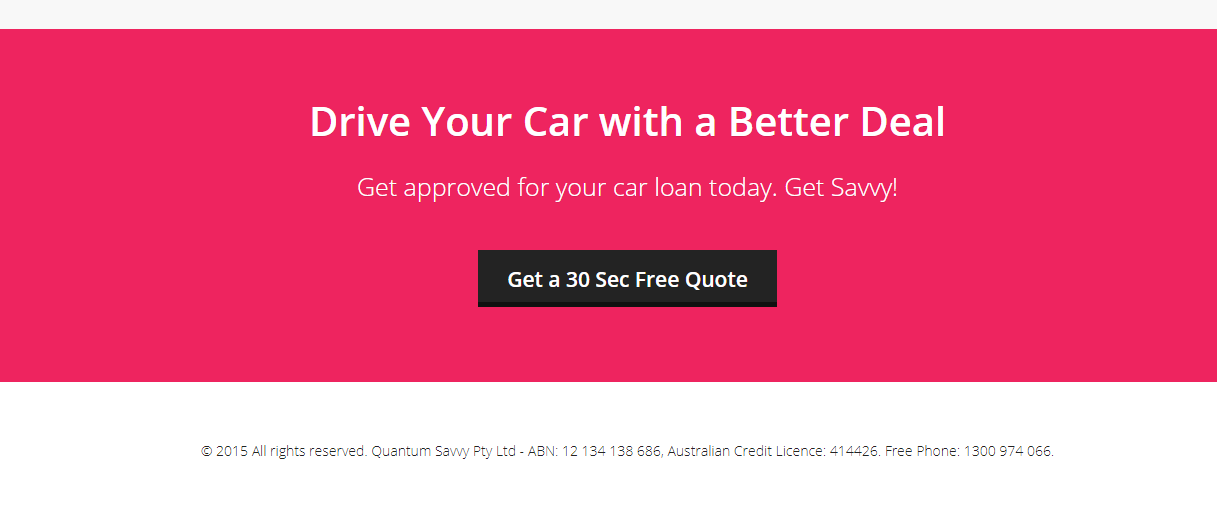 If your customers make it to the bottom of your landing page then it's really your last shot to convince them on why they should buy with you.
Savvy used a call-to-action to achieve this. "Get a 30 sec free quote".
What do you think when you see this call to action?
Are you enticed to click the button?
Of course you are! It's only going to take 30 seconds of your life to find out if you're able to get a car loan with Savvy.
By creating a highly engaging landing page, Google increases Savvy's quality score which ultimately reduces their cost per click.
Create a high converting landing page
We've tackled heaps of super useful concepts to help improve your landing pages and lower your Google Ads cost per click. Here's a refresher incase you missed any of the important parts:
When creating an ad, you need to direct viewers to a URL. By leading them to a highly engaging landing page, you're more likely to achieve more enquiries and conversions.

Landing pages are a part of quality score. The higher the quality score, the less you potentially pay per click.

High converting landing pages share common characteristics. Use the checklist provided as a guide.
You have the power to create highly engaging, high-converting landing pages that also reduce your Google Ads cost per click.
Use the next 15 minutes to reflect on your current Google Ads landing pages and see how they can be improved.
Need help analysing the effectiveness of your current landing pages? Give our expert Gorilla team a call on 1300 467 452