Online retailers are forever questing for growth.
There's two things every successful ecommerce manager hunts each and every day:
Acquisition – new customers
Loyalty – repeat customers
It's particularly hard to generate the latter without the former.
Fast growth requires a steady stream of new customers for you and your team to convert into larger cart sizes, and more frequent purchases.
One of the advantages of online retail over offline retail is your ability to reach new customers – it's cheaper and easier to do this at scale.
We only need one store.
It's rent free.
It's open 24 hours.
We don't have to hire, train or pay in-store staff.
And we can service an almost infinite amount of customers at the same time.
cWe can achieve fast growth by increasing acquisition and loyalty without the barriers faced by offline retailers.
But what happens when you start to reach maturity?
Acquisition slows. There's only so many customers you can recruit in your online store's home country. Most online retailers grudgingly accept dwindling acquisition rates, and turn their focus to increasing other metrics – converion rates, cart sizes and order frequency. This image from Alex McEachern of Sweet Tooth (a Canadian ecommerce loyalty program provider) via Shopify's blog, illustrates the shift in focus for the average online retailer.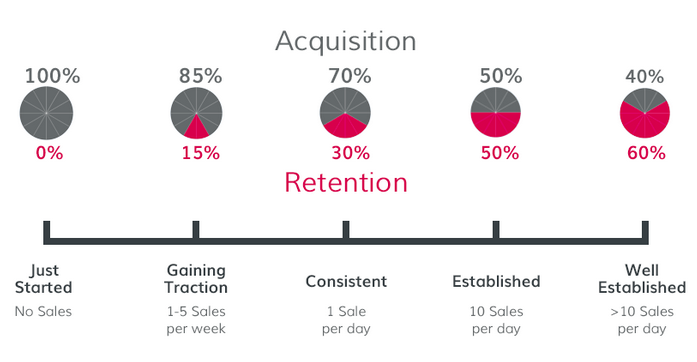 They're missing one exponentially larger acquisition opportunity…
It's big.
It's round.
And it's full of an ever-increasing number of potential ecommerce customers.
The rest of the world!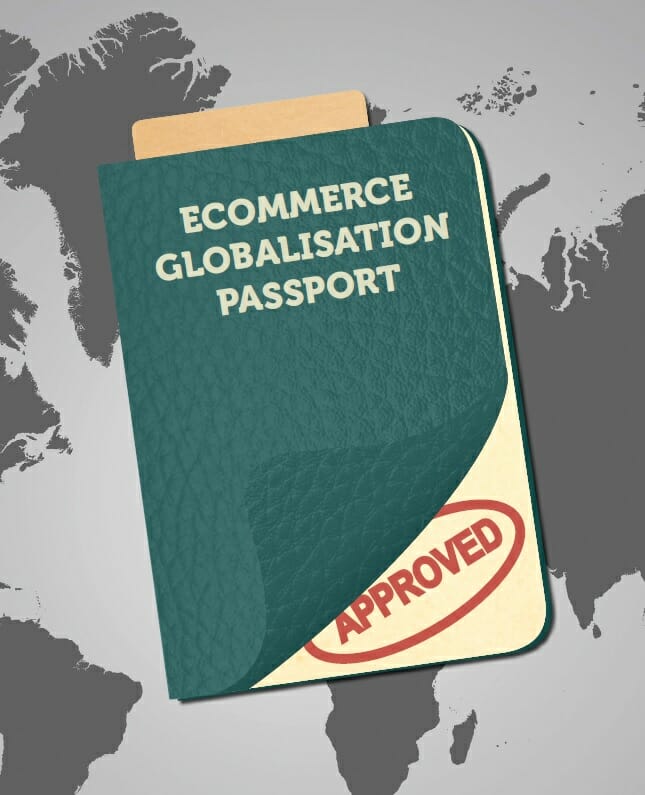 Relatively few ecommerce stores offer international delivery. This seems odd.
A new world of potential customers continue to emerge across all corners of the globe.
An increasing number of these future consumers come armed with smartphones, internet connections and disposable incomes.
If your growth goals are to increase acquisition and loyalty – maybe it's time your online store got its passport stamped.
Short On Time? Your Skim-Read Summary:
Too busy to read the whole thing? We get it: logistics, synergies, KPI's – all that stuff. Our articles are long, well researched and detailed. Sometimes you need to pick and choose the bits that interest you best. Here's the skim read version (you really should read the whole article though). You can click on the dot point that takes your fancy and head straight to the relevant section.
Buy-in is relatively low for an online retailer
If this international expansion caper was a poker match – the potential windfall is extremely high in comparison to the entry fees.
The risks, and costs, of international ecommerce expansion are minimal (especially in comparison to bricks and mortar retail).
If your customer experience, your brand, and your products are valuable enough in any new market, shoppers will pay to get their hands on your best work.
Customers already shop across borders.
If you're an online shopper in a Western country outside of the US, or the UK, there's a red hot chance you've purchased from an international ecommerce store.
Why?
Why buy from an overseas online retailer when delivery costs are almost certain to increase the price of your purchase?
Pitney Bowes' Global Ecommerce study posed this very question, in seeking to understand the primary reasons why consumers shop outside their home country.
The top three responses:
If you can compete favourably against home country competitors on each of these three markers, you're a good chance of making your international sojourn profitable.
The potential reward of cross border ecommerce demands your attention
Buyers in non US/UK/Chinese markets can't always get the things they want domestically, yet they know said products are available elsewhere.
If the price, product, and service are right – customers are prepared to pay a premium to get what they want from a foreign online store.
Forward-thinking online retailers prepared to expand across borders can see the opportunity here.
The 2015 Global Retail E-Commerce Index from ATKearney indicates global retail ecommerce sales hit almost $1 trillion in 2015, with a forecasted rise to over $1.5 trillion come 2018.
Trillion. With a 'T'.
That's a lot of billions.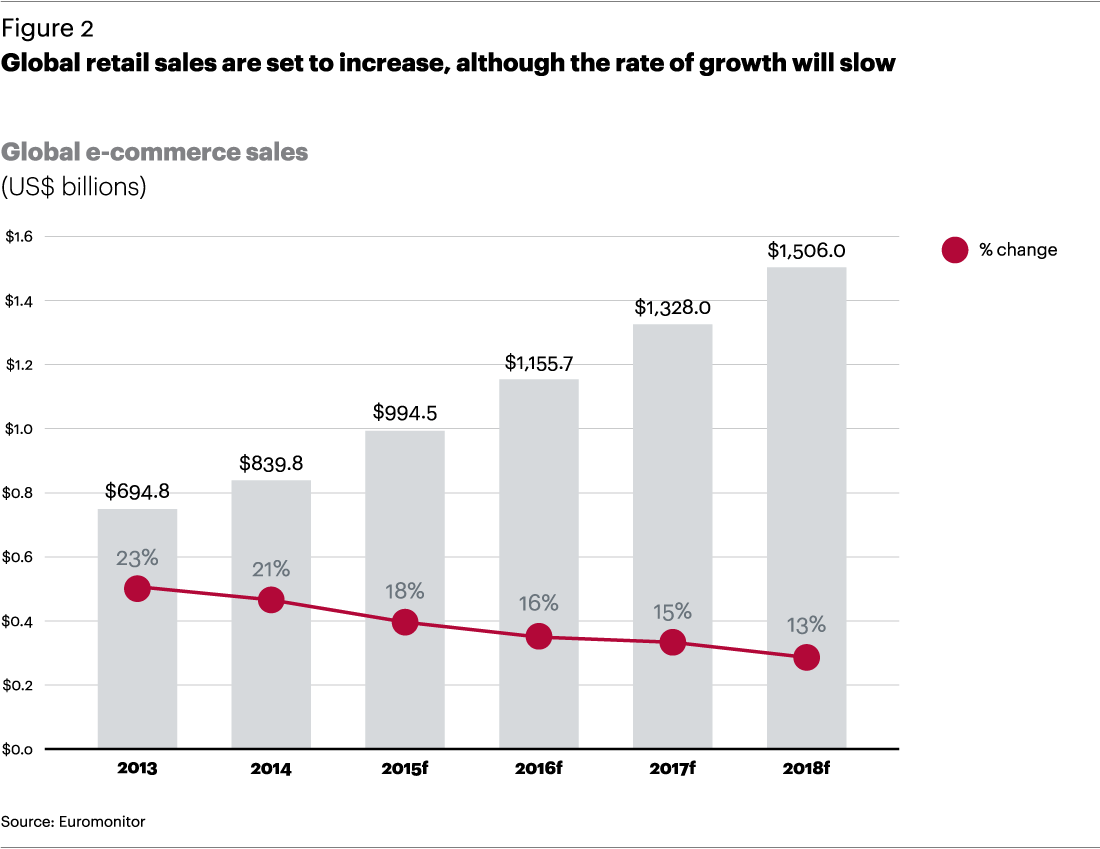 If your ecommerce brand can manage international expansion, you don't need to consider your home country's growth expectations in isolation.
You can eye off a slice of those hundreds of billions of global ecommerce growth dollars in the next couple of years.
That's a big pot of potential winnings.
You're going from a small-time regional competition to a worldwide tournament of champions.
Emerging markets may present the best long term opportunity
You need to do some solid research before you dive right in to international waters.
Analyse the demand and competition in any potential new market. You might even like to run a pilot or beta program to test a few key products before you commit significant investment.
It's critical you find the right nation/s to ensure success. The obvious established markets in North America and Europe might not be the best strategic options.
Here's some super valuable advice from Bigcommerce:
"Online shoppers from smaller countries are probably more likely to make international purchases, and they'll likely spend in larger international markets like the U.S., Canada and Australia."
While the dollars and demand might exist in the US, UK and Canada – these markets are the high rollers.
It's a tough room.
You might find it a little intimidating taking on the Amazon/Ebay/Asos of your industry.
(If Amazon played poker, I imagine this is what he or she would look like.)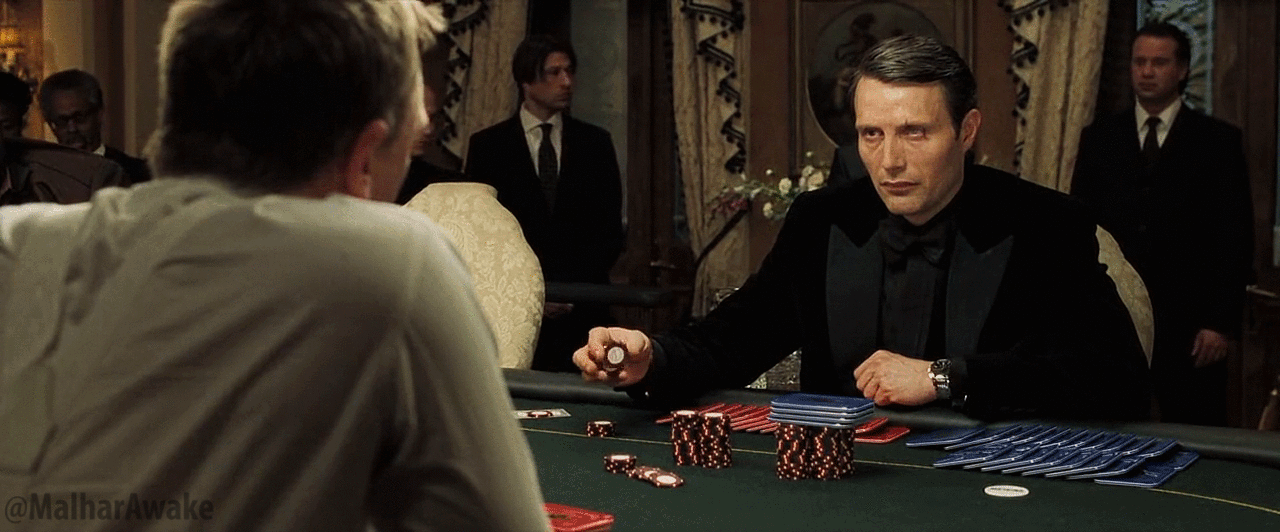 It will be harder to muscle in from a low base. Generating awareness and acquiring customers could be challenging, and costly (of course, the glass-half-full retailer knows a larger market means you need a smaller slice of the pie).
In contrast, it may be easier to establish traction in less established online retail markets (particularly those isolated nations poorly serviced by global powerhouses).
Places like New Zealand, Scandinavia, South Africa are developed markets, with a high proportion of people conditioned to buying online.
Newer emerging markets like China, India, Brazil and Indonesia present more of a cultural and logistic challenge, but the growth potential is enormous, and the competition is underdeveloped.
If you play your cards right at these new tables, the payoff could be enourmous.
If you take on the heavyweights high rollers, things could be a whole lot more difficult.
You show em' Katy…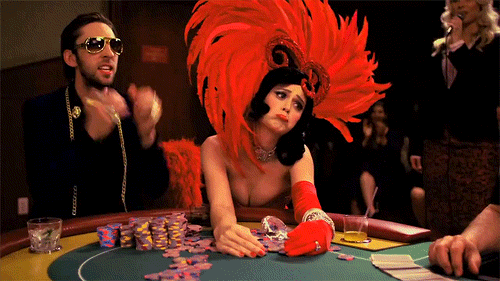 Fast, agile, innovative retailers have a huge growth opportunity
Ecommerce-first international retail expansion is like testing your abilities at a $10 table before you muster up the courage to lay some serious money down in the member's lounge.
Your online store turns a potential all-in play into a simple check.
You might still stuff it up. It's still challenging, uncertain, and slightly daunting – but you dramatically reduce the potential risk if everything goes belly-up.
The 'fail-fast' mentality lends itself to the global ecommerce question.
Nimble and assertive startups are widening their reach and diversifying their revenue streams, while more conservative retail brands watch on from the sidelines.
Before online shopping, the retailer's plunge into overseas markets was fraught with danger.
You needed a whole bunch of expensive, time-consuming accompaniments:
Physical store/s in an unknown location
A new home-country management team (or a costly relocation of existing staff)
A collection of new employees to train and manage
New culture, system and legislation to understand
Instant revenue to pay the bills
You're all-in at this point. If the cards don't fall in your favour, you're in serious financial strife.
It can all go from hero to zero very quickly…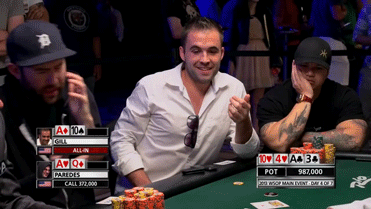 Ecommerce brings a luxurious calm to the equation.
International expansion with an online store is faster, cheaper and easier.
Better than anything – there's no extreme pressure from costly overheads to make money immediately. If you launch your site, and demand is slow – you have the time to generate more awareness, or you can abort your mission without a massive net loss.
The "what's the worst that can happen?" attitude can be a positive here.
Try a new market.
If it fails, at least you gave it a burl.
If it succeeds, the growth potential exponentially outweighs your loss.
Nimble technology will help you expand
If you can move fast, and quit with equal pace – you're in the best position to succeed, or fail with minimal risk.
The major barrier to a cross-border online store launch is often site developments. The time and expense you need will vary depending on your technology restrictions.
L2 is one of the retail world's finest analysts, and their 2015 Ecommerce Agility Intelligence Report is a haven of valuable insights. In partnership with enterprise cloud commerce provider Demandware, L2 spliced the international expansion rates of market leading retail brands by platform.
Their data demonstrates brands with standardised, cloud-based ecommerce technology are better served for launching an online store across borders.
"60% of cloud brands operate sites in the emerging markets (compared with 40 percent of on-premise brands).
While 86 percent of brands on an in-house platform (generally, more mature organizations with an established retail strategy) have physical stores in emerging markets, only 45 percent have an e-commerce presence in these regions."
The differences here are stark. The limitations of brands with in-house platforms make international ecommerce expansion a time consuming, costly process.
I'll let retail research Rainman and NYU Stern professor Scott Galloway take it from here:
Competitors with standardised, cloud-based platforms can develop and launch new sites with speed. Custom platforms demand serious infrastructure investments to meet the Global Ecommerce Table Stakes.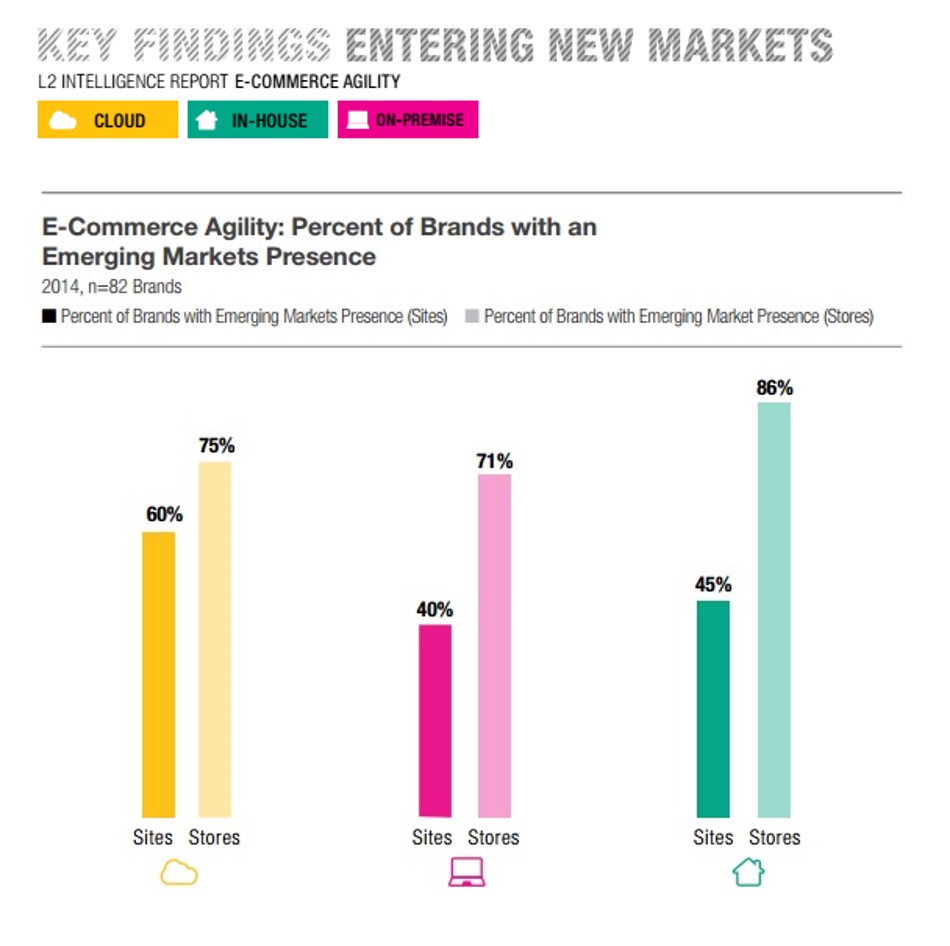 Ecommerce can be a test vehicle for physical retail expansion across borders
It makes sense, right?
Test the demand of a new market with ecommerce before you go all-in with the costs of a bricks and mortar presence.
Deloitte's Global Growth Through Ecommerce Expansion report is well worth a read for any retailer considering this option.
Here's a snippet that spells this whole thing out:
"For markets where brand awareness exists and retailers are looking to expand physically, ecommerce serves as an important channel to gain key insights into consumer preferences and price sensitivity.

A dedicated regional ecommerce channel can also serve as a low-risk platform to test the market and inform the physical expansion strategy in the market."
The L2 study I mentioned earlier, found that agile retailers are more likely to establish online presences in emerging markets as a low-risk way to test new markets or complement an existing store footprint.
"On average, 60 percent of cloud brands operate sites in the emerging markets, compared with just 45 percent of in-house brands and 40 percent of on- premise brands.

Conversely, 86 percent of brands on an in-house platform have physical stores in emerging markets, while only 45 percent have an ecommerce presence in these regions."
Of course, this report was prepared in conjunction with Demandware – they make their money selling a cloud-based software platform. The cynics will want this result asterixed. But you can't argue with the methodology of the research.
Elana Anderson, SVP, Worldwide Marketing, Demandware summarises the importance of agile technology nicely:
"Demandware's value proposition is grounded in the unique tenets of a cloud model. We believe – and the L2 research provides further evidence – that retail brands must be agile in order to stay ahead of the curve in this ever-evolving retail market. That agility requires a nimble platform that facilitates continuous innovation and empowers the business to focus its efforts on delivering a differentiated experience to the consumer, instead of platform maintenance."
To decode the business-speak gobbledgook:
If you want to move fast, minimise risk, and continually innovate – you need an agile technology platform.
Update legacy technology before you get serious about international ecommerce expansion. It'll save you time and cash in the long run.
The baseline for global ecommerce success
These are your Customer Experience Table Stakes.
At the absolute minimum, your new shoppers will expect you to have the following areas sorted:
Delivery costs comparative to domestic competitors
Clarity in cross-border fees before purchase (i.e., duty/taxes)
Decent tracking visibility and post-purchase customer service
Reasonable product delivery times
Solid data security, and multiple payment options
If you can cover these five, you're in the game. Without them, you won't make buy-in. You're customers will simply shop elsewhere.
Alas, it's not just bluffing and luck from here on in.
There's a whole stack of work you need to do to get yourself to chip leader in the competition for international market leadership.
Here's the most important factors you need to control to score yourself a winning global ecommerce expansion hand…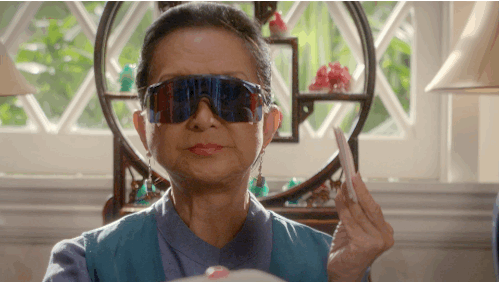 4 elements of a successful ecommerce expansion plan
We've tried to pull together the main considerations you need to prepare your online store for cross border expansion.
Think of this as an international expansion checklist.
If you can't meet the criteria right now – you have two options.
Invest in these key planning areas proactively, to make sure you're ready to succeed before you launch across borders
Fail fast, keep your money in your account, and your time in your current business, while you revisit expansion at a later date
Tick the boxes in these four key areas, and you'll be in the perfect position to scoop the pot and dominate your online niche in any new market (hopefully with a little more humility than this guy).
#1. Planning and due diligence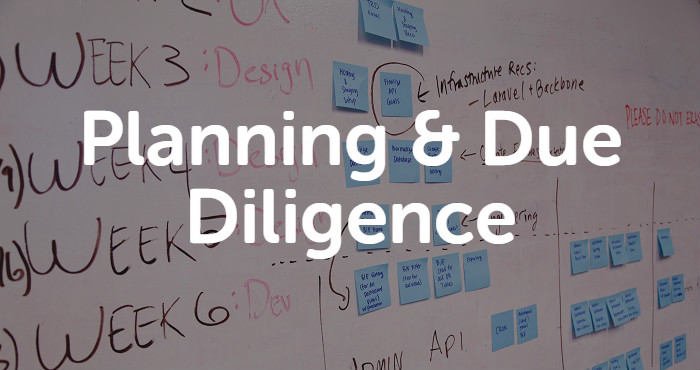 You want to work out if your online store can profit across borders before you make the move.
You need to analyse the new market from a local perspective.
What kind of supply is there for your product categories?
What kind of selection is there?
What is the expected delivery experience?
Next you need to consider your side of the fence.
Relate these factors back to the viability of your brand meeting the international ecommerce table stakes:
Can you offer competitive shipping costs and full tracking visibility?
Do you have the technology to incorporate cross-border fees/duties/taxes at the time of purchase?
Is it possible to sustain reasonable product delivery times?
Will you be able to guarantee the data security expected by the new market?
This info will help you decide if it's a market you can do well in.
But – the research required for this decision is something of a double-edged sword.
You want to move swiftly, as the risks are relatively low. Testing and analysis will give you the sharpest indications.
However, a detailed understanding of the mechanics of online retail in your new nation of choice can skyrocket your chance of success.
It's hard to know whether to bunker down with a rigourous market research program, or keep it lean and start shipping product as soon as you can.
Chris Bishop, writing for Econsultancy offers some perspective to retailers considering expansion of their online store's international reach.
There are some exceptional market differences between territories, showcasing the need to spend time researching and implementing a solid localised launch plan as opposed to a knee-jerk reaction to a few international orders.

In an ideal world, merchants would like to see their products and services making waves in every territory. But there's so much to consider with expansion and one-size-fits-all is not an appropriate approach.

We are dealing with metrics, markets and demographics that weren't covered in Marketing 101 and are expanding and developing at an exceptional rate.

Conducting this research and considering potential demand based on different performance indicators could ultimately determine the scalability of your business in that region.
A little due dilligence could save you the time of a failed pilot.
The costs of a mis-informed expansion gamble may be relatively insignificant, but the months you invest in the process are too precious to warrant going on gut-instinct alone.
#2. Shipping and delivery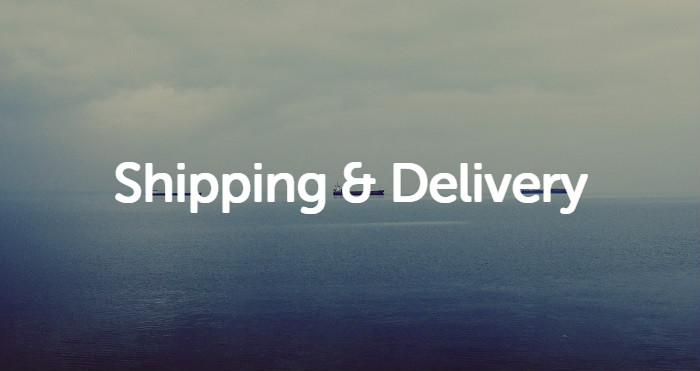 Firstly – you need to be import and export compliant.
Best to contact an expert at this point to make sure you have the legalities sorted. Each nation will have slightly different regulations, and you need to make sure you abide by all of them.
The obvious dilemma is cross border shipping logistics.
You need to work out how to do it.
The key questions:
Do your engage third party suppliers?
Do you establish your own warehouse?
Do you send everything from your home country?
Do you integrate a freight aggregator into your checkout process to automatically select the best option for each customer?
Where do you draw the line? Will you send to regional areas? Which ones?
How do you set competitive prices?
Can you build all shipping costs into the price displayed to a customer before checkout?
You have a couple of options to remain competitive against domestic operators with lower shipping expenses:
build an average shipping allowance into your prices
offer a collection of options to customers with tiered pricing related to delivery timings
Whatever you decide – be as transparent as possible.
Set clear expectations of your delivery and returns policy on your product and checkout pages BEFORE your customers commit to a purchase.
Make the most of third party shipping experts
Global ecommerce shipping is getting more and more affordable. With increased demand, all-time-low shipping costs, and improving technology; cross-border delivery is becoming big business.
If you haven't already, you might want to check out our article on this topic, titled;
"Why you need to get serious about cross border ecommerce"
You'll be surprised just how favourable international shipping conditions are for online retailers right now.
Freight aggregation providers are an invaluable right hand man in this department. The likes of Transdirect and Termando now offer ecommerce integration so your online store automatically calculates the most effective freight provider for each individual order based on the customer's address and order details.
Neal Kaiser from Multichannel Merchant has some astute additional advice around international fulfilment for brands new to the game:
"Additionally, if your company ships from one of several warehouses, using intuitive inventory management tools assures your merchandise is shipped from the right location."
Bongo is a leader in cross-border enablement technologies, helping retailers manage international delivery. I'll let them explain the bottom line for any expanding retailer attacking the cross border ecommerce conundrum:
"Keeping your customers in the know about when to expect their shipment will help put their minds at ease when purchasing from an overseas e-tailer. After all, when a package is coming from halfway around the world, it's nice to know when you can expect it."

Apart from finding the right third party suppliers, the biggest question of them all remains:
Can you afford to offer free shipping and returns?
It's going to be harder and harder to compete in online retail if you can't offer free shipping and returns to your customers.
This factor may be the most significant barrier to global expansion for the majority of ecommerce brands.
Return shipping is more than an afterthought
We also need to seriously consider the costs and logistics of managing returns.
CEO of Clarus Commerce, Tom Caporaso, writing for the Global Trade Mag cites research that states
"88 percent of online shoppers see free return shipping as an important factor in their purchase decisions. 95 percent say they'd shop again at an online retailer if they had a positive return experience."
A recent UPS Pulse of the Online Shopper study states two-thirds of consumers look at a retailer's return policy before they complete an order.
Consumers also expect a simple and inexpensive returns process.
66 percent of those surveyed would only purchase from brands offering free returns shipping, and 47 percent expect an easy-to-print return label.
Don't neglect the importance of your customer experience in this area. It could be a dealbreaker for foreign customers new to your brand.
#3. Online store developments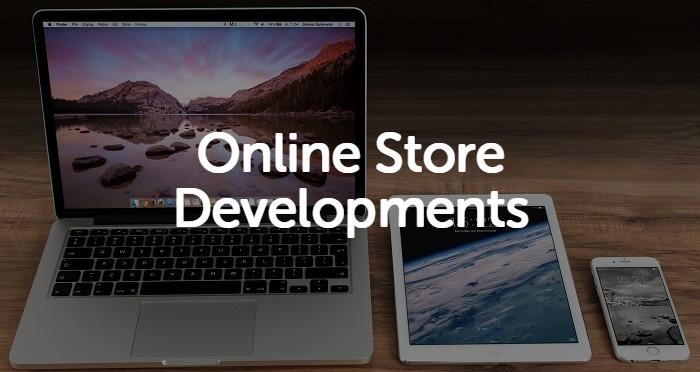 When an international shopper visits your website, welcome them and speak in their language – make sure they understand that you understand their culture and their shopping preferences.
If you don't tailor your approach, you run the risk of isolating browsers from your new market.
"This site is not for us" is not the feeling you want to trigger. Uncertainty is a ruthless ecommerce conversion killer. Foreign customers who don't feel at home, do not want to take a risk on an unknown bet.
Language though, is more than just translated words.
You need to speak to your new customers in a way that instills them with trust. It's important you communicate the values and beliefs of your brand in a way that resonates with your new international market – a way that is tailored specifically of the nuances and specific sensibilities of your new target audience's sensibilities.
The critical trust factor?
Present your costs in the customer's home currency – inclusive of all taxes and duties.
If at all possible, you need to give customers a clear indication of the costs of delivery and returns before purchase as well.
There's a whole stack of specifics to bed down before you're ready to launch an online store in a new country.
Here's just a few, but if you'd like a detailed pre-international expansion checklist, we've prepared a a great blog article for you to share with your team.
Specific website changes to plan before expansion
Google language/country localisation
Is your website organic search ready? Are you using language and location meta data? If this stuff sounds more foreign to you than your new market, it's a good idea to get some expert help from a specialist SEO agency.
Which devices are prevalent in the new market? Does your online store offer a best-in-class user experience on the key devices used in your new market?
Localised search engine optimisation
Use localised prefixes for each of your online store's new URL's (redirect to .au in Australia or .nz in New Zealand) to make sure customers and search engines are directed to country-specific content. Geographic-dependent IP detection is also a must for a new international store. This allows you to guide new browsers to the right version of your site, displaying content in their local currency/language.
Keyphrase research based on competitor keywords
Have you conducted keyphrase research to identify demand for key products/product groups? The way people search for your products and services may be slightly different in each new market. Analyse the performance of the other key players in your niche and formulate your SEO strategy based on the product and category keyphrases they rank for.
Marketing and promotion (the most important one!)
Outside of your online store, promotional activities will be critical. If you don't have the resources for large scale customer acquisition using paid social, search or traditional media – you'll need to laser focus your approach.
Determine which channels will be central to your marketing push. You need to work out where your new target audience likes to hang out online. These are the areas to patrol.
Find a way to drive interested traffic to your site with helpful, entertaining or interesting content, then set up your site with a mechanism to push new users to subscribe for regular email updates.
If you know the estimated customer acquisition cost for each channel, you can add an element of paid advertising to the mix.
#4. Finance and pricing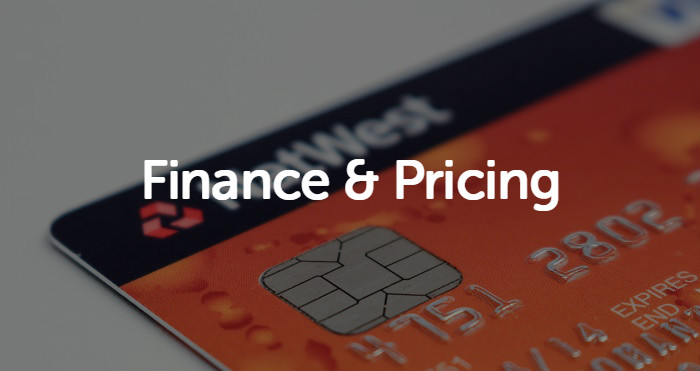 The big one – find a way to show those full costs in the customer's home currency.
Customer's expectations have moved beyond a replicated online store with a currency converter and some badly translated webpages. You need to establish trust with your new audience – particularly if your brand is not a household name.

Here's some other specifics direct from our Ecommerce International Expansion Checklist:
What payment methods are most popular in the new market? Are you set up to utilise these?
There are often one or two popular local providers you may not be familiar with. A simple scope of the checkout process of the most popular home country ecommerce sites will give you an indication of the customer's expectation.
Payment methods have a surprisingly significant impact on conversions
It's important to find out what's best for the markets in which you're selling. For example, in the Netherlands, 60% of payments are by direct debit; while in Germany 46% of payments are by online bank transfer.
In Big Commerce's guide to international ecommerce, author Chase Jones explains:
"People prefer paying in a familiar currency, ideally their local currency. Some payment providers will let you list products in a number of different currencies. If that's a tool they offer, use it. If you're not offering payment in local currency, make sure to give a currency conversion so customers can see what they're paying."
Your pricing needs to reflect local market thresholds and incorporate currency impacts.
No matter where you operate, local statutory obligations will change – and you're in all sorts of bother if you're not compliant. You must have an expert accounting capability. Otherwise you run the risk of missing the nuances, complexity and workarounds of each individual nation.
Taxes on ecommerce operations can be messy, involving export regulations and additional compliance regulations.
Is your ecommerce CMS prepared for the new tax environment?
You need to have this stuff sorted before you go live. The last thing you want crippling your new global operation is an administrative bungle.
Will you offer payment in the local currency or your home currency? Will you provide currency conversion if needed? It really helps your conversion rates to show the home country price on your product and category pages. At the least, offer a currency claculator to improve your customer's experience.
What fraud prevention methods are critical in your new market? What are the common scams and fraud activity? A little investment in prevention here could save you a stack of dollars (and heartache) down the track.
What are the key ecommerce dates to be aware of in the new market? Public holidays, school periods and retail peaks and troughs will be slightly different in each market. Any promotions or discounts need to be planned accordingly.
Make the most of the international online retail growth opportunity before the competition rolls in
Now's the time to make the bet.
You don't have much to lose, but there's a red hot jackpot prize on offer for those innovative online retailers prepared to take a chance.
You don't need to go all-in.
You just need to raise the stakes a little.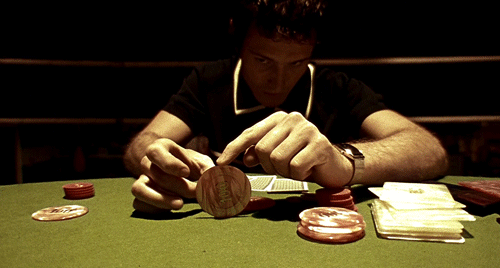 A world of new loyal repeat customers are on the table.
Click on that big blue button below to download our ecommerce international expansion checklist to make sure you're ready to take advantage of this potential windfall.
You've got to be in it to win it.
But as that respected business strategist Kenny Rogers says –
You gotta know when to hold em,
Know when to fold em,
Know when to walk away,
Know when to run.