You know that feeling you get when a brand spankin' new package arrives on your doorstep…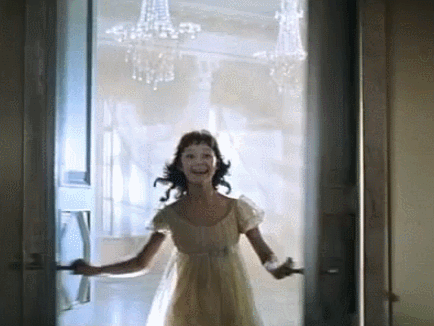 It's a little instantaneous pang of unbridled excitement. It's a miniature version of the wild glee you experienced as a third grader whenever a letter arrived in the mail box – not for your parents, but for you!
Complete disregard for anything else in the pile.
Just manic enthusiasm at the prospect of opening your little letterbox surprise…
You show em' Daffy.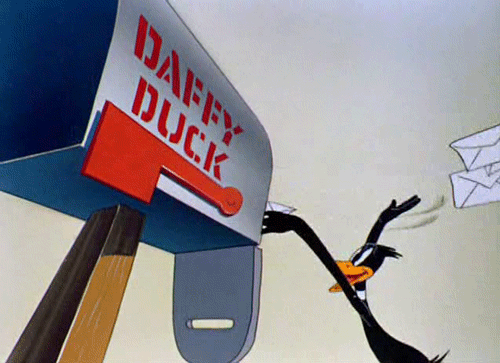 (Remember those things. Mailboxes. And letters. What a time.)
Even now, when you receive a new package, you can't wait to unwrap that bad boy.
You genuinely cannot.
Next time you get a new delivery – see how long you can sit that package on your floor before some intangible excitement creature bursts out of your chest and forces you to tear that box apart.
It goes a little something like this.
Get excited for your new weekly ecommerce 'unboxing experience'
If you're reading this article, there's a good chance you work for an online retailer.
You understand this element of the customer experience intimately.
For those of you new to the vagaries of retail lingo; in the biz we call the process of opening a package 'unboxing'.
Unboxing is inarguably fun.
New, exciting package deliveries are a great time.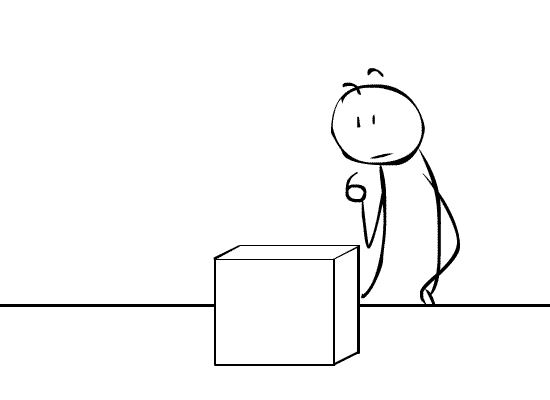 We Gorillas want to add a little slice of that unboxing magic to your work week.
Regularly.
Once each week to be precise.
Except, we can't afford to send an exciting mystery package to your office every Tuesday.
Couriers are expensive. You know that. And a mystery package sounds like something the Federal Police might want to investigate.
We want to give you that unboxing excitement feeling with a regular package delivered to your other mailbox.
The electronic one.
It's a much cheaper, and granted – immeasurably less exciting way to deliver packages.
But we're going to try and make this Tuesday morning inbox delivery of fresh ecommerce insights something you can't wait to open every week.
If we've done our job right, this will be you circa 8am next Tuesday…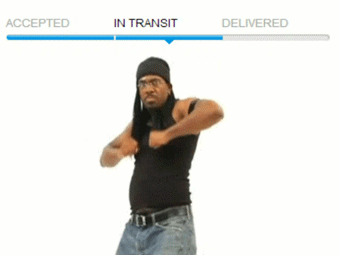 If you're already convinced by this porspect, my work here is done. You can sign up now to receive this glorious mystery bundle of ecommerce learning nourishment.
Or, if a gyrating man dancer doesn't compel you to subscribe to any old enewsletter – you should read on.
All will be revealed…
Our old weekly ecommerce jungle gym newsletter sucked
For a bunch of folks supposedly serious about developing super helpful content for our tribe of loyal subscribers – we were doing a pretty ordinary job.
Our weekly email was almost an afterthought.
We just rolled up a couple of paragraphs of our most recent article, slapped on a banner image, then sent it straight to our subscribers.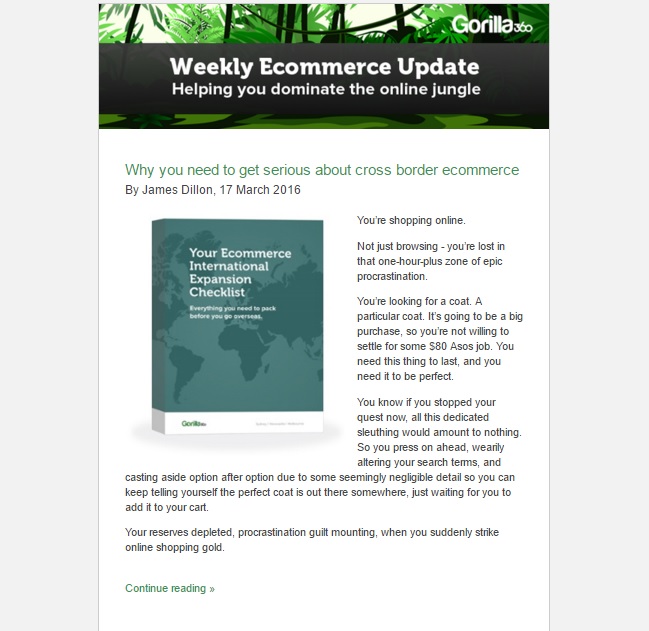 It looked ugly as well.
There's no excuse for that.
Our new weekly ecommerce newsletter will be so much better
We bang on and on about creating a best-in-class customer experience.
We preach that you should be developing genuinely helpful content for your audience.
We gush about brands that make every contact with the customers an opportunity to delight.
Unfortunately, we dropped the ball on this one.
We weren't living up to our own advice.
We were missing a chance to help you out.
Promise – it won't happen again. We're committed to making our Weekly Newsletter a valued part of your work week.
Introducing Your Weekly Package of Ecommerce Learning

Once a week, starting in April, we'll send our tribe of subscribers one neat little package of ecommerce marketing helpfulness – delivered free to their inbox door.
You should subscribe now for your weekly bundle of learning excitement.
Our weekly package will collect all of the most important online retail news, insights and advice into one must-read email.
We hope it becomes a regular part of your Tuesday morning.
You might even get that little pang of excitement if you're lucky.
What's inside your weekly delivery of ecommerce marketing goodness?
Each Tuesday morning, you'll be able to unwrap and read a bunch of little learning gifts including:
Here's a sneak peek of our first edition
You can take a look under the package wrapping to see what's inside our first issue.
Don't go trying to click through to anything though. This is only an image.
You'll need to subscribe to be able to access this learning goodness each Tuesday.

Why rely on a bunch of primates for your online retail info?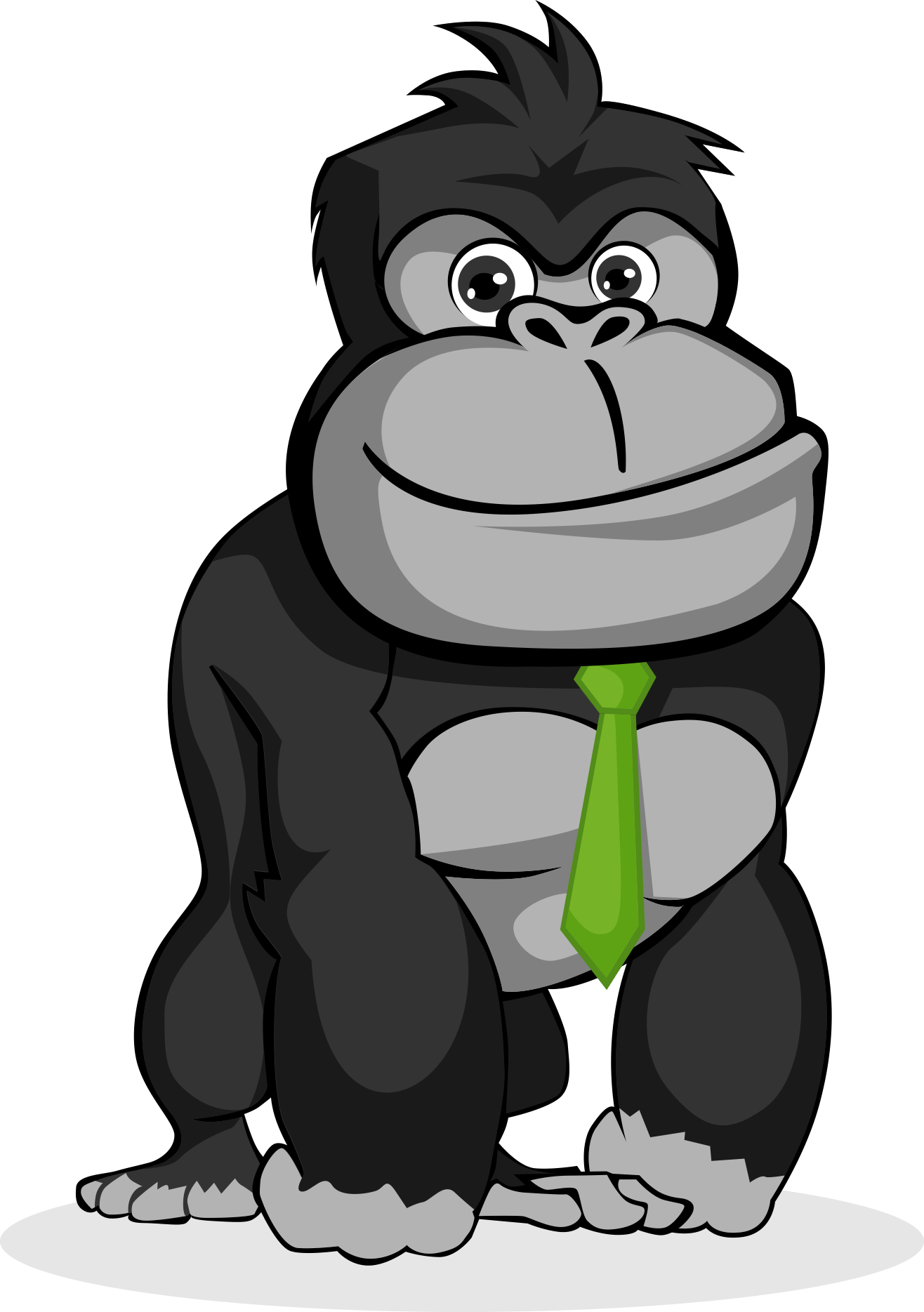 Firstly, contrary to all indication, our ecommerce specialists are much more educated that the average Gorilla you bump into down the street.
Secondly – just look at that smile. And it's a gorilla wearing a tie. What's not to trust?
Also, we're committed to stalking anything that moves in the online retail jungle.
Our ecommerce online magazine is a canopy of educational resources, fresh insights and in-depth analysis, dedicated to helping you create better online retail marketing.
We Gorillas know how hard it is to read the future of online retail without psychic powers (or countless hours of aimless marketing blog browsing).
It's almost impossible to filter through the best industry advice, info and news amidst the abundance of content worthlessness scattered across the online marketing 'blogosphere'.
You have a business to work for. You have sales to make. You have repeat customers to delight.
But you still know how important it is to see the jungle through the trees.
We want to turn your ecommerce learning FOMO into a healthy dose of weekly unboxing excitement.
Instead of feeling guilty about all those marketing articles you promised yourself you'd read, but didn't – you can rely on your weekly inbox package of learning to keep you across all the most important industry info.
Make sure you subscribe for your weekly ecommerce package
Just one email.
Once a week.
We Gorillas will keep you at the top of your ecommerce marketing game.
You need to subscribe now.
It starts in April.
That's soon.
All you have to do is hit that big old grey button below.
Your brand's bottom line, and your ecommerce career will thank you for it…