Helpful product recommendations are your chance to increase your customer's overall cart value.
Shopify's article about four ecommerce emails you should optimise says "the probability of selling to an existing customer is 60 – 70%".
Most ecommerce stores would use this stat to start ramming in email product recommendations. Don't let this fool you. The stores that are successful in upselling and recommending products are using smarter marketing tactics.
These ecommerce stores aren't shooting off random product recommendation emails every chance they get. They're strategically timing them, using automation tools to create a personalised recommendation list suited to each particular customer, and analysing the results.
Using the smart approach to product recommendations isn't necessarily more expensive. Yes, it's a little more time consuming but your bank account will praise you for it.
The end-goal of helpful product recommendations is to create satisfied customers. Satisfied customers are repeat customers. And repeat customers increase their average lifetime value.
The worst you can do is send a product recommendation every time a customer purchases from you. And believe me, a lot of ecommerce businesses are doing this. It can quickly lose it's helpfulness.
The best you can do is make relevant and helpful product recommendations based on your customer's past buying behaviour and their most recent transaction. They'll think you're tailoring the email just for them and they're more likely to respond positively.
Helpful product recommendations are a very valuable marketing tactic to increase your average customer lifetime value.
Why do post-purchase product recommendations emails work?
There are two main types of product recommendations.
Upselling and cross-selling.
Len Markidan's detailed article, How to Use Upselling to Increase Customer Happiness, Retention and Revenue, explains how you can use upselling to create happy, repeat customers.
Len explains upselling is a strategy to upgrade a customer to a model with more features, more volume or add-ons.
It's important to tailor the upsell to your repeat customer's needs.
Upselling to new customers is more challengingm, whereas returning customers are more likely to take your upselling advice into consideration.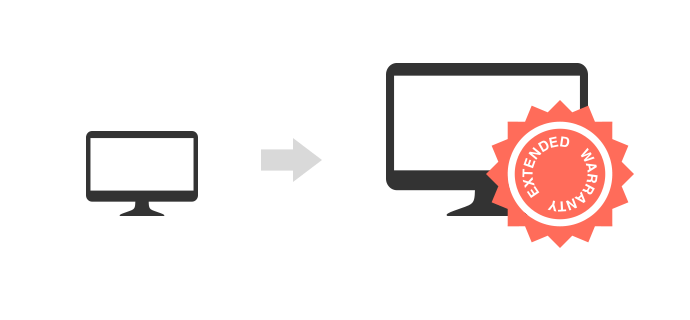 Cross-selling is similar. If you want to recommend products, make sure they're similar or complementary to the initial product purchase.
Len provides an example of a television. In a cross-selling situation you could entice your customer to increase their total order value by including a gaming console at no extra delivery cost.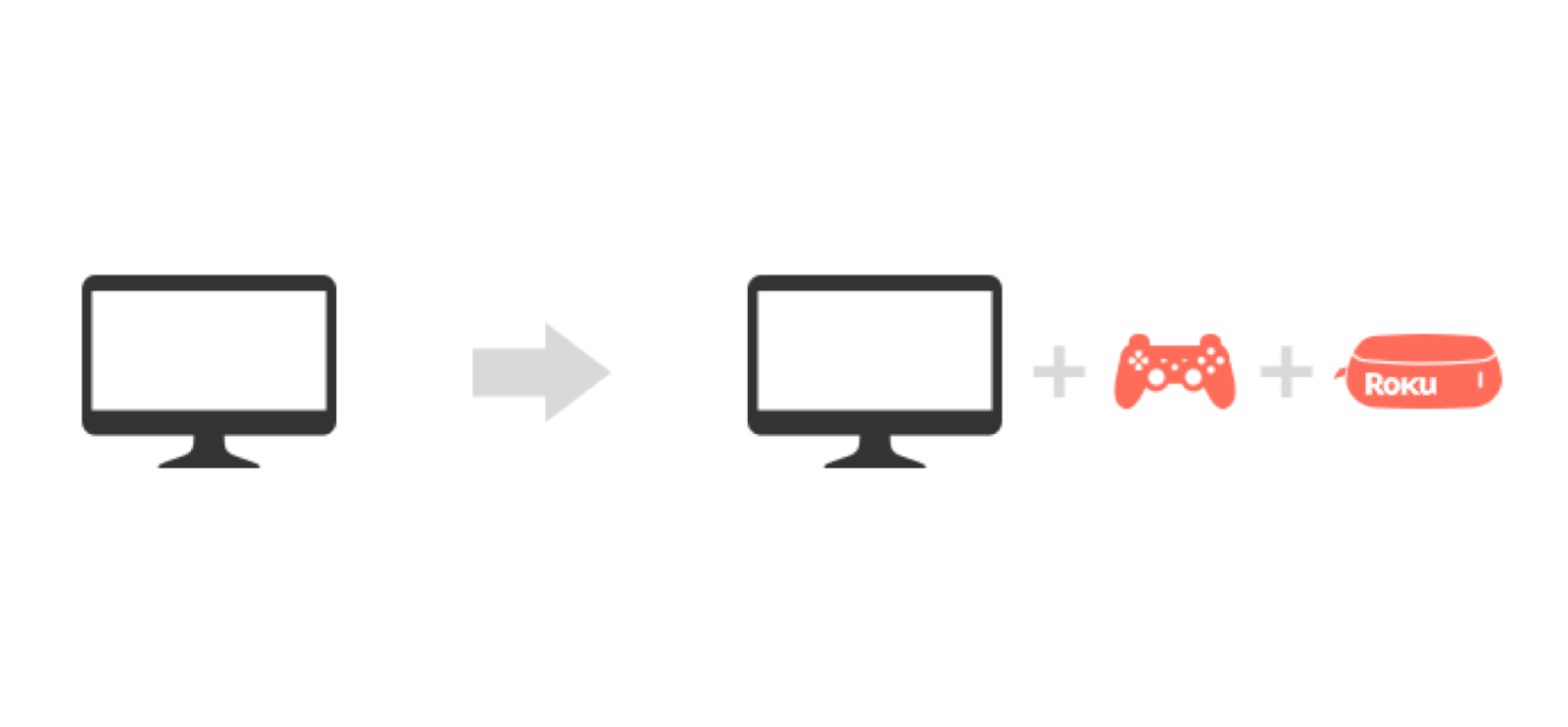 Most ecommerce stores find cross-selling highly appealing. It gives you the opportunity to increase total order value with virtually no effort.
But be careful. If you always apply recommended products in your post-purchase emails they'll lose their effect. Keep tabs on which customers are receiving product suggestions and only send them when you have a relevant product suggestion.
Do post-purchase recommended products apply to my industry?
It's no secret every ecommerce store loves upselling. If it means more profits then, of course, you'll want to spend more time and resources into recommending products.
Upselling drives 4 per cent of sales and cross-selling drives 0.2 per cent of sales, writes David Moth in his article about the effectiveness of upselling.
Len's article also details the importance of upselling. There are a few common takeaways that relate to all industries.
Upselling can deepen customer relationships: You're giving your customers more value by helping them upgrade to a product that better satisfies their needs.
Upselling is easier than gaining new customers:  Everyone knows attracting new customers is hard work. If you upsell to your regular customers, you're more likely to finalise the sale thab you are when trying to upsell to a new customer.
Gain new customers' trust first, upsell second.
Upselling creates lifetime customers: Every time you upsell, you're increasing your customer's lifetime value.
Graham Charlton, Editor in Chief at SaleCyle agrees. His article about upselling and cross-selling talks about sending timely, relevant recommendations that suit the customer's needs.
Recommended products arise from your customer's previous on-site browsing behaviour and buying history. This allows you to create targeted and filtered campaigns that recommend products your customer is likely to buy.
The post-purchase order bump: It's an often overlooked cross-selling tactic used to increase customer lifetime value. Basically, it's a post-purchase email strategy used to tailor recommendations to returning customers based on their likes and tastes.
If you want to learn more about this strategy, read Zach Grove's article about the post-purchase order bump. It goes into great detail from how to choose products to recommend to when to send the post-purchase email.
What should I include in my post-purchase recommendations email?
Let's cover the essentials.
Business and marketing expert Marc Schenker explains it's best to send product recommendations straight after the customer has made the purchase.
The purchase is fresh in the customer's mind and they're excited. They're likely also thinking about whether they made the right choice.
It's your chance to offer helpful recommended or complementary products that will add value to the customer experience.
Expert marketer Phil Weltman from Klaviyo wrote a helpful article about email strategy teardown. It's full of valuable information and has a fantastic visual slideshow of Society6's entire email strategy. I highly recommend watching the slideshow — it provides easy-to-follow information about email strategy.
I wanted to dig further into Phil's thoughts and experience so I had a chat with him about cross-selling.
"Confirmation emails typically generate about $0.75 per email (according to Experian) making them extremely valuable. Not only that, people tend to come back to these emails more than once — contributing to the significantly higher open and click rates that confirmation emails enjoy. This gives you a good opportunity to do a little cross-selling. These customers just purchased, which means they're highly engaged. Take this and promote products that you believe they would like. Now don't just throw any random item at them, recommend a product that you think they would like. In my teardown, I bought a Tom Brady tapestry. If I saw a similar Boston-related product in my confirmation email, I might have made a second purchase right away. Product recommendations can be very beneficial if done right."
We can't stress enough the value of confirmation emails.
They open doors, give you opportunities to interact with customers, and can increase your revenue basket.
Combining both the confirmation email and product recommendations is quite common. Many ecommerce stores use upselling in confirmation emails to appear helpful to consumers.
Marissa Petteruti, marketer at Klaviyo, agrees. She talks about the best times to send product recommendations in her helpful article.
"Product recommendation emails can be sent immediately after a customer makes a purchase… If you catch customers while they're still at their computers, they will me more apt to buy since they've just made a purchase."
In other words, your confirmation email is a fantastic time to add product recommendations.
Marc's article about product recommendations also talks about the importance of personalisation. Personalised recommendations have a higher response and engagement rate compared to standard best-buy recommended products.
The more you tailor products to your customers' needs, the more likely they'll show interest.
Recommended products email layout
A structured, simple email layout can also improve your chances of increasing average order value.
Morgan Jacobson's article shows a perfect example of how to set-out your upselling email.
#1. Begin with a personalised greeting

#2. Show the customer the product they recently purchased

#3. Provide recommendations, complementary products or an enticement to upsell to a newer or more expensive model

#4. Ask customers for their opinion on whether your suggested products that interest them

#5. Provide a contact number or email in case the customer wants assistance

#6. Include your social sharing buttons

#7. End with an opt-out option
It's not rocket science. Many email automation systems do the hard work for you. Investing time and resources in making sure you've optimised your post-purchase recommendations email can deliver huge rewards in the long run.
Post-purchase product recommendation examples:
Dollar Shave Club

The best features of this post-purchase recommendation email
Dollar Shave Shop shows a great way to entice customers to add more to their cart before shipping the original order.
The copy at the top reminds the customer of the shipment date. It then casually asks if you would like to "toss more in," and adds recommended products.
This works well because it doesn't force your customers to purchase. It doesn't even visually show you your original order. Instead, it entices you with a shipment date — like a call-to-act before delivering the product.
The email structure is simple and easy to digest. There are no fireworks or demands to buy more. It gets straight to the point and serves as a helpful reminder that your order is about to ship.
Urban Decay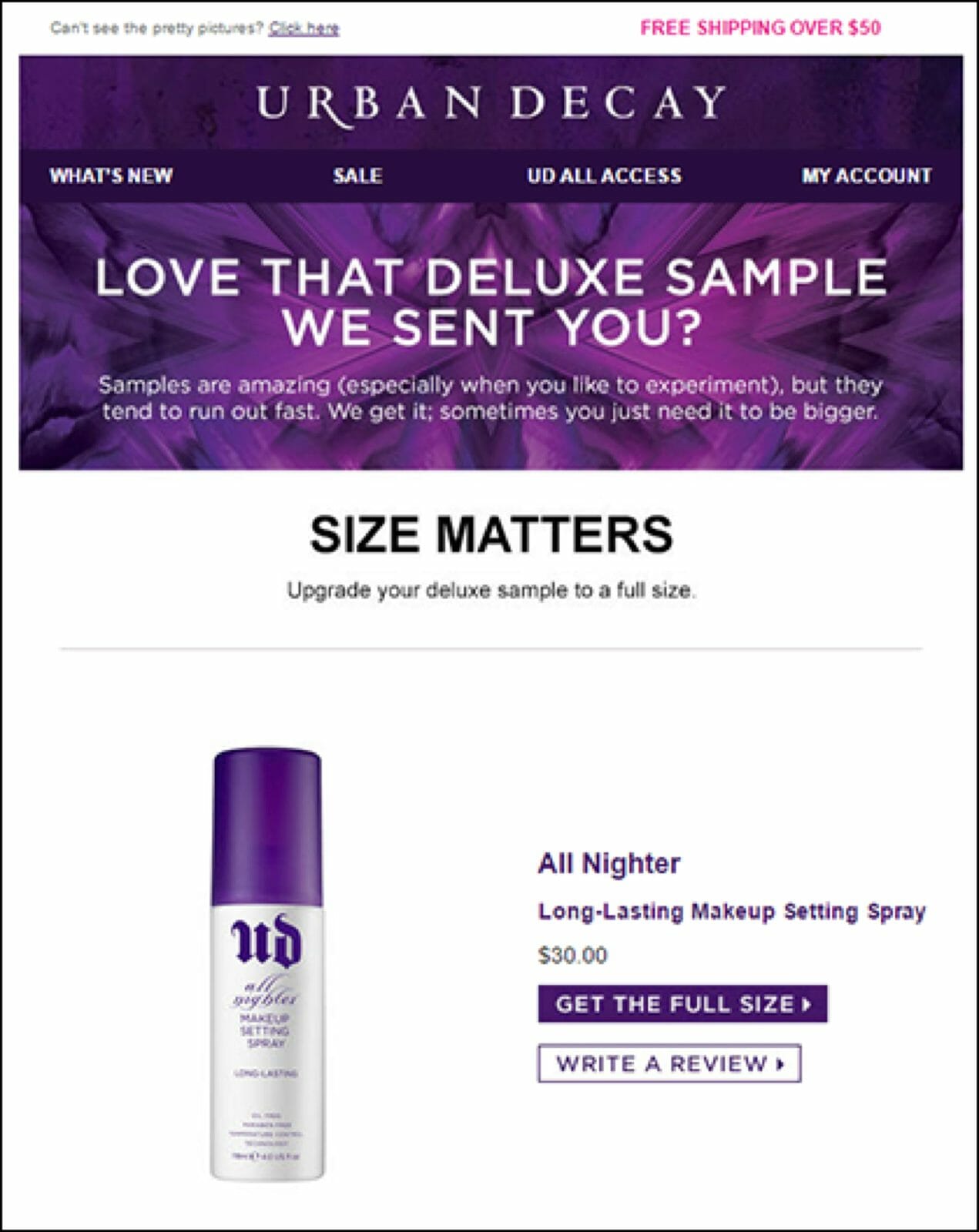 The best features of this post-purchase recommendation email
Urban Decay uses a slightly different approach to upselling. This is a particularly good example for the beauty industry or for ecommerce stores that send samples.
The email begins by asking the customer if they loved the sample they trialed. Once a customer trials a product, they'll have a good idea of their feelings about the product. This makes it easier to entice those who enjoyed using the product.
The copy tone continues to be casual in nature and emphasises the size of the tested product.
Once you've gained an emotional reaction from your customers, they'll start to consider whether they want more of your product.
Instead of forcing customers to buy the product, Urban Decay provided two call-to-action buttons. The first gives the customer the option to buy the full-sized product. The second asks the customer to write a review.
If the customer enjoyed the product, they're likely to purchase when they're ready. Customers who had a bad experience or are unsure about the product may choose to write a review or come back later when they're ready to make a decision.
Reward Zone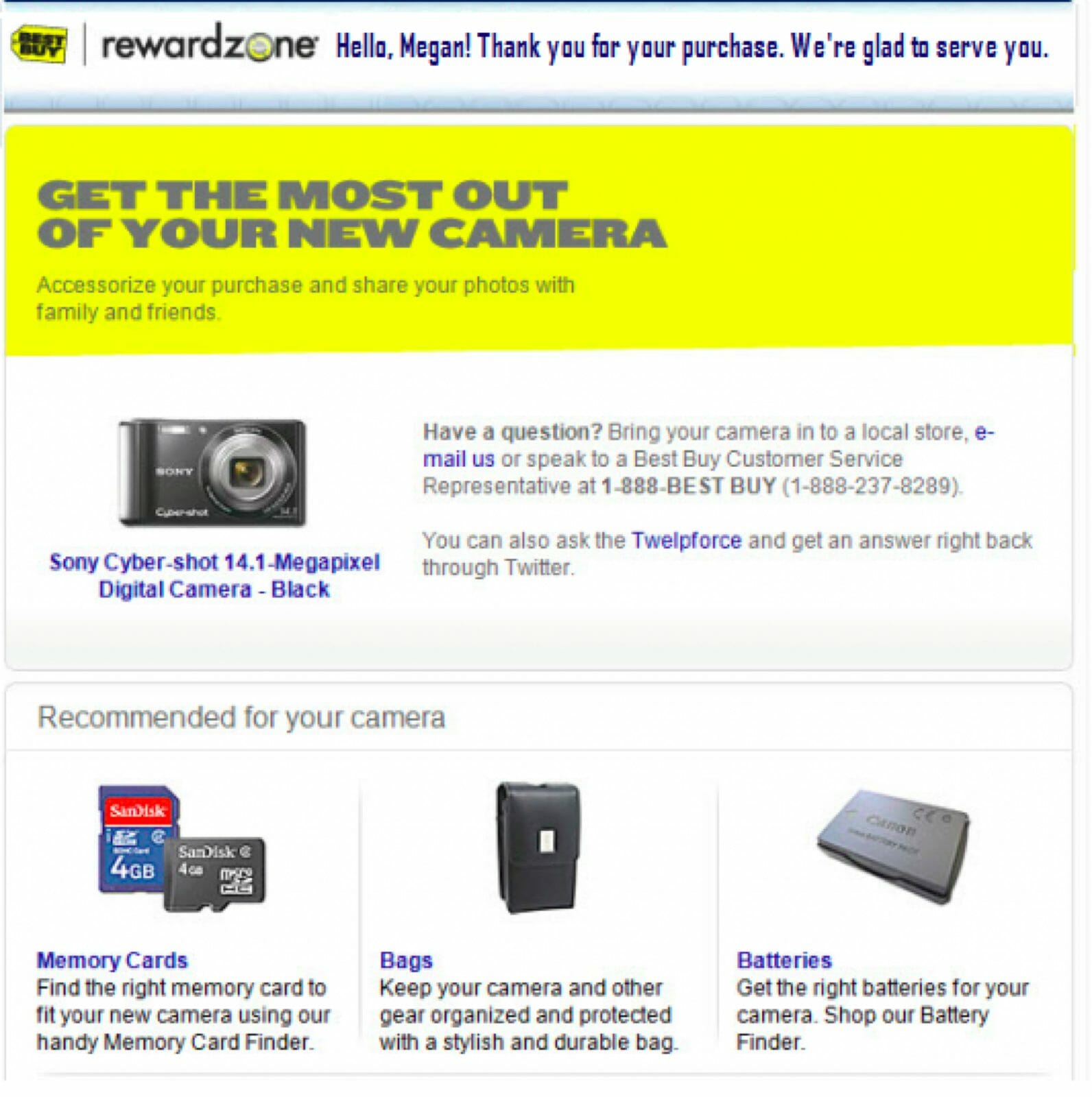 The best features of this post-purchase recommendation email
Let's begin with the opening copy,  "Get the most out of your new camera." The copy is attention grabbing, it's bolded and it stands out.
Instead of writing 'recommended for you' or 'recommended products', Reward Zone has chosen to go with "Recommended for your camera." It's all about the product and making it the best it can be.
If the copy was 'recommended for me',  it would feel optional to purchase the product. A desire or a want — not a need.
"Recommended for your camera" sets off alarm bells. Most of your customers probably didn't consider complementary products.
Think of the products that are best associated with your main product line. For example, after purchsing the digital camera, many people will feel disappointedif they forget to buy a memory card to use with it.
Become your customers' superhero. Help them make their life simpler and tell them how to get the most out of their products.
Reduce future disappointment by spoon-feeding the product suggestions customers need to be able to reap all the product benefits.
Optimise your product recommendations email by making it personalised rather than generic
A customer buys new leather shoes and you recommend buying complimentary shoe polish. Big tick.
The same customer purchases a new dining table and you recommend a popular fridge. Why? How is a dining table relevant to a fridge?
Ecommerce brands lose the opportunity to increase cart value by focusing on automation rather than personalisation.
Make relevant recommendations based on your customers' recent buying behaviour. Customers want to know about the complementary products they need to get the best experience. They don't want to know about generic popular products.
There are two types of product recommendations. Upselling to a better model or cross-selling complementary or similar products.
Choose your tactic depending on the product your customer is purchasing. Show customers you're being helpful when recommending products, rather than forcing another sale.
Product recommendations are a powerful marketing tool. Recommendations can increase your average cart value and lead to loyal, happy customers.
Be strategic with your product recommendations. Don't fall for the generic automation trap. You have the ability to create helpful product recommendations. Don't let your competitors get ahead of you.
Become a personalised recommendations email industry leader.