You've passed the first phase by securing the sale.
The second phase was also ticked when you thanked the customer for purchasing with you.
Now you're at the third stage. Shipping and delivery.You need to send a transactional delivery email which states all your customer's delivery details. It's non-negotiable.
The level of helpfulness put into your shipping emails is a whole new story. Most ecommerce business will send standard delivery details along with the confirmation email.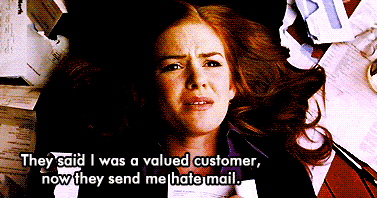 It's a missed opportunity.
This email is your customer's main point-of-contact. Its purpose is to either give customers delivery details, let customers know their product has left the warehouse or confirm the arrival of their package.
Keeping customers updated through each of these stages can reduce their stress levels. This is particularly important if it's their first time purchasing with you.
Marketing legends, Smart Insights, state shipping emails have an open rate of 107 per cent.
How can you have an open rate higher than 100 per cent, you ask.  Some customers will open your delivery information email more than once. With such high open rates, it's time to get serious about post-purchase delivery emails.
The first step is to ensure your shipping information is helpful, even though it's transactional in nature. At this stage, customers are likely to have many unresolved questions:
When will it ship?

When will the product arrive?

Is the delivery address correct?

Can I track my delivery?

Who do I contact if it doesn't arrive on time?
To save your company money and time, your post-purchase delivery email should answer all these questions. You want to reassure customers everything with the delivery is going well.
Let customers know if there's a disruption in the delivery process. They're more likely to trust you if you're honest and provide them with all the necessary details.
We know that sending three delivery emails can be tough work. Most ecommerce businesses don't have time to implement this. So it's your job to see which delivery emails work best for your company.  
What are the different types of post-purchase delivery emails?
Your delivery email can play out in three ways.
Option one: Confirmation email with shipping and delivery details
Include all necessary information the customer needs to track their order, and set any delivery exceptions.
Be sure to include the delivery address. Also, make it clear if the product needs to have a time booked for delivery or picked up at a post office. Include a tracking ID and a contact number so the customer can take action if the product hasn't arrived within the stated timeframe.
Option two: Email notifying the customer their delivery has been shipped
Give the customer reassurance the product is on its way. It's the perfect time to include links to blogs about the product. You want to maintain your customer's enthusiasm.
Once the order is on its way, you might follow up with a delivery date confirmation. This will give your customer a contact to call and ensure they know what to do if the package isn't delivered on time.
Option three: Email confirming arrival of their delivery
Things go wrong. Packages go missing. Everyone in ecommerce knows mistakes happen. So you want to reassure customers it will be okay. You don't want them to be cranky with you when a product isn't delivered on time.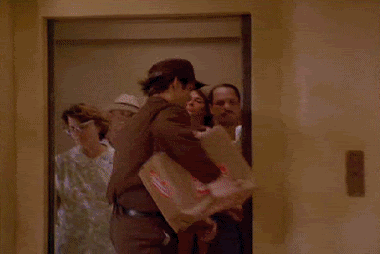 You must send customers an email outlining delivery details. Many ecommerce stores will combine this with the confirmation email. Options two and three are not compulsory, but they can reduce customer uncertainties.
After all, we're trying to be as helpful as possible.
Why do I need to send post-purchase delivery emails?
The delivery experience should be seamless and stress-free. Your customers have given you their trust and purchased with your company. Reassure them their trust and loyalty is valued.
It's time to get them excited. A customer who has a positive experience is more likely to share their experience with others.
Ecommerce consultant and copywriter Zaza Siviley from Packpin talks about the five stages of delivery in his article.
#1. Order confirmation
#2. Item dispatched
#3. In transit
#4. Delivery
Delivered to end-location.
He's even added a simple visual explainer of the five stages.

The five stages represent the time each stage should take — from the customer confirming the order to when it arrives at the final destination.
These stages can vary in time length. This creates a post-purchase experience gap.
The experience gap "gets tricky for retailers," says Zaza.  Customers may lose the initial excitement they had when they first purchased.
Communicating with your customers throughout the various stages of the process can keep them engaged.
What should I include in my post-purchase delivery emails?
The rules to follow depend on the post-purchase delivery email you want to send.
Key considerations for a post-purchase delivery information email
First, include delivery details and outline any important information.
Get it right and you will have happy customers.
Get it wrong and you could potentially lose your chance at creating a repeat customer.
Include these few essentials and you'll get a green light from your customers:
Make it easy for your customers to track their order
Provide a tracking ID and a call-to-action button to lead them straight to their delivery details.
Set an expected delivery time
Your customers are time poor. Make it easy for them to track the delivery date and, if possible, the time of delivery.
Provide a point of contact
In case things go wrong, or your customer notices an error, give them a contact number and email. The delivery transition should be seamless. If anything does go wrong, you want to fix it before it goes out of hand.
Don't make promises you can't keep. Aim to maintain your customers' trust. Be true to them and put their needs first.
Andrew Bialecki illustrates a visual email example of the delivery process. This is an effective way to make it easy for customers to understand the delivery process.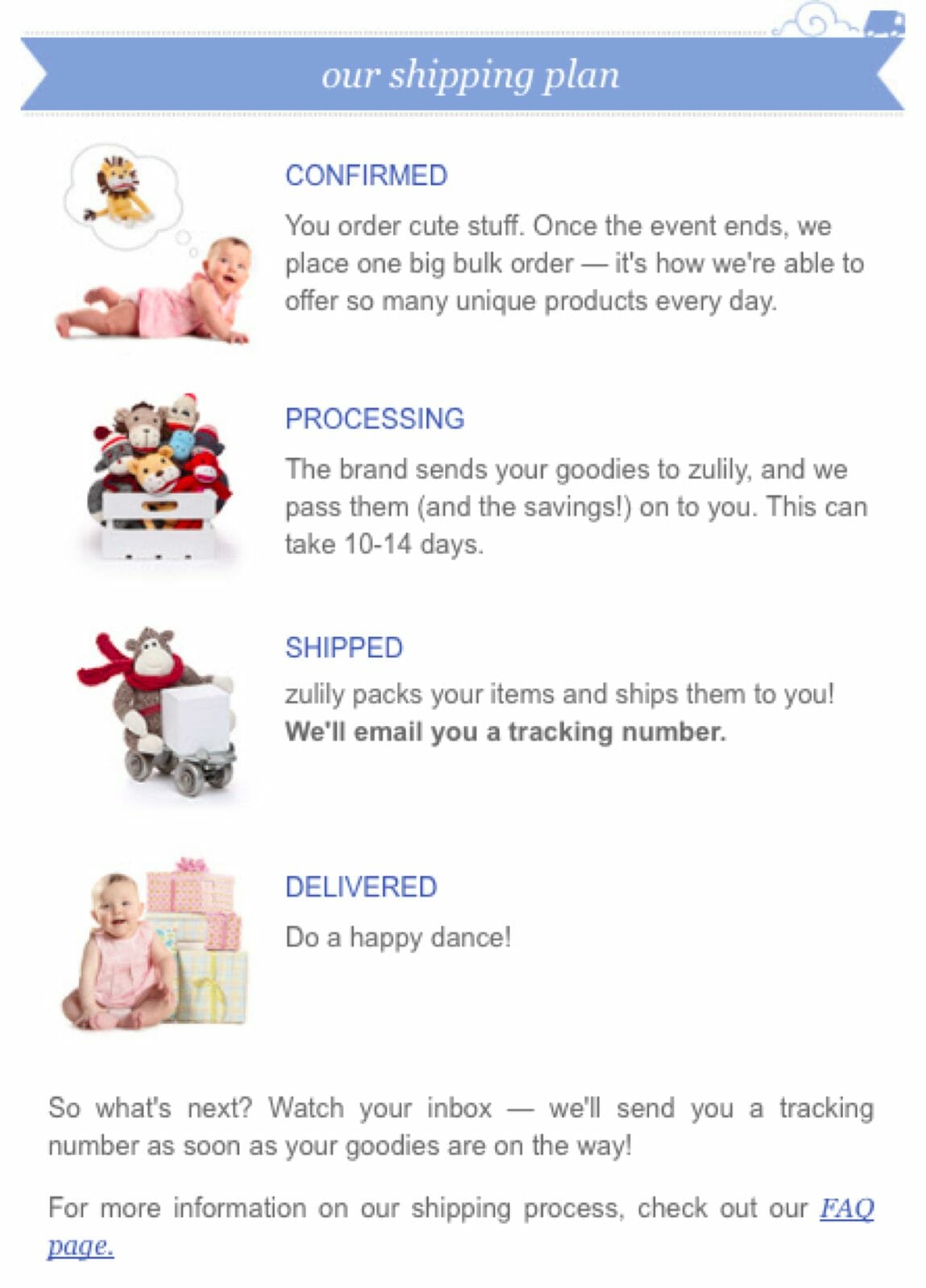 This section of the delivery email clearly states what the customer should expect. This creates happy customers and minimises any misleading information.
Always aim to be helpful in your emails. It's the key to customer loyalty and creating repeat customers.
To gain further insights about being helpful in a post-purchase delivery email, I went straight to founder and president from The Good, Jon MacDonald.
Jon's insightful article about post-purchase emails for big conversion results speaks to the importance of helpful delivery confirmation emails.
He states customer's want advice across five areas:
When order went through (is confirmed).
When it will ship and how to track their shipment.
How they can access their receipt.
Who to contact if there's a problem.
What they should expect next.
Customers want to know everything. From the time it's dispatched to arrival. Customers want you to guide them through the entire delivery process.
This initial shipping email is your chance to clear up any concerns and provide helpful advice.
I asked Jon for his top tip for making a helpful post-purchase shipping confirmation email.
"Beyond just providing a simple tracking number, the shipping confirmation order is an opportunity to offer advice before the product arrives. Is there any information the consumer needs to know, or can start to learn about, prior to the product arriving? The shipping confirmation email should be thought of as a way to reduce product returns and nurture customers to the point where they implicitly trust you."
Trust. You want your customers to trust you and minimise returns. Nurture them to trust you by providing them with valuable product and delivery information.
Creating trust and loyalty takes time. Losing it can take seconds.
Establish trust and you are well on your way to creating life-long happy customers.
When their order has been dispatched, why not give them a friendly message to let them know? This email isn't critical but it sure is helpful.
This is your chance to get your customer excited about their purchase again.
Key considerations for a post-purchase dispatched delivery email
Your customer isn't thinking about their purchase 24/7. We would love it if they did, but they have lives too.
This makes the dispatched delivery email so important. It reignites their initial excitement and gives them greater accuracy on delivery dates.
Here are two basic pieces of helpful advice to include in your post-purchase dispatched delivery email:
Tracking call-to-action button
Make it easy for your customers to track their order. Create a call-to-action button to direct them to a shipment details page.
Include a helpful blog article
If the product is currently on trend, send the customer a blog article about it to get them excited about joining in with your community. Or send the customer helpful tips on how to use the product when it arrives.
The customer expects the package to arrive any moment. To finish off the process, it's time to send a delivery order arrival email.
Key considerations for a post-purchase order arrival email
Did the order arrive on time? Was it opened in one piece? Was anything missing?
It's your chance to engage with your customers and share their excitement for the product arriving.
There are no basic rules to follow for this post-purchase delivery email. It's about giving your customers a big hug and saying 'Thanks for purchasing with us'.
If your customers are happy with the product, ask them to share their experience. If they aren't happy with the end result, it's time to put your helpful hat on and mend the situation. 
Either way, this should direct you to the next stage of post-purchase emails. It's time to ask the customer to review your product.
Post-purchase email examples
Joybird

The best features of this post-purchase delivery email
Joybird's delivery email uses shipment to continue the conversation.
The purpose is to inform the customer their order has left the warehouse. It clearly states the order number, who the order is for and what the product is.
The email structure begins with the most important information and ends with helpful contact details.
The copy includes shipping expectations and tracking details. This ensures the customer doesn't get confused.
For large products, customers find it important to know delivery times and methods. Large products can be bulky. They won't fit in your customers' letterbox.
Give your customers time to get home delivery dates and times sorted.
Joybird's email states the company will contact customers to schedule a reasonable package arrival time. This reduces uncertainties and makes the customer feel at ease.
To further inform and help the customer with delivery, Joybird has included a helpful video. This video outlines the delivery process and answers common delivery questions.
The last aspect I want to point out is the photos of the team and the supporting copy: 'We're always here to help'.
The photos are a great visual way to connect with your customers. When it comes to customer service, your customers shouldn't think they're talking to robots. Photos add personality and put your customers at ease when contacting the support centre.
Naked Wines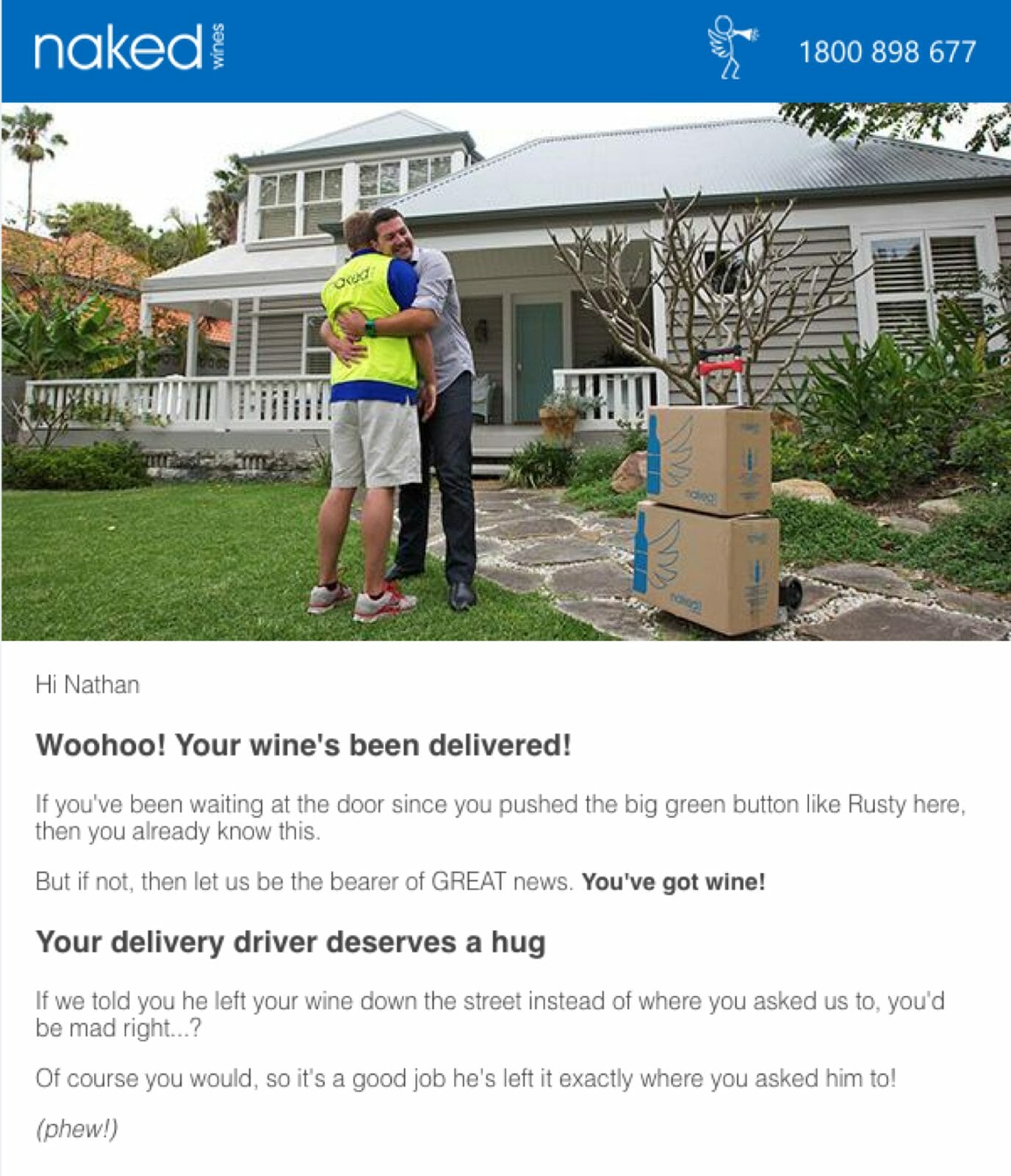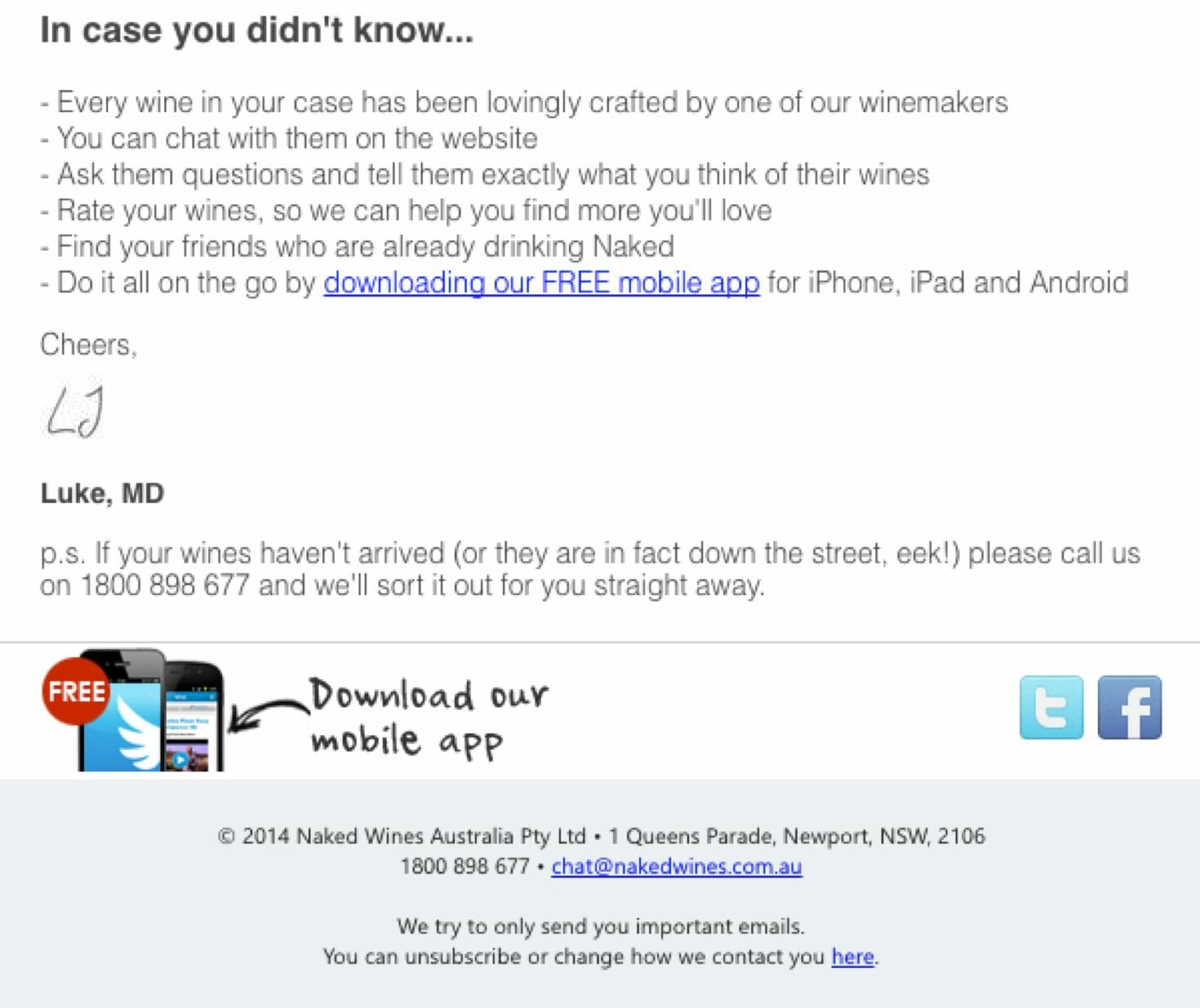 The best features of this post-purchase delivery email
Your order has arrived. You're excited and ready to use the product. Naked Wines uses this as an opportunity to share in their customer's excitement.
'Woohoo! Your wine's been delivered!' uses colloquial language that shares the enthusiasm. The tone of voice continues to be fun and cheeky. It makes their customer feel like a million dollars and encourages them to read the entire email.
The 'In case you didn't know' section is the most informative. It connects customers with other winemakers before ending with a call-to-action button to download the free mobile app.
Building your copy up to a crescendo gets your customers more intrigued and more likely to respond to a call-to-action. This is because they are ready to share their joy and want to get involved with your brand community.
Try not to fear the worst. We know not everything always goes to plan. Delays happen and sometimes your customer's product really may arrive at the wrong address.
Naked Wines uses humour to confirm mistakes happen. The copy includes a customer service contact number to clear up any inconveniences.
Build the brand-customer relationship
The delivery process can be a confusing part of your brand-customer relationship. Your customer is impatient for the product to arrive.
Hold your customer's hand. Guide them through every step of the delivery journey. Help them if they get confused or if a step in the delivery process goes wrong.
Use the delivery process as your opportunity to maintain the buyer's enthusiasm. Get them excited when the order leaves the warehouse and is due to arrive.
You have the opportunity to grow your relationship with your customer. Make the most of your chance. You may only get one so it has to be good.
Don't fall into the trap of sending one, boring, automated, transactional delivery email.
Create a series of delivery emails to keep the conversation flowing.
Design your delivery emails to reflect your brand personality. Show customers you care and want to create a seamless delivery process.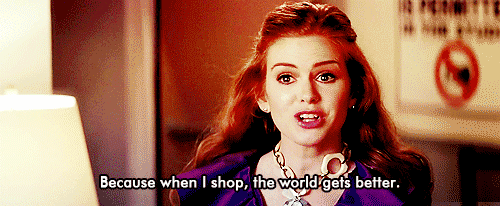 Remind buyers why your relationship matters. Be helpful and your customers will come back to purchase again.