Any ecommerce business can set up a cart abandonment email automation system.
And every ecommerce business should.
But what you can't afford, is a few simple abandoned cart email mistakes to ruin your brand's reputation before your potential customer has even clicked the final checkout button.
You've spent years building your business. Hard work, time, cash, sweat, tears, possibly even blood – all of this effort to create an online retail experience designed to develop loyal repeat customers.
Something as simple as an abandoned cart email can lose you a customer for life.
Automation is dangerous when placed in the wrong hands.
Just as proponents tell you automation will help you make money while you sleep – the flipside is equally significant.
If you set up your abandoned cart email to repeatedly force uncertain shoppers into a sale – you can lose just as many customers while you sleep.
If your customer is not ready to buy, you need to find out why. Solve that problem or answer that question. If not you risk losing that customer forever.
One irritated, annoyed, badgered customer fast becomes two, then three, then ninety.
The spiral begins.
These would-be customers blacklist your brand.
A few simple (and easy-to-make) abandoned cart email mistakes can lose you thousands of dollars worth of potential revenue without you even realising it.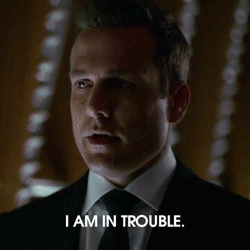 No time for tears. Once you're aware of these mistakes, you can build in some simple preventative measures.
The entire tribe at The Ecommerce Jungle Gym are passionate about ecommerce marketing helpfulness – and we've been working for years to teach online retailers how to make abandoned cart emails more customer-friendly.
I've pulled together six of the most common cart abandonment email mistakes and accompanied each with helpful solutions and advice to maximise your repeat-customer-generating potential. Let's begin with the most commonly seen and easily fixed mistake.
Cart abandonment email mistake one:
Too many distractions
Your main focus must be on the customer's problems and their stage in the purchase decision process.
Be careful not to turn your email into a promotional online newsletter.
Remember, your customers don't care about you or your brand. Instead, they want your email to solve their problems and reduce their uncertainties.
Cramming your emails with multiple product recommendations, social media sign ups, shipping assurances, blog article teasers and abandoned cart reminders will totally dilute your message and confuse your reader.
Stick to one clear call-to-action for each email.
Use multiple emails if you need to solve multiple problems or answer multiple questions.
I want to use an industry example from one of our favourite ecommerce experts, Aaron Orendorff. In his fantastic article, Aaron outlined the importance of strategy and timing for rescuing ecommerce sales.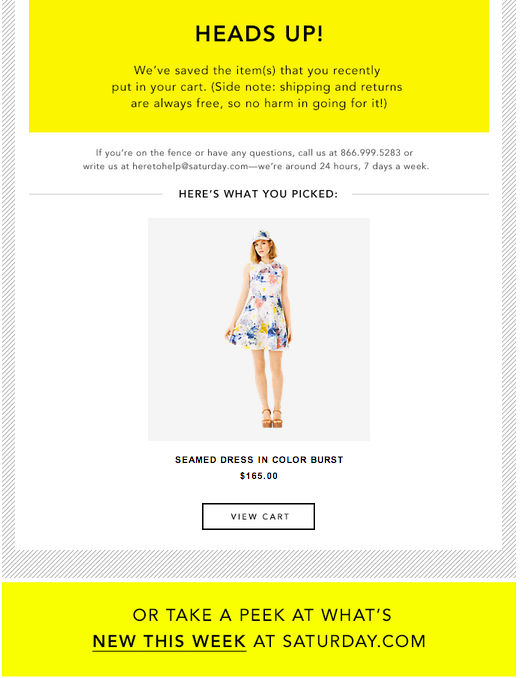 Let's begin with the good. We have a call-to-action to go back to the transaction. We even have a clear contact email and helpline in case something went wrong.
But look at the bottom. The bright yellow rectangle says "Or take a peek". Rather than complete the sale, why don't we have a read of the article? The font size is bigger than the 'view cart' call-to-action and the bold hyperlink draws the reader's attention away from the primary purpose of the email.
Boom. Potential lost sales.
You might feel these extra links are adding value, but you risk distracting the customer.
How to avoid this abandoned cart email mistake:
Have one clear call-to-action button which entices your customer to complete their order. Enough said.
Cart abandonment email mistake two:
Providing Recommendations
Your use of product recommendations should depend on your industry and the nature of your customers. You want to make sure you are only adding this feature to your abandoned cart email if it will add to the average order value of the cart, rather than encouraging your reader to browse or re-think their purchase.
Example 1: When product recommendations are not useful
Expensive purchases
Think furniture, homewares and white goods. Products that take time and consideration for the user to get to the point where they add the item to cart.
Imagine you're shopping on an ecommerce furniture store. You've found an expensive dining table and you've considered the purchase to the point where you've added the product to your cart, but you're not quite ready to finalise the buy.
Later that day, you receive an abandoned cart email with your selected table pictured alongside a number of other "top-reviewed furniture recommended for you."
You've considered this expensive purchase for weeks – an automated email suggestion is not going to be enough to convince you to make an impulse $1000 buy on a whim.
How to avoid this abandoned cart email mistake:
Our Ecommerce Jungle Gym Content Manager, James Dillon gave me this rule of thumb for considering whether or not to include recommended product prompts in your abandoned cart email series:
"Best to focus on one single call-to-action for high-priced items which require significant research and consideration. You've got your customer to the last hundred metres of a marathon purchase decision. Don't give up on the final sprint to start over on a new product."
Why?
Expensive or complex products require dedicated consideration and research. Most customers have already refined their purchase decision by the time they have added a product to cart. Recommending other items or cross-selling only steers prospects away from converting.
Example 2: When product recommendations are useful
Impulsive purchases
So what about products usually purchased on impulse? Think clothes, books, accessories or wines.
This is where recommended products may turn a one-item purchase into a bulging cart.
How to avoid this abandoned cart email mistake:
Customers often buy lower-priced items on impulse.
Think of the last time you bought a new outfit. You might have been browsing for jeans, but the right prompt for a matching shirt or a leather belt might tickle your fancy enough to multiply your purchase – especially if the retailer offers an incentive to complement the recommendation (a 'buy 3 get 1 free' or 'free shipping on orders over $x works well).
Lower list-price purchases tend to be more impulsive, so adding product recommendations can increase your average cart-size. Aussie sunglasses e-retailer, Local Supply offer a good practice example.
The abandoned cart email is not just designed to sell, instead the primary purpose is to act as a friendly reminder. Product recommendations are used to encourage the reader to make an impulse decision to buy more than one pair of the relatively inexpensive glasses.
Cart abandonment email mistake three:
Layout
I've previously written about the importance of quality copywriting for your abandoned cart emails, but clear design is just as important.
How to avoid this abandoned cart email mistake:
Although there's no exact layout, you can follow this essential structure.
#1. Branding/logo
#2. Introductory sentence (be sure to write this using your brand's voice).
#3. One clear call-to-action button.
#4. A large photo of the product, the price and title of the item.
#5. Include your delivery and returns information as well as a phone number or email address for support contact.
#6. Security statement
#7. Unsubscribe button
For more detailed information about ideal email layouts – digital consultant, Greg Randall has shared some practical advice and helpful ecommerce brand examples in his article titled "Cart Abandonment Emails – 3 methods to building a better mousetrap".
Cart abandonment email mistake four:
Mobile unfriendliness
72% of customers between the ages of 18 and 64 now check their emails on a smartphone device (thanks to Helen Legatt and Mapp Digital for the research).
If you're not designing your emails for mobile devices, you're compromising the experience for a sizeable chunk of your audience.
At the least, make sure your images render correctly, your call-to-action buttons are easy to push, and your copy is easily readable on the small screen. Chapter 6 of Econsultancy's super-detailed guide on "The Fundamentals of Email Marketing" will give you the nuts and bolts of mobile email design.
How to avoid this abandoned cart email mistake:
Stick to a single column layout

Have a strategic content hierarchy – grab attention early, as engaged customers are more likely to scroll down

Use a large font

Make sure your call-to-action button is large and clear
Keep your call-to-action button colour in contrast to your background to make it really stand out.
Here's an example from leathergoods brand, Hardgraft with a quality mobile layout and design.
Cart abandonment email mistake five:
Timing
Timing is critical.
I want to take you back to Christmas time – the ecommerce silly season filled with chaotic customer service requests, explosive traffic spikes and anxiety-filled fulfilment nightmares.
Let's take an example from Smart Insight's very valuable article about the 5 mistakes you're probably making with your abandoned cart email
If a customer abandons a cart on December 23, your abandoned cart email trigger might need to be tweaked to make it in time for Santa Claus.
Your industry or target audience may have their own events or time constraints throughout the year. Consider altering your abandoned cart emails around periods with specific deadlines for delivery.
How to avoid this abandoned cart email mistake:
You need to be ready to alter the timing of your abandoned cart emails depending on the time of the year.
Cart abandonment email mistake six:
Frequency Capping and Suppression Window
Some ecommerce retailers go overboard with their abandoned-cart emails.
We're talking 6 abandoned cart emails for one product, followed by a weekly series of promotional updates.
Frequency capping and suppression windows can help you avoid a technical meltdown or accidental deluge of emails. These tactics help you creating a limit on the number of emails a cart abandoner can receive in a specific time-period.
How to avoid this abandoned cart email mistake:
One golden rule – Make sure a subscriber never receives an abandoned cart email and a promotional email on the same day.
Most email service providers will allow you to employ frequency capping.
Suppose you're shopping for a phone and you abandon your cart. You don't purchase after the first or second abandoned cart email and the third comes with an added incentive. You finalise the purchase.
The retailer can set up a suppression window to make sure another abandoned cart (or promotional) email won't be sent to the customer for a specific amount of time. So why is this beneficial?
This quote from abandoned cart email marketing guru Aaron Orendorff's article sums it up nicely:
This quote from Mike Arsenault's helpful article sums it up nicely:
"Suppression windows can also be used to prevent repeat abandoners from trying to game the system to receive discounts."
Mike even throws in a visual explainer for good measure.

Our most important piece of email cart abandonment advice:
Send more than one email
Statistics suggest sending three separate emails hits the sweet spot – your campaign is 26% more likely to convert.
Why?
Brands sending only one reminder risk getting lost amongst the deluge of their potential customer's inbox.
Don't miss your opportunity to be ahead of your competitors and create more loyal customers.
I wanted to confirm the ideal number and frequency for ecommerce abandoned cart emails, so I went straight to one of the most trusted experts in email marketing, Aaron Orendorff. (Who I've mentioned a number of times throughout this article). The digital maestro from iconicContent gave me a specific rule of thumb you can use when structuring your campaign:
"The golden rule of ecommerce is always the same: make it easy. That applies all the more to abandoned cart emails. Be specific, short, and timely. I recommend a three-part sequence: (1) the reminder (2-4 hours after abandonment), (2) the re-reminder (24-48 hours after), and then (3) testing an apology, incentive, or social-proof-based email at the end."
How to optimise this opportunity
Email 1:
Trigger your first email within the first hour (or at least within 3 hours) of the cart abandonment.
Make sure the first email is customer-orientated. Include helpful questions like "Were you faced with any issues during your transaction?" and "Can we help solve any problems with your order?
Email 2:
Send your second nudge around 24 hours later.
Also known as the re-reminder, this email should re-iterate the benefits customers will receive with your service. If you can offer free shipping – shout it from the rooftops. Reduce any uncertainties with assurances about your delivery and returns process.
Email 3:
Trigger the email 3-5 days after the abandonment is registered.
Depending on your specific industry (and your own A/B testing), you'll find a final reminder performs best when sent within a week of the first email.
Again, we are using Aaron's abandon cart email strategy to outline the three common options you can use in your 3rd email.
Option 1: The apology
If your website crashed or you've flagged a technical hitch that might have prompted the user's abandonment – acknowledge the fault and offer any help or guidance available to get the order back on track.
Option 2: Use incentives
Don't default to the margin-chomping 20% discount in a desperate search for a sale.
You'll only serve to devalue your product and erode any chance of the customer making a repeat purchase at full price in the future.
Instead, find an alternative to discount pricing. The simplest way to encourage full-price purchases and entice a fence-sitting shopper – offer an additional freebie rather than a simple discount.
You can take your incentive tactics a step further by adding limits to your free items (such as 'spend over $50 and you receive product X, spend over $100 and you receive product Y').
Option 3: User-generated content
Use social proof tactics by sharing relevant product testimonials, expert reviews or aggregated customer ratings.
Think of your customers as your friends.
An opinion from an external, trustworthy source could be the conversion elixir you need to lure an uncertain shopper off the fence.
Fix your cart abandonment email mistakes before it's too late
That wasn't so scary, was it?
These mistakes are easy to avoid.
If you avoid these six common mistakes, you're well on your way to developing a helpful abandoned cart email.
You know the secrets, it's time to put them into practice.
If you read my previous article on abandoned cart email then you're all set.
Want more? Stay tuned for real business examples of the best, abandoned cart emails.