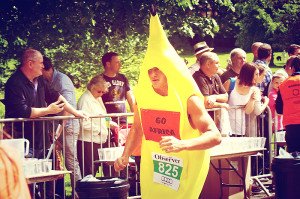 Each month we bring you a collection of our favourite picks from the very top of the online marketing tree. Prepare to chuckle, guffaw, snigger and/or learn.
This July, we're all about consistency. You go to all that effort to come up with an amazing idea for content your customers will love.
Make the most of it!
Don't just move on to the next one.
Content marketing shouldn't be a collection of campaigns cobbled together. It's not a sprint. It's a never-ending marathon of continual customer entertainment.
The content marketing series is your community builder. Blog category, print mag, video series, monthly meetup, no matter the medium, just find your story and keep on sharing it.
Your bounty?
Visitors, who become regular visitors, who become subscribers, who become customers, who become loyal brand fans prepared to go into a virtual boxing ring and fight for your company and its beliefs.
We've pulled together some of the best new releases of the season from the content marketing series box office hits. Grab the popcorn (and a notebook). On with the show…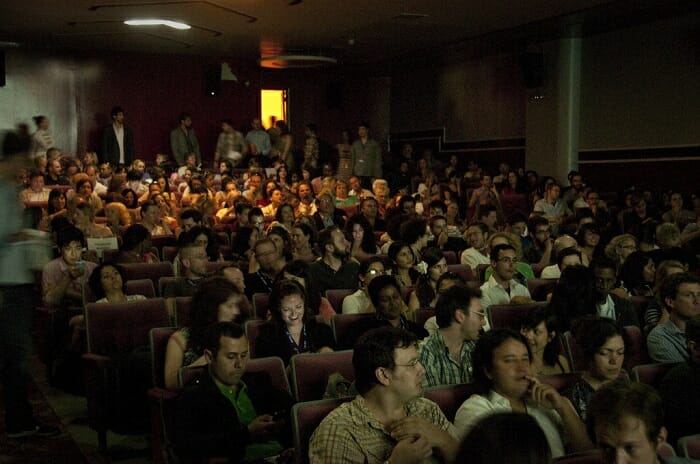 Content marketing to have you salivating
One of our favourite content marketing wizards continues to cast its spell of delicious audience delight. Wholefoods' Dark Rye Magazine is a thing of awe-inspiring, mouth-watering beauty (for marketers and sustainable food lovers alike).
Dark Rye issue 20 'Cultivate' just hit the online newsstands and these guys just keep getting better.
If you want to know how to build a sustainable community of paying customers, read up on this Wholefoods case study. Do yourself a favour and learn how one of the best in the business uses content marketing to make their brand mean something.
It looks like someone's been taking notes. Our next example is a nice homage to the Dark Rye success story.
Before we move on, take a look at some of Wholefoods work from the latest edition. You'll get a feel for their magic.
Turning your sales catalogue into an online magazine
Lush likes the cut of Wholefoods' jib. The beauty brand knows it's not about what you sell, it's what you stand for that matters.
Lush are synonymous with all things handmade, fresh, all-natural and organic. Now they are starting to tell the world about it.
The Lush 'Handmade' blog has a whole bunch of entertaining, educational and helpful content to show their customers they really care. They've found a way to help their audience live the all natural life.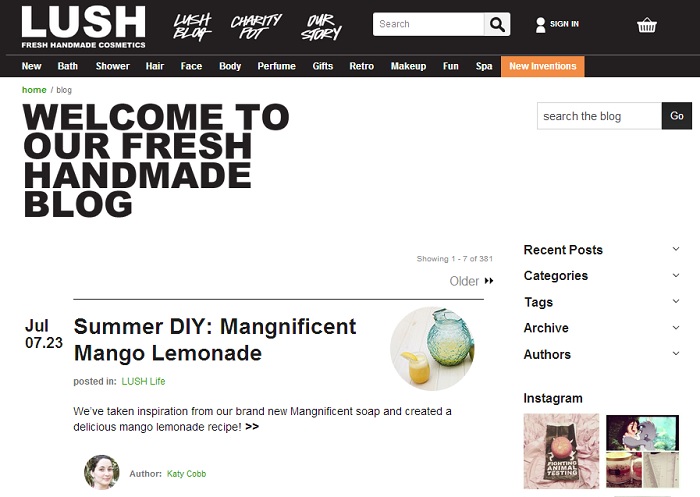 For so long Lush has supported a myriad of ethical causes – they even won the Best In Business at the 2014 Observer Ethical Awards – but this support was often spread across isolated and inconsistent campaigns. Now they're sharing their stories and explaining why buying a Lush product is a vote for a more sustainable world in an ongoing content series.
Newscred explains how Lush have transformed a dull sales catalogue into Lush Times; a quarterly magazine focussed on the stories behind their products and suppliers. Much like Wholefoods, Lush are creating a genuine meaning for their brand.
Why? So that people who care about environmental sustainability will feel like they are cheating their own personal morality by purchasing beauty products from anyone else.
Here's the new and improved Lush Times. Stories before sales. just how we like it.
The hospital with 2 million visitors per month. Not patient visitors. Blog visitors.
Cleveland Clinic began their online newsroom in 2012. That's right, a hospital with an online newsroom. Any brand holds the keys to their own media publishing empire. Even a boring old hospital.
When you think about it, content marketing for healthcare makes sense. You're core purpose is to help people. Health issues are complex and hard to understand. So why not use online content to help patients outside the hospital doors.
Manager of Digital Engagement Amanda Todrovich explains the purpose of Cleveland Clinic's content marketing campaign:
"The mix of content is a combination of wellness, prevention, clinical and health innovation that we have going on every day. Our real goal is to become a part of our audience's everyday life, to help them make healthy decisions."
If Amanda and her team of 40 expert content creators use their knowledge and experience to prove that Cleveland Clinic understands everything there is to know about healthcare. Their audience knows where to go if they have a problem. They trust the doctors and medical professionals from the Clinic. Chances are they've already met them. Virtually.
Whether it's a blog article or a Youtube video, the hospital's staff members are anything but the intimidating stereotype. So – potential customers know they are in safe hands before they enter the hospital door.
Content Magazine's feature will learn you up on the details. In the meantime, just get to work on showing your potential customers that you care.
No matter your product, don't be scared to make people laugh (This is our monthly favourite. Absolutely no pun intended.)
Awkward product? Complex issue? Touchy subject? What's the best way to prove to your audience that you understand? How do you put their minds at ease?
Make jokes. The king of content marketing Tim Washer maintains humour is the way to any customer's wallet. As the Social Media Manager of Cisco he should know. Selling routers is a tough gig. Somehow he made routers funny. Somehow.
Periods are not funny. Periods are not really okay to talk about either. So when Hello Flo, an online tampon subscription service set out to release a series of hilarious Youtube vids about periods, maybe only Tim Washer thought that was a good idea.
It paid off. the first vid, Camp Gyno garnered over 8 million views. Medium's The List explains what happened next:
"Everyone from NPR to Fast Company to The Guardian to The Hairpin to Mashable to every person I know on Facebook was talking about it"
Headlines like Tiny Tampon Queen Stars in Best Menstrual Marketing Ever!" ensued. "Like Santa For Your Vagina" became an acceptable catch cry. In public. People talking about periods.
So Hello Flo was at its hilarious best once more with their June release. First Moon parties are now a thing. So is 22 million views and counting. Just try not to cackle out loud at the cringing humiliation of it all…
It's not just a couple of isolated videos that has earned Hello Flo's content marketing a flood of industry praise (sorry). It's not all uterus pinatas and vagicians. These clips make up one small part of a consistent story the brand shares with its hundreds of thousands of subscribers.
The story matters. It means something.
Hello Flo has a genuine mission. It's about educating women about health issues and taking the stigma away from periods. I'll let Amanda explain. Soak it up (sorry again).
The Hello Flo blog shows these two videos are not lucky flukes. The brand's personality is clear and the content follows a consistent voice. Ask Dr Flo is a brilliant blend of user generated content (super for increased engagement and sharability) and genuinely useful educational content.
The lesson? Humour is entertaining, interesting and exciting. That's what you and your audience want out of your content. Don't be afraid to push the boundaries. Find a bunch of local actors, comedians and improv specialists. Put on some free pizza. Throw some ideas around. Mess around with a camera. Oh, and we'll leave you with some of Tim Washer's best advice…
The funny-bone-tickling branded web series isn't just confined to periods and routers
Video as entertainment as content marketing works. If you can make your audience laugh all the better. If you can make your audience laugh consistently, at regular intervals, you've got the beginnings of a personal relationship. If there is one overarching story behind your series, your content can send a message to your viewers. If your audience shares your belief, they'll keep coming back for more.
The most important rule of the humourous video series – make sure you don't just bang on about your product. If that was entertaining we'd be watching infomercials when we come home from work.
One of our favourites is clothing retailer Vans and their 'How to do everything in the world' series. At no point does Vans attempt to sell you shoes. The do attempt to make you laugh, make you cringe, and quite possibly make you offended, so don the headphones and prepare yourself for this one. It's a little explicit, but you'll get a cheap laugh or two, promise.
You might not agree with Vans and their advice, but you can't accuse them of being boring. The brand has a strong personality and a strong opinion. They stand for something, so the people who buy their clothing are saying something about themselves every time they wear that logo.
Apart from giving immature Youtube users belly laughs, Vans are using this content marketing to explain the 'Off the wall state of mind'. The marketing team describe it like this:
"It's about thinking differently. Embracing creative self-expression. Choosing your own line on your board and in your life. Since 1966, Vans has sought to inspire boardriders, musicians, artists and anyone for whom creativity matters."
The brand isn't just about judging people and screaming obscenities. They do some seriously incredible work detailing the lifestyle of skater youth culture around the world. Living off the wall is content marketing with swagger.
Vans want to show their audience they understand. Vans want to be one of the cool kids. Their content walks their talk. Their shoes begin to mean something. If you see someone else wearing Vans, you know they are interested in the same things you are. You know they live the Vans lifestyle. You know they care about some of the same things you do.
When your video content doesn't quite work out as you might have hoped…
Going viral isn't easy. Content marketing requires planning, creativity, hard work and many other things. It doesn't just happen. Here's some attempts that didn't work out so well.
Petit Tube is where attempted viral videos go to die. Hat tip to Studio 360 for the goldmine find. It's like the content marketing bargain bin. Kinda like a reverse Youtube, Petit Tube curates the online videos with the lowest amount of views. Here's one to give you a little taste of what you're missing out on.
Ticked that one off the bucket list. not many people have witnessed a crabwalking tournament between men wearing fake-beards. First time for everything hey.
This effort from a US used car company shows you why product technical features just aren't entertaining. If you want to engage an audience, don't do what they did. At last count it had 1 view. I can only assume that was me. I am somewhat ashamed.
It wouldn't be a web series content marketing round up without Chipotle
I know right. We bang on about how good Chipotle is all the time. Indulge us a little more.
Turns out all this content marketing stuff actually works. The Wall Street Journal reports that Chipotle is not just any old burrito joint. It's now a $20 billion burrito joint. That's more than double Dominoes, Popeyes, Papa Johns and Jack In The Box put together. The skyrocketing share price and phenomenal success is thanks in no small part to the company's lauded content marketing program. Time magazine spoke to Chipotle CEO Mark Crumpacker. He explains why the Chipotle brand sets them apart (and earns the stacks and stacks and stacks of cash).
Chipotle do fast food sustainably. Everything about their content and their business reflects this belief. Their bottom line reflects the fact that millions upon millions of customers share this belief. Strongly enough to pay more for their burrito.
Their latest content marketing fiesta? Stories on cups. Contently gives you the lowdown.
That's right, now you have an inspiring message from a world renowned writer to read while you're devouring your braised carnitas with guac. Who ever thought we would see the day when Jonathan Safran Foer would act as an unpaid brand ambassador for a fast food restaurant chain out of his genuine passion for the brand's core beliefs? Probably only the guy who saw a fully funded 4 episode TV series released in an effort to entertain, educate and persuade a mexican grill company's audience into supporting their environmentally sustainable food brand.
We'll leave you with one of the best examples of content marketing in the history of the internet. If you haven't seen Chipotle's Scarecrow vid, well, you need to. But be prepared. You'll think twice about buying a burrito from anywhere else.
Okay. Now that you feel like you can run through a content marketing brick wall, you need to start planning your content series.
All that inspiration needs some action. Passion alone is not going to get you there. For some content marketing know-how, jump into our guide to building an eCommerce blog audience you can bank on. It'll help you on your way.
In the meantime, send me your favourite branded content series on Twitter, I'm always on the lookout for new case studies.
Good luck online. Gorilla out.