You're shopping online.
Not just browsing – you're lost in that one-hour-plus zone of epic procrastination.
You're looking for a coat. A particular coat. It's going to be a big purchase, so you're not willing to settle for some $80 Asos job. You need this thing to last, and you need it to be perfect.
You know if you stopped your quest now, all this dedicated sleuthing would amount to nothing. So you press on ahead, wearily altering your search terms, and casting aside option after option due to some seemingly negligible detail so you can keep telling yourself the perfect coat is out there somewhere, just waiting for you to add it to your cart.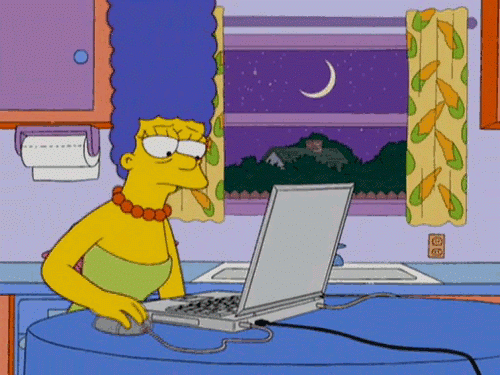 Your reserves depleted, procrastination guilt mounting, when you suddenly strike online shopping gold.You've found the perfect coat.
Every detail – spot on. The price – who cares at this point? (Rational You still cares, but Online Shopping You has stepped in to take charge).
You give yourself a rejoicing high five. Metaphorically. Rational You still has some control left.
Excitement builds.
You realise the brand in question is Canadian. You have no idea how much $285 Canadian dollars amounts to. Minor details…
You add-to-cart, that gratifying click filled with dreams of unadulterated style, warmth and future coat compliments.
You know what's coming here, don't you?
I don't want to break the fourth wall here, but this article does have a point, and I'm about to make it.
When you plug in your address details – everything is just dandy. Until…
THE STATE FIELD.
Yup, delivering to Canada only.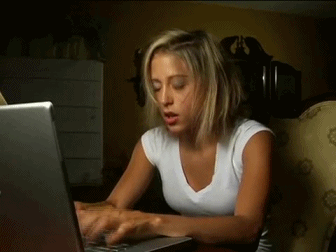 There must be a way around it.
It can't end like this.
You rifle through the fine print on the footer of the checkout page. Frantic, tired, emotional – you find a shipping FAQ page, and scroll through each entry hoping, praying you don't find what you know you're about to find…
"Do you deliver internationally?

Unfortunately we only deliver to Canada at this point in time. We do not ship to international destinations. Enabling international shipping is part of our plans. Rest assured the team will let you know the minute it becomes possible to ship our fine clothes internationally! Register your interest today."
Your spirit crushed, your soul weeping, your begrudgingly close your browser and cast the device of ecommerce betrayal aside in disgust.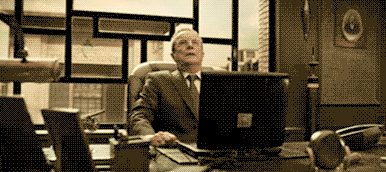 You console yourself in the knowledge the only way to fix this is to eat a large donut.
Perhaps two donuts…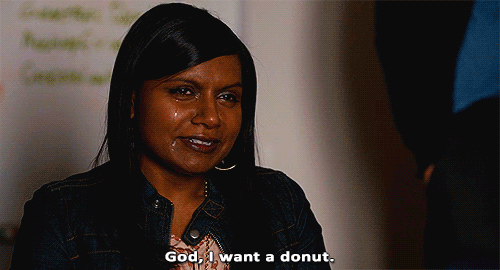 Short On Time? Your Skim-Read Summary:
Too busy to read the whole thing? We get it: logistics, synergies, KPI's – all that stuff. Our articles are long, well researched and detailed. Sometimes you need to pick and choose the bits that interest you best. Here's the skim read version (you really should read the whole article though). You can click on the dot point that takes your fancy and head straight to the relevant section.
People all over the world want to buy from your online store
Ecommerce is a beautiful thing. In our world, 'Borders' are a defunct book retailer, swallowed up by Amazon because of their failure to adapt to change.
Borders don't matter anymore.
Online retail is a global game.
We're not confined by location.
People don't have to walk, drive or ride to our store.
Anyone, anywhere can find and buy your stuff – all they need is an internet connection and a credit card.
If you don't offer international delivery, you're missing out on sales – period.
You're also missing out on a unique and invaluable aspect of online retail…
Crossing borders with ecommerce is cheaper, simpler, and safer than bricks and mortar retailing
Cross border ecommerce is relatively easy (and requires significantly less capital investment) when you consider the constraints of physical retail.
We have the ability to develop loyal customers in Dubai, Hong Kong, Sao Paulo, Beirut and Brussels all at once – for the cost of some time, effort, dedication and a few website updates.
Compare this scenario with the daunting process staring down a bricks and mortar retailer planning international expansion:
Online stores don't need to pay rent.
Online stores don't need to find, hire, and train a bunch of local in-store employees
Online stores are open 24 hours a day. Worldwide…
You can't even begin to compare the financial investment (and risk) required for a bricks and mortar retailer.
While the hurdles of international fulfilment, payment gateways, currency conversion, customer acquisition, and cultural differences may seem intimidating – the growth potential of global expansion for your online store could exponentially outweigh your risks.
Why you need to consider international expansion for your online store
People pay for freight addresses in other nations
Some online shoppers are so determined to have a product from an international retailer they will pay for a third party to ship the goods from a foreign holding warehouse for a hefty additional fee.
One such company, MyUS, claims to have saved their customers over $70,000,000 in the last year. That's a lot of savings. That's also a lot of international ecommerce – presumably made through sites not offering international delivery.
Similarly, ShopMate offers Australian customers the opportunity to buy from online sites that don't offer international shipping, allowing shoppers to use a US delivery address that then forwards parcels onto Australia
Parcel Post General Manager, Kelly Heintz told CNET.
"We know that Australian shoppers want access to international brands and products that are not available locally, but importantly they also want an international delivery and payment service they can trust."
People are prepared to pay a significant premium to a third party freight on-forwarder, just to buy specific products from foreign retailers.
Customers are so committed to their purchase they are prepared to endure a crippling user experience in the process.
Sure, fulfilment requirements of international delivery may seem intimidating, but you'll be surprised how many customers will pay extra for the privilege.
International fulfilment is easier than ever with traditional global barriers crushed
Shipping overseas is now a realistic proposition for online retailers of almost all shapes, sizes and budgets.
International delivery costs are cheaper than ever.
Online retailers can offer affordable international delivery rates to most nations, with the help of third party logistics experts.
A rise in international shipping is spurring growth, aided by increasingly flexible shipping options and fulfillment services that provide retailers with low-cost, low-risk options.
With the ability to outsource fulfillment, retailers can reach customers beyond their domestic market without having to invest in building a global infrastructure.
Business Insider pinpoints a peak in The Baltic Dry Index (an assesment of the price of moving materials by sea) on May 20, 2008. Increased demand from China and pre-GFC conditions saw a large surge.
More recently, freight rates have fallen by 93% as low commodity prices have compounded an oversupply of vessels and slower demand from China.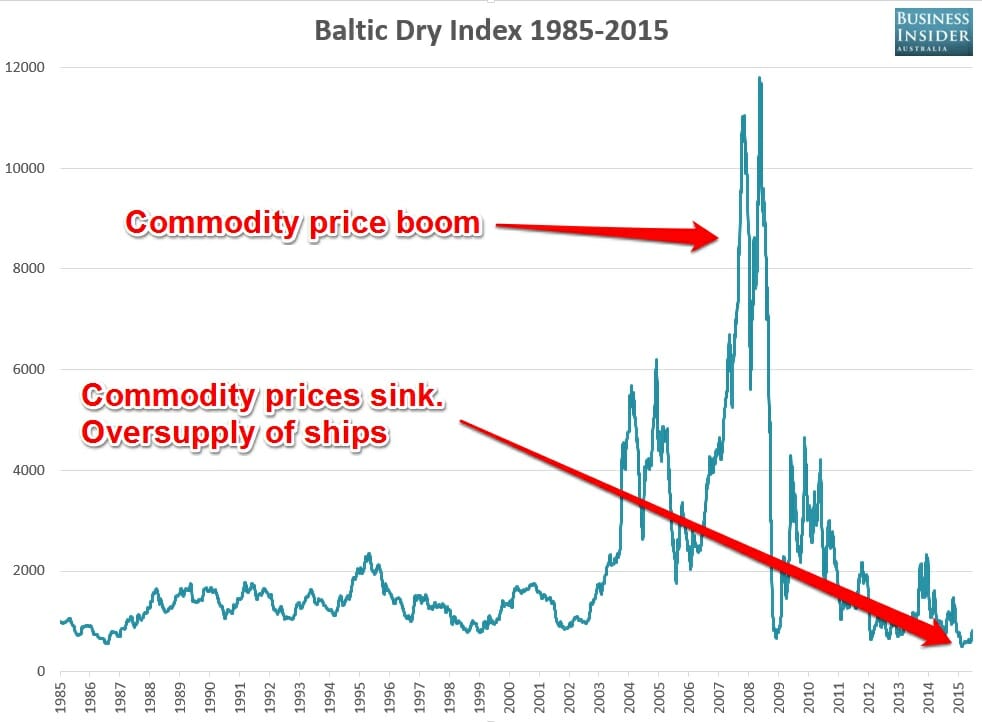 The newest generations of container ships are larger, and so much more efficient than previous ships. Lower costs matter in commodity industries like freight shipping, and it's no surprise that global shipping companies have moved to upgrade their fleets accordingly.
Global shipping rates are outrageously low right now.
The China Containerized Freight Index collapsed to its single lowest point in early 2016.
This graphic, courtesy of the Shanghai Shipping Exchange, illustrates the dramatic reduction in international shipping costs.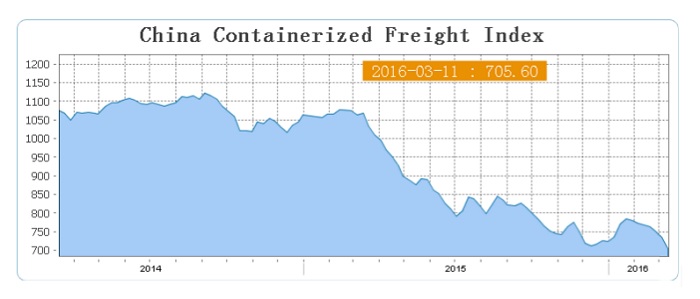 Freight forwarders and international fulfilment third parties now offer startups and mid-tier retailers a realistic and cost effective way to manage overseas delivery.
Companies like Flexport enable international shipping for a diverse range of online retailers with small clothing packages for the likes of menswear brand Ministry of Supply, bulky luggage products from smart carry provider Bluesmart, and delicate electronics from children's game system retailer, Osmo.
Here's a quick little explainer vid to show you the possibilities a third party like Flexport can offer to a burgeoning online retailer.
One of Flexport's smaller online retail clients is Bellabeat, a brand selling an activity monitor designed as jewellery, allowing women to track their excercise output, sleep cycles and calorie intake.
The startup's devices have collected over 11 million hours of activity since June, 2015, and that figure is rapidly increasing as Bellabeat expands overseas.
Bellabeat COO Morena Simatic explains why companies like Flexport make international delivery possible for all types of online retailers.
"We knew we wanted to provide our technology to women around the world, but the logistics seemed daunting. We see Flexport as a partner, not just as a full logistics provider."
Flexport has helped Bellabeat set up operations in Canada, Europe, and Australia. International delivery is set at an affordable flat fee of $20 US.
These guys are no Amazon. You don't need your own logistical empire to make this international ecommerce thing work. Third parties like Flexport are crushing the biggest stumbling block so you can focus on generating awareness and building a new foreign audience.
Smartphone adoption is rapid in emerging nations, opening up a swathe of potential new customers
A fantastic report from Deloitte, titled Generating global growth through eCommerce expansion, illustrates the huge surge in mobile online shopping around the developing world.
Clearly, this trend brings with it a monumental opportunity for ecommerce brands looking to expand into emerging global markets.
Smartphone ownership far outstrips tablet or computer ownership in developing countries. Internet connectivity and access is also expected to improve across many of these markets.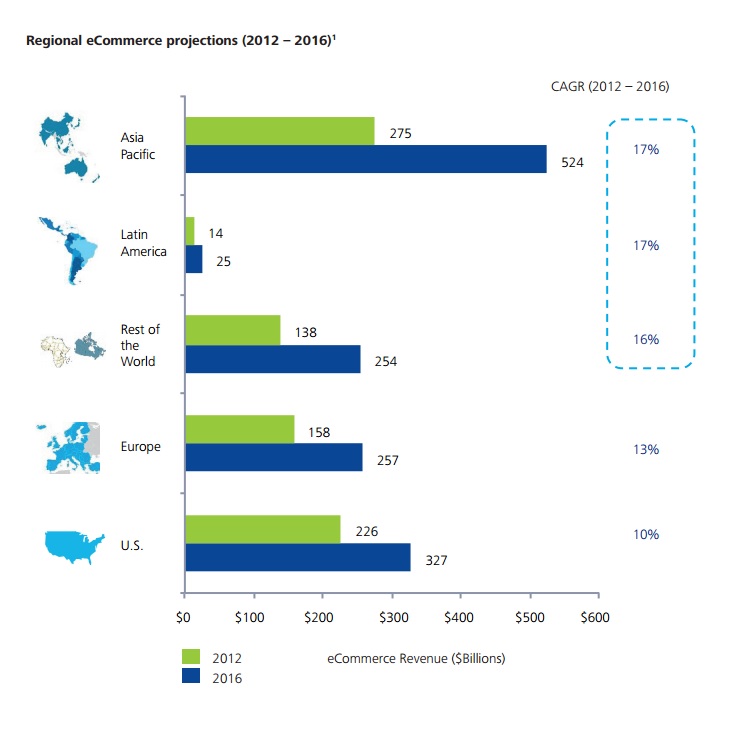 Pew Research have some fantastic data available on 'cell phone' ownership rates in emerging nations. At least 20% have a smartphone in 11 of the countries surveyed.
People under 30 are much more likely to own an internet connected device.
69% of 18- 29 year-olds in China have a smartphone, as do half or more in Lebanon (62%), Chile (55%), Jordan (53%) and Argentina (50%).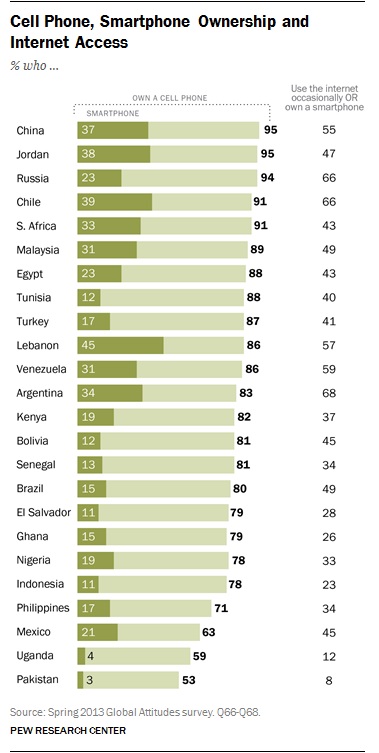 According to Deloitte's report, Brazil is the highest ranking country worldwide in terms of retail sales that are influenced by mobile devices, citing 40% of eCommerce site traffic coming from mobile devices.
China (75% smartphone ownership, 46% purchase via smartphone) and India (72% smartphone ownership, 40% purchase via smartphone) are also promising ecommerce markets for brands looking to expand across borders.
If your online store is built with a mobile-first mentality, and your target audience is mainly focused around 18-35 year olds – you have yourself a monumental opportunity.
Millions of future potential customers are emerging from developing nations
The expanding middle class in huge populations across China, India, Indonesia, Nigeria, Philippines, even Myanmar – come armed with increased disposable incomes.
More and more of these people own an internet-connected smartphone.
Smart online retailers should be planning to make the most of these new potential ecommerce customers.
We're accustomed to hearing about the ecommerce opportunities in China and Japan, but Russia's ecommerce market is a particularly juicy one.
Online retailers with the ability to break into the Eastern European power are staring at a significant upside.
While the domestic market slowed down in 2015, Internet Retailer reports Russian cross-border purchases continued to grow rapidly to $3.4 billion, up from $2.2 billion in 2014.
That's 135 and 75 million parcels and small packages sent respectively, according to industry association NAMO.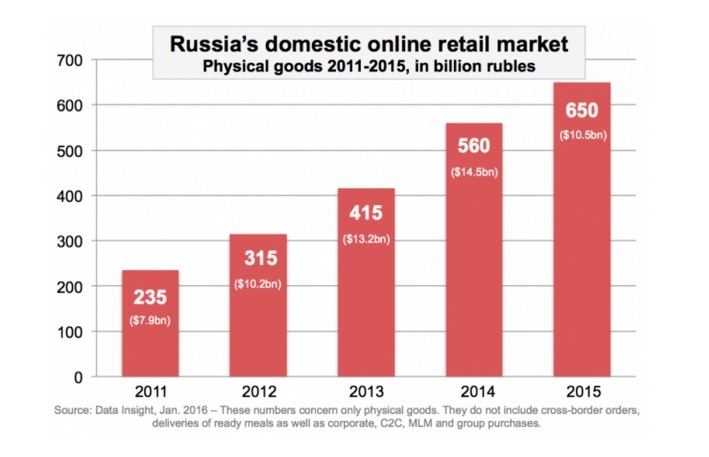 Similarly, the sub-continent presents an opportunity for those prepared to explore emerging markets.
Industry body Assocham, forecasts the ecommerce industry in India is likely to be worth USD 38 billion by the end of 2016 – a 67 per cent jump over 2015 revenues.
"Shopping online through smart phones is proving to be a game changer, and industry leaders believe that m-commerce could contribute up to 70 per cent of their total revenues."
In India, roughly 60-65% of the total ecommerce sales are being generated by mobile devices and tablets, an increase of 50% from last year.
There's a whole stack of emerging nations shaping up in the rear view mirror of innovative online retailers considering expansion.
It might be time to invest in the future of your online store. Start researching options for global fulfilment, find the markets with the right cultural fit, and make 2016 the year you dip your toe in international waters.
You need to start planning to take your online store overseas right now
Online channels offer a path to tap into growth markets, build brands, and learn about consumers while investing less capital than traditional formats.
The risk is minimal.
At the worst, you might lose the costs of some website upgrades, some promotional dollars, and some planning and management time.
Big, forward-thinking retailers are using an online-first approach to cross border growth already.
L2's Report on Global eCommerce Agility charts womens accessory brand Kate Spade's recent international ecommerce expansion. New sites in Japan, China, Brazil and the UK have generated the awareness and demand needed to justify physical stores in these markets.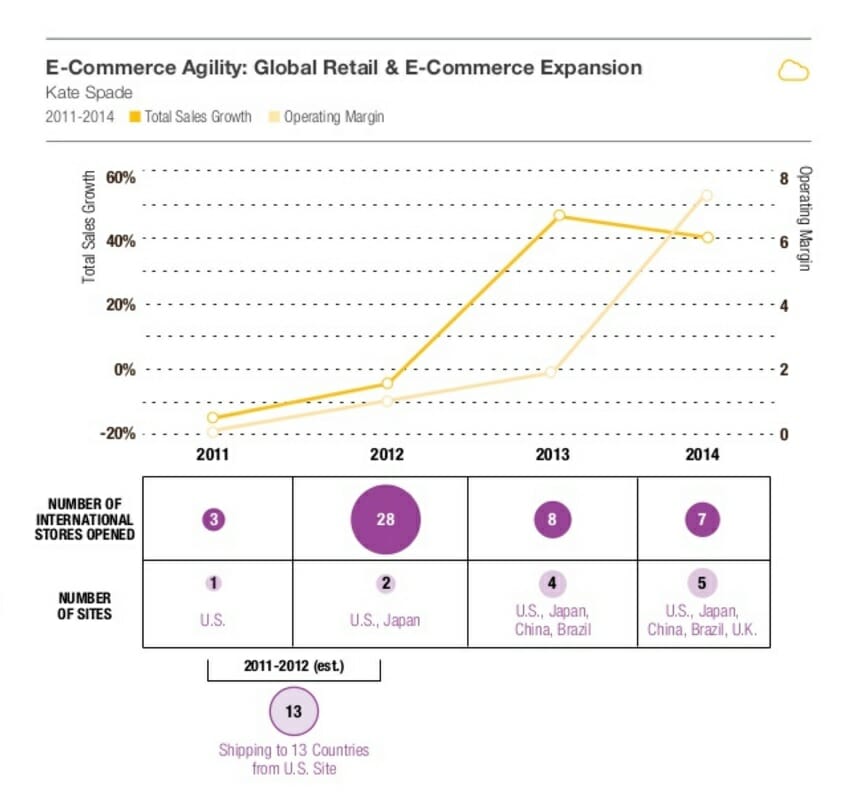 Even if you have absolutely no plans, nor capacity, to launch an in-store presence, you still need to seriously consider testing the international waters.
For the sake of investigating a potential new growth market choc full of potential lifetime customers – the time, effort, planning and minimal costs might just be worth the price of admission.
Now I've got you convinced, I want to help you get things started.
I know I said this whole international ecommerce thing isn't really that hard, but there's still a collection of issues you need to consider before you throw open the online doors in a foreign land.
You want to make sure you've remembered to pack everything before you head off overseas. So we Gorillas put together a little checklist to help you make sure you're online store is ready to go global.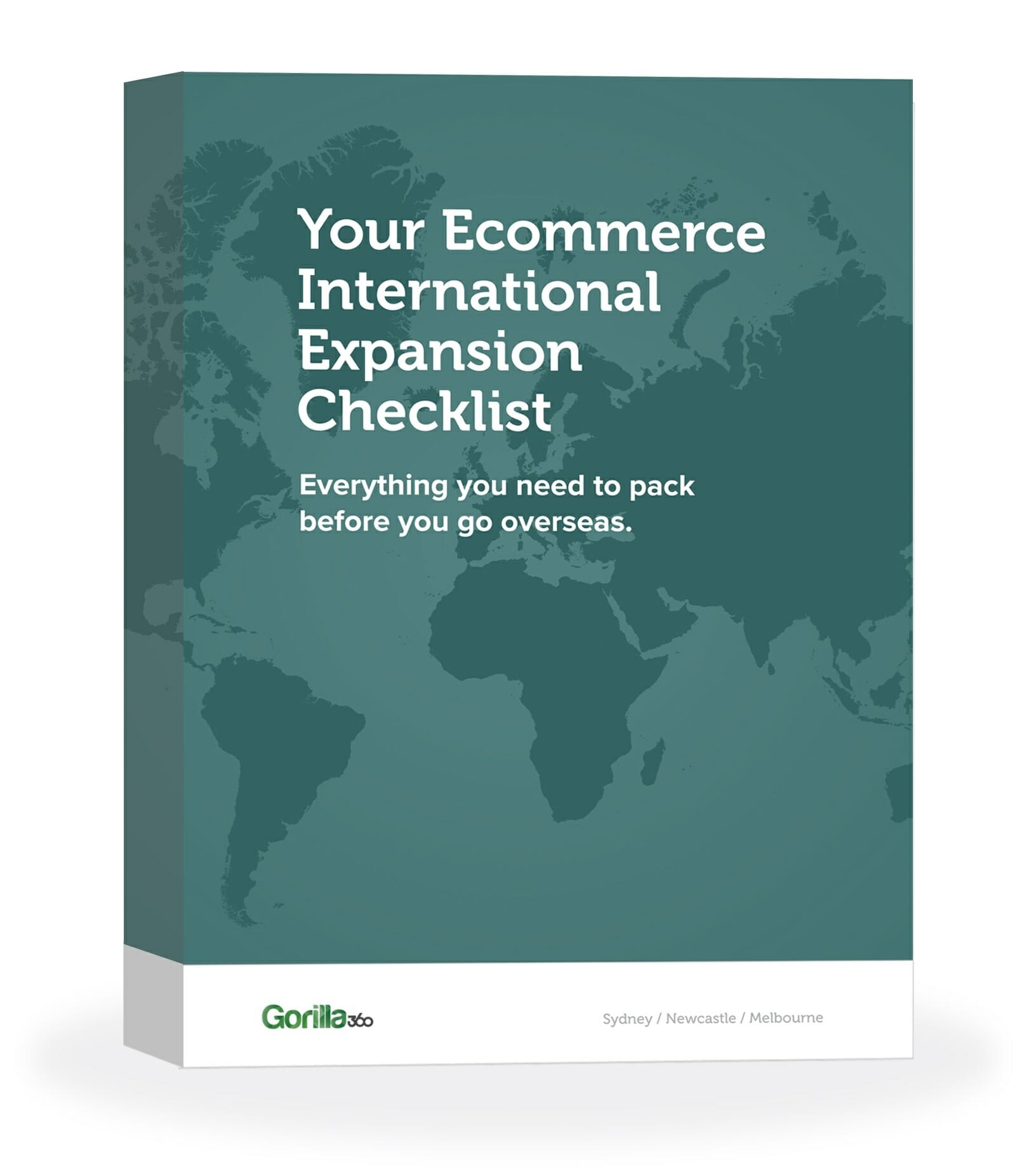 This ecommerce international expansion packing list will help you make sure you're all set to take on the world.
Think of our checklist as your departures card. Tick these checklist boxes, and you'll get through customs no questions asked.
We'll have that ecommerce passport stamped, and you'll be ready to take on the world.
Those emerging markets won't wait for you. The first movers will win the spoils – first dibs at untapped potential repeat customers with just a fraction of the competition you're currently facing.
Now's the time to start planning your online store's first trip.