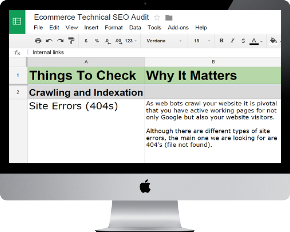 We've worked with ecommerce websites for almost a decade now. Now I work almost exclusively with online stores, trying to create, promote and optimise content to help these businesses meet and keep more customers.
So we know ecommerce SEO.
Still, ten years on, ecommerce sites never cease to scare the pants off me.
Only sometimes.
Mainly these times:
When a confused/frantic/hysterical ecommerce marketer calls to tell us their site is down
When a worried/fearful/frustrated Gorilla SEO expert lets me know an ecommerce site has suffered a rankings hit
When a smug/unpredictable/everchanging Google announces a new update to its infamous search engine algorithm
Why?
These 3 things often lead to Ecommerce SEO problems
Thankfully, the days of my under the desk meltdowns are over (I still enjoy a cheeky red though).
Being the process-loving, contingency-fearing, SEO nerd that I am, I like to know this ecommerce SEO fear has a watertight safety net.
After all this time dealing with SEO issues and improving online store's rankings we finally worked out that most of the time ecommerce stores have the same sorts of issues.
Around 20 by our count.
So it made sense that my ecommerce SEO troubleshooting safety net would cover these 20 issues.
It also made sense to everyone at Gorilla that said troubleshooting net would come in the form of a simple spreadsheet.
Processes people. None of this ad hoc caper.
The Ecommerce SEO Troubleshooting Checklist
We wanted to make things practical for our team and our clients.
The answer seemed simple:
Prepare a practical spreadsheet to enable any ecommerce marketing pro to troubleshoot or improve their SEO.
So we did.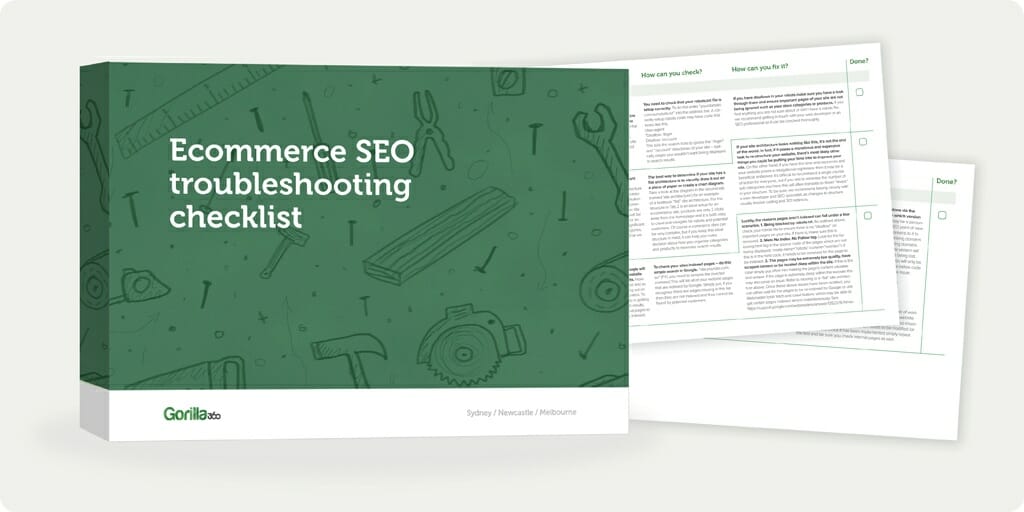 Download Your Ecommerce SEO Troubleshooting Checklist Now
Specifically, the spreadsheet guide allows us to
Find each of the 20 most common ecommerce SEO issues
Check your site's performance for each of the 20 most common factors
Fix or improve your site's SEO performance for each factor
Keep a process on file to help you manage any future SEO crisis yourself
After years of checking, fixing, improving and solving the same ecommerce SEO problems, finally we have a handoff-able troubleshooting guide.
This is like the 'nice guy finally works through his heartache and personal problems to convince the super cute girl next door that he is perfect for her and now they have a warm and fuzzy first kiss and live happily ever after' moment. You know the moment.
I'll let Faith Hill and this classic montage illustrate the moment for you (gents – you may want to skip the majority of this video).
Developing this checklist was just like each of these moments for us. Except decidedly more nerdy.
Nevertheless, I hope you are internally applauding right now.
Surprisingly, this post isn't just about me trying to falsely glamourise my work life in a foolhardy attempt to compare my SEO heroics to those of (insert your own Hollywood heartthrob here).
It's about helping you get better at ecommerce online marketing.
So of course, being the sharing, caring, grin-wearing gorillas we are, we thought we should share this piece of process-driven ecommerce SEO goodness with you (and our other equally delightful subscribers).
Why you need an Ecommerce SEO Troubleshooting Checklist
Apart from the obvious reasons you would want this checklist, there's a few others I haven't made clear:
#1 – Save the cash you'd spend outsourcing your ecommerce SEO
You can save yourself thousands of dollars in agency or consultancy fees by checking and solving the most common SEO problems in house.
#2 – Save the time you'd spend trying to learn ecommerce SEO
You can save yourself the time and cost of trying to figure out how to improve your SEO and fix your rankings problems.
#3 – Hand off your ecommerce SEO to another team member
You have a ready made, step-by-step guide that you can hand off to someone else in your team who will be able to audit your site's SEO and implement any possible improvements.
Why you don't need an Ecommerce SEO Troubleshooting Checklist
We reckon there's only two reasons why an ecommerce marketer might not have an irresistible urge to download this free checklist. So we thought it pertinent to disprove them:
#1 – "I don't need the checklist, I'm not in charge of our SEO"
Even if you're not handling your site's SEO, any marketing pro will have the skills to use this checklist to troubleshoot problems and improve ecommerce content.
#2 – "I don't need the checklist, our site is ranking well with high search traffic"
Even if your site is Google friendly, the checklist gives you a list of hacks to help you make it even better.
See what we did there?
Yup – you're right. Every ecommerce marketing pro will benefit from this guide. Particularly you.
Lastly, a quick disclaimer before we lay out the good stuff…
We gorillas do SEO a little differently.
We have a strict hierarchy of stakeholders (don't worry, we're not getting all annual-reportish on you, it's nice and simple).
The hierarchy goes:
#1. Customers
#2. Search Engines
Revolutionary? More than you might think.
This means that we optimise ecommerce sites for customers first. If your target audience loves your content, Google and friends can't resist. You want the add-to-cart button push more than you want the number one ranking spot.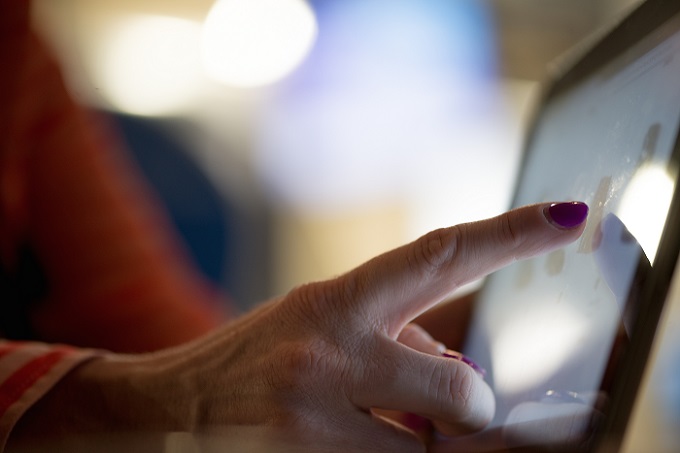 If any SEO tactic detracts from your customer's experience, we shelve it. If not, we'll try and make it work.
So don't expect any page one ranking guarantees or overnight success secrets.
You still need the most helpful content in your niche to dominate online.
This checklist will just help all of your potential customers find that awesome content more easily.
Just click on that big old green button below, throw in your email address – and we'll have your little bundle of ecommerce SEO helpfulness shipped straight to your inbox door.