Want to grow fast?
Want to know where to spend your budget for the best possible return?
Want to remove the guesswork from your marketing?
These are rhetorical questions for any ecommerce professional.
The follow-up is not:
How do you maximise the growth of your online store?
The answer is not an easy one.
But I can tell you there are only four ways to grow your ecommerce business:
#1. Increase online store traffic
#2. Increase conversions rates
#3. Increase average order value
#4. Increase repeat sales
If you can find a way to maximise all four with the budget and resources you have available, you can maximise the profit of your business.
This Ecommerce Growth Guide will focus on helping you achieve number one – increasing your online store traffic.
How to attract more customers to your online store
There's a number of different tactics you can consider to help you attract more potential customers to your site. You'll need to consider your target audience, your budget, and your resources, before deciding which tactics should be your top priority.
I've left the more self-explanatory tactics alone. You know paid advertising will help you attract more customers, you know social media can help you expand your reach, and you know an expensive PR campaign could generate awareness with some media coverage.
I'm more interested in showing you some new, innovative and cost-effective ways for online retailers of any shape, size, industry or budget to implement with success.
I've split your growth guide into eight manageable sections to make it easier for you to navigate.
This guide is a beast. Bookmark it. Print it. Send it to your team.
Keep it on file to refer back to later.
Whenever you need a little new-customer-turbo-boost, you can retrieve this growth guide and reach for the next tactic in your ecommerce marketing arsenal.
Short On Time? Your Skim-Read Summary:
Too busy to read the whole thing? We get it: logistics, synergies, KPI's – all that stuff. Here's the skim read version. You really should read the whole article though…
You can click on the dot point that takes your fancy and head straight to the relevant section.
Social Media and Influencer Marketing
You can click on any of the sections or tactics to skim straight through directly.
Content Marketing
Develop a content marketing program
When you create and promote content regularly, like any other publisher – you build up a subscriber base who care about the same things that your company does (if you sign your readers up for email updates).
If you're not thrusting your products down your audience's throat, the trust you develop helps you become an authority source in your niche.
When your potential customers do want to buy the product you're selling, they look to you for your trusted advice. Because they know you care. Not because you've pressured them into a sale.
You've proven you know all there is to know, so if you're selling a product related to your shared interest – your audience figures you must have a pretty good idea of the best option. You still need to give your audience the chance to buy, but you don't need 'the hard sell'.
If you continually educate, inform and entertain your niche, you can build a profitable community of loyal customers.
Build your community of loyal customers with a publishing mentality. People subscribe to magazines they love, waiting with excitement for each coming edition. Your content marketing needs to have the same effect.
Your blog needs to be one ongoing story that shows your audience you care about the same things they do.
Build an audience of people who share your belief with interesting, informative and educational content. Don't blog about your products.
If you keep sharing stories about this mutual belief, your audience will start to trust that you really care.
Suddenly you're not just trying to sell stuff. You're building a community of passionate fans who turn into repeat customers.
Check out our Ecommerce Content Marketing Guide Now
Don't blog to sell your products, blog to delight your audience
Do you have an ecommerce blog?
Here's what to do (and what not to do)
Spoiler:
To create blog content that stands out in your niche (and with search engines), you have to understand your audience's values. You must find out what your audience believes in. You have to mean something to them.
This is where the magic happens.
If you don't have a passionately shared belief, it's hard to build a community of loyal customers.
Your brand needs to share this belief, get amongst the crowd and live the passion.
Helpful Resources
If you need some more inspiration – here's seven content marketing success stories from an assortment of ecommerce brands with different audiences, budgets and industries. You'll be able to appropriate the concepts and tactics used by these brands to help develop your own strategy.
Start your own media division and create your own publication
When you want to achieve a goal, you need to learn from the best.
If you want to build an audience, take your cues from the best in the media business – and find a way to create your own content series.
Before the internet, the costs of creating and marketing a publication for your brand were astronomical.
Now – anyone with an online store has the opportunity to compete with traditional media companies in their industry.
The content marketing series is your community builder. Blog category, print mag, video series, monthly meetup, no matter the medium, just find your story and keep on sharing it.
Your bounty?
Visitors, who become regular visitors, who become subscribers, who become customers, who become loyal brand fans prepared to go into a virtual boxing ring and fight for your company and its beliefs.
Online fashion giant Asos is leading the brand charge into podcast content marketing, launching a weekly show in an attempt to find a more engaging way to nurture relationships with their vast subscriber base. You can jump on the growing popularity of the audio broadcast medium and develop your own show.
Looking for a simple, cost effective approach?
Record a weekly one on one interview with a different influencer in your space, and share their personal story with your community. The interview format is quick and cheap, and the influencer will be sure to share your work with their fans – putting your brand in the ears of a whole new bunch of potential buyers.
People still care about print. Great magazines still make their subscribers excited.
The sensory experience cannot be matched. Particularly for beautifully designed fashion magazines with high-quality editorial and stunning visual imagery.
When you read your favourite magazine, you're in your happy place, latte in hand, tasty treats by your side. How else can you voluntarily get someone's undivided attention for a decent chunk of time?
More and more fashion industry e-retailers are starting to see the audience building value of the print magazine.
It's the physical representation of their brand that is otherwise lacking. It's their way into the living rooms of their customers. It's a cost-effective tool that can develop genuine relationships.
If you sell quality designer products online, you're about to find out why a print magazine could be the best way for you to develop loyal repeat customers.
So why not create a beautiful print magazine to delight your core audience?
You don't have to worry about generating ad revenue (though you can if you want). You can 'monetise' your investment with your products.
If you add value for these subscribers with your print magazine, you'll earn yourself a bunch of repeat customers.
If it's good enough, your audience will pay for it. And they'll love you for it. You might even make a profit out of it.
A beautiful print magazine will bring your online store offline. If it's coffee-table worthy, it becomes a part of your customer's life in a way no shop, catalogue or billboard ever can.
(If you're intrigued by this approach, we've already written in detail about 6 online retailers successfully using a branded print magazine to attract, nurture and retain their online customers – including Net-a-Porter's now famous content marketing powerhouse Porter magazine)
A video series, podcast or print publication may seem intimidating for a fledgeling online retailer. We get it. There's a genuine commitment required to succeed, even though the costs are low and opportunities are high.
At the lower end of the content marketing creation spectrum sits a format that an ecommerce brand of any size, shape or budget could execute.
Turn your customer questions into a weekly Q&A show. Solicit questions from your audience on social, email, live chat, and in-store. Collate these questions and answer one per week in video, audio or written format.
Gorilla Ecommerce Award winner Goulet Pens have mastered this concept.
Without a bricks and mortar store, it can be hard to develop a strong brand personality. Developing genuine personal relationships with your customers is so much more difficult.
Encouraging user generated content is a super way to start filling that void.
But food, fun and fashion aside, it can be hard to get people to gram, post or tweet about your brand. Especially if you sell pens.
The writing community that Goulet knows so well love their pens and paper, they just aren't sharing selfies with their ink blotters on Instagram. Instead, Goulet fans have an insatiable knowledge for information about their writing instruments.
After years of answering customer questions in email form, Brian Goulet decided to create a regular weekly blog post to answer the Goulet community's questions.
The concept took off, so to further develop Goulet's bond with their audience, Brian decided to answer customer questions in an easier to digest weekly video format, creatively titled Goulet Q&A.
It's so simple; 'Send in your tough questions. We'll answer them for you.'
If a stationary brand can make this work, surely you have no excuse.
Repurpose your longer form content into blog, email, and social media posts
Don't just throw up your newly developed content onto a solo landing page and wait for the customers to roll in. Make the most of your content creation efforts.
Repurpose your work. Cut up your guides into a series of blog posts, promoted through email and social media. You can break your content into a series of emails to send to your subscribers in the lead-up to the new season to increase engagement and add value for your customers.
Any visuals you develop for your guides can be used individually across your social media platforms to drive more interest back to your seasonal guide.
Helpful Resources:
Create educational courses, email programs and events
If your customers are thirsty for information and education about your brand's subject area, your brand can be the authority source to provide teaching and training.
Cobble together your product page and blog article content, interview experts in your area and re-organise this information into a syllabus with a bunch of sub-topics. You can prepare an online course, a free-to-subcsribe email series, or an annual full-day seminar designed to educate interested community members.
If you're selling outdoor products, why not develop an abseiling or canyoning how-to course?
Women's fashion retailer? Create a series of learn-to-design online courses or in person meetups.
Musical instrument ecommerce brands have it easy. Of course budding performers would sign up to online lessons from respected teachers or industry heavyweights.
You can promote these course on your site, through email and across your social channels. You might even be able to make a profit of this marketing activity.
Any brand known as an authority source in the industry will easily establish trust with potential customers.
The pupils in your course will become your fiercest brand advocates, acting as unpaid marketing ambassadors.
Helpful Resources
Turn your FAQ pages into info guides
FAQ pages are so ecommerce 1.0 – you can do better!
The fundamentals are enduring. Answering customer's questions is a brilliant strategy. Take it to the next level.
Package up your FAQ content with a little love, and you can create a series of specific informational guides for each of your product categories.
Combine any technical specifications info, demonstrations, reviews, instructions or relevant blog content and create a miniature library for your customers to explore. Optimise these guides for low-competition, high-volume search terms, and you'll dominate page one and attract new potential customers looking for research information.
Helpful Resources
There's one irrefutable authority on this tactic.
Marcus Sheridan (The Sales Lion) owes the rapid growth of his River Pools and Spas business to his exhaustive Q&A blog posting. You can read about it here:
Break your information guides into sub-topics and create a blog article series
You can break these detailed guides out into smaller, more specific sub-topics and create a series of blog articles targeted at longer tail keyphrases. This will help you spread your 'Google footprint', and gives you more chance to help more potential customers through organic search referrals.
Don't just throw up your newly developed content onto a solo landing page and wait for the customers to roll in. Make the most of your content creation efforts.
Repurpose your work. Cut up your guides into a series of blog posts, promoted through email and social media. You can break your content into a series of emails to send to your subscribers in the lead-up to the new season to increase engagement and add value for your customers.
Any visuals you develop for your guides can be used individually across your social media platforms to drive more interest back to your seasonal guide.
This content can bridge the gap between interest and purchase, offering browsers the chance to research in detail. Sure, focus some content on your specific products, but explain them within the context of your category. Provide comparisons, pro's and con's advice for different usage occasions, staff suggestions and background info.
Focus on the category or topic, not just your stuff. Remember, shoppers aren't just interested in your product. More generic help adds huge value to their shopping experience. If you can educate your visitors out of sheer friendliness, you'll develop trust and loyalty in the process. Buying from anyone else would feel like adultery.
Mr Porter is a master of this technique. Their 'Shoe Guide' landing hub page houses a whole collection of more specific articles for curious browsers to peruse:
Helpful resources
Will Blunt from Blogger Sidekick has developed a must-read expose on this 'hub and spoke' SEO blogging strategy.
His guide is a must read for any content marketing professional wanting to understand how to develop a solid strategic framework for any new content creation.
Create seasonal buying guides and optimise them for target search keyphrases
There's a good chance your customers' needs and problems change along with the season. It might be certain approaching events, a different temperature or new trends and innovations that signal a change for your buyers.
Don't focus on products, focus on helpful info and smart curation to help your customer shop for the season. Some useful contextual info relating your products to your customer's specific seasonal problems will improve their experience and show that your brand cares about helping, not just selling more stuff.
Your seasonal content only requires four big efforts. Once you've developed a strong foundation of helpfulness, you can refresh and update each seasonal guide the next year, incorporating any new products as you go.
Helpful Resources
The following ecommerce megastars all know the importance of establishing specific landing pages that allow users to search for products for the upcoming season.
But I reckon you can take the customer helpfulness one step further.
Don't focus on products – focus on helpful info and smart curation to help your customer shop for the season.
Some useful contextual info relating your products to your customer's specific seasonal problems, will improve their experience, and show that your brand cares about helping – not just selling more stuff.
I'm so sorry to do this to you, but I've got to use another Huckberry example. I honestly scoured the ecommerce jungle, and non-product focused seasonal guides are unfortunately few and far between.
Just read Huckberry's Guide to Winter Camping, and this tactic will make a whole bunch more sense.
By integrating products into the context of a helpful winter guide, Huckberry can establish their authority and expertise, assuring the reader this brand knows their stuff.
If you're going to buy anywhere – why not buy from the proven experts who just helped you out with a stack of free info and advice?
Your seasonal content only requires four big efforts.
Once you've developed a strong foundation of helpfulness, you can refresh and update each seasonal guide the next year, incorporating any new products as you go.
If possible, infuse influencers into your content. Create a list of partners with similar interests and brand values. Select those with large social media followings made up of people similar to your target audience. Interview these influencers. Get them to review your product. Ask for their tips, advice and expert perspectives. Share their story in your seasonal guides.
Your audience will benefit from their insights. Your influencer will be sure to share your helpful content to their followers, opening up a new chunk of targeted potential customer to your brand.
Helpful Resources
Not many retailers are adding this helpful content to their shopper's experience. Surprisingly, the food retail niche is doing it best.
UK supermarket chain Waitrose, and US retail monolith Walmart, both have really helpful seasonal guides blending helpful content with carefully curated, relevant products.
The best in this business is another one of our personal favourites. We've written about the US grocer Wholefoods' content marketing recipe for success.
Their seasonal landing pages are a delicious mixture of recipes, health tips, cooking instructions, and how-tos. Customers can keep coming back to this hub for inspiration, information and direction. Product ingredient lists are seamlessly integrated into the experience to make it easy for browsers to shop with Wholefoods, turning helpfulness into sales for the retailer.
Search Engine Optimisation
Optimise your blog content for search engine results
If we want to find out something about a company, we go to their website. If we are researching a problem, we might download an ebook or sign up for a webinar. If we are interested in a topic, we might read an interesting blog post. If we are interested in a product, we'll look for reviews or features and benefits.
We get that people do these things. Regularly. So if our business can be there with blog content to help them, we've got a much better chance of gaining their trust and their purchase.
That's why content marketing is now so crucial.
But, you still need to make sure your customer can find your content.
Creating phenomenal content for your customers is the hardest part. But once you have this done, you need to make sure you optimise your blog content for search engines.
Here's a quick, practical guide to help you optimise your blog posts to improve your rankings and your customer's experience: "How to optimise your blog content for search engines AND customers".
Test, Fix and Improve Your Ecommerce Website SEO
As much as it seems like SEO is a mystical black magic practised by basement-dwelling tech nerds, it's really not as complicated as we make it out to be.
We Gorillas have hacked our way through the Ecommerce SEO Jungle for years. We find the same fallen trees and harmless predators barricading search engine success, time and time again. Fixing them isn't difficult.
We're here to be the David Copperfield guy who does the half hour special showing you how simple those intense magic tricks really are.
Sure we're probably breaking some brethren code and ruining it for everyone, but there really is no need for you to shell out thousands of dollars to audit you online store's SEO. It's not magic. We don't even wear top hats…
Anyways, I digress – here's your Online Store SEO Audit. Download it, share it with your team, and chip away at each task to gradually improve your SEO, and pull in more potential customers.
Here's a snapshot of some of the issues commonly plaguing online stores. I've linked out to a specific blog article for each issue with more detailed information about each topic.
Crawling and Site Errors
You need to help Google find and crawl your content to get it recommended through search.
Indexation Errors
It's not enough for Google to find your content, it needs to be able to index your content. Often ecommerce sites inadvertently set up content not to be included in search engine results.
Managing Your Site Architecture
Often ecommerce sites have so many layers of categories, sub-categories and product pages that search engines can't find their way through the site's architecture to find your content. A flatter site architecture usually makes it easier to get search engine referral traffic.
Using Canonicals for Duplicate Content
Ecommerce sites can have hundreds or thousands of products. These products could be replicated across different categories. The content on these pages is often similar or duplicated across categories. Search engines frown upon copied content – so you need canonicals to explain your ecommerce content.
External Duplicate Content
It's not just internal duplication that cripples ecommerce SEO. Often slack, lazy or spammy outside sources steal your content. You might not even know it. But Google sees plagiarism. You might get penalised for someone else's thievery. You need to learn how to deal with external content duplication.
Researching and Using the Best Keywords
It's hard to work out which terms to rank for. Some ecommerce sites don't optimise their content for the terms searchers use to find information. Ecommerce Keyword research and planning allows you to find the best options and measure your SEO success.
Optimise your online store content for search engine rankings
Once you've worked out the right keywords for your customers, you need to optimise your content so that search engine bots understand what your content is talking about. You need to explain to Google and friends what keywords you want your content to rank for.
SEO friendly URLs
One of the most effective ways to boost your ecommerce site's SEO performance is also one of the simplest.
You need to optimise your URLs to include descriptive, relevant keyphrases.
That's pretty much it.
Okay, granted, it's a little more complicated than I make out.
We dedicated an entire article to executing SEO friendly URLs
Optimising your headings to increase search engine traffic
Online headings are a bit like parents. They can be really useful, exceptionally boring, condescending, or strangely intriguing. You take them for granted, but when they're gone, you're lost.
Search engines need headings for the same reasons we do. They quickly explain what your content is about, they set an expectation for what is to come, and they break up your content into more specific miniature topics.
If you don't use keywords in your headings, Google's going to find it mighty difficult to know what it is you're talking about. It's less likely they'll recommend your work to potential customers.
For ecommerce marketers this is critical. You have lots more pages, lots more content and (I hope) lots more headings.
We've got the goods on managing your ecommerce headings so that Google and friends bring you more customers from search engine results in this article titled "1 simple on page optimisation hack that will bring you more customers"
Generate backlinks from your suppliers
You probably have 100s, if not 1000s of products from a range of suppliers. Each one of these suppliers might like to have a link to your product on their website. Win.
Go through your supplier list and identify the ones who list and link to "stockists" on their website. If you're not already listed make sure you let your contact at the company know and score a link for some Google ranking love! Considering you are their customer, it's the least they can do.
Take this Stockists page from fashion brand We Are Handsome. If you were a retailer of this brand, you could get in touch with your supplier to update your listing with a link to your homepage or product page.
This tactic might not bring you hundreds of new sales directly, but it will boost your Google rankings performance in the long term – allowing you to pick up more search engine referral traffic you can convert into purchases.
Link Building is worth of a 5000 word blog analysis in itself. Ecommerce brands find it particularly difficult to manage this tactic. Fortunately, we've rounded up four invaluable resources to help you nail it.
Helpful Resources:
Email Marketing
Implement a popover to prompt visitors to subscribe for updates
Popovers are like reality TV. They can be brash, in-your-face and slightly annoying. Purists will tell you they are a scourge on society, but most marketers secretly love them. The thing is – they just work.
Don't believe me?
Test it.
Most studies indicate bounce rates don't change significantly, while subscription growth is rapid. For the sake of irritating a select few people, you have so many more opportunities to delight more potential customers over an extended period.
Referral Candy has put together a handy outline of five different types of ecommerce popovers you can use to capture more email subscribers, drive more traffic and develop more loyal customers.
US retailer Jackthreads gives customers three options to connect with the brand to give themselves the best possible chance of developing a longer term relationship.
(Make sure your popover allows a single click entry. All you need is an email address and a first name up front – you can follow up with your new subscriber and ask for more detailed preferences in a subsequent email. This will help you personalise the communications you send, improving the experience for each subscriber)
Helpful Resources
Add an incentive to encourage visitors to subscribe
If you're going to use a popover to capture new email subscribers, try to offer something of exceptional value in return. An incentive like a 20% discount, or a freebie with a first purchase can be effective – but you don't want to come across as a greasy salesman on your first meeting. What's that old adage about first impressions?
Instead, offer a helpful piece of content as your incentive, and add a short teaser of the value your emails will provide for the subscriber.
It's important not to disrupt your user experience, so if you do add a popover to your online store, make sure the user has a clear and quick minimise option. The default icon is a big old 'X'. Even better – add functionality that allows the user to minimise the popover if they click anywhere outside the call-to-action box.
There's a number of different ways to manage your popover. You can set them up to appear:
– immediately
– after a certain amount of browsing time has elapsed
– triggered by exit intent (when cursor movement away from the page is detected)
Test these options to see what works best.
Frank Body makes sure the shopper's experience is not compromised with a less intrusive scrolling side popup (and some inspired copywriting):
Aussie startup mattress e-retailer Koala, use a clear and compelling popover with a significant discount incentive:
Food 52 shows us all how to entice subscribers by setting an expectation of regular valuable content:
Helpful resources
Add your popover to your blog and about pages
Don't just add your popover to your homepage.
Blog readers are also new to your site, and although they might not be ready to buy, they are probably interested in receiving more similar, helpful info from you. If you can demonstrate the value of your email updates, your popover will generate more opportunities to develop long term relationships. That subscriber might just turn into a loyal, repeat customer a couple of months down the track.
Similarly, your About page is frequented by users looking for more information about your brand and your story. Add a popover. Give these readers the chance to opt in for more insights over time. Subsequent emails will give you the chance to nurture these browsers into shoppers – increasing blog visits and store traffic in the process.
Leggings and lycra masterminds Blackmilk have built a community of ultra loyal, repeat purchasing brand fanatics who act as unpaid ambassadors for the brand.
Their popover sets an expectation of exclusive value for subscribers – not just in dollar discount terms – but with the promise of interesting and exciting content.
Helpful Resources
Subscription follow-up emails
When you've signed up a subscriber, it's crunch time. You can go one of two ways here.
Be that annoying, give-me-more-money cliché and ask for another sale, or play the long game and earn some trust by trying to help your potential lifetime customer.
We're for the latter. Think customer lifetime value, not flash sales. Your follow-up email
to a new subscriber is a crucial line in the sand. Show your new customer that you care about their interests and their inbox.
Sure, you can offer a discount or coupon code for their next purchase. That's helpful. But don't clog your first intimate communication with products. Provide some helpful content. Advice, tips, tricks, education, information, inspiration – anything but sales.
Curate the best stuff from your blog, or find some great stuff from partners or other publishers. Drive social sign ups, to give your readers a chance to follow you on another platform. Encourage user generated content while you're at it. And if you want to push the envelope and spread the love, prompt your reader to share with their friends for a referral bonus.
Blog articles, comparison guides, landing hub pages and social media roundups will help nurture your subscriber, communicate your brand values, and prove that you care about more than their wallet.
These emails will also help you increase traffic to your blog and your store – giving you more chance to lead your subscribers through from the research to the buying stage.
Helpful Resources:
Make sure you have an inline email subscription CTA in your footer
You footer follows your store visitors like a shadow. It's there, waiting patiently, on every page.
Don't waste this real estate. Add an inline call-to-action allowing users to subscribe for email updates. Web browsers are conditioned to look for a subscription option in the footer. This one's a simple win.
Chubbies are a 2015 Gorilla Ecommerce Award winner and one of my personal favourites in the online retail game.
Their footer email CTA is delightfully representative of their brand, with an exceptionally clear design.
Helpful resources
User Generated Content
Seek product reviews
Quality Product reviews done in moderation help potential customers and your Google rankings. There are a bunch of ways to build reviewer links, some safer than others. We think that finding and contacting real bloggers in targeted niches is the best plan of attack.
There are forums and websites especially dedicated to connecting reviewers and product sellers. I say beware. In our experience this pathway is a little too risky – try to develop real relationships yourself (link building is a hare and the tortoise type scenario, no shortcuts!).
My favourite way to identify important bloggers is via Twitter, with a search tool like Followerwonk.
You should be looking for bloggers who operate in a specific niche closely related to your product range, who occasionally post product reviews for their audience. Avoid sites that pump out daily reviews on a range of unrelated products. If you come across old Greg reviewing mascara on Monday and car accessories on Tuesday, hightail it right out of there.
Matthew Barby is an expert in influencer engagement – check out his great article for a super detailed step by step guide to help you engage with bloggers.
Reach out to relevant bloggers and introduce yourself, your company and your product. Tailor your emails to their specific site and let them know why you're product might be interesting for their audience.
Make sure you add a link to your site back to the blogger's review. Apart from reciprocating for your new buddy, objective reviews also act as a great proof point for potential customers not sure whether or not to buy.
Field Notes, one of our favourite niche ecommerce blogs, does a super job of integrating reviews into their website.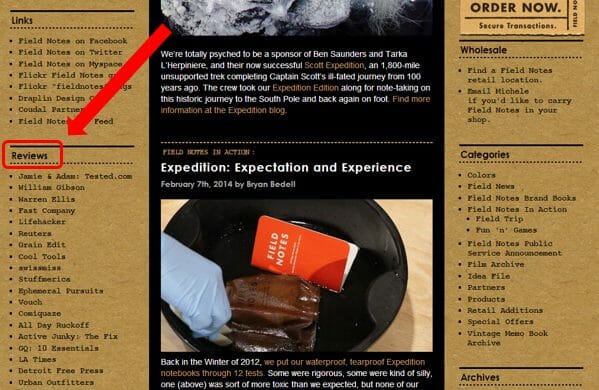 Helpful Resources:
Prompt customers to share a selfie on social with a post-purchase follow up email
This one's a bonanza for retailers with a visual product or experience. There's a red hot chance your customers use social media. If the internet has taught us anything – it's that people love to boast about their lives on social media.
If your product will help your customer incite envy from their friends, said customer will be more than happy to snap a selfie, add a filter and tack on your branded hashtag. You just need to remind them to do so. A couple of days after purchase, send your customers an automated email prompting them to share a happy snap on social.
Adore Beauty has this tactic down – even incorporating a prize incentive to encourage snap-happy customers:
('Click-to-Tweet' pre-filled social messages will increase your conversion rate with this tactic. Make the ask as minor as possible for your customer.)
Helpful Resources
Start a user generated content competition to incentivise social sharing
To encourage users to generate social content for you – create a monthly competition rewarding one customer using your branded hashtag with a prize. Curate the best of the best in a monthly email sent out to your subscriber base and notify your brand's new models on social – they'll be sure to send to their friends in their flurry of excitement.
All you need is the following ingredients:
some cheap email marketing software
one or two social media profiles
rabid fans with phone cameras
clear, differentiated branding
a core belief that your audience cares about
One Aussie ecommerce brand is building their business on the back of user generated content.
Budgy Smuggler doesn't even blog. The swimwear peddling start-ups make it work with Instagram, Facebook and email marketing. They're all about jumping in the deep end and showing it all off.
A simple hashtag is used to encourage customers and fans to snap their own shots of their Budgy-Smuggler-wearing shenanigans. The marketing team curates their best stuff and reposts it to their Facebook and Instagram accounts with a simple shout out to the helpful unpaid product photographer, who is sure to share, re-post and comment on their 15 seconds of fame.
Budgy Smuggler use their website to sign up their customers to regular email updates, allowing for regular communication with their audience.
Email marketing doesn't require a Masters in marketing and a 60 hour work week. The guys just collate the best of the hashtagged-photo bunch and ask everyone to vote on the best. A couple of random fans will get a prize. Simple.
No irritating promotions rammed down inboxes throats.
No Oscar-worthy, bank-breaking articles.
No slick commercial videos.
Just a couple of curated pics, a fun competition and a handy prize to remind the Budgy Smuggler fans of their awesomeness.
Budgy Smuggler customers who receive these monthly emails are turned into fans, repeat customers and brand ambassadors.
These pics show what it means to wear a pair of Budgy Smugglers. The personality of the brand is explained by the customers wearing the product. If you dig the vibe, you'll want a pair.
Helpful Resources
Involve your subscribers and followers in product development and marketing decisions
Social media allows you to interact and engage with your customers and followers. It also gives you the opportunity to get your audience involved in the evolution of your business. Research and development revolves around 'product-market fit' – creating products your audience wants. So why not ask them directly?
Give your customers a voice in your business. Use polls, contests and questions in your social posts to engage your followers and ask for their opinions. This will build excitement, and drive more traffic to otherwise uninspiring product launches. If your audience feels like they are contributing to your products, they'll be more invested in the end result.
Helpful Resources:
Create a product 'Kickstarter' to spark interest and investment from your audience
Brands like Betabrand, Gustin and Beckett Simonon have taken this approach one step further – committing their entire business model to a crowdfunding concept.
Reminiscent of Kickstarter, these retailers launch designs for their customers and subscribers to pledge or vote in support, in return for a discounted rate if the product reaches the demand required for commercialisation.
This business model allows the retailer to accurately forecast demand, pinpoint delivery costs in advance, minimise excess inventory, reduce warehousing costs and create products their customers genuinely want.
Beckett Simonon describe the benefits as follows:
"Preordering gives you the limited chance to acquire made-to-order goods at great values. By planning ahead, you'll score quality products at an otherwise unreachable price point. Early birds are rewarded with the biggest discounts. If something catches your eye, don't be shy. Prices will be at their lowest in the first fifteen days of each month and will increase progressively, so it pays to plan ahead and buy early during the sale."
(You could even run a targeted Facebook promotional campaign to spread the reach of your 'Kickstarter product pledge', bringing fresh interest, more social sharing and new potential loyal customers.)
Helpful Resources
Establish an incentive based referral program
You need to find a way to incentivise word of mouth promotion, and get your customers chipping in to support your marketing team.
Exponential growth is your reward.
Helpful Resources
Referral Candy are the go-to guys on this caper.
These folks put together an epic list of 47 successful examples.
There's four brilliant sections made for online retailers, split into ecommerce industry verticals:
You also want to check out Sweet Tooth Rewards and Receiptful for more advice and insights on referral programs.
Social Media and Influencer Marketing
Focus on your target audience's social media channel of choice
I don't need to tell you that social media marketing can help you drive more traffic to your online store.
But I don't want to tell you to go ahead and start spamming your content around every social network to be found.
A thousand miles wide and one inch deep, is the worst approach to building an engaged community online.
Instead – you need to focus on one key channel where your target audience enjoys sharing, reading and talking about the topics your brand cares about.
It might be Twitter, Instagram, Facebook, Pinterest, Snapchat – maybe even Linkedin. But it cannot be all six.
Mridu Khullar Relph, Freelance writer and Founder of The International Freelancer, has produced an incredibly exhaustive 'guide to choosing a social media niche' for the Buffer blog, and she supports the focused approach.
"Most social media experts believe in prudence: that you might miss out on connecting with your true audience if you're spreading yourself too thin on too many social networks."
Concentrate your efforts, and dominate in one community. You'll build your audience faster, and generate more traffic back to your site from blog content shares, social media contests and the occasional product promotion.
An extra tip – Find the influencers in your space, and develop relationships. If possible, you can approach these influencers to collaborate on content projects to be cross-promoted through each of your audiences.
Helpful Resources:
<12 social media tactics to drive traffic to your ecommerce site – Magento blog
Contact your most interesting or influential brand advocate and share their story
People trust their friends and peers more than brands.
Use this to your advantage.
If you're going to all the trouble of encouraging users to generate content about your brand – demonstrate your thanks. Reach out to your most dedicated or unique brand fans and contact them individually. Strike up a two-way conversation. If they have a story to tell about their relationship with your brand – hold a detailed interview and create a blog article, podcast episode, or short video.
When you involve your fans, you turn them into loyal, passionate advocates. This drives an emotional connection between your brand, and their friends and followers. A customer's personal story is eminently more sharable than some soulless article about a new product release.
Showcase your best customer's stories, and you'll start expanding the reach and power of your brand. More interested friends of friends will find, follow and frequent your online store.
Helpful Resources
Build your audience using content collaborations with influencers who share your brand's belief
If possible, infuse influencers into your content. Create a list of partners with similar interests and brand values.
Select those with large social media followings of people similar to your target
audience. Interview these influencers. Get them to review your product. Ask for their
tips, advice and expert perspectives. Share their story in your blog articles, social media content, buying guides, and even on your product pages.
Your audience will benefit from their insights. Your influencer will be sure to share your
helpful content to their followers, opening up a new chunk of targeted potential customers to your brand.
(Oh, we almost forgot the most important part of this exercise… Incorporate your
helpful content into relevant product pages. If an item features in your seasonal
guide, find a way to add this helpful info further down your page. This might not help attract new customers, but it will help you convert traffic into sales.)
Helpful Resources
On-site Landing Pages
Create event-specific gift idea landing pages
Make gift giving easy. A sizable chunk of your visitors will be shoppers looking for gifts.
If you can create an experience designed specifically for their needs and wants, you'll pump up your conversion rates and delight your new customers. A specific gift ideas landing page is all you need to make these gift-giver's shopping experience a whole lot easier. For such a small amount of effort and cost, you can achieve a significant return. Separate out the page into different bunches of curated products collected under specific gift-recipient types. Use historical purchase data to determine the type of stuff that typical customer types would want.
If you're a menswear e-retailer, it's an easy exercise. Split your gift idea sections into "Outdoorsy", "Preppy", "Executive", "Surfer", "Sporty", "Muso" etc. You've still got some more left in the tank for one extra effort.
Look no further than our 2015 Ecommerce Awards winner Huckberry for gift-giving inspiration here…
Other industries can get creative. Travel e-retailer? You guys get bundling. Partner up with a restaurant, a hotel, and an events manager to create a killer weekend package. Next time you book an airline ticket, take note of the checkout process. Seats, meals, baggage and donations are offered in different bundle options. You can also mix and match rental car hire and accommodation for a cheaper rate.
Office goods provider? Create a colour themed stationery hamper for back to school students or new employee starters.
Alcohol online store? Develop a special subscription gift pack – six new craft beverages delivered to the recipient's door each month. A periodic subscription pack is a great way to turn a one-time buyer into a low maintenance repeat customer with a drastically reduced cost per acquisition.
These additional options drive more traffic to your site from gift-givers ordinarily outside the reach of your targeted content marketing and regular promotions.
Helpful Resources
Get Holiday Ready: Making Your Gift Guides Stand Out – Sue Chapman for Demandware
Promote an exclusive flash sale landing page for your subscribers and followers
Consider setting up a weekly or monthly surprise landing page, where you offer a new one hour flash sale at some point throughout the period.
You don't need to have a whole slew of products on offer each day. Just one great value deal will do the trick.
Promote this landing page through your social channels and email subscription list, and you'll create a real reason for your audience to return to your site each day (or share the deal with their friends). The flash sale concept also creates a sense of urgency, prompting indecisive browsers to pull the trigger.
Airlines (like Scoot below) and travel e-retailers are the experts on this tactic, but there's no reason why you can't drum up some regular excitement whatever your industry.
Helpful Resources
Advertising
Consider native advertising on niche publications
If you do decide to spend on advertising to reach more potential customers, hone in on your target niche to minimise the cost. The traditional mass media approach is not necessary. You need to understand your target audiences online consumption habits intimately.
You can pinpoint relevant niche blogs, social profiles and websites that share the ethos, sensibility and interests of your brand. Contact the owners and editors of these publications and find a way to share your brand's story in front of their readers.
Some bloggers, social influencers and online magazines may be interested in collaborating on content beneficial to both parties.
Others might be interested in a native advertising arrangement.
Founder of the Content Marketing Institute, Joe Pulizzi, explains the characteristics of native advertising with these three qualifiers:
A directly paid opportunity – Native advertising is "pay to play." Brands pay for the placement of content on platforms outside of their own media.
Usually information based – The content is useful, interesting, and highly targeted to a specific audience. In all likelihood, it's not a traditional advertisement directly promoting the company's product or service.
Delivered in stream. The user experience is not disrupted with native advertising because it is delivered in a way that does not impede the user's normal behavior in that particular channel.
You can reach out to your audience's favourite niche industry publications and suggest/enquire about a native advertising opportunity.
A carefully designed story/interview/video will introduce your brand to your target customers at a fraction of the cost required for paid advertising in more traditional media channels. Just make sure you have some mechanism built into the content to drive the audience back to your blog or store, so that you can maintain contact and develop relationships with these potential customers.
Helpful Resources:
How to blend native advertising with your content – Linh Dao for Newsmodo
We profiled one example of retail native advertising between Converse and men's lifestyle online magazine Complex in detail in this article titled "Is the 'New New' the New Black in Ecommerce Content Marketing?". If you're considering this approach, have a good read.)
Advertise on your audience's favourite podcasts
Podcasts in your niche have an already established, highly engaged community. Their followers know, like, and trust the publisher, and when they put a stamp of approval on a product or service, the trust points you gain beat out most other advertising formats.
A 15 second pre-roll or mid-roll ad tends to cost around $20 per 1000 listeners. That's affordable for almost every online retail brand.
Joe Pinkser penned a fantastic analysis of the growth in podcast advertising in a recent article for The Atlantic. The title; "Why So Many Podcasts Are Brought to You by Squarespace, or Mailchimp, or Audible, or LegalZoom" explores the trend of ecommerce companies who were first to the podcast advertising table. Read up, and you'll discover the strategy behind advertising through niche channels instead of traditional mass media outlets.
John Lee Dumas is the host of Entrepreneur on Fire – one of the most downloaded business podcasts on iTunes. He explains why podcast advertising can be a chance to add value to listeners for the brand and the publisher:
"I only partner with sponsors who will add value to Fire Nation, and I never hesitate to turn away sponsors that do not have my listeners best interests at heart.

I have created many valuable relationships this way, and many of my current sponsors stay with EOFire month after month because I strive to create a win-win in every partnership.
(As with any form of advertising – you need to set a plan to capture the audience you paid to rent. Add an incentive to your spot, and prompt listeners to visit a customised URL which houses a coupon code, discount, or content value add specifically for the listeners of the show. You can track visits to yourbusinessurl.com/nameofthepodcast to determine the success of your ad spend. Oh, and make sure you collect as many email addresses as possible!)
Helpful Resources:
Start using Google Shopping Campaigns
To make it easier for you to connect with consumers and promote your products online, Shopping campaigns, a new campaign type for Product Listing Ads (PLA), streamline how you manage and bid on your products, report on your performance, and find opportunities to grow your traffic from Google.
Helpful Resources:
Experiment with Google Adwords Campaigns
I know what you're thinking…
"Thanks scoop. I never would have thought of PPC ads to help boost my online store traffic."
I accept your sarcastic retort.
Of course this strategy works. But not all of us have the budget to keep throwing dollars to rent some Google space. And all your cash counts for nought if you can't convert your visitors into buyers after the click.
It's critically important to make sure you have the right customer experience in place to turn your new shopper into a loyal, repeat customer. If not, you'll have to keep paying for those clicks, over and over again.
Helpful Resources
We Gorillas have been around the online block a few times with ecommerce PPC. I've dropped in a few of our previous articles that will help you maximise the effectiveness of your Google Adwords spend.
Inject some Product Listing Ads to your promotional mix
If you are selling products on your website and running an Adwords campaign then you should be taking advantage of Product Listing Ads (PLA). It's like still doing a print ad in black and white when you could be doing it in colour. Unless you've got a pretty good reason, you want all the help you can get to stand out from the crowd.
Launched in Australia in 2012, PLA's give shoppers a visual of the products you are promoting in Adwords. The ad shows an image of your product, a description of the brand and model, price and your business name.
PLA's work on a pay per click basis but ads are set up using product attributes or targets (such as brand or product type) instead of keywords. This makes it a whole bunch easier to scale your campaign if you have thousands of products.
Why use Adwords Product Listing Ads?
Apart from the obvious benefit we've been banging on about, there's a gathering of other reasons to set up product listing ads:
Increase your exposure – It is possible for one of your standard Adwords ads AND one of your product listing ads to appear on the same Google results page.
Improve your lead quality – Shoppers get a better understanding of what you are selling. They can see your product photo and price. This means more qualified clicks to your site.
Generate more traffic – Product listing ads generally result in a higher click through rate than standard ads.
They're perfect for mobile shoppers – The visual nature of PLA's make them more accessible for those using smartphones or tablets. Your ad will stand out from its text compatriots even more on smaller devices.
Improve your ROI – Results have shown that PLA's receive a better click through rate than standard Adwords ads. Here's a super case study with some helpful insights from Jason Gannon of Wordstream fame.
Helpful Resources
If you're unfamiliar with PLA's, you need to get acquainted. Consult these online authorities post-haste:
Off-site Promotion
Consider listing on eBay, Etsy and Amazon
If you're just starting out on your ecommerce journey, growing an audience of potential customers can be a real grind.
To help you kickstart your business, and widen your brand's reach – setting up a sales channel through an online marketplace might be a smart decision.
The likes of Amazon, Etsy and eBay have one enormous asset that startup ecommerce brands do not: an established global audience.
The cost of acquiring new customers can prove prohibitive for some online retailers. Pay per click advertising can be ultra competitive, and very expensive. The organic approach takes time and perseverance.
Sure – it's more difficult to build your brand on these platforms, and you place yourself at the mercy of another business.
But, an initial spike in new customers generated from eBay, Etsy or Amazon will give you the chance to nurture a collection of loyal, repeat customers over email, after that initial sale.
You need to make sure you delight your customers post-purchase if you're going to dabble with this approach. Without transitioning these customers to make future purchases on your own online store, the opportunity costs of building an eBay, Etsy or Amazon store could see you end up with a loss.
(Just remember, the single biggest mistake that an ecommerce site can make when selling the same product on another online marketplace. You can't use the exact same product descriptions on your product listing as you do on your site. Google can flag this as duplicate content, which could punish your search engine results.)
Helpful Resources:
Pros and Cons of Selling on Amazon, eBay and Etsy – Jennifer Lonoff Schiff for CIO
List on industry comparison sites
Blue Acorn explain exactly why you need to consider listing your products on industry comparison sites:
"In today's highly competitive eCommerce marketplace, the savvy online shopper rarely makes a purchase without doing a little homework first… 68% of online purchases begin at a shopping comparison site or search engine, with only 30% of conversions originating from a direct visit to an eCommerce store."
Comparison shopping engines collect product info, from participating retailers (normally in return for a fee), to display on a single comparison page to help the shopper research details like pricing, sizing, shipping, returns, warranties and guarantees.
Sean Work from Kissmetrics and Mark Hayes for Shopify, co-authored a fantastic guide titled "50 Ways to Make Your First Sale", and this tactic is explained in detail:
"As an online retailer, comparison shopping engines are obvious places to get your products in front of the masses and see who bites first for that glorious first sale. Sites like Google Shopping, Shopzilla, Bing Shopping, Nextag and Pricegrabber have millions of shoppers searching for the best prices on online products – so surely you're going to want to get some of those shoppers over to your online store."
If you want to know exactly how to execute this tactic effectively, Shopify has some educational info to help you along, including an ecommerce specific guide to the 10 best comparison site options.
Caution – don't fight the discount deal battle to the death. A swathe of comparison site users will be singularly focused on finding the best price. You need to work hard to highlight your brand's unique proposition to pull potential customers through to your store.
Your subsequent shopping and post-purchase experience need to convince these price conscious customers to buy again with you – for full price. You need to add enough value to warrant your customer paying a premium above Amazon (or other discounters).
Helpful Resources
The best ecommerce growth resources from around the online jungle