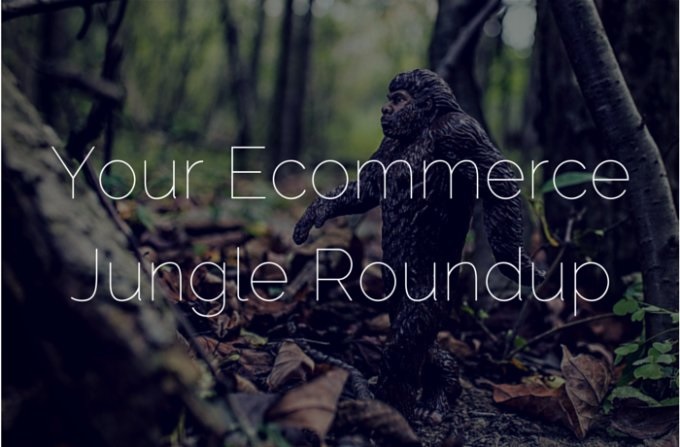 Our team of ecommerce marketing gorillas have been busy fossicking around the online jungle. As always, we've pulled together the most valuable sustenance of the month to help your online store grow up nice and strong. You don't have to feel like you're missing out anymore. Just wait for the gorillas to bring home the goodness.
If you haven't already, join thousands of other crafty ecommerce pro's and get yourself subscribed to our monthly ecommerce wisdom.
This March we're talking personalised email marketing, the 3 things that successful ecommerce companies shares and the secrets to cracking the US market.
We also explain what Kim and Kanye have to do with ecommerce SEO. Yup, really…
Read on, learn stuff, then sell more online.
3 things the fastest growing retailers have in common
RJ Metrics have produced some of the most important industry research of the year so far. Their 2015 Ecommerce Benchmark Report is a must-read any ecommerce managers that wants to stay ahead of the furiously fast chasing online retail pack.
Staff Writer Anna Kegler has put together a valuable article that pulls out some super critical insights from the Benchmark Report. The post, titled "What You Missed: How to Build a $24 Million Ecommerce Company in 2 Years" is a tantalising read.
Anna explores the 3 main drivers of growth shared by the top ecommerce companies. For the full, unabashed learning glory, you'll need to read Anna's full article, but in the interests of avoiding clickbait, here's the spoiler on our juicy little headline:
#1. Product/Market Fit
Brands that create an experience that customers love far outstrip their product focused competitors. You need to understand your customer's lifestyle and show how your brand fits into it. Brands like GoPro, Frank and Beardbrand are perfect examples.
#2. Efficient Acquisition
We're talking customers here not buying other companies…
The online retailers with skyrocketing growth unsurprisingly acquire customers at a much faster rate. The secret is in maintaining this rate after the buzz and excitement of the launch phase.
RJ Metrics cite Facebook as the key source of this new customer acquisition, but without customer-attracting content and an owned media platform, marketers can fall into the social media trap. These promotional channels are best used to get your great content in front of the right people. You need to drive them back to your blog or your website and grab their email address if you want to build a loyal relationship.
#3. Customer Retention
Again, this one doesn't need an online retail Nostradamus. Of course, faster growing ecommerce brands would keep their customers longer. But Anna delves into the figures a little deeper.
It seems the star performers start out with a narrow niche, developing a core of dedicated loyal brand fans. They are able to widen that niche and grow at scale while staying true to the brand values that mobilised that core group of evangelists.
Unsurprisingly, it seems a personalised experience is also central to retention success for the fastest growing online retailers. Multiple touchpoints are needed to satisfy online buyers. Those offering a helpful and consistent experience across these touchpoints are the brands earning repeat sales.
Here's a visual version of the right stuff from a Webinar RJ Metrics recently delivered with Thrillist, the publishing powerhouse owner of the ecommerce success story Jackthreads.
The right way to manage your ecommerce SEO.
Online retail and Google go together like Kanye and Kim.

It's complicated, unsurprising, hard to understand, always talked about and makes complete sense together. Even if you don't like it, and you never want to hear about it, well, it's something we all just have to live with. Those that embrace it will get the most out of it.
Ecommerce retailers need SEO. Google rankings mean more website visits. With great content these visits turn to sales. And that great content turns into better Google rankings.
It's too complicated and important to juggle part time. You need dedicated SEO expertise.
So how do you do it?
All have their pro's and con's. Some suit certain types of businesses. Others could work for all.
We've put together a detailed comparison between all of the best options for managing your ecommerce SEO. There's 3 more you'll want to know about. If you pull one of these bonus strategies off, you'll be laughing all the way to Google page one.
Have a read and work out the best way to manage your ecommerce SEO.
Is email an online retailer's most valuable marketing channel?
The ecommerce experts at Ometria certainly think so. The marketing solutions provider specialises in helping online retailers use data and predictive software to help ecommerce brands understand where each of their customers are in their buyer journey.
This is the legendary information you need to send personalised content to help your subscribers take the next step towards a sale (instead of ruthlessly spraying out generic promotional email barrages in the hopes of forcing them into a one off buy).
Hannah Stacey, Content Marketer at Ometria, explores one tiny teeny micro step of the process in detail throughout this guide to sending brilliant ecommerce welcome emails.
This quote from Hannah shows you why delivering customers the right messages at the optimum time is so important:
"Every time a customer receives a marketing message they're not interested in, they lose a bit of respect for that brand, they are a little less unlikely to open their next message and less likely to click through on the next offer, even if it is more relevant to their needs."
The ecommerce email marketing learning doesn't end here. Ometria takes you through three key stages of the online buyer's journey in gloriously helpful detail in their Email Marketing Playbook. You need to do yourself a customer-increasing favour and read it.
You'll be customising your email marketing content to your customer's purchase stage faster than the time it takes to push unsubscribe.
The closer you get to delivering the specific piece of content your customer wants at any given point in time, the more likely you are to turn that customer into a loyal one.
This visual rams it home. Even though the example is heavily sales content focused, you can see why an understanding of your customer's journey can lead to more revenue and more repeats purchase.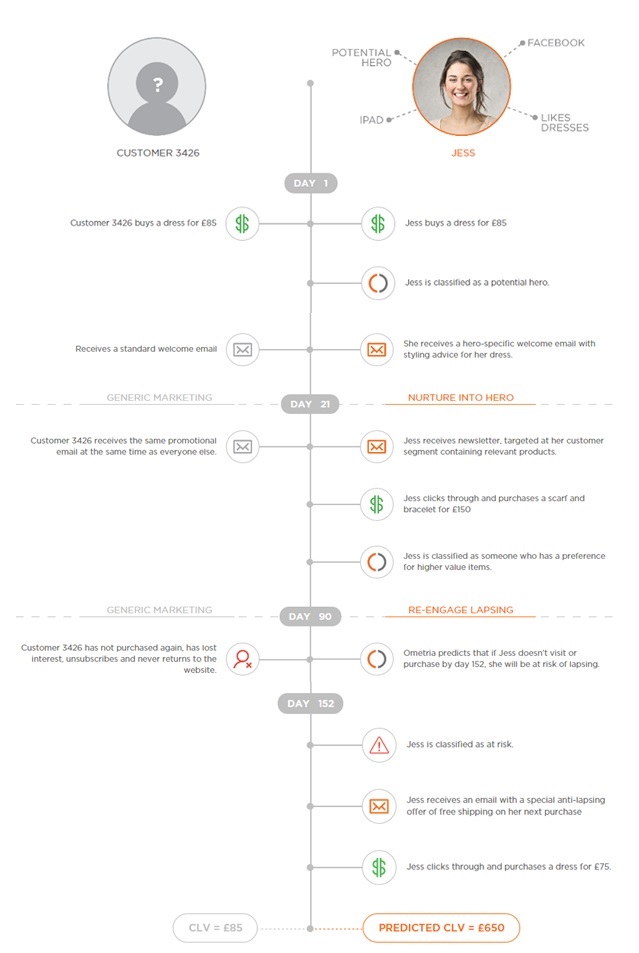 Could 'Glocalisation' help you sell more?
Glocalisation seems like a typo. Or a ridiculous piece of textbook marketing jargon.
It just might be neither.
It is a word merge between global and local, denoting an approach that focuses on optmising your strategy for each major international market in which you operate.
We're not for a moment suggesting that you need a specific documented strategy for each of the 20 different countries you have sold to in the past. But surely you can find a few ways to tinker your approach and maximise your opportunities in your most important overseas markets.
The United States is a big one that many of us online retailers are looking to target in order to expand our business.
One third of all Americans shop online. That's a lot of people. Around 106 million at last count.
You should be selling to these guys. There must be a big chunk of potential customers for you in amongst that 106 million.
But so many Australian retailers go with a standardised approach to selling online. This feature from the Guardian collects some expert insights from industry heavyweights in the US ecommerce industry.
Basically, if you want to dominate the US, it's a good idea to 'think glocal'.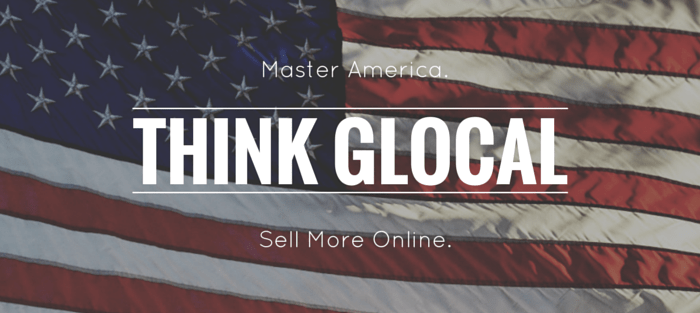 The key takeaways for Aus ecommerce pro's selling to the States:
Generally Americans want to buy from American businesses. Unless your brand personality is reliant on your Aussie-ness, set up a US company. Get yourself a US address and telephone number – you could pick up a bunch of extra US enquiries and sales.
There's a high expectation of quality service in the US. A 100% money back guarantee is an excellent way to overcome indecision and strengthen trust.
Americans expect swift punctuality. Instantaneous follow up emails are the norm.
Next day delivery is taken for granted. A long wait for shipping could ruin your chances of a repeat purchase.
Be bold – American's thrive off strong brands with a brash plan to change the world. Show your customers why your brand should matter to them. This 'tude might help you win more fans at home as well.
Make your customers feel more special. You'll get more sales.
Stands to reason right?
So why aren't all of our online retail programs focused on personalised ecommerce marketing?
Sure, people don't like creepy data thieving stalkers that make ecommerce marketers seem like a peeping teenager lurking in your online closet.
However… your potential customers do want you to make them feel like they are a human, not an email address with a wallet.
They want you to care about them. They want to feel special.
We've already shown you how Netflix's personalised content marketing is revolutionising the TV business one well-directed email at a time.
Personalisation is not about proving that you know lots of stuff about people who have visited your website. It's about using data to develop more helpful customer experiences.
We need to develop marketing programs that deliver the right piece of useful content to the right people, at the right time, to solve their specific pain points and pull them through to the next stage of their purchase journey.
This fantastic infographic from Monetate illustrates the confusing paradox of personalisation in modern marketing – we have the tools to do it, our customers want it (if not expect it), we have the stats to prove it can work, our executives can see the importance of it, but we're not really finding a way to make it happen.

That's a wrap for March. Time to get to work on making those customers feel special.
Did you miss last month's Ecommerce Marketing Roundup? We talked user generated content, interactive ecommerce pages and 5th anniversary monocles. Oh, and we might have also stumbled upon the secret to ecommerce success.
If you missed it, you need to sort that out. Catch up on our February Ecommerce Marketing Roundup now. And make sure you subscribe to our ecommerce roundup of learning goodness. Just click that big old button below, then sit back and enjoy the monthly inbox lovin.