February.
What a genuinely beautiful month.
Why?
Not the SuperBowl.
No, not Valentine's Day.
Not even the extra leap year day we've been so kindly afforded.
No, February is the best month for online retailers for quite another reason.
Christmas is over!!!
The busiest, craziest, most nerve-wracking time of any ecommerce professional's year is more than 10 months away.
I know how you feel…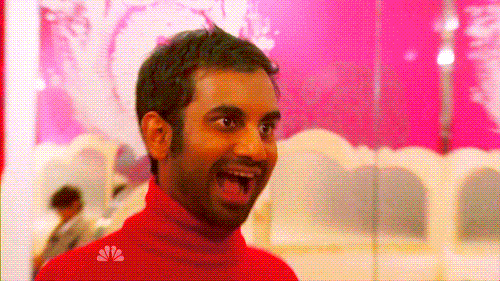 But you have reason to be even more ecstatic.
The new year sales are over for another year!!!
Cue next level glee.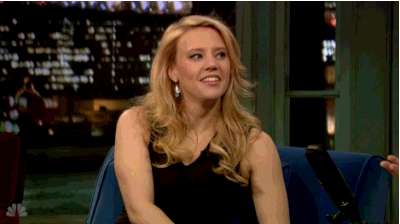 That's better.
You should be this happy.
All the ruthless discounting, inventory juggling and returns wrangling has finally retreated back to some form of normalcy.
February is a time for not being perpetually nervous, anxious and stressed.
Hopefully your office looks a little bit like this right now.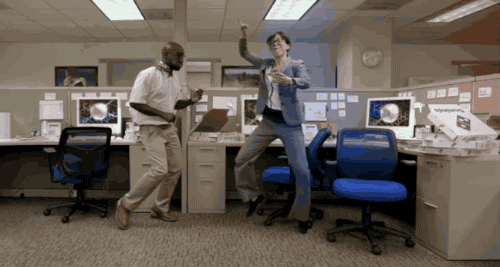 You deserve a little celebration. It's been well-earned.
You've probably just raked in about a third of your annual revenue in less than 4 sleep-deprived weeks.
You've probably also taken a third of a year off your life dealing with last minute Christmas delivery debacles, manically outrged customers and the inevitable website bungles that is online retail in December-January.
But with your brand's collective deep breath, comes the need to deal with those three challenging, but unfortunately necessary cousins of any successful online retail operation.
It's time to sit down and take care of the evaluation, analysis and planning triad.
(Your article mini-directory)
Too busy to read the whole thing? We get it: logistics, synergies, KPI's – all that stuff. Here's the skim read version. You really should read the whole article though…
You can click on the dot point that takes your fancy and head straight to the relevant section.
How to make the most of your Christmas shopping data
What worked?
What didn't?
How can you improve?
It's time to analyse your Christmas shopping data, check your benchmarks and compile a list of actions. You need to improve your user experience with the lessons learnt from another silly season.
To help you kick things off, we've got a really helpful article from Michael Harel, Director of Clicktale – an ecommerce analytics software provider. Michael has some simple, practical advice for your post-Christmas analysis, mainly focused around improving your online store UX.
Four quick tips to start you off:
Use your drop-off stats to improve your UX
Zero in on the cause of complaints and negative feedback
Perform a post mortem on your landing page bounce rates
Find out why browsers leave your product pages
It's also time to plan your 2016 marketing calendar
As much as we ecommerce folk wish next year would just mind its own business until the bedlam of Christmas shopping is over, 2016 refuses to be silenced.
That evil new year is knocking on your office door right now, nagging you and your lack of marketing preparation.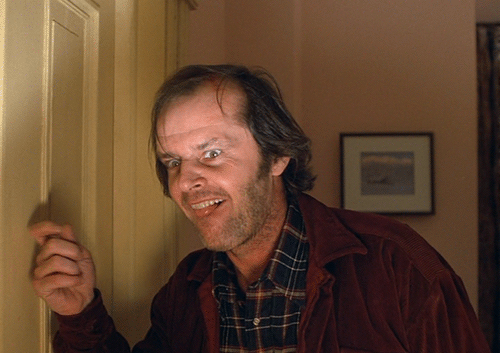 You earned some good bludge time in Jan.
But now it's time to get serious.
We want to help you banish this evil guilt beast.
So we put together a 2016 Ecommerce Calendar for you.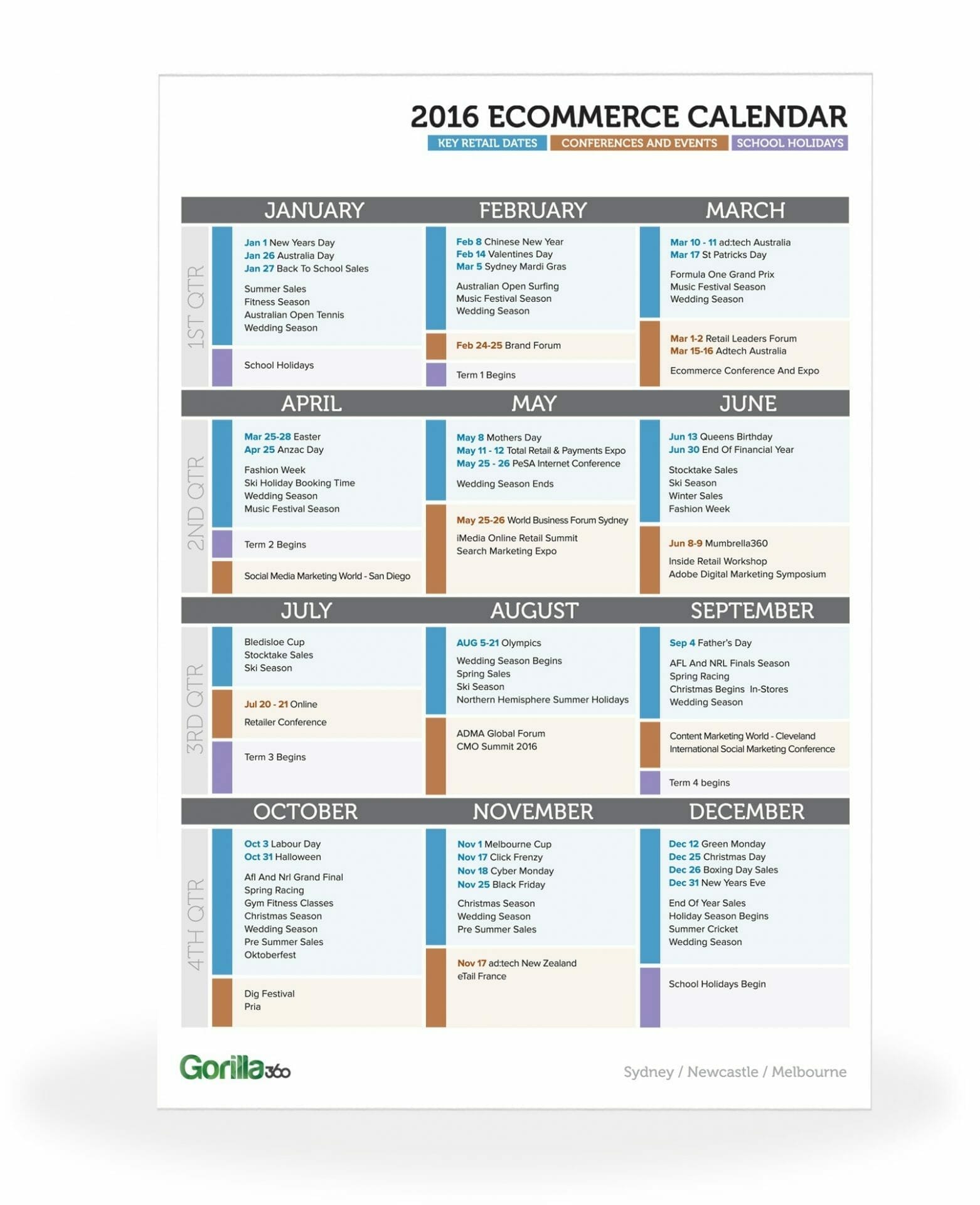 We've compiled all the important seasonal events, holiday periods and industry dates into one free, downloadable time-saver.
Inside your 2016 Online Retail Planner
Key monthly and quarterly ecommerce dates
Australian and international online retail conferences, seminars and industry events
Important seasonal and holiday periods to help you schedule in related sales promotions and content programs
Use the key dates to prepare your marketing program in advance and turn your 2016 planning from a perpetual last minute buzzer-beater to a meticulously planned runaway win.
At the very least, print it out, slap it on your wall and look at it occasionally.
You'll stay ahead of the game, and silence that evil 2016 guilt-nagging, so the new year is a little more like this in your office…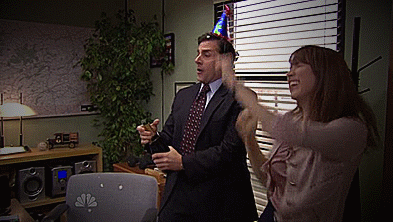 Disclaimer: Champagne and party hat not included in download. Serving suggestion only. Actual celebratory reaction may differ. Responsible alcohol consumption levels are encouraged…
Your 2016 ecommerce planning inspiration
While you're deep in planning mode, it's a good idea to take a step back out from those trees to make sure you can still see the forest.
Your competitors aren't necessarily the ones you should be looking to as a benchmark. Best in class online retailers from any vertical will provide you with much more innovation wisdom.
Lucky for you, we've taken all the hard work out of the equation. We Gorillas leave, breathe and obsess all things ecommerce, so we compiled a best-of list, with contributions from the entire team on their favourite brands, articles, podcasts and blogs from 2015
Our Best of 2015 Ecommerce Awards feature an extravaganza including:
Learn from the best, and make sure you get yourself on our 2016 list next January.
The definitive 2016 ecommerce software comparison
The perennial question lurking at the back of every ecommerce practioners mind – do we need better website technology?
The industry, and the tech supporting it, changes so quickly. There's always another 'next big thing' on the horizon. Dealing with old legacy assets can be a significant handicap, but choosing a new platform is a pain-staking and expensive process.
If you're thinking about it, February is a good month to get stuck into your research and comparisons of what's available.
There's hundreds of options to choose from, and each of the companies (whether opensource or not) are shifting their pricing schemes all the time, adding new features and thinking of new ways to make it easier for you to sell your items online.
The online retail CMS authority is indisputably the Ecommerce Platforms Blog, run by Catalin Zorzini. An experienced marketer and designer – Catalin knows almost everything there is to know about the key ecommerce website technologies available.
Catalin and his team have put together a refreshed 2016 analysis of the best ecommerce platforms you can find in 2016.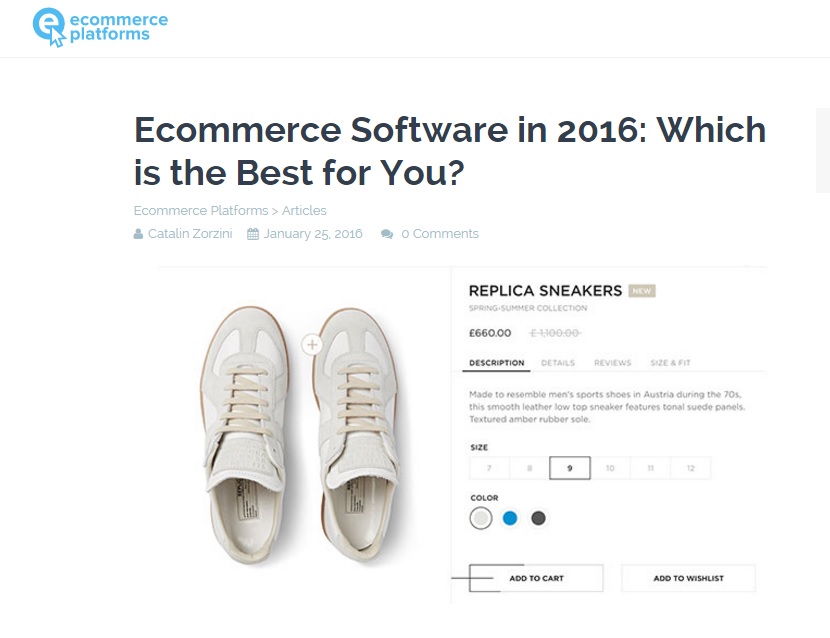 The following platforms are dissected and discussed:
You'll find deep comparisons on how these systems match-up in terms of price, design, features, backend, frontend and support.
The obvious biggie left out of this list is Magento. Don't fret – of course the Ecommerce Platforms crew have you covered on this one as well.
The most surprising announcement Amazon has ever made
It seems like the only news anyone in ecommerce is talking about this month is Amazon's almost-surprising-but-with-Amazon-nothing-is-surprising decision to open 400 new stores.
Physical stores.
With bricks and mortar.
Not clicks and impossibly accurate personalised product suggestions.
Read this article from the Guardian. If you've been living under a virtual online retail rock, it'll bring you up-to-date.
The furture of ecommerce: bricks and mortar
The undisputed kings of online? Going Offline?
The question on this Quora thread is the same one most online retail professionals find themselves pondering in response to this news
Why is Amazon opening retail stores?
Chris Franco, Chief Growth Officer at Miner, read it like a book…
"Amazon is adapting their business model to give customers what they want: a multi-channel shopping experience.
There was once a train of thought in the world of retail that digital and physical were two separate things. As technology has evolved, and consumers preferences have evolved, there is a new reality.
People want multi-channel experiences. An Amazon physical location would give Amazon everything it needs in this regard."
The Guardian explains why Amazon dominate online retail, and are surely poised to dominate offline retail as well.
"Amazon thrives by creating bespoke shopfronts that show every user the items of most relevance to them. By closely monitoring user journeys in the browser, Amazon understands more about your shopping habits than you probably know yourself."
Why wouldn't they create an incredible offline retail shopping experience with these credentials?
Here's just a few of the innovative ecommerce brands exploring the opportunities available with a physical store presence.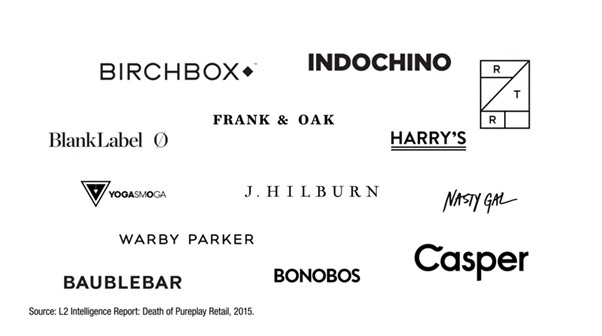 If you're launching your brand from scratch, pureplay (admittedly naff industry term meaning online-only) is really hard. Building an audience and gaining the traction your need is oh so difficult.
If you're not operating in a micro niche, competition is fearsome.
Paid search advertising is will get you into one of those 'budget black holes' the government is always yammering on about.
According to a study released in January by research firm L2 Inc, Macy's and Nordstrom spent an estimated $6.4m and $4m respectively, in paid search listings for the top 1,000 apparel-related keywords in the first quarter of 2015. Even the largest retailers in Australia would struggle to put a dent in that type of security barricade.
Online advertising is a minefield of questionable return, littered with unscrupulous middle men and cash-deprived publishers willing to compromise their quality controls.
Strategic content marketing programs have helped a bunch of retailers acheive the type of fast growth, rapid customer acquisition and increases in customer lifetime value required to generate sustainable ecommerce success – but this approach is no walk in the park. You need start your own miniature media publication and develop all the storytelling capabilities that come along with it.
Put simply, it's soooo much easier and cost effective to acquire new customers through physical retail. Word of mouth and repeat online purchases come quicker.
L2 Research Institute are experts in analysing the macro retail environment. Professor of marketing at NYU Stern, Scott Galloway, is one of the sharpest minds in the business. He explains why the success of our famed online retail case studies isn't just built on the efficiencies gained through ecommerce.
One of Scott's statements rings louder than the rest:
"The same challenges that plagued Pets.com and other dot bombs persist among pure-play e-commerce firms two decades later: unsustainable customer acquisition and shipping costs, and a discount-driven environment that erodes already razor-thin margins."
This is a generalisation, and more aimed toward the enterprise end of retail, but these problems remain in some capacity for any online retailer.
5 reasons why 'clicks and mortar' works for ecommerce brands
#1. Location and purchase data
Established online retailers have rich insights into their customers. Addresses, postcodes and buying histories are suddenly of critical importance.
No costly market research, or gamblish 'gut feel' is required to select the spot for your store.
You can make an informed decision, and strategically manage your inventory to match the preferences of your online customers.
#2. Real-time shopping stats
Online stores are singular. No ecommerce brand needs 120 different online stores across a whole stack of countries and states – just one big one.
This turns ecommerce data analysis into 8th grade arithmetic, while our bricks and mortar contemporaries are left with a complex algebraic puzzle of divergent store information.
Amazon and co. can use the rich information from their online shoppers to make fast and accurate decisions on product development, inventory control and pricing.
#3. Reduction in returns and exchanges
For complex products (electronics), significant purchases (furniture, luxury goods) and clothing (sunglasses, suits, shoes and dresses in particular) – customers are still reluctant to buy without trialling.
According to research from the International Council of Shopping Centers, 73% of consumers want to try on or touch merchandise before they make a purchase.
For those taking the plunge, returns and exchanges are a necessary evil. The costs involved with managing returns are crippling.
Some retailers are paying third parties to manage this ugly step-child of ecommerce, just to avoid the organisational kerfuffle. Bonobos have shown the ecommerce world the value of a physical try-on store.
You don't even need to sell stuff (you can avoid the costly warehousing costs in the process), but a physical location that allows your customers to touch, trial and feel your products will reduce friction, increase surety and pave the way for online repeat purchase.
According to a Shop Visible study, retailers that allow for in-store returns of online purchases can generate up to an 18 percent increase in sales.
Local stores can also allow online shoppers to click and collect with surety, rather than waiting for a less secure and controlled delivery to their door. The options you are able to afford to your customers can make a big difference to your long term bottom line.
#4. Cheaper and readily available space
Ecommerce has affected retail. Traditional bricks and mortar stores are closing, and although these rates aren't as rapid, the trend is continuing.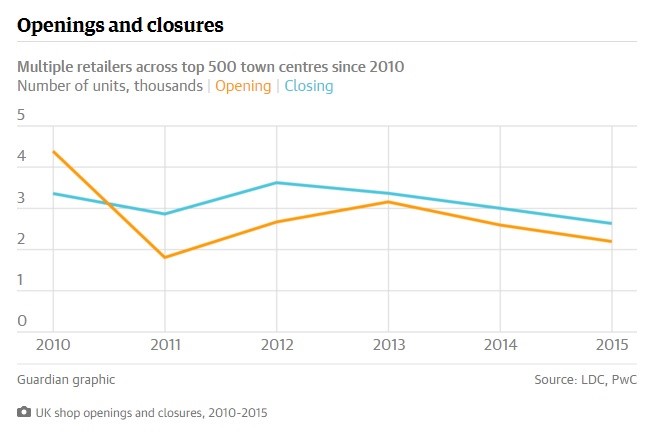 The Guardian reports that service based stores are making up for the decline of old retail in malls and on high streets. Leisure and hospitality stores are not as affected by online retail, but fashion retailers and bookstores have been hit hard.
Rents are lower. Space is available. Customers still crave fun, entertaining retail experiences. Ecommerce brands have a ripe time to take advantage of these conditions.
#5. Most retail sales still happen offline
Ecommerce is still growing. And relatively quickly at that.
If you have an online store, you're car is still moving uphill on the macro-economic rollercoaster chart.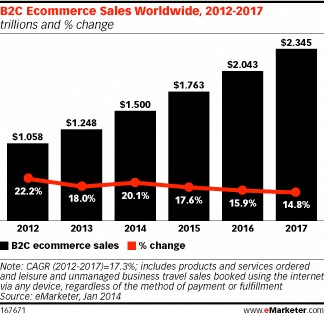 Look at that big picture one more time though. Most purchase still happen in a store. According to PWC's 2015 Retail Trends Report Since 2000, fully three-quarters of retail sales growth has occurred through online channels. But ecommerce online accounts for about 8% of total retail sales.
There's still plenty of money to be made offline.
You can give your customers the best of both worlds. If you can find a way to use the benefits of your online store to enhance an in store experience, you'll find the evergreen retail elixir everyone is questing for.
Ecommerce brands can show physical retailers how it's done
Online retailers have to work so hard to make up for the fact there are no friendly shop assistants to help online shoppers through an ecommerce store.
We spend our days dissecting the finer aspects of the shopping experience, working out exactly what content we need to assure, convince and persuade buyers to the next stage of the purchase journey.
What if we took this mentality and applied it to physical retail (with the help of our rich data and analytics insights)?
Retail futurist Doug Stephens explained to Retail Dive why there is a genuine opportunity for retailers who create customer-first shopping experiences in store:
"Many retailers may have a general idea of the experience they want in their stores, but only a few have taken the pains necessary to engineer, plan, and stage those experiences with precision.

That engineered quality of experience is precisely what has made retailers like Apple, Starbucks, and Sephora strong.

The experience you receive in a Starbucks, Apple store, or Ritz hotel is not accidental but completely deliberate and by design."
We can do that.
That's what we do best.
Engineering a best-in-class shopping experience is the mission of any successful ecommerce marketing professional.
Australian ecommerce pioneer Kogan revolutionised the electronics industry, bursting onto the scene in a disruptive flurry of middle-men-chopping, discounting fury.
Now, 10 years on, and CEO Ruslan Kogan is surprised by his brand's about-turn to bricks and mortar retailing. This excerpt from a recent interview with Smart Company's Eloise Keating, pinpoints why every online retailer should consider bricks and mortar retailing as a means to reboot growth:
"We're opening a pop-up store because we have huge amounts of data about the shopping behaviour of our customers that we can use to enhance their experience – whether they are shopping online or in a store.

We know where our customers are, what their interests are, what they like, what they don't like, what products are trending in their area, and more.

We also know the conversion rate of every product by location so we can ensure we're only stocking the products most relevant to customers in that hyperlocation.

We know how to use data and insights to create the most efficient retail model – whether it's online or offline. It enables us to do things in this store that other retailers can't do."
Retail bricks can become a huge asset, not a liability
We online retailers have a cultural advantage here. We're obsessive about conversion rates and user experience. We spend endless hours of effort, endless streams of dollars, and endless bundles of effort to design our online shopping experience to be as simple, fast and helpful as possible.
If ecommerce brands can take this mindset over to physical retail, we can create data-backed, continually-tested, and technology-aided shops.
We can turn malls and high streets back into genuine experiences – places where people go to enjoy themselves, rather than the soul-sucking, cash-grabbing, queue-waiting stores dominating the retail environment of your local commercialplex today.
Your customer should always get what they want.
Isn't the online or offline choice one your customers like to have?
Must-listen podcast of the month
We've mentioned the Ecommerce Fuel podcast before in the Jungle Gym, and for good reason. If you're an ecommerce pro with a smartphone and an internet connection (that's all of you surely), you should be listening to Andrew Youderian's weekly half hour.
January 15's ep was a cracker. Peep Laja from ConversionXL.com (one of our favourite online ecommerce resources), is the go-to guy when it comes to converting online shoppers. If you are at all interested in increasing your conversion rates, Peep's Ecommerce Fuel interview will provide some valuable lightbulb moments for you.
Here's one little snapshot of advice to get you fired up regarding product page design:
"If the only thing you say is, "I have these Nike shoes, they are $50. Buy them." Well, that is what every other store saying.

So if what you sell is not unique and even if it is, you need to have on those pages nearby in a prominent position, maybe on a category page before the product, or the on the product page before the add to cart, three bullet points or a horizontal line or three key reasons why I should buy from you and not the other guys.

It could be your free shipping, you've been in business since 1977, you can trust us, and we have five million customers. Social proof, you're not the only idiot buying from us. Or whatever the case, you have to know who your competitors are and what are the actual three reasons to buy from you."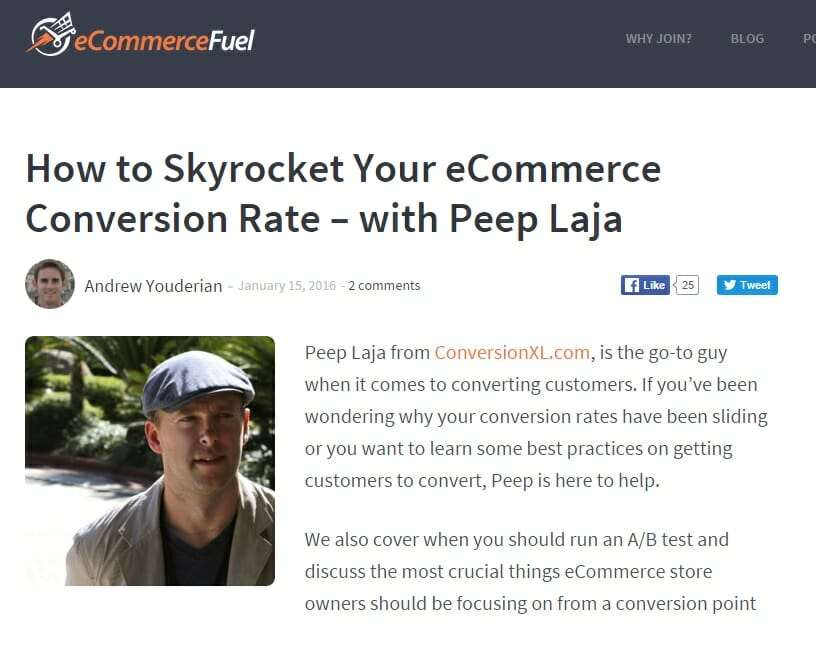 A short one, but an important message this month.
Writing for re/code, Jason Del Rey examines the question: Is this the Beginning of the End of 'Gimmick Commerce'?
With the demise of the flash sale ecommerce model, lost traction for the daily deals phenomenon and continuing questions around the long term viability of subscription commerce, Jason's question is a significant one.
The article will ask you to stop and think. Is it really the innovative, new way of selling things that works, or do the best businesses just find a way to win out in the long term?
This little snippet about sums things up:
"Boring though it may seem, one area of real promise in e-commerce lies in building a brand by making or selling products that customers love enough or need enough to be willing to pay full price. Eyeglasses seller Warby Parker, shaving brand Bevel, and mattress startup Tuft & Needle are all pursuing this approach (and, yes, incorporating brick-and-mortar retail along the way)."
Oh, and Jason adds in a couple of cauitionary stipulations.
You'll find success easier if Amazon doesn't have skin in the game.
And…
"If you're determined to build, or invest in, an e-commerce company, a late return is better than never. And gimmicks often result in never."
Print that one out and stick it on the wall.
Make sure you subscribe for future insights
Our weekly ecommerce marketing update is a treasure trove of advice, analysis and helpfulness. We pull together the best information from the depths of the ecommerce jungle, wrap it up in one little email package, and ship it direct to your inbox door. Free delivery. Moneyback guarantee.
We'd love for you to become a loyal, repeat customer of our weekly. You'll banish that learning FOMO for good.
Just hit that big grey button below.
In the meantime, good luck with that planning.
Only 323 days until Christmas…
(Sorry.)