People search for information online. The internet gives your potential customers a virtual magnifying glass.
Often they look on search engines for information about stuff you sell.
You want them to find your information and buy from you.
So you need to understand how to optimise your content for search engines to help you find more customers.
SEO is important if you want more customers.
Article over.
Kidding!
I'll explain in glorious detail. Hopefully, you'll have a new understanding of the importance of an eCommerce SEO strategy for your business when I'm through explaining/convincing/persuading.
Optimising content for search is critical to the online buying process.
Massive statement right?
For those playing at home, give me your best shot, prove me wrong. If you know a business that sells online without any traffic from search engines – thumb your nose at me on Twitter. I'd love to hear their story.
Sceptics – Read on for the goods.
Believers – Read on for the learning.
Anecdotally, we all get it. We use Google to find, research and compare the products and services we want to buy.
This consumer behaviour shouts opportunity to eCommerce stores. Online researchers can be found, attracted and turned into customers with the right content.
But every week I meet eCommerce business owners and marketers who don't actively use SEO.
For many, it's an afterthought or an add-on. If a new page is created, the marketing team will do their best to optimise the page.
For others, it's a one-off. New website – time to get some SEO help. When the site's done, the SEO's done too.
But search engines reward those prepared to go the extra mile. Reaching number 1 on Google requires more than an SEO sprint. Now, you'll need even more than a marathon effort. You've needed to Forrest Gump it. Don't stop.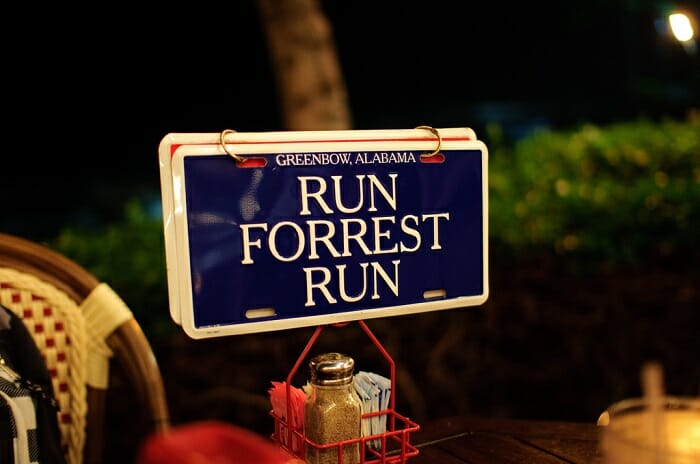 SEO and content marketing for eCommerce businesses is a never-ending race to the top. If you stop creating, promoting and optimising helpful content for your customers, you could fall behind fast.
Of course, this opportunity doesn't just apply to eCommerce folk. How often have you searched for the only guy you met at a conference that didn't thrust his card into your fist? You've probably searched for a restaurant review this week? Even finding small local services like dry cleaning, plumbing or watch repair requires a Google search. The Yellow Pages days are done.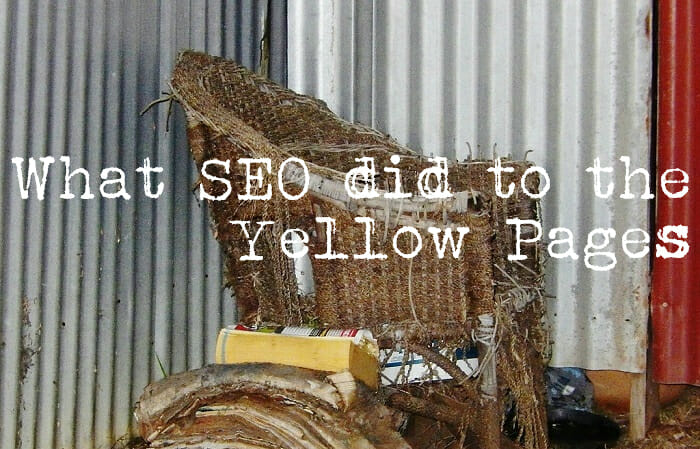 You have to prove yourself online to convince the new super-informed customer. But marketers shouldn't consider this a chore.
Instead, we have a glorious opportunity to influence our potential customers online. SEO gives us the chance to skew search engine results towards our business instead of our competitors. You just need to earn the right and convince the Google's, Bing's and Yahoo's of the online world with your content.
The Proof that an eCommerce SEO strategy matters
I told you us gorillas make sure we're not all silver and no back. So here's the proof., with some of the stats that show you just how important SEO is to eCommerce success.
Proof Point #1
First, let's take a look at the 2013 Adestra/Econsultancy Email Marketing Industry Census. Remember the name of the study, I've got a pop quiz coming up.
Of the 1300 in-house and agency marketers surveyed, 32% rated SEO return on investment as 'excellent'. Collectively, SEO came out on top as the marketing tactic with the highest return on investment – beating all other channels such as email, paid search ads, social media, display ads and affiliate marketing.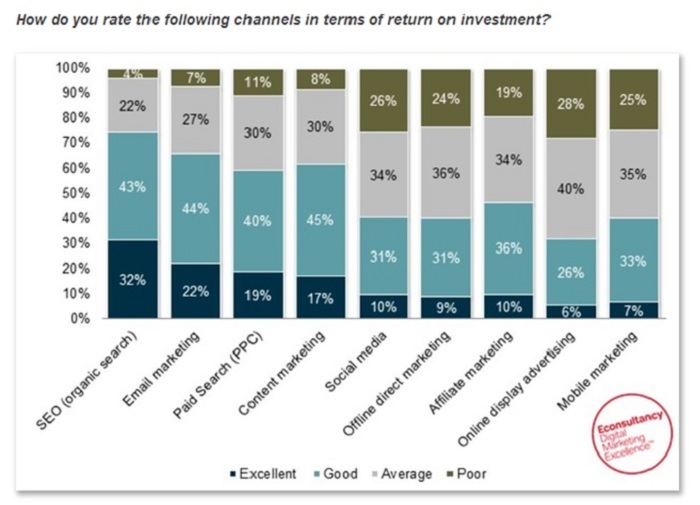 Okay, quiz time. The name of the survey? Something to do with email right?
Big tick. The study was commissioned by Adestra, an email marketing technology provider. So any bias (incidental, of course) would be thrown the way of email in the report. Yet SEO still came out on top. While 1300 is a small sample study, Econsultancy is a respected industry body and the results are not to be discounted.
In addition to providing ROI, the 'get-the-boss-off-your-back' elixir coveted by digital marketers, organic search marketing (or SEO) provides ongoing customer value to eCommerce businesses.
Proof Point #2
A study by Amperity, an eCommerce analytics platform provider, compiled data from 72 million customers, across 86 US online retailers. Again, there seems to be no SEO conflict of interest here. Custora just wants to show the online world how good they are at a gathering, interpreting and analysing data.
These committed people found that organic search provided the highest lifetime customer value of any marketing channel –54% higher for those of you playing at home (no pop quiz this time, sorry).
That stat should warm the cockles of any eCommerce marketer's heart to the potential benefits of SEO.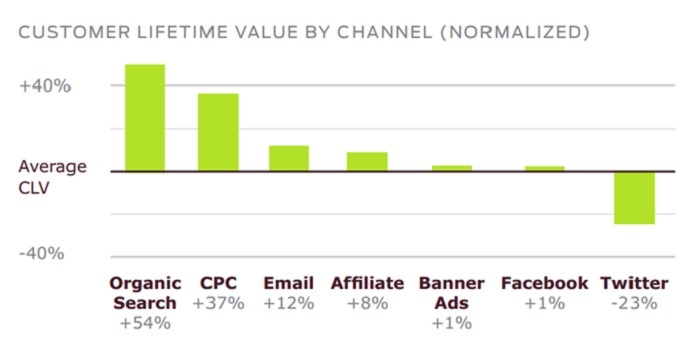 The Custora study also found that for ecommerce websites "organic search continues to grow as a reliable channel, accounting for nearly 16% of all customers acquired, reinforcing efforts to complement products with relevant and informative editorial". The kind people at Custora said it, not me. Promise.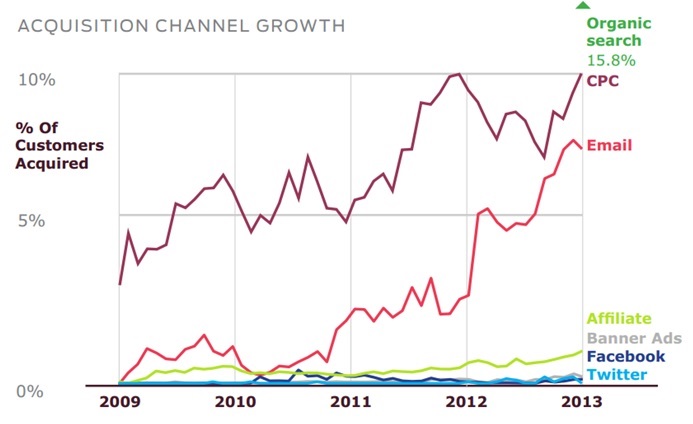 Proof Point #3
So it seems that SEO drives customer acquisition and helps deliver high lifetime value to customers. But search is to eCommerce marketing what the hamster is to a wheel. It plays a supporting role throughout the customer's entire purchasing process, and to come out on top, you need to keep earning Google's respect.
Each year Public Relations powerhouse Edelman, conducts a global study of trust in business. This looks at how enterprises can build and manage trust with customers in "today's complex operating environment". All this talk of trusts and operating environments makes it sound like we're more financial planners or orthopaedic surgeons than marketing professionals. Even so, the study has developed a high level of authority.
In 2014 the study looked at how much trust we place in sources of information.
The results showed that search engines were the second most trusted source of information, close behind traditional media sources. Few would argue against the cost effectiveness of managing your presence on search engines, compared with television or print media.
Additionally, in 30% of instances, search engines were the first place we turned to for information about business.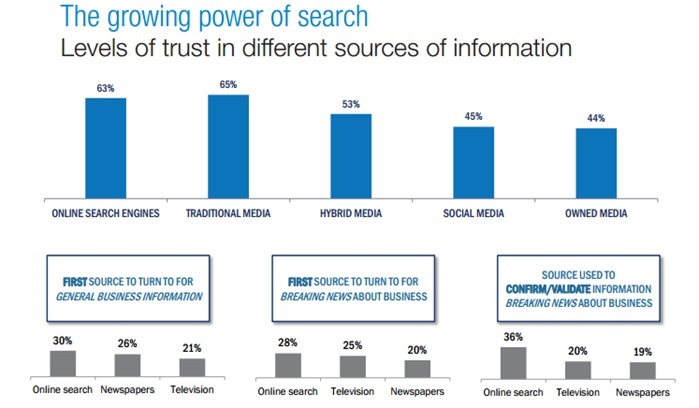 Using search results to influence your customer's experience of your brand is critical for eCommerce pro's. Your customers aren't just turning to search results to research your products and services. Understanding your customer's brand, industry and competitor searches must also be a high priority.
It's clear that customers don't just turn to Google at the start and the end of the purchase process. Search marketing is critical throughout.
Research recently released by McKinsey studied the influence of different touchpoints throughout the purchase decision journey. Consumer-driven marketing (which McKinsey deem to include online research), is prevalent from initial consideration to sale close.
If we use the decision journey outlined by McKinsey, we can divide the journey into three key steps:
Step One – initial consideration
Step Two – active evaluation
Step Three – closure
At each stage of journey the user turns to a search engine for more information. For brands, there is the opportunity to influence search results at every stage. For example, this might be a (simplified) funnel for a shoe reta­­­­iler: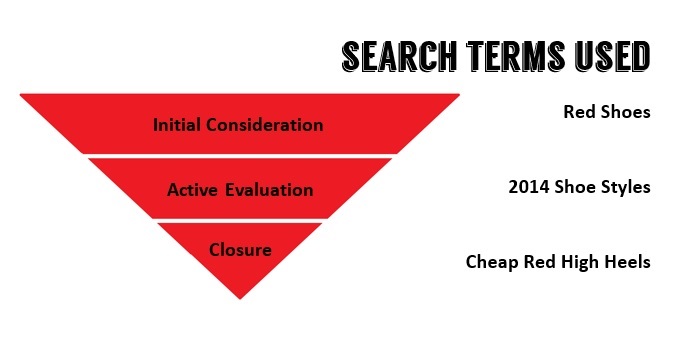 Using research you can chart the specific purchase decision funnel for your customers and tailor content to help your prospects through every stage. With clever SEO techniques, you'll have a great chance of earning a higher rank in search engine results for your potential customer's search queries. By helping interested visitors with more valuable content throughout the buying process, you'll be helping yourself up the Google rankings ladder.
Now I've convinced you that SEO matters, get to it
By now I've used a provocative statement, gentle reasoning, strong persuasion, outright ranting and solid statistics to win you over. If you're not convinced of the importance of SEO to selling online, it might be best to sub out now and continue on with your billboards, mail-outs and classifieds.
Sorry, no need to be vindictive. There's plenty of room for all types of marketing in your eCommerce strategy, but if you're selling online, you need to understand the importance of creating valuable content for your customers.
So you get how important SEO is to meeting more customers online.
How do you improve your search marketing strategy?
That's another blog post altogether. Ten blog posts really. Or more.
That's why we've put together a starting point to help you nail down the fundamentals. Our eCommerce optimisation guide will help you on your way to finding more customers online. You'll need a whole lot more help than a 30-page guide if you want to dominate your niche, but you're sure to get a few practical tactics to send you on your way.
Good luck online – don't stop running