September is finally here and spring couldn't have come soon enough. At Gorilla HQ, we've put our winter woollies in storage and are set for another season in the sun.
And as the online jungle comes out of its winter hibernation, there's plenty happening in the wide world of digital marketing this September too.
This month, we explain Google Chrome's latest security warning to webmasters, reveal how augmented reality is changing online retail, and bring you three must-use Google Search Console tools that will lift your SEO game.
And as always, we've brought you our favourite ecommerce podcast of the month (spoiler alert: it's about Apple's $1 billion content investment) and your monthly marketing must-read (aka The Secret Formula for a Marketing Budget).  
(Your round-up mini-directory)
Too busy to read the whole thing? We get it: logistics, synergies, KPIs – all that stuff. Here's the skim-read version. You really should read the whole article though…
You can click on the dot point that takes your fancy and head straight to the relevant section.
In this month's digital marketing roundup:
Google Chrome warns webmasters: Now is the time to migrate to HTTPS
Google sent many website owners into panic mode this month when it sent emails warning that the new version of Google Chrome will mark all text input fields on HTTP web pages as not secure, starting in October 2017.
The changes will apply to any input boxes on your website where visitors are asked to enter their personal data. That's things like email subscription boxes and contact forms.
Of course, no business wants their customers to question the security of their website, and fear that the addition of a 'Not Secure' note in the navigation bar will stop customers sharing their contact information.
It will look a little something like this…
The move is part of Google's mission to improve the protection of consumers' personal data, and the solution, says the search giant, is to migrate your site from HTTP to the more secure HTTPS.
So what is HTTPS? It's basically HTTP with data encryption that aims to make it more difficult for those pesky hackers to intercept your customers' data when they enter it into your website.
Confused? Check out this video for Google's official explanation of HTTPS…
That's all well and good, but you're probably now asking yourself, 'so how the hell do I migrate my website to HTTPS?'
The first thing to do is contact your website developer. They can organise and install everything you will need.
They'll explain that you'll need to buy an SSL Certificate. Basic SSL Certificates will set you back around $50 per year, while more advanced versions cost up to $250 per year. Your web dev can also install the SSL Certificate for you.
Your Monthly Digital Marketing Must-Read
The Secret Formula for a Marketing Budget
Lou Covey, President and CEO of Footwasher Media, has poured his 40 years' of industry experience into this guide, and we reckon it's a must-read for every marketing pro.
In The Secret Formula for a Marketing Budget, Lou examines the marketing budget dilemma and presents a simple formula for how to work out how much you should be investing in your marketing.
Lou's company conducted its own research that found when companies spend less than 5 per cent of their total revenue on marketing they experience slow growth, or none at all.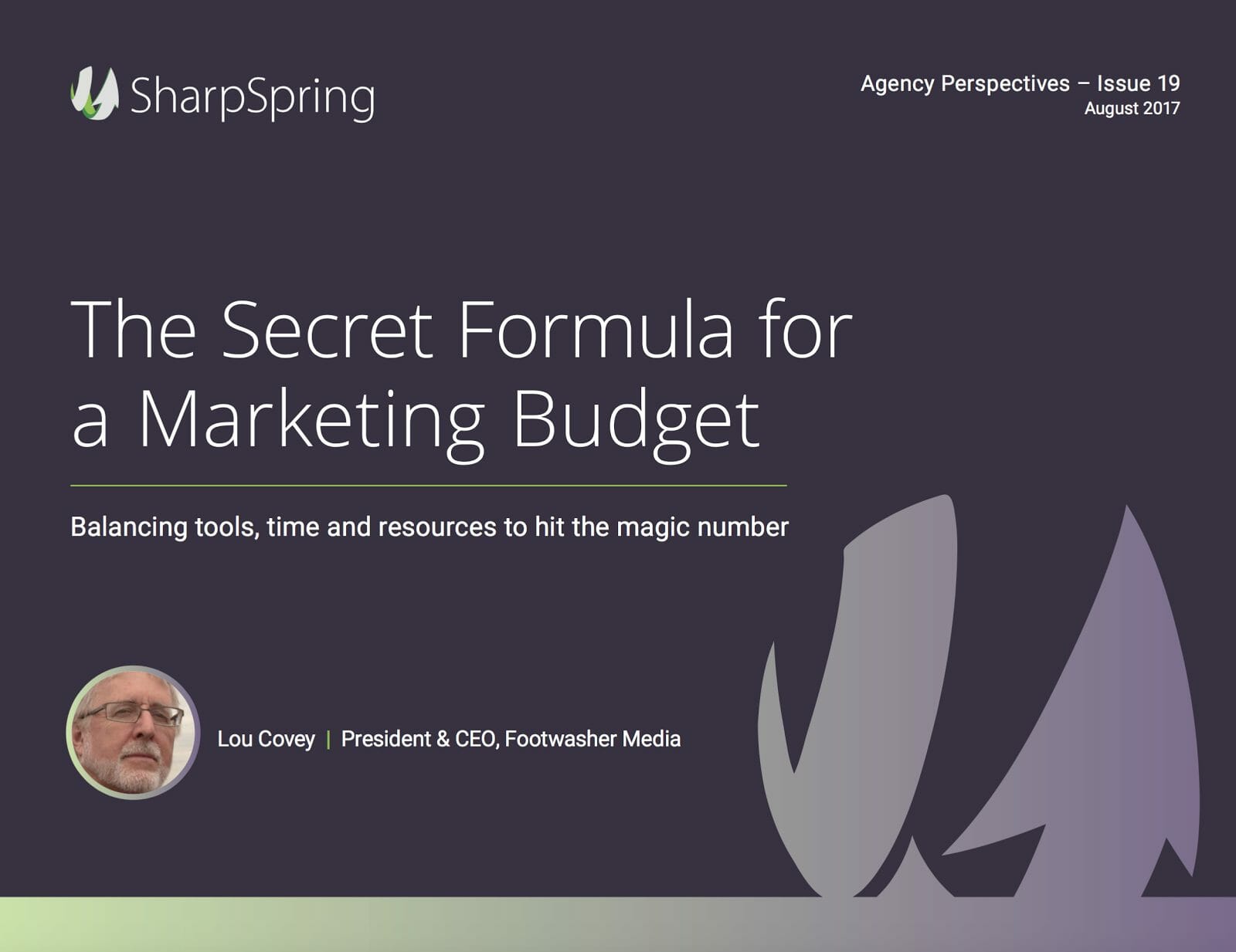 But that doesn't mean the solution is to throw money at your marketing plan. Lou argues that spending more doesn't always correlate to a direct revenue boost. Rather, the key is where and how you allocate your marketing spend.
He sets out four steps to come up with the magic number for your marketing budget….
#1. Examine your in-house resources
Lou says it's important to know how much you're spending on your in-house marketing team. Add up all the salaries of your full-time and part-time marketing staff, then divide the total salary number by the number of hours they worked. This number will reveal the hourly value you're getting.
#2. Assess your external spend
Most marketing teams spend money on external services such as automation tools, marketing events and agency content creation. Calculate this total spend and add it to your in-house expenses to get an accurate picture of what you're currently spending on your marketing.
#3. Review your return on investment
Now comes the moment of truth. Lou says to compare your total in-house and external marketing spend to your total end-of-year-revenue. He says if your marketing spend is around 10 per cent of your total revenue, then pat yourself on the back. If it's much less than that, you need to review what you're doing.
Now that you know where the performance of your current marketing budget stands, it's time to consider what you want to achieve going forward, says Lou. Think about what you want to achieve in the next 12 months and the people and services you'll need to invest in to make it happen. Is that number likely to be around 10 per cent of your projected total revenue? If so, give yourself a gold star and get busy.
News From Google HQ
New auto-play feature for Google video search
Video is becoming an increasingly important part of the search landscape, and it's set to become even more so with Google's latest announcement that it will be introducing an auto-play feature to preview videos in the search window.
Google explains in a recent statement:
For videos, we have traditionally shown a static image thumbnail in search results. But as more information moves to video, we're working on new ways to give you useful glimpses, helping you quickly find what you're looking for across video, too.
Google will begin by rolling out the new auto-play previews on the Google app for Android, and Chrome on Android. Previews will only play when your device is connected to wi-fi.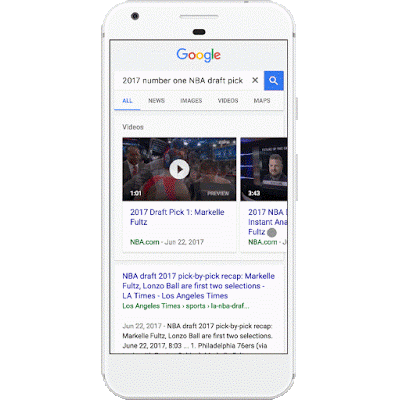 Instantly answer customer questions via Google
When looking for more information about your business, 82 per cent of people turn to search engines. However, relying on old reviews or website listing sites that haven't been updated since John Howard was in the Lodge to answer your customer queries is less than ideal.
Thankfully, business owners will now be able to answer customer queries directly through Google.
If you use Google Maps on Android, Google's new Questions and Answers function will send push notifications to your phone whenever a new question has been asked about your business. You can answer it instantly on your mobile phone, and choose to display the most frequently asked questions on your Google business listing.
Your Ecommerce Podcast of the Month
Apple's $1 billion original content gamble
This Old Marketing podcast tackled a new trend in August when hosts Joe and Robert turned their attention to big-spending Apple.
In episode 197, our favourite marketing experts dive into Apple's $1 billion investment in original content and ask whether it could set up the company for years of success, or prove to be a very expensive mistake.
The boys also dish the dirt on the rise and fall of newsjacking, put a magnifying glass to Facebook, and examine the changing business model of traditional publishing.   
How augmented reality will change online shopping forever
Whether you loved it or hated it, there's no denying that the Pokemon Go trend was huge news in 2016. Millions of enthusiasts buried their noses in their smart phones on an obsessive search for digital Pokemon characters hidden in the physical world.
While it's true that the Pokemon Go trend disappeared as quickly as it arrived, the technology it was built on seems destined to become a big part of our digital lives.
Augmented reality essentially superimposes digital information onto the physical world when viewed through appropriate technology such as the camera lens of a smartphone, smart glasses or gaming headsets.
Or in other words…
So what does all this mean for marketers? Well, with big players such as Facebook and Apple getting in on the augmented reality game, there will be more opportunities for brands to use augmented reality applications to engage with their customers like never before.
For example, Swiss watch brand Tissot uses augmented reality to allow customers to try on virtual renderings of their watches from the comfort of their own homes.
Here's how it works…
Likewise, global furniture retailer IKEA uses augmented reality to allow its customers to digitally place and view furniture in their own homes like this…
So the take home message for marketers here is augmented reality is set to further blur the line between the physical and digital shopping experiences. Retailers can use it to bring digital representations of their products into the physical lives of their customers without them stepping foot into a brick-and-mortar store.
If the pundits are right, as the technology develops and augmented reality platforms become more accessible for small and medium businesses, AR will play a central role in how we shop online.
Digital Marketing Short Takes
All the most important digital marketing news, insights and advice from around the online jungle blogosphere last month.
3 important Google Search Console features you must be using
There's been a lot of talk in recent years about the big data revolution, and while we now have access to more customer data than ever before, the truth is that your data is only as good as your ability to draw insights from it.
The Google Search Console is a great place to start. It's an excellent source for website data and you can use it to generate sophisticated reports that will show you exactly how your customers are interacting with your website.
Here are three Google Search Console features you should be using:
The Google Search Console will let you know if the Googlebot encounters any errors when it 'crawls' your website. Fix these errors to ensure Google can crawl your site efficiently and provide a good experience for customers.
When Google crawls your site, it will index – or recognise – individual pages. The index status tool reveals how many of your pages Google has indexed each time it crawls your site. Keep your eye out for a dramatic drop numbers – this could be a sign that there's an issue with your site.
Security is a hot topic these days as more brands hit the headlines after hacker attacks. The Google Search Console will let you know if it suspects your website has been the victim of such an attack so you can take fast action to address the issue.  
Your Monthly Stats Round-up
Consumers speak up as search goes mobile, almost half of your customers have used social media to talk trash about brands, and nearly two thirds of consumers are tired of irrelevant marketing communication.
Search is going mobile with

57 per cent

of search traffic now coming from smartphones and tablets, compared to

43 per cent

from desktops.

Businesses also need to rethink mobile SEO with

79 per cent

of keywords ranking differently on desktop searches compared to mobile searches.
Voice technology is also changing the SEO landscape with

20 per cent

of searches now coming from voice.

Do you know what people are saying about your brand on social media? You should –

46 per cent

of consumers have used social media to complain about brands.

Make sure you're adding value with all your content –

65 per cent

of consumers are fed up with irrelevant communication.
Remember – subscribe to our brand-spankin' new weekly for the best digital marketing learning
One email.
Once a week.
All the weekly digital marketing insights you need – in one neatly wrapped package, delivered straight to your inbox.
If you haven't already – get amongst it now – and keep your digital marketing knowledge one step ahead of the furious chasing pack of your competitors.
Hit that big grey button below, and add our newsletter to your cart right now…