Lots of people don't quite get Google Places. We often get asked what is it, why it's important and should we bother. Here's how we answer them…
Google Places is a service Google provides free of charge to business owners. It displays a list of local businesses that relate to a Google search. You'll recognise it in the search area as a map that has locations pinned on it, and right next to it will be a list of local businesses.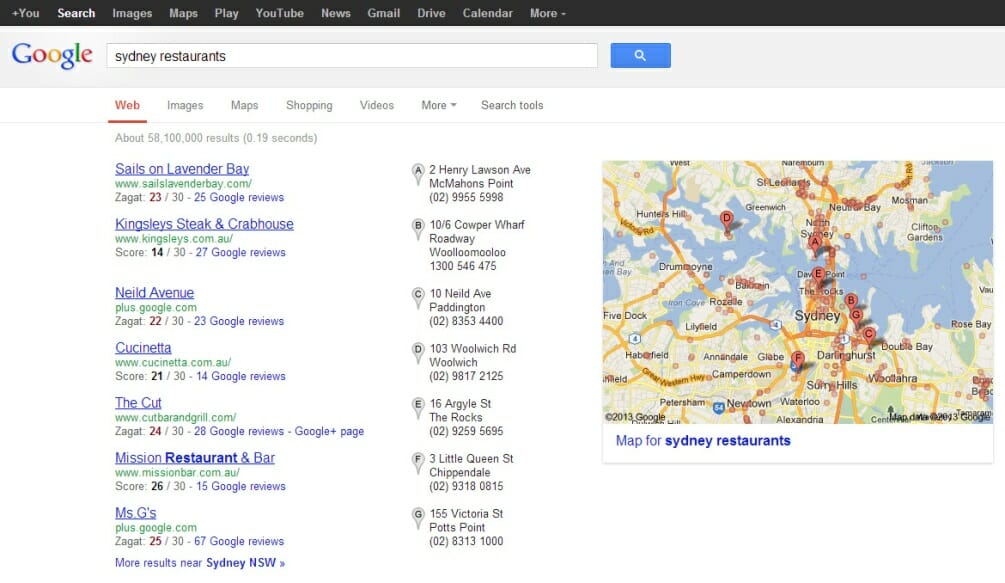 If you're more of a visual learner – here's a great quick video which gives a great summary of Google Places in just 1 minute and 42 seconds!
For those of you who aren't the video type, here's what you need to know.
If you have a business, Google Places is valuable for you
Google Places is a valuable tool for business owners because it allows you to reach out to your audience before they even get to your website. Google Places lets you create a snapshot of your business on the search results page, and from there you can re-direct customers to your website for more information.
Think back to a time when you've wanted to find a nice local restaurant and you did a search on Google. You'll probably be much more enticed by a Google Places listing that had customer reviews, photos and some information about the restaurant. If your competitor has all this and you don't, then you're at a disadvantage from the outset.
How to get your business on Google Places
To claim your business listing on Google Places go to https://www.google.com/places/ and sign in with your Google account (or create an account if you don't have one already). The first step is to enter your phone number, if Google recognises the phone number it will return some details, if not you will have to enter your business details manually.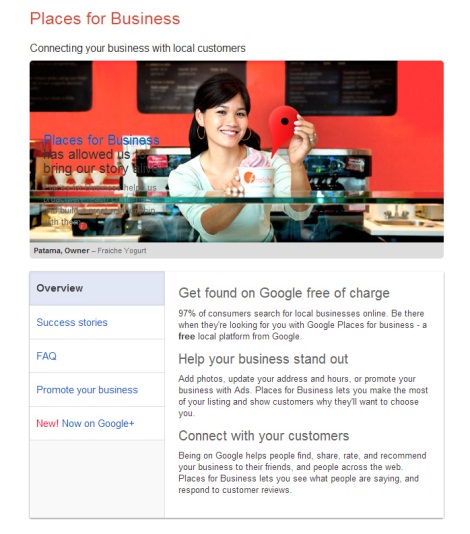 Once you've entered these details go on to complete your Google Places profile by adding any photos, videos or any other additional details.
Make sure you use a specific email for the listing because you won't be able to change it later (e.g. [email protected]).
Once you've entered all the details, simply click the submit button and your claim will be processed. Google will contact you to verify that you are the actual business owner.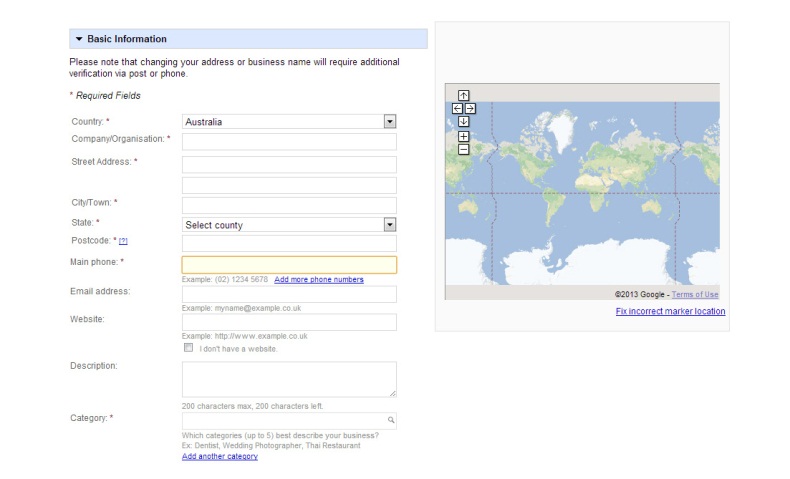 Once you are verified as the business owner your Google Places listing will go live. Voila!
Ask your customers to help you
To maximise the potential of your Google Places listing you can enlist the help of your customers. Encourage customers to leave reviews and comments on your Google Places listing. Google will realise there is a lot of activity happening around your business and will place it higher up the search results.
Get an extra Google Places boost
Invest some time and effort into the SEO of your actual website. Google takes your website into account when determining the Google Places search results.
If you can, try to get your business details onto a third-party review or directory website. This helps Google verify your details and gives a boost to your listing. See here for more Google Places tips.
What to avoid
The most important tip to maximising your Google Places listing is to fill out the business details properly. For example, don't attempt to trick the Google results by adding keywords to your business name (e.g. Don's Sydney Flower Shop, when your real business name is Don's Flower Shop), this will only hurt you and your chances on Google.
If you want more detailed information, here's a comprehensive guide on filling out your business details on Google Places.