Have you let it all get away from you?
Things getting a little sloppy around the edges?
Do you feel that flicker of guilt, knowing you should be doing better?
You want your site to stay in shape. You know how important it is for your online store look and feel its best.
But it's hard to find the motivation. And besides, you just don't know where to start.It's soul-crushing.
Sometimes you just feel like giving up…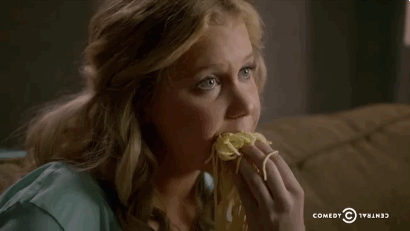 But those conversion rate friction points aren't going to fix themselves.
Your site speed – it probably needs some fine tuning.
How do you think you're going to make it to number 1 in your niche without some serious hard work?
Get serious about your improving your ecommerce conversion rate
It's time to turn those low ecommerce conversion rates around.
You can do it!
30 tasks.
30 days.
Change your online store's life. Bootcamp starts now!

(This article may or may not have been inspired the wonderful work of Michelle Bridges and her satire-proof 12 week body transformation online extravaganza. Seriously though, check out that site. Talk about CRO. That woman knows user experience design…)
Short On Time? Your Skim-Read Summary:
Too busy to read the whole thing? We get it: logistics, synergies, KPI's – all that stuff. Our articles are long, well researched and detailed. Sometimes you need to pick and choose the bits that interest you best. Here's the skim read version (you really should read the whole article though). You can click on the dot point that takes your fancy and head straight to the relevant section.
Ecommerce Bootcamp isn't even that hard!
You just need an exercise regime. It's time for you to finally commit to a regular program.
It doesn't have to take hours out of your day.
Just one dedicated, high intensity workout each day, and you'll turn that guilt and anxiety into sculpted, repeat-customer-generating website muscle.
And with our Gorilla certified Ecommerce Marketing Bootcamp Guide, you can reach peak performance with just one month's worth of fast and furious ecommerce workouts. We'll give you all the help, support and know-how you need, so you can concentrate on making your online store's performance dreams a reality.
We've designed your bootcamp to be fun, simple, and hassle free.
Just turn up each day ready to train, and our guide will show you exactly what you need to do to have your website in tip-top shape in just 30 days flat.You'll soon be attracting, converting and retaining more customers better than ever before.
No more excuses.
Procrastinate no longer.
The time for action is now.
Transform your bottom line.
Embrace a healthier ecommerce lifestyle.
Banish that guilt demon for good!
Oh, and if you don't strip the fat and get the look you want, you'll get your money back*, no questions asked.
*(No you don't actually have to pay to get the guide. I just wanted to push the whole Weight Watchers bit as far as possible..)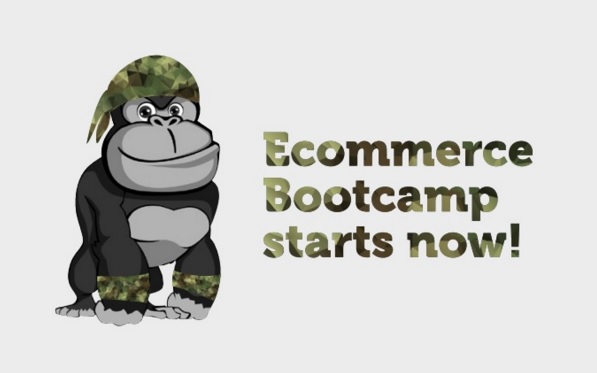 What's inside your Ecommerce Marketing Bootcamp guide?
You can download your guide and start on your simple 30 tasks over 30 days right now.
But if you need a little more convincing – here's what you can expect…
I've collected a whole bunch of easy-to-implement ideas from our tribe of Gorilla ecommerce specialists, and each task had to fit a few criteria:
Potential to implement (or start) in one day
Ability to generate loyal customers – not onetime sales
Possibilty to develop or create for $1000 or less
I asked our team of helpful primate growth athletes to show me the simplest ways to improve an ecommerce website for the highest possible return.
I also asked each Gorilla to think about the most common issues and weaknesses they tend to find with online retail sites, and factor the fixes for these issues into their thoughts.
The results, I think, are going to be super helpful for any ecommerce marketing pro.
To give you an idea or what's included in your Ecommerce Bootcamp, I was able to place each of the 30 Bootcamp activities into one of these categories:
There's around five tasks that fit into each bucket, and a bunch that will help you out across the spectrum.
I guarantee you will generate, convert, and keep more customers if you implement our 30 Bootcamp tactics for your online store. I'm not even hiding behind my Weight Watchers metaphor sarcasm here. This Bootcamp guide is a genuinely useful one.
Print it out, or bookmark the link, and pull it up every day for a month.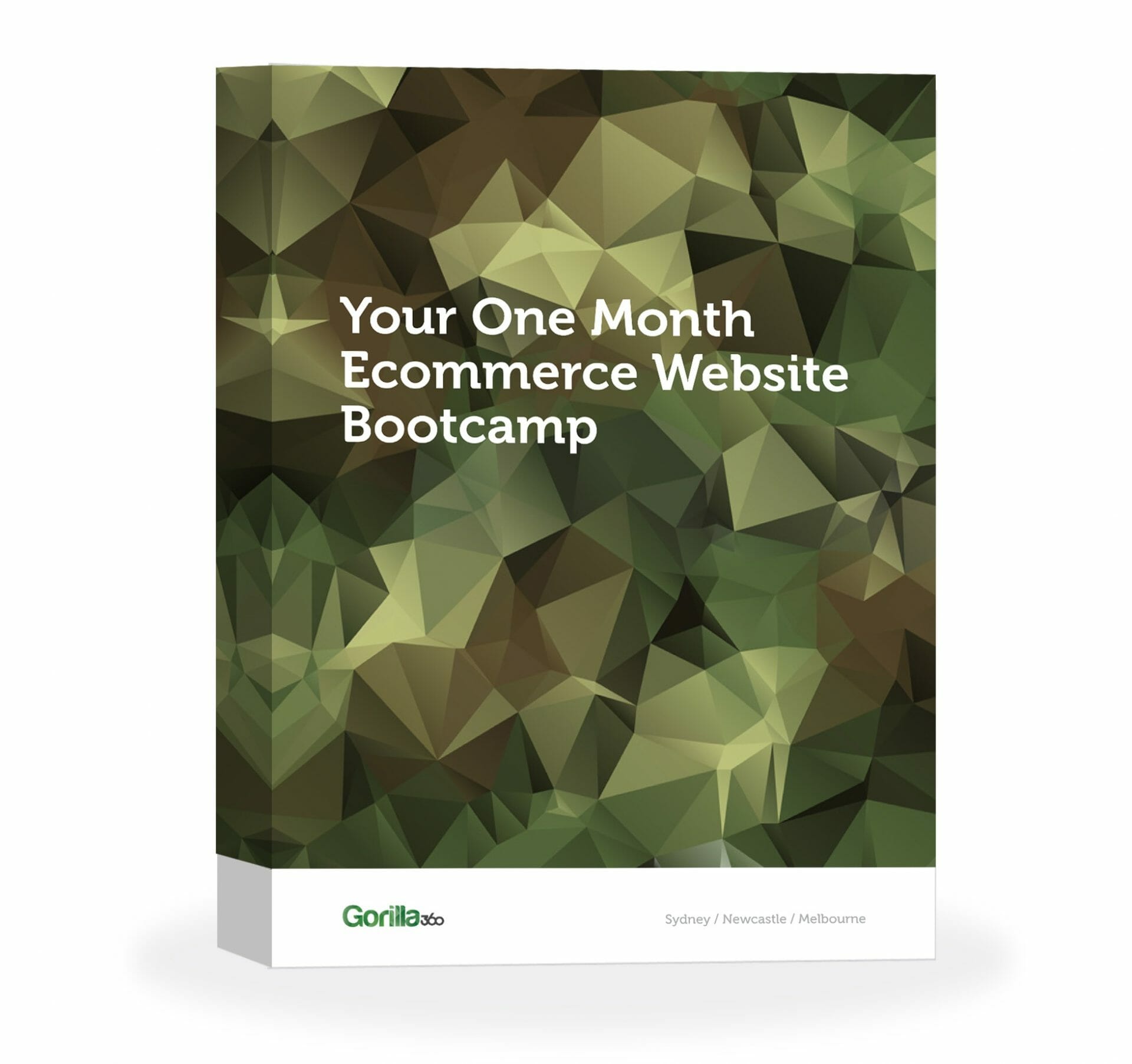 Set yourself a goal of completing, delegating, or starting one of these tasks every day. Within five weeks, you'll see noticeable benefits, from a really minimal amount of effort.
All that's left now is to strap on those sweatbands, throw on your lycra and get yourself amped up for your first morning of action – just like these guys…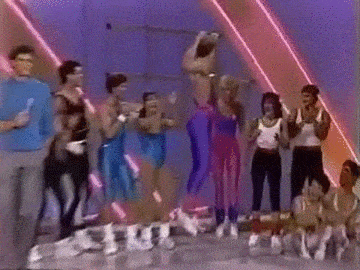 Still not convinced?
Come on.
All I'm hearing is excuses.
You're only cheating yourself.
And everyone else that cares about your online store.
So… That's all of your work mates. And all of your customers. And all of your future customers.
You really need to commit to Ecommerce Bootcamp.
Because we Gorillas are so passionate about helping your perform at your best, we want to give your five days worth of Bootcamp training completely free.
No tricks, no catch, no lock-in commitment.
Just five days worth of online store body building to show your exactly what you're missing out on if you don't download our Ecommerce Marketing Bootcamp right now!
(Guys, if you're new to the Jungle Gym – I promise, we're not usually like this. It's just my only chance to pretend to be an annoying, pushy infomercialish marketer. You should really check out the rest of our articles. We normally help our readers without telling them how lazy, uncommitted and slack they are…)
Day 1. Create a prominent search box
This isn't one of these shouty army Bootcamps with an intimidating red-faced sadist forcing you to push yourself to your very extremes on the very first session.
We want you to come back! This workout stuff doesn't have to be so hard. You can make a real difference straight away.
So let's start out nice and easy on the first day.
Make your search function prominent and clear throughout your site.
We said it would be simple, right?
Allow your potential customers to find exactly what they want in the fastest way possible.
Give your visitors the keys to your site and let them find their own way.
Sure, provide a structured journey to funnel browsers down a particular route. But don't force it. One of the fastest ways to irritate a shopper is to complicate your search function.
Asos, as expected, have this one nailed.
If you can't sort this out yourself, get your developer onto it, pronto. It should be a striaghtforward mission.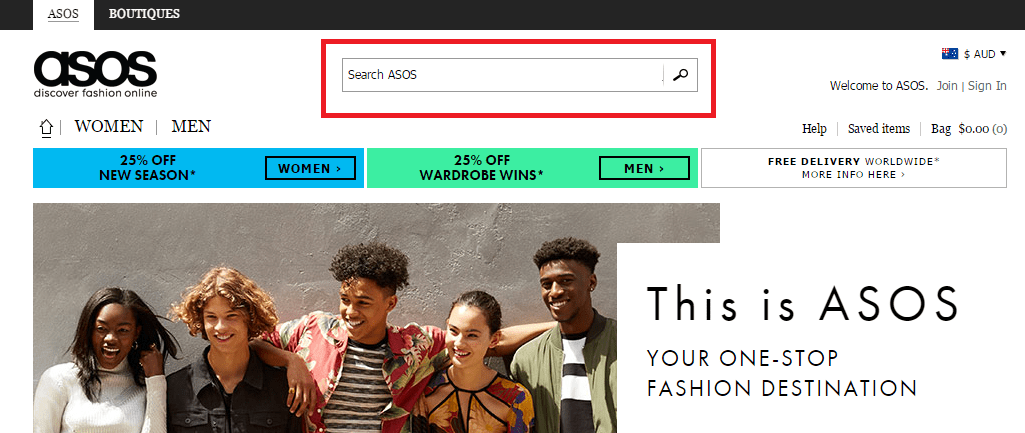 Day 2. Implement enhanced user tracking
You want some good returns from your first few workouts to keep you firing.
Quick wins get your motivation up and keep team morale high.
This one is a low effort, high return exercise.
Set up enhanced user tracking within the code of your ecommerce site, and your onsite and external promotion campaigns. Through Google Analytics, you can analyse the journey your potential customers take.
Google Analytics' Enhanced Ecommerce User Tracking allows you to see the complete buyer journey from add-to-cart, checkout, purchase, and bounces. Better yet, it's easy to pinpoint weaknesses in your conversion funnel you might need to fix.
Forget marketing gut feel – you can make educated, data-backed decisions to help you develop the content you need to improve your customer's experience.
You can get nice and granular with specific data on
the revenue and conversion rates your products generate
how many products in an average transaction
average order value, and;
the rates at which users add products to their carts and make purchases after having viewed product-detail pages
That's just the tip of the user tracking iceberg.
Head to Google Analytics to access this treasure trove of conversion rate insights.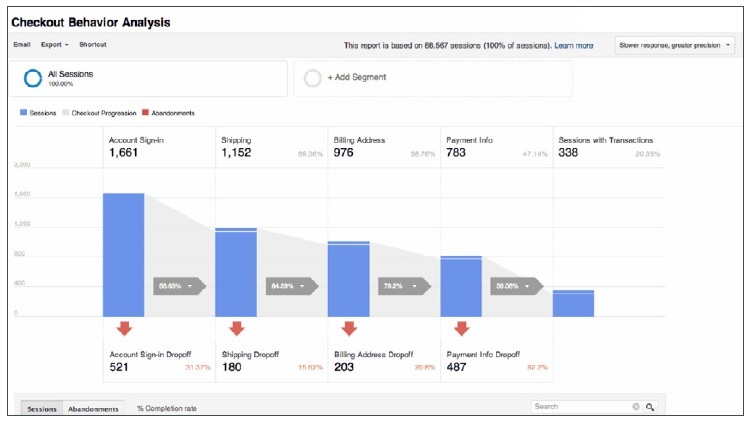 Day 3. Add a 'trending products' widget
Social proof is a powerful purchase-inducing elixir.
For new visitors with no affinity to your brand, a first online purchase will be plagued by uncertainty. You need to do your best to banish that anxiety.
Prove other people love your work. Communicate the value of your products with the help of your previous customers. Remember – your prospects don't want to be a guinea pig for some flash-in-the-pan ecommerce site.
Integrating a 'popular' or 'trending' products selection in a prominent position throughout your online store. This little widget gives anxious shoppers some welcome direction.
Adding 'selling fast' or 'last few' below the images of popular products on your category pages can similarly help to encourages purchases, by increasing urgency for browsers.
Apart from providing social proof, a trending products selection adds convenience for your customers.
The option provides a quick and direct way to browse your best work and promote your highest value products. Use hand-crafted goods marketplace, Etsy as your inspiration.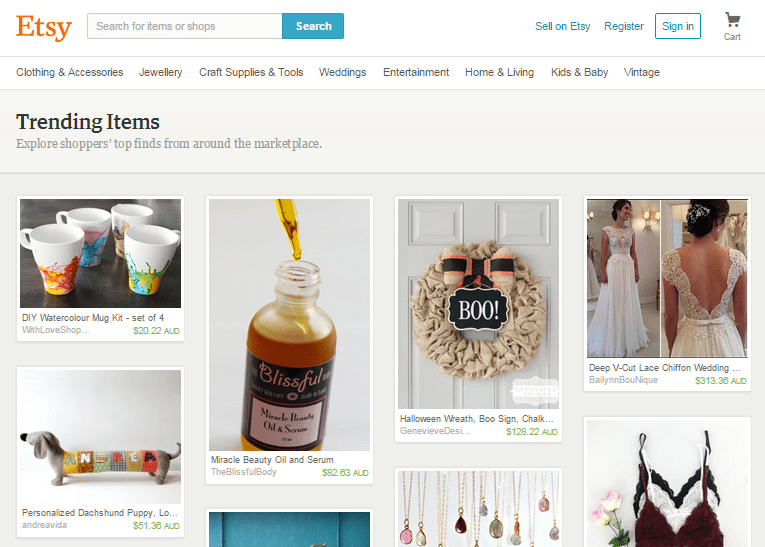 Day 4. Enable live chat
We online retailers have it tougher than our in store contemporaries when it comes to customer support.
There's no friendly staff member wandering around our customer's living room to help them with their online purchase, and online shoppers don't have the time or patience to call or email, then wait for a response. We want answers now.
Rather than sitting idle as confused visitors click through to a competitor, why not offer a virtual version of that in-store assistant?
eDigital's Customer service Benchmark report shows live chat has the highest satisfaction levels for any customer service channel, with 73%, compared with 61% for email and 44% for phone.
It's quick, convenient and helpful. You can resolve random enquiries straight away; reducing customer frustration, and your support staff's time. With most systems, you can gather important data on the enquiry (the screenshot below shows the data hub of service provider, Live Person), allowing you to personalise future communications and shopping experience for your customers.
If you have a well-trained team operating around the clock, live chat can be a huge customer service advantage for your brand.
It's a simple addition, for high value return. There's also plenty of options across a whole stack of price points.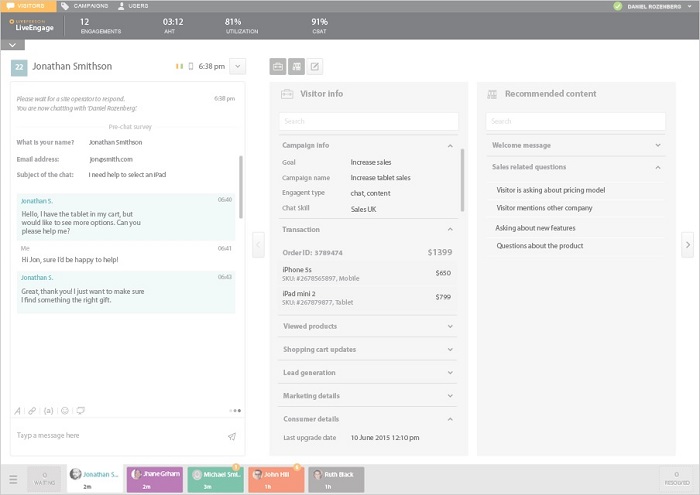 Day 5 – Develop a custom 404 page with CTA
Broken links, site errors, expired pages – it happens.
Whether you've retired old content, deleted an old product page, or your customer has got their wires crossed – 404 pages are an ecommerce necessity.
You're going to need one, and it had better be good.
You need to place yourself behind the customer's click. If you're navigating through a site and expecting a certain page, only to be greeted by a 404 error, you'll be a little miffed, to say the least. It's our online store's responsibility to ease the frustration.
First and foremost – you need to solve the user's problem.
Don't leave a generic dead end. That's a certain conversion fail. Instead, provide a prominent search box, and a clear call-to-action to your homepage – allow the user to find an alternate route to the information they want.
You might also want to offer some helpful or educational information to pique a new visitor's interest – visual links to your most popular blog articles or buying guides might be a welcome addition for a browsing shopper.
Now's a good time to lighten the mood a little. Try and give your customer a chuckle. Some self-deprecating humour related to your brand or industry will turn your mistake into a delightful bumble.
There's a plethora of hilarious 404 page examples out there to fuel your creativity, but something simple like Jamie Oliver's charred toast image can work out just fine.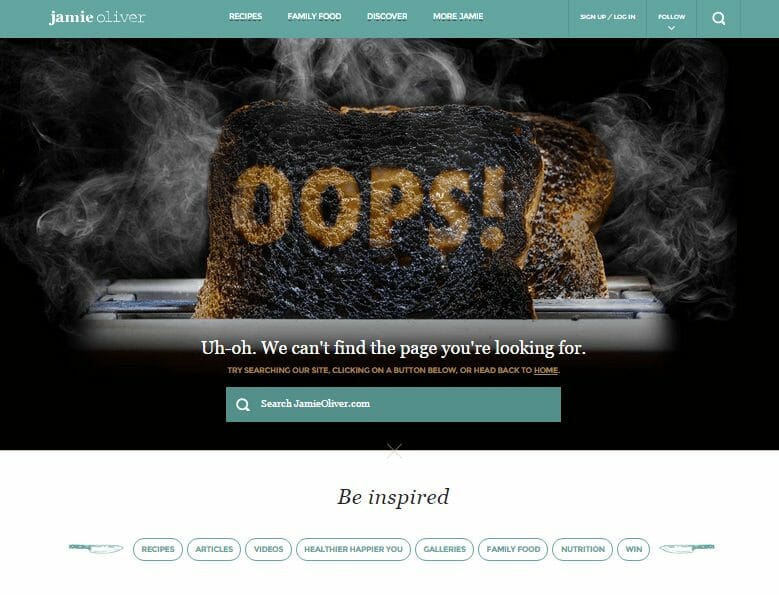 Time to sign up for Jungle Gym Bootcamp!
Okay, five days down. Just 25 more days to go.
Oh, and you definitely have to make sure you attend the last session of Ecommerce Bootcamp. It's the best one. I guarantee it will be your favourite too.
All that's left now is to click on that giant button below and you can start transforming your online store's life for good!
Go on.
Just do it.