March is here. It's time to get down to business.
The holidays are done.
You've had your post-silly-season chillout time.
The February planning period is up.
So this month's bundle of ecommerce marketing learning is all about improving your online shopping experience.
2016 is shaping as the year ecommerce brands change their strategic focus from technology, fulfilment and product to establishing differentiation with a superior customer experience.
You know how much kids love Disneyland?
That's a customer experience.
You need to work on creating your version of Disneyland for your target audience.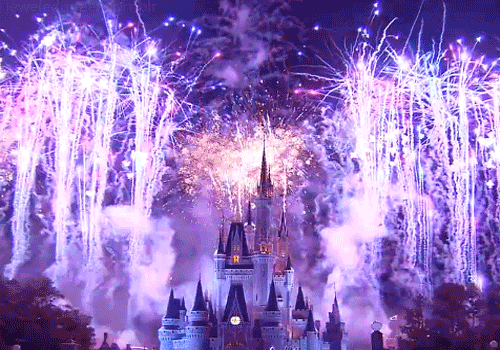 Metaphorical fireworks. That's the standard you're aiming for (your loyal customers would also really appreciate your brand's version of a 'Fastpass').
It seems like CX is the new marketing acronym every online retail 'influencer' is talking about.
We want to explain why this concept is so important, and how you can actually go about improving your customer experience in practice.
(Your article mini-directory)
Too busy to read the whole thing? We get it: logistics, synergies, KPI's – all that stuff. Here's the skim read version. You really should read the whole article though…
You can click on the dot point that takes your fancy and head straight to the relevant section.
In this month's ecommerce roundup:
Why your ecommerce customer experience matters
'Customer Experience' is the early favourite for retail marketing buzzword of 2016.
You know a business catchphrase has hit the mainstream when it has been designated an acronym somebody outside your industry could never hope to understand.
#CX is now a thing.
Google Trends has proof.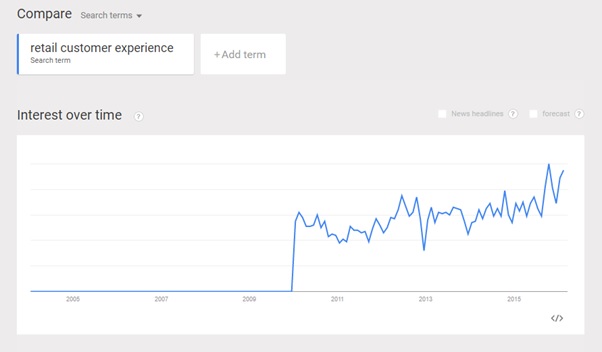 And you should jump on board this bandwagon before all the good seats are taken.
Unlike the QR Codes and MySpace marketing fads of yesteryear, we're pretty sure customer experience won't be eulogised in marketing meme infamy in five years time.
This is awesome. Should you use a QR code? #QRcodes #socialmedia @unmarketing pic.twitter.com/YLoUSFM4Gl

— John Chambers (@_JohnChambers) March 2, 2016
#CX is here, and let's hope it's here to stay.
Those ecommerce retailers content to rely on the good old 4P's of marketing to differentiate, face a discounting battle to the death. Chances are – the Amazon, Walmart or Asos of your industry will chew you up and spit you right out if you try to muscle in on their price point.
Differentiating on customer experience allows you to leave these big box gargantuans in peace, so you're free to build your own community of loyal repeat customers.
If you can find a way to make your customer experience the best for your target niche audience – these folks will pay you a premium, and come back to buy again and again.
But all this talk of 'hacking CX', and creating best-in-class customer experiences, can seem like marketing fairy floss. It sounds good in practice, until you dig a little deeper and realise there's no substance beneath the excitement, just a spinning wisp of emptiness.
Invest too heavily in such hyped-up martketing saccharine, and you'll soon be wanting to take it all back and start again.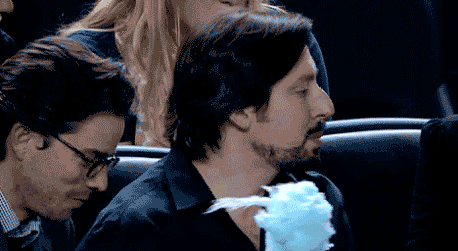 This CX craze isn't all sizzle and no sausage. There's substance behind the thousands of blog articles and keynote presentations this time.
So how do you practically improve your online shopping experience?
Ben Potter is the Commercial Director at Leapfrogg, a digital marketing agency that specialises in helping retailers increase customer acquisition, revenue and market share. Customer experience is Leapfrogg's wheelhouse, and this month Ben chipped in on the CX discussion with a guest contribution to Econsultancy.
Titled How retail marketers can ensure they deliver the 'right' customer experience, Ben's piece explains that delivering a relevant experience can only be done if you know what makes your customers tick in the first place.
You need to understand your target audience intimately to create a genuinely effective ecommerce customer experience.
"It sounds obvious to say it but the most critical aspect of customer experience is understanding your customer.

The marketer's ability to positively impact the customer experience will not be effective if decisions are based on generalisations, assumptions or gut instinct.

So what's the answer?

The foundation to delivering the right customer experience is

customer intelligence

."
When you know who your target customers are, what they care about, what they believe in, what they stand for – only then can you create a customer experience to match their specific needs and wants.
Your brand's story should help you create your customer's desired experience
Joel Comm explains why the success of your differentiation is so dependant on your brand's storytelling.
You might have the same product as a bunch of other competitors, but if you can prove your brand fits the lifestyle of your target niche – those customers will want to buy from you.
Joel uses a recent piece of branded content from Canon Australia to illustrate his point, in a recent article for Inc. Magazine.
Six different photographers were introduced to the same man, and each was given a different description of his back story.
The photographers produced six thoroughly unique portraits of the same man.
The story shaped each photographer's perception, just as your brand's story can help you differentiate your customer experience. You need to craft your marketing in a way that resonates with the community you want to target. Joel wraps it up perfectly:
"Your marketing stories demonstrate how the product will be a part of their customers' days, and in the process, they breathe life into the product. It's stops being a thing, and becomes an essential part of a lifestyle.

The result is the difference between a glass of carbonated sugar-water and Coca-Cola. It's why iPads are cool but Android tablets, which do exactly the same thing, are not.

The stories that marketers create don't just sell products. They change the way people experience those products."
The example that proves the importance of ecommerce customer experience
You want to see a real ecommerce example, don't you?
All this theory needs some action.
We Gorillas aren't the type to talk with no walk…
Consider the classic millinery ecommerce case study. Panama afficianados (the headwear, not the nation) will know we're referring to Montecristi Hats.
Not exactly the most well-known retailer. But these folks sell a high quality product.
Their hats are available on Huckberry's online store – a beautiful online marketplace that curates content and products designed for sophisticated urban adverturers.
The Huckberry crew know their target audience better than you know your uncle, and their customer experience is perfectly designed to delight this particular type of gentleman. If you haven't heard us gush about these guys before (Huckberry starred in our 2015 Ecommerce Awards), start with this article:
Huckberry knows their customers enjoy the option to browse products by usage occasion. So instead of arranging product pages by category (shirts, shoes, hats), shoppers can browse based on events or needs (camping, fishing, wedding, work)
In this case, Huckberry's "Getaway" shop page contains a number of products an urban gent might like to take on a weekend trip to the coast. Montecristi's panama (highlighted in the red rectangle) is one such products.

Contrast this customer experience to the website of Montecristi Hats.
Same product.
Not the same customer experience.
Maybe the opposite customer experience?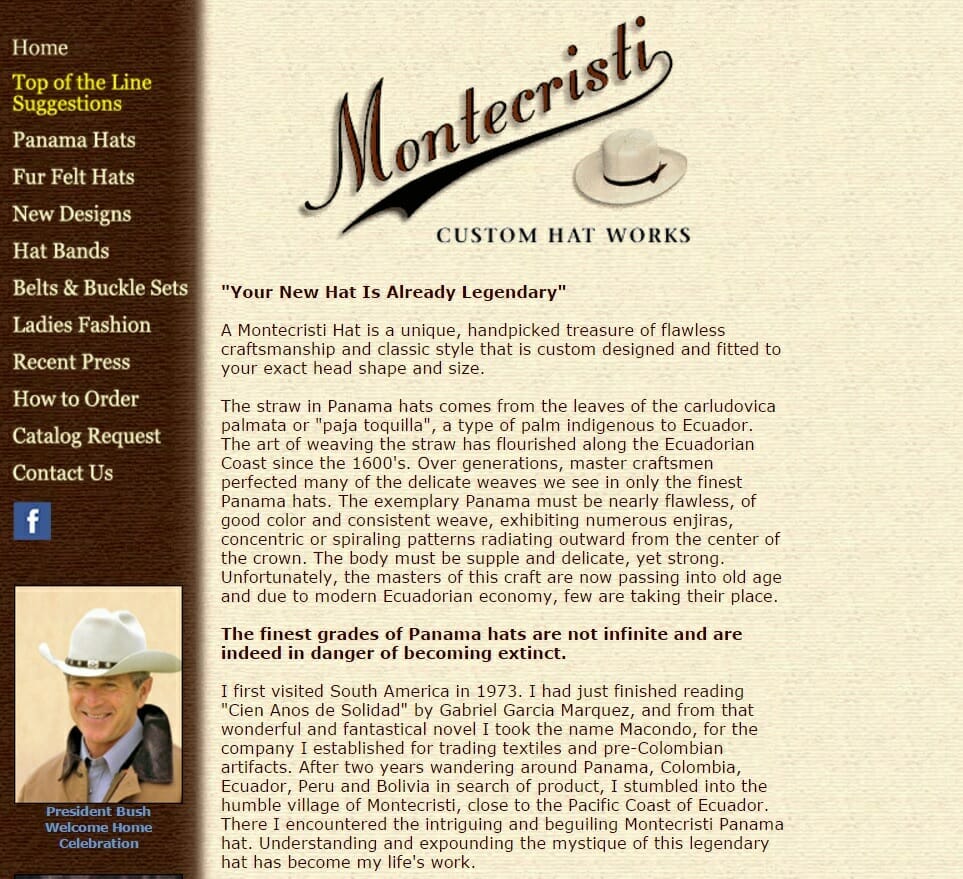 At the very least, both sites are communicating a story that targets an entirely different target audience.
The Huckberry buyer will never dream of making a purchase on the Montecristi site.
The Montecristi buyer would similarly understand the Huckberry site is not his place.
The Montecristi experience might appeal to somebody like the guy on the left.
The Huckberry man on the right will not be so fond.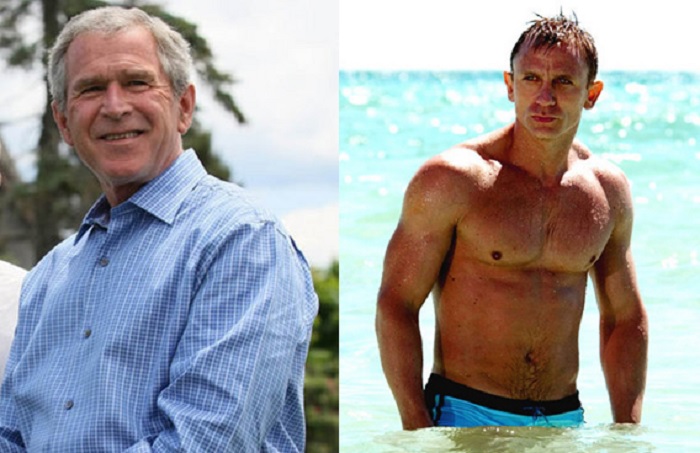 Imagine these two customer types walking into a bar.
Safe to assume the Huckberry man wouldn't want to be channeling old George W.
Similarly, the Montecristi man wouldn't be seen dead in a freshly pressed French cuff shirt, ordering a gin martini.
Oh, and the clincher?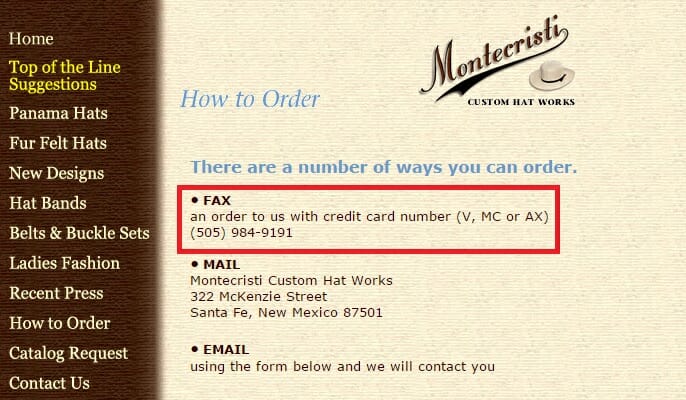 I think it's safe to assume that nobody who has ever shopped the Huckberry online store is currently in possession of a fax machine.
Same product. Different customer experience.
So now you can see this customer experience caper is more than just a buzzword, it's time to talk specifics.
How do you go about telling that story, and placing your brand into the context of your target customers' lives?
There's so many different ways to craft your customer experience. Any of your brand's content, any communication with your target audience can be engineered to share your brand's story.
But let's start with the easiest way to practically improve your online store's customer experience…
How to make your product pages more customer (and conversion) friendly
Sure, your website design, and your homepage are critical indicators of your customer experience.
But you already understand their significance in communicating your brand story and helping your target audience.
One of the simplest ways to improve your customer experience?
Make your product pages more customer-friendly.
WordPress is one of our favourite ecommerce platforms, and the WooCommerce plugin makes it all happen.
The WooThemes blog is a haven of online retail improvements, and this month, Content Manager Nicole Kohler penned a post that shows you some practical ways to improve your customer experience.
The article, titled "How to create helpful resources for your product pages" is well worth aread. Here's a summary of Nicole's advice:
Consider what you include with your products, and add any extra information that could help answer customer questions, or reduce anxieties or uncertainties
Consider changing the way a shopper views a product, and allow for categorisation by needs and wants, rather than just product types
Design helpful research content that is simple, clean, and easily accessible
If you have existing blog posts, links, or other relevant resources – link to them where relevant
Give your shoppers the content resources they need to buy from you with confidence
Evidently, improving customer experience with product page improvements is a hot button issue.
We Gorillas chipped in with our own 7 ecommerce product page design ideas to convert browsers into shoppers.
You'll want to read the entire article, but in the interests of avoiding annoying clickbait headlines, here's the seven things you can implement across your online store to turn your product pages from a glorified online catalogue into a helpful, shoppable library.
Almost everything you need to know to about ecommerce content marketing
Pickaweb are one of the UK's most trusted hosting provides, with over 20,000 British business on their books.
If you're a regular Ecommerce Jungle Gym reader, we don't need to explain the importance of content marketing for your online store.
We've been banging on about it for years.
Tony and the team at Pickaweb have put together a really detailed introductory guide. It's a valuable tool for anyone new to the concept – you might like to add this piece to your induction resources for any new marketing employees.
In addition, Pickaweb have somehow condensed the content marketing decision making process into a single page visual. It's well worth a print-out-and-stick-on-the-wall job.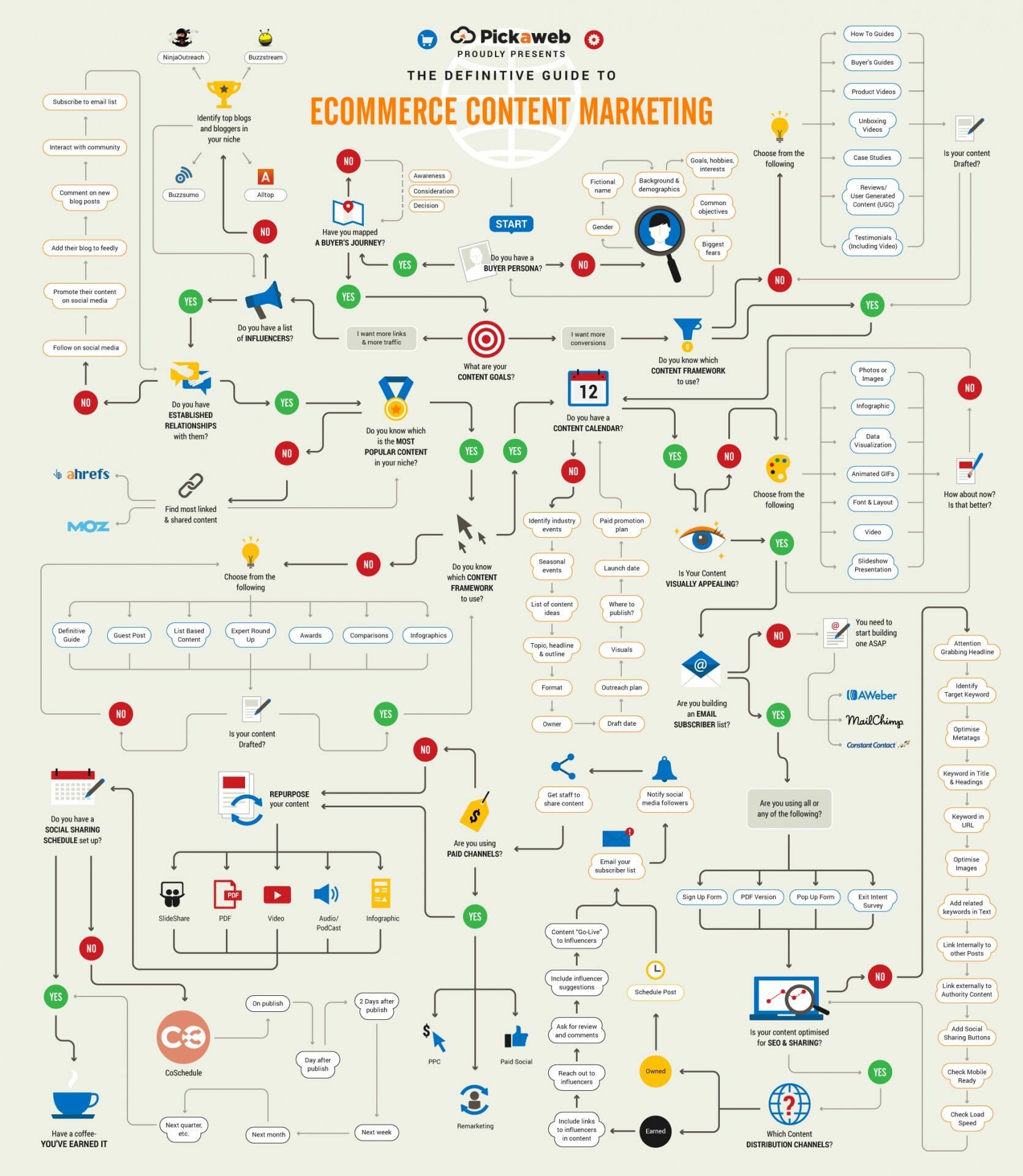 Click image to open interactive version (via Ecmmerce Content Marketing).
One particular passage in Pickaweb's guide provides some invaluable advice for any online retailer. It's advice we see ecommerce brands neglect all too often.
"It can be tempting to think that all you need to do is focus on is getting more people through the door, but that would be a huge mistake.

If you are completely stuck then start with Content for Conversion. That way you are working with what you have, i.e. your existing traffic.

Things like Buyers Guides, How to Guides and product videos are perfect starting points and you probably have most of the info that you need on your hard drive, in your outbox or up in your head."
That's why Chapter 4 of Pickaweb's guide is the most important.
Tony and his team highlight a couple of content types to help you bridge the conversion gap between research and purchase:
Sound familiar?
Callback.
These research focused content pieces are exactly the type of additions Nicole Kohler referenced in her WooThemes article about optimising your product pages to improve your customer experience.
This month, we developed a similar article dedicated to helping you use content marketing to increase conversions for your online store.
The title explains things perfectly.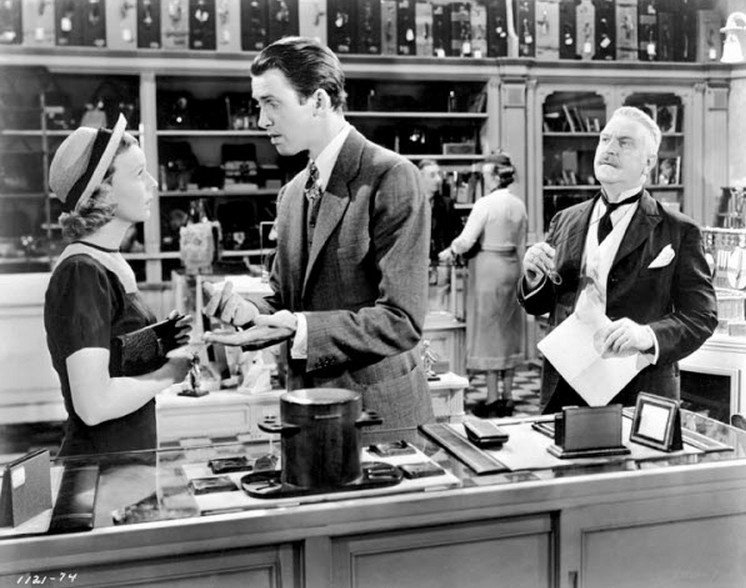 We zeroed in on 8 ways to use content to improve your online store customer experience.
This is one area of ecommerce marketing we Gorillas are fiercely passionate about. Our admiration and kudos go out to the innovative online retailers who match their user experience to their customer's specific info needs.
If you're doing it well, your online store should be more of an online concierge helpdesk, with your content answering every question, and entertaining every new browser.
Your homepage and navigation should direct every new user exactly where they want to go. And your checkout pages should act as a first class customer service expert.
We Gorillas are forever experimenting with different techniques and tactics retailers can use to create content experiences that convert shoppers into customers.
These ideas five are broad in appeal, and effective across almost every online vertical:
(The ideas in this article are no silver bullet. You need to continually work on your content marketing strategy. Once a month, block out an hour on your calendar to work on improving your customer's shopping experience.)
You should always be on the lookout for content, design and development ideas specific to your industry, that will help your target audience.
CRO and SEO – How to maximise conversions without compromising your rankings
Traffic without conversions is to an ecommerce manager the equivalent of an ashtray on a motorbike.
Twitter followers, downloads, page views – they mean nothing if people aren't converting into subscribers, buyers, or repeat customers.
We ecommerce folk are conditioned to worship Google rankings. But SEO isn't always advisable.
We're starting to realfise the importance of prioritising the highest imapct areas. Sometimes optimising existing traffic will be more effective than spending time to generate more.
Conversion XL, is one of the best CRO resources on the internet.
Alex Birkett is one of their finest authors.
This month, he pieced together an article that needed to be written. Every ecommerce practitioner will find value in this post.
The rub of this article is relatively simple.
Google still places a significant amount of importance on non-UX signals to determine rankings results. Page titles, headings and body text will often need a CRO compromise.
The Wizard of Moz, Rand Fishkin explains things to Alex:
"For SEO, using keywords and language on a page intelligently and in ways that match with how people search (e.g. using "Rand's Bookcases" instead of "Make Your Book Storage Problems Disappear" is generally advisable) still matters quite a bit.

Sometimes, a CRO test will reveal that less obvious, direct language use actually converts better, which can make for a sacrifice. That said, in 90%+ of cases I've seen, there are easy ways to compromise a little and find a great balance (e.g. "Rand's Bookcases Make Your Book Storage Problems Disappear")."
If your H1 heading doesn't contain your target keyphrase, you're unlikely to rank on page one for it.
If your CRO testing tells you a different headline will convert more effectively, you have yourself a decision to make. More targeted traffic, or a higher percentage of conversions?
Go with the higher revenue outcome.
"You have to do the math between what you'll get from the ranking boost vs what you'll lose in conversion," LawnStarter co-founder, Ryan Farley advocates.
The lesson from this article is an important one.
We don't want to focus on optimising our content for search engines, or for conversion rates.
You need a change of mindset.
Optimising revenue should be your target.
That's the way to think.
Increasing average order value, number of transactions, and repeat purchase levels should always be front of mind during any ecommerce marketing conversation.
The ROI of an effective ecommerce content marketing strategy
Quick hat-tip to a 2015 Gorilla Online Retail Award Winner.
SurfStitch, our favourite Australian ecommerce brand of 2015, is proving the return on investment of a strategic content marketing program.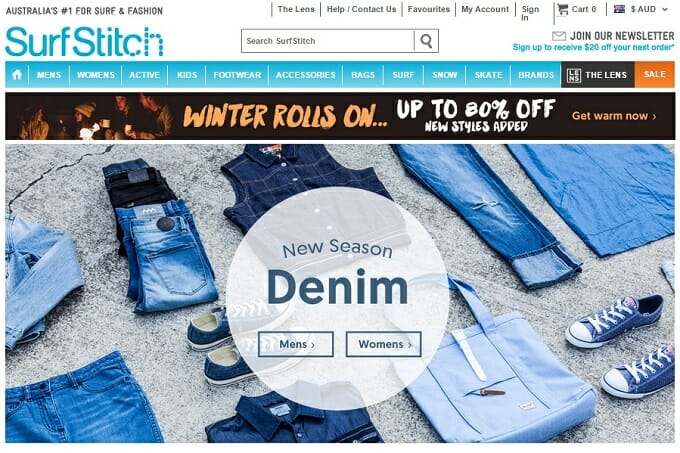 SurfStitch has released its first half 2015-16 results, posting a maiden net profit after tax of $5.7 million, with revenue jumping 40 percent.
CEO Justin Cameron's plans for SurfStitch's future are music to our content-marketing-obsessed Gorillas ears.
"We've made meaningful investments that are enabling us to create a unique digital ecosystem that engages with our core community at every stage of their action sports lifestyle.

With the foundation in place, we turn towards the next phase of growth — investment in our internal content network. Equipped with the ability to create the various forms of content that resonate with our community… we will be leveraging our position and accelerating investment in generating content."
Late last year we put together a detailed analysis of SurfStitch's revolutionary ecommerce business model. If you want to understand how two Gold Coast entrepreneurs have built an ecommerce brand recently valued at $511 million, you should have a good read.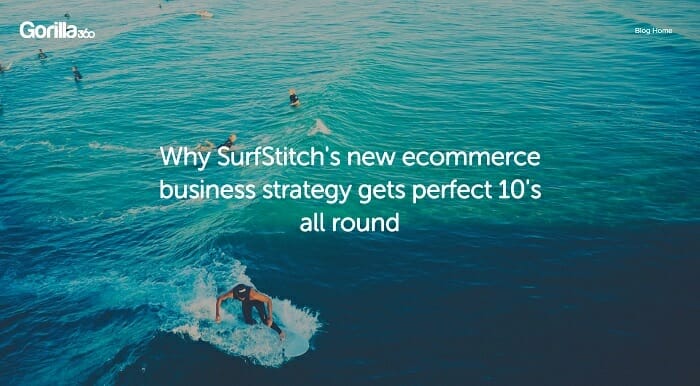 Long story short;
SurfStitch are committed to building a huge like-minded community of loyal subscribers. By developing the internet's go-to surfing lifestyle resources, Justin and his team earn the trust required to convert these subscribers into repeat SurfStitch customers.
That's a sustainable ecommerce business model.
We wish we'd written…
Yet another uber-helpful, research-backed, example-packed article from Ecommerce Illustrated's Linda Bustos. You need to make her blog a weekly pit stop.
Guided Selling Tips for Ecommerce Home Pages
Guided Selling is a concept we Gorillas firmly advocate.
This article is a cracker. Ecommerce pro's need to take this one seriously.
Linda's MnM's example explains the essence of 'guided selling' visually.

Allow your potential customers the path to purchase they want to take. Use your content to clearly signpost their next stop on the purchase journey.
This direct quote from Linda explains without confusing transport metaphors.
"Guided selling is a suggested way to filter your product catalog to a specific set of results, whether presented as "shop by" categories, trending and popular items, interactive tools or video tutorials.

Rather than leaving visitors to fend for themselves with global search and browse, or taking a guess at featured products and categories, guided selling offers visitors a way to understand how best to achieve their conversion goal – finding something they want."
Amen Linda.
Your monthly ecommerce must-read
A short and sweet piece this month from The Guardian – but definitely some big ideas to get you thinking.
"Online, where all of the effort is made by the shopper, the giant companies regard wages as they regard taxes, as a legacy problem to be eliminated in the frictionless and almost post-human future."
Low-paid and unskilled jobs in retail may soon be automated away.
Amazon and co. are working on it.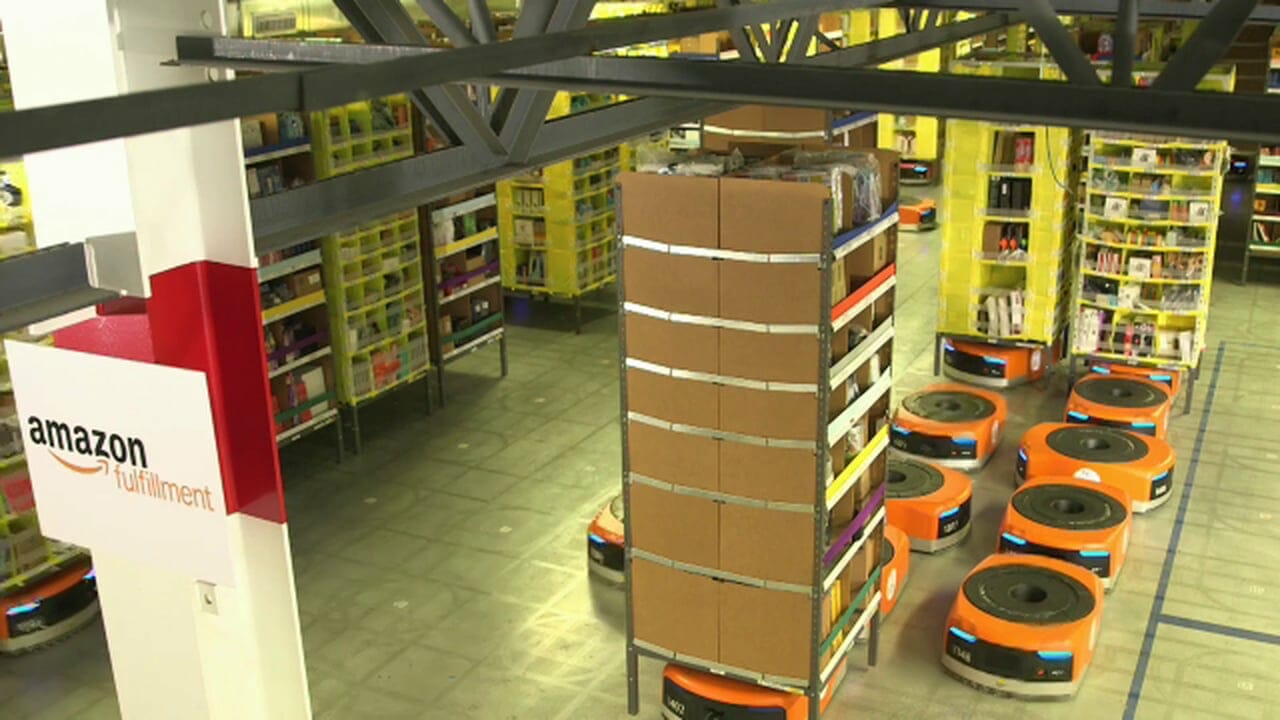 This article asks us 'what will happen to the people?'.
We think this trend presents a clear opportunity for innovative ecommerce retailers.
Don't look to technology, logistics or fulfilment as a way to differentiate. These factors might not be sustainable – in a few years, free delivery could be table stakes.
Instead, you need to focus on creating a truly best-in-class shopping experience. Genuine, personal relationships with your customers will always prove to be sound retail strategy. And to develop strong relationships, you'll always need people.
Customers will pay more for brands and experiences they love.
Just ask Nike, Red Bull, Apple and Net-a-Porter.
Don't miss next month's ecommerce learning bundle
If you haven't already, you need to add our monthly ecommerce roundup to your email subscription cart.
The first week of each month, you'll receive free delivery, direct to your inbox door.
We bring you up to speed with the most important issues in the online retail industry so you don't feel like you're missing out.
Or for those of you who missed out on February's bundle of ecommerce learning, you can catch up on Amazon's most surprising strategic move yet, and the extroadinary groundswell of pureplay ecommerce brands turning to a clicks and mortar business model.
To the unsubscribed – jump on that big grey button below.
To the tribe – get stuck into those customer experience hacks.
Gorilla out.