You are a repeat customer.
There's probably a bunch of places you keep returning to, making purchase after purchase.
For the owner of these businesses, you are the result of years of planning, strategy and dedication.
It might be your mechanic, your local cafe, your dentist, or your hairdresser.
Think about those customer experiences.
What is it that keeps you coming back?
It could be any number of reasons:
Your mechanic explains everything to you perfectly in layman's terms
Your cafe makes the best damn coffee in the neighbourhood
Your dentist is a long-time family friend
Your hairdresser knows exactly how you like it
There's something about your relationship that keeps you coming back with a smile.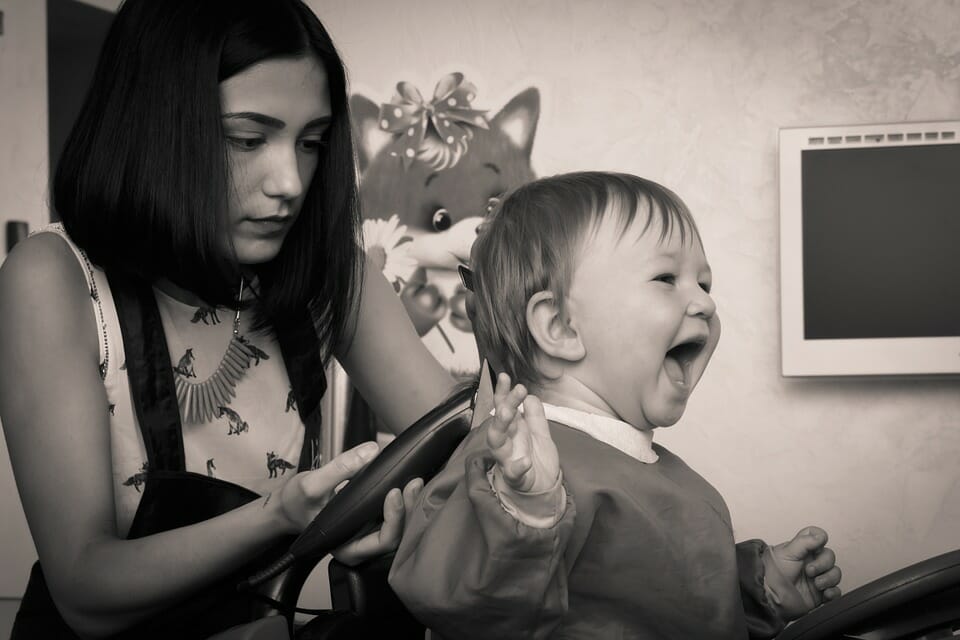 Time for a little ecommerce marketing riddle
There's one key factor that draws all of these together.
It's the one thing you need to build to attract, convert and retain more customers.
It's something you can't buy, but once you've got it, you can lose it in an instant.
What is the answer to our little fortune-cookie riddle?
TRUST.
Without it, you'll be lucky to make one sale.
When your earn it from your customer, you need to do whatever it takes to keep it.
If you lose it, it's almost impossible to get it back.
So how can your ecommerce store earn, and keep trust?
Short On Time? Your Skim-Read Summary: 
Too busy to read the whole thing? We get it: logistics, synergies, KPI's – all that stuff. Our articles are long, well researched and detailed. Sometimes you need to pick and choose the bits that interest you best. Here's the skim read version (you really should read the whole article though). You can click on the dot point that takes your fancy and head straight to the relevant section.
How to develop trust with your ecommerce product pages
So how can your ecommerce store earn, and keep trust?
If I had a concise, exact blueprint to categorically answer this question, I would be keynoting every conference, webinar and education program in the online world.
But I know a few simple product page design fixes you can use to re-assure browsers of your online store.
Your product pages are like the last debate before a presidential election…
So much work has been done already. You've come so far. You've got one last, intimate chance to convince someone to choose you – to earn their trust for the days, months and years ahead.
A whole bunch of people are going to make up their minds at this juncture – do they trust you, or do they place their trust in someone else's hands.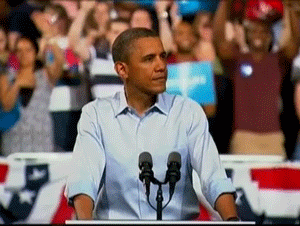 That's where the political analogy ends. Undeliverable promises are exactly what you don't want to be selling.
Your need to use your product pages to assure customers – to prove your brand is the best option.
Here's 7 simple product page hacks you can use to help you establish authority with browsers, and convince them to take the online click of faith to the checkout page.
#1. Add reviews to product pages for social proof
We all understand the benefits of 'social proof'. People trust the advice and recommendations of friends and family more than your brand. No matter how much money you spend on advertising and promotion, objective peer reviews hold more gravitas.
Give your customers the chance to help you out. Make it nice and easy for buyers to contribute a review.  Either use your thank you page to ask your customer to review their purchase, or ask for a review with a post purchase email with a prominent call to action.
While you're at it – ask your customers to share a happy snap of their new product on social media with a pre-populated, customisable message (including a branded hashtag so you can keep track of the responses).
Be careful with this one, you don't want to be that pushy, awkward, parentish social media brand nagging your customers to spam their followers. But for visually interesting or beautiful products (think travel, cosmetics, jewellery, fashion, food & bev etc.) it's well worth giving your new customer a gentle nudge to hashtag their own selfie with your brand or products.
These simple additions can generate streams of invaluable user generated content to convince new browsers of the value of your products.
To make the most of your newly established social cred, add in a widget at the bottom of your product pages to display any relevant reviews or social media messages, to help assure new browsers of their purchase.
Crutchfield are one of our favourite little ecommerce sites that could. Swamped in size by monolithic big box retailers like Amazon, Costco, Walmart and Best Buy – Crutchfield make electronics online retail work with a first class user experience, and a super helpful content marketing program. Their customer review mechanism will give you a good example of how to make social proof work.

#2. Most popular/trending products
Social proof is a powerful purchase-inducing elixir.
For new visitors with no affinity to your brand, a first online purchase can be plagued with uncertainty. You need to do your best to ease that anxiety.
Remember, your prospects don't want to be a guinea pig for a here-one-day-gone-the-next ecommerce site. Prove that other people love your work. Communicate the value of your products with the help of your previous customers. 
You can give anxious shoppers some welcome direction by integrating a 'popular' or 'trending' products selection in a prominent position throughout your online store.
Adding 'selling fast' or 'last few' to popular products similarly helps to encourage purchases and increase urgency for browsers (i'll get into some more detail on this one a little later in the piece).
Apart from providing social proof, a trending products selection also adds convenience for your customers. The option provides a quick and direct way for gift givers and browsers to shop your best work, and it allows you to promote your highest value products.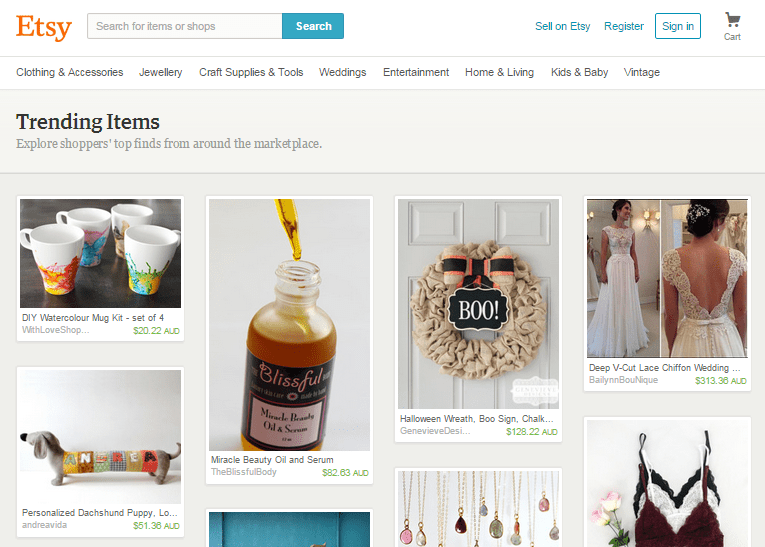 #3. Events specific landing pages
Prove that you're the expert.
The best customer service assistants know exactly how important establishing trust can be. You need to make the customer feel at ease in the knowledge that you know what's best.
Imagine walking into a suit store where the store manager couldn't recommend a shirt and tie combo for your upcoming wedding. Would you feel confident buying an outfit there? What about a cosmetics counter at a department store where the assistant couldn't match your foundation to your skin tone?
Immediately you lose trust, and respect, for the store and the brand.
Online shoppers still want expert assistance.
You still need to do some of the work for them.
In lieu of an expert team of in-store assistants – concentrate on arranging your store in a customer friendly way.
Your product pages need to be organised based on your customer's needs, not the way your warehouse is organised.
Sure, product types and categories might make sense to you, but for a gift shopper with not much idea of what to buy, there's no in store assistant to help out with suggestions.
Somehow, you need to be that expert gift suggester.
If you can create an experience designed specifically for a gift-giver's needs and wants, you'll pump up your conversion rates and delight your new customers. Macy's 2015 Christmas gift guide shows you exactly how simple this page can be.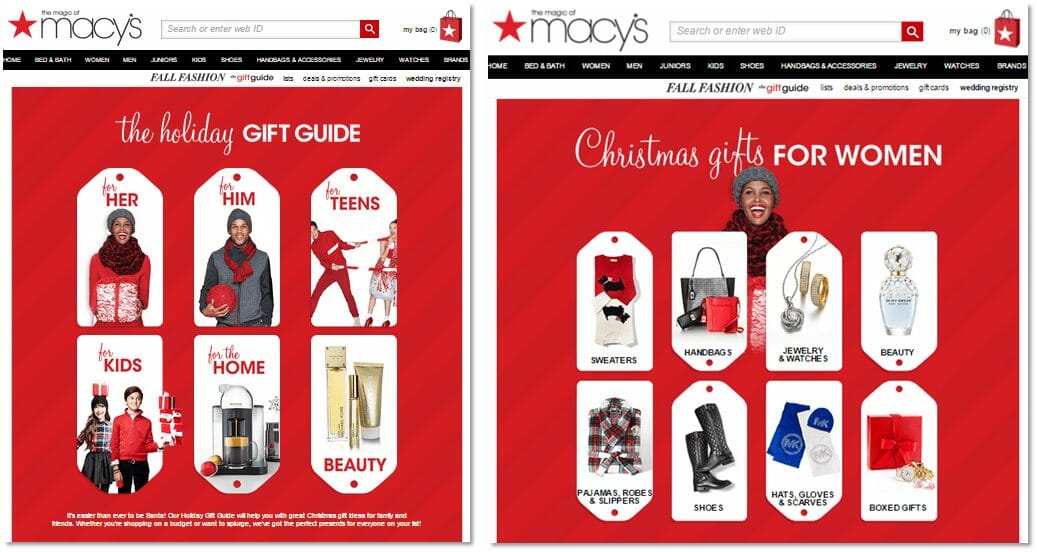 A specific gift ideas landing page is all you need to make the shopping experience a whole lot easier. For such a small amount of effort and cost, you can achieve a significant return.
Separate out the page into different bunches of curated products collected under specific gift-recipient types. Use historical purchase data to determine the type of stuff that typical customer types would want. If you're a menswear e-retailer, it's an easy exercise. Split your gift idea sections into "Outdoorsy", "Preppy", "Executive", "Surfer", "Sporty", "Muso" etc.
You've still got some more left in the tank for one extra effort. Consider setting up a Weekly or Monthly Surprise landing page, where you offer a new 1 hour flash sale at some point throughout the period.
You don't need to have a whole slew of products on offer each day. Just one great value deal will do the trick. (JetStar's Friday Fare Frenzy concept is the perfect example of a customer retention tool that keeps loyal customers engaged and excited).
Promote this landing page through your social channels and email subscription list, and you'll create a real reason for your audience to return to your site each day. The flash sale concept also creates a sense of urgency, prompting indecisive browsers to pull the trigger.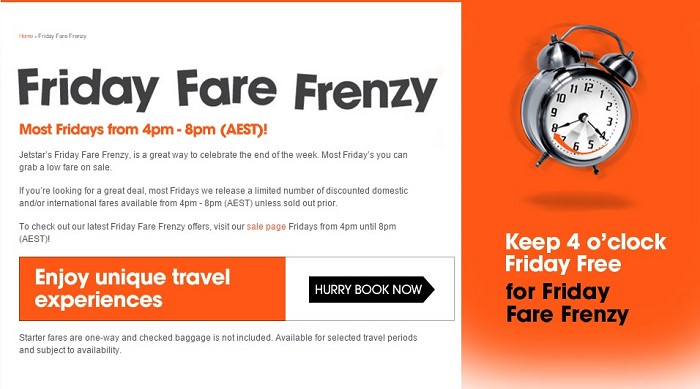 #4. Create product bundles
You're the best judge of what products work together. Whatever you sell, whatever products or services you have available – maxi pack them.
Amazon's suggested products widget is a thing of ecommerce legend. Once you've bought something, you're inevitably met by a collection of products coupled together by a clan of other customers. Of course you'll think about upsizing your order.
If you don't ask, you don't get. MacDonalds know that. The fries and coke are their profit margin. Suggest additional products your customer might like. Maybe you could even offer an upsize discount. You'll be surprised how many will take your advice to maximise their value.
Create special bundle offerings to give your gifting customers an easy choice. By sticking related products together, you can increase your average order value, and encourage users to add accessories and extras to their purchase without irritating upselling techniques.
If you're a fashion retailer, you've got it easy. Create a themed outfit pack. Saturday races, work-to-play, beach holiday or casual workout bundles can turn a one item purchase into a revenue bonanza. Look no further than our 2015 Ecommerce Awards winner Huckberry for gift-giving inspiration here…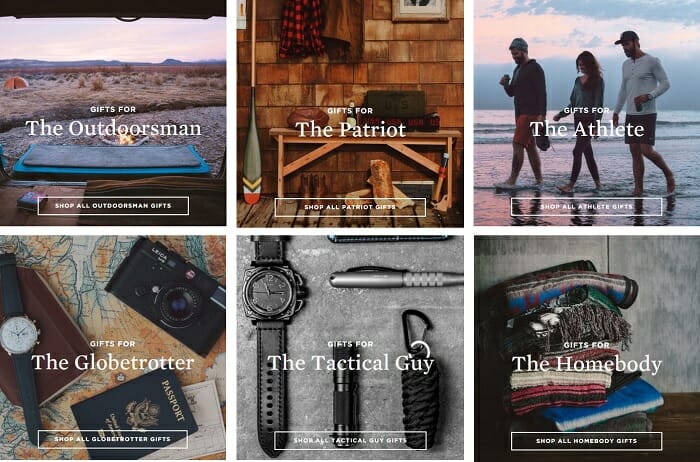 Other industries can get creative. Travel e-retailer? You guys get bundling. Partner up with a restaurant, a hotel, and an events manager to create a killer weekend package. Next time you book an airline ticket, take note of the checkout process. Seats, meals, baggage and donations are offered in different bundle options. You can also mix and match rental car hire and accommodation for a cheaper rate.
Office goods provider? Create a colour themed stationery hamper for back to school students or new employee starters.
Alcohol online store? Develop a special subscription gift pack – six new craft beverages delivered to the recipient's door each month. A periodic subscription pack is a great way to turn a one-time buyer into a low maintenance repeat customer with a drastically reduced cost per acquisition.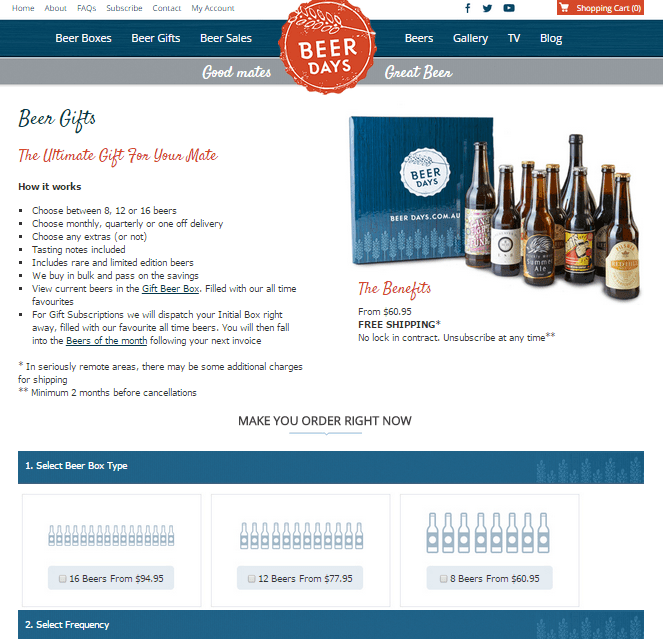 #5. Create some urgency
Ecommerce brings tyre kickers and perennial browsers at a volume far in advance of our offline rivals. Particularly for gift-givers, online purchases are a difficult decision. You want to have a good look around, and there's no judgy eyes from in store shop assistants to guilt you into a buy.
So how do we make sure we convert as many of these maybe-I-will browsers into buyers? Give em' a deadline!
Create urgency triggers that spark your potential customers into immediate action. Offer a tiered pricing system on new or seasonal products to reward purchases before a number of specific cut-off points. These short sale periods will help force the click of those umm-ers and ahh-ers, without turning your site into a discounts bargain bin.
Where possible, include inventory level labels on product and category pages. You don't have to build an automated countdown system. For a simple fix, offer a bunch of different updates to create a sense of urgency. "Running low", "Last chance" and "Selling fast" help to draw out those uncertain conversions – even if you're not down to your last three items.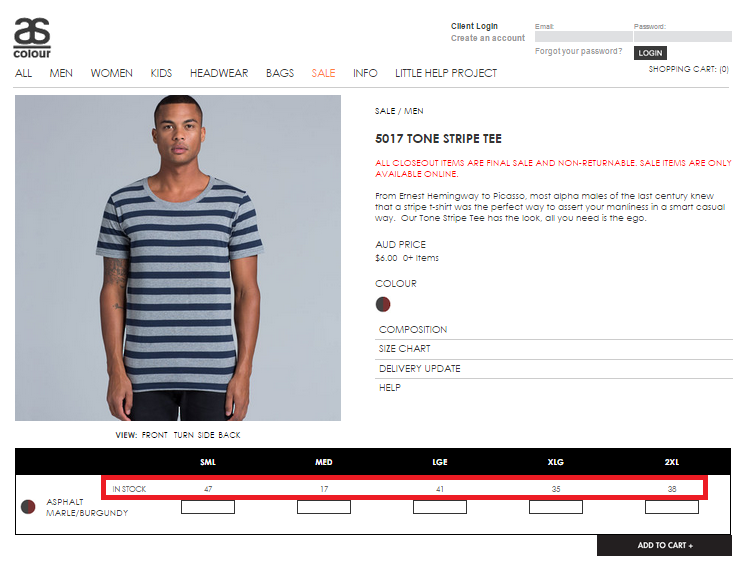 #6. Shipping info on product pages
The internet is a magical thing. So is globalisation. Now people from all over the world can find your ecommerce store and buy your stuff.
Unfortunately transportation is not so magical. Teleporting is not yet a thing. Jetpack couriers are still a ways off. You have to make do with expensive international (and domestic) shipping.
Your potential customers are cautious of the delivery charge sting. Allay their fears!
Make your shipping charges as clear as possible to reduce any uncertainties as quickly as possible.
According to a recent (March 2015) study completed by ComScore, 63% of online shoppers are at least 'somewhat likely' to cancel their order if free shipping is not offered, and 83% are willing to wait an additional two days if free shipping is available.
If you can offer free shipping, wear it as a badge of pride on your product page.
If you offer free, reply-paid returns, let your store visitors know.
If not, you should crunch the numbers and think about it.
Regardless of your delivery arrangements, make them known on your product pages – don't force your customers to reach for their footer magnifying glass.
Most won't bother. They'll just bounce to a home country competitor they can count on.
Nordstrom know how important this shipping caper is to their shoppers. The brand uses geo-targeting technology to launch a popover for new browsers to explain the shipping specifications for the country of the shopper. Straight away questions are answered and the customers is more assured when purchasing.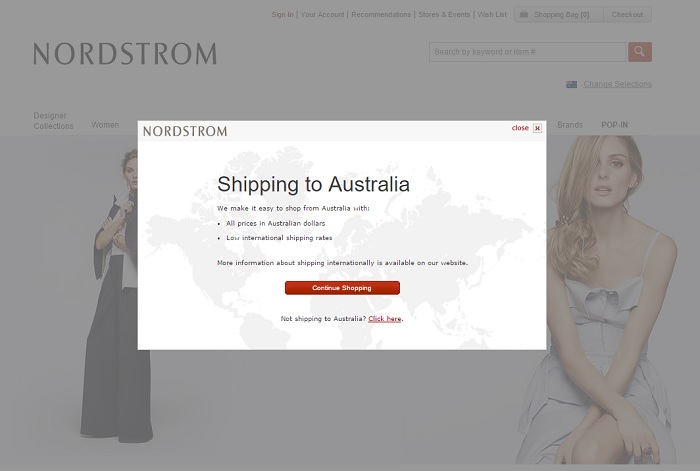 #7. Returns and Guarantees
Buying online can be an uncertain process. You can't touch, trial and test a product in person, so there's always an element of hesitation – what happens if it's not exactly what you expected?
You need to do whatever you can to allay these fears and ease the anxiety of your potential customers.
To reduce cart abandonment rates, and convince visitors to purchase, add returns, guarantees or warranty information to your product pages. Assure the buyer. If at all possible, offer free returns and exchanges.
Your brand can turn the post purchase process into an advantage by including a reply paid package with your product to complement a money-back trial period. Innovative retailers like Trunk Club, Casper and Warby Parker have built this offering into their business model to make it easier to acquire and retain new customers.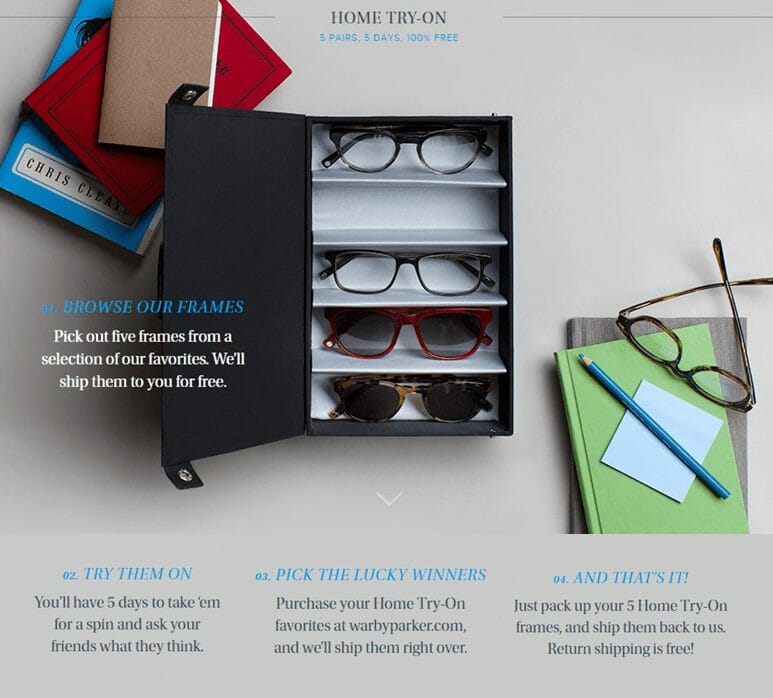 Want a whole bunch more online store growth hacks?
There's plenty more ecommerce quick wins where these 7 product page tips came from.
We've put together a dedicated guide to improving your online store with one simple fix you can make every day for an entire month.
It's the Gorilla Ecommerce Bootcamp.
Just turn up each day ready to train, and our guide will show you exactly what you need to do to have your website in shape.
You'll be attracting, converting and retaining more customers better than ever before.
Just click on that big old grey button below and embrace a healthier ecommerce lifestyle!