It's been a big month.
Britain voted to leave.
The UK Sterling plunged into freefall.
The EU stumbled into uncertainty.
Australia voted two ex-prisoners (and ex-dancing with the stars contestants) into their senate.
The Australian economy's credit rating hangs on a precipice.
So does the country's government.
The online doors of international eCommerce stores never close, so retailers around the globe are trying to keep calm and carry on amidst the political turmoil. But it's confusing. And kinda scary. Most of us started July 2016 looking a little bit like this…
What does all this political uncertainty mean for consumer spending and the future prospects of your eCommerce store?
Retail politics is not my expertise, but I'll do my best to explain all this complicated economic madness with the type of simplicity even a tribe of Gorillas could understand.
(Your roundup mini-directory)
Too busy to read the whole thing? We get it: logistics, synergies, KPI's – all that business stuff. Here's the skim read version. You really should read the whole article though…
You can click on the dot point that takes your fancy and head straight to the relevant section.
In this month's ecommerce roundup:
The huge global event set to change worldwide retail
The biggest immediate impact of the Brexit 'Leave' decision will come from the falling value of the British Sterling.
The cheaper pound is expected to increase exports, with British businesses becoming the more attractive and better value for money to customers across Europe, and beyond than those locally.
The Guardian reported the impact of the Leave vote just 24 hours later, and the economic fallout proved stern and swift:
"(The Brexit decision) triggered one of the most dramatic, volatile and downright scary trading sessions in the last decade. New estimates tonight say Brexit has wiped out over two trillion dollars of value, worldwide… The British pound has suffered its biggest one-day selloff in recent history, as the shock news the UK is heading out of the European Union sparked panic in the markets."
The harsh market reaction in the aftermath of the vote continues to pull down The Pound, throwing a dark cloud over the price and ease of British trade.
Bloomberg Business sums up the gravity of Britain's economic situation with these two tweets:
So what does all of this British economic turmoil mean to global ecommerce?
Here's the elevator pitch version of events:
Let's reign things in and focus on what it all means for the eCommerce industry.
Essential Retail interviewed Spreadshirt CEO, Philip Rooke, and his views on Brexit were damning:
"As a British man, running an international eCommerce company, I sit here in Berlin thinking a Brexit would be crazy!

The EU is a huge market on the UK's doorstep and although the British appreciate the trading opportunities, the size of the market doesn't get enough recognition.

The EU is now Britain's largest trading partner, with over 51% of British exports of goods currently destined for its European partners. For e-retailers that is only a bit of translation and click away."
Dan Barker is an eCommerce consultant and a regular contributor to Econsultancy. As an eCommerce store owner, an EU digital consultant, and the Founder of an eCommerce SaaS tool – Dan is more exposed to the fallout of the Brexit decision than most.
He penned an excellent analysis, with a particular focus on the less obvious impacts of Brexit on eCommerce.
A weak pound is very good for British e-retailers selling overseas.
Dan points to some positive benefits of the currency dive for UK retailers:
"It's quite possible that some retailers immediately became much more profitable (i.e. selling at the same €/$ price, with higher margin), or much more competitive (ie. lowering their €/$ prices in line with the change in the pound) on the basis of the drop in the pound vs. other currencies."
Crafty international customers are already making the most of Brexit-slashed UK online store prices
Paul Thomas, a senior consultant at Retail Remedy, told Digiday,
"It's likely that consumers outside Britain will cash in on the weak pound by stocking up on goods from U.K. e-commerce sites."
Forbes Contributor, Keshia Hannam reported Matches, Selfridges, Net-a-Porter and ASOS were favoured by locals and ex-pats living in Hong Kong and Australia. Chinese online shoppers favoured high-end luxury brands.
Keshia cited a pair of Kurt Geiger boots offering Australian customers a hefty discount:
"Boots that sold for $390 AUD, or £180 at the time. When consumers paid for the boots in pounds they came to the neat sum of $326 AUD, meaning a saving of $64 AUD."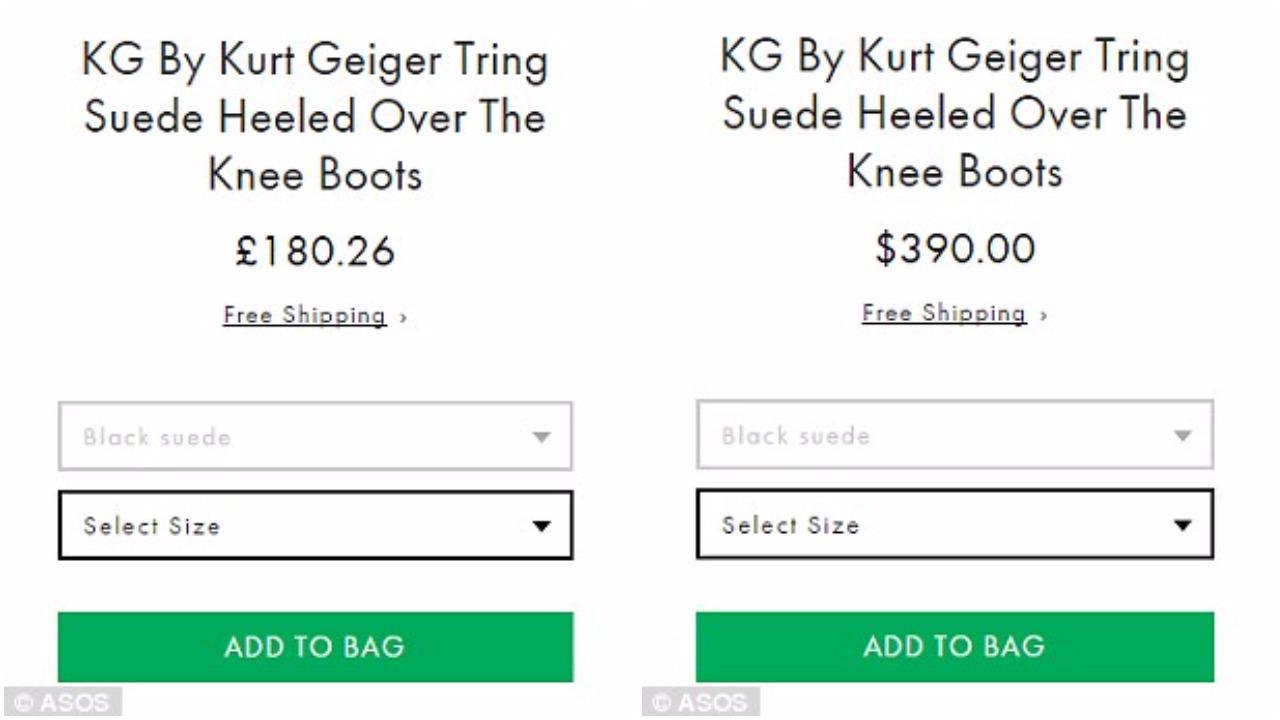 (Image courtesy Forbes)
This all means more sales for British eCommerce brands and delightful bargains for savvy international online shoppers.
For those e-retailers outside the UK, the competition just got a whole lot more competitive.
However, costs for British brands are likely to increase significantly
British retailers importing products from Europe and abroad are set for some nasty aftershocks from the Brexit UK currency plunge. Fortune reports retailer Sports Direct expects a negative sting to start hurting with immediacy. The brand had not hedged against the impact of Brexit on the pound, meaning subsequent stock purchases will come at a hefty price.
Econsultancy's Dan Barker also points to the issues related to import and export costs set for a big change, with tariff laws to be altered.
For physical retailers this is also a double-whammy in some cases, as many buy their products from overseas (i.e. both cost of goods and operational expenses go up for some)."
Another interesting aside is the cost of technology for online retailers
Dan explains British brands will be exposed to currency fluctuations on payments to the US or international suppliers. Non-UK eCommerce brands could be in for a pleasant surprise with reduced costs for UK software or consulting/agency services.
"Currency fluctuations have a negative effect, as well as positive. I've worked across dozens of UK eCommerce sites, and cannot think of any in the last couple of years that haven't used US software in some form or other.
The most important, and longest-lasting impact on the global eCommerce community could be the expected blow to consumer confidence struck by the turmoil in international financial markets.
"It's perhaps an obvious one, but confidence among consumers is a massive thing. If consumers do not buy, eCommerce businesses make less revenue. Less revenue usually means less absolute margin."
If Britain, or even Europe, do slip closer towards a recession, we can expect global retail conditions to respond. Ecommerce stores across the world could be in for a period of reduced consumer spending.
Unfortunately, few retailers saw this coming.
We need to start planning for the impacts of Brexit immediately
Essential Retail spoke to Nir Debbi, CMO and co-founder of Global-e, who thinks most British eCommerce brands are thoroughly unprepared for the macroeconomic impacts of Brexit on their business.
"Our research, conducted last month, found that 60% of British retailers have no plans in place whatsoever in the event of a Brexit from the European Union."
Whether your brand is British-based, imports British products, or sells to British customers – you need to consider your pricing strategy to cushion the impact of Brexit and keep your profit margins in check.
The big opportunity for international eCommerce brands
A huge collection of invaluable European eCommerce professionals are about to leave their British roles to enter the open market.
Innovative, forward-thinking online retailers have a rare chance to snap up high quality, hard-to-find, experienced staff.
If you have the business processes, culture and capabilities to allow international employees to work remotely, you have access to a whole new world of skilled European talent.
The International Ecommerce Checklist you need to future-proof your business
Brexit is just the tip of the iceberg you'll need to navigate if your brand is to successfully charter international eCommerce waters.
There's still a collection of significant industry-specific issues you need to manage when you throw open the online doors in a foreign land.
You want to make sure you've remembered to pack everything before you head off overseas. So we Gorillas put together a little checklist to help you make sure your online store is ready to go global. Now's a good time to make sure you're ticking all the international departure boxes.
This eCommerce international expansion packing list will help you make sure you're all set to take on the world.
Think of our checklist as your departures card. Tick these checklist boxes, and you'll get through customs no questions asked.
We'll have that e-commerce passport stamped, and you'll be ready to take on the world.
The huge Australian event set to change Australian retail
Okay – you overseas folks are excused for recess (unless the Wall St Journal's little YouTube primer has you intrigued).
Fill up your coffee mug, and head on straight through to the next section of our Monthly Bundle. Nothing to see here.
For all of you Australian readers, Brexit wasn't the biggest political news of the month.
Something else is bound to have a much more significant effect on the medium-term future of our retail industry than the Brexit Leave decision – and that's a scary thing.
Alas, at the time of writing, the Australian election has not been officially decided.
And while our currency isn't about to drop to thirty-year lows, the relative instability of the Australian government (and its precarious economic condition) will likely have an impact on retailer business financing, and customer spending.
Inside Retail's Jared Dickson agrees, in a story, he penned just after the vote, ominously titled "Election result heralds challenges for retail":
"Low consumer confidence and expected challenges in realising planned legislative changes pose problems for retailers following federal election 2016"
On the positive side, managing partner at FutureYou Executive Recruitment Richard Wynn speculated before the election that Australian retailers could expect a relatively positive outcome from a projected Coalition government:
"Calm could be partly attributed to the recently released federal budget and the move to bring spending under control while announcing company tax cuts for SMEs and personal tax cuts for consumers. These cuts, combined with plans to offset bracket creep through personal tax threshold changes, have been welcomed as a boost for consumer confidence and spending.

The recent RBA interest rate cut will also fuel a more positive outlook, with many retailers suggesting there will be minimal, if any, deferral of investment in capital expenditure or employment while they wait for an election result."
Regardless of the final outcome, uncertainty plagues the Australian financial markets, and this could have an effect on the retail industry. This snapshot of the Australian market in early July illustrates the swirling economic storm of Brexit/election/negative credit watch tumult.
The simple explanation of the election's impact on retail
The most immediate outcome is significant. Major credit rating agency, Standard and Poor's has downgraded Australia's credit rating outlook from 'stable' to 'negative'.
That means our AAA credit rating is at risk.
Why does that matter?
Prepare yourself for a crude economics lesson (warning: as an economist, I make a good eCommerce marketing professional).
The higher your rating, the lower your borrowing costs. This is because with a higher rating you are seen as a smaller risk by someone lending you money.
So a high rating gives banks (and thus, retailers) access to cheaper financing.
This means (in theory) customers have lower bills to pay, and more money to spend in your online store.
If Australia's credit rating were to fall, the bank's cost of borrowing could increase, which would probably be passed on to consumers.
Which means more expensive mortgage repayments.
And that, my friends, is what normally leads us to less spending in online stores.
As such, the equation for Australian ecommerce brands after the 2016 election appears to be something like this:
Political Instability + Government Deficit = Chance of Ratings Downgrade
Ratings Downgrade = More expensive borrowing = Higher Mortgage Repayments = Potentially less consumer spending
*Deep breath*
So glad that's over.
(For those of you playing at home – this is a simplistic view. Gorillas aren't known for their macroeconomic prowess.)
What Retail "Goliaths" Must Learn From the "Davids"
Pam Danziger, writing for The Robin Report, has published one of our favourite articles of 2016.
We Gorillas are passionate about helping the little ecommerce upstart startups take on the traditional retail giants with strategic, customer-first marketing programs.
Pam has noticed a trend we want to encourage.
A whole bunch of tenacious ecommerce underdogs are taking the traditional market leaders to task, and stealing the prize right out from underneath their nose.
At the core of this success is one strategic difference:
Customer-focused innovators are beating product-focused traditionalists.
The next two paragraphs from Pam's piece explain the reason why niche eCommerce brands can still take on the established bricks and mortar market leaders and win:
"What's holding the "Goliaths" back in today's retail environment is their long held, but now obsolete, notion that retail is primarily a product business. Their purpose is to offer product and price it right, and their focus remains uniquely on product, product, product.

But today product is not the differentiator. Same product or perfectly good substitutes are available anywhere, anytime, and at any price. What product focus fails to miss is that in-store retail is first and foremost a people business, where the attention must be on connecting with people and satisfying their emotional needs and desires."
We Gorillas have appropriated Pam's lessons for online retail execution.
#1. We need to encourage high levels of customer involvement and interaction – if you can start a conversation with the customer, you can develop a stronger, lasting relationship
Actively encourage user generated content in the form of post purchase reviews and social media shares
Provide a live chat option
Consider a dedicated customer service Twitter channel
Create competitions to incentivise competition from subscribers and followers
#2. Excite consumer curiosity to explore and experience your store
Your online store is now your flagship – you should be prepared to spend on user experience, graphic design, quality product photography and video if possible to surprise and delight your potential customers
Use helpful content and digital technology to turn it into part online research hub, part online shopping entertainment destination
#3. Present a distinctive point of view and express an authentic concept – don't just sell stuff stuff
Tie together all the experiences with your brand store into one consistent experience, telling one consistent story targeting one consistent audience
Make sure your social media, email marketing, checkout process, product packaging and customer service
Convergence extends far beyond a cookie-cutter, homogenised, neutralised shopping environment
Create one big, conceptually driven story based on your brand's values
#4. Carefully construct a pricing strategy based on the fair value at a reasonable price
The likes of Amazon, eBay and Walmart make it clear it's not about how low you can go, but how much value you can offer
Instead of discounting and flash selling, concentrate your efforts on creating the content you need to persuade and convince potential customers your products are worth paying a premium.
Pam has some advice for complacent physical retailers that translates perfectly to transactionally focused ecommerce sites:
"Back in the day when people needed something, they went to the store. But today when people decide to go to the store, they want a shopping experience, not necessarily a buying trip."
Let's distil this advice into one key takeout.
Retail "Goliaths" need to learn from the "Davids" to optimise their shopping experience for their target audience, rather than focusing on their own products.
The one thing to remember when setting up your logistics technology
It's not just David's struggling to wage war against the online retail Goliath.
Retailers across the spectrum are having difficulties managing and optimising their supply chain.
An independent report conducted by Retail Systems Research and comissioned by SPS Commerce has just been released to analyse retail technology providers and reveals likely pitfalls as the sector evolves with changing consumer demand.
The results point to significant challenges shared by retailers, and logistics and fulfilment technology suppliers trying to deliver consistent omnichannel experiences. Paula Rosenblum, the Managing Partner at Retail Systems Research (RSR), explains:
"Omnichannel is about profitably building the next generation of consumer experience, and execution is apparently harder than the ecosystem expected it to be."
The Australian Retail Insight Benchmark study revealed a few critical industry issues:
76% of retailers are confident mobile sales will increase significantly in the next 36 months
82% want innovative delivery options (same-day, store-to-door, returns) this year
Just under half of the retailers have visibility into their supplier warehouse, and just over half have visibility to their store
Just 7% of Australian companies believe that they are 'advanced' when it comes to omnichannel (providing a consistent experience everywhere), and 40% believe they're lagging
The report contains a sage warning for all retailers experimenting with new technologies:
Don't lose sight of the customer experience.
It's so easy to get stuck in the minutiae with logistics technology. You can continually chase more incremental efficiencies at the expense of optimising your customer's shopping experience.
This extract sends a critical message:
"Retailers, suppliers and logistics providers need to move quickly to satisfy a consumer who has a seemingly endless array of choices and not a lot of patience. While everyone is heads-down, particularly in figuring out the supply chain side of the omnichannel equation, no one should lose sight of the consumer."
Invest only in technology that helps you improve your ability to attract, convert and retain customers.
(You can download the full report from SPS Commerce)
How to meet and keep more ecommerce customers with social media
There's a mighty good chance your target customers are Posting, Tweeting, Gramming, Liking, Snapping, Pinning – or doing all six at once.
Social media is now inextricably linked to online shopping.
Platforms like Facebook, Twitter, Pinterest, Instagram and Snapchat now allow online retailers to communicate directly with their target audience.
Unlike paid advertising, social media allows for a two-way interaction – and it costs a whole bunch less too.
We Gorillas work closely with ecommerce marketing pro's every day, and we still haven't come across an online retailer who is not using some form of social media marketing to develop and nurture relationships with potential customers.
So we've put together four helpful social media marketing guides on the most popular retail channels, jam packed full of practical lessons from innovative ecommerce brands turning their followers into loyal repeat customers.
#1. Pinterest Ecommerce Marketing
Your Pinterest posts are survivors. Slow burners. They stick around through thick and thin, surging strongly in the months after your posts, tweets, and grams have fizzled into obscurity.
Time spent promoting Pinterest content pays off in the long term (50 per cent of visits happen after 3.5 months of first Pinning according to a recent Piqora study).
You eCommerce folk know how critical it is to use time wisely.
Pinterest will help you passively build exposure online, using content you've already created. One initial effort can bring you, new customers, for days, weeks, years to come.
There are plenty of amazing eCommerce businesses using the platform in a number of different ways to attract and delight their audience into a pinning frenzy.
We've found the best ten, and dissected their approach to tease out what your ecommerce business can learn from these brands.
#2. Facebook Ecommerce Marketing
How do you get more potential customers to your online store?
For 40 million small businesses, Facebook is a huge part of the answer.
Clearly, Facebook marketing alone will not solve your customer acquisition problems.
But a smart Facebook content program designed to lure followers back to your online store, will help you meet, nurture and retain more customers.
We've rounded up the four key ways to use Facebook marketing for your eCommerce business, and we've included 10 supporting online retail Facebook success stories from brands of all different sizes, industries and budgets.
#3. Twitter Ecommerce Marketing
We've trawled through the Twittersphere to find the best eCommerce success stories, and we've dissected each brand's approach to help you learn how to generate real business results with the platform.
Some, are just using the platform to entertain their audience.
For others, they're using Twitter to stay in touch with their nearest and dearest.
Another fascinating collection of eCommerce brands are just using the platform to have a laugh, and earn some brand brownie points along the way.
Twitter could work for you too, as long as you can find and help your customers there.
If you just use Twitter because you can, as a mindless marketing afterthought – you might do more harm than good.
Find out how your target audience uses Twitter, and play into the rules of their community.
#4. Instagram Ecommerce Marketing
Instagram changed the game.
The rules are a little different for Facebook's trendy little bro.
Instagram isn't a place to post links to your website.
It's not a place to sell your products.
And it sure as hell isn't the place for long-winded blog posts.
It is the place to share the power of your image.
Whether your story is about fulfilling lifelong dreams, making a fashion statement or flaunting your last amazing meal – eCommerce marketers can tap into Instagram using images to resonate with and grow their audience. Heck – everyone else is…
We explain how to use Instagram to supplement a strategic content marketing program and grow your business, with the help of successful examples from 10 different eCommerce Instagram marketing innovators.
A bonus from outside the jungle – The crazy world of Snapchat influencer marketing
Snapchat is to 2016 what Facebook was to 'the cool kids' a decade ago. It's the new social media tune the youngsters are dancing to.
If your brand is targeting millennials (otherwise endearingly tagged as 'snake people'), there's a red hot chance you're interested in understanding the Snapchat platform. If the current rate of growth continues for some time – any and every forward-thinking marketing pro will want to educate themselves in a social media platform with over 310 million active users.
Max Chafkin, writing for Bloomberg Businessweek recently published a fascinating behind-the-scenes story exploring the whimsical world of Snapchat influencer marketing.
While Snapchat's popularity soars, and users flock to the platform – it's inevitable that brands will follow the crowd.
Where there are millions of users, millions of dollars to be made, and a burgeoning new media industry is carving out a new ecosystem to help brands find new ways to target niche audiences.
At the moment – it's a virtual wild west full of opportunistic entertainers and would-be entrepreneurs. At the heart of this movement is the concept of influencer marketing, and Max's storey provides incredible insight into the potential future of retail marketing.
The title says it all (the web 1.0 hero graphic is similarly illustrative), and I promise it will all make sense after reading:
Your Monthly Amazon Update
Amazon Is Quietly Eliminating List Prices
This month's Amazon watch comes to us from The New Yorker's David Streitfeld and an intriguing article that show us even Amazon is a victim of its incessant discounting.
The ruthless eCommerce powerhouse has used its unmatchable scale to jam down prices and relentlessly gobble revenue from hapless online competitors.
'List pricing' is consumer psychology 101. The tactic plays on the customer's quest for a bargain. If we can wrangle a discount on a product we want – we think we've nailed down a good deal.
Online shopping has only served to encourage the customer's quest for a deal.
Search engines, flash sale sites and transactional email marketing crammed full of coupon codes and 'exclusive' discounts have conditioned the customer to wait for a bargain.
Bonnie Patten, executive director of consumer info site, TruthInAdvertising.org, explains a barrier that stands in between thousands of online retailers and the prospects of sustainable ecommerce profitability in David's New York Times article:
"We've been conditioned to buy only when things are on sale. As a result, what many retailers have done is make sure everything is always on sale. Which means nothing is ever on sale."
The world's largest online retailer has built a global business in no small part due to their crafty use of list pricing.
But now, Amazon is trying to rid its online store of its classic marked-down labels.
It seems Jeff Bezos and co. are finally trying to cash in their hard-earned loyalty points and convince their customers to pay full price.
"Amazon has always focused on driving revenue while disregarding profits. That had many implications: It was driven to try new things; it could undercut any competitor who focused on price; it could literally buy customer loyalty."
Larry Compeau, a Clarkson University professor of consumer studies, tells the New York Times that Amazon finally believes they've earned enough trust from loyal customers to make sales without discounts:
"In Amazon's third decade, with its complete domination of the e-commerce landscape, there are signs it is beginning to emphasize the value each customer brings.

When Amazon began 21 years ago, the strategy was to lose on every sale but make it up on volume. It was building for the future, and the future has arrived.

Amazon doesn't have to seduce customers with a deal because they're going to buy anyway."
The Moral to this month's Amazon story
Discount at your peril.
The sale you make today could affect the business you bankrupt tomorrow.
If you start setting an expectation of regular deals and discounts, customers will develop a habit of waiting for the list price to be slashed.
Amazon – the giants of ecommerce – are trying to work out which products customers will still buy at the original listed price. These guys can afford to gradually change their customer's habits. But it's taken them 20 years to try.
If you start regular discounting, you need to find a way to convince your repeat customers to come back and buy at full price. Otherwise, you're destined to fight a never-ending low price battle to the bottom.
Sustainable ecommerce success is easiest when you can convince customers it's worth paying a premium for your products.
Your brand matters. Compete on value. Don't compete on price.
Online Retail Short Takes
All the most important ecommerce news, insights and advice from around the online jungle blogosphere last month
Mary Meeker on retail, mobile and social – Summary by Kelly Slessor for Inside Retail
Wayfair launches an augmented reality app – April Berthene for Mobile Strategies 360
And a special shout out for the incredibly detailed, outrageously helpful, and expertly explained guide to growing an email list, published by Everett Sizemore last month:
Your Ecommerce Podcast of the Month
How does that Brown Box you order on the Internet show up 3 hours later? – Mac McClelland for Radiolab
Amazon has come a long way in 20 years. So has the speed of eCommerce delivery. The obligatory one week wait has turned into a never-ending thirst for more convenience.
Next-day delivery is table stakes in domestic apparel eCommerce, and the competitive advantage of same-day delivery is already being swallowed by three-hour delivery.
The curious Radiolabbers stopped to consider this online retail phenomenon way back in 2014.
The question they asked is the same one many ecommerce managers must want to ask Jeff Bezos and his *team of Amazon fulfilment wizards (*I wish there was a collective noun):
How Amazon? How do you manage this secret speed-of-light delivery sorcery?
Radiolab's initial guesses were proven incorrect, but the teaser is on the money…
"How is this Internet voodoo possible? A fleet of robots? Vacuum tubes? Teleportation? Hardly…

Mac travels into the belly of the beast that is the Internet retail system, and what she finds takes her breath away and makes her weak in the knees (in the worst way)."
Mac takes an undercover job as a 'warehouse runner' for an eCommerce warehouse. She tells the story of a week in the life of these runners, who are pushed to their physical limits to find and dispatch your product.
It's hard for retailers to force planes, ships or trucks to go faster. We have laws against that.
So the Amazons of the world are searching for any and every way to get more juice from their warehouse efficiency squeeze.
Radiolab's story finds the lighter side of this maddening delivery mayhem, but the 2014 story served as an eerie precursor to a damning article published by the Huffington Post's investigative spin-off, Highline. Dave Jameison's story, titled "The Life and Death of an Amazon Warehouse Temp – What the future of low-wage work really looks like", explores the death of Jeff Lockhart Jr – who worked as a picker at an Amazon contractor warehouse.
In a Book Riot article titled "The Amazon Warehouse Problem", Kit Steinkellner perfectly explains the moral to this podcast episode's story:
"Not ONCE in my time using Amazon have I thought about WHERE my books come from. I've only ever been grateful for the convenience. I haven't thought about WHY it's convenient. And I'm embarrassed about that. I let myself be comfortable in my own ignorance. There are so many questions I ask about where my food comes from, my gasoline, even my makeup, it's strange that I never thought to think about where my books come from or how they get to me so fast."
This episode is important listening, as is Daves Highline article.
Even if your ecommerce store has no direct relationship with a manufacturing or delivery warehouse – you are still sending your products to the homes of your customers. You have a responsibility to understand how that happens, and to be a part of the positive evolution of this industry.
An Ecommerce Challenge in Africa: Selling to People Who Aren't Online
Less than one-third of all Africans have the internet connectivity needed to make a purchase from an ecommerce store.
But Africa's population sits around 1.1 billion.
I'm no mathematician, but one-third of a billion is a whole lot of potential online customers.
And as internet services continue to improve, eCommerce investors are clamouring over the possibilities of profit from the rivers of an African Amazon.
McKinsey predicts that by 2025 Africans could be buying seventy-five billion dollars worth of goods and services online annually.
Ecommerce brands looking for untapped growth opportunities must have visions of an unspoilt profit-laden paradise.
"The opportunity is driven by a large structural gap between supply and demand. You see this on the ground in Nigeria, where there are millions of people with growing discretionary income, but few formal retail stores per capita. You also see it at global airports, where Africans are lined up with heavy luggage, full of products they cannot easily find back home."
But at least for now, the desert of African retail competition brings with it a scary mirage.
The New Yorker profiles Africa's best-funded eCommerce startup Jumia – exploring the unique journey the company has taken along the way.
Jumia's CEO, Sacha Poignonnec explains the fundamental reason why ecommerce in Africa is such a challenge:
"In the U.S., e-commerce is slowly changing centuries of old shopping habits. Here it is creating the habits. People are making their first big buys, like smartphones, and first online purchases simultaneously."
Simply – ecommerce in Africa has to be different.
The internet taught Westerners how to buy online.
We evolved and morphed offline retail.
The US, UK, Europe and even Asia, render no accurate comparison to the unique challenges African online retailers face:
"Because many neighborhoods in African cities don't have numbered address grids, drivers might ask customers to direct them to their residences by mobile phone. Most Jumia customers also pay cash on delivery, which means drivers are responsible for handling and keeping safe much of the company's cash. Jumia also accommodates orders from unstable areas, including Boko Haram-controlled parts of the northeast, building a premium into the prices and requiring payment in advance, then striking deals with outside delivery services."
Africans are starting fresh. There are few established retail habits, expectations or norms.
This is no incremental change. There is no gradual evolution.
That sounds like the perfect environment for incredible eCommerce innovation.
We can't wait to see what happens next.
Remember to subscribe to our new weekly package of ecommerce learning
One email gift packed with a collection of fresh eCommerce treats.
Delivered to your inbox door, just waiting for you to unwrap and enjoy.
Inside, you'll find:
An innovative online retail brand to watch, and influential digital marketing pro to follow on social media
Three of the best ecommerce-related articles from the rest of the online jungle
Catch up on last week's edition to see what you're missing out on.
Keep your online retail knowledge on point, and subscribe right now.