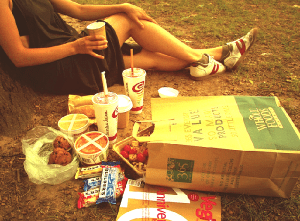 Wholefoods serve up some mouth-watering ecommerce content marketing.
Pull up a seat at the table.
We'll break some organic, preservative free, twice-baked rye bread with you and share Wholefoods' secret online marketing ingredients.
Anyone good enough to carve out a profitable niche in the cut throat supermarket industry deserves your attention.
Ecommerce may not be Wholefoods' bread and butter, but their irresistible content marketing strategy gives them a podium finish on our favourite case study list.
Similarly, this article's introduction deserves a podium finish in the quest to squeeze the most cooking related puns (8. Count em. 8!) into two paragraphs.
Enough food clichés. We'll show you what Wholefoods does to "satisfy, delight and nourish our customers" and teach you how to mould this to your ecommerce strategy.
As always we gorillas strive for better than the best, so we've even thrown together a few extra ideas to take your content to the top of the online marketing tree.
Knowing Your Audience Isn't enough
You Have To Make Sure You Mean Something To Them
Wholefoods are right across KYA. They can't compete with the Walmart/Costco/Tesco/Woolworths corporate monoliths of the world. They can't be all things to all people.
So they found a niche. And they learnt everything there is to know about it.
It's one thing to understand your market's needs and wants. Wholefoods understands their audience's values, what their audience believes in. This is where the magic happens.
Wholefoods target folks who believe in a sustainable lifestyle. It's not just about people who buy organic food. It's about people who care about the environment. People who want to live healthy lifestyles.

Every piece of Wholefoods content is designed to help to educate people on how to 'eat sustainable'. If you share Wholefoods' belief, shopping at Walmart would be like cheating on your partner. You would be challenging your own core principles.
This is how your customers can become passionate tribal evangelists. If you truly live and breathe your brand's meaning you develop trust from your niche. Suddenly your loyal fans are prepared to pay $1 more for their bunch of bananas each week.
No, your brand doesn't have to live out a righteous moral crusade. You just need to believe in something your customer feels strongly enough to protest for with their wallet. Warby Parker believes designer prescription eyewear shouldn't cost as much as an iPad.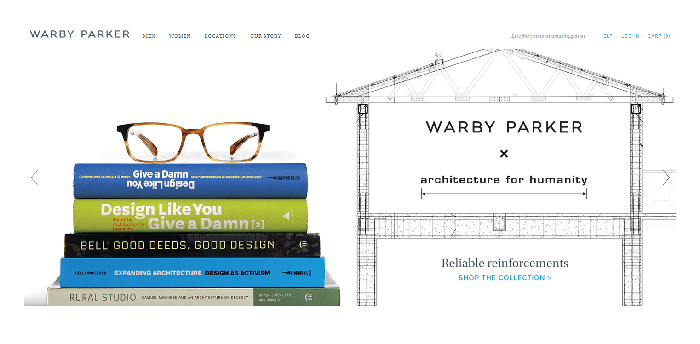 Your belief could be just that simple.
Make it meaningful to your audience. Talk about it. Write about it. Tweet about it. Blog about it. Sing about it (careful with this one). Live it.
How Can You Do This?
Create a content marketing mission statement. Document why your content exists and what it needs to say to your audience. Use it to guide the creation of every piece of content in your organisation. For a detailed how-to and some premium examples, Content Marketing Institute does it best. The Master of content marketing, Joe Pulizzi sums it up
"it's not about what you sell, it's about what you stand for".
Your Website Is Not Just For People Looking To Buy
Sure, potential customers want product information before they buy. Pricing, shipping, product images; us ecommerce folk know how important these factors are for a shopper deciding on a purchase.
A website that meets the needs of your entire target audience does so much more. Wholefoods gets it. The homepage has a super mix of content aimed at helping people at every stage of the buyer's journey.

Image Courtesy B2B Knowledge
The Wholefoods blog shares sustainable food tips, recipes, resources and stories from prominent industry bloggers.
Imagine you've never heard of Wholefoods. You care about sustainability and you are growing a new garden. You Google 'sustainable cultured garden'. You might just find this Wholefoods post by Cecilia Nasti, the host of a public radio show on parks and wildlife.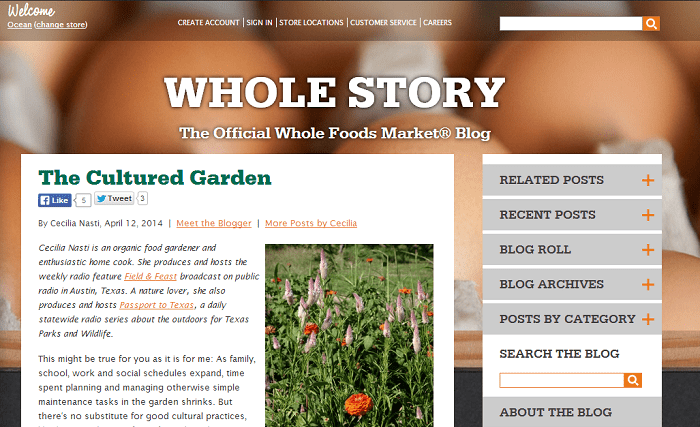 With your interest piqued, you read the article on the Wholefoods site. You want to find more great sustainability info.
Wholefoods helps the unaware browser understand what the brand is about. Helpful recipes, educational healthy eating resources and captivating blog stories make it clear that Wholefoods is different. If you like to eat healthy and you care about sustainable food, you're even more interested.
Next, you want some proof in the pudding. Wholefoods has detailed product info to gain your trust and walk the talk. Apart from your standard technical info, Wholefoods goes a step further to meet the needs of this interested buyer-to-be.
– Guides to help you avoid Genetically Modified Foods when you shop
– Wholefoods own quality standards above industry guidelines
– Info hubs on organic farming, sustainable seafood and animal welfare
– You can even watch a video tour of a Wholefoods supplier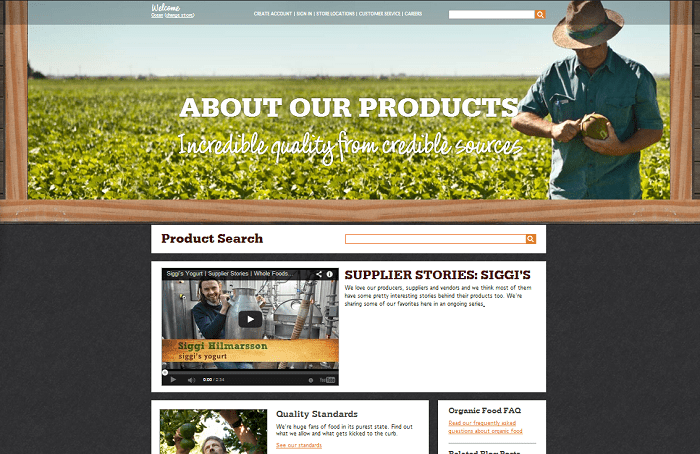 All this consideration focussed content is readily available on the Wholefoods homepage. We haven't even started gushing about the digital magazine yet…
Wholefoods also slides in some sales based, decision making information.
Ingredients lists, prompts to shop the store, special feature products, sale items, shopping lists and meal planners are all easy to find on the homepage. Somehow they're not slapping you in the face with a brazen discount sticker.
Flickr Image Courtesy Walmart
Why? There is a value exchange. You share Wholefoods belief. You enjoyed some interesting free content. You learnt some helpful information. You can see that Wholefoods genuinely care about what you care about. You trust them. So you want to buy their stuff.
Remember when we talked about magic happening. This is it. Cue content marketing induced applause.
How can you do this?
It's hard, and it takes time. But, when you work it out you have yourself a sustainable marketing plan.
Map out your buyer's decision process. Write down every stage. Sketch a flow chart of the journey you want your customer to take. Split up the journey into 4 or 5 key chunks. Work out where your current content helps. Fill the gaps with new content (caution – we just put months' worth of work into one simple paragraph).
Think Like A Publisher
Dark Rye Magazine – Enough Said. If you don't know it, get acquainted. Prepare to be captivated (and schooled).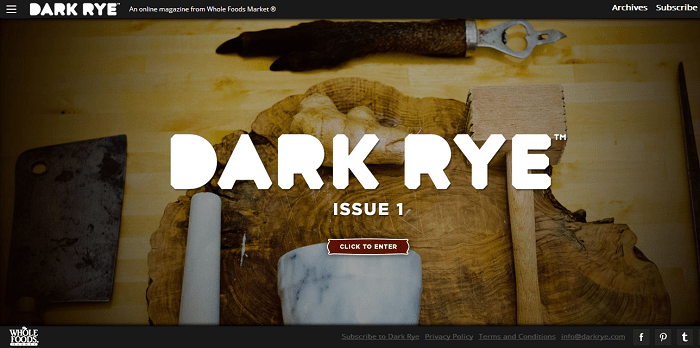 Wholefoods' publishing platform mentality ensures their online content is more magazine than sales catalogue. The primary aim to educate, entertain and inform allows Wholefoods to create a hub for its audience. Customers have a reason to return regularly. The value Wholefoods continually offers its readers develops one time purchasers into loyal customers, then into tribal evangelists.
Dark Rye is content marketing royalty, enough to bring a tear to a gorilla's eye. The breathtaking ezine shares stories about sustainability from collaborating influencers that resonate with Wholefoods' target audience. Dark Rye:
"seeks out architects, mixologists, brewers, engineers, musicians, sommeliers, landscape designers, painters, writers, furniture-makers, wild harvesters and locavores (to name a few), each relishing the tasty parts of life and offering them up for others to share. From dirty hands to wide-open eyes, there's something in everyone here that inspires us."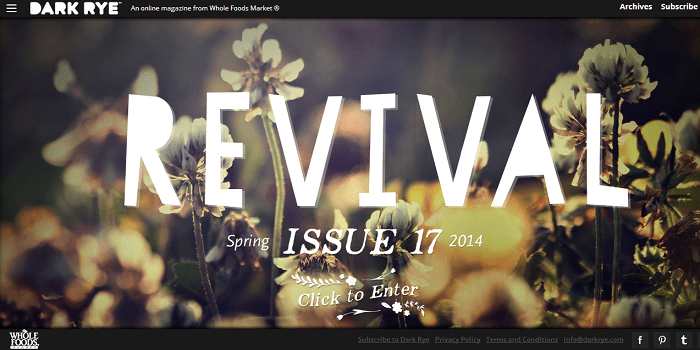 Wholefoods use influencers outside of the food industry because they know their audience is interested in sustainability. It's not just about food. It's not even clearly branded. To build a loyal community, other information is required.
Dark Rye gives Wholefoods' audience a publication about their lifestyle. Thought leaders from other areas add authenticity and authority to Wholefoods' sustainability message. Wholefoods use these collaborative stories to access the influencer's established audience to find new potential customers that share the same belief in sustainability.
DJ Spooky, featured in Dark Rye Edition 18 is a hip hop artist with an anthropologist background that creates music entirely out of natural sounds. This has nothing to do with food. It does have to do with a shared belief in sustainability.
DJ Spooky has over 8000 Twitter fans and 14000 Facebook followers. Chances are they care about sustainability. Chances are they buy food. Chances are DJ Spooky shares his Dark Rye feature with 20000 new potential Wholefoods customers.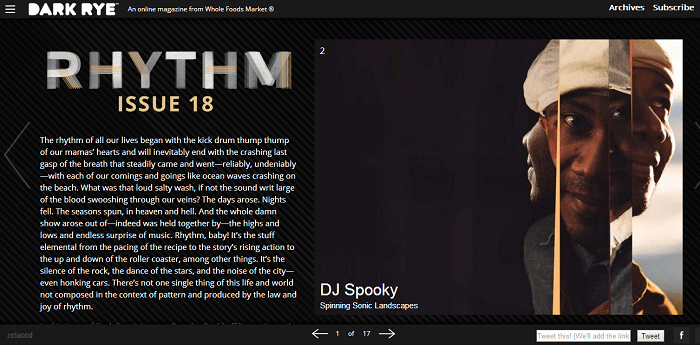 If these new fans like the mag, they will subscribe by email. Suddenly Wholefoods have a chance to regularly communicate with a whole chunk of potential new customers who share a love of hip hop music and a belief in sustainability.
Wholefoods don't just rely on influencers and collaborators to share their Dark Rye stories. Their gushworthy Dark Rye Tumblr shares a visual mixtape of teasers to light the social media fireplace. Their target audience are fiendish sharers of deliciously quality imagery, so platforms like Instagram and Pinterest are a breeding ground for new Dark Rye fans. The use of video content in Dark Rye stories similarly encourages sharability, increasing Wholefoods' ability to attract new potential customers from social media channels.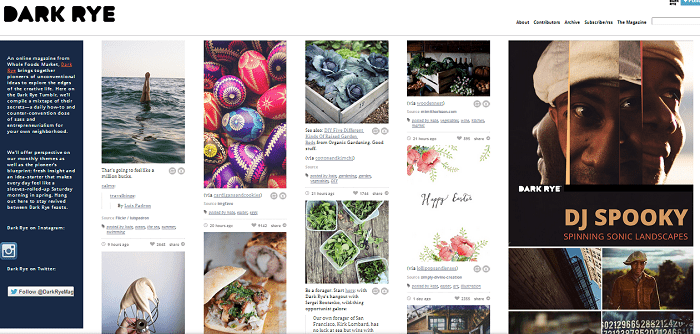 How Can You Do This?
Find collaborators and influencers with the same belief as your brand and your audience. Find their stories that interest your target audience. Tell them!
Okay it's not quite that simple. A good way to start is to make sure your collaborator or customer is the hero. Make your message and your shared belief the star, then walk your brand (and your product!) right out of the way.
Remember, we're trying to bring in new potential customers that share a belief, not an interest in your product. Interest, engage and entertain. You can explain where your product fits in later.
Check out Wholefoods' "Le Kale Project" story from Dark Rye Episode 17. Above all, the human story resonates. Sure, the message of sustainable food production is worked in to ensure Wholefoods are resonating with the right people, but the focus is on telling a cracking good story. Think like a publisher!
Le Kale Project from Dark Rye on Vimeo.
So what can you learn from Wholefoods?
How to live the healthy life of course.
For starters, just knowing your audience isn't enough. You have to mean something to them. If you don't have a passionately shared belief, it's hard to build a community of loyal customers.
Find your story and create a content marketing mission statement to make sure every piece of content you create is "not about what you sell, it's about what you stand for."
Remember that your website is not just for people looking to buy. You need to understand the process your target customer goes through from Discovery, to Consideration, to Purchase. Map out your buyer's decision process and sketch a flow chart of the journey you want them to take.
Make sure you have specific content aimed to pull your customer-to-be through to each stage of the process. If not, fill the gaps.
Wholefoods build their community of loyal customers with a publishing mentality. People subscribe to magazines, waiting with excitement for each coming edition. Your content marketing needs to have the same effect.
If you continually educate, inform and entertain your niche, you can build a profitable community of loyal customers.
You can build your own niche ecommerce community around the core belief that you share with your customers. It's not hard, but it does take time.
Get started on your content marketing strategy so that you can create and promote consistently awe-inspiring content for your niche community.
Your audience will thank you for it.
So will your bank balance.