It's Christmas Shopping Season…
Cue inevitable mayhem.
We online folk don't have the crowds, the parking, the late closing hours, or the seemingly unstoppable Christmas carol loop.
But we sure do have the website failures, the shipping catastrophes, the inventory debacles and the payment system malfunctions.
It's an anxiety-inducing, nerve-riddled, stress-infested time for any ecommerce pro…The first three weeks of December probably looks a little like this in your office;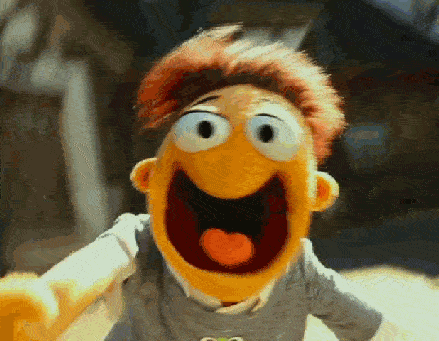 Deep breaths though. Let's not forget Christmas is the greatest time of the year.
In life. And in online retail.
It's probably your busiest time of the year. Which is challenging. But also nice.
To you, December probably means more sales, more revenue, and more profit.
But we'd like you to be thinking about the opportunity you have to develop a whole bunch more lifelong relationships.
Christmas isn't just one great big annual festival of the sale.
It's the season of giving, the time of sharing, the one month of the year when we tell the people that matter how much they mean to us.
Your brand has some loved ones. You know them as customers.
Don't think about the sales. Think about the chance to meet, greet and keep a bunch of new loyal, repeat loved ones.
The helpfulness comes first.
The sale come later. Repeatedly.
Our Special Christmas Shopping Experience Roundup
Usually our Monthly Bundle of Ecommerce Learning is a collection of the most important information and insights of the online marketing month.
But let's face it, all you have time for in December is the impending Christmas shopping onslaught you have to deal with. So we should help you with that instead.
This December, we're diverting from tradition, and changing our format.
We're still bringing you the best of the bunch from around the online retail jungle – and we'll still give you the sustenance you need to stay ahead of those chasing predators.
The Gorilla tribe has been busy sleuthing around the web to find online retail's best Christmas shopping experiences to help inspire you and your team.
In this month's ecommerce roundup, we've got a festive feast of brand examples and innovative ecommerce Christmas marketing ideas you can use to improve your customer's shopping experience before the December Delivery D-Day.
Read on, share with your team, and start thinking customer-first this Christmas.
Baublebar
The Idea: develop a 'Stocking Stuffers' landing page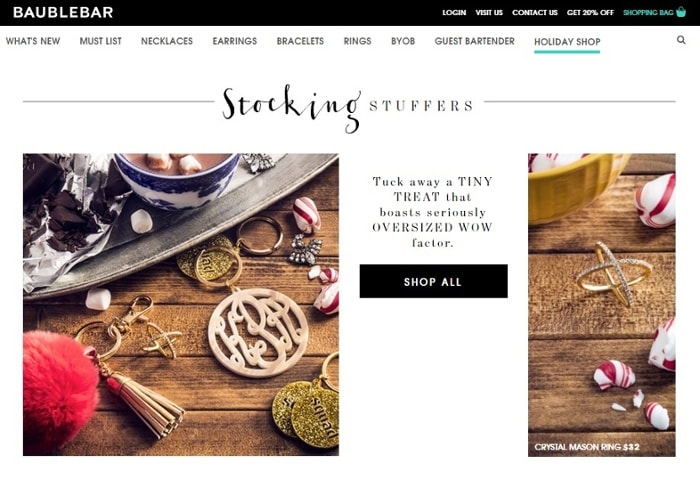 This one's a low-effort-high-reward special.
Baublebar (along with many other this Christmas) have curated a bunch of small sized, small priced items into one convenient gift shop page.
Time-poor online shoppers want you to do as much of their work as possible. If you make things easy, these folks will be so grateful for your helpfulness.
The 'Stocking Filler' concept gives you the chance to make a bunch of quick, no-hassle sales.
Low prices mean low commitment required from the browsing shopper – they need less assurity to make the buy. But if you can impress the buyer (or the gift recipient) after purchase, you can turn your new subscriber into a customer for life.
One $10 stocking filler sale could turn into a loyal brand fan with a Customer Lifetime Value in the thousands.
Less than a days worth of work will be required to set up a simple curated gift shop landing page and a nice visual call-to-action graphic for your homepage.
The Idea:

boxed and virtual gift cards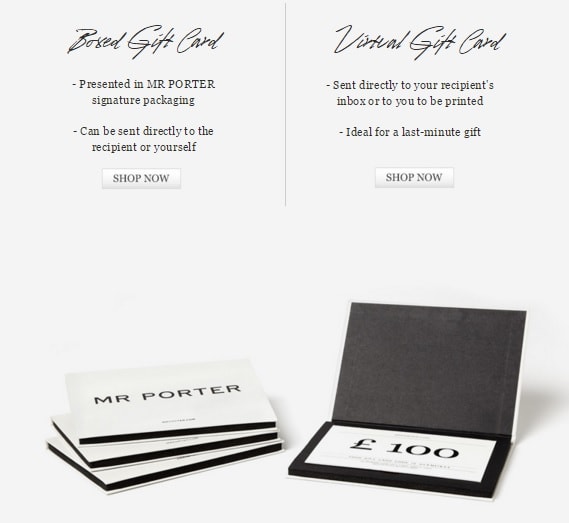 Gift cards are a given for most online retailers. If you don't have this option for your customers – arrange it now, please.
Mr Porter have found a way to make this offering even more customer friendly.
Offer boxed, physical gift cards and virtual, emailable gift cards.
Why hadn't we all thought of this years ago?
We've all been there.
Last minute, mere moments before Christmas, panic sets in. You've forgotten/neglected an important loved one's purchase. You enter emergency online shopping mode, only to realise anything your order is no chance of arriving before Christmas.
What's the answer to this all-too-common Christmas riddle?
GIFT CARD!
Of course.
Like Mr Porter, give your last minute shoppers a last minute option.
A beautiful, well-designed and customisable virtual gift card is the perfect solution to this customer's problem. The customer can email it to the recipient, or print it out to wrap it to make a real, tangible gift to be placed under the tree.
The physical gift card is also a great option. If your customer is organised in advance, a nicely presented gift box turns a simple gift into an exciting surprise for the recipient.
You can please two different types of customers with a minimum amount of effort.
(You can learn a lot from the UK high fashion ecommerce megapowers, Mr Porter and Net-a-Porter. Their Christmas marketing is expectedly first class – underlined by this video created to explain and promote their gift giving services. It's a beautifully produced piece that reaches out and forces you to buy your Christmas gifts from them.)
The Idea: popular/trending products feature
Social proof is the most powerful form of influence on your customers. We humans have a strange cognitive bias to assign more significance to the opinions of others above statistics and reason.
So even if your products or services are factually proven to be the best option – your customers might still side with another retailer in order to stick with the herd.
Wherever possible, provide assurance to your online shoppers. Make it clear they are not alone. Buying your stuff should not be a risk.
A popular/trending/hottest products filter has two critical benefits.
1. The feature implies a whole bunch of people are buying your product, so a customer new to your brand is more confident in a potential purchase
2. You're giving a 'clean slate' shopper direction – if someone doesn't quite know what to buy within your ballpark, this option provides a trustworthy starting point
Look for an automated solution, or a plugin for your content management system.
At the very least, manually curate your 10 best selling products over the past year and create a dedicated page for your "Trending" selection this Christmas.
Booktopia has taken the customer helpfulness one step further, allowing visitors to filter popular products collections by category.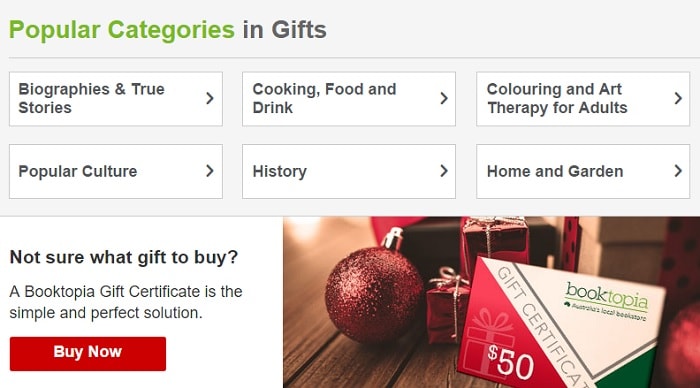 The Idea: Christmas specific product images
If you're not familiar with Chubbies, and you work in ecommerce – you need to be.
Subscribe to their email updates right now.

Prepare to marvel at their online marketing wizardry. Also prepare to belly laugh.
These guys dominate Christmas.
We're concentrating on the online shopping experience in this roundup, but the prize for email marketing is a first round knockout awarded in favour of these stupendous shorts sellers. Here's a sneak peek:

If you want a lesson in the value of a clearly differentiated brand, all you need to do is read the copy on Chubbies' online store. Highlight all that text, paste it into a word doc, and every single Chubbies subscriber would be able to distinguish their work from every other retailer on this earth.
Few brands are capable of this consistency in brand voice. Chubbies genuinely mean something to their audience. If they stopped sending their regular emails – their customers would protest in outrage. How many brand marketing programs elicit this level of passion from their subscribers?
Chubbies make this month's roundup for their Christmas specific product images.
A little effort goes a long way. You don't have to re-shoot your whole range every December. Just set up a couple of festive scenes and sub your gift-worthy items in and out of shot.
Polish up the best frames, and use your Christmas images right across your marketing program – for product pages, email marketing, direct mail (if that's still a thing), social media, and even pay per click advertising.
Chubbies show you how to pour a little brand personality into things with their visual masterpieces…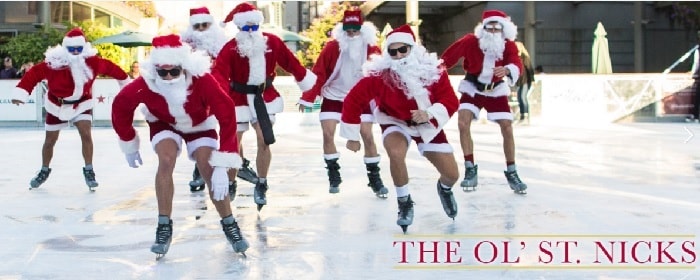 The Idea: prepare a delivery options landing page
Many unorganised (read: male) gift givers leave the whole Christmas present thing to the very last minute.
Be their online Christmas shopping hero!
If you can swoop in on your white horse and save them, there's a good chance you've earned yourself a loyal customer.
Make your delivery D-Day explicitly clear to ease the minds of uncertain customers
Create a delivery options landing page for customers who want more specific information. You can't afford to miss out on a sale because of shipping date anxiety.
You also don't want to find yourself in a situation where customers buy after your Christmas delivery deadline expecting to receive their gifts before the big day. Make things as clear as possible.
David Jones have developed a brilliant delivery options landing page for the December online shopping season. The only element missing is a giant big warning sign with key Christmas delivery deadlines.
It's not too late to create your own. When December 25 comes and goes, you can turn the page generic to provide clarity for gift givers all throughout the year.

The Idea: shoppable gift collections with multiple filter options
A whole stack of forward-thinking online retailers are starting to understand the importance of creating a customer-friendly Christmas shopping experience. The concept of a special 'gift-shop' landing page was relatively new last season, but it seems this idea is catching on.
When you put yourself in your customer's Christmas shopping shoes, you start to realise gift givers want help filtering and personlising their quest for the perfect present.
Many online store's are configured in a vitrual representation of a mail order catalogue format. Stuff is displayed in categories and types of products.
But gift-givers buy for people.
People with personalities, styles, preferences, quirks, traits and loves.
Gift-givers don't always set out to buy a shirt – they set out to buy that special something the recipient will adore.
We need to help our browsing Christmas shopper find that perfect gift, by allowing them to personalise their shopping experience.
Sears have created a genuinely special online shopping destination. Their Christmas landing page is a hub from which gift givers can follow their own spoke, by budget, product type, deomographic, theme, style or interest.
Give your gift-shopper as many personlised browsing paths as possible this December.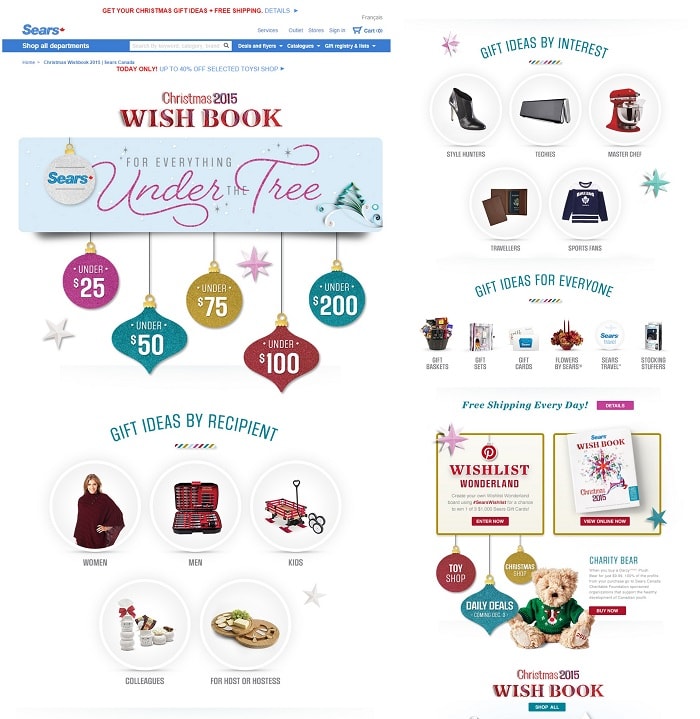 Australian homewares e-retailer, Temple&Webster, deserve a special mention in this category.
Their Christmas Gift Shop is one of the most detailed we've seen.
Five whole tabs of Christmas browsing goodness are split into different themes, and crammed with relevant filtered products and helpful interior decorating advice.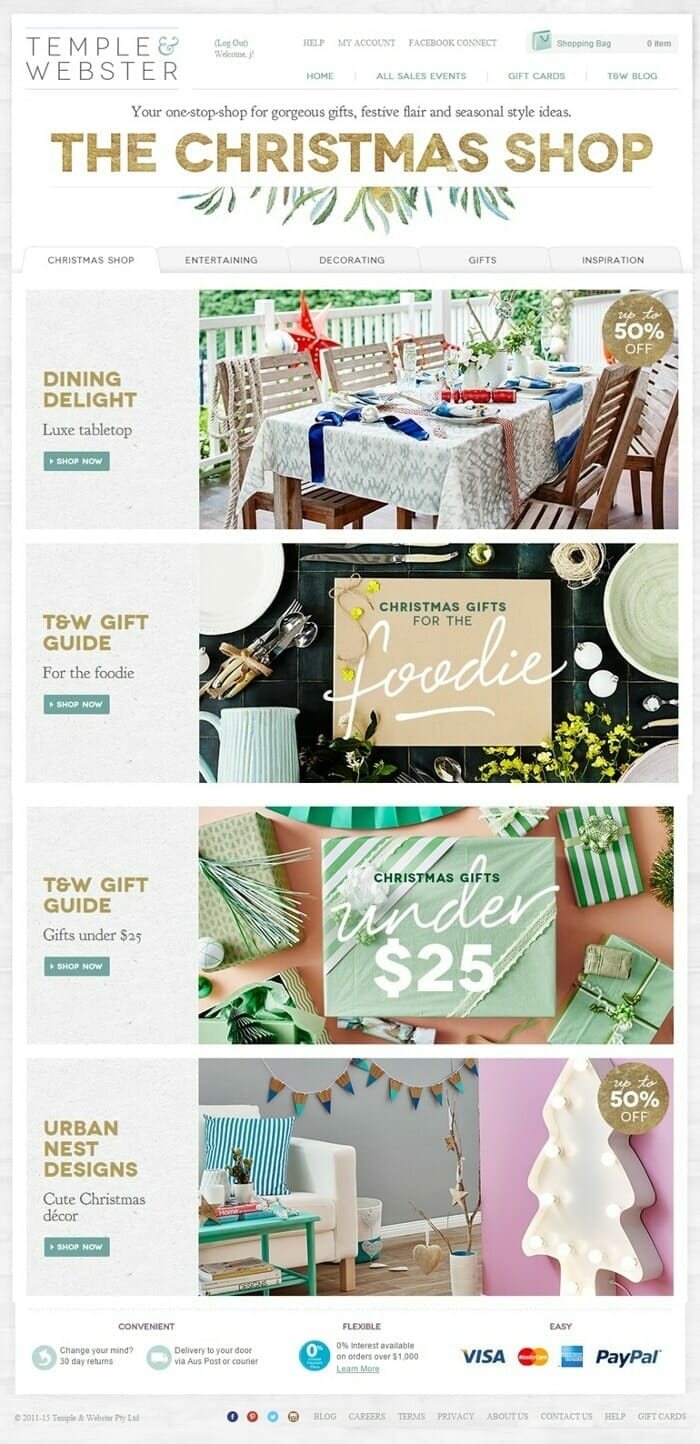 Topshop
The Idea:
curate a personalised theme gift shop
Topshop has honed in on the style differentiator this Christmas.
Instead of splitting their Christmas gift shop by product or category – the default for us retailers – Topshop allow the gift shopper to filter their options based on their loved one's style.
This is customer-first thinking, and it makes complete sense for any fashion retailer.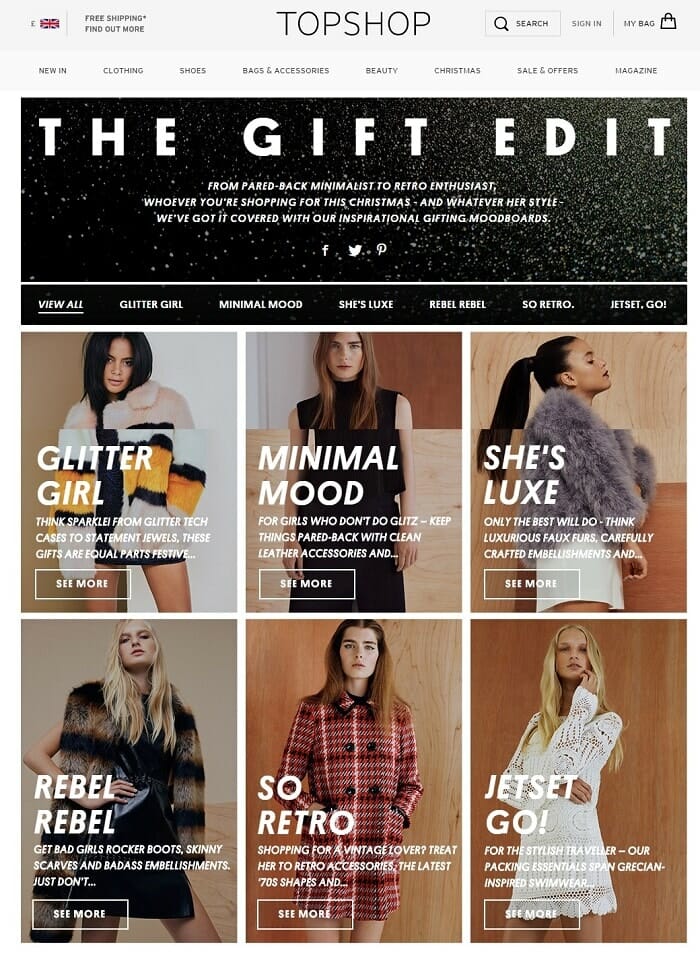 The Idea: create a 'Shop The Look' filter
Big W offer up another helpful online shopping option for the Christmas browser.
The curated theme show room experience works perfectly for visually driven purchases.
The Christmas period is all about entertaining, dining, cooking and decorating. If your brand can help your customers do any of these things, a 'Shop-the-look' option is a must.
You take the visualisation work away from the customer in much the same way IKEA does with it's showrooming process. The interior design is done, the customer is just left to select which piece they need to create their ideal Christmas scene.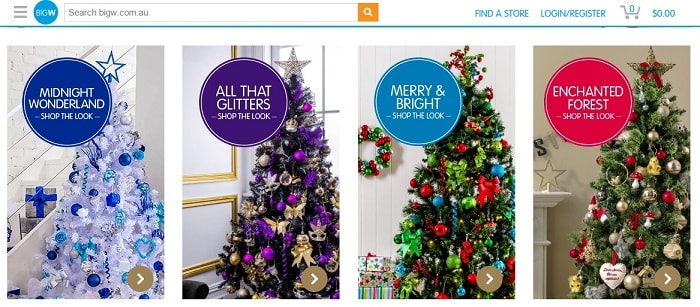 Smith and Caugheys
The Idea: use online convenience to reduce offline pain
New Zealand department store, Smith and Caugheys, are teaching the big end of town how customer friendliness is done.
We've already talked about the convergence of offline and online retail into one big amorphous shopping experience. You can read about the importance of this industry development in our September Learning Bundle.
The crux of this lesson – we retailers need to stop thinking about online and offline channels and start thinking about how one can benefit the other from a customer's perspective.
Online offers convenience, around the clock access, global capacity and the absence of everything that is painful about Christmas mall shopping.
Bricks and mortar shopping allows for personal relationships, real human interaction, a sensory experience and the chance to trial and test before purchase.
Online retail elements can help improve your customer's offline retail experience, and the other way around.
An achingly simple example – allow your shoppers to avoid the excruciating 30 minute wait in line to have you child's phot taken with Santa.
Let people book a time on your website. So easy. So much pain bypassed. So many brand brownie points earned.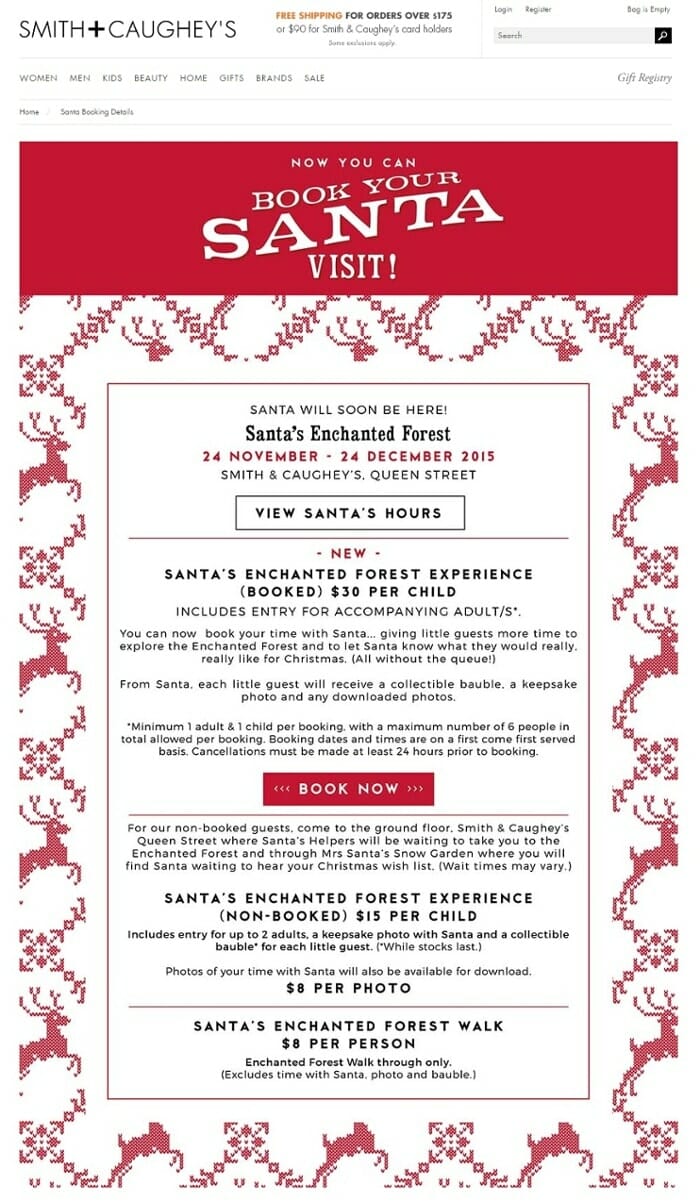 The Idea: share staff video hints and tips
Christmas is a special time of the year. Everyone gets a little kinder. People get emotional.
The stories, the fables, the theatre that surrounds Christmas is filled to the brim with love, warmth and hapiness. The holiday itself is all about showing your loved ones how much you care.
Your brand should treat customers like a friend – not a bank balance. Get cosy with your subscribers and get into the spirit of giving.
A series of blog articles from each member of your team will strengthen the personal connection your subscribers have to your brand.
Share you team's Christmas stories – their favourite Christmas memories, the most amazing gift they've received, any quirky holiday family traditions – and you can tack on some expert tips, ideas and suggestions to help inspire your readers.
You can also interview each employee to profile their favourite product and explain why they think it could be a super gift idea.
Much better to have a present suggestion from a real, nice, personable human, than a shameless plug from a faceless brand.
Bunnings have given this tactic a good crack this season. Tiny little 10+ second video interviews with staff members provide genuine helpfulness for customers. These clips can be used to complement product pages, for repurposing into social media updates, and for subscriber email helpfulness.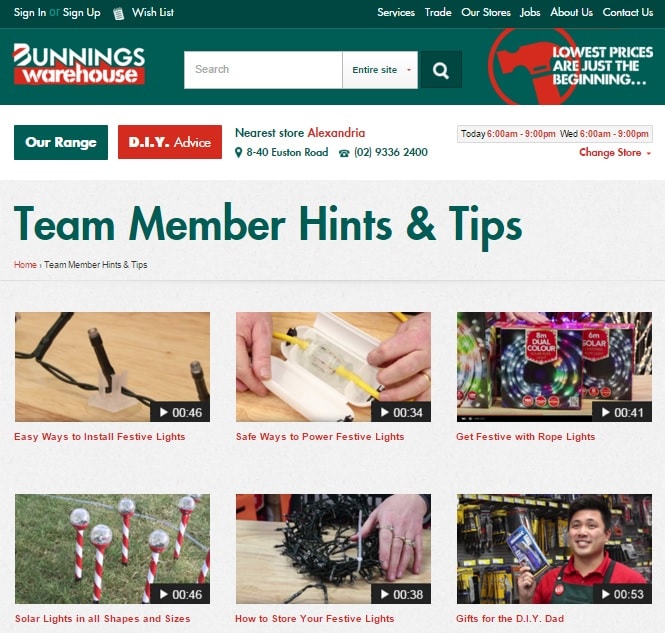 The Idea:

Christmas storytelling is the best kind of marketing

We're prepared to call it.

Macy's won Christmas. Again.

Macy's Believe Program video is visual storytelling of the highest order – the sort of thing Disney would be proud of.

Apart from the stunning creative beauty, this Christmas marketing is straegically supreme.

Macy's are using this incredible video not to sell – but to lure excited viewers back to their own platform to nurture the relationship further.

Macy's Believe landing page is the closest an online retailer can get to a must-visit Christmas destination. It's the internet version of the best Christmas window display of the season.

The online experience is captivating, and Macy's can develop a lasting, meaningful, emotional connection with a whole stack of potential customers.

None of this stuff is about Macy's products.

All of it is about making Christmas a little bit more special. The parades, the Santa letters, the window displays, the Make-a-Wish program – Macy's just want to prove their brand cares.

Trust, loyalty and lifetime brand faith are the deserved reward.

John Lewis have to be a pretty close second.

If you want to spark up those festive feels, grab yourself a big old mug of egg nog and settle in for a right tear-jerker.

Their Christmas story is an annual must-watch for UK Christmas junkies.

In 2014 it was Monty the Penguin.

In 2013 it was The Bear and The Hare.

John and his team know how to do video marketing.

John Lewis tell a story that means something to their audience. Instead of developing a classic retail Christmas promotion full of annoying gratuitous selling, the brand know how important it is to make their potential customers feel something.

Doug Kessler, the customer-friendly-marketing cheerleader (better known as the Co-Founder of Velocity Partners) knows the soft sell clears the most effective path to revenue.

In a recent article, Doug explains how the values-first approach can build more genuine, long term relationships with your potential customers:
"Just as pepperoni pizza is 'part of a healthy diet', a values-led piece plays an important role in your overall content program.
No, it won't drive unsuspecting prospects all the way from a state of innocence to a peak of rabid, frothing demand (what piece will?) — but it can do some important things;
– Let the right prospects know that you're 'their kind of people'
– Get them to relax their Marketing Defense Systems a bit
– Make an emotional impact to add energy to all your rational argument
– Earn shares – people share things that mean something to them
– Remind everyone in the company why you do what you do"

Unfortunately John Lewis' online shopping experience doesn't quite match up to the fever pitch of emotion built up by their video storytelling.
It's a definite pass mark. The 2015 table stakes have been played.
A specialist Christmas gifts landing page is split with graphical Christmas-themed call-to-actions, allowing users to personlise their own gift browsing based on price, theme or demographic features.
Otherwise, John Lewis' online shopping experience is relatively uninspiring so far this Christmas.
In the Christmas storytelling category, there's some nominees worthy of an honorable mention.
All of these guys have developed beautiful Christmas stories to excite and delight their potential customers into shopping, instead of ramming sales messaging into unsuspecting screens…
We're not big into the negative vibes here at The Ecommerce Jungle Gym, expecially not at Christmas time – but it's important to point out what not to do when given the chance to speak to your customers.
Unfortunately, Australian mid-range department stores, Kmart and Target, have taken up discounting battle to the death this Christmas. In strikingly similar ads, both these brands are just shouting at us about their products.
We don't know what Christmas means to these brands. There's no emotional connection to be made, no compelling reason to explore their Christmas shopping experience.
Sure, these guys will make a bunch of one-off sales this Christmas, and these promo's will help increase demand. There's just no way these ads can help develop lifetime customers.
John Lewis and Macy's mean something to their brand's fans. People actually want to watch their Christmas marketing videos.
You need to aim for Christmas marketing your customers thank you for.
That's the perfect lesson to end our final 2015 Roundup.
Your online retail must-read(s) for the month
It's Christmas time, and we Gorillas are the sharing type.
So in the spirit of giving, we've got 5 neatly packaged gifts of ecommerce marketing learning for you to unwrap and enjoy.
Each article will help you improve a different aspect of your Christmas marketing program, but not just in any old slap-dash fashion.
You don't need help blasting out more annoying sales promotions to interrupt thousands of people in the hope a few time-poor shoppers will scoop up a hefty discount.
You need help turning your online store into a must-visit Christmas shopping destination – one to rival any of the bricks and mortar window displays drawing December crowds of awe-inspired onlookers.
All of our advice has one over-arching rule:
Stop thinking about your customer's wallet this Christmas.
Start helping them instead.
Don't focus on sales.
Do whatever you possibly can to turn each new visitor into a customer for life.
Sear those four sentences into the fabric of your ecommerce marketing strategy – loyalty and profit will be waiting there to greet you.
Each of our 5 Christmas marketing article gifts shows you how to attract, convert and retain more customers to make the most of your annual online shopping bonanza.
Gift #1. Online Store Tech
Gift #2. Promotion
Gift #3. Design
Gift #4. Content Marketing
Gift #5. Customer Experience
(If you're busier than the big jolly red man and his merry band of elves – the article gift you can't afford to miss is the fifth and last. There's a bunch of ideas inside you can implement within a couple of days to take you customer's online shopping experience to a new level of helpfulness)
If you want the fifth and last gift from our Christmas Marketing Series delivered straight to your inbox door, you'll have to subscribe to The Jungle Insider's weekly updates. It's due to drop December 10.
And this subscription gift keeps on giving. Ecommerce marketing wisdom once a week, wrapped into one tidy little article package to keep you ahead of the chasing pack.
Of course, you still receive our learning bundle, you just get 3 more articles a month to help you find new ways to delight your online customers (if you missed last month's roundup of the most important ecommerce news, you can catch up now).
The Gorilla Santa isn't quite as fancy as old Saint Nick. We need an address to find your inbox Chimney.
All you need to do is click on that big grey button below and you're in for a learning treat.
In the meantime – enjoy the December online shopping mayhem.
And come December 25, have a merry, stress-free, non-work filled holiday. You'll have earned it!