Chocolates are delicious.
I bet you could gobble one up right now.
Only the lactose intolerant, weight-gain intolerant, or temptation intolerant can resist chomping down one of these when offered…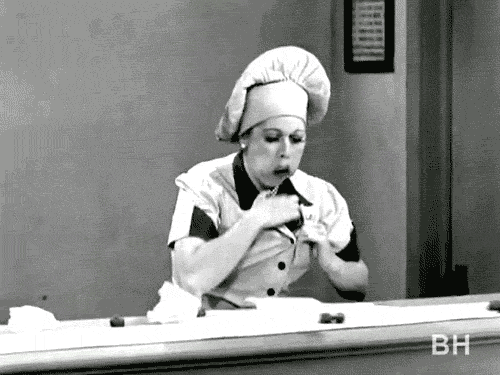 When we see a delicious little chocolatey treat, we're all-in.
But what happens when we're offered more than one little measly grabbable truffle ball?
What happens when we have access to a glorious, gorgeable magic land full of irresistible dessert euphoria???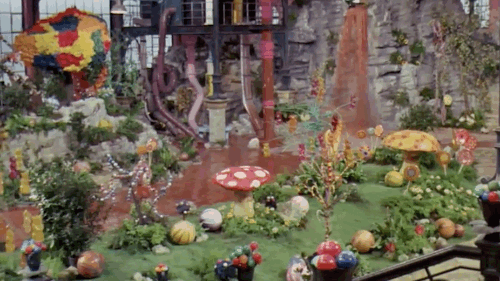 You've seen the movie.
You know what happens when Willy gives you the all clear.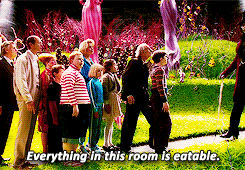 You don't need an instruction manual.
You go get yourself a shovel and start filling every part of your being with the most wonderful things you have even seen in your life.
We are all Augustus Gloop drowning in a literal river of chocolate.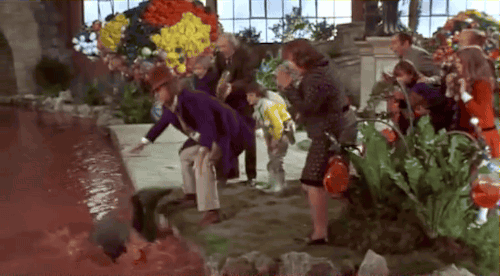 I don't know why anyone judged the poor kid.
I'm right there behind you Augutsus.
You gotta make the most of that golden ticket right?
When you're confronted with an opportunity to experience an incredible array of indulgent delicacy, you go nuts.
Your eyes get too big for your belly.
You apply some duct tape to silence the voice of your digestive system, and give your appetite a megaphone – then you gorge and gorge and gorge until you plunge into a chocolate-induced stupor of stomach pains and sugar headaches.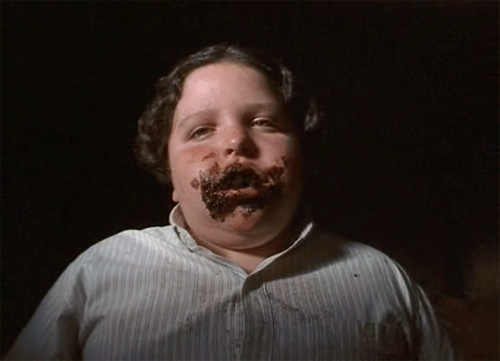 I hear you, Bruce Bogtrotter.
All of a sudden that one chocolate truffle might as well be a dry water cracker.
The tantalising little morsel of temptation that once captivated your tastebuds fades into utter insignificance in a wonderful Willy Wonka chocolate factory full of other infinite possibilities.
What does all of this talk of chocolate feasting have to do with ecommerce holiday promotions?
Stick with me, I'm about to explain…
Why your online store holiday discount is like a lone truffle ball in a gigantic chocolate factory
Online shopping discounts are just like chocolates for your customers.
A 20% discount – it's a delicious treat.
Even the most high-minded customer will gobble that bargain up with glee.
Problem is, the 50th discount is just like the 50th chocolate.
You know you should still appreciate it, but it just gets lost in a giant sea of endless possibilities.
Come Black Friday right through to Cyber Monday, your ecommerce customers are Augustus Glooping their way through a river of indulgent, irresistible, unbelievable discounts.
Everyone is peddling a crazy discount.
On another day, these deals would be jaw-droppingly remarkable.
Not on Black Friday or Cyber Monday.
There's always some chump ready to go lower than you.
10 alternatives to discounting you need to consider this holiday season
Thanksgiving signals the start of the holiday shopping season.
It also signals the start of the four-day discounting season.
Your customer's inbox turns into a gigantic Whitman's Sampler box full of X% off deals, bargains and sales promotions. If you plan to make your brand stand out in an email Wonka factory full of delicious silly season discountery – you might have to consider an alternative approach.
Instead of offering another chocolate truffle ball, we recommend you serve up a healthier alternative.
So we've pulled together 10 different holiday marketing ideas you can use over the Black Friday – Cyber Monday period to maximise your revenue and stand out in the online shopping silly season.
It might not seem like the right thing to do, but the long term benefits are much better for both parties involved…
Short On Time? Your Skim-Read Summary:
Too busy to read the whole thing? We get it: logistics, synergies, KPI's – all that stuff. Here's the skim read version. You really should read the whole article though…
You can click on the dot point that takes your fancy and head straight to the relevant section.
Offer a freebie instead of a discount

If you are going wade in and dip your toes into the tsunami of Cyber Monday deals – find some profitable alternative that won't de-value your products, or cripple your margins.
Soma shows you a simple solution.
Just offer a freebie.
Shelve the 30% discount. You won't stand out amongst the insane 80% off ecommerce nihilism some competiting brands will stoop to.
Instead, offer an additional limited-time product to incentivise a full-price purchase.
You're not rewarding bargain hunting. You're just offering up a treat to boost your revenue that still retains your profit margin.
Create Christmas gift bundles

This is your classic 2 for 1 scenario.
Buy one, get one free.
Spend a whole bunch of cash on full price items and we'll reward you for your custom with a nice little freebie.
Discounting cheapens your brand and your product. You're telling your customer that you can afford to sell the item at a lower price. The value of the product decreases in your customer's eyes.
Patrick Campbell from Pricing Intelligently has a message for compulsive discounters, and it's about as subtle as an armoured tank:
"Blindly discounting is one of the worst things you can do, because you're conditioning your customer into de-valuing your product, and you're literally throwing money away by putting it back on the table from the initial and future sales with that customer"
In a recent article titled "The radical retail pricing strategy to save your ecommerce profit margins", we Gorillas outlined four ways that discounting can slowly kill your online store's brand:
#1. You're showing a lack of confidence in your brand
#2. You're setting a bad precedent
#3. Your customers have a lower perceived value of your products
#4. You're losing the trust and respect of your customers
To those dirty discounters reading this article – I'm sure you're screaming at me about KPI's and sales pressures.
Of course, sometimes you do need to use incentives, urgency and scarcity to drive conversions. The underlying strategy is a tried and tested retail truth.
But discounting is not the best way.
Instead, offer a freebie with a full-priced buy, or bundle up a bunch of items to maintain your margins and boost your revenue.
AS Colour prove your gift bundles don't need to be a work of Christmas magic. Just offer genuine value, and you can turn a one item order into a bulging cart full of goodies. Their five item bundles offer represents extraordinary value to loyal subscribers and first-time customers who are used to the regular x% off deals that flood their inbox every Cyber Monday.
You're the best judge of what products work together. Whatever you sell, whatever products or services you have available – maxi pack them.
Amazon's suggested products widget is a thing of ecommerce legend. Once you've bought something, you're inevitably met by a collection of products coupled together by a clan of other customers. Of course you'll think about upsizing your order.
If you don't ask, you don't get. MacDonalds know that. The fries and coke are their profit margin. Suggest additional products your customer might like. Maybe you could even offer an upsize discount. You'll be surprised how many will take your advice to maximise their value.
Create special bundle offerings to give your gifting customers an easy choice. By sticking related products together, you can increase your average order value, and encourage users to add accessories and extras to their purchase without irritating upselling techniques.
If you're a fashion retailer, you've got it easy. Create a themed outfit pack. Saturday races, work-to-play, beach holiday or casual workout bundles can turn a one item purchase into a revenue bonanza. Look no further than our 2015 Ecommerce Awards winner Huckberry for gift-giving inspiration here…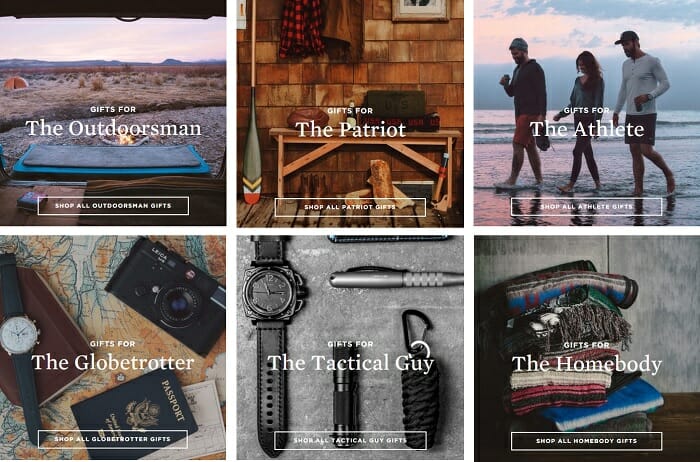 Other industries can get creative. Travel e-retailer? You guys get bundling. Partner up with a restaurant, a hotel, and an events manager to create a killer weekend package. Next time you book an airline ticket, take note of the checkout process. Seats, meals, baggage and donations are offered in different bundle options. You can also mix and match rental car hire and accommodation for a cheaper rate.
Alcohol online store? Develop a special subscription gift pack – six new craft beverages delivered to the recipient's door each month.
A periodic subscription pack is a great way to turn a one-time buyer into a low maintenance repeat customer with a drastically reduced cost per acquisition.
Launch a new product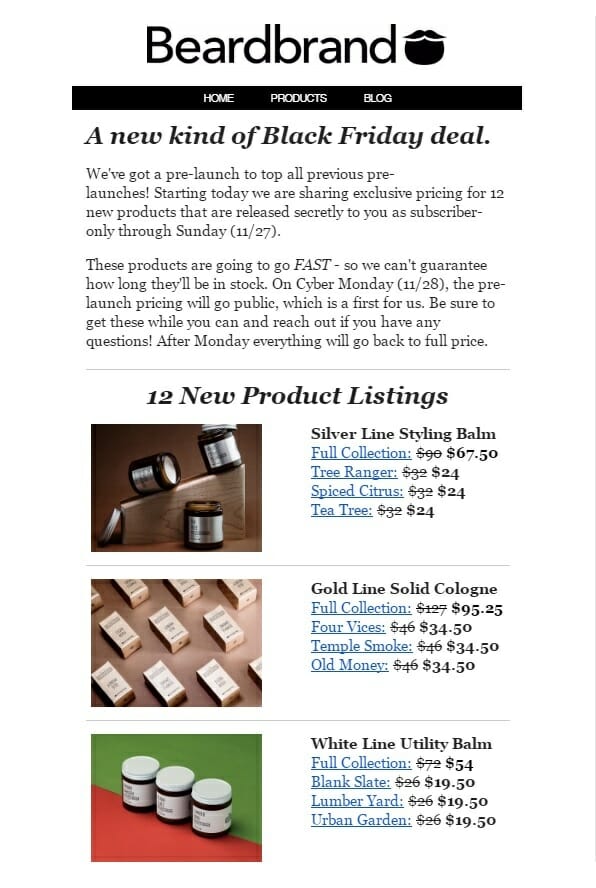 November and December are the two busiest months of the online retail calendar. Your store traffic, email open rates and click-throughs will be higher during the ecommerce silly season.
Most likely, the Black Friday to Cyber Monday long weekend will mark the peak of your mountain of seasonal holiday interest.
What better time to launch a new product or two?
Firstly, you're launching to the broadest possible reach you can muster.
Even better – excitement and interest levels are high. Shoppers are actively looking for thoughtful gifts, unique products and juicy deals. Your subscribers and customers come to the fourth Friday in November with credit card in hand, more than prepared to hit that add-to-cart button. Folks are ready to buy.
Beardbrand is one of our favourite ecommerce startups. We've profiled the story of their successful launch and speedy growth, with a particular focus on the power of their influencer marketing program. You can read the full article below:
Founder Eric Bandholz and his team made astute use of the online shopping silly season this year, pouncing on the traffic and interest spike to launch a series of new products to shoppers and subscribers.
Beardbrand also offered existing subscribers exclusive rights to first dibs on the deal to reward their loyalty before other shoppers were allowed to jump on the remains on Cyber Monday.
If you have a product ready to launch in the last half of next year, you might find it best to hold back your fire until the explosion of the Black Friday weekend.
Offer a mystery item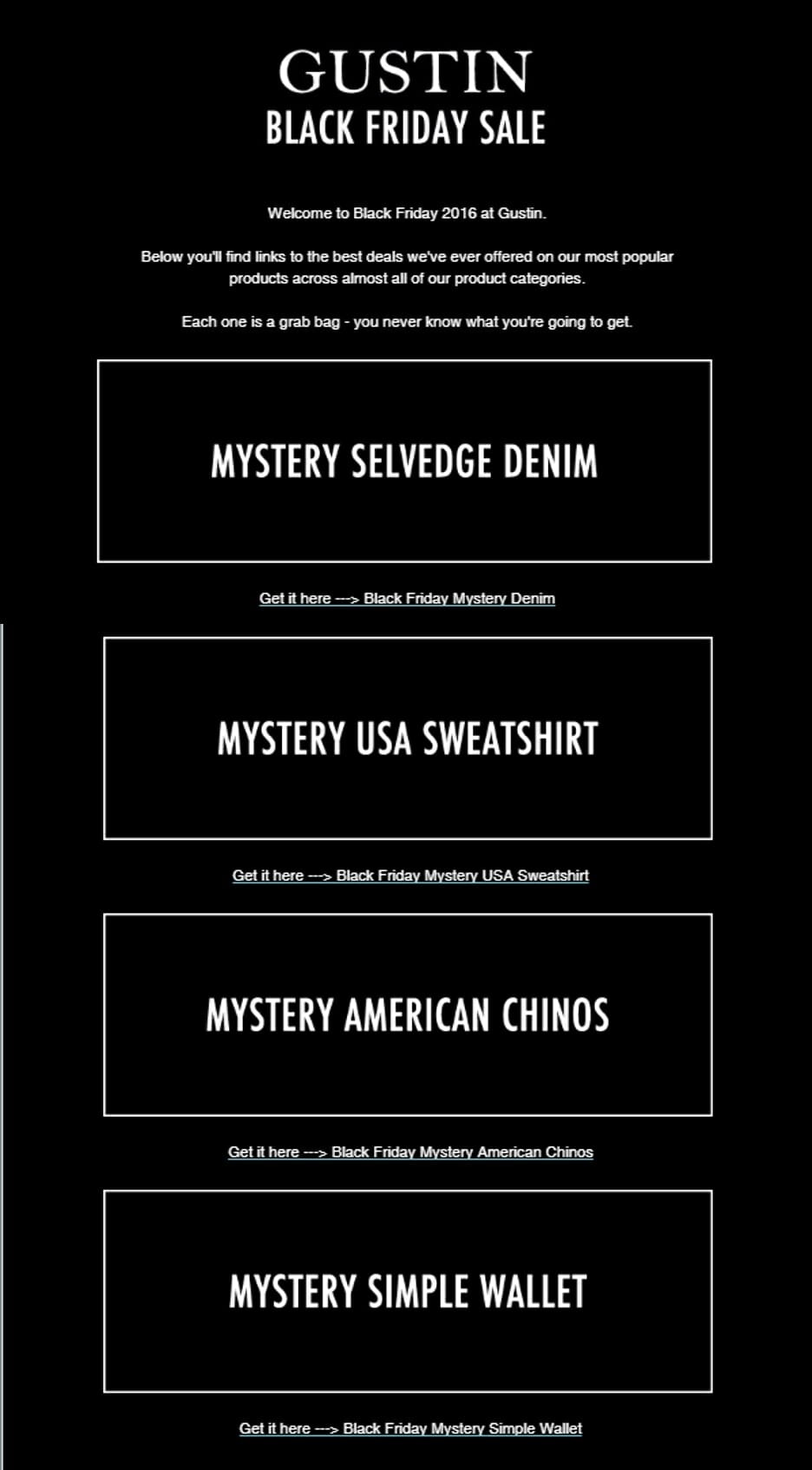 How good are surprises?
Like Christmas carols, reality TV and hot fudge sundaes – surprises are enough to give some serious warm and fuzzies to even the most adamant naysayers. You know deep down everyone loves them. Some folks just want to act like they're different, right?
That feeling you get as you unwrap your gift, the skip of your heartbeat that comes with the surprise, the memories glowing inside you every time you use your new goodies.
It's a special thing.
We love receiving gifts.
That feeling – the feeling you get when you open a gift – that's the feeling retailers want all customers to associate with their brand.
So why not turn your Black Friday/Cyber Monday promotions into a series of special super surprises for your seasonally excited subscribers?
Gustin understands the magic of mystery, and instead of offering up the boring old X% off discount, the American made crowdfunded menswear startup created a few bundles of uncertainty to tease and entice their holiday season shoppers.
Imagine, for a moment, a beautifully packaged box arrives on your doorstep.
You know that waiting inside lies a collection of clothing excitement.
Give your customers that pang of emotional excitement this Christmas. Offer a mystery box and spread a little joy for your boldest shoppers.
Give everyone a gift

Everyone loves advent calendars.
I remember the giddy excitement of opening that little perforated cardboard window every December morning, waiting eagerly to see which Christmas chocolate delight I was about gobble up.
I'm picking up what this little character is putting down. It was a fun time…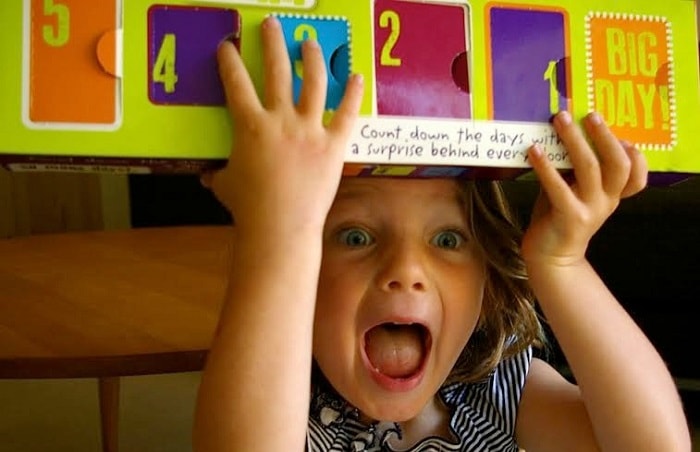 Why not appropriate this delicious memory and use this concept across the holiday period, rather than focusing all your efforts on the comparatively short Black Friday/ Cyber Monday long weekend.
If you're feeling really generous, you could prepare an email advent calendar series with a different blog article for each of the 25 days. Use a combo of influencer interviews, product spotlights, gift ideas, staff Christmas stories, or curated content from other sites.
All of a sudden your subscribers have a strong purpose to continually open your emails, read your content and re-engage with your brand in the lead up to Christmas (just make sure your content is helpful and valuable, not annoying and promotional).
2015 Gorilla Ecommerce Award Winner, Huckberry have used a variation on the advent cakendar concept (called the Golden Ticket) for a few years now. The excitement of a series of regular surprise gifts with purchase is used to draw customers back to their site repeatedly.
The outdoors retailer produced this outstanding landing page to explain the offer to customers and subscribers.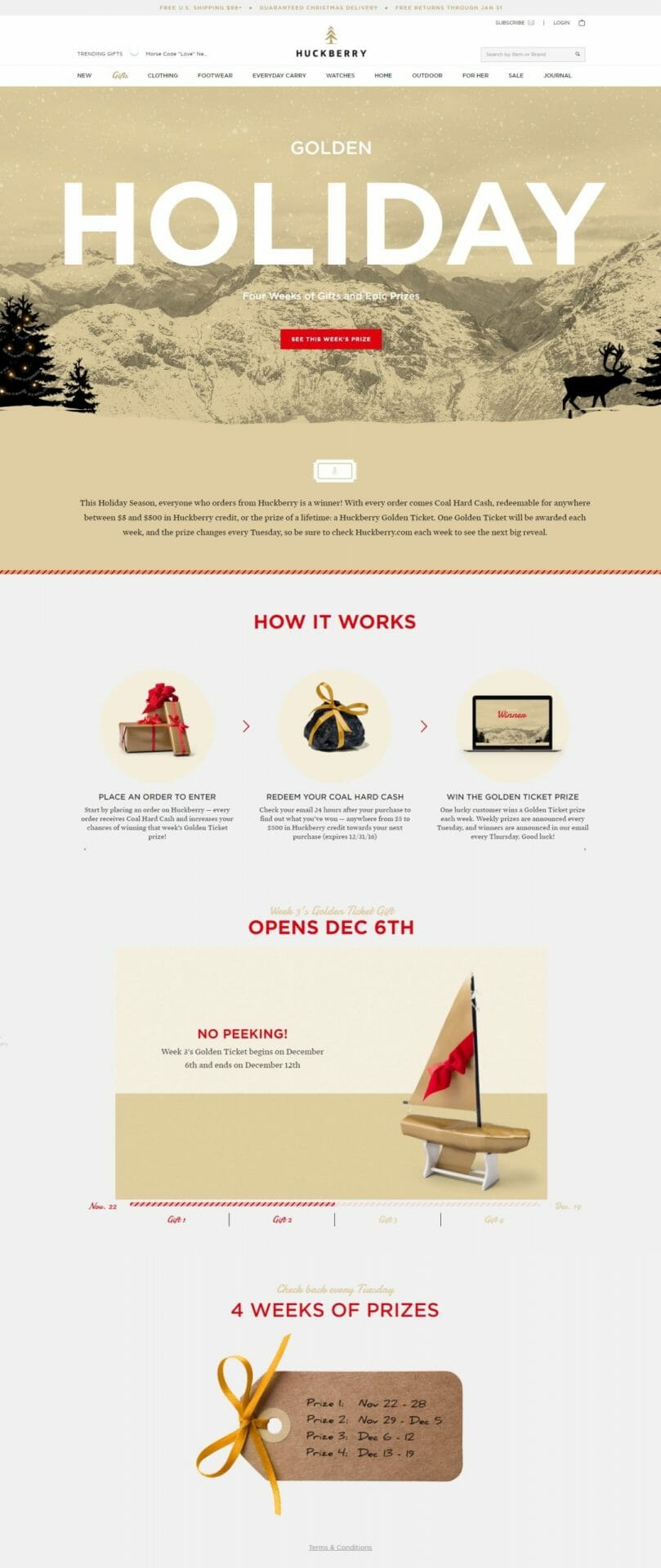 Their Golden Holiday series by Huckberry offers up a huge potential prize (Week One was a round-the-world holiday for 2 people) for one lucky buyer in the lead up to Christmas.
But every other user still gets a consolation gift of Huckberry sales credits up to $500.
This concept encourages repeat visitation from loyal customers. Everyone wants to see what the Golden Ticket prize is each week.
The page also acts as a hub for returning users who want to check up on the current live gift before they embark on some online shopping to earn their very own Golden Ticket.
Find your own way to extend the holiday season shopping excitement over the entire month of December
Don't just sell – show your customers you care

Remember what the holidays are all about?
Capitalism and corporate greed is not the answer I was looking for.
The romantics like me might have tossed up 'the spirit of giving' or 'spending time with your loved ones', or 'eating, drinking and ample merriment'.
Click Frenzy, Black Friday and Cyber Monday are supposed to signal the start of the holiday season. Your customers only participate because they want to buy a great gift for a loved one to show them how much they care. We ecommerce store owners are in this biz to help our customers.
Thanksgiving is about giving.
Christmas is about giving.
Can we all please just remember this?
It's the season to be jolly – not the season to accost your customers with a series of pushy, generic discounts aimed at whipping up FOMO anxieties and converting them into cheap sales.
Sure, we all want to maximise our returns over the profitable retail holiday season. But isn't it more important to develop and nurture lasting, loyal relationships with a whole bunch of potential lifetime customers?
Sadly, brands who demonstrate a genuine care for their customers at Christmas time tend to stand out.
A simple heartfelt message of thanks might just be enough to make sure your customers stay loyal to your brand. Footwear startup Nisolo show you how easy it is to treat a subscriber like a real human – rather than an email address with 16 credit card digits.
Send a genuine message of thanks to your customers each holiday season. Wear your brand's emotion for all to see. Sure, give your customers a chance to shop your store and find the perfect gift for a loved one. But don't lose track of the true meaning of the holiday season that affords you the opportunity to sell more stuff.
Pick a different day to stand out

Be the big fish in a small pond.
Trying to stand out with your sale on Cyber Monday is like trying to win the craziest outfit award at Burning Man.
Unless you're prepared to sell your soul and leave your dignity at the door, you're destined to get lost in a crowd of noise and mayhem.
When the likes of Amazon, Walmart, eBay, Toys R Us, Best Buy and Expedia are just a few of the brands headlining Cyber Monday deals day, there's a good chance your online store's offer might just get lost amongst the thousands of other 25%-off-and-free-shipping deals that swamp the internet for Thanksgiving weekend.
If you are going to discount, do it strategically.
Offer your special before or after the designated Black Friday to Cyber Monday shopping window.
Get in before the rush and you'll capitalise on the bargain hunters chomping at the bit for the best deals of the season.
Wait until after the long weekend bedlam and you can target those lazy/forgetful/family-oriented people who weren't chained to their computers for four days continually refreshing their browser to find the next incredible deal.
Gilt haven't done anything groundbreaking with this email sales promotion, but their choice to run a 'Cyber Wednesday' deal just changed their competition from hundreds of inbox-assaulting mark-downs to less than a handful of batch-and-blast emails.
8 smart ecommerce innovators
Form partnerships with non-competing brands who share your target audience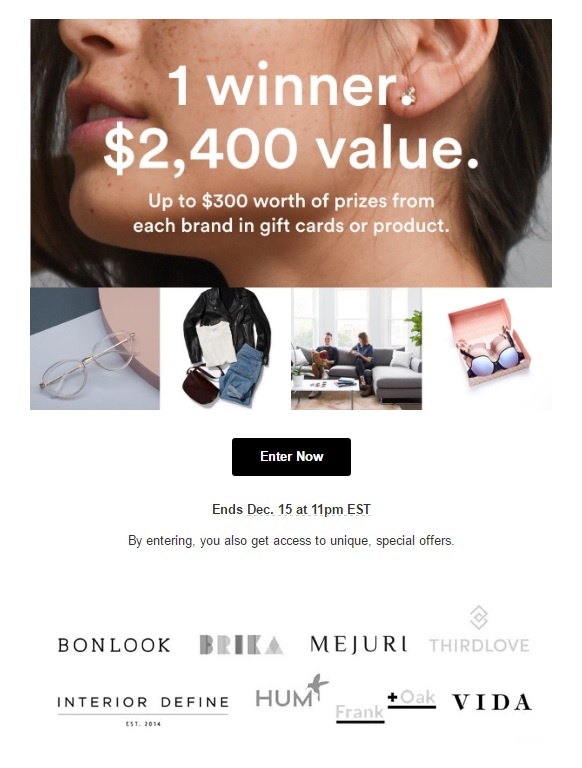 Bravo to this conglomerate of intelligent online retailers.
A brand partnership between Bonlook, Frank & Oak, Brika, Mejuri, Thirdlove, Interior Define, Hum and Vida has resulted in this inspired holiday marketing campaign.
A huge bounty of freebies collected from each of these brands adds up to a must-enter contest for each and every brand's email subscribers. On entering, customers agree to subscribe for email updates from each of the other seven brands, immediately and exponentially expanding the database of each retailer.
The advice to small, growing ecommerce brands is simple:
Brandscape.
Compound the audience of potential customers you are able to reach by partnering with a bunch of non-competing brands who share your brand's values, vibes and beliefs.
You get access to the database of each contributing brand, which gives you an opportunity to establish a lasting relationship with a huge chunk of people you'd otherwise have next to no chance to contact.
Give the gift of helpful, valuable content

Christmas shoppers are a different breed to your non-holiday season customers.
Most of them are buying gifts.
So why don't we ecommerce brands make the effort to create a shopping experience that meets and exceeds the gift shopper's specific needs?
Like Food 52, you need to create a dedicated Christmas Gift Shop landing page and accompany your efforts with a series of helpful gift-giving guides to make shoppers' decisions easy.

If you can create an experience designed specifically for the needs and wants of browsing gift shoppers – you'll pump up your conversion rates and delight your new potential customers.
A specific 'gift ideas' landing page is all you need to make these gift giver's shopping experience a whole lot easier.
This stuff doesn't require millions of dollars or hundreds of tech staff. It's just a customer-focused curation of relevant information presented in an easy-to-use library style format.
Separate out the page into different bunches of curated products collected under specific gift-recipient types. Use historical purchase data to determine the type of stuff that typical customer types would want.
We've recently dedicated an entire article to analysing 17 of the best holiday marketing landing pages to help you develop your own Christmas gift guide, and you should check out the story if you're considering a gift shop of your own this year:

Food 52 have their ecommerce content marketing recipe down to a practised art form.
Instead of offering the obligatory 30% off sale during the Thanksgiving sales period, Food 52 opted for content helpfulness.
Food 52 developed nine different gift-giving guides to help their subscribers find the right presents for their loved ones and accompanied this offer with a collection of '30 thoughtful giving ideas' that don't even involve Food 52 product.
This free value establishes trust and respect with customers.
Subscribers feel like Food 52 genuinely want to help them this holiday season.
This free value will be compensated with loyalty and repeat sales.
Give the gift of giving this Christmas (our favourite!)
What do people care more about than sales, discounts and bargains?
Probably a whole bunch of important things.
Each brand's audience is different, but you and your customers must share a belief in a charitable cause that means much more than saving a couple of dollars.
Everlane is a disruptive online retail fashion startup that has built a business on their core value of 'radical transparency'. Determined to break down the traditional retail supply chain full of middle-men taking a cut, Everlane designs, manufactures and sells direct to the customer, eradicating those extra costs of transport, labour, wholesale, retail store rent and advertising to pass the savings on to you.
The value of transparency extends to full disclosure of their manufacturing processes. Everlane is committed to ethical production and high quality of life standards for their overseas workers.
Because Everlane stands for something more than quality products at valuable prices, customers who care about these core values have a more emotional connection to the brand, which translates into two things every retailer is questing for:
#1. Passionate Loyalty
#2. Repeat Sales
Everlane understands this loyalty and passion is more important to their long-term success than bringing in a few new customers in with some product de-valuing Black Friday/Cyber Monday discount.
Everlane played to their strength this Christmas and appealed to their subscriber's heartstrings. Christmas is a time of giving, and Everlane customers are passionate givers. So Everlane asked for a donation to factory workers in Vietnam instead of offering a pithy discount.
Such a contrarian, remarkable approach stands Everlane out from the rest and makes their customers love the brand even more for standing by their beliefs when a cheap quick win is on offer.
Don't be afraid to offer a different sort of value this silly season
We've just served up 10 alternatives to the stock standard Black Friday/Cyber Monday discount to help you stand out from the online shopping stampede of offers.
At the core of each tactic is one clear strategic thread.
Both Thanksgiving and Christmas are celebrations of love, friendship and gratitude.
The spirit of the holiday season is clear. The gift is in the giving.
If you can show genuine care for your customers, you can establish a strong emotional connection that differentiates your brand from your discount-happy competitors. This customer friendliness translates into loyalty, repeat sales and the precious profit margins you keep by avoiding the dreaded de-valuing discount.
Slate's Will Ormeus explains why the invention of a 'retail holiday' leaves some consumers with a slightly queasy feeling amidst the deluge of relentless discounts:
"We gave thanks for what we had. The next day—nay, that very same night—we were implored to figuratively bust the doors of Best Buy and Wal-Mart in pursuit of sales, presumably so we'll have something new to be thankful for next year. ("I'm thankful for my wonderful wife, this delicious turkey, and that incredible extra 30 percent off I took on a not-quite-flat screen around this time a year ago.")

Cyber Monday is a sham and an anachronism. It's the only fake holiday that's even stupider than Black Friday, and we should all boycott this insult to our intelligence."
Tell us what you really think Will.
I'm not advocating a boycott of Cyber Monday and Black Friday.
You have an opportunity to meet a whole bunch of new potential lifetime customers. Make the most of the ecommerce silly season. But opt for customer friendliness over cheap, generic discounting if you want to stand out from the raging crowd of online spruikers.
Remember what the holidays are about and focus on putting a smile on your customer's face.