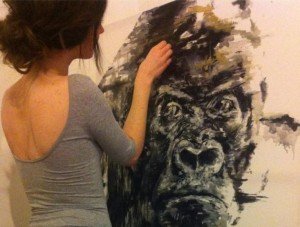 A picture paints a thousand words.
Another cliché riddled, prophetic start to an online marketing blog post. Apologies. Bear with us though…
You don't get much more than fifty words in your regulation Adwords display ad.
So if you could use a picture you would right?
Let us explain with a fun little game.
Which gorilla do you like?

You see where this is going don't you?
We'll spice things up a bit for you with round two…
Which car ad is more effective?
Or…
Okay, so one may be a little more memorable than the other. I'm worried about where my life is at if I'm buying a vehicle from an ex-gynecologist wearing a rubber glove though.
Okay, last one.
Which meal looks more inviting?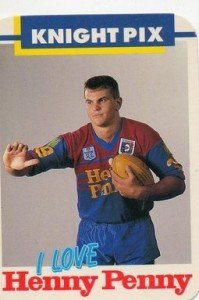 You know it's the Red Rooster 'Mega Roast' on the right. Poor old Henny Penny. Looks like you could carve the gravy better than you could the chicken. Loving the crinkle cut carrot though…
The halcyon days of the once-heroic Newcastle chicken store are long gone.
The 1990 Knights jersey sponsorship was clearly their finest hour.
For you overseas folks, these guys are two of the KFC wannabees of the fried chicken world.
These ads show you why companies like Red Rooster and MacDonalds pay so much for 'food stylists'. They don't just buy ketchup syringes to fill up the condiments station.
You're feeling our vibe here. You see what we're getting at. Visuals matter. Particularly if you're trying to sell stuff online.
Enough about chicken dinners and beefy footballers with terrible haircuts. Let's bring it back to ecommerce pay per click advertising shall we?
Here's a comparison of a text-only Google Adwords ad against a Product Listing Ad:

Suddenly the regular old Google Adwords ad is looking like the sloppy old Henny Penny Roast Dinner. You know it's trying hard. But the 'heart's in the right place' excuse doesn't fly with online marketing. Schmick wins out. Exciting, eye-catching visuals beat boring old text.
So how do you get amongst this visual Google advertising wizardry? Take a knee.
Product Listing Ads
If you are selling products on your website and running an Adwords campaign then you should be taking advantage of Product Listing Ads (PLA). It's like still doing a print ad in black and white when you could be doing it in colour. Unless you've got a pretty good reason, you want all the help you can get to stand out from the crowd.
Launched in Australia in 2012, PLA's give shoppers a visual of the products you are promoting in Adwords. The ad shows an image of your product, a description of the brand and model, price and your business name.
PLA's work on a pay per click basis but ads are set up using product attributes or targets (such as brand or product type) instead of keywords. This makes it a whole bunch easier to scale your campaign if you have thousands of products.
If you want some more background on PLA's, this clip will help you out:
Why use Adwords Product Listing Ads?
Apart from the obvious benefit we've been banging on about, there's a gathering of other reasons to set up product listing ads:
Increase your exposure
It is possible for one of your standard Adwords ads AND one of your product listing ads to appear on the same Google results page.
Improve your lead quality
Shoppers get a better understanding of what you are selling. They can see your product photo and price. This means more qualified clicks to your site.
Generate more traffic
Product listing ads generally result in a higher click through rate than standard ads.
They're perfect for mobile shoppers
The visual nature of PLS's make them more accessible for those using smartphones or tablets. Your ad will stand out from its text compatriots even more on smaller devices.
Improve your ROI
Results have shown that PLA receive a better click through rate than standard Adwords ads. Here's a super case study with some helpful insights from Jason Gannon of Wordstream fame.
It's Easier to set up and create ads
Product listing ads use product feeds from your site. This means you don't have to create separate ads for each product. Adwords does the ground work for you.
What do you need to get started?
Adwords account www.adwords.google.com
Adwords Merchant Center Account www.google.com.au/merchants
Set up your product listing ad Adwords campaign
Create your product data feed https://support.google.com/merchants/answer/188494
Quick tips for Product Listing Ad success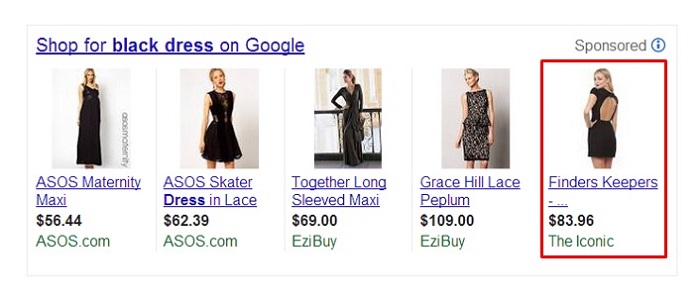 Take your own unique, high quality product photos. An all-white background often improves the focus on your product. The photo The Iconic makes its ad stand out more than the ads from ASOS and Ezibuy.
Feed your feed. Ensure your product feed is up to date, sent daily, fully completed and error free.
Stop promoting poor performing products and allocate more budget to your best performing products.
Okay, you're good to go. If you want more help, there's a treasure trove of ecommerce PPC how-to's and tips here.
Better yet, our expert PPC gorillas will take a look at your program and let you know how you can improve. Request a free PPC performance review and you'll find out just how much cash you're leaving on Google's table.