Help customers find you easily online.
Increase foot-traffic to your store.
Get your phone ringing.  
All this is possible with a few local business Google Ads tips and tricks.
Scenario time.
You're a mechanic operating in the heart of Newcastle.
But you're not the only mechanic in town – the competition is fierce. How can you trounce your rivals and increase foot traffic?  
I'm going to teach you ten hacks you can start working on right now to increase your Google Ads performance. Some hacks may require web developer assistance but I've included helpful guides for the slightly more in-depth ones. These hacks are going to save you valuable dollars and reduce the time you spend managing Google Ads.
Here are the Gorilla secrets you'll learn in the next ten minutes:
10 easy ways to improve your Google Ads performance and increase foot-traffic to your store

Practical examples and visual steps to follow
Let's start with one of the most useful hacks, geotargeting.
#1: Always use geotargeting to reduce the number of irrelevant clicks
Google makes it simple to maximise visibility and target people according to country, region, or proximity around a specific geographical area at campaign level.
Let's go back to the Newcastle mechanic example. Targeting 'Sydney' wouldn't be effective since the chance of a person travelling from Sydney to get their car serviced in Newcastle is about the same as getting a legitimate email from a Nigerian prince. Spend your money on targeting people who are situated or searching in Newcastle.
Follow these steps set up geo-targeting for your campaigns:
Click the campaign you want to apply geotargeting to

Click the location tab on the left-hand side

Click the blue pencil to add a location

Enter the location you want to include and click save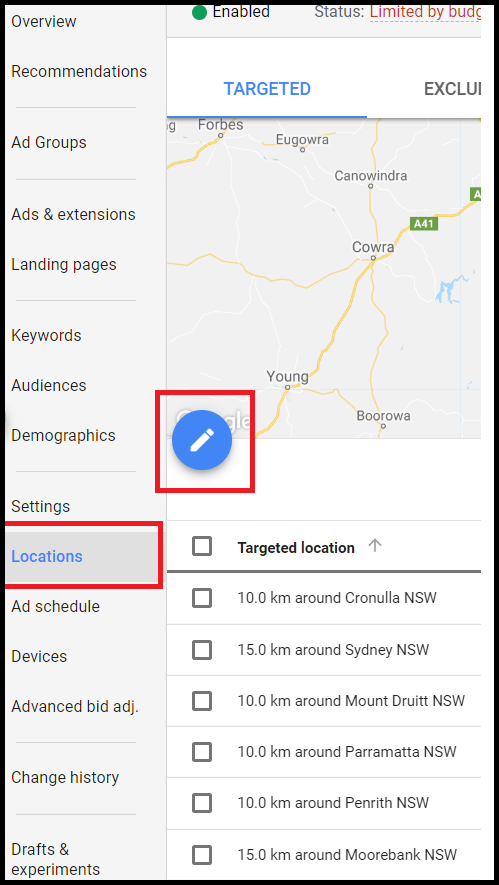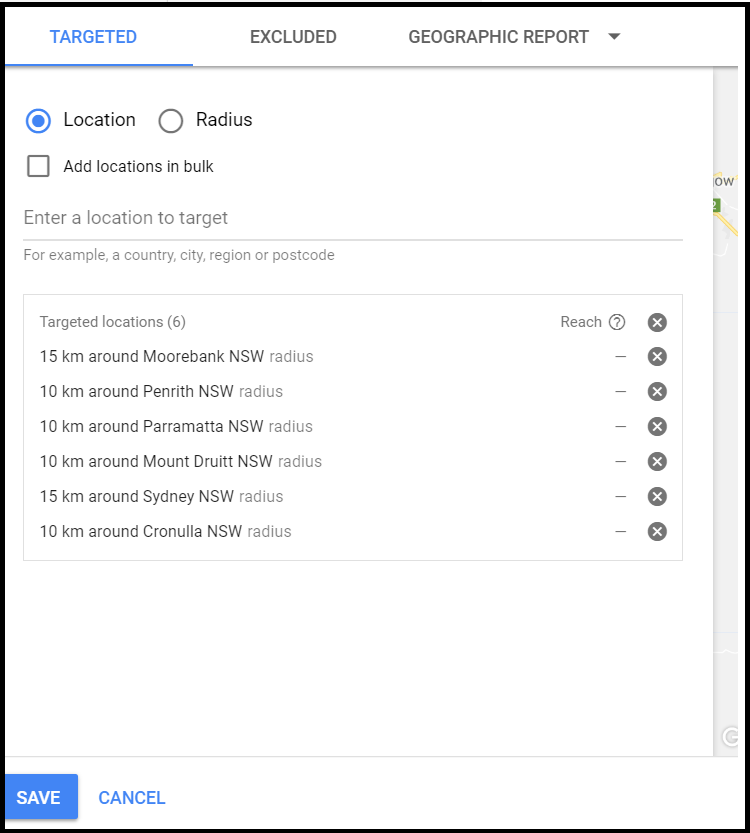 #2: Use negative keywords to filter out irrelevant searches 
Here's the definition of negative keywords, courtesy of Google:
"A type of keyword that prevents your ad from being triggered by a certain word or phrase. Your ads aren't shown to anyone who is searching for that phrase. This is also known as a negative match."
Putting the resource guide away, here's the real world explanation of negative keywords for those new to the concept.
Negatives are the words or phrases you don't want to be found for. Adding negative keywords helps filter out all the junk traffic and allows you to target people who are likely to pick up the phone or head over to your store.
Here's a practical example:
You're not the cheapest mechanic on the block, priding yourself on high-quality service. Therefore, you may add, 'cheap' as a negative keyword. You don't want a tyre kicker wasting your time haggling over $20.
Are there any services you don't provide that your competitors do? Add these as negative keywords because you don't want to waste money on services you don't provide. To get started, use webmechanix's helpful guide that contains over 1,500 keywords by industry.
Another place to check for potential negatives is the search terms report.
Simply log onto your account

Click on the campaign you want to view the search terms report on

Click the keywords tab on the left hand side

Click the search terms tab and click the pop up search terms
You can now see all the phrases people used before clicking on your ad.
See below for a visual explainer on how to get there.

Got your negative keyword list ready?
Follow our gorilla-friendly steps to adding the negatives into your account.
Click the campaign you wish to add negative keywords to

Click the keywords tab on the left-hand side

Select negative keywords

Click the blue plus button

Choose whether you wish to add the negative keywords to a particular campaign or ad group

Write the negative keywords and click save
Here are the visual steps: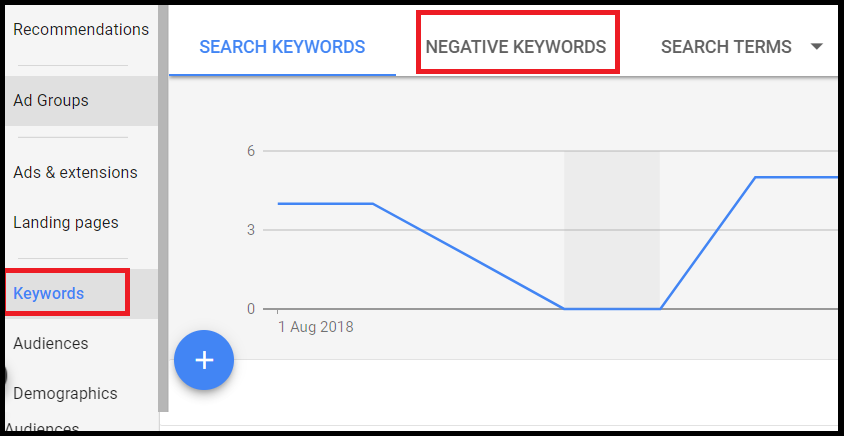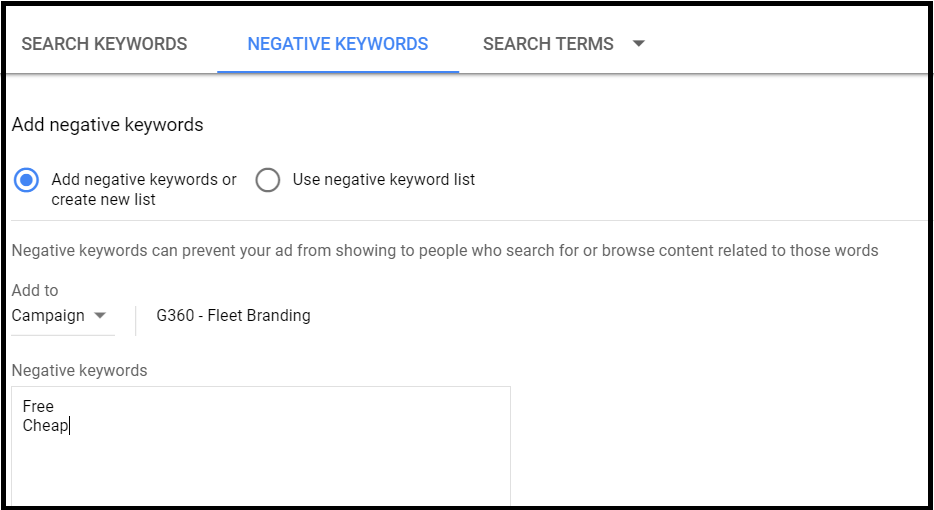 #3: Run a call-only campaign and get your phone ringing
Call-only ads reduce the number of clicks it takes a person to convert. Here's how they work: A person sees your call-only ad. They click your ad and they bypass landing pages entirely and heads straight to a 'call-only' button.  
If your primary market uses mobile devices often, then trial call-only ads. Why fill out a form when you can go straight to the source, right?
Need a hand setting up a call-only campaign?
Read Google's detailed support doc – there are oodles of details for each stage.
#4: Track calls from website
Most local businesses don't only aim to receive form submissions. They want phone calls. Talking to a customer helps nurture the customer-business relationship right from the start and moves the customer to their desired goal without all the hoo-haa.
Let's look at a practical scenario.
A customer wants their car serviced this week.  They Google 'mechanics + suburb' and your ad shows up. They click the ad and visit your services page and are ready to make a booking. Rather than wasting time filling out the form, they opt to call your business. Two minutes later, the service is booked and both you and the customer can continue on with their day.
Adding a tracking number onto your website allows Google Ads to track how many people called your business after clicking an ad. Many businesses tend to categorise calls as hotter leads compared to form submissions because the customer has taken time out of their day to pick up the phone and call.
I've shared some of Whitespark's common website call tracking methods:
#1: Use third party tracking
Modern call tracking setups let you leave your real phone number in the code, and only show your tracked numbers when it's appropriate. We recommend using Deacon call tracking.
#2: Google Ads' built-in call forwarding
Google will swap out your number with a generic number. You will need to insert a snippet of data onto your website.
Website call-tracking is a little more on the advanced side so I recommend reaching out to your developer or calling our friendly team to set it up for you.
If you're the DIY type then follow Google's helpful instructions on tracking calls to a phone number on a website.
#5: Include the location name in your ads
Creating locally-focused content is an effective way to increase visibility to prospective customers.
When customers search for stores or services near them, an ad containing the location name is much more appealing compared to an ad where a searcher has to go digging to find where the store is located.
The beauty of adding locations to your copy is it eliminates 'bad clicks'; people who are interested in your services but don't want to travel to your location are less likely to click your ads. Therefore you're spending money on people who are interested in your services.
You can add the location name in the ad:
Headline one

Headline two

Description, or

Location extension
Here's an example of a high performing ad that uses the location in the ad text: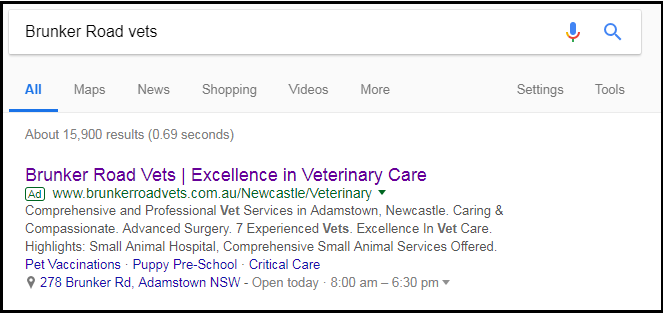 Don't have a lot of hands on Google Ads experience? Edit your ads by following Google's useful guide.
#6: Check the auction insights report for competition
Auction insights allow you to see who is competing for the same ad space.
Keep an eye on your competition. Your key competitors probably have similar goals. While it's good to have confidence in your own processes, it's productive to understand your competitors moves. This can reveal changes in the market, upcoming trends and new ideas for copy.
You don't want to replicate your competitors' ads, but if they're outranking you it could be worth checking them out.
Start by checking out your auction insights report. To do so:
Click on your Google ads account

Click auction insights (alternatively, drill down into your chosen campaign then click auction insights)
Check out the visual below for instructions:

When looking at the data consider factors such as:
Who are your main Google Ads competitors?

Are these in line with your real life competitors?

What can you do to increase your rank and make your ads more competitive?
Using auction insights to improve performance is a whole topic in itself so I'm not going to dwell on it too much. Instead, read this insightful blog about using auction insights to compare performance, courtesy of Google.
#7. Schedule your ads during business opening hours
Your ads are showing 24/7 but you operate Monday – Friday, nine to five.
A person is in the local area and needs a car service. They see your ad and hop over to your store, only to be disappointed by the 'closed on weekends' sign.
Don't be that business who loses valuable customers because of lack of attention to detail.
Be the business who saves hundreds, potentially thousands of dollars a year advertising by advertising the days your business is in operation.
Here's how to schedule your ads using Google Ads interface:
Click the campaign you wish to create an ad schedule for

Click ad schedule on the left-hand menu

Click the blue plus button and select a campaign

You can then add the days you wish to schedule your ads on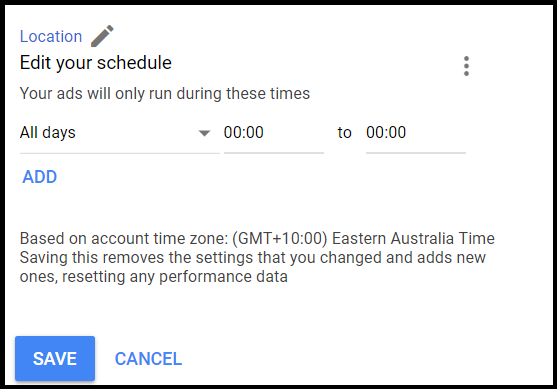 Handy Gorilla tip: If you're a local lead gen business then you can consider adding a negative bid adjustment of say, 80% for weekends. This means your keyword level bids will reduce by 80% and will show up less regularly in searches during off-peak hours.
#8: Use location bid adjustments to target those closest to your store
Like ad schedule adjustments, you can also increase visibility of people closer to your store as opposed to someone who is 30 km away.
The best way to do this is through location bid adjustments. Let's say the majority of your customers live within a 10 km radius of your business but you still get customers up to 35 kms away.
Location-based bid adjustments allow advertisers to increase the bids on specific areas, such as cities, states, or even post codes. This means that advertisers can increase the bidding on higher converting keywords.
For example, you can tell Google to increase your bids by 30% for anyone searching for your products or service that's within 10km of your business.
Follow these steps to add location targeting to your Google Ads campaign:
Click the campaign you wish to add location bid adjustments to

Click the locations tab on the left hand menu

Once you have prefilled the locations you want your ads to show up for, tick the box of the location you wish to add a bid adjustment to

Click edit and select change bid adjustment

You will then see settings to either increase or decrease the bid adjustments for that location. Enter the bid adjustments and click apply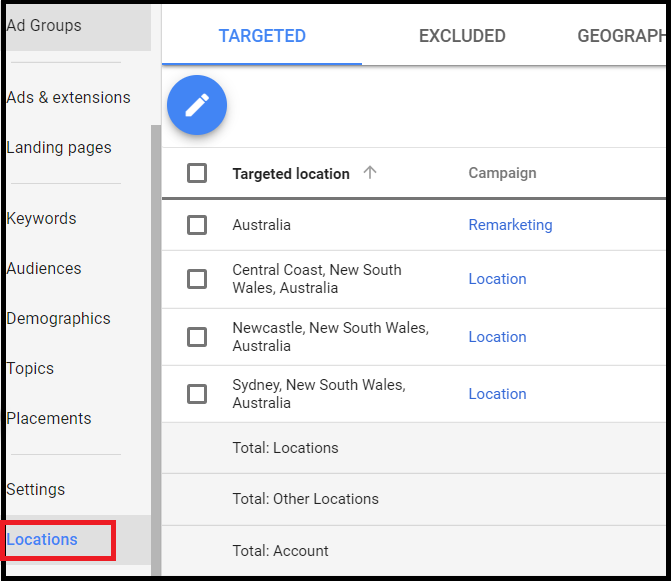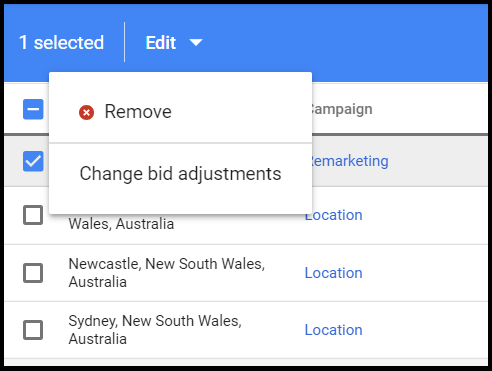 #9: Track conversions so you know leads are coming through
It still surprises me today how many Google Ads campaigns don't use conversion tracking. You really should be using conversion tracking unless your goal is to achieve a certain amount of clicks or views. How else will you know if your Google Ads campaign has achieved its goals?
Here are some of the common conversion metrics to consider:
Phone calls

Form submissions

Content downloads
We've already covered tracking phone calls in a previous hack. As or the others, it's generally simplest to set up conversions in Google Tag Manager or you can manually create the conversion in Google Ads.
I've linked out to guides on setting up conversion tracking. If you're new to Google Ads I recommend reaching out to your developer or a Gorilla team member as it can be a little intimidating to work with code at first. Otherwise, get cracking onto it!
#10: Use local area ad extensions to maximise visibility when it matters most
Location extensions help potential customers find your locations by showing your ads with your address, a map to your location or the distance to your business.
A potential customer's car breaks down, they're waiting for the NRMA to make its way and their Googling the closest mechanic.
Your ad shows up with an ad extension showing where your mechanic is located. Thankfully for the customer, your store is only a five minute drive away!
They click your location extension and a screen pops up to direct them to your store.
Congrats! You've just taken a little bit of stress from the customer and now they're looking forward to getting their car over to you to get fixed.
Ready to get started on location extensions? To be eligible you need to be using Google Ads and a Google My Business account. Once these are linked, follow Google's simple instructions to get location extensions up and running!
Time to implement the changes
Google Ads is a growing opportunity for local businesses. You have the opportunity to focus your advertising on people who are likely to engage with your brand or buy your products or services.
We've covered a lot of useful hacks, so here they are.
Always use geotargeting to reduce the number of irrelevant clicks

Use negative keywords to filter out irrelevant searches

Run a call-only campaign and get your phone ringing  

Track calls from your website

Include the location name in your ads

Check the auction insights report for competition

Schedule your ads during business opening hours

Track conversions

Use location bid adjustments to target those closest to your store

Use local area ad extensions to maximise visibility when it matters most
Need a Gorilla hand with implementing the Google Ads local business hacks?
Contact our chimps today
.