Like it or not, Christmas is fast approaching.
Yes – this means delicious eating, ample merriment and public holidays.
But as you are all too well aware, it also means online shopping mayhem.
For anyone that isn't a retail professional, an elite cricketer or an overweight elderly gent with a flourishing beard, the month before Christmas is supposed to be a time to wind down and relax into holiday mode.
Because the end of the year is so hectic, we Gorillas reckon you hard-working ecommerce marketers deserve a few of your Christmas presents early, to keep those spirits up before the chaos hits.
So we've prepared 5 of these bad boys, wrapped and ready to land on your inbox door over the next few weeks…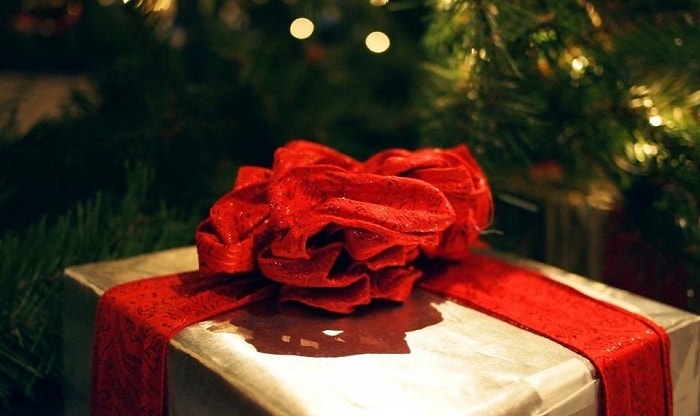 This Christmas, we gorillas want to give you and your team the gift of ecommerce marketing knowledge…
I know this kinda sounds like the really disappointing gift you always get from that one righteous Aunty.
You know the one.
There's always the cheap, telltale card.
You can sense the disappointment lurking inside.
You open it up to a picture of a particularly glum looking chicken. Printed beside is a little note letting you know your Christmas gift this year is a donation to adopt a hen in need.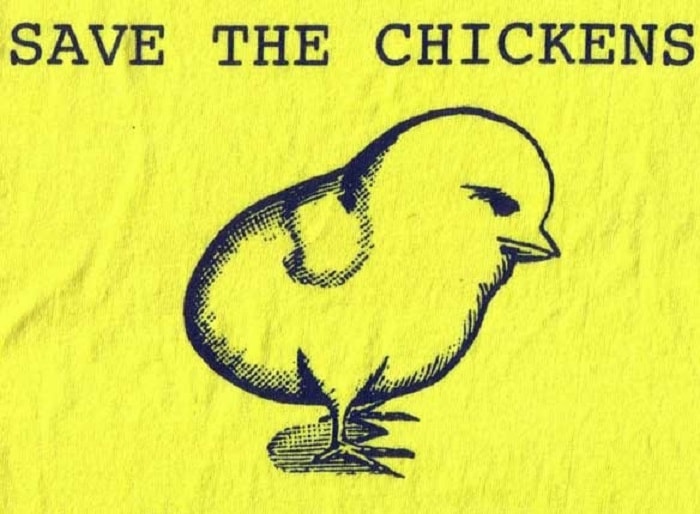 Everyone loves free range animals.
That $50 could have got you a nice pair of shorts though.
Anyways, our knowledge gift isn't all emptiness and disappointment.
Quite the opposite.
It's a practical blueprint to help you attract, convert and retain as many of your Christmas shoppers as possible.
That's money in the bank, repeatedly – a far superior Christmas gift.
Over the next five weeks, we'll be sending you five separate gifts of ecommerce Christmas marketing helpfulness.
You can unwrap them all before December 25 and try out your new toys on your online store. All of our knowledge stockings will be crammed full of practical ideas that you can implement straight away – to help you start meeting, greeting and keeping as many new customers as possible this online shopping season.
So get excited, Macaulay style…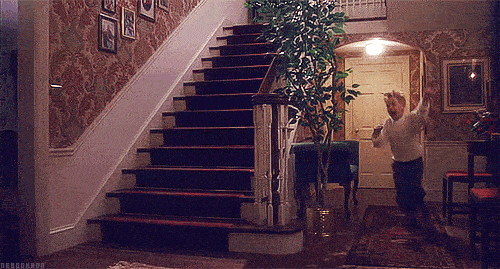 Your 5 weeks of Christmas gifts teaser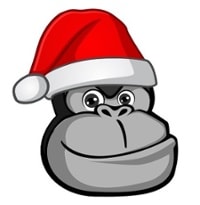 Close your eyes if you don't want to ruin the surprise.
Here's a sneak peek of what the Gorilla Santa has planned for you over the next few weeks:
We help you prepare your site for the impending stampede of virtual traffic during the oncoming online shopping silly season. These changes might take a little more time than the rest, so we've got them ready to go for you right now!
Instead of the same old annoying promotional barrages, we show you how to develop customer-friendly content your subscribers actually want to receive. The goal for this type of promotion is a little bit different – dollars, sales and conversion rates are important – but real loyalty happens when your customers start thanking you for your marketing.
As the bricks and mortar retailers are busy rigging up the lights, decking the halls and Santa-pimping their shopfront window displays, we teach you how to add a few design flourishes to take your online Christmas shopping experience to the next level.
Christmas is the biggest, busiest, most important time of the year. You can't afford to narrow your focus to your customer's wallet. November-December gives you an annual chance to start a lifetime relationship with a whole stack of new visitors. We explain how to develop valuable content and turn your Christmas shoppers into loyal repeat customers.
You know how much time, effort and care goes into making an offline retail Christmas shopping experience. We need to turn our online stores into a must-visit festive destination. We'll show you how to create an experience that gives your customers those Christmas warm and fuzzys.
Subscribe now to recieve all 5 gifts
To make sure the Gorilla Santa drops all of your Christmas presents at your inbox door, you'll need to subscribe to our Weekly Jungle Insider Updates.
If you're already on board, don't fret. We know you've been good this year. Just keep an eye out for your weekly Christmas surprise.
Now the formalities are out of the way, let's get on with our first ecommerce Chirstmas focus area and show you some ideas to improve you online shopping experience with new technology.
Read on, grab yourself a nice festive beverage, learn some online retail helpfulness, implement our advice, and win yourself a bunch of loyal customers this silly season.
How to improve your Christmas shopping experience with online store technology
There's a few crucial technical factors that can have a significant bearing on the performance of your site during the Christmas shopping season.
It's the biggest, busiest and scariest time of the year for Ecommerce marketers. You've got an opportunity to meet a whole bunch of new customers. But these visitors are fickle and impatient. Even the slightest hitch will have your new user pulling up Google and searching for an alternative.
We've got five simple ideas to help you use some nifty gear and gadgets to make the most of your Christmas shopping stampede.
Tech Tip #1 – Speed Up Your Site Load Time
We all hate going to the mall at Christmas time. The queues, the car parking, the crowds…
This is your advantage as an online retailer! Don't stuff it up. You need to make your online shopping experience smooth. If a customer can't make a purchase in the time it takes for them to eat a fruit mince pie, you're doing it wrong.
According to the learned folks at Kissmetrics, every one second of delay in site load time can reduce your ecommerce conversion rate by 7%. This figure is bound to ratchet up during the frenzy that is the Christmas shopping season.
Little changes can make a huge difference. Get your development team into clean-up mode throughout September and October to prepare. Strip out any unnecessary code and resize any large image files. These two hacks will get you a nice little site speed turbo-boost.
There's a whole stack of info online to help you improve your site speed. If you want to delve further into specifics (or send some useful resources over to your development team), we've collected a couple of articles below that go through a few tactics in excellent detail.
Each of these resources come from one of our favourite ecommerce online publications, so be sure to subscribe for regular updates after your read:
Improving load speed could be the simplest way for you to improve your conversion rate this Christmas. There's nothing that annoys an online shopper more than a snailishly slow online shopping experience – we gorillas feel their pain too…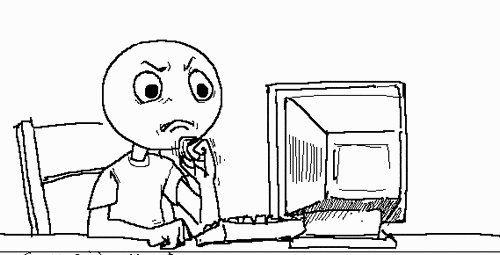 Tech Tip #2 – Get Ready For The Mobile Shopping Stampede
This one's a year-round proposition. But if you haven't optimised your online store for mobile and tablet devices – the Christmas season is a great trigger to squeeze that extra chunk of investment out of your Scroogey boss.
Your traffic will sky rocket in the holiday shopping season. Your conversion rate won't follow suit if your purchase experience isn't mobile ready. Customers won't go through the heartache.
The human finger is only so nimble. The Christmas shopper is only so tolerant. The moment your visitor is frustrated is the moment they start another Google search and move on to one of your competitor's site.
(Okay so this guy might be a little melodramatic. Texting isn't quite that debilitating. But you get the gist.)
Obviously a newly minted, responsively designed site should get you a customer greenlight on the mobile friendliness test. But we can't all rustle up tens of thousands of dollars for a brand spanking new mobile website design before December.
If you need an in between measure, here's a list of stop gaps you can implement without paying through the nose for a new mobile site.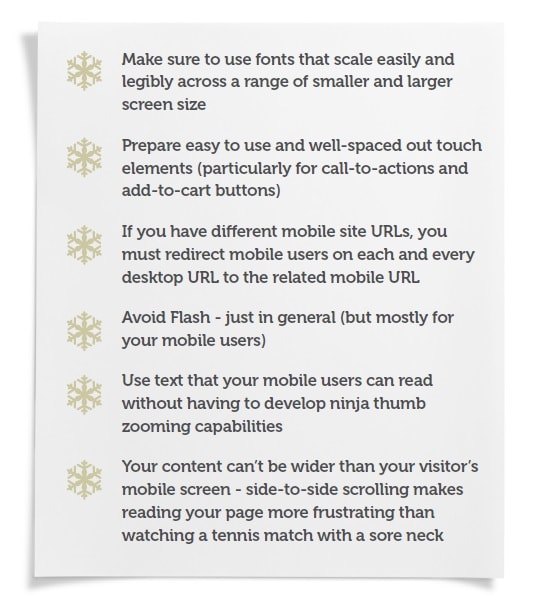 Tech Tip #3 – Make Sure Your Website Is Stable
It's not just super swift site speed that will make your holiday conversions count. There's a number of other technical Grinches you need to prevent from ruining Christmas.
Any faults, delays or confusion will prompt your potential customers to take their Christmas shopping bounty elsewhere.
Someone in your team can take an extra 5 minutes each morning throughout November and December to test your checkout process and analyse how your site is performing.
Always prepare for unexpected customer calamity contingencies. There's always a chance you'll have some site dramas at Christmas time, and you want to stay as customer-friendly as possible. Get preventative like DJ's – have a troubleshooting plan on hand.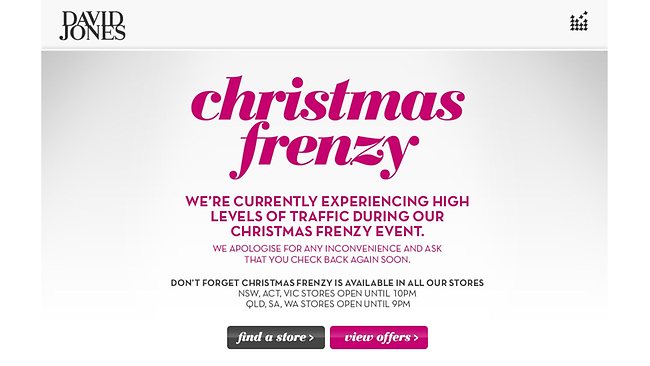 Keep an eye on your inventory levels and flag any items selling fast for your customers. Test any coupon codes or promotions right through to checkout while you're at it.
Be preventative. Try and spot any mishaps before they make you pay.
Tech Tip #4 – Think Like A Gift Giver And Personalise
Your website shouldn't be a checkout chick, waiting for you to come to the counter after perusing an online version of a letter-box-stuffing catalogue.
Your online store needs to be a Christmas customer service assistant.
Proactively engage your potential customer with personalised suggestions.
The whole idea of a gift is to give something that shows how much you care for that person. If you give a thoughtful gift, you're showing the giftee that you understand them. You've put some effort into personally finding and suggesting something that they'll enjoy, something that will improve their life.
If we can do that, as online retailers, we can develop rabidly loyal, repeat customers. The more immediate payoffs are increases in conversions and cart size.
Dynamic Product Banners that show related products to those currently displayed on a browser's page historically produce an increase in conversion rates – between 9 and 14% according to provider SLI Systems.
But don't stop there with the personalised advice.
Based on your user's behaviour on previous or current shops, you can show recommendations like "customers who viewed this item also viewed" or "frequently bought together."
At your cart finalisation page, you can add some suggestions for other accessories related to their purchase. A "recently viewed" function also helps your visitors out with some extra direction. In this case, customers have shown an interest in a particular item. Make it easy to jump back to that product swiftly.
You can also make it easier for your visitors to personalise their own experience. Offer gender specific landing pages, provide as many search filter options as possible, and develop tailored gift idea product pages based on themes, personality types, or demographic factors.
The personalisation features from Nosto in the screenshots below allow you to tailor your customer's shopping experience in real time, based on past user behaviour data. The technology is available, you have no excuses!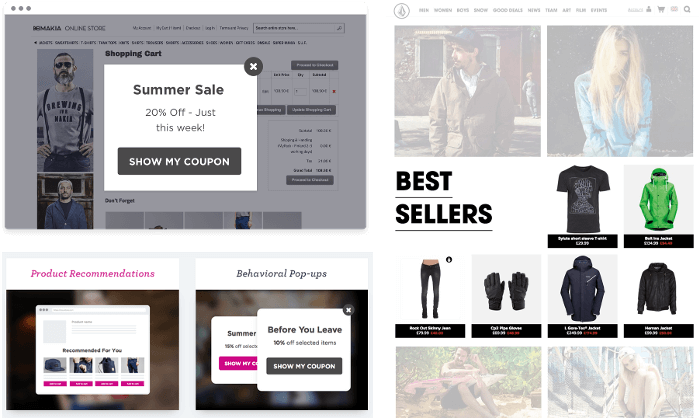 Most online stores don't even offer related product suggestions based on the browser's search, but those that do usually just offer a simple widget at the base of a product page with a few simple options.
You can see the two examples below. Jewellery e-retail BaubleBar, use a 'We Think You'd Like" section to offer personalised suggestions to shoppers based on their browsing preferences.
SurfStitch use past user behaviour data to offer personalised suggestions. By providing social proof, SurfStitch are able to establish more trust and assurity in these recommendations.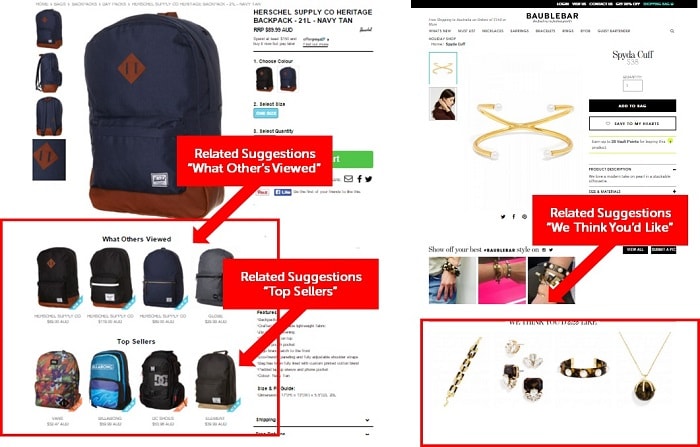 Kitchenware retailer Food52 run one of the most successful content marketing programs in ecommerce. Their helpful, educational content has established their blog as a top shelf online foodie destination.
Food52 know how to make the most out of their content assets. If you go to the time and effort of creating a whole bunch of entertaining articles, recipes and buying guides – don't just stick them up on your blog and forget about them. These guys find a way to infuse related content into their product pages to help improve their customer's shopping experience.
As you can see in the scrolling GIF file of Food52 'Christmas Pudding' product page below, potential customers are treated to a whole bunch of related info from the blog.
Buyers can help themselves to other related products, articles and recipes. There's also a giant feature recipe offered as an alternative Christmas dessert idea to complement the pudding.
Beneath this feature recipe are visual call-to-actions promoting Food52's holiday guide, Thanksgiving recipes and tips, and a list of curated theme collections where the product features.
This helpful content makes the customer want to thank Food52. This is marketing your web visitors appreciate. It's not a barrage of mindless promotional up-selling. It's intended to be useful.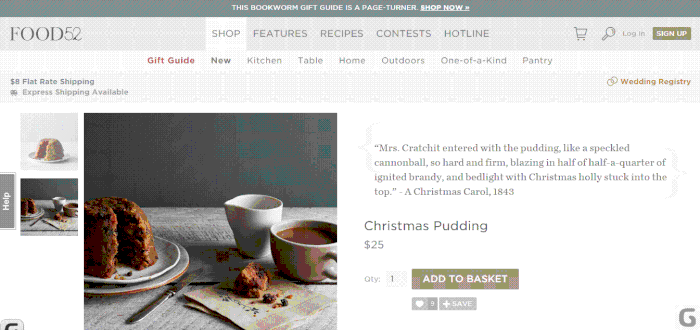 Most of this info is not product related, but Food52 know it's not all about maximising the add-to-cart total. It's about proving to the customer that you care. It's about improving customer lifetime value. It's about developing loyal, lasting relationships.
Food52 doesn't do this stuff manually. Intelligent taxonomy systems allow you to tag and categorise all of your online content to allow you to batch related information together based on a given topic or theme.
Start thinking about your customer's shopping experience.
How can you offer more value to prove you care more about your customers than their wallet?
(For extra personalisation points, don't forget to segment your subscriber lists and send a series of personalised gift idea articles via email).
Tech Tip #5 – Use Geo-Targeting To Personalise Experiences
Particularly if you're a fashion retailer, hemispheres have different tastes in products around Christmas time.
In the north, sweaters, gumboots and trench coats are in.
Bikinis, singlets and beach towels will be more popular south of the Equator. Food, drink, furniture, wine, electronics, home appliances, travel – almost every market has different seasonal trends.
Geotargeting can help you reshape your site to give each user a more personalised experience based on their location of viewing.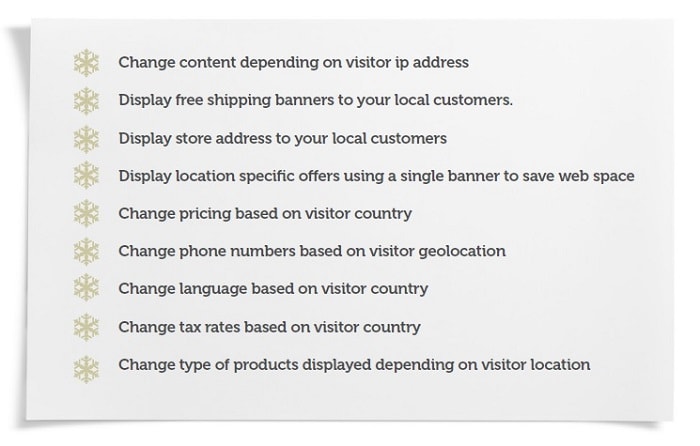 Your Next Ecommerce Christmas Marketing Gift – Promotion
The next gift of online retail helpfulness in our five part series gives you a collection of practical ideas to help you promote your products without annoying your customers.
We've got six practical, cost effective ideas to share with you. Each of them show you how to develop promotional content to improve your Christmas shopping experience and create marketing your customers actually want.
To make sure you find your little marketing present arriving on your inbox doorstep, subscribe to our Weekly Jungle Insider Updates.
If you're already on board, you're in for a fruitful and prosperous festive season.
Keep an eye out for some more Gorilla wisdom very soon.