Audio storytelling is cool again.
Since the first television screens crackled black and white moving pictures into living rooms around the world, radio was resigned to its status as the older, has-been media sibling.
After 60 years of dwindling relevance, radio became a boredom-fighting necessity strictly confined to in-vehicle use only.
Then the iPod happened. People had a portable thing that could download audio files from the internet. People started 'casting for these pods. If listeners could take their music wherever they wanted, whenever they wanted – surely they could take these audio story/interview/conversation 'podcast' broadcasts as well?
Podcasting wasn't the instant smash hit television producers experienced. Uptake was slow, audience growth malingered, and the whole thing was still a little bit complicated and confusing.
Then, suddenly, mobile phones became smart, internet became wireless and podcasting apps became really, really easy to use.
Now, almost all of your potential customers are carrying around a little rectangle glass prism in their pockets. Smart phones make it easier for consumers to plug a story from your brand into their ears than it is to buy your products.
Podcasts have hit the mainstream.
Chances are, a bunch of your customers are listening to one right now…
When 80 million people (and Obama) are involved, it's time to take notice
The resurgence in popularity of the podcast medium has been widely attributed to the ground-breaking success of Serial (an episodic investigation of an American murder cold case).
The show is written and produced by the creators of This American Life, and is hosted by TAL producer Sarah Koenig. Serial tells one story – a true story – over the course of an entire season.
This American Life is almost always in the top 5 most downloaded podcasts of the week (when Serial's 12 episodes aren't being released). To highlight the stratuspheric heights of Serial – This American Life, first broadcasted in 1995, took over four years to generate one million listeners. Serial took four weeks.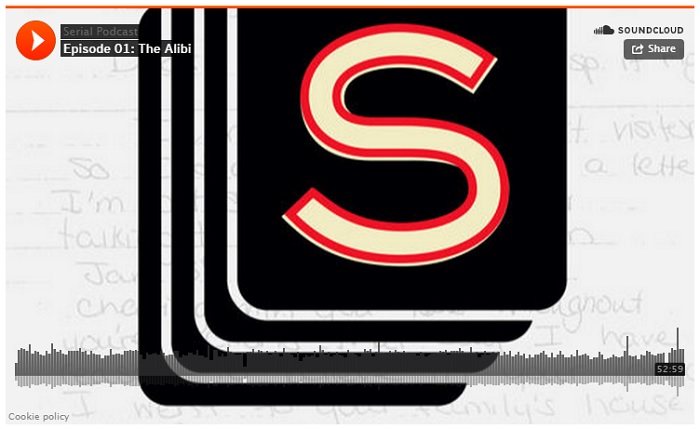 With 80 million downloads and counting, Serial has turbocharged a slowly moving bandwagon that had been steadily building momentum over the last 24 months.
Others would argue Marc Maron's 'WTF' podcast interview with the American President himself was podcasting's bellwether moment.
After steadily accumulating an audience for more than six years, Marc's following began to rapidly multiply. His was anything but an overnight success.
Marc's experience is a microcosm representative of the industry's broader trend, building to a grand crescendo on June 19, 2015, when Barack Obama walked into the garage of his suburban Los Angeles home to record WTF's 613th episode.
He's had one of the best seats in the house to watch the podcasting story unfold. In this interview with The New York Times, Marc perfectly explains the journey of the industry through his own lense:
"Over time, we all have to adjust to a changing media landscape.

There's a lot of surprising outlets by which people can communicate and people want to be part of.

I've been doing this out of my garage for years… Many times, I've walked people into my garage and said, "This is the future of media."

And as years went by, fewer people were like, "I can't believe this – where the hell am I?"

They knew exactly where they were."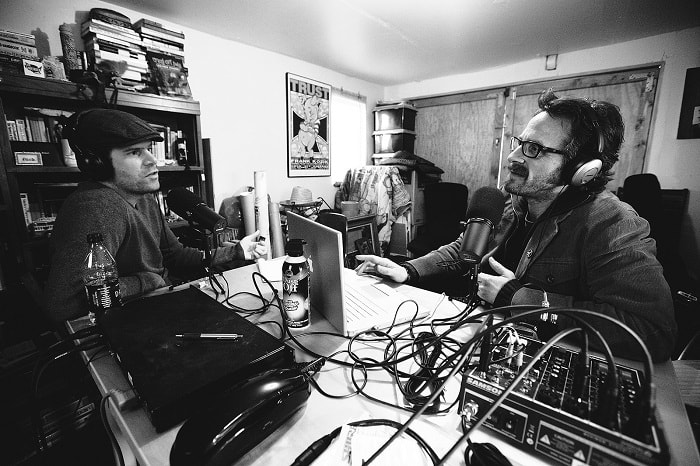 Flickr Image Courtesy Rosenfield Media
The birth of 'podcast media'
Podcasting is now an industry.
People aren't just recording rambling interviews and uploading them to iTunes. Audio media companies are here, and the best of them are producing cinematic stories worth paying for.
Podcast networks are the new radio stations. And they are making genuine money from their on-demand online storytelling.
3 new high profile podcast networks have been launched within public radio in the last year alone: Radiotopia by PRX (February), SoundWorks by PRI (May) and Infinite Guest by APM (August).
Former Planet Money Host and This American Life contributor Alex Blumberg left the National Public Radio Mecca to launch his own start-up podcasting media company. Gimlet Media now has 3 successful podcasts, with plans to launch at least 1 more before the year is out.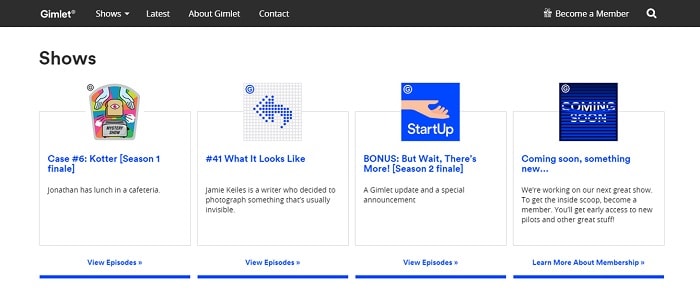 Gimlet's meta chronicle of itself, StartUp (a podcast about starting a podcast), was a breakout success. The show catalogued Alex's journey from entrepreneur, to funded business owner. The program's advertising slots were filled by a mixture of innovative tech brands including Mailchimp, Squarespace, and ecommerce masters like Harry's and Casper.
Interestingly, traditional blue chippers like Ford motor company and Microsoft are starting to trickle into the podcast media buying space to try and get in front of Gimlet's burgeoning niche audience.
Closer to home for us marketing folk, CopyBlogger Media (now Rainmaker Digital) have jumped on the trend, developing a network of 19 shows covering online marketing, copywriting, public relations, entrepreneurship, and much more learning goodness.
Jump on over to Rainmaker.fm, you'll be sure to find a podcast to get you through your commute.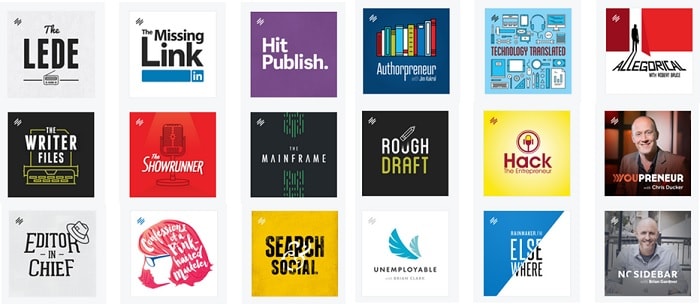 Why podcasting is not just another shiny new toy
For all of the recent podcasting success stories, a gradually building groundswell is behind the crest of the podcasting wave.
Pew Research Center's State of the News Media research suggests that by 2015, 33% of Americans have now listened to at least one podcast, and 17% of the population have listened to a podcast in the last month.
Like almost no other thing in the world of online tech – podcasting's growth curve is steady – more uneven tabletop than hockey stick phenomenon.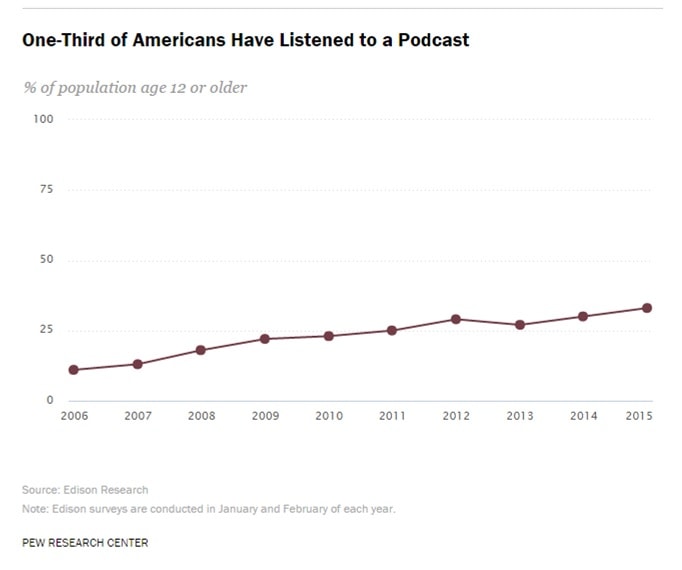 With the help of simple, on demand applications and built-in vehicle technology, pocasting's growth trajectory might just be sustainable.
Farhad Manjoo, writing for the New York Times, explains the context of the industry's growth trend:
"Don't call podcasting a bubble or a bust. Instead, it is that rarest thing in the technology industry: a slow, steady and unrelentingly persistent digital tortoise that could eventually — but who really knows? — slay the analog behemoths in its path."
Podcast audio has suddenly hit the mainstream. The availability of better quality content from professional producers like Rainmaker, Gimlet and NPR has definitely helped push podcasting into the zeitgeist. But a few critical technological developments will ensure the medium is eventually considered by marketers alongside television, print, online and outdoor as a key communication channel.
The 'pod' part isn't really a thing anymore. The iPod has gone the way of the Discman and the Cassette player before it. Instead it's the emergence of free-to-download mobile apps like Stitcher and iTunes that now make listening to your favourite shows easy.
Gimlet Media's Alex Blumberg tells New York Magazine how pivotal the technological development of these applications has been to the growth of podcast media.
"Radio has been saved the disruption that has happened to other media. It's been frozen in time for 50 years. Now that everyone is walking around with a radio in their pocket at all times, the form can flourish again."
Perhaps the biggest driver (the beauty of this pun will be soon uncovered) of podcasting growth is yet to be fully realised.
In the coming years, your brand new car will come furbished with its own inbuilt podcasting system. Android Auto and Apple CarPlay platforms have already been developed, and they're about to enter a vehicle near you.
Instead of turning on your radio, you'll have the chance to cycle through a whole bunch of your favourite podcast shows. Many of these may be bankrolled, sponsored, or created by forward thinking brands.
Kevin Roose, again for New York Mag, pinpoints the macro technology change:
"Connected cars are a boon for the entire streaming audio industry, but they're especially exciting for podcast makers, whose shows are perfectly suited to in-car listening.

Just as TV watchers can now choose Netflix or Amazon streams over surfing channels, radio listeners will soon have a bevy of on-demand options at their disposal."
The medium is more accessible than ever.
Even a laggard with the digital literacy of your grandma can work out how to download their favourite program in a couple of simple clicks.
In fact, This American Life host, Serial podcast Editorial Director, and general godfather of the podcast, Ira Glass, recently told the world how easy podcasting can be, during a spot on the Jimmy Fallon Show. After talking with one of his elderly neighbours about her podcasting habits, he realised the need to get the word out. Here's the Serial promo clip shown live that night on NBC:
Why does this strange audio phenomenon matter to you?
Publishers – and brands are starting to take podcasting seriously.
The barriers to entry in this innovative new media space are almost non-existent.
With a couple of decent microphones, a podcast hosting membership, and a freshly cleared throat, you can have your own show up and running for less than $200.
Like blogging, there's no media gatekeeper charging you to get to an audience. If your brand has interesting audio content to share, you can start developing a deep, ongoing relationship with a whole chunk of potential customers.
Better yet, if you have an already established niche audience, your own podcast could be a super inexpensive and effective retention mechanism.
The Asos podcast content marketing experiment
Online fashion giant Asos is leading the brand charge into podcast content marketing, launching a weekly show in an attempt to find a more engaging way to nurture relationships with their vast subscriber base.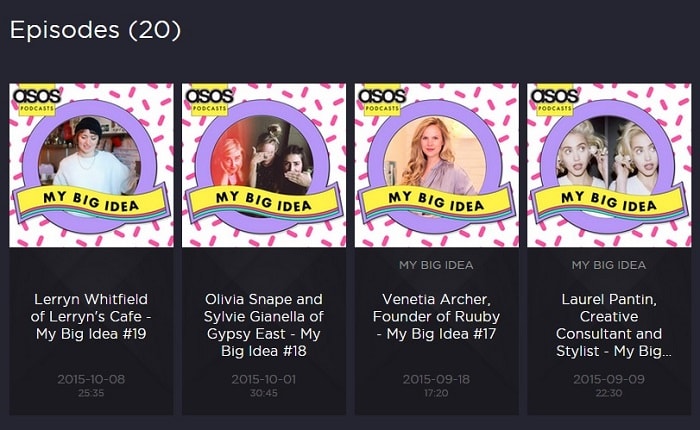 Lucinda Greasley, managing editor at Asos, shares the drivers for the decision to Retail Week's Suzanne Bearne:
"By producing and publishing a regular podcast we have discovered another way to reach and engage our 20-something audience. We have taken an original idea from the Asos magazine, and re-imagined it for this new format."
The commitment for Asos is relatively low.
These guys have a big subscription list. No need for a backbreaking promotional effort to bring in new listeners. Customers are waiting to be nurtured with free, valuable content.
Asos already have an internal content creation process. Their print magazine is serviced by a team with storytelling skills. Instead of starting from scratch, Asos can just repurpose print magazine, socila media and blog content into an audio format.
Compared to TV, radio, print, or online advertising, the costs of connecting with an audience through podcasting is miniscule. But the relationship is so much more intimate.
It's a smart move from Asos.
We gorillas reckon Karl Rosander, founder of Asos' Swedish Podcasting partner, Acast, has it nailed:
"An international and instantly recognisable brand such as Asos moving into this space demonstrates how influential podcasts have become in terms of reaching consumers who demand increasingly engaging editorial content from brands, rather than traditional marketing or advertising."
Now's the time to jump on your chance before the inevitable stampede.
Those first-mover tickets will sell out fast out. You don't want to settle for the early adopter rows, or worse still – the dreaded laggard nosebleeds section.
It's not just Asos taking advantage of the branded podcast opportunity
Hugh and Crye are a niche ecommerce innovator who have jumped at this chance.
The Washington, D.C. start-up manufacture and retail men's shirts with their own specifically tailored 12 size system, designed to solve the problem of the ill-fitting shirt for the 'in-betweener' men.
Instead of the standard small, medium and large, Hugh and Crye shirts are available in a combination of three height, and four physique options.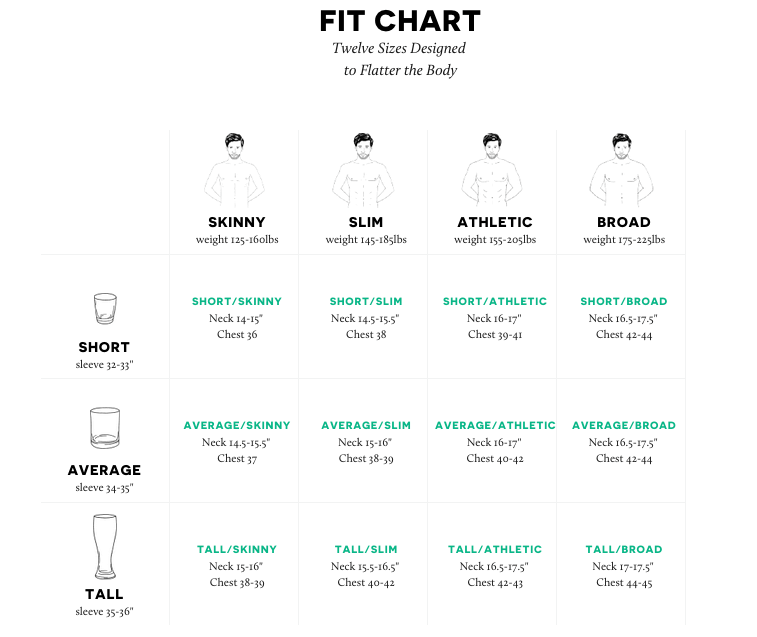 Hugh and Crye is now taking their shirt-fitting perfection to the tee, with the help of funding from their loyal customers. Their Kickstarter vid shows you the company's ethos:
Like Asos, Hugh and Crye have attacked the inexpensive blue-sky opportunity that audio storytelling provides ecommerce brands.
Their Protagonist Podcast proves the start-up is more than just another ecommerce menswear store. These guys are trying to develop a like-minded community around shared values and ideas, and the intimate nature of podcasting makes it the perfect vehicle.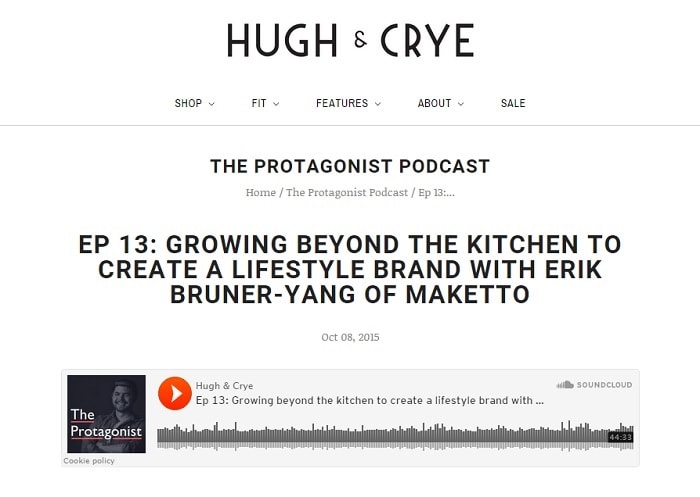 The program is all about helping listeners understand the entrepreneurial journey, with interviews telling the stories of successful founders.
Just to be clear – it's got nothing to do with shirts.
CEO Pranav Vora hits on the brand values Hugh and Crye are trying to communicate, to help their audience, and develop respect in their niche.
"It's about creating something from scratch and bringing it into market. It's about the stubborn founders that willed their companies into being. It's about disruption, innovation and wanting more."
No mention of business shirts.
For Hugh and Crye's audience, Pranav knows;
"There's an immense value in learning from the experience of others."
Hugh and Crye know their audience. The type of guys that want well fitted dress shirts want help with some more serious problems. They care more about improving their business, learning from the best and realising their career dreams than the finer details of their new shirt's construction.
The Protagonist turns Hugh and Crye's brand into a friendly adviser, a wise friend, a smart colleague. The show proves to the listeners that Hugh and Crye understands them personally.
The natural progression of thought for a loyal listener should go a little like this:
"If these guys understand the problems and issues I'm dealing with – if they get my lifestyle – if they know the startup scene – whatever they sell is probably going to be pretty well suited to my needs"
Okay, granted, very few of your customer's thoughts will seem as if transcribed directly from the pages of a marketing textbook.
But the concept is bang on.
Establish trust in your brand with your content. Provide value. You'll prove authority in your niche and convince your audience that your products are right for them.
Please promise you won't podcast about your products
Before you start planning the world's best audio infomercial series, stop and think about things from your audience's perspective.
Would you really want to listen to a podcast about a brand's products?
Your customers listen to podcasts for entertainment or education.
Not to research a purchase.
The objective for your ecommerce podcast should be clear. A podcast series allows you to attract more subscribers, add value for existing subscribers, and increase loyalty and retention rates.
You have the ability to develop a rich personal connection with a whole bunch of potential customers. Instead of talking about the stuff you sell, you should be taking the chance to communicate the values, beliefs and lifestyle of your brand – to make it mean something more to your listeners.
Podcasting's intimacy is its great advantage. You're speaking directly into the ears of your potential customers. Don't abuse that privelage with interruptive advertising.
Entertain. Don't sell.
Test before your invest
If you haven't already, start listening!
Download a podcasting app (iTunes and Stitcher are the pick of the bunch), and explore this new content medium.
If you are thinking about the commercial viability of a podcast to support your ecommerce content marketing program, analyse the success factors of high performing series.
You'll start to realise a few key storytelling elements that remain consistent across the most effective content programs in all formats. The best brand blogs, social media feeds, email marketing programs and podcasts often share the following elements:
Even if you have no plans to develop your own podcast, there's a huge chunk of learning you're missing out on. Whenever, you're at the gym, on your commute, or doing some household chores – stick some earbuds in and take the chance to understand how a good podcast works.
We've put together a detailed list of the 8 best ecommerce marketing podcasts in the business.
Have a quick read through and download each of these shows to your listening app.
You might also like to check out episode 59 of the Brand Newsroom podcast, where Gorilla 360's Content Manager James Dillon tackled the dangers of online advertising. Lush Digital's show is a 20 minute romp across the big picture issues in content marketing – if you haven't already, subscribe on iTunes or Stitcher and do your marketing knowledge a weekly favour.
The how-to guide to podcasting
If you've got the whole content marketing strategy thing down, you'll be ready to plug a podcasting series into your editorial schedule.
It's specifics you're after. The 'how, what, when, and where' is not really our wheelhouse. Just the 'why' for now.
For the everything-you-need-to-know detailed guide to ecommerce podcasting, consult the good folks over at Shopify.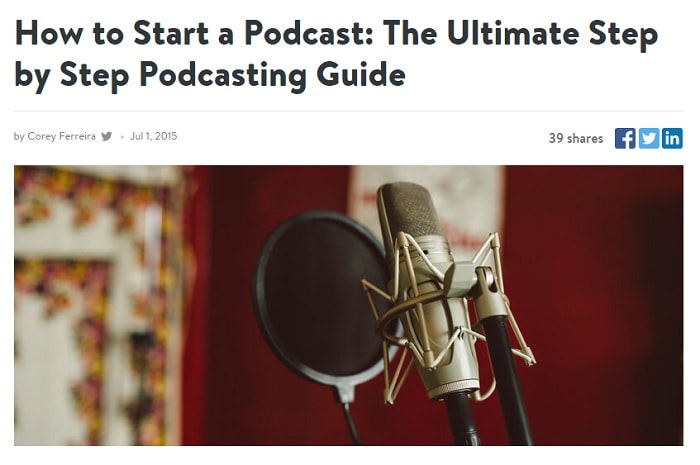 Is your brand ready to start podcasting?
Normally, we'd stress the importance of ensuring your target audience are actively consuming content on the channel you're exploring.
But If Ira Glass' 85+ year old neighbour is podcasting, chances are there's a whole crew of your customers that are too.
If you have an already established subscriber base, success will be easier (and faster) to come by.
Developing a listenership from scratch is tough. With great content, and a smart promotional strategy it's more than possible. But you'll need commit to consistency over the long term. We're talking 12 months plus.
Most importantly, you need an interesting story to share.
Don't be the classic shiny-new-object marketing bandwagoner. Sure, podcasting is growing, entry barriers are low and you have the chance of first mover advantage.
But 'just because' is not a good enough reason to start.
You don't want another Google+/Pinterest/Snapchat/Twitter/Facebook/Newsocialmediakidontheblock strategy to manage.
A content marketing strategy will help…
If you decide to develop a podcast, you need to make sure it fits into an integrated content marketing strategy.
At the very least, you need to sort out these five areas before you switch on your microphone:
Specific objectives to allow you to measure effectiveness
Structured processes to develop a repeatable function within the business
Clearly defined brand story to infuse into your series
Mechanisms to help you effectively repurpose your podcast content
A promotion plan to build and maintain your podcast audience
The strategic foundations of your brand's content marketing program will be a major determinant in your podcast's success.
Our Ecommerce Content Marketing Guide will help you understand the building blocks you need to develop an integrated strategy. If you nail down these fundamentals, you'll give your podcast the best opportunity to deliver genuine business results – and repeat customers.
Expect more and more online retailers to tiptoe into the audio content marketing game.
Expect a whole bunch to stuff it up, with boring, uninspired content or poorly disguised advertising.
Expect a small collection of innovative, customer focussed online retailers to find an inexpensive way to share incredible stories with their audience, and develop loyal, lasting customer relationships.
In a couple of years' time, I want to be listening to your brand's stories while I'm driving my car to work. If those stories are good enough, there's a good chance I'll end up buying your stuff.