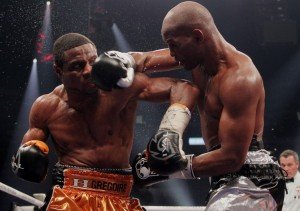 I am not going to sugar coat this. This will not be a fair fight. The umpire, me, as a devoted member of the online marketing industry, is unashamedly bias.
In the red corner we have undefeated defending champion, offline advertising. Trained by some of the largest corporations in the world in the last 50-100 years, offline advertising includes TV, newspaper, radio and Yellow Pages.
In the black corner, online advertising. The young title contender. With the support of some of the fastest growing and profitable companies created in the past 10 years, Google, Yahoo, Facebook – pay per click (PPC) online advertising is no push over.
Online advertising has the reach advantage – an online advertiser has access to the entire world via the click of a button. It isn't restricted by a newspapers readership, radio station's listenership or TV station's broadcasting reach.
ROI and Measurability – Online's Deadly Combination
Online advertising's one- two combination is return on investment and measurability. A combination that the defending champ, offline advertising has long struggled with. It has always been difficult to measure the effectiveness of a radio, newspaper and TV campaign and these mediums are notoriously painful on the back pocket. Online advertising allows advertisers to only pay for successful clicks on their ads – reducing the need to pay for exposure to people who aren't interested in their product or service.
Offline advertising, since the invention of TV has been an unstoppable object in advertising. But it is showing its age. Like the boy who cried wolf, offline advertising has cried wolf one too many times and people aren't paying attention. The ability to skip ads on TV is increasingly popular. It is difficult to name a memorable newspaper ad. The Yellow Pages book is more often used as a door stop and people simply tune out of radio ads. These are more often than not, untargeted mass marketing methods whereas online advertising can be highly targeted.
Body Blows – Flexibility and Responsiveness
The body blows to offline advertising are the flexibility and responsiveness of online advertising. If your Google Adwords ad is not getting results, you know straight away, can make changes and save yourself from wasting time and money. With offline advertising this is not the case – ad copy, TV or radio commercial production is not cheap and doesn't happen overnight. Oh yeah, you also have to book the ad space you want. If you need to promote something tomorrow in an offline medium – good luck. But online this is easy.
In the crowd watching on we have businesses of all shapes and sizes and the people that buy from them. Who did they want to win? Businesses want the best bang for their buck and consumers want to find the latest, greatest products and services for them when they want to find them. So the answer to that would have to be online advertising.
And who will win?
To make the later rounds and stay off the ropes, offline advertising companies will need to drop their high costs for advertising. But in the later rounds this will probably not make much difference. As offline advertising tires, it faces online advertising's knockout punch – mobile phone advertising and social media.
What are your thoughts? Will offline advertising have the legs or will online advertising win a unanimous decision?