Product descriptions just aren't enough anymore.
What's on the label, on the tin, or on the box is not enough to convince someone to buy your stuff.
Very few retailers run a store without someone there to help shoppers in person.
Online retailers can't afford to leave customers to fend for themselves.
You need to show your customers you care about them.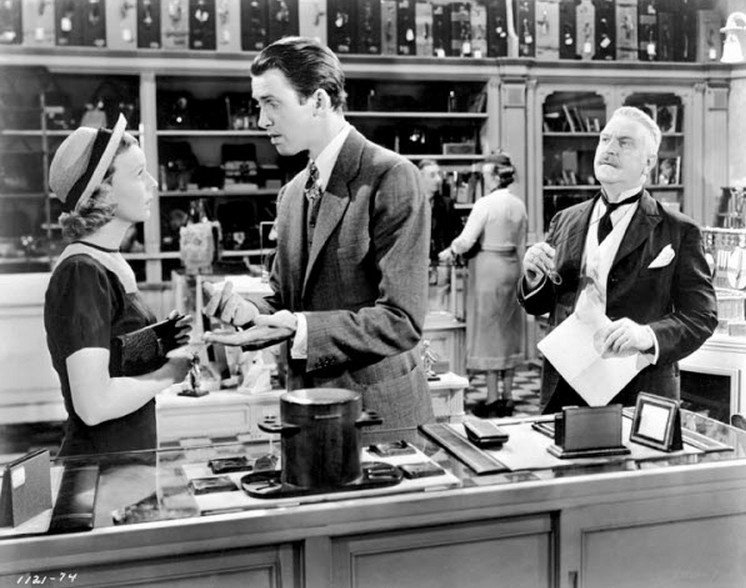 You don't have a team of friendly customer service assistants on hand to jump out of your online shopper's screen and dazzle them with helpful, expert knowledge.
You have only your website to help guide browsers through their purchase.
Surely, the more helpful, entertaining, educational content you can provide, the better your chances of converting browsers into buyers.
We need the words, the images, the videos on your online store's pages – to act as the best damn team of retail shop assistants your industry has ever seen.
Better yet, your content doesn't need toilet breaks, penalty rates, public holidays, salaries or training. Your webpages work 24 hours a day, seven days a week – always there to help thousands of customers at the same time.
The rest is up to you. If you have the determination, time and insight, you can create an online shopping experience far superior to your offline retail counterparts. But that content won't create itself…
Short On Time? Your Skim-Read Summary:
Too busy to read the whole thing? We get it: logistics, synergies, KPI's – all that stuff. Our articles are long, well researched and detailed. Sometimes you need to pick and choose the bits that interest you best. Here's the skim read version (you really should read the whole article though). You can click on the dot point that takes your fancy and head straight to the relevant section.
8 ways to use content to improve your online store customer experience
This is one of my personal pet areas of ecommerce marketing. I have a fierce admiration for the innovative online retailers who match their user experience to their customer's specific info needs.
If you're doing it well, your online store should be less of an online catalogue, and more of an online concierge helpdesk.
We Gorillas are forever experimenting with different techniques and tactics retailers can use to create content experiences that convert shoppers into customers.
I'm about to share eight of the simplest with you. Each requires just hours of effort to implement, in return for an exponential reward of value. Your customers will thank you for it. (With money. From their purchases.)
These ideas are broad in appeal, and effective across almost every online vertical.
(Don't stop here. This article is no silver bullet. You need to continually work on your content marketing strategy. Once a month, block out an hour on your calendar to work on improving your customer's shopping experience.
You should always be on the lookout for content, design and development ideas specific to your industry, that will help your target audience.
#1. Develop helpful research landing page buyer's guides
You need to bridge the gap between interest and purchase. Can a first time visitor to your online store be convinced to buy your stuff?
If your website is more online catalogue than customer service assistant, it's difficult to persuade an unfamiliar browser to buy.
Create helpful, informative and educational content that allows your potential customer to research their purchase. Demonstrate why your product is best suited for your target audience. Explain benefits and differentiating factors in a language your community will resonate with. Go into detail.
Give readers the information they need to make an assured purchase and use your knowledge to prove your authority within your industry.
Turn this content into a dedicated web page for each of your important products or categories.
These landing pages can stand alone behind a 'learn more' call-to-action on your product page or you might like to incorporate this info into a long scrolling category page.
For your expensive, 'important-purchase' products (like musical instruments, furniture or mattresses), find a way to allow buyers to read this content on your product page.
US mattress e-retailer Casper is one of the best in the business at providing helpful research content. Go for a quick wander around their site. You'll soon understand why this crew have revolutionised the bedding industry. Their content marketing program is largely to thank.
Don't get me started on their Van Winkles online magazine. Really – I could go all day. It is a thing of sheer ecommerce content marketing beauty.
Their mattress landing page is the perfect example. To sell a mattress online, you'll have to be prepared to provide some detailed assurance for the customer. Casper delivers.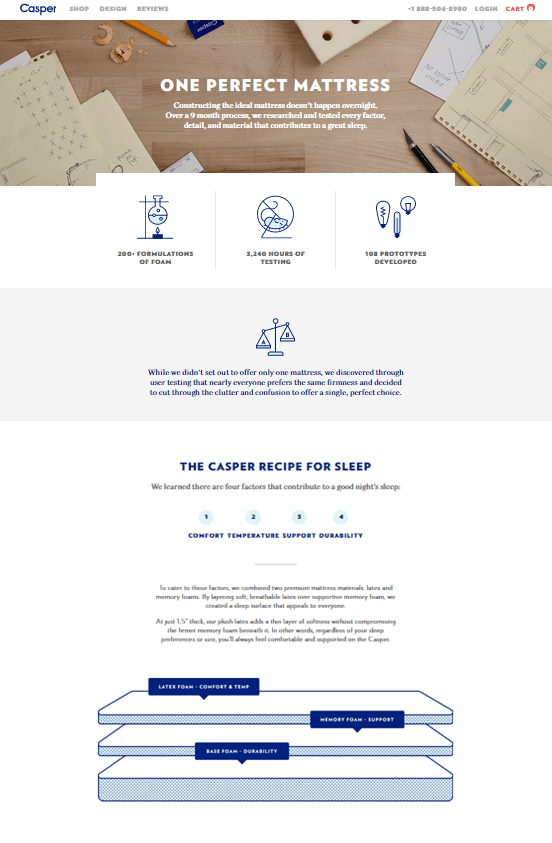 Mr Porter is another best-in-class online retail dominating their competition with superior research-based content. The menswear retailer's 'The Shoe Guide' landing page is a vital cog in the brand's conversion process.
Don't feel like you need to reach Mr Porter's level all at once – you can keep adding valuable content over time.
Even better – if you've been blogging for a while, collect all of your articles related to this product category and compile a pseudo-library on the topic for potential customers to browse.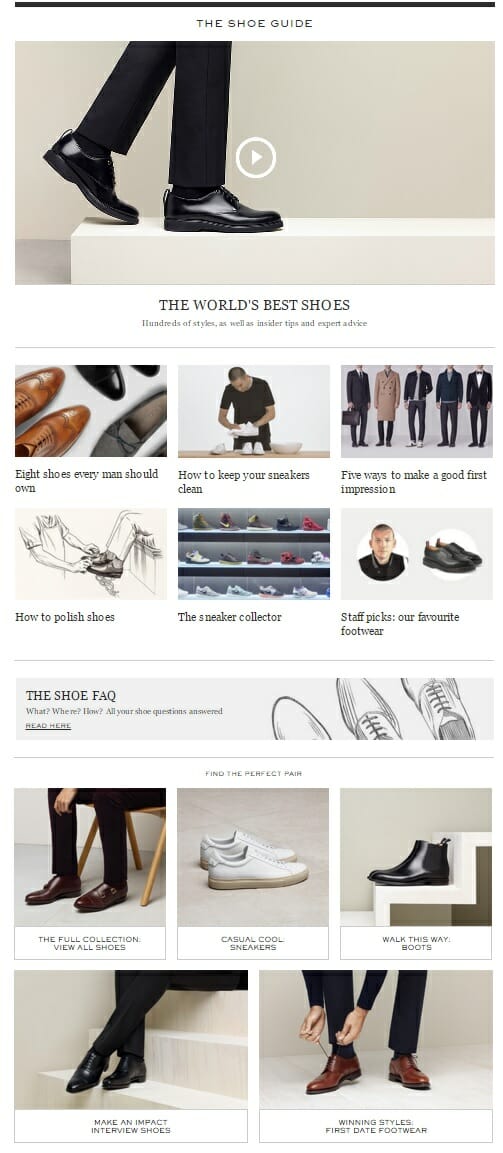 Australian surfwear retailer SurfStitch is another one of the Gorilla's content marketing poster boys. Heck, we wrote a whole article about their revolutionary 'editorial commerce' retail strategy.
Their 'Denim Guide' is so simple, but so effective.
You can definitely rework your existing content to create a more customer-friendly browsing experience, without devoting time and resources to the development of new information. SurfStitch shows you this tactic doesn't have to be difficult – it just requires you to focus on your target audience's needs.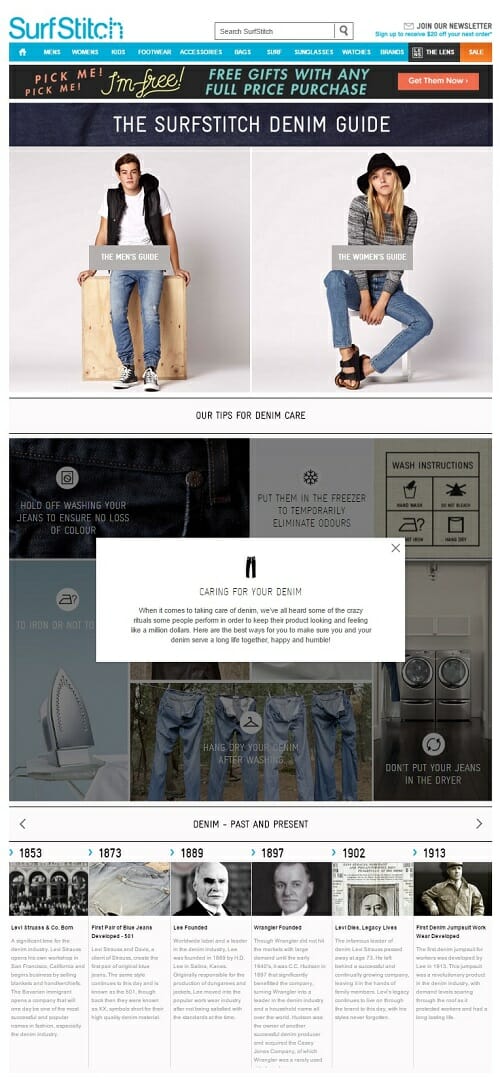 For the advanced pupil – consider John Lewis' approach. These guys have a research landing page for their research landing pages!
Compile all of your helpful buying guides into the one spot to create a kind of uber research library.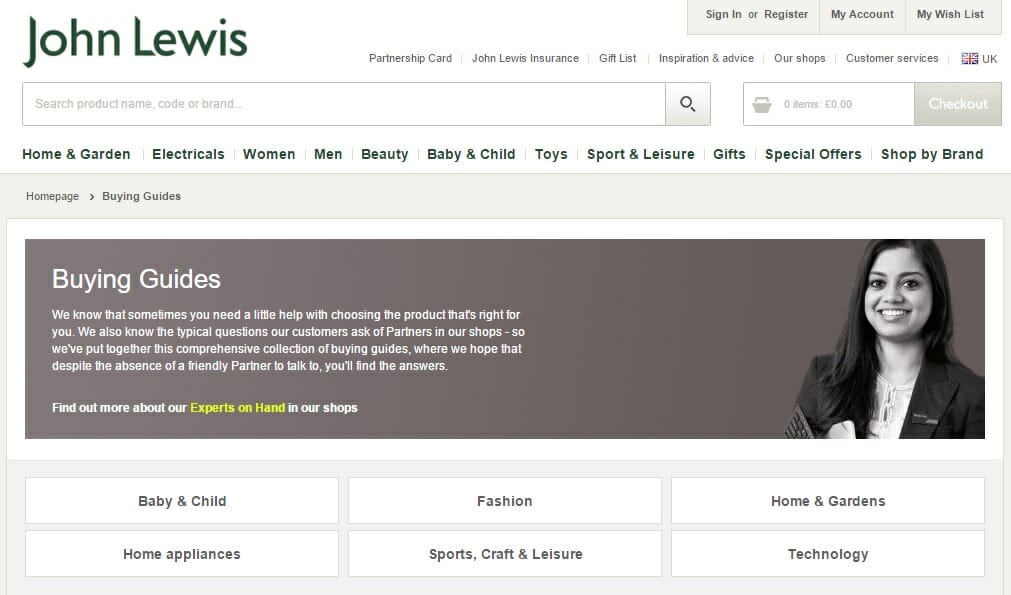 Instead of a whole bunch of in-store customer service assistants helping customers with their knowledge, you have an online research guide acting as your subject matter experts.
You'll have loyal customers pinballing around your content whenever they're looking for information or advice.

Kunle Campbell, Founder of the 2X eCommerce podcast and blog, is one of the UK's most respected online retail experts.
Kunle recently contributed to our 2016 Ecommerce Future Trends Report, and he cited these type of 'evergreen buyers' guides' as a fundamental pillar for the customer experience of an online store.
"One absolutely necessary content marketing pillar for online retailers – build out evergreen buyers' guides to support each category of products you sell.

Before considering blogging, you need to build buyers' guide pages using a combination of varied content formats like video, photographs, infographics and text.

Buyers' guide pages should be as detailed, instructional and helpful as possible to help potential customers fix their problems."
For similar insights like this one from Kunle and 12 other online retail industry experts, get amongst our 2016 Ecommerce Future Trends Report.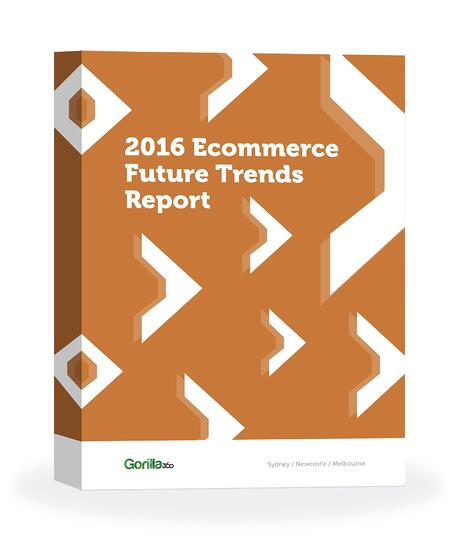 #2. Allow for needs-based, not product-based search
Your potential customers do want you to make them feel like they are a human, not an email address with a credit card.
When you strip it all down, an overwhelming number of ecommerce sites are still glorified digital catalogues. We need to start creating an online shopping experience that allow our customers to search and browse – based on their needs – not on your products.
Bricks and mortar retailers get it. The best of them carefully craft a service environment designed to delight their customers.
Just as IKEA sets up their showroom with themed and styled rooms to show customers their products in action, we need our online store to serve our customer's entertainment, browsing and research needs. Instead, most online stores just focus on the transactional part of the shopping experience.
If you're an outdoors retailer, develop specific landing pages for common DIY projects to help customers building a deck, starting a veggie patch, or laying a concrete slab. You can integrate links to relevant product pages throughout the helpful DIY content.
This way, you're providing valuable expertise before customers buy – developing trust brownie points that are easy to cash in for a sale, and future brand loyalty.
US retailer Lowes are the dominant content marketing force in this industry. Their incredible library of helpful DIY content casts a wide online net. Whenever a potential customer searches for information and advice on an outdoors project, Lowes' content is there to help – through Google searches, on Facebook, YouTube and Pinterest.
Lowes' 6 part 'Build-a-Deck' series (one of hundreds), shows you exactly how to create needs-based content to improve the customer's online shopping experience and convert browers into buyers. Just appropriate this idea to your specific industry.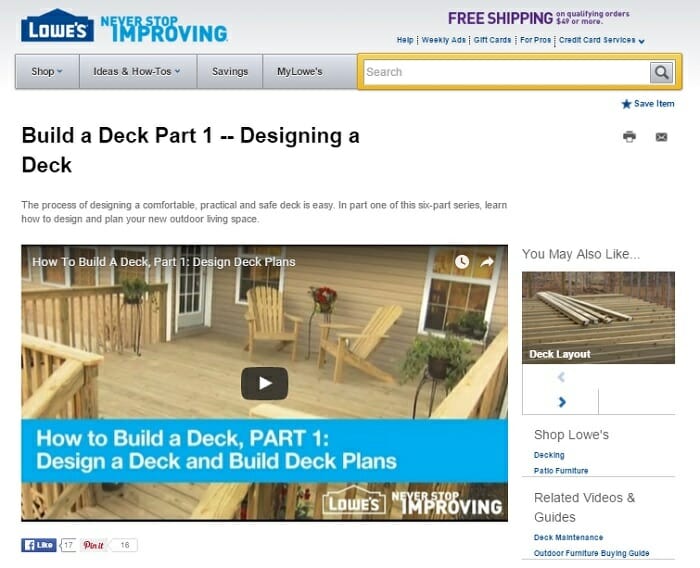 If you're a fashion retailer, create landing pages for different user occasions.
Create your own wedding, beach, camping, partying, workout and dinner-date pages.
Our regular readers will already know the depths of my infatuation for menswear retailer/publisher Huckberry – and I'm about to pump up their tyres once more. These guys genuinely care about their customers' shopping experience.
Huckberry know men like direction with their shopping. They've developed landing pages devoted to curating the clothing that suits different personality types and usage occasions (instead of just product types and categories) to make shopping easier for their browsers.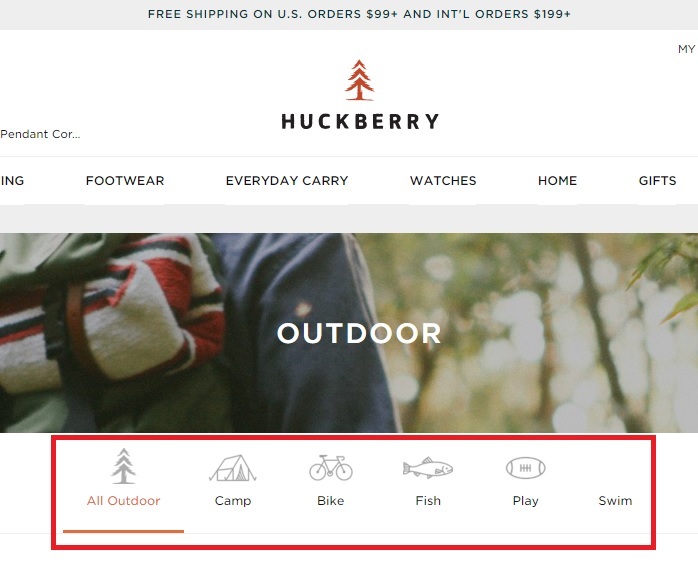 The image below shows beautiful visual calls-to-action to Huckberry's personality-based gift pages.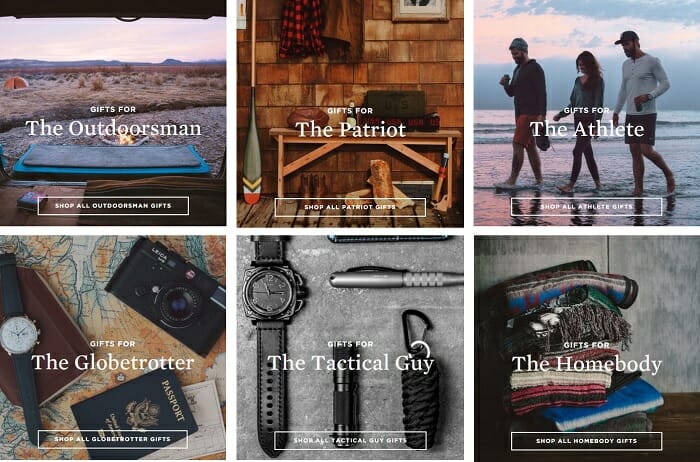 You should start integrating educational content into your online store to further help your customer.
Offer tips, advice, expert insights, demo's, and instructions to prove your expertise, and add value to the shopping experience.
This level of service breeds loyal, repeat customers, and creates an advantage your competitors will find hard to replicate.
Think about the problems your customer is trying to solve, and the triggers that drive their research. Craft your user experience to make things easy for your customer, and they'll keep coming back to you for help.
#3. Repurpose seasonal buying guides
There's a good chance your customers needs change along with the season. Shoppers might be affected by certain approaching events, a different temperature, or new trends and innovations that signal a change in mindset.
Sure – this is old news to forward-thinking fashion retailers.
The following ecommerce megastars all know the importance of establishing specific landing pages that allow users to search for products for the upcoming season.
But I reckon you can take the customer helpfulness one step further.
Don't focus on products – focus on helpful info and smart curation to help your customer shop for the season.
Some useful contextual info relating your products to your customer's specific seasonal problems, will improve their experience, and show that your brand cares about helping – not just selling more stuff.
I'm so sorry to do this to you, but I've got to use another Huckberry example. I honestly scoured the ecommerce jungle, and non-product focused seasonal guides are unfortunately few and far between.
Just read Huckberry's Guide to Winter Camping on their blog, and this tactic will make a whole bunch more sense.

By integrating products into the context of a helpful winter guide, Huckberry can establish their authority and expertise, assuring the reader this brand knows their stuff.
If you're going to buy anywhere – why not buy from the proven experts who just helped you out with a stack of free info and advice?
Your seasonal content only requires four big efforts. Once you've developed a strong foundation of helpfulness, you can refresh and update each seasonal guide the next year, incorporating any new products as you go.
If possible, infuse influencers into your content. Create a list of partners with similar interests and brand values. Select those with large social media followings made up of people similar to your target audience. Interview these influencers. Get them to review your product. Ask for their tips, advice and expert perspectives. Share their story in your seasonal guides.
Your audience will benefit from their insights. Your influencer will be sure to share your helpful content to their followers, opening up a new chunk of targeted potential customer to your brand.
Don't just throw up your newly developed content onto a solo landing page and wait for the customers to roll in. Make the most of your content creation efforts.
Repurpose your work. Cut up your guides into a series of blog posts, promoted through social media. Any visuals you develop for the guide can be used individually across your social media platforms to drive more interest back to your seasonal guide.
You can also break your content into a series of emails to send to your subscribers in the lead up to the new season – to increase engagement, and to add value for your customers.
Oh, and the most important part of this exercise… Incorporate your helpful content into relevant product pages.
If an item features in your seasonal guide, find a way to add this helpful info further down your page.
Your content helpfulness demonstrates your brand's expertise, authority and carefactor.
There's not many online retailers using this simple content marketing tactic to improve their customer experience. All the more opportunity for you to delight your shoppers.
Surprisingly, the food retail niche is doing it best.
UK supermarket chain Waitrose, and US retail monolith Walmart, both have really helpful seasonal guides blending helpful content with carefully curated, relevant products.
The best in this business is another one of our personal favourites. We've written about the US grocer Wholefoods' content marketing recipe for sucess.
Their seasonal landing pages are a delcious mixture of recipes, health tips, cooking instructions, and how-to's. Customers can keep coming back to this hub for inspiration, information and direction. Product ingredient lists are seamlessly integrated into the experience to make it easy for browsers to shop with Wholefoods, turning helpfulness into sales for the retailer.

#4. Add call-to-action buttons to helpful content at the end of your pages
Dead ends are an ecommerce manager's nightmare. You've gone to all the effort to interest, and attract a visitor to your site. If browsers aren't ready to buy, don't just watch on as they amble past your shop window. Show them around!
At the end of all your product and category pages, add some visual tiles linking the reader to related content that is not sales focused. Your visitor might not want to buy, but you still have the chance to establish trust and build your brand's authority with some helpful, valuable content.
Blog posts, buying guides, supplier info, about us, and social media content gives you a second chance to keep in touch with your potential customers and urge them to subscribe for more.
Harry's are an online shaving goods retailer who understand the value of content marketing. Their call-to-actions to helpful content are executed with aplomb.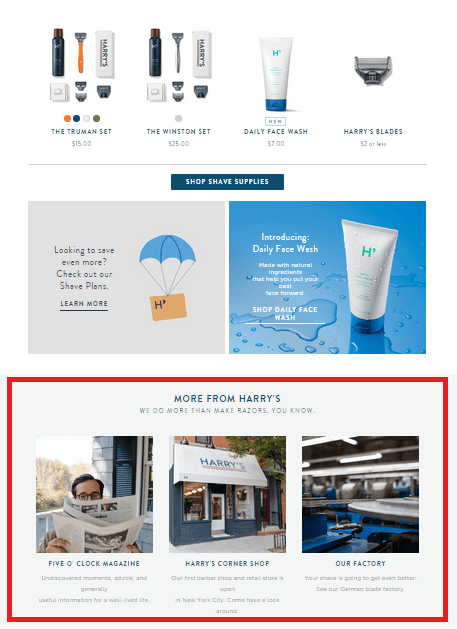 #5. Send helpful post-purchase emails
One sale doesn't make an online business.
Don't be that ecommerce brand that sends a boring, generic post-purchase receipt email that your customer can't wait to discard to their spam folder.
Every time you communicate with your customer, take the chance to help them. Use content to educate, inform or inspire.
Take your cue from the best offline retail experiences. When you buy a suit, a car, a lounge chair, or a guitar, you're loaded up with a bunch of info that helps you maximise your purchase.
Add tips, tricks and advice to your post purchase email. Give useful instructions, demo's and maintenance info to support your product. Offer a clear path for post-purchase support to direct any questions or enquiries with ease.
Dyson show us all how it's done. A sexy product the vacuum is not. But this content is a bonafide loyalty generator. Customers will come back to Dyson just for this kind of helpfulness.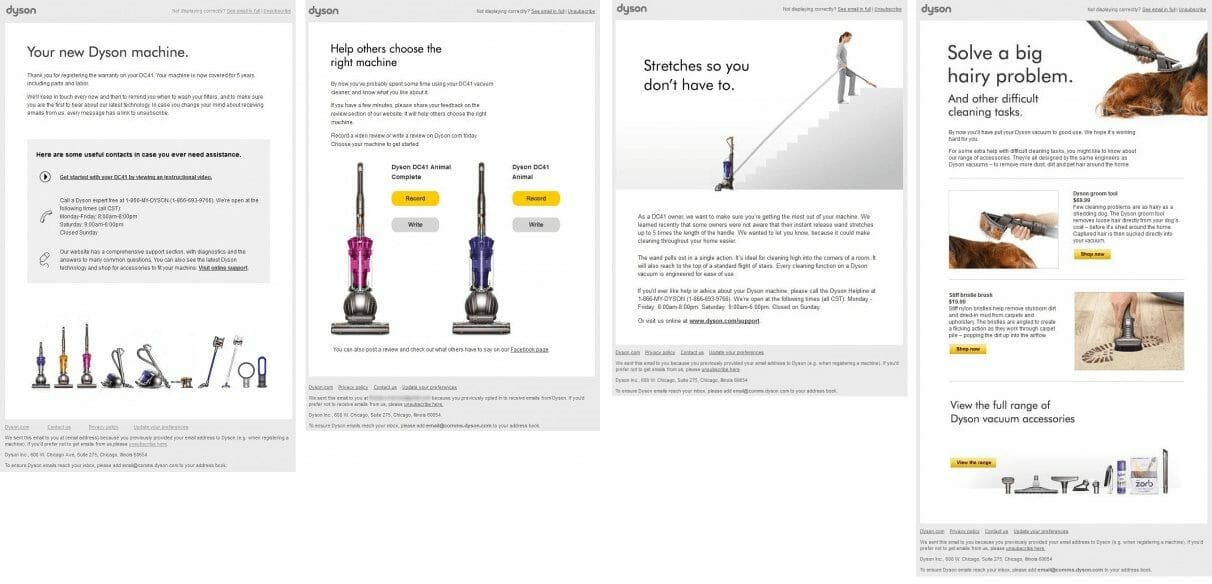 #6. Develop an email subscription popover
All this hard work. The sweat, the effort, the hours. It can't be just another fad diet flash in the pan. We want the benefits of this Bootcamp to last. Make that long term goal your motivation.
All these fast, new changes will mean more new visitors. Don't let the chance of one-time sales blind you to the real opportunity. We need to snag more email subscribers, and develop long term relationships with these potential repeat customers over time.
Swap the buy-now-or-else banner and introduce something that shows you care about your visitors, not just their wallets. Consider introducing a popover with a call-to-action to subscribe for email updates. Offer an exclusive offer, an engaging content download, or a freebie as an incentive.
This proves your brand cares about things that aren't cash. Communicate your brand's lifestyle and values if you can. Send a trigger to the visitors that will spark their interests.
Tea e-retailer, Cup Above Tea, manages to communicate brand values of luxury and exclusivity with some simple copy, quality imagery, and premium design.
If you're into that vibe, and you want to learn more about tea, you'll want to click that big sign up button straight away.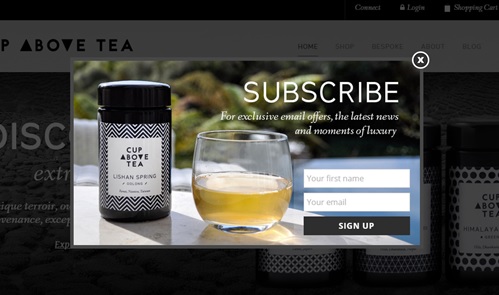 After a few weeks of helpful, educational articles, you'll find your way to a product page to research your next tea purchase. Voila – a new repeat customer is born.
#7. Make the most of your subscription follow-up email
When you've signed up a subscriber, it's crunch time.
You can go one of two ways here.
Be that annoying, give-me-more-money cliché and ask for another sale, or play the long game and earn some trust, by trying to help your potential lifetime customer.
We're for the latter.
Think customer lifetime value, not one-off flash sales.
Your follow-up email to a new subscriber is a crucial line in the sand. Show your new customer that you care about their interests, and their inbox. Don't hound them for a sale.
Sure, you can offer a discount or coupon code for their next purchase. That's helpful. But don't clog your first intimate communication with products.
Provide some helpful content. Advice, tips, tricks, education, information, inspiration – anything but sales.
Curate the best stuff from your blog, or find some great stuff from partners or other publishers. Drive social sign ups, to give your readers a chance to follow you on another platform.
Encourage user generated content while you're at it. And if you want to push the envelope and spread the love, prompt your reader to share with their friends for a referral bonus.
Food 52 hit all of the marks. Their welcome email gives new subscribers a window into all aspects of their online experience.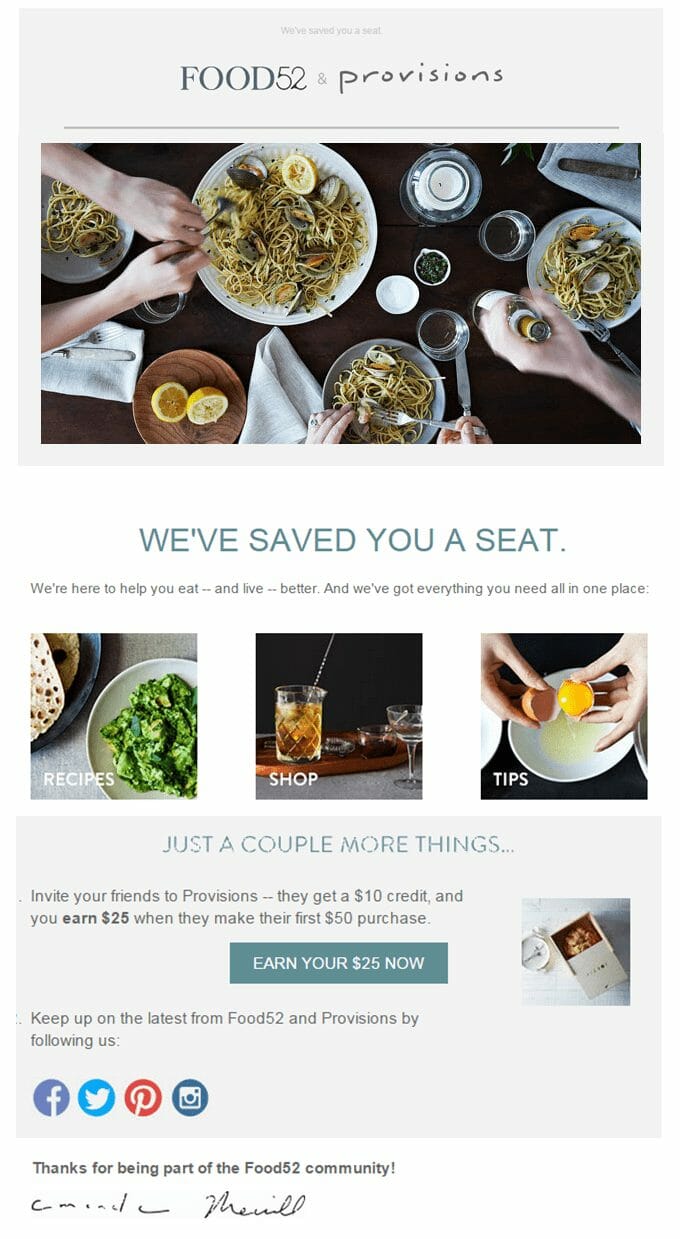 It's simple, beautiful and clear.
Full marks for the referral program too. A simple tactic like this helps you spread the word, and exponentially build a community of brand fans.
#8. Create a customer Q&A series
When you think ecommerce 'user generated content', your mind conjures up Mayfair-filtered images of hipsters riding bicycles, a glamorous 20-something with a stylish new necklace, or the 1000th pic of your colleague's perfectly poured coffee.
This kinda stuff…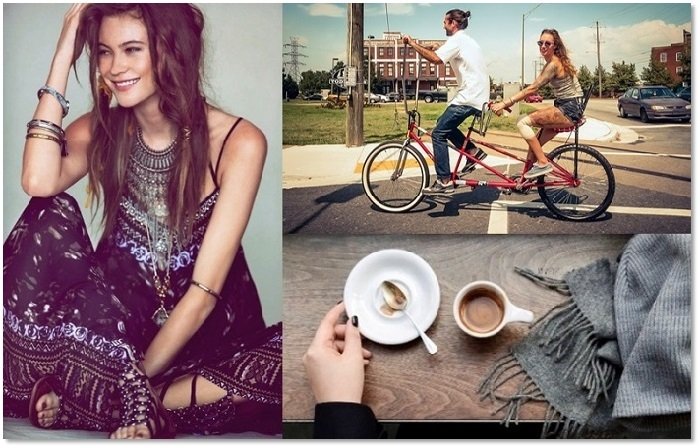 When I speak to online retailers about the potential for customers to create content about their brand, their replies are often pessimistic. Most can see the benefits, but so often I hear skepticism. Something along the lines of…
"It's pretty hard to encourage user generated content when we don't have a shareable product".
Wrong!
User generated content is not just a marketing luxury afforded to the travel, food and fashion reatilers.
If you want some proof – look no further than Goulet Pens.
If you missed it, we've written an entire article about Goulet's ecommerce content marketing genius. If your audience isn't the type to be gramming, posting and hashtagging – this article will help you find a way to make user generated content work.
The Goulet team sell pens.
Their customers care very deeply about their stationary.
They have a seemingly unquenchable thirst for more expert pen-related content, but most aren't exactly the rabid Instagramming type.
So how did Goulet go about fulfilling their nerdy pennophiles' need for more info?
They just asked their community to help.
Introducing the Goulet Q&A YouTube series.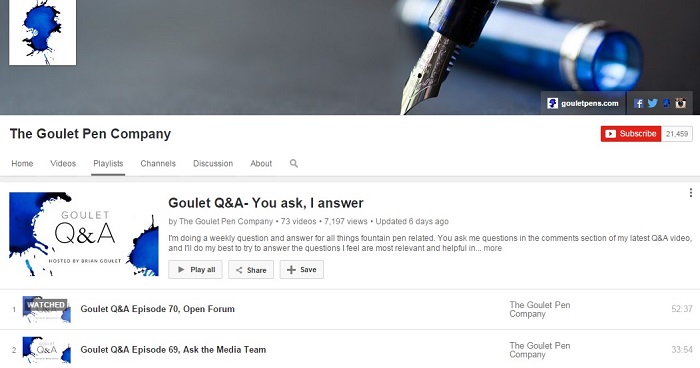 Customers and fans are encouraged to send in any questions they have via email.
A simple Q&A video series hosted by CEO Brian Goulet once a week, allows the brand to give super detailed answers to the community-sourced questions..
So simple, so easy, so helpful.
The customer generates the content ideas for you. All you need is a camera, a blog, an email address (or a YouTube channel) and some indepth product knowledge. By involving your subscribers in your content, you give them a platfrom to communicate, and foster a stronger personal relationship.
If social media doesn't suit your audience, concentrate on other channels.
If you think you can build a community of content-creating fans, there's so many way to make it happen.
Want a whole bunch more simple online store helpfulness?
These online retail content marketing ideas came directly from an online program we developed to help retailers optimise their customer experience with 30 simple tasks over 30 days.
It's called the Gorilla Ecommerce Bootcamp.
Just turn up each day ready to train, and our guide will show you exactly what you need to do to have your website in shape.
You'll be attracting, converting and retaining more customers better than ever before.
Don't miss out on 22 more simple online store hacks you can complete yourself in less than one month.
Just click on that big old grey button below and start embracing a healthier ecommerce lifestyle!