SEO is savvy digital marketing tactic if you're in it for the long haul, but it's going to take time, money and resources. Paid search ads (like Google Ads) show instant results but conversions come to a halt as soon as the ads stop running.
So which one drives the most customers to your site? Where do people actually click?
Take a step back and breathe.
Let's look at the bigger picture.
Digital marketing takes money, time and resources.
To truly understand where to put your money you need to first understand your customers. That's why I've broken this article up into two major sections.
Mobile and desktop.
Today's consumers use a variety of devices including mobile, desktop and tablets. And research shows that the device you're using will impact where you click (we'll get onto this later).
As you read this article, think about where you click when you're using a mobile compared to a desktop device. Does your behaviour change when you use different devices?
While you're at it, try to conjure up an image of your target audience. Do they primarily use mobile or desktop (hint, check your Google Analytics audience report for trends. You can do this by logging into your Google Analytics account → Audience → Mobile → Overview).
Why should you think about user behaviour?
We have the data and tools to optimise our customers' experiences and in the competitive environment, there are no excuses. Let's put our money on the approach that will benefit our customers (and earn us more moolah).
Where do people click on a desktop device?
Searching on a desktop? Your browser will serve up more results, making use of the bigger screen.
Under the search bar, there are Shopping Ads. To the right related searches and heck, sometimes even more ads. Below the Shopping Ads, are Search Ads and below the Search Ads you'll find the organic search results.
A bit lost?
Look at the image below for a visual explainer.
Ads. Everywhere.
So, paid clicks get the most clicks, right?
I've done some clicking of my own to get the latest data.
The verdict…
According to Cliff Sarcona from Zero Limit Digital Marketing,
"71.33 per cent of searches resulted in a page one Google organic click. Page two and three only get 5.59 per cent of clicks. On the first page alone, the first five results account for 67.60 per cent of all the clicks and the results from 6 to 10 account for only 3.73 per cent."
So what's left? A measly 15 per cent of all traffic – going to the Google Paid Ads (PPC), or trying a different search. Or giving up."
In 2014, Mediative released an eye-tracking study, where searchers look and click on Google results on desktop. Here are a few findings from the article:
32.8 per cent of clicks are on the first organic listing

83 per cent of people looked at the top organic listing

Local listings get 50 per cent of the clicks

Only 1% of clicks are to 'next page'
It feels like second nature to skip the ads and head straight to the organic results. This is where consumer behaviour comes into play. The Marketing Science Institute released a study indicating people click depending on their level of involvement.
Here's a quick recap of the article.
Low-involvement consumers, people who are researching a product or not currently interested in buying, tend to click the organic results. Whereas high involvement consumers, those ready to buy, are more likely to click around both organic and a larger fraction of paid results to find the product they're looking for.
Understanding consumer behaviour is at the core of just about every business so I suggest subscribing to the Marketing Science Institute newsletter to get your hands on the full study.
To recap. Consumer behaviour research suggests people tend to click organic results when searching on a desktop device, however, results may vary depending on a consumer's level of intent to purchase a product.
Where do searches click on mobile device?
In 2019, the number of phone users in Australia is expected to rise to 20 million.
Great. Mobile has asserted it's digital dominance. So, surely it's the same as desktop? Customers click the organic results, right?
On the contrary.
Let's start with a story.
It's early morning and you're sipping on your daily cappuccino at your favourite cafe. You reach out for your phone. You've got a big day ahead of you. You need to find the perfect costume for an upcoming party.
You reach for your phone and Google 'dress-up costume shops.'
What's the first thing you see?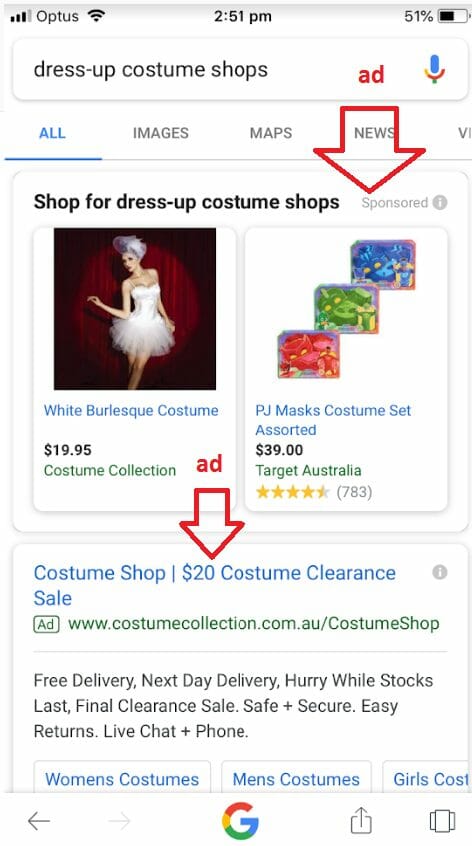 Firstly, there's a bunch of shopping ads.
Then there's a search ad followed by local business listings. And after you scroll past the listings, you finally get to the organic searches.
Unlike on desktop, a person isn't exposed to an organic listing unless they continue to scroll down the page.
Only using SEO is risky for brands whose customers are primarily using mobile devices. If a customer wants to buy a product, and they see one of your competitor's ads as the number one paid listing, they're likely to click your competitor's ad and not even see your organic search result.
Moral of the story.
More scrolling required = less chance of earning that valuable click.
The good folks at Wayfair SEO noticed an interesting phenomenon with their own organic versus paid performance.
"Over the last two years, the total share of organic clicks on page one of our ecommerce search engine results pages has dropped 25% on desktop and 55% on mobile."
In the graph above we see organic listings received 25 per cent fewer desktop clicks and 55 per cent less mobile clicks compared to two years ago.
Why are people clicking on ads rather than the organic results? Moz's article based on Wayfay's results outlines the following could be contributing factors:
Ads are saturating the market – there's basically an ad for the majority of queries searched

Ads can take up more real estate and include extensions – giving people more reason to click them

Google Shopping is taking over – people are demanding, they love high-quality images and getting their needs met asap

Subtler ad labelling – making it less obvious is the result is an ad or organic result
Why you should use both SEO and paid ads to get the most clicks
For the foreseeable future, the debate on organic versus paid clicks will continue. Data will change and new trends will emerge (hint, you might have seen artificial intelligence working its way into your newsfeed). That's why we recommend implementing both SEO and paid ad tactics for your business.
Here's a few quick reasons why:
More real estate

More touch points

More clicks overall – by having a combination of more real estate and more touch points, people are more likely to click your results
However, using both SEO and AdWords isn't realistic for everyone. There are a few drawbacks you'll need to consider including:
More budget/risk

More management time

More expertise/effort required
The verdict – organic results versus paid ads
On desktop devices, users continue to click organic results (unless they're ready to purchase, then paid ads take the trophy).
On mobile phones, paid results are more prominently clicked.
What does this mean for your business?
Where possible, use both. In the long run, you'll cover more real estate when you run paid ads and have a high SEO ranking. But we get it. There's a lot to consider. Just remember, nothing is for free.
AdWords may be the quick fix, but SEO is in it for the long run. Both cost money, take time and resources.
So if you need some guidance on making the best choice for your search engine marketing, talk to one of our friendly gorillas today.