We haven't really worked out how to make the most of personalisation just yet.
Ecommerce brands know that customers are demanding better online experiences. The one size fits all approach is frustrating for online buyers. We know the technology to make customisation happen is readily available, but we also know that we need people to 'humanise' this technology to provide a genuinely helpful experience.
Sure, we've worked out how to segment our email lists and send 'targeted' promotional email blasts. We know how to grab visitor's digital information and stalk them with 'personalised' retargeted advertising. But we haven't really discovered how to genuinely improve our customer's experience with personalised marketing.
We're pretty sure that's about to change.
Some smart, innovative folks are onto it.
Unexpectedly, most of them sell clothes to men.
They've built their entire business models on a foundation of ecommerce personalisation.
And it's working out exceedingly well for them.
What exactly is this new personalised men's shopping service?
"Giving every single member a personalised experience is really hard to do.

So, we're solving that problem by saying; 'Just let us know what you need. Let us get a chance to get to know you and build a relationship, and we'll get progressively better at serving that in a lot of different ways'.

We try to keep a person involved in every transaction – to personalise every aspect of the way we deliver our service."

Brian Spaly, CEO, Trunk Club.
The idea is, most men want to shop about as much as they want to go to work on a public holiday. Problem is, they still want to look damn fine when they step out the door every morning.
They'd be more than happy for a whole bunch of perfectly fitting, stylish clothes to be delivered to their door every once in a while.
That's the basic premise leading a collection innovative retailers to a new level of genuine personalisation. With the internet, and technology, and smart people, the perennial male shopping frustration has been dealt with.
The online personalised shopping service allows busy/style-impaired/lazy/shopophobic men to jump on a website and fill out a detailed questionnaire that explains their clothing needs, sizing info, style of dress, work attire requirements, preferred fabrics and colours.
The magic comes from the combination of well managed data, and subject matter experts that know how to use it to make a human's life better. The sites learn about you, then compare your info with the profiles of other people like you to predict the right products for you.
Actual human stylists then select a new swag of 'on-point' threads for you from the algorithm's suggestions. Some brands allow you to select from a list of choices, others just send it all on to you in a neat little reply paid package.

You try you gear on, if you like it – happy days, if not, slap on a sticker and send it back free of charge.
Bombfell (instead of bombshell, short for bomb-fellow, see what they did there?), one of the new crew of personalisation crusaders, explain the pitch straight up:
"To get clothes picked just for you by a stylist, so you can spend your time doing awesome guy stuff."
Sounds simple, right?
Also sounds like the future of shopping to me.
Finally, a few bold visionaries have solved an age old problem.
And they've stumbled upon a way to truly personalise the online shopping experience.
Here's an explainer, from the poster boys of this approach, Trunk Club.
Turns out this stuff works.
Trunk club was acquired by Nordstrom in 2014.
How much?
Just a cool $350 mil.
How a few menswear retailers found the right way to do ecommerce personalisation
One ruefully simple question led to the emergence of this new shopping experience
What if you actually got to know what each customer wanted before you tried to sell them stuff?
I mean, if you really, genuinely, made an attempt to understand their individual needs beforehand, so that you could personalise their experience and select the only the right products to offer them.
Imagine if you could find a way to deliver that level of service, at a competitive price, and still make money out of it.
Wouldn't it be grand?
If you're finding yourself daydreaming into the distance, longing for a better future – I have some news to snap you out of your ecommerce fantasyland.
I'll let Brian Spaly, CEO of Trunk Club, deliver the wake up call.
This understanding-the-customer-before-they-buy-personalised-service-offering thing…
It's already happening.
You need to know about it.
Then you need to find a way to start delivering a genuinely personalised experience to your customers.
Who are these new age masters of ecommerce personalisation?
There's only a small collection brands leading this menswear personalisation revolution, so I thought it best to give you a quick rundown of the main players.
Each has a few minor unique features, but the core mission is the same. All these guys are using data and expert stylists to deliver customised clothing suggestions to their customers.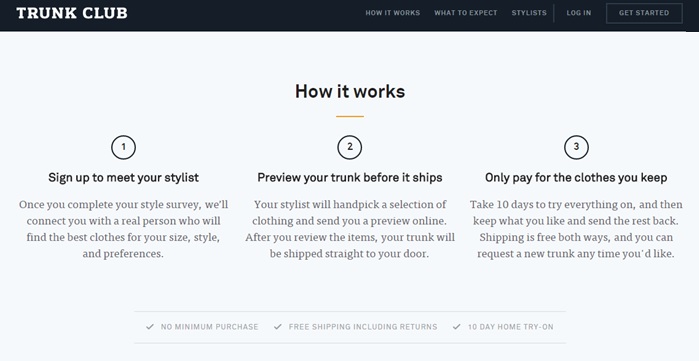 Arguably the first of its kind, Trunk Club is the face of this personalised shopping services industry. CEO Brian Splay was recruited to the now Chicago based brand after leaving his Bonobos Co-Founder Andy Dunn due to creative differences between the two. Spaly took the Midwestern startup from from 5 employees and $1 million in revenue in 2010, to the $350 million acquisition from retail giants Nordstrom.
Men with more money than time can sign up online, or walk into Trunk Club's River North showroom.
A style expert will call, email or consult in person about individual style and needs. A few days later, a trademark cardboard trunk filled with 10 to 15 items, from John Varvatos boat shoes to Eton button-down shirts, shows up at your door. Customers keep what they want and send the rest back.
Trunk Club buys at wholesale prices and sells at retail. There's no subscription fees and shipping is free both ways.
Thsese guys are the Porsche of the bunch . In fact, these two brands make such a comparison, they decided to collaborate.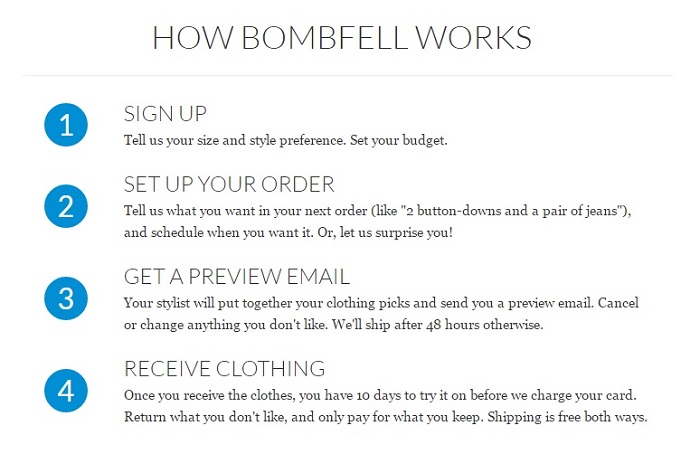 Bombfell is fairly similar to Trunk Club in execution, just at a much more affordable price point. The service allows you to set your own budget but doesn't try to immediately exhaust it. At an average dollar value of $69 per item, Bombfell isn't sending you the same type of labels as Trunk Club, which means you're getting less boardroom formal and more desk-to-bar casual.
Bombfell offers you clothing from four primary style categories: casual, classic, hippster and preppy. They also allow you to view your curated suggestions and control the final selection before it's shipped.
Men's Style Lab
Men's Style Lab offer a cheaper, less designer label focused alternative with real stylists and no algorithm. With a team based in Iowa in America's Midwest, the brand has a decidedly blue collar mentality, providing a clear difference between their offering and the rest. Think 'Trunk Club Average Joe'.
The Five Four Club offering sits neatly in between Trunk Club and Men's Style Lab. They have a clear appreciation for quality products with great design, but at $60 a month, their offering is decidedly easier on the pocket that the top end of town.
With a contemporary feel and youthful aesthetic, Five Four Clubbers are predominantly college grads and creative folk who aren't in the office 9 to 5.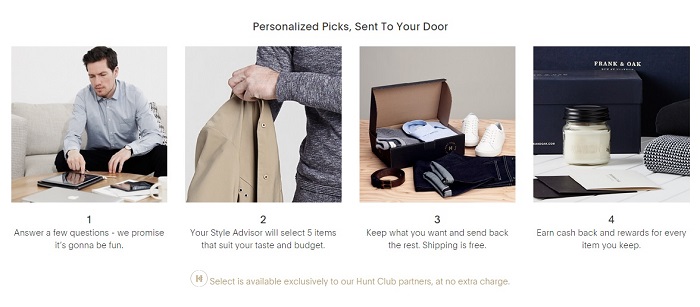 The Montreal menswear superstars have developed a huge collection of furiously loyal brand fans with their outstanding content marketing program. With a premium quality subscription print magazine and an online lifestyle focused blog, Frank and Oak prove to their audience they are more than just a clothes company.
Frank and Oak are a style purveyor for the new age professional gent, who stand by their values of 1st class style at reasonable prices.
With their 'vertically integrated approach' (they design, manufacture and retail everything themselves), they miss out the middleman and pass on the savings.
Frank and Oak run an online store with your regular a-la-carte business model, however their Hunt Club service offers members the chance to sign up for a personalised monthly subscription box, curated by a proffesional stylist. The selections are based on your style profile, preferences and budget, but all the threads are Frank and Oak brand.
Great to see a manufacturer dipping their toe in these new age waters, offering personalised services to an exclusive bunch of well-rewarded members.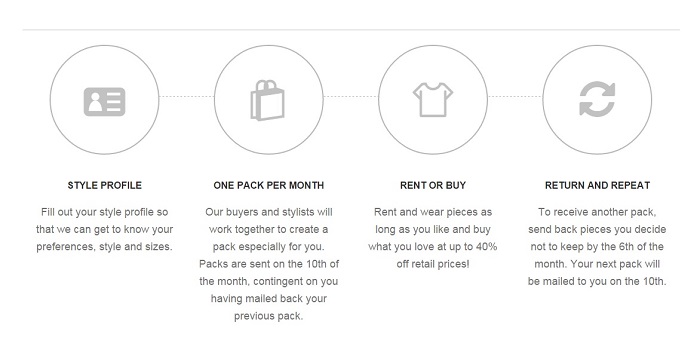 As if there isn't enough revolutionary innovation going on in the menswear world, The Mr Collection have taken things up a notch. Same jazz – personalised suggestions from your stylist, with a pack of options once per month – with one very different option. You can opt to rent your clothes for the month, then send them on back for some new stuff.
They make a good case for it.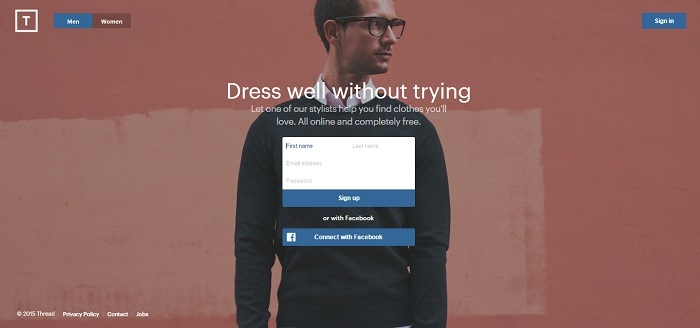 The London based, UK service Thread puts extra emphasis on improving their algorithm as they get to know you. After signing up, users answer a questionnaire similar to their competitors. They are paired with a stylist who makes contact through live chat to further refine their profile (based on 30 different factors).
Their algorithm contains a database of about 10,000 hand-created outfits , with five new outfits selected based on the customer's profile sent via email every Friday.
Here's where they ramp things up.
The customer is prompted to rate each outfit, helping Thread to improve their suggestions and further sharpen their algorithm. It's all about the customer's experience, and it makes sense that Thread would want to deliver a continually better result as their relationship with each customer develops.
Cladwell has taken the service element of the process and left the rest to the customer. They provide a 'personalized style roadmap service'. It's a lot more simple than it sounds.
Cladwell get that men want the style advice and the personalised approach – but the whole organising the products and logistics and shipping stuff is clearly very difficult to work out at a profit. So Cladwell just get to know you, offer you a bunch of personalised suggestions, send you the links and leave it up to you to buy from the relevant retailer.
They make their money off affiliate links (commission arrangements with the retailers whose products are recommended).
Some online retailers outside of menswear are starting to catch on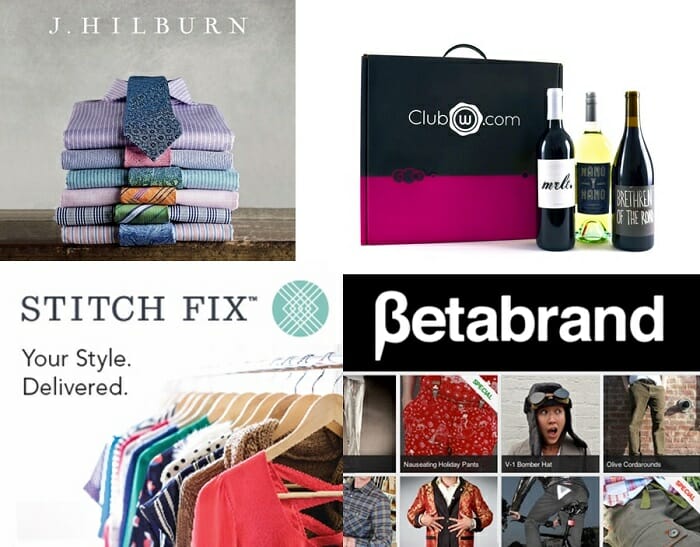 Stitch Fix
This brand is almost an exact replica of the personalised shopping services I've just laid out.
One big differentiator. Stitchfix is for women.
At $55 per average item, Stitch Fix's offering is like a female version of Bombfell.
J Hilburn
Think custom made clothing based on your exact sizing specifications with a free stylist to advise.
J Hilburn gives you the personalised approach (you actually meet face to face with one of 3000 stylists), just without as much reliance on data algorithms. They provide expert suggestions and beautiful custom made garments from quality fabrics at wholesale prices.
Club W
Club W is, to our knowledge, the world's only personalized wine club.
Each month customers are sent new recommendations for based on your personalised palate profile (based off your prefences and a detailed algorithm). You can go with Club W's suggestions or make your own selections from their ever-changing assortment.
Betabrand
Not so much personalised, but Betabrand make sure they know what their customers want before they buy.
The Betabrand business model is based on the Kickstarter funding method. Designers submit ideas to be voted on by Betabrand subscribers. If product designs reach a designated level of support, a prototype is made, with a funding pledge target attached to determine wether a product is commercialised.
Those that pledge get a discount if the product succeeds in passing the funding target. The earlier you pledge, the bigger the discount.
Betabrand is a lifestyle based business, building their business on the foundation of their subscription base – and that's why we love them here at Gorilla. We've already written about their amazing user generated content work.
They're focused on delighting their audience, and making their subscribers feel like part of the company – something we passionately believe is fundamental to sustainable ecommerce success.
How many other brands are letting their customer make all of their product development decisions?
Wait, but why Menswear?
Aren't men supposed to be uncaring transactional beasts when it comes to buying clothes.
We just want the right price, the right quality in the quickest time.
Wouldn't these type of service revolutions be driven in the mercilessly competitive world of high fashion, funded by the bulging budgets of Vogue, LMVH, Prada and the like?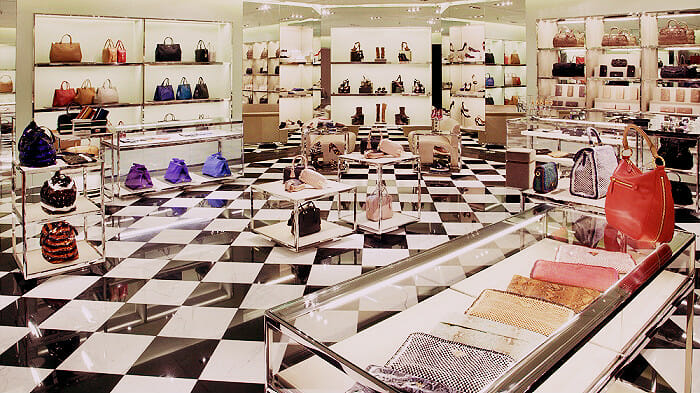 It seems kinda surprising to learn that menswear retailers are driving innovation in retail customer service. You'd guess that other furniture, jewellery or fashion markets would be demanding advances in personalisation before your humble bloke after aq couple of shirts.
When you delve deeper, things start to make sense.
Ordinarily, blokes hate shopping. There's a good reason why malls are clogged with strangely placed, yet gloriously comfortable couches.
Yet, as is the human way, we men still take pride in our appearance. We just don't want to spend our time on shopping when we could be, well… doing things that aren't shopping.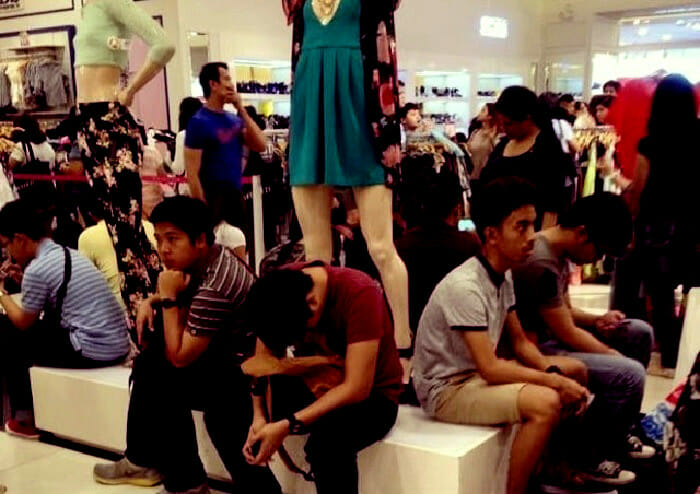 All this means, if you want to sell clothes to men, you need to make it quick, convenient and easy. You need to do the shopping and let the guys do the buying.
This microcosm of consumer behaviour has seen a number of forward thinking ecommerce brands stumble unexpectedly into the world of personalised experiences.
Men want good clothes. Men don't want to shop. It's hard to buy clothes without shopping. So why not get to know the man, then do the shopping for him. Find out his size, his style, what clothes he needs, what clothes he already has… then create a shopping list. Get his approval, then you get his money.
Why the online personalised shopping service works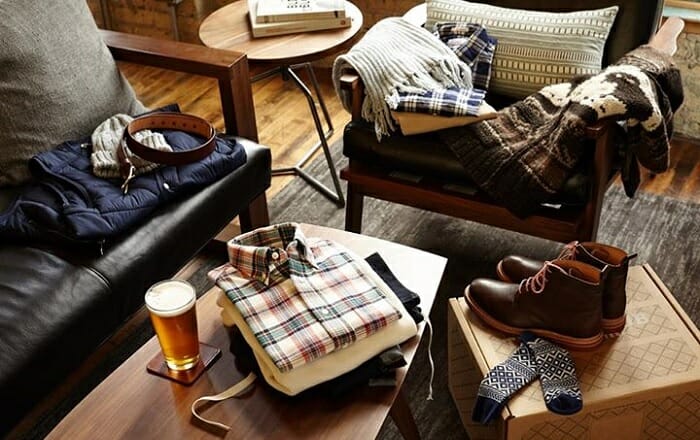 He's happy – you've saved him time, confusion and potential embarrassment.
Of course he'll keep coming back.
He knows that you understand what he wants.
What used to take hours of uncertain browsing is now as simple as a couple of clicks.
And the result is so much better. An expert is choosing his clothes.
For the customer, It's almost like having a super helpful friend that works in the fashion industry. Whenever you like you can let that friend know you need some more threads. Said friends then organises exactly what you want, exactly how you want it, and delivers it right to your door.
You don't have to park your car, you don't have to navigate Google, you don't even have to pay for shipping.
Katrina Lake, Stitch Fix Founder, tells Molly Wood of the New York Times
"At a mall or online, the choices are overwhelming. Then if you buy something and you want to return it, it takes a long time. People just expect a more personalized experience now."
Sure you might pay a smidgen extra, but you saves so much time. Just one pack, delivered straight to his door. And the clothes will look and fit better than ever before.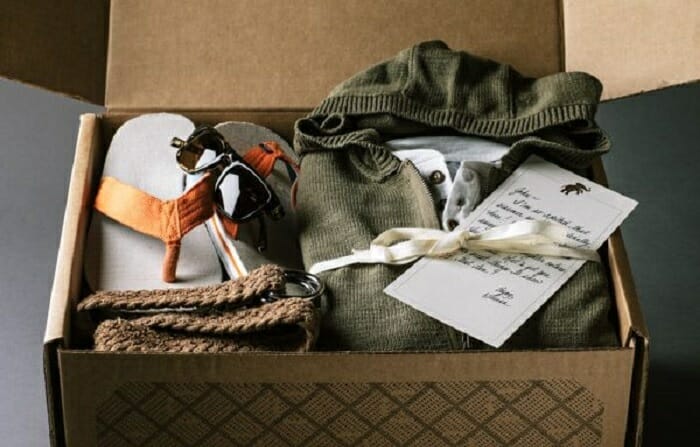 In fact, most of these brands are finding a way to give their customers prices cheaper (or at least equal-to) than average retail price. Because they buy in large chunks direct from the manufacturer (or some even manufacture themselves), bulk discounts are passed on to you.
There's no middle man, there's no physical store overheads or High St rental costs, and the stylists are servicing hundreds more customers per head than your regular retail customer service assistant, with the help of their data driven algorithms.
Menswear retailers know their customer's experience is paramount to their success. The act of the shop has to be a seamless as possible. That's why a genuinely personalised approach has been found.
It's built into the business model. It's not a fancy new add on.
The extra benefits of the personalisation business model
The service is so fantastic, so helpful, that other opportunities emerge. When a stylist gets to know their customer, they deliver quality experiences. If the clothes the customer receives are bang on, the trust developed is an almost insurmountable asset for the brand.
Nick Carbone, writing for Time Magazine, about his experience with Trunk Club, talks about this new phenomenon:
"It's an amazing service that I can try on everything at once, with no obligation and simply repack and send back what I don't want or can't afford.

But I certainly see the guilt trip of the service–a nearly $900 suit has never felt so stunningly amazing, and here it is, sent to my door without having to go to the store and hunt for my size.

If I were browsing the racks at Nordstrom I'd almost positively have skipped the section based on price tag alone, but here I am with it on, and I've never felt more compelled to spend the money."
You see, all these amazing products turn up at your door, picked by an expert whose opinion you trust. Of course, the clothes are beautiful, and they fit like a dream. Even if they are a little more expensive, you want to trust your stylist and push your boundaries a little.
After all, you've been getting more compliments than ever before, you feel great in your new wardrobe, and you're committed to letting your stylist turn your image around.
Suddenly you're almost thankful for a brand urging you to consider a $900 suit purchase.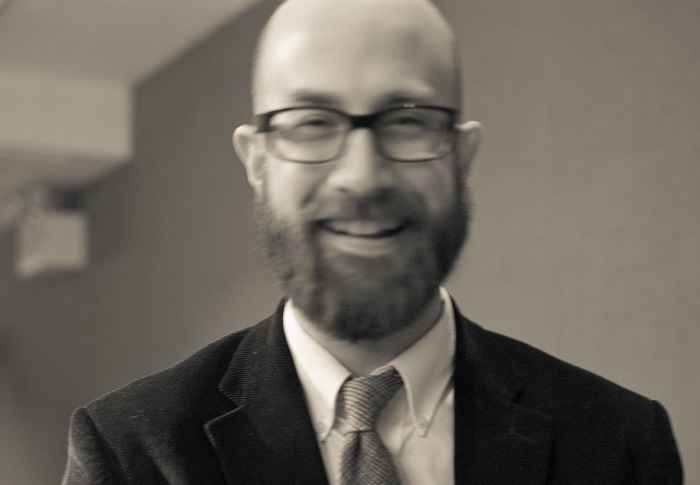 If you're just browsing the internet, you could not care less. You'll use your online store's filter tool to automatically eradicate any products over your price limit. If you can't find something that exactly, perfectly matches what you had in mind, you'll surf on over to another site to continue your quest.
What's stopping your online store from delivering a personalised shopping service?
Why not take this model and replicate it in your industry?
You should at least start planning to make it happen.
The core premise makes so much sense, and I bet you can find a way to do it better.
Get to know each and every individual customer before you sell them stuff.
Ask your customers what they like. Then find a way to regularly deliver personalised suggestions.
The technology is out there, and you have the human power to make that data into something genuinely helpful for your customers.
Thread Co-Founder and CEO, Kieran O'Niell, knows that his brand is one of a precious few that have found the gold before the inevitable rush when the secret gets out:
"Our mission is to make it dramatically easier for people to love how they look.

We want to create a new global default for how people decide what to wear. That's the vision.

The reality is that 99.9 percent of the world doesn't have a stylist helping them to perfect their wardrobe, so our biggest competitor isn't another company but the fact that people aren't aware that this is possible."
Hey – everyone else in ecommerce – just insert your market here and make it happen.
If you sell furniture, why are you just throwing up product pages for an individual chair to greet potential buyers?
What's stopping you from building a personalised living room for your customer?
Set them a detailed questionnaire to understand their style preferences. Ask about their favourite colours, textures, fabrics and brands. Get the specifications and dimensions of their space. Maybe even get them to upload some images of their home.
Feed this data into an algorithm that delivers a curated selection of product suggestions tailored to their profile. Then get an expert interior designer to turn this computer generated response into a quality, personalised offering.
Just appropriate your product or service, and there's a good chance you can take elements of this model and make it possible.
Why aren't jewellery retailers doing this?
Why aren't book retailers doing this?
Why aren't alcohol retailers doing this?
Of course people want the help of an expert to find them new, quality products that suit their personal tastes.
So let's get better at delivering these experiences.
We've finally worked out how to do it.
We have no excuse.
Get to it.