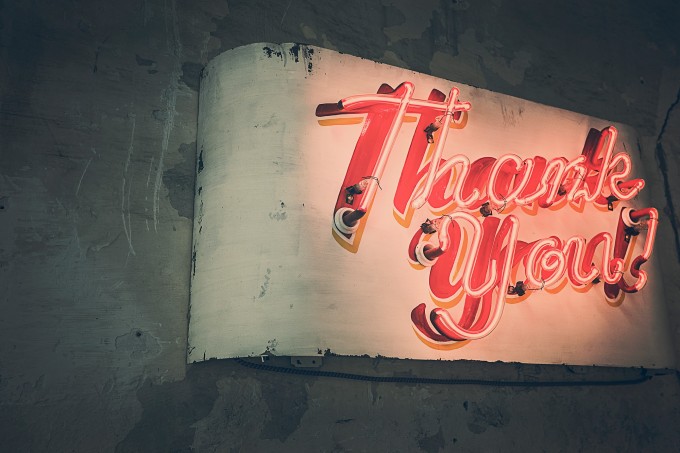 Food
When's the last time a customer thanked you for your marketing?
That's what you're aiming for right?
If not, you should be.
I want you to start thinking about the emotional impact your marketing has on your potential customers. You need to know how you want your audience to feel after they consume your content.
When you set out to create a new blog post, a product page, an instructional video – any piece of content – make sure you write down in big bold letters at the top of your brief:
DESIRED AUDIENCE RESPONSE: (Insert emotion here)
This forces you to think customer first, sales second.
Content first, conversion second.
Quality first, quantity second.
When you start holding yourself to this customer-focused objective, the marketing magic happens. When the thank-you emails, tweets, calls, posts, and grams start trickling in, you know you're doing something right.
Add this subscriber-delighting objective to your list, and you'll find yourself increasing the holy grail of ecommerce metrics; the Customer Lifetime Value figure.
Sales, retention and loyalty will be your reward.
Make your email marketing something your customers thank you for
Raise the quality bar.
Put down the promotional email bazooka loaded full of inbox-abusing sales messages.
Start sending some customer lovin' instead.
Treat each subscriber like a new date. You can't be asking to seal the deal every time you talk.
Nurture!
Develop that relationship. Prove that you're worthy of your subscriber's click. Make them look forward to your every contact.
You want each and every one of those subscribers excited to open your email.
None of this swipe-left caper.
How do you get your subscribers to thank you for your emails?
Simple. Send less sales promotions. Send more helpful, entertaining content.
Specifically – we've got 13 new email ideas that you can add to your repertoire.
We've put them together in linear order, to help you go from welcoming a subscriber, to repeat sales.
#1. Give new subscribers a nudge to explore
Once a new subscriber signs up, there's 1 of 2 things that most online retailer decide to do:
#1. Nothing
#2. Immediately spray out a sales promotion email
Both approaches aren't likely to inspire your new potential customer into a repeat purchasing frenzy.
If we go back to our little dating analogy, number 1 is the equivalent of clamming up and getting tongue tied. Number 2 is a guileless attempt to get to 4th base straight away.
May I suggest a more customer friendly 3rd option.
When a subscriber signs up, let them choose the next step. Offer up some of your most helpful, entertaining content, provide some proof of your quality, nudge them towards your social media communities, and show them what to expect from you in their inbox down the track. You can even throw in a product promo for the really easy folks 😉
This example from Huckberry is a nice, friendly email first date for your new ecommerce love interest.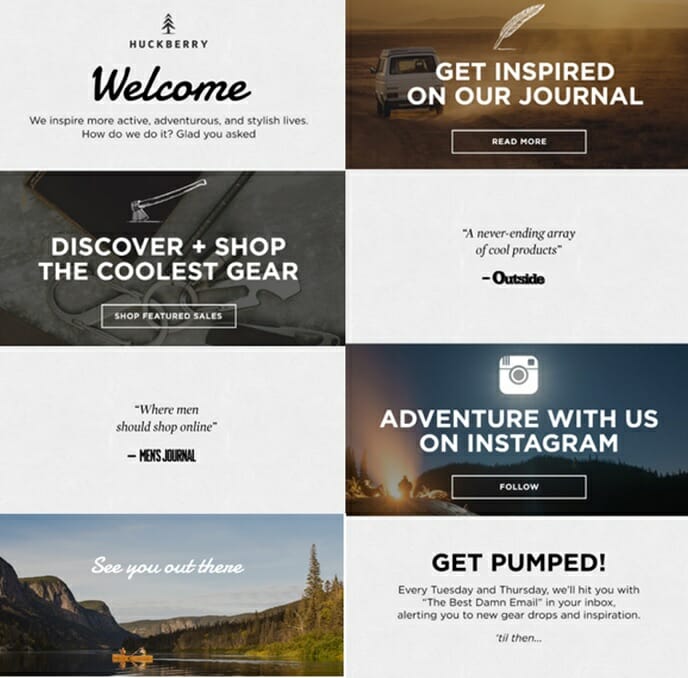 #2. Send helpful, entertaining content around 1 interesting theme
Start adding value for your customer straight away.
Instead of sending a generic discount offer, show your subscriber that you care about their needs, and their inbox. Educate, inspire, entertain or inform. Demonstrate that you understand your subscriber. Make them start to dig your vibe.
Curate or develop a bunch of content around one specific theme, topic or idea that is important to your subscriber, and their lifestyle.
Frank Body are ecommerce content marketing superheroes. They're pretty much our favourite case study, and their email marketing is 1 of the reasons why.
This example is all about helping readers understand the value of coffee in your skincare regime. The stunning visuals don't hurt either.
Clearly this type of email earns you some brownie points with your subscriber. You're not trying to squeeze them for cash. Your just trying to help them out.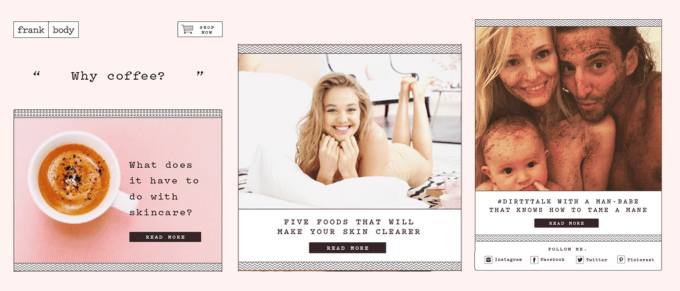 #3. Share your employee's stories and ideas
Now's the time you want to start establishing more of a personal connection with your subscriber.
If you want to develop a long term relationship, your brand has to be more than a soulless marketing machine. In online retail, our customers have a hard time putting a face to a name. There's no bubbly customer service assistant to stick in your memory. There's no physical store to wow your new shoppers. For most ecommerce brands, there's just a glorified online sales catalogue with a bunch of pretty product pictures.
You need to do better:
Show the personality of your brand
Introduce the humans behind the website
Start to strengthen that emotional connection you're building with your subscribers
Food 52 show you a great way to do it. These guys pull together the personal recommendations of all of their employees and share a story about why a particular product means so much to them. The content allows you to relate to Food 52 and their staff members. You start to get a feel for the type of people that work here, and what the brand really stands for. Suddenly Food 52 starts to mean more to you than the homewares section of your local department store.
Sure, you're introducing your subscriber to your product, but you're providing a personal context with an enjoyable story. It doesn't feel pushy and cold. It's still entertaining and fun for the subscriber to read. They might even thank Mike for his killer honey suggestion…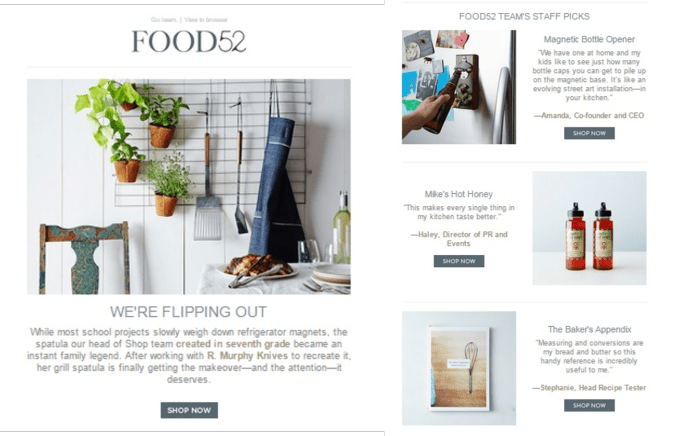 #4. Offer free rich media content to earn some value credits
Clearly, people love free stuff. Your email subscribers are no different. Sure, discounts and promo's are nice, but a freebie trumps them any day of the week.
If you're able to offer something of value to your subscriber at no charge, you establish some trust points in their memory bank. You're showing that you care, and you're signalling that you want this whole subscription thing to be a long term commitment.
The message: 'if you stick around, it'll be worth your while – we're always trying to help you out'.
It doesn't have to be an ultra expensive item. It might not even be a product. Why not develop an incredibly high quality, uber useful piece of content that would be good enough for your subscriber to pay for.
It could be an instructional video series, a print magazine subscription, or, like in the Lonely Planet example below, a downloadable ebook.
The famous travel brand happens to run their business by charging for content, so this free ebook download is almost like a product giveaway. This concept should give you some inspiration to come up with an idea for a rich media piece that can earn you some subscriber value credits.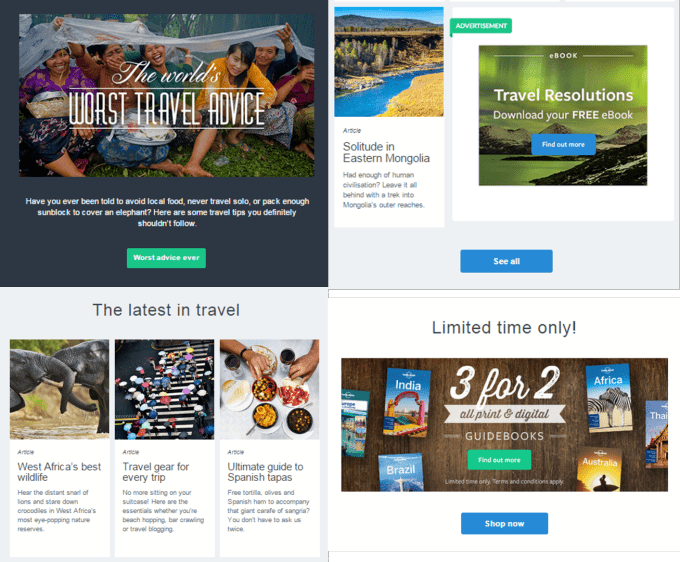 #5. Share influencer's stories
Rule number 1 of dating – don't just talk about yourself.
It's a good mantra to keep close to your email marketing program. Your customers don't just want to hear about your brand and your products. Go down that path and you'll be destined for the spam folder.
To keep your audience engaged with your emails, include a regular series of interviews or profiles of interesting and influential people related to your industry. This isn't just an exciting change up for your readers, it's also a great way to develop the trust of your subscribers. If an influential figure that your readers care about is sharing their story on your brand's platform, you start earning more genuine respect in your niche.
What's more, the influencer you interview is sure to have a strong, established social media following, who probably share a similar lifestyle with your target audience. Your new content marketing partner can share your co-created story with their social following, prompting a big chunk of new potential customers to come on over to your site to check out the piece.
Suddenly, you've got a great chance to sign up a whole new bunch of targeted subscribers who are excited for more of your great stories in their inbox.
Australian wallet e-retailer, Bellroy, is a content marketing innovator, with a strong understanding of the importance of a loyal subscriber base. Their new venture Better Ways is a perfect example of this influencer co-creating audience building strategy.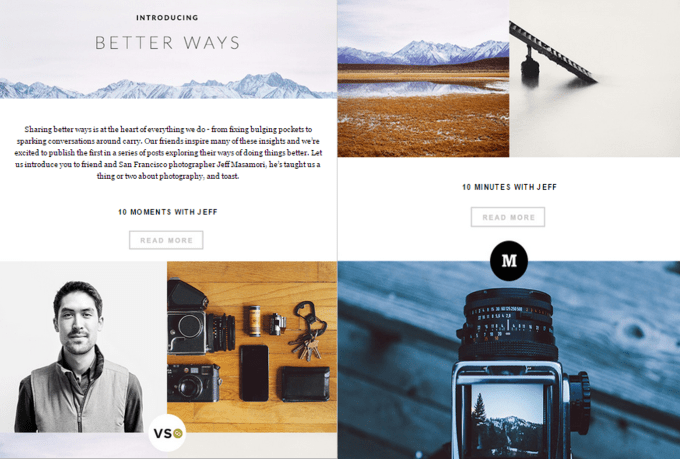 #6. Provide detailed product explainer content
Alright, so by now you're probably about ready to hurl some abuse along the lines of "BUT WHAT ABOUT SELLING SOME STUFF AND MAKING SOME MONEY".
I get it. Bills to pay, staff to feed, targets to hit. All that stuff.
I'm not far away. But remember, you want loyal, repeat customers. We're not after a few one time flings here. We want genuine relationships.
A connection with an ecommerce brand doesn't come easy. You need to lay some customer-friendliness groundwork before you start asking for a wallet opening.
US menswear retailer Gustin shows you how to introduce your products to your email subscribers and still get them to thank you for it.
The secret? Super-detailed explainer content.
Go the extra mile to inform, help, and educate your reader by giving them everything they need to know about your product. Provide the proof of its quality. Explain how your product is better than the rest.
Give the offer to buy, but earn it with the explanation of your product.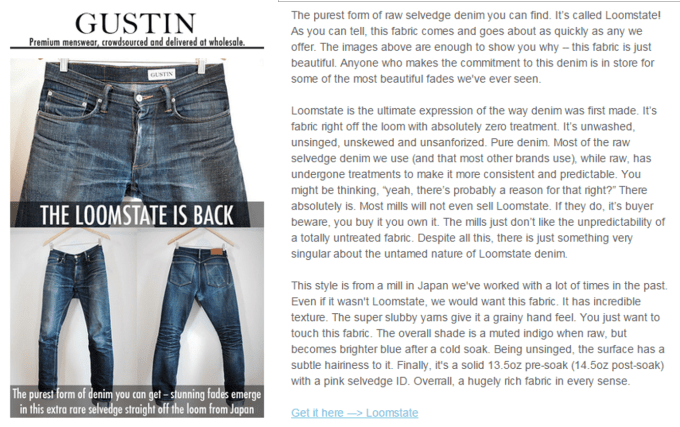 #7. Create excitement with a subscriber-only pre launch waiting list
Better yet, if you have a new product in development, tell your subscribers about it.
Get them keen. Use your email content to build some anticipation. You'll have your subscribers looking forward to your launch, and you'll have a good idea of the initial demand for your product before you're ready to go to market.
Men's premium subscription box provider, Svbscription uses this tactic to perfection. The waiting list offer creates a feeling of exclusivity for subscribers, earning loyalty points for the brand and demonstrating the value involved in regularly opening and reading Svbscription's email content.
For a luxury brand with higher margins and smaller sales numbers, this tactic is invaluable for procurement and inventory management decisions. Getting a strong indication of interest from subscribers allows the brand to make a well informed purchasing decision. Rather than guessing and over/under ordering, Svbscription can get nice and close to their sweet spot.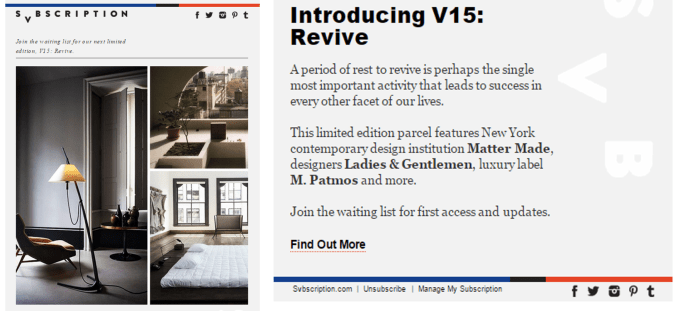 #8. Give subscribers an exclusive first dibs offer on new products
Carrying on from Svbscription's exclusive waiting list tactic – when your product is ready to launch, give your loyal email subscribers some reward. Offer them first bite of the cherry.
If possible, throw in an exclusive value add, an extra freebie, or a 1 time only earlybird discount.
When you demonstrate your thanks for the loyalty of your readers, your efforts are reciprocated. There's a much stronger reason for you subscribers to look forward to, and religiously open, your regular email updates.
Field Notes Brand is one of the best online community builders in the ecommerce business. I've written about their niche content marketing domination before. If you aren't familiar with these notebook maestros, take yourself to school and read up.
Field Notes' COLORS edition is a seasonal release of a new collection of themed notebooks, only available in small quantities, 1 time only.
Subscribers are given first dibs. These things run out like hotcakes, so the Field Notes COLORS email is like gold to the brand's faithful fans. These emails release a wave of excitement the moment they ping into the subscriber's inbox.
By offering this exclusive, Field Notes make their emails valuable, and readers are more than thankful for the opportunity to get their hands on their new release before the general public snaps them up.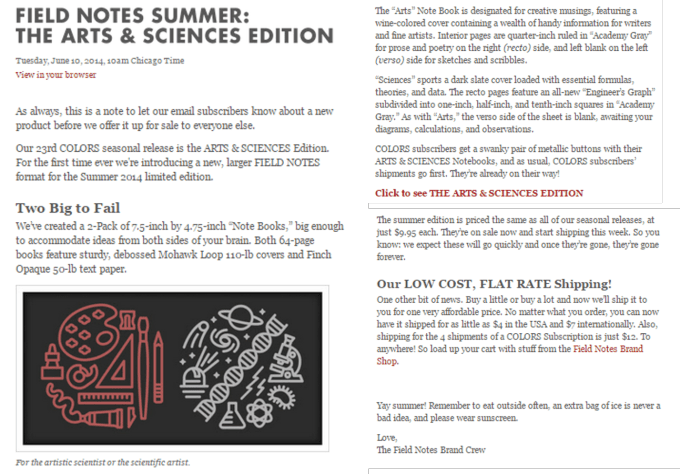 #9. Remind potential customers of their abandoned cart (with some personality)
We're all familiar with the ecommerce marketer's favourite tap on the shoulder technique – the cart abandonment email. I won't go to heavy into detail with this one, but make sure you keep your customer front of mind when you trigger these emails to subscribers.
Don't just think about the sale slipping from your grasp. Think about the friendliest, most helpful reminder you can give to help a subscriber who may have barely any background understanding of your brand.
Keep things light, fun and relaxed. Add a bit of personality into things. You're doing your customer a favour – don't make your customer feel like you expect them to force open their wallet.
American dude short e-retailer, Chubbies, are the undisputed kings of email marketing hilarity. You should sign up to their email just for the funnies. Each more outrageous than the rest, an inbox gag from chubbies is like an email version of a Judd Apatow movie, all encased in some high quality US thigh huggers.
These folks do cart abandonment emails any ecommerce marketer would stand and salute…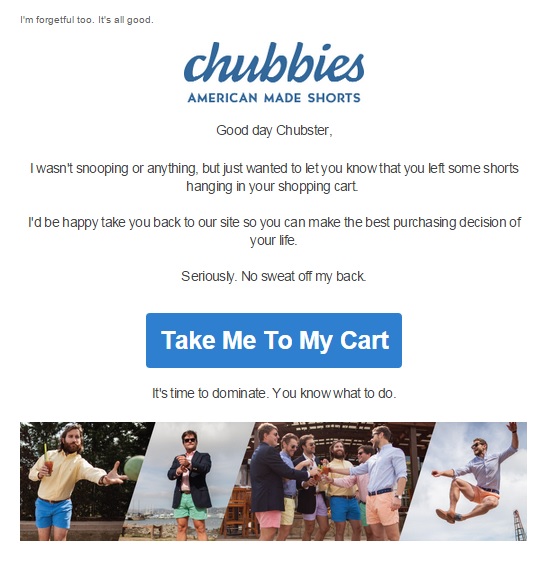 #10. After purchase, send some pre delivery advice
Right, so you've made the sale. You're email job is not yet done. Receipt, shipping details, confirmation emails – all this stuff is table stakes. Your customer expects these messages as a base level of service. It's not a value add.
You can still surprise your subscriber with some extra special email helpfulness in that little window of time post-purchase, and pre-delivery.
Usually this period is at least 1 day. Keep the excitement brewing. Show that your brand is prepared to go the extra mile, like Jetstar does below. Granted, the period between purchase and delivery for an airline's online sale is much longer than most, but you can take some inspiration from the concept.
Send an email to prepare your customer for their product. Sure, Jetstar's prompts are a thinly veiled cross-sell play, but you don't have to make this email a cash-grabber. Offer some tips on the best way to use it, to clean it, to maintain it, to care for it. Provide a simple video demonstration of the assembly process. Send a bunch of high quality images with styling inspiration. Collate a bunch of expert ideas for industry influences to help your new customer maximise the value of their buy.
Whatever it may be that suits your target audience's needs, take the time and make the effort to improve your customer's experience and ramp up their pre-delivery excitement.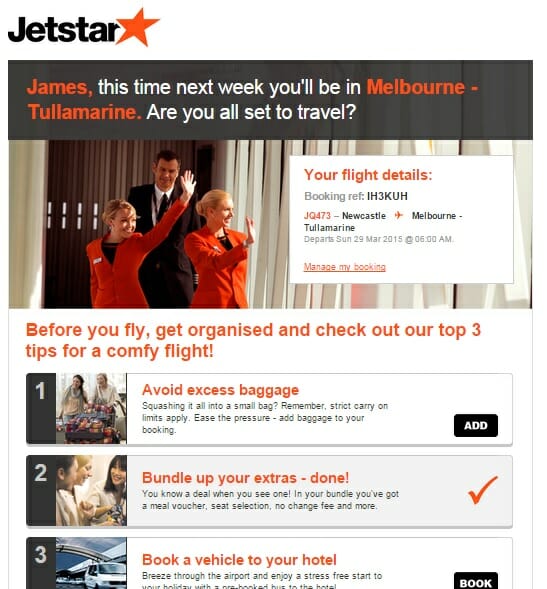 #11. Encourage a social share after purchase
This one is fairly self explanatory, but so often neglected by even the most savvy ecommerce email marketers.
Remember to nudge your customers to socially share their experience with your brand. If they pass their excitement on to your friends, you've snagged yourself a new audience with a whole bunch of potential subscribers. An endorsement from an objective friend or peer is much more trustworthy than an Instagram post from your branded account.
Australian ecommerce socialites, Adore Beauty, throw in a little competition incentive for their subscribers to sweeten the social sharing deal. A simple prize like this could be enough to generate a whole stack of new subscribers for your brand with a minimal amount of effort. By contributing the value add, your request seems less selfish and more generous.

#12. Call for user generated content stories
Once you've made the sale, check in with your subscribers. Make them feel like part of the brand. Bring them into your team and give them a vested interest in your business.
You want your subscriber on board for good. It's time to start turning your 1 time buyer into a loyal, repeat customer.
Encouraging user generated content is an effective way to foster this personal connection with your brand.
By reaching out directly, you are actively bringing your subscribers into your tribe and showing them they belong. Ask for their stories. Prompt your readers to be in the next feature article that pops into their inbox. Make your customer's the star of your social media feed. You know they'll share their stardom with their friends. And you know their love for your brand will turn into a genuine emotional investment.
If you can get your subscribers to generate content for you, you've probably got yourself the makings of a lifelong customer. At the least, you're building a niche community of loyal advocates. Buying from a competitor would feel like adultery. Those 'brand evangelists' your marketing lecturer was always jabbering on about at university – user generated content makes them happen.
Beardbrand founder Eric Bandholz has grown an ecommerce powerhouse and a group of vehemently loyal brand fans with a killer content marketing program. We've profiled his work in detail throughout this case study on the story of Beardbrand's stunning success – it's well worth a look.
The email below showcases some of Beardbrand's smartest work. The personal, direct tone is friendly and casual, urging subscribers to help out the brand they love. The simple HTML format proves you don't need a whopping design budget to do email marketing right.
Try something similar and you could find yourself with a new level of brand loyalty from a select few inner sanctum fans. All the better – any content your fans create is less time and money spent by your marketing team.

#13. Show your social business chops and prove that you care
Okay, here's the last of my email marketing customer friendliness tips.
If you want to raise the industry benchmark (and your subscribers' brand love levels), take some inspiration from US footwear and accessories retailer, Toms.
Support a charitable cause that's important to your readers and the core values of your business. Show your subscribers that your brand truly cares. Make a long term commitment and integrate your social pledge into your business.
Toms is built on the 'Buy 1, Give 1′ premise. The brand donates 1 pair of shoes to a child in need every time you make a purchase. They use email marketing to remind their loyal subscribers of their genuine social commitment, and the results are unsurprising. Toms' customers love them. This strategy has built a competitive advantage so difficult to match.
If you're serious about ecommerce niche domination, prove that your brand is not just about the profit. If you want to establish a genuine emotional connection with your subscribers, if you want a collection of loyal, lifelong repeat customers, you need to prove your organisation shares the values of your audience.
Support a charitable cause that your subscribers hold dear. If this support is genuine, don't be afraid to infuse it into your marketing. Your customers will be more than happy to thank you for it.

Start thinking customer first with your email marketing
No more lazy, generic sales promo's!
Now you have no excuse.
Instead, you have 13 practical suggestions to take you from sign-up to first purchase, to loyal repeat customer.
Remember that new measurable objective – get your subscribers to thank you for your email marketing!