Spending your online store's hard-earned on pay per click advertising is often riddled with anxiety and uncertainty.
Just like a real auction – you're bidding on a potential windfall.
Problem is, you don't quite know how high you can go.
The same questions swirling around in a first-home owner's mind are the problems an ecommerce advertiser has to reckon with…
How much can you afford to spend?
How do you decide on your limit?
Can't you just spend a little more?
Isn't a couple of thousand dollars more worth it?
What kind of return can you expect on your spend?
You might as well be nervously gripping one of those bidding paddles every time you log into your Google Adwords account.
You're forever considering that classic PPC conundrum…
How much do I need to spend to get the return I want?
You don't want to risk breaking the budget each month to continually mortgage your business for new potential customers.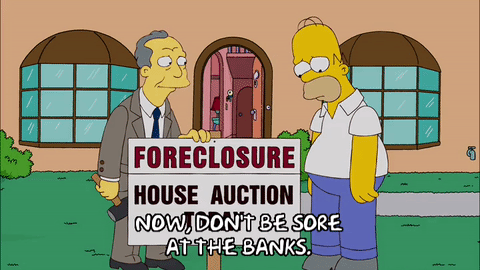 But at the same time you can't spend so little that your campaign's management time isn't worth the return.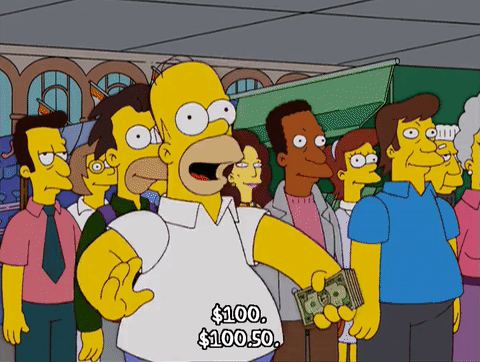 Regardless of your spend – there's one golden PPC rule you and your ecommerce ads management team must never break:
Don't pay to attract potential customers to an online store that can't convert.
This is the fastest way to run out of profit margin, cash flow and operating business.
Instead, you need to maximise the return you generate from your existing traffic before you even think about paying to bring more shoppers to your shop.
Sustainable ecommerce success comes to entrepreneurs following these three steps in correct order:
#1. Turn your online store into a repeat-customer-generating machine.
#2. Optimise your site for conversions.
#3. Then explore your pay per click advertising options.
When you're confident in your online store's conversion rate, and your lifetime customer value average – you have a much clearer understanding of what return to expect from your PPC spend.
Use this process and you'll feel like that rich old guy sitting smugly up the back of the auction.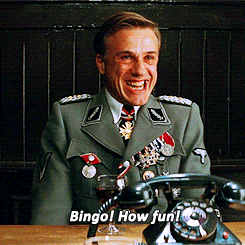 You know you're going to win each and every time – your return just depends on how much you spend.
Short On Time? Your Skim-Read Summary:
Too busy to read the whole thing? We get it: logistics, synergies, KPI's – all that stuff. Here's the skim read version. You really should read the whole article, though…
You can click on the dot point that takes your fancy and head straight to the relevant section.
How you can use PPC to increase your portion of the growth in ecommerce sales
More consumers are shifting their spending online than ever before.
Advances in technology and logistics have made it easier than ever to purchase a wide range of goods online, without having to leave your home. It's not surprising international ecommerce sales volumes continue to see exponential growth year after year.
The following chart from Statista shows exactly how fast growth in global ecommerce sales continues to flourish: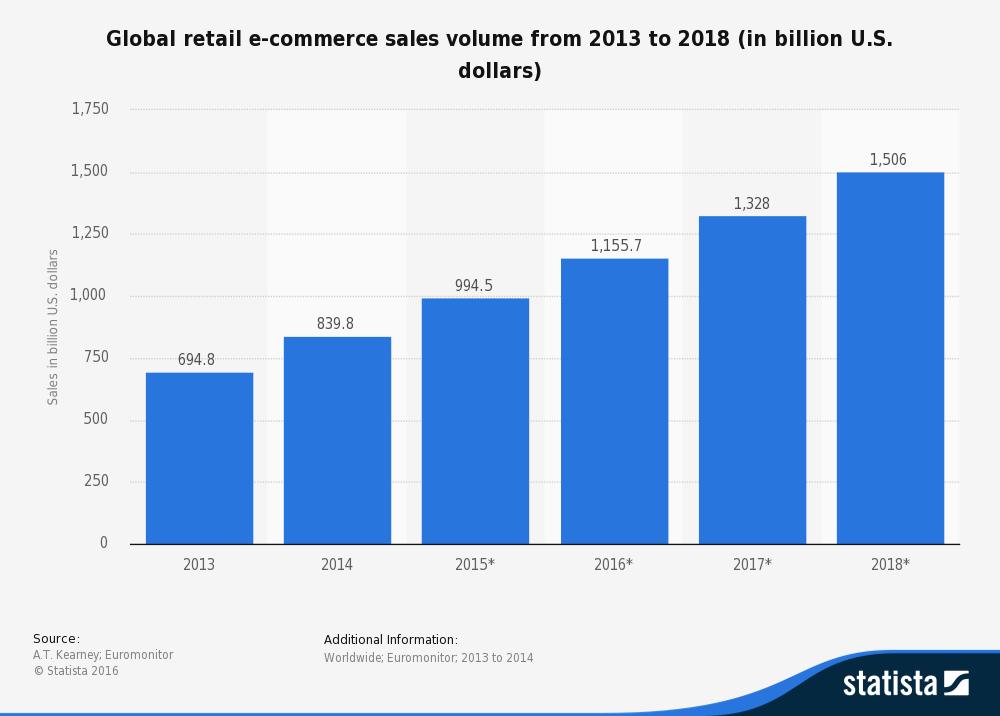 And those figures are only expected to continue in an upwards trend.
The data is certainly good news if you sell products online. Growth in online spending ultimately translates to an increase in revenue – especially if you're in a niche ripe for online disruption of traditional retail giants.
But sales to your ecommerce store won't just magically appear.
Even with an amazing product or best-in-class services, you still need to generate traffic.
More specifically, you need targeted traffic from potential customers who are close to, or ready to buy
Generating thousands of daily page views is nothing to brag about if your clicks don't convert into conversions.
Likewise, a trickle of targeted traffic might not be enough to keep your online store afloat.
Google Adwords will help you drive more targeted traffic to your product pages and increase conversions. It's a really valuable tool to help you kick-start your ecommerce business. You just need to be careful to plan for a time when you don't need to keep paying for more traffic.
Why use AdWords for your new ecommerce store?
If you're unfamiliar with Google Adwords, here's a quick explainer:
AdWords is an advertising platform from Google. Advertisers can bid on keywords relevant to their businesses and display ads that run alongside organic search results. Unlike other marketing channels where it can take months for results to materialise, you can start driving traffic to your landing pages almost immediately with AdWords.
The best reason to advertise with AdWords – the simple fact is Google processes billions of search queries every day. People are more than likely using Google to search for products your business offers.
Here is an example when searching for "golf clubs":

The first result is a paid ad, which is nearly indistinguishable from the organic search results. And because the ad is relevant to the search query, it is likely to generate a significant amount of traffic.
Introductory ecommerce Adwords resources to help you kickstart your campaigns
If you're just starting out with PPC for your online store, I've compiled a collection of resources to help you set up your campaigns for success.
*BONUS PODCAST – if you're more audio-inclined, make sure you tune into this archive episode of the fantastically helpful 2X Ecommerce podcast. Online retail marketing expert, Kunle Campbell hosts a valuable discussion on Google Adwords for online stores with CPC Strategy Director of Account Management Jeff Coleman.
How much traffic can you expect from your ecommerce paid search ads?
Paid search has the potential to drive a considerable amount of traffic to your pages.
But just how much traffic can you expect?
It depends.
As with any marketing channel – the amount of traffic you can expect to generate depends on a number of variables.
These include your:
Industry: If you sell niche products with a rather limited audience (e.g. collector's items), then traffic will pale in comparison to larger industries. This is something to consider as traffic will depend on the industry your business is in.
Keywords: There needs to be a careful balance on the keywords you bid on. Bidding on general keywords may attract more traffic but conversions are likely to be abysmal. Conversions will be better on long tail keywords but traffic will also be much lower.
Budget: Your budget is another determining factor. Simply put, the larger your budget is the more traffic you can expect. You can bid higher amounts to push your ads above competing businesses and attract more clicks as a result.
Offer: A strong offer (e.g. exclusive features, free trials, etc.) is far more likely to attract attention than ads with generic copy. This is definitely something to think about as you build out your campaigns. If you need more direction in this area – read up about how to write a successful ecommerce Adwords ad.
A combination of these factors will determine the amount of traffic you can expect from your paid search campaigns.
Larry Kim is a PPC expert with US agency, Wordstream. In his role as a regular columnist for respect online marketing publication, Search Engine Land, Larry explains why it's so hard to forecast your expected return:
"It's hard to gauge if you're only looking at your own performance and competing against yourself. In the live auction, you're competing against thousands of other advertisers in your industry.

The range on your all-important cost per conversion rates varies significantly, with the top 10% of advertisers boasting figures up to 5x better than industry average. You want to be in that top 10%."
Ecommerce PPC Industry Benchmarks
What you can expect from your Adwords spend
If you're managing your own ecommerce paid search advertising program, or if you're working with a specialist digital agency – it's so hard to know if you're maximising your spend.
You're not an ecommerce Adwords expert.
You've probably got hundreds of other marketing tasks to worry about.
But every dollar you spend needs to work as hard as possible – otherwise, there's a good chance you could spend it better elsewhere.
So what's a good return on spend for your PPC dollar?
Of course, these metrics vary significantly by industry, but you can glean some info from the general ecommerce statistics provided by Wordstream's PPC Benchmark Report.
Firstly, huge thanks to Mark Irvine and the team at WordStream – a Boston-based online marketing software company and PPC agency. WordStream have produced an incredibly helpful, and thankfully free report summarising the benchmark PPC advertising results of some 2,367 of their clients across 16 different industries.
Lucky for us, one of those industries is ecommerce.
Wordstream's report is based on a sample of their client's Adwords accounts across (representing over US $34 million in aggregate spend) who were advertising on Google AdWords' Search and Display networks in Q2 of 2015.
While this data is not the most recent available, it is the most detailed study we could find at a reasonable scale. The info is still relevant and reflective of the industry norms. All currency values are posted in USD.
Average Ecommerce Adwords Click-Through Rates
Search: 1.66%
Google Display Network: 0.45%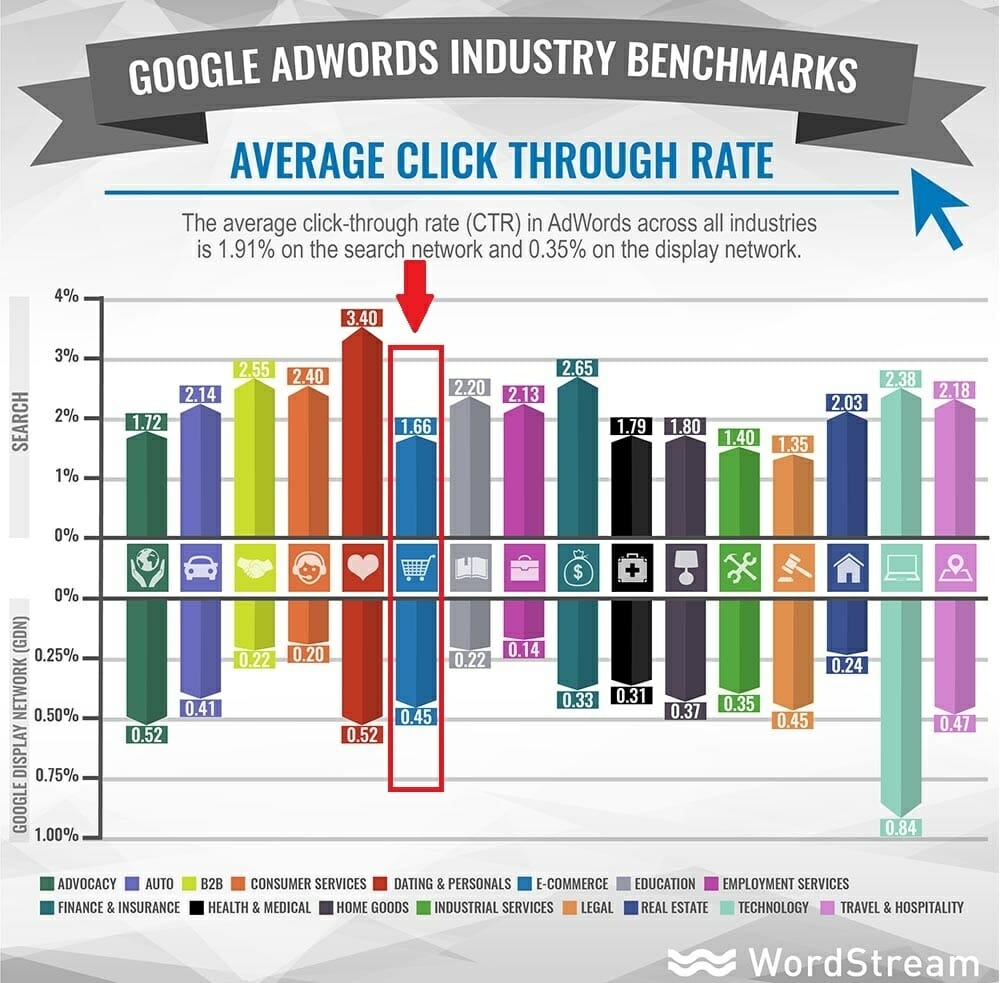 Average Ecommerce Adwords Cost Per Click Rates
Search: $0.88
Google Display Network: $0.29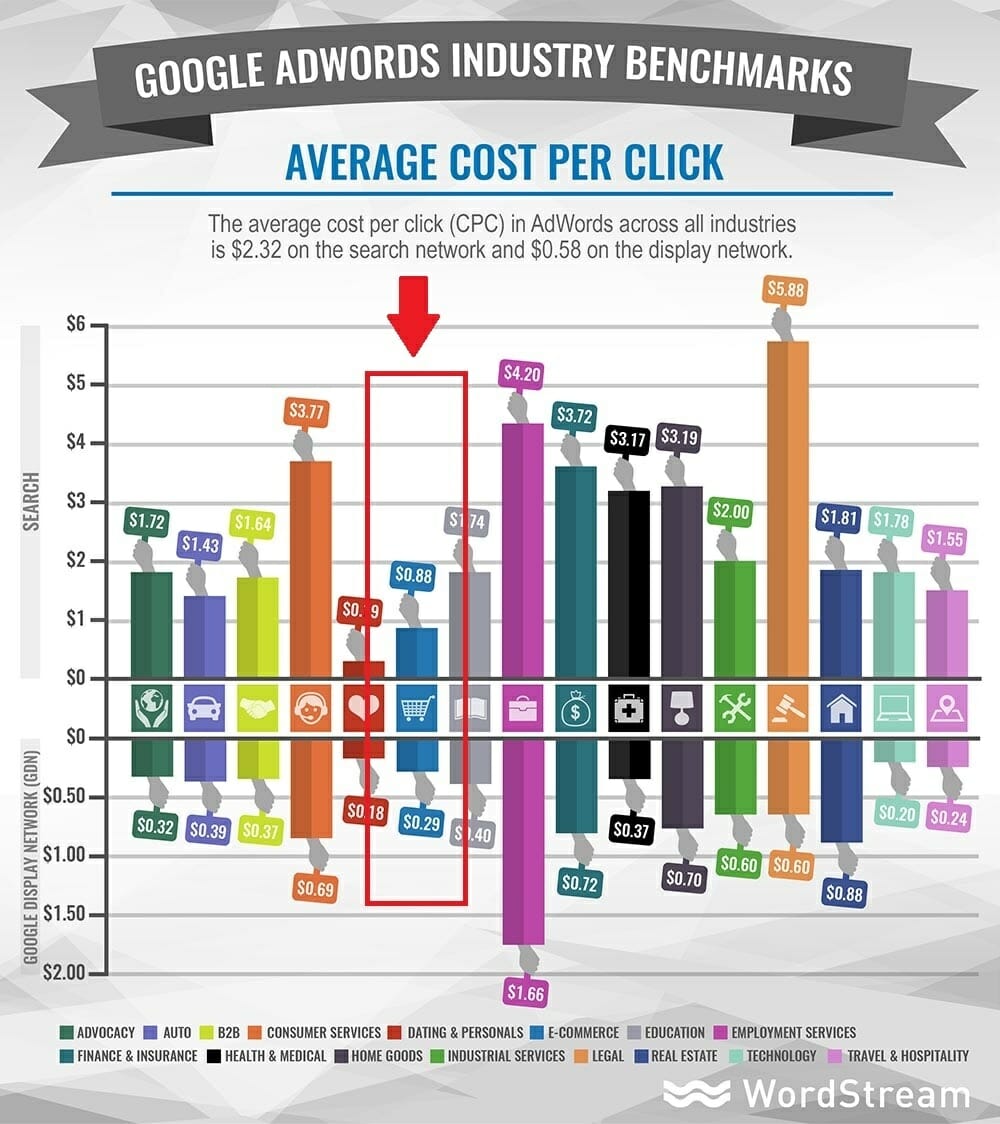 Average Ecommerce Adwords Conversion Rates
Search: 1.91%
Google Display Network: 0.96%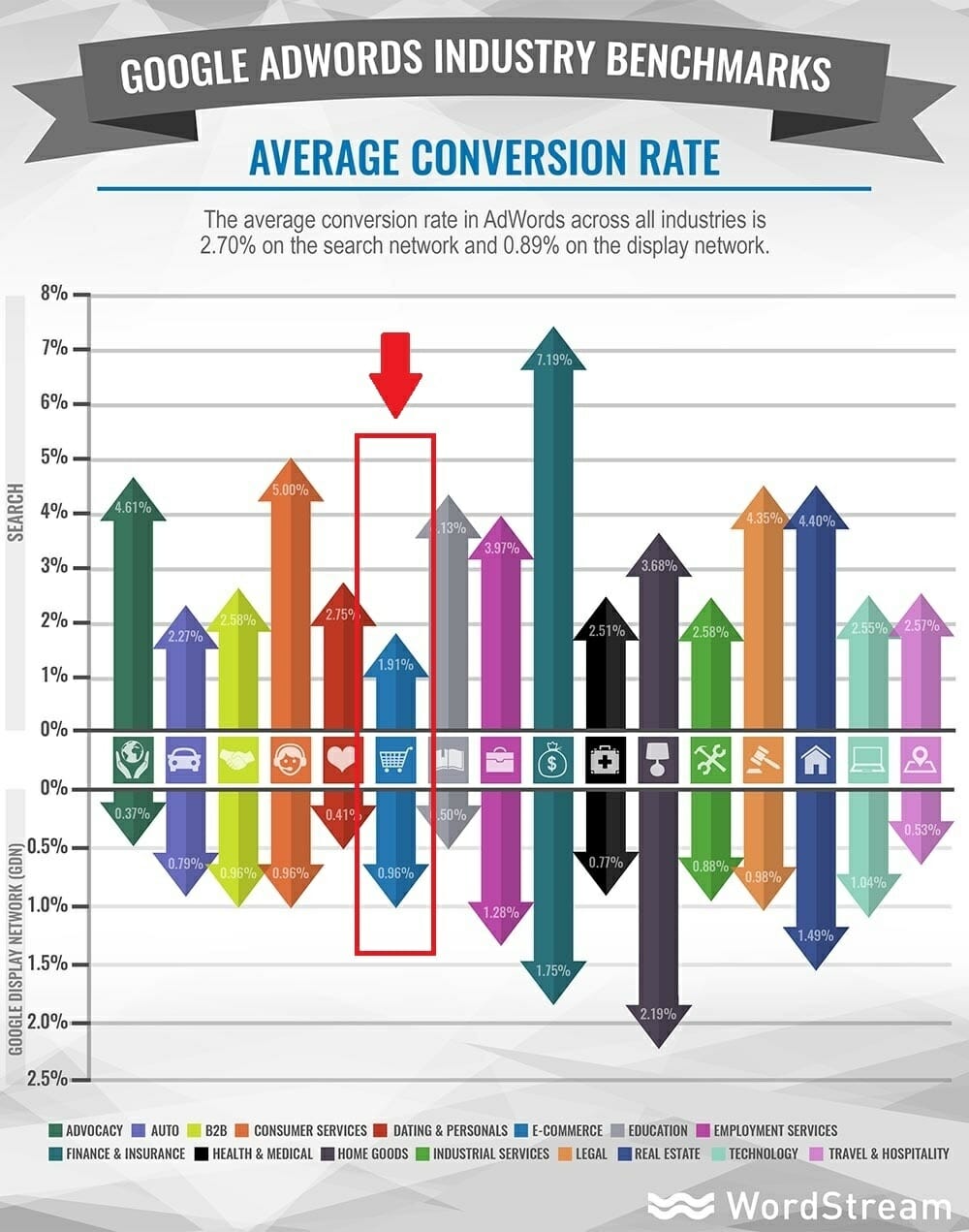 Remember – there's a reason ecommerce brands tend to register average search conversion rates. There's less of an option for online retailers to change product-related Adwords offers. Most ecommerce brands have wide-ranging inventories which makes it harder to experiment with changing ad copy to better target ecommerce keywords.
Wordstream have some sound advice for ecommerce brands looking to increase their program's conversion rates:
"Advertisers should focus on improving the performance of their keywords with high commercial intent to yield the most out of their search campaigns."
Simply – spend your money targeting customers who are purchase-ready.
Look for keyphrases suggesting high levels of purchase intent, rather than paying to attract traffic from browsing shoppers who aren't ready to hit that add-to-cart button.
Don't forget about other ecommerce paid search channels
AdWords is the most popular ecommerce paid search platform, but your options aren't limited to the fiercely competitive Google platform.
Other paid search platforms like Bing Ads and Yahoo Advertising can be cheaper and more effective, depending on your target audience's browsing habits.
These platforms use similar processes to Google. Advertisers can bid on keywords that are relevant to their products and services, and ads are triggered whenever those keywords match a search query.
Advertising on Bing or Yahoo can certainly drive traffic to your landing pages, but just how much? You have to factor in the market share of these platforms in comparison to the all-conquering Google.
The following chart from Clicky shows the estimated search engine market share in the US: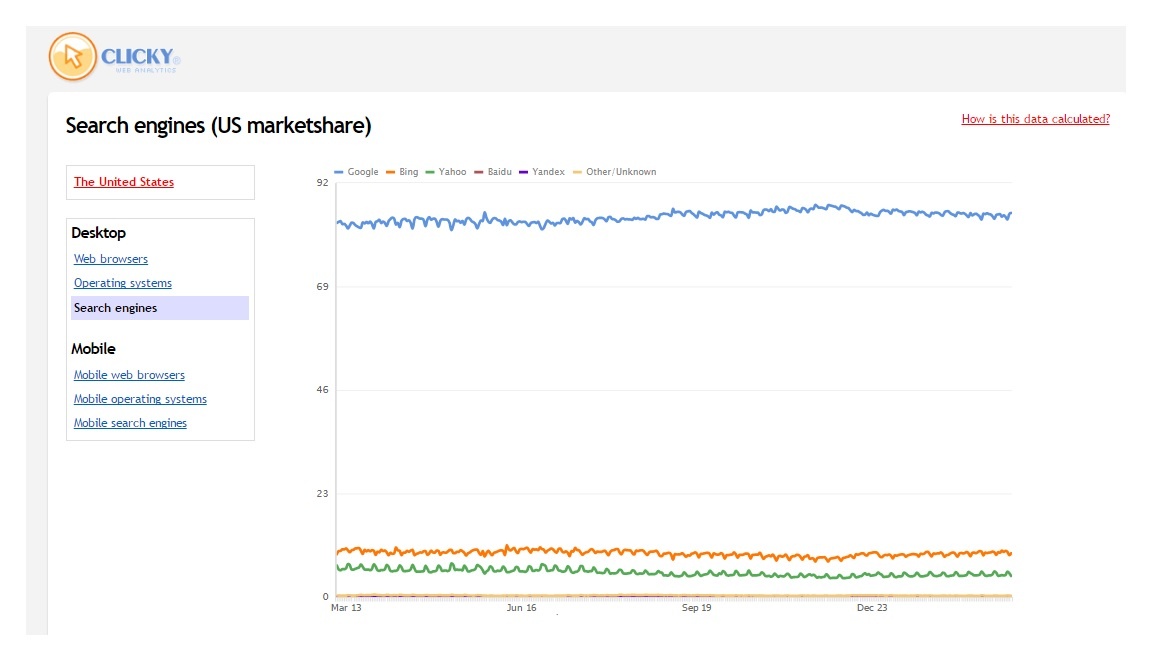 The Australian figures show an even greater disparity in the market share of the leading platforms: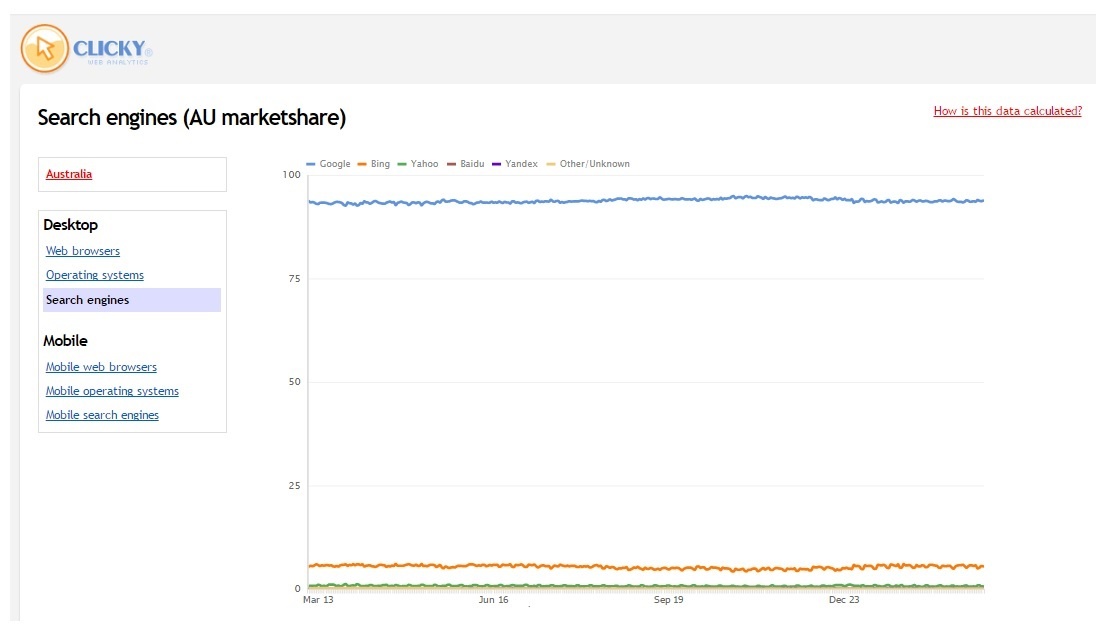 Google has a majority of the search engine market share by far. So if you are looking to start a paid search campaign, it makes sense to start with AdWords first.
Remember to optimise your store for conversions before you pay for traffic
A well-implemented campaign can drive a considerable amount of traffic to your landing page, ultimately translating into more sales for your online store.
But the amount of traffic you can expect to generate depends on a number of variables.
Your industry and the individual competitiveness of your target keyphrases will have a significant effect on the cost and performance of your PPC campaigns.
While it's hard to accurately forecast returns, it's a whole bunch easier when you have a high-converting online store. reliable conversion rates will help you decide on the amount of budget you can dedicate to amplifying your existing traffic.
Just make sure you have a plan in place to turn these new potential customers into brand-loyal regulars.