The festive season is nigh.
The phone is ringing off the hook.
Customers are demanding their presents be shipped, ASAP!
Competitors are running exclusive half priced sales to captivate even the most hard-to-convert shoppers.
Are you prepared for the biggest shopping event of the year?
There's a reason we call it the 'silly season'. One minute operations are all smooth sailing, then… Boom! The holiday season arrives and we need to prepare our ecommerce stores.
Ecommerce stores don't have the luxury of hiring a jolly old guy in a red suit to take photos with kids – a classic department store foot traffic generator.
Us online marketing folk need to think strategically.
Earlier this year, I attended Google's Shopping Bootcamp. According to the knowledgeable Googlers, 33% of clicks are happening on Shopping ads. And the cost-per-click from a Shopping Campaign is 40% lower compared to other ad types such as search and video.
Shopping campaigns are at the front-and-center of shoppers minds when they're most likely to purchase. Suppose a searcher is looking for a bright red dress to wear at an upcoming Christmas party. They need the dress shipped within the week. So they type in, "Red dress, same-day shipping".
And Google presents the shopper with exactly what they're looking for. Several red dresses with same-day shipping.
If you manage or own an ecommerce store and aren't running shopping ads, now's the time.
Here are some handy resources to guide your set up of Google Merchant Center, a feed, shipping details and linking the account to your Google Ads. It's best to get your shopping ads running a few months in advance to get ahead of your competitors and get the early bird shoppers.
Leave it any longer and the festive season will quickly become a nightmare.
No-one wants to become the ecommerce grinch in the lead-up to Christmas.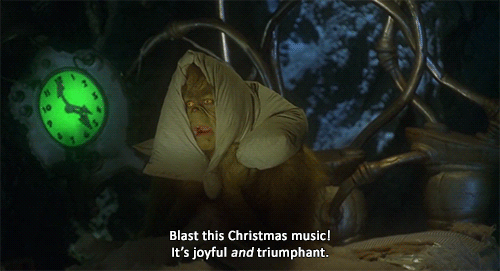 We've crafted a collection of tips and advice to help you dominate the online shopping jungle over the three busiest months of the ecommerce calendar.
Grab a coffee and sit back. The next ten minutes are going to save you hours of stress and anxiety when formulating your approach to the silly season.
Here's what we'll cover in this guide:
We'll start off with the most important section. Planning.
Steps to dominating the online shopping jungle during this holiday season
What's that saying about making a list and checking it twice? Old St. Nick may have a point. Creating a list (or plan) is one thing, checking it and sticking to the plan is another. Here's the list of steps for formulating your Google Ads strategy over the festive season:
Anticipate holiday traffic
Use our retail holiday season calendar (in the next section) for the most important seasonal dates, so you aren't caught out in peak periods.
Map out upcoming sales, set a promotional calendar and create a Google Ads crisis response plan. We'll go through each of these later in the article.
Implement winning strategies to reach more customers

Optimise your product data and maximise the relevance of your ads. And create a local inventory ads program to increase foot traffic to your store
Happy holidays to you (and your satisfied customers).
Create a holiday plan
Plan for success. Use the promotional calendar in the previous section to create your own calendar. Then create a Google Ads prevention plan to quickly respond to any issues that may arise during the next few months. We'll cover how you can create an effective prevention plan later in this article.
Step 1: Create a promotion calendar
In the previous section, we handed you our special guide to the holiday season. Use the guide to pick the dates you want to run promotions.
Courtesy of the National Retail Federation (NRF),
"One-third of shoppers said that all of their holiday weekend purchases were driven specifically by promotions (+11.4% year-on-year)."
What does this tell us?
Now's the time to ensure your promotions are scheduled.
Google Shopping Ads tip: Use Merchant Promotions to advertise offers. Ensure the feed is submitted and scheduled at least a few days in advance to account for any issues.
Google Search Ads tip: Altering ad copy for one-day promotion can become very messy. Say you run an account with over 50 ads – will you have time to monitor and edit each ad with relevant ad copy for each promotion?
Use promotion extensions. Include your promotion, the percentage or monetary discount and add your start and end dates.
Voila! All you have to do now is monitor results.
Google Video Ads tip: Launching a new product or have an exclusive offer for customers? 1.5 billion users are logged in and coming to YouTube every single month. Are you advertising where the eyeballs are?
The silly season is the perfect time to trial video as people are actively seeking sales and gift ideas. Grab your phone and put your directors hat on. Time to get filming.
We've covered the promotional calendar. Everything is planned and ready to go.
Now it's time to relax.
Said no ecommerce manager ever.
Someone needs to be there to pick up the pieces when processes don't run as planned.
Step 2: Create a Google Ads crisis prevention plan
What happens when things go wrong? Like, your ecommerce store runs out of a best selling product, a shopping feed is disapproved or… (Brace yourself)… Your Google Ads or Merchant Center account is suspended.
Prep your elves (read: staff or contractors) for the worst, so you can quickly restore order.
Here's how to get started on Google Ads crisis response plan:
Define what's considered a crisis

: running out of a popular product may not be as severe as a disapproved shopping feed.
Outline who needs to fix the problem and the expected lead time to fix the issue:

create a list according to task.
Set a meeting with relevant team members, vendors and your Google Ads Manager:

discuss the strategy and protocol to follow if a crisis arises.
Let's talk about the major Google Ads issues that arise over the holiday season:
Shopping campaigns: Decide who will be available to troubleshoot feed or suspension warnings, item disapprovals, and performance issues. Add these staff members or contractors to your Merchant Center account and ensure they have received all the important news and notifications about your account.
To ensure users have access to all notifications go to Merchant Center → Preferences → Email notification and tick mandatory service announcements.
Search campaigns: Monitor conversion rates and check for any potential landing page or website issues. Keep an eye out for disapproved ads.
Common issues for ad disapproval include:
Ad copy mentions inappropriate themes

Phone number is in the ad copy

Ad copy claims your business is the "best in business" or #1

Ad contains all upper case

Ad copy includes "click here"

Root domain is different in the display URL and the destination URL
Billing issues: Declined payments lead to disapproved ads. Avoid running into billing issues by having a backup payment method in place — especially if you're using automatic payments.
There's a good chance you've increased your budgets during the festive season, so you may run into funding issues. Or, if for some reason your primary credit card is declined, the Google Ads system will automatically charge the backup credit card to ensure your ads continue running.
The most important retail holiday season shopping dates
The next three months are going to be tough. But you'll be alright with the help of our Silly Season Holiday Calendar. Here are the most important dates you need to know:
Halloween – October 31st

Melbourne Cup – November 6th

Click Frenzy –

November 13th

Black Friday –

November 23rd

Small Business Saturday – November 24th

Cyber Monday – November 26th

Green Monday – December 10th

Free Shipping Day – October (anytime)

Boxing Day – December 26th
You have the dates. Now the real fun begins — creating the ultimate Google Ads strategy to earn your business a few extra bucks this holiday season.
Implement winning Google Ads strategies to sell more during this year's silly season
We've pulled together two simple, practical and effective Google Ads planning tips to help you get your ads ready for the end of year rush.
Let's get underway by optimising your product data.
#1 Optimise your product data and maximise the relevance of your ads
Why should customers buy from you and not your fellow competitor?
You (and every other ecommerce store) are competing for the same ad space. How can you capture more sales?
Craft juicy ad copy. Include the most compelling and relevant information in your product data. Give your customers the best website experience they'll ever have.
Shopping campaigns: Check the opportunities tab in Google's Merchant Center for areas to improve within your product feed. Ensure your product titles are optimised, use Product Ratings, Customer Reviews and Local Inventory Ads.
Here are the optimisation tips I learnt at Google's Shopping Bootcamp earlier this year:
Put high value 'brand' names in front of the 'titles'

Use Google default values for 'Colour,' 'Gender,' 'Age' and 'Condition'

Provide high resolution images (800×800 minimum)

Provide a 'Google Product Category' for all products

Structure 'Titles' to include all relevant information e.g brand, colour
Search campaigns: Review your existing ad copy and pause your under performing ads. Craft new copy to test against the best performers. Use extensions to advertise any sales, promotions or added benefits.
Here are some simple extensions you can add to your account in less than five minutes:
So we mentioned location extensions. If you have both a physical store and an ecommerce platform then you'll want the best of both worlds. We're going to share our Gorilla secrets to getting more people through your doors.
#2 Create a local inventory ads program to increase foot traffic to your store
Use your online presence to strengthen your bricks store.
There's something magical about being part of the festive rush. Trolleys filled with presents, kids screaming they need that toy from Frozen and a barrage of 50% off sale signs.
Take a moment to stand back and examine shopping behaviour, you'll start to see people are no-longer picking up every item they see and heading over to the cashier.
You'll see shoppers reach out for their phones, vigorously Googling the best deals for the same product.
Let's imagine a customer is shopping for a specific toy. All the stores they've visited are either sold out or don't stock the item. The customer does a quick Google and comes across your shopping ad to see the toy is in stock in your nearby store. Just minutes later the customer enters your store and to their delight, your store has just what they were looking for!
To get started on local inventory ads, you'll need to:
Enable local inventory ads from your Merchant Center account

Create, register and submit your feeds (tell Google which items you stock in-store)

Google will verify your inventory is correct and will pass on a message to say you can enable local inventory ads to your shopping campaigns
Read this helpful Google Support article if you want more guidance on the process.
Otherwise, that's it, hurray!
You've now completed your crash course in everything you need to know about Google Ads over the festive season.