Customers love reviews.
Reviews are like having a date with your customer. You want to be your best self and make a good impression.
You care about your date's likes and dislikes and want to make their life a little easier.
People love talking about themselves, their lives and values. If you treat reviews like a date, then you'll be more inclined to listen to what your special someone has to say.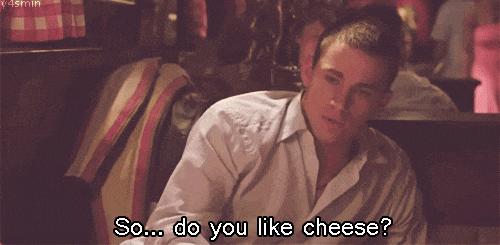 In fact, a study by Bluescout showed 55 per cent of customers find reviews an important part of the decision-making process.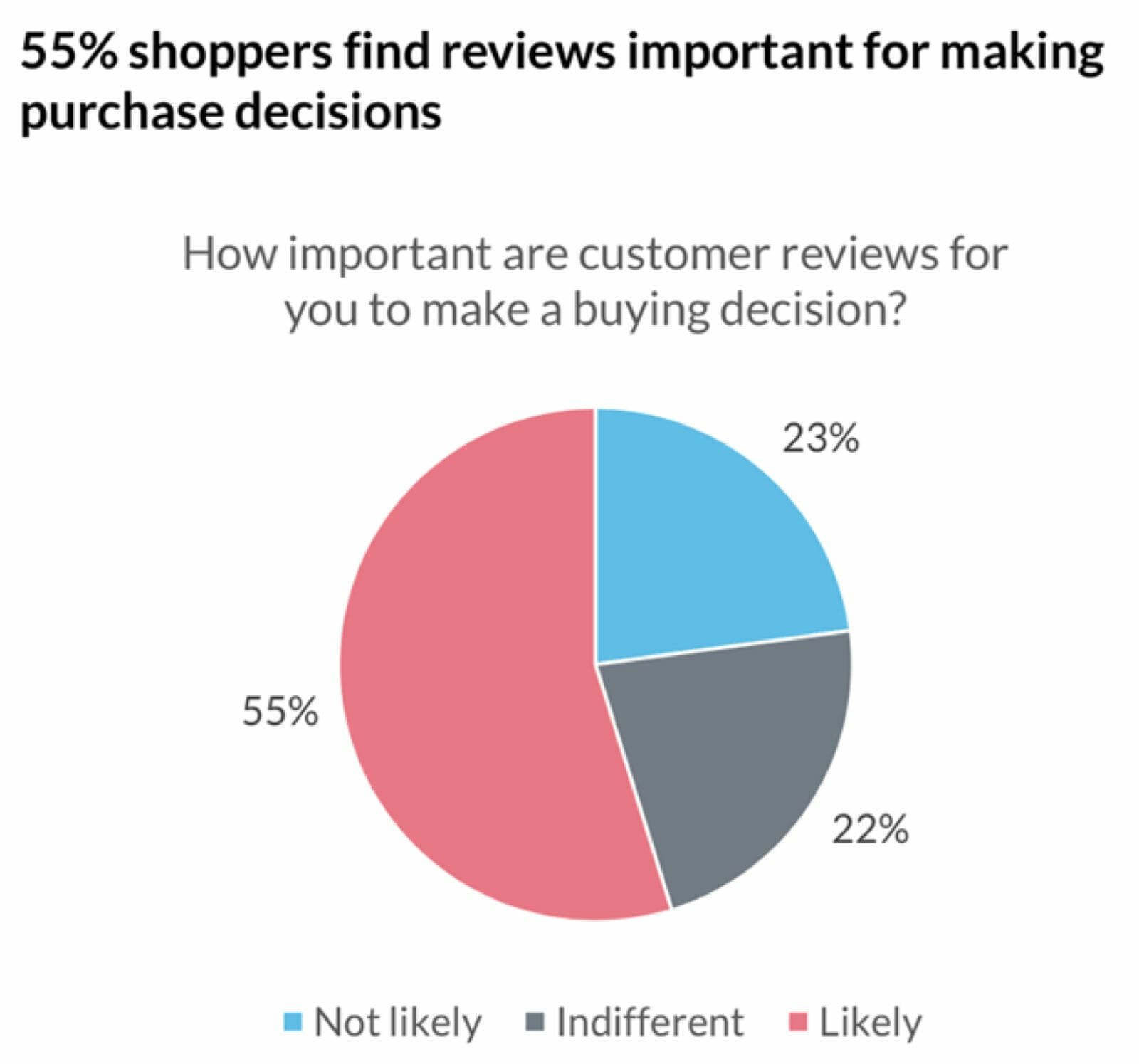 Reviews can entice customers to share their excitement with your brand's community. They're also amazing for SEO and make a significant impact on conversion rates.
Social media disrupted the traditional world of marketing, and user-generated content has become a great way to create brand advocates.
Free exposure, free social proof. What's not to love?
What about negative reviews?
It's not all bad. Negative reviews can strengthen your brand in the long-run.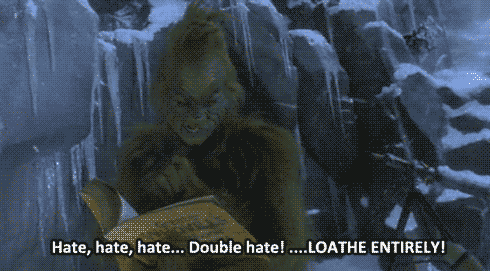 Honest reviews are an important part of the process. They identify what you can improve in the sales process and give you deeper insights into your customers' wants and desires.
We're in the innovation age. The information we have today can be irrelevant tomorrow. Reviews are a great way to keep up with change and customise your products or services to your customers' evolving needs.
There are three basic types of reviews. They're all simple, straight-forward and require minimal effort.
Whether you choose to ask customers for reviews is up to you. Maybe you're curious about your customers' thoughts about a new product line. Maybe you want to increase your social proof?
There's no right or wrong format for reviews. As long as you establish a purpose for the review, you can tailor it to suit any product question you have.
What are the different types of post-purchase review emails?
The great thing about reviews is there are many methods you can try. No review is better than the other. They all do the job and get you honest feedback.
Prompt to like and share a social rating
Encourage user-generated content via social media platforms
Survey: The title speaks for itself. Surveys are a quick and easy way to get the customer to express their thoughts about their purchase.
Surveys don't take much time for you to create or for your customers to fill out. Many websites such as Survey Monkey automatically analyse the results. This makes it easy to see what needs improving compared to what customers love.
Social rating: Social media is more popular than ever, and ecommerce stores fight to get the highest social rating.
Customers who have used your product are valuable. If they're happy with their product, they won't hesitate to give your social media account a 'like' if you ask them. And getting your customers involved in social media is a way to make them feel like they're part of your brand's community.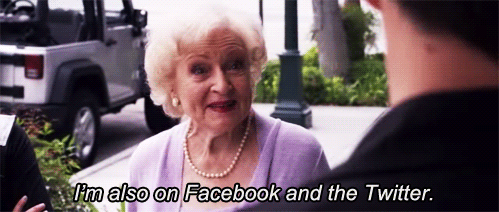 User-generated content: This one is similar to social rating. It gives your brand social proof.
Customers love talking about their experiences, so give them a reason to talk about their experience with your product. It can gain you huge brand credibility and improve your SEO ranking.
How can my business most benefit from post-purchase email reviews?
The key question isn't whether your business needs post-purchase email reviews. It's when to send them.
You want to continue the conversation you started in your confirmation email. But you don't want to annoy your customers with too many emails.
It's crucial to get the timing right. Send the review request too early and your customer may have not entirely experienced the product. Send the review email too late and the customer may have lost the initial excitement of their first use.
The timing depends on your product. A helpful article by Power Reviews illustrates and explains the best times to send a review email in their article about post-purchase email timing.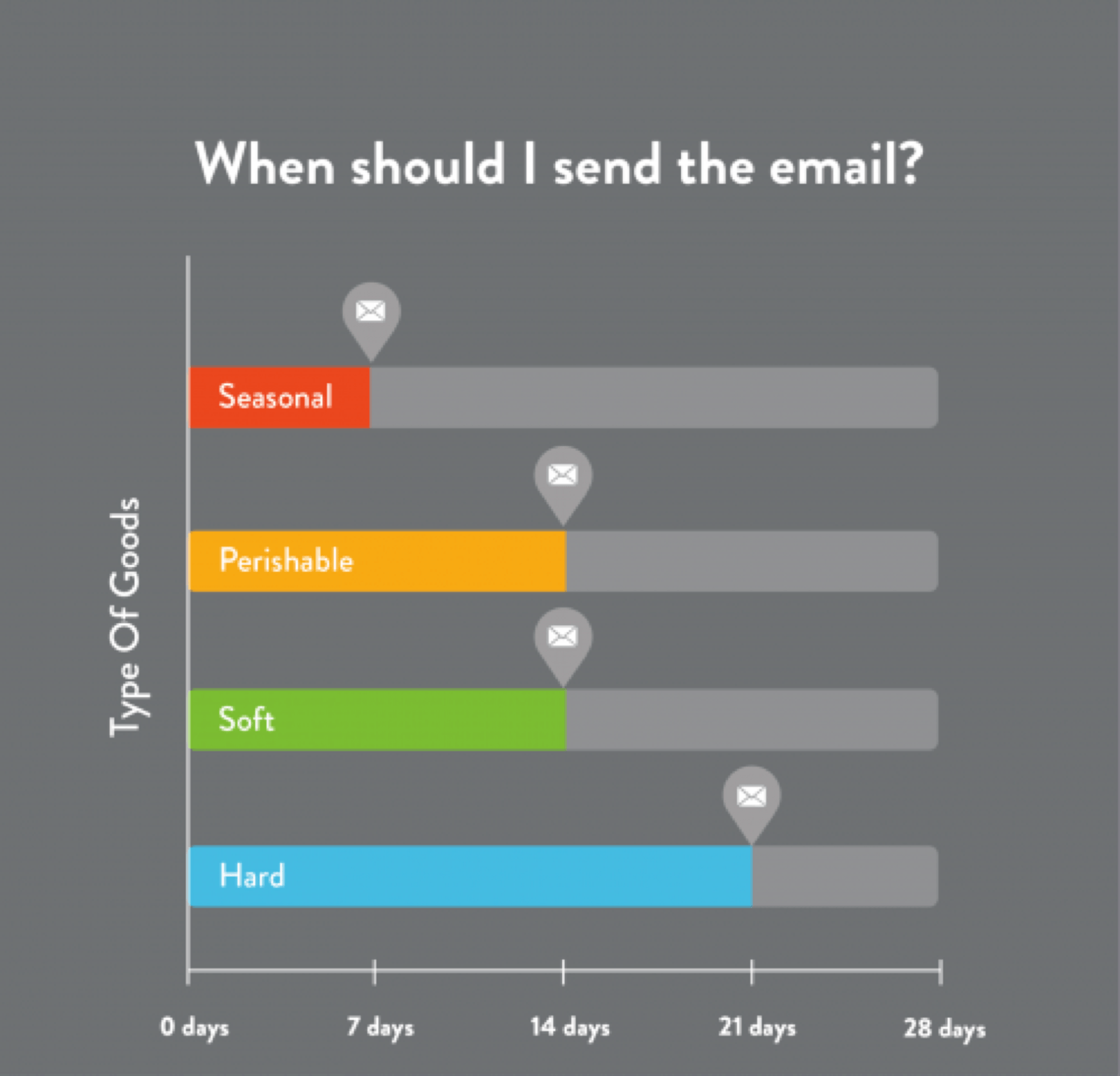 Seasonal goods:  Birthdays, back-to-school, national holidays.
It's important to send these types of review request emails as soon as possible. Generally, about seven days after the product arrives.
Getting quick survey results during holiday seasons helps you alter your business process. You'll see which products are trending and be able to update your product reviews accordingly.
Positive review comments make seasonal goods look more appealing. By regularly updating them in the holiday season, it may increase your total sales.
Perishable goods:  Food, entertainment and intangible products.
Wait 14 days after delivery until asking for a review to allow customers to fully experience the product.
The waiting period can change depending on the situation. For example, 14 days is good for perishable food products. But, if your customer purchased concert tickets, then adjust the timing to about a week after the customer attends the concert.
Soft goods: Clothes, shoes, accessories, makeup, jewellery.
Regularly used items.
Sending the review request 14 days after product delivery is a good amount of time to allow customers to experience the product more than once.
Hard goods: Furniture, homewares, sporting equipment.
This one has the longest wait time — 21 days. It may seem like a long wait but many customers won't immediately use hard goods.
Take a lawn-mower, for example. If you send the review request too quickly, the customer may have only used the product once or twice — or not at all.
After 21 days, the customer has likely developed a good feel for the product and can send you an honest review.
The follow-up email
Emails get lost and forgotten about. If your initial review email isn't opened, send a follow-up email a week later.
What should I include in my post-purchase review email?
There are a few easy things you can do to increase the amount of reviews you receive. The following advice is relevant to all the different types of review request emails.
Subject heading
What's the first thing your customer can see when they open their inbox? Subject headings. You have less than a second to capture their attention so take the time to write a good subject heading.
A study about email marketing behaviour by digital experts, Smart Insights, found you can increase the open rate by 28 per cent if you include the word 'review' in your subject heading.
Say 'thank you'
Your customers want to feel special. Say 'thank you' in your heading before mentioning social media profiles or reviews.
Ty Rothstein from Blue Stout talks about the importance of thanking customers in his article about confirmation emails.
Saying 'thank you' triggers positive emotions, which may increase the likelihood of a customer filling out your review form.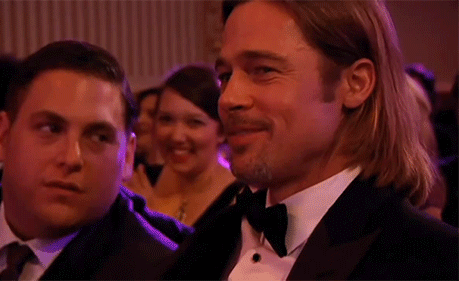 Satisfaction, not sales
Your goal is to find out about your customer's experience, not entice them to make another purchase. You want to be helpful to gain their loyalty and trust.
Mark MacDonald from Shopify says many brands don't optimise their survey and review emails. His article about transactional emails argues that most brands only care about the good reviews.
Focus on following up on bad reviews. This could include offering assistance to mend the situation and make the customer happy again.
Incentivise
Don't use discounting as an incentive. You want customers to remember your products are worth the full price.
Use incentives wisely. It's like the old saying, "If you pat my back, I'll pat yours."
Give your customers a reason to fill out your survey such as membership to an exclusive newsletter that announces 'coming soon' products.
Post-purchase review examples
Casper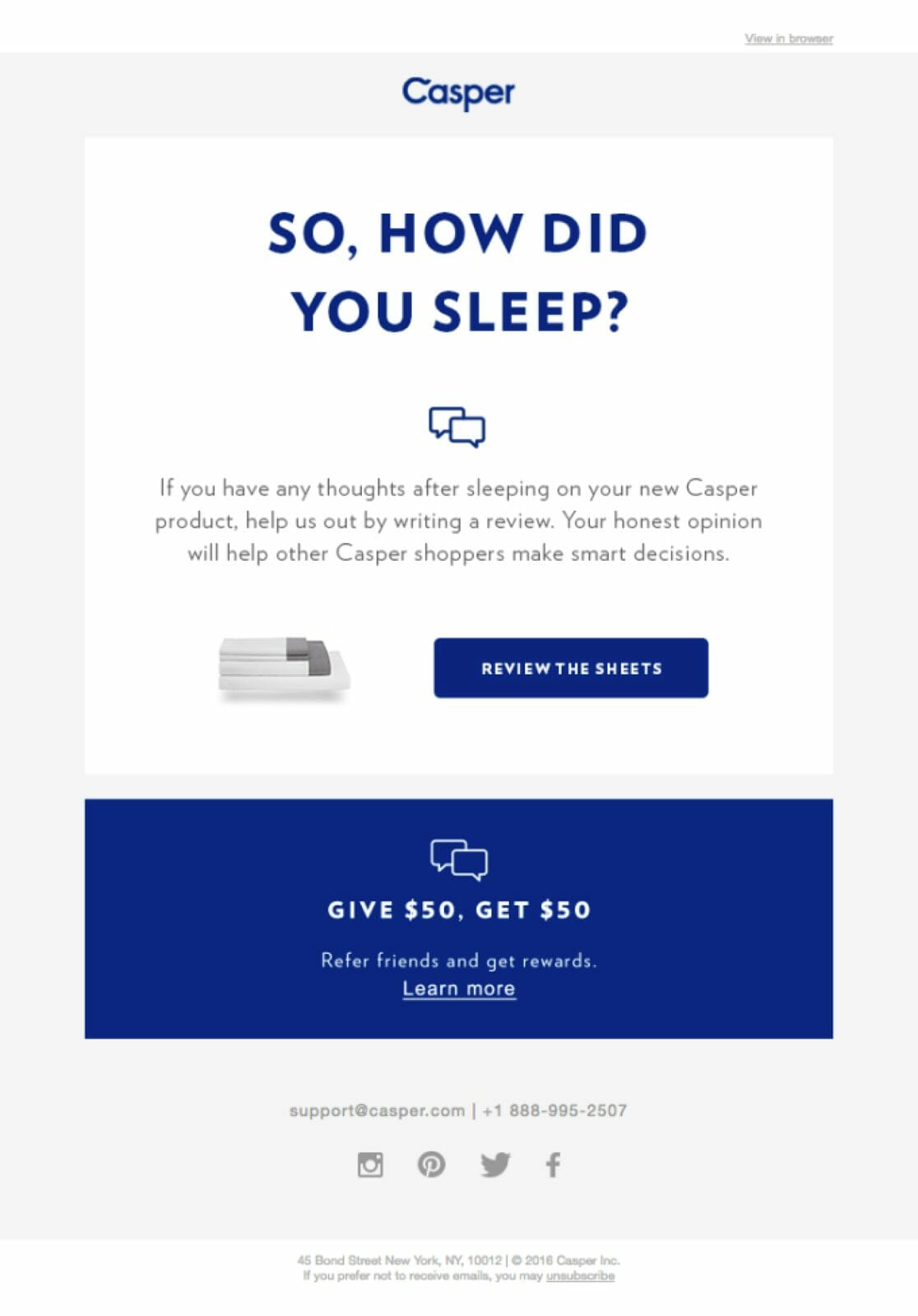 The best features of this post-purchase review email
"So, how did you sleep?" This is the type of question you're likely to wake up to every day.
You mentally answered it in your head, didn't you?
Casper uses real-life language to entice the customer to respond mentally. The first is stage complete.
The next stage is to get the customer to fill out the review form.
Casper focuses on helpfulness as its core aspect. It lets the customer know their opinion is important and that they have the ability to influence other people's decisions.
Every customer loves power.
The email continues with a visual reminder of the product, just in case you've forgotten what made your sleep so wonderful or horrible. A clear call-to-action button supports this, making it easy for the customer to complete the review.
The typeface is also an important aspect of this email. The most important information is in uppercase. This draws the customer's attention to the parts Casper wants them to see.
The simple colour pallet makes it easy for the customer to identify the brand. It's important to remember your emails need to keep a clear consistent image so your customers can identify who the email is from.
Shopify's The Stock Room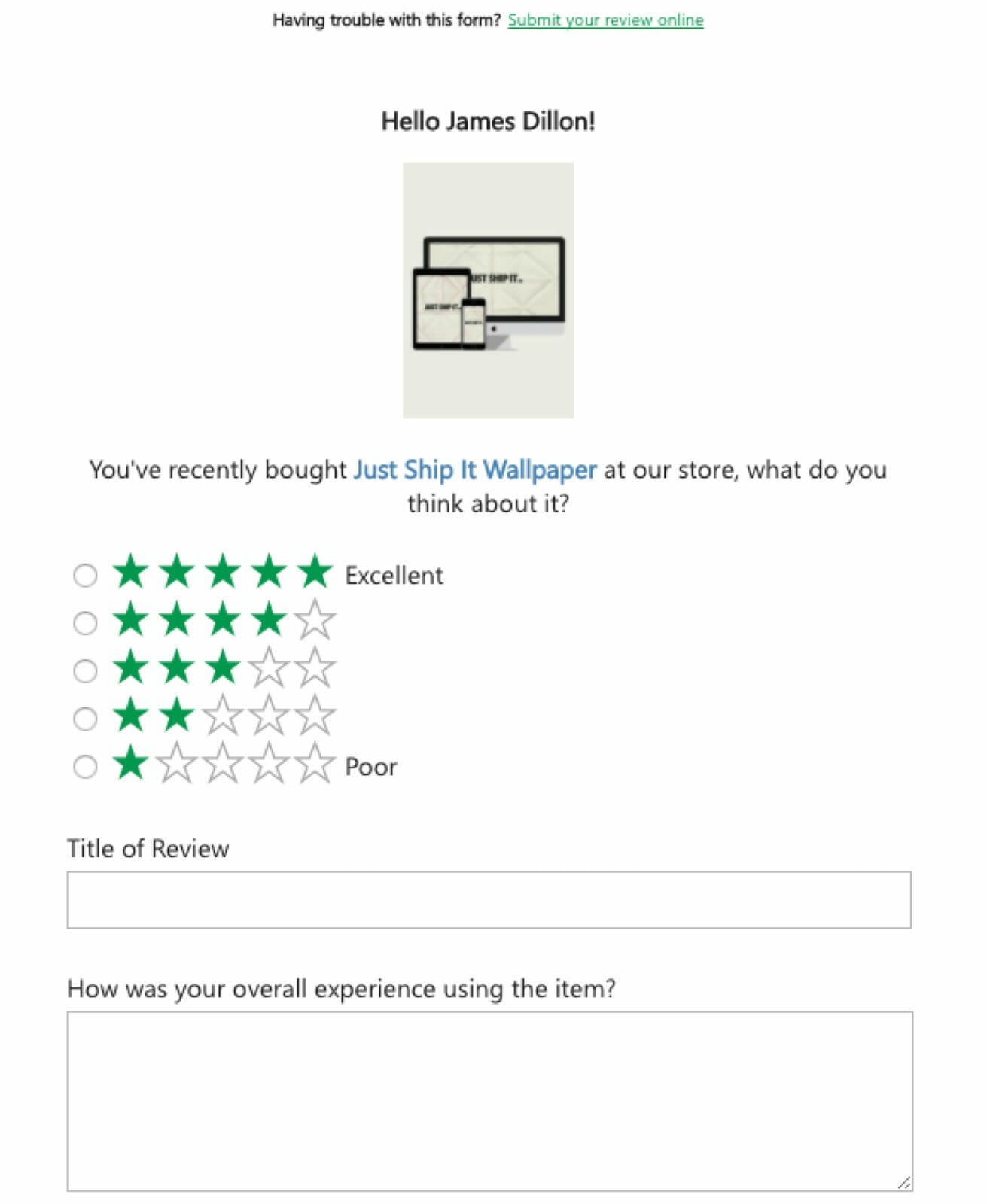 The best features of this post-purchase review email
This email is an example of where a call-to-action button is not necessary.
That's because the email is straightforward, has a clear hierarchical question structure, and only consists of filling out the questionnaire.
This type of post-purchase review email makes it easy for your customers to write a review. No links necessary. Open the email, write your answers and you're done.
If you're after a lot of reviews, this is a perfect example of how you can set up your email.
Begin by addressing the customer. Remind them of their recent purchase. Send this email once your customer has experienced the product.
Reminding them about their recent purchase is a good way to help trigger their thoughts on their experience.
Start with the most simple questions. Shopify's online store for ecommerce pros — The Stock Room — is the perfect example of ecommerce marketing goodness. You'd expect nothing less from the ecommerce store with the most helpful online retail operations blog in the business.
The Stock Room started with a star rating. This is one of the most common metrics you can use in product reviews.
Customers love visuals. The more work your customers need to put into your survey, the less likely they are to fill it out.
The second question asks for a title of the review. Was it a good experience or a bad one? This type of question confirms whether your customer is happy with their product.
Leave open-ended questions to last. They involve the most brainpower. Easing your customers into the survey builds their engagement with the survey.
Write open-ended questions in simple terms. Think of your target audience. You're writing to them, not marketing professionals. Your customers won't answer questions which need to be re-read or are hard to understand.
The Stock Room used a generic, direct open-ended question. Asking the customer about their overall experience means customers can be honest and give you as much or as little detail as they choose.
Customer reviews are a useful conversation sustainer
When you're on a date, you ask questions to get to know the person better.
Everyone loves talking about themselves and their experiences. Take the focus off your brand and ask your customer about their experiences with the product.
Give more than you take. Gain your customer's loyalty and trust. Ask them what they liked about the item and how you could improve.
It's important not to shy away from negative reviews. If all reviews were positive then you could never improve your customer's experience. Thank customers for effective criticism and use review requests as your way to show you care about their opinion.
Use your reviews to keep the post-purchase conversation going. Take one customer's review on board and you have the ability to improve the buying experience for all your customers.