If you've checked out our previous articles on Google Analytics, you will have learn't how to analyse your mobile traffic and got familiar with some of Analytic's key terms. But now it's time to get an understanding of how your website visitors are actually finding you – where are they coming from?
The Traffic Sources section of Analytics breaks up your website traffic so you can see how many visitors came to your website from search, referral and direct sources. Getting a basic understanding for what each of these terms mean helps you understand which of your online marketing channels are working.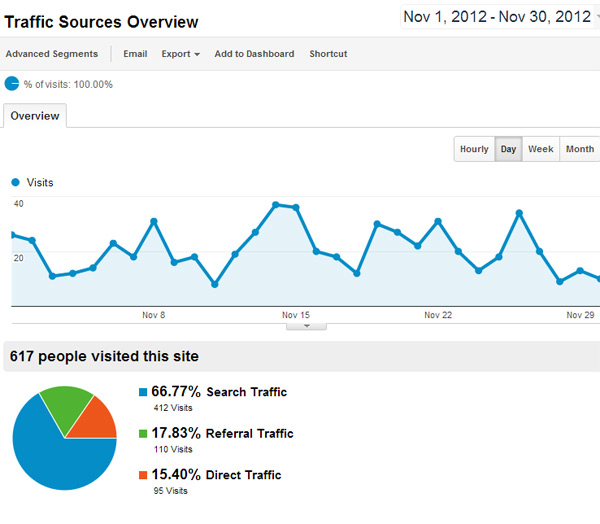 The Traffic Sources dashboard, shown above, shows visits over a time period (line graph) and all traffic sources by percentage (pie chart). Using the date range tool, you can compare your traffic sources to a different time period, such as the same month last year. This is helpful to determine how website visits are changing over time.
In the left hand column of Analytics, underneath the Traffic Sources tab, you can select the specific types of traffic sources to analyse each more closely. So let's take a look at…
Direct Traffic
This lets you see how often each of your URL's are visited by direct traffic. Direct traffic consists of website visitors that have:
typed specific URLs into a browser
saved your pages in bookmarks or favourites
clicked links from offline sources such as PDF documents, spreadsheets, email signatures and so on
This is an interesting metric because it let's you see which of your pages are popular with website visitors, particularly those that are returning often. For example if you have an ecommerce website, potential customers might be bookmarking specific products that you didn't realise. Or if you're writing a blog, direct traffic might indicate some of your more popular blog posts that people like to return to.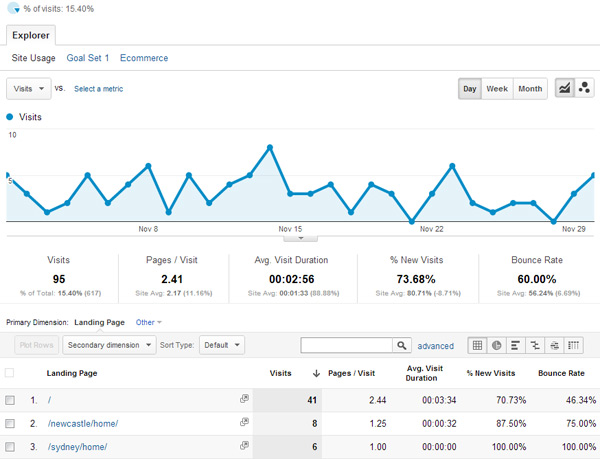 Referral Traffic
The information on this page lets you see which websites are sending you traffic, how much traffic is being referred and which pages on your site are most popular. For example Yellow Pages is often a key referrer of traffic for smaller businesses.
If you're trying to build traffic from links, you want to know which domains are successful referrers. The Source tab lets you quantify traffic from expected sources, but also lets you see whether there are unexpected sources, such as a product reviews or news stories you didn't know about. If you want to investigate a traffic source, you can click the link to see the referral path.
The Landing Page tab lets you analyse which of the pages on your site are receiving the most referral traffic. Links from referring sites are often to pages deep within your site, rather than to your home page, so you want to be sure those pages are effective and serving the overall purpose of your site. For example, if a landing page is deep within your site, you want to provide links back to top-level pages plus strong calls to action within the page.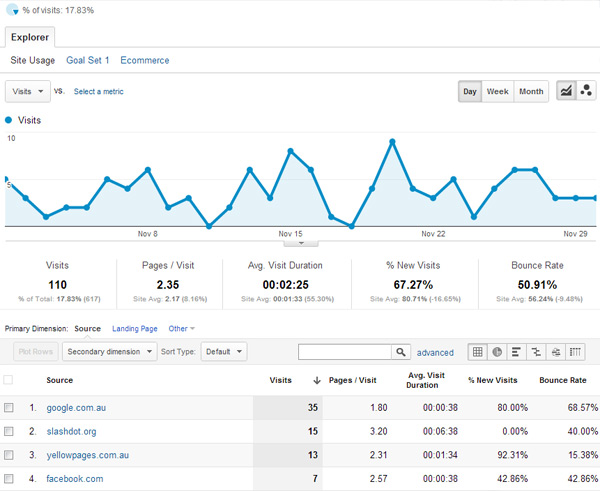 Search Traffic
The final top level category in Traffic Sources is search traffic. Search traffic includes any visitors that have come from ANY search engine, whether it's Google, Bing, Yahoo or another. This category also includes both paid (pay-per-click ads) and organic visits from search engines.
This section is particularly valuable as it provides data on the search queries that are leading to people finding your website. You can look at the top keywords used over a month, or any time period, that lead to traffic to your website. If you're engaged in search engine optimisation or Google advertising, this report can be used to identify areas of success and areas needed for improvement.