When talking to a Gorilla, it must feel like we're speaking gibberish.
I mean, literal gorillas don't speak the human language… but SEO-ing Gorillas do.
While we always try to explain ourselves as best as we can, sometimes it can be hard for our clients to keep up with all the lingo linked with SEO. So, we've created a go-to glossary of terms for you to refer back to when you're not quite sure what we're on about!
Let's start with the first logical letter… A!
A
Above the fold: when we say "above the fold", we mean the content visitors see before they scroll down. Most of the time, it's advised to keep relevant, to-the-point info above the fold so visitors get what they want as soon as they reach your page.
Alt text: otherwise known as "alternative text", alt text is a description of a graphic that isn't seen. It is often used to tell vision impaired internet surfers what is happening in the image. It's also a minor ranking factor.
AMP: stands for accelerated mobile pages. It's an open-source coding standard that allows a website to load quickly on mobile.
Analytics: this refers to Google Analytics.
Anchor text: clickable text that links out to another page or website, like this.
Adwords: Google's billion dollar advertising platform. Amongst being awesome for advertising, it's also funding things like Project Loon, a Google X effort to expand internet connectivity across the globe using tennis-court sized balloons… in space. Mental. Just keep this in mind when people tell you "Google ads don't work".
B
Backlink: a link from another website to yours. Backlinks are one of Google's top SEO ranking factors because it shows you're interesting, authoritative, and popular – all the things Google loves! Check out our blog outlining backlinks that any business owner can build.
Bounce rate: the percentage of users who visit the website and then leave without looking at any other pages.
Bot: otherwise known as crawlers, robots or spiders, a bot is a piece of software that search engines use to find and add web pages to their indexes.
Breadcrumbs: a breadcrumb is kind of like a map of where a website visitor has been e.g. Home > Blog > "SEO Glossary: All The Lingo You Need To Know"
Broken links: backlinks that have been built but no longer lead to a viable/relevant website. Sometimes it's worth going through old backlinks and making sure everything still works!
C
Cache: this is essentially memory storage on a server or browser. Sometimes this needs to be cleared when you make changes to your website and they aren't appearing on the front-end.
Call to action (CTA): a piece of text telling your website visitors to do something e.g. "contact us today!"
Canonical: a HTML element that helps prevent duplicate content issues. A canonical specifies the "canonical URL" or the "preferred" version of a web page.
Click through rate (CTR): the percentage of people clicking through to your website from search engine results.
CMS: your website's platform e.g. WordPress, Neto. This stands for content management system.
Content asset: a large piece of informative content designed to generate backlinks over time, like an article or ultimate guide.
Conversion: completing a transaction, calling the business, submitting a contact form and more, depending on your business type.
Conversion rate: the percentage of people who convert e.g. purchasing, calling, submitting a contact form.
Conversion rate optimisation audit (CRO): the process of looking for things to improve to increase your conversion rate. Once an audit has been completed, we often provide recommendations like website changes and developer actions to help get more customers/clients over the line.
CPC: cost per click. This is a term used in Google Ads to represent the cost of a person clicking on one of your paid ads.
Crawl: bots, crawlers and spiders "crawl" the internet from one link to another and index pages
CSS: a file dedicated to telling browsers how a page should look in terms of font, size and colour. It also tells the browser the size, spacing and location of other HTML elements.
D
Disavow: sometimes websites end up with backlinks that are suspicious and can't be removed. In this case, website owners can submit a "disavow" requests which tells search engines to ignore this backlink.
Directory: a website dedicated to listing businesses and services online, much like a traditional phonebook.
Domain: each website has its own domain which is part of the URL. For example, our domain is gorilla360.com.au
Domain authority (DA): we're always harping on about domain authorities here at Gorilla! This is a measure of the power created by SEO geniuses, Moz. It measures the authoritativeness, relevance and popularity of a domain/website on a scale of 0 to 100. Also contributes to rankings.
Domain rating: created by SEO marketing tool, Ahrefs. Similar to domain authority, it shows the strength of a given website's backlink profile. Your domain rating is measured from 1 to 100.
Duplicate content: copied content across the website or between websites, for example using the same description on one product for another. Google isn't a fan of duplicate content!
E
External link: a link on your website leading to another domain. An example would be linking to a blog post from another website that you've referenced or borrowed images from.
F
Frames: multiple documents loaded and displayed on the same screen, each within a frame.
Fake reviews: a positive, neutral or negative review that is not an actual customer or client's honest opinion or doesn't reflect a customer or client's genuine experience.
H
H1: the main heading (H1) on your page, usually placed up the top. In code, it looks like this:
SEO glossary
. Google picks up on this code when crawling your website as it's describing what the page is, so we optimise H1 headings for industry relevant keywords.
H2: the secondary heading (H2) on the page. Google picks up on the
code and decides what your page is about, plus whether it's relevant to searchers. We optimise H2s to meet searcher's keywords.
H3: this is a minor heading on the page. These headings have less SEO value to Google, but we can optimise this nonetheless.
H4: a minor, MINOR heading. I would describe it as a whisper in the code. See the explanation below for how H1s, H2s, and H3s look on a page.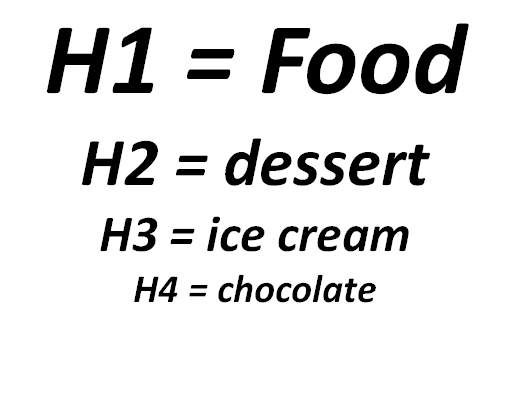 HTML: the language of the internet, defining how content should be displayed. Otherwise known as code.
Hyperlink: hypertext link between one point on the web and another. Clicking on a hyperlink will take the user to the destination point.
I
Inbound link: a link on a third party website that points to yours.
Index: pages a search engine has crawled and indexed, making them available for inclusion in search engine rankings.
Internal linking: linking to other pages on your own website. For example, you might link to your contact page from an informational page, urging customers or clients to contact you for more information.
IP address: a unique string of numbers separated by full stops that identifies a computer using the internet. We exclude IP addresses from traffic when setting up your Google Analytics tracking so that your searches aren't included in page views, contact form submissions, and more.
J
Javascript: a computer programming language used to create interactive effects within web browsers.
K
Keyword/phrase: words or phrases people plug into search engines. For example, looking up "best burgers in Newcastle" is a keyphrase, "cheeseburgers" is a keyword.
Keyphrase research: the process of finding keyphrases and keywords often used by searchers to find your business or service. We use popular keywords and keyphrases with lots of monthly searches to optimise your website, making it easier for people to find you.
Keyword cannibalisation: excessive reuse of the same keyword on too many web pages within the same site. Cannibalisation makes it difficult for users and search engines to determine which page is most relevant for the keyword.
Keyword stuffing: cramming as many keywords as possible into a single page. This is unnatural and hard to read.
L
Landing page: the entry point for a website or a particular section of a website.
Latent semantic indexing (LSI): a kind of machine learning technology that finds the hidden (latent) relationships between words (semantics) to improve indexing.
Link bait: website content designed to attract attention and build backlinks. This content (otherwise known as a content asset) aims to improve your website's position in Google search results.
Link building: actively building links to your website. This helps to show Google your website is popular, authoritative, trustworthy, and so on.
Link exchange: the process of exchanging links with other websites. It's a no-no.
Link farm: a set of web pages created with the sole purpose of linking to a target page in an attempt to improve that page's search engine ranking. Also a no-no.
Long tail keywords: longer key phrases e.g. "where is the best burger joint in Newcastle?" (We're fans of Rascal, just quietly).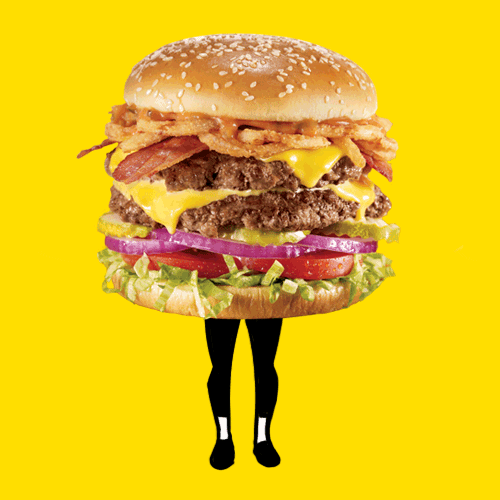 M
Metadata: data which is not always displayed, providing information to search engines about other data on the page.
Meta description: a short description of the page which is displayed in search results. While meta descriptions have little SEO value, meta descriptions tell searchers what your page is about, and helps to improve click-through-rate. Check out the meta description below:


Meta tags: statements in the header section of the HTML which furnishes information about the page. This is not visible on the page.
N
Nofollow: instructs robots and spiders not to follow either the links on a page or a specific link.
Noindex: instructs robots and spiders not to index a page or a specific link.
O
Organic traffic: visitors who found your website using a search – no paid advertising involved.
Outbound link: a link on your website linking to another website.
P
Pagerank: a calculation used by Google which evaluates the quality and quantity of links to a webpage to determine a score of that page's importance on a 0 to 10 scale. Google has multiple algorithms that help rank pages, but Pagerank was the first algorithm that was used by the company and it is the best-known algorithm of Google.
Panda update: Google updated its algorithm in 2011 to include a search filter designed to stop websites with poor quality content from making their way into its top search results. This update was called "Panda".
Penguin update: a set of Google algorithm updates and data refreshes that help increase the value of its search results. It was announced in 2012 with the aim of decreasing the number of websites that violate Google's Webmaster Guidelines i.e. websites with poor backlink profiles.
Pay per click (PPC): this is another term for Google Adwords/Ads. There are no upfront payments or deposits with Adwords – you pay per click or conversion, so if your ads aren't performing, you don't have to pay.
R
Reciprocal link: an agreement between website owners to link to each other's website. Essentially, two people giving each other a backlink. See "link exchange".
Redirect: an alert to search engines telling them that a page has been moved. 301 redirects are for permanent change of location and 302 redirects are used for a temporary change of location.
Referring domains: otherwise known as a ref domain, a referring domain is a domain that a backlink is coming from.
Return on investment (ROI): the ratio between the net profit and cost of investment. Eg from Google Adwords/Ads.
Return on ad spend (ROAS): similar to ROI, ROAS shows how much return you're getting from an advertising investment. This helps online businesses evaluate which methods are working and how they can improve future advertising efforts.
Robots.txt: a file on your website that tells crawlers and spiders whether or not they're allowed to crawl the website.
S
Schema: a piece of code that can be added to a website that tells a search engine like Google the most relevant, important pieces of information on that page. For example, you might tell Google to focus on your name, address, and phone number which Google can then include in your listing in search results.
(Google) Search Console: otherwise known as Webmaster, Search Console is a no-charge web service used to check indexing and visibility of your website.
Search engine: Google, Bing, Safari – a platform used to make a search to find relevant information.
SEM: search engine marketing.
SEO: search engine optimisation.
SERP: search engine results pages.
Spider: essentially just a bot. Google uses spiders to crawl through the internet and rank websites based on their popularity, authoritativeness, trustworthiness, etc.
Splash page: the page that the user sees before being given the option to continue on to the homepage. A splash page can be used to promote services, subscriptions, sales and more.
Static page: a page with fixed content that doesn't move/change.
T
Title tag: a HTML element critical to both SEO and the user experience. Describes the topic and theme of your page. You can see the title tag at the top of the page.

U
Unique visitors: the number of unduplicated (counted once) visitors to your website.
URL: uniform resource locator… otherwise known as a link or address for a page!
URL rating: measures the strength of a URL's backlink profile and the likelihood that the URL will rank high in Google. This is measured from 1 to 100 with 100 being the strongest.
User generated content: images, videos, reviews and more created by customers or clients. For example, Instagrammers sharing images of your product on their own profile is free advertising for you!
V
Vlog: a video blog.
W
Web 2.0: the second stage of development of the Internet, characterized by the change from static web pages to dynamic or user-generated content and the growth of social media.
White hat SEO: the use of optimisation strategies that focus on a human audience rather than search engines. This method follows all search engine rules and policies.
Widget: an application, or a component of an interface, that allows a user to perform a function or access a service.
Now you know the ABCs of SEO!
How are you feeling after that onslaught of jargon?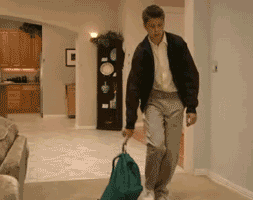 Us too.
We always go out of our way to explain our SEO work as best we can, while highlighting the benefits and outcomes expected. However, if you ever have any questions about the jargon we use, please feel free to ask for more info, or keep this link saved to your taskbar.
You never know when it's going to come in handy!
Need some more info about our SEO jargon? Contact the Gorilla 360 team in Newcastle! We'd be happy to provide some more guidance.