Australia's gnarliest online retailer just made the most extreme ecommerce content marketing play this nation has ever seen. We're already prepared to give these guys a perfect 10, and we're pretty sure you will too when you take a deeper dive (buzzwords make the best puns) into their strategy.
SurfStitch started out (no prizes for guessing) selling surfwear. Recently, they've moved into the broader menswear market, stocking street, skate and performance clothing and accessories.
This new strategic direction led to the company's recent decision to acquire the world's largest user generated surf network, Magicseaweed, and surf lifestyle magazine Stab for a cool $13.8 million.
The Sydney Morning Herald reports that both publications combined attract more that 2.75 million individual visitors per month.
On the face of things, this acquisition might seem a little confusing. Let me explain…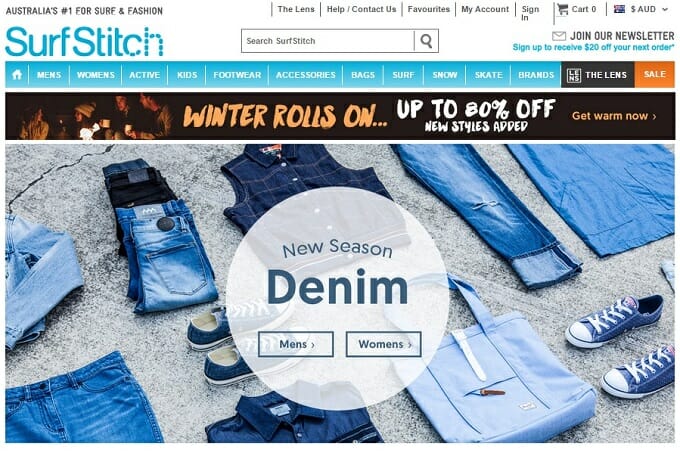 Why is an online retailer buying media companies?
Let us explain the content marketing genius at work.
SurfStitch are trying to build an audience of loyal subscribers. They know their target audience well, and they know to develop loyal SurfStitch subscribers, they need regular, high quality content. Sales promo's alone won't keep their fans and followers opening those emails every day. Surfing lifestyle news, info and entertainment will help.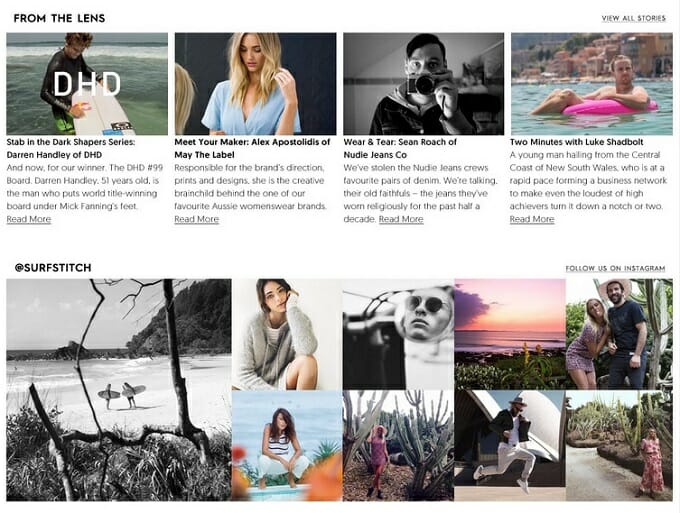 But SurfStitch is a retailer, not a publisher. They aren't experts at building an audience of surf loving subscribers. Stab and Magicseaweed are. They've been busy building a business based on the SurfStitch target market.
In addition, how hard would it be for SurfStitch to acquire 2.75 million targeted monthly visitors? It would take a whole bunch of time. Imagine the financial cost. Then consider the opportunity costs. Add in the difficulty of finding the right human resources with the skills to make it happen.
What could SurfStitch achieve with the time and resources they would need to dedicate to this project?
Suddenly, 13.8 million dollars starts to look pretty cheap. With that investment comes a number of critical business assets:
The publishing structures, processes and skill sets that Stab magazine and Magicseaweed have spent years developing
Immediate access to 2.75 million plus targeted subscribers with an established interest in the SurfStitch lifestyle
The data and insights derived from the content consumption of this group, to help inform product development and future business decisions
The potential to diversify revenue streams, with the opportunity to charge for content subscription or paid advertising placements (potentially from competitors)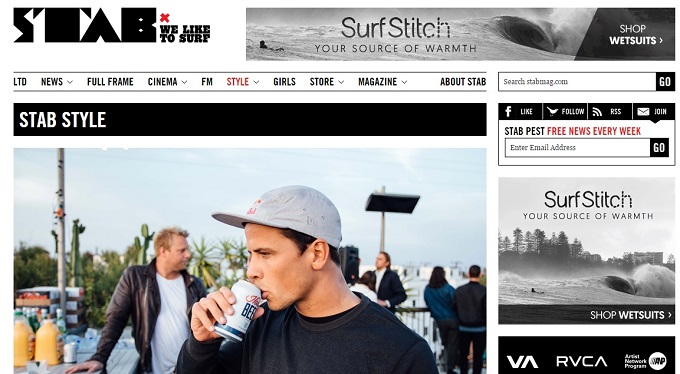 SurfStitch Group Co-Founder and CEO Justin Cameron gives you a little glimpse into the strategy behind this decision:
"SurfStitch's demonstrated global leadership in action sports and youth culture apparel is greatly enhanced with the addition of Magicseaweed and Stab Magazine.(Both) are leaders in surf-generated content.
These acquisitions roughly double our traffic to our core demographic and provide significant barriers to entry to competitors looking to play in the action sports environment."
You see, SurfStitch are all-in on ecommerce content marketing.
These 2 media companies will help them achieve their objectives faster, for less.
In addition, the Stab acquisition includes a bi-monthly print magazine (just another fashion retailer to add to the ecommerce print content marketing revolution). This presents an opportunity for SurfStitch to monetise their marketing, or conversely, to provide a physical representation of their online brand to their customers as a value add.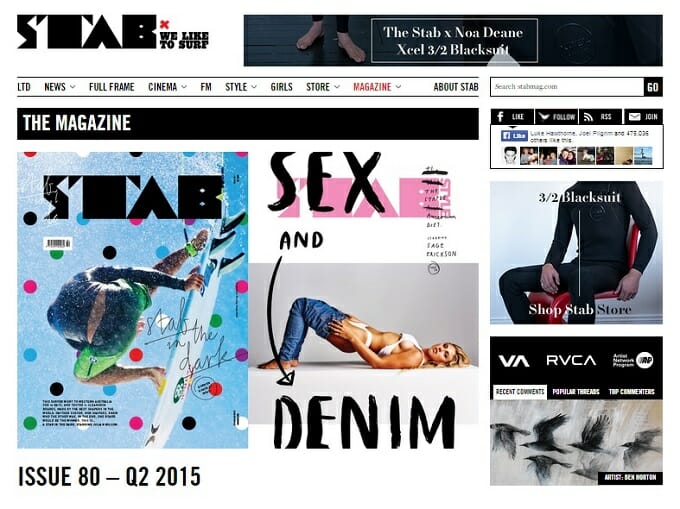 The folks at SurfStitch understand the importance of retention, loyalty, and repeat sales to their online retail business model. Acquiring subscribers, and developing an ongoing relationship with the SurfStitch brand, is the most effective way to increase that all-important Customer Lifetime Value figure.
The SurfStitch content marketing ecommerce strategy
The recent launch of their own online magazine titled The Lens is a clear indication of the direction the retailer is heading. The publication acts as the hub for SurfStitch's content marketing efforts. It drives subscriber acquisitions through search and social media, and works to nurture visitors into loyal repeat customers through email marketing.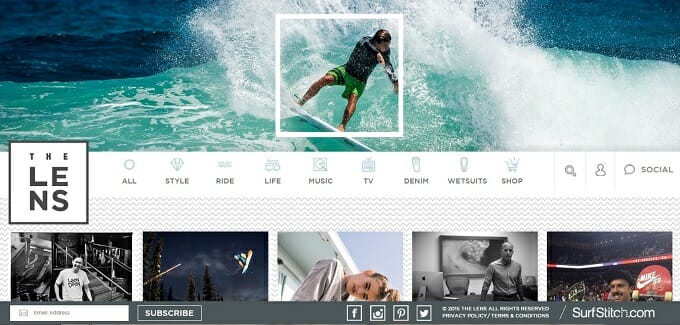 These guys are committed to becoming the number 1 online media provider in their niche. The Lens is a damn good start.
If SurfStitch can become the leading publisher for their target audience, of course they will establish trust with their subscribers. All of the valuable content that readers are receiving establishes the brand as an authority source, a tastemaker, and a trendsetter in the surfing space.
When a subscriber considers a clothing purchase, they are confident SurfStitch have the right products to suit their lifestyle – buying from a competitor would almost feel like cheating.
SurfStitch Group Co-Founder and CEO Justin Cameron explains how the group plans to ride this content marketing wave all the way to the shore (albeit with more corporatisms and less use of the word 'stoked' than you might expect):
"These highly complementary acquisitions represent the voice of SurfStitch's core audience, connecting us with our customers and providing us greater insight into their preferences, influences and purchasing behaviour. Combined with our recent launch of The Lens, the acquisitions will further SurfStitch's global content-driven strategy to provide relevant and engaging content to our growing active customer base."
Is this editorial commerce wave worth riding?
The signs so far are good. This approach seems to be working. Since listing at $1 a share, SurfStitch's share price has gained over 80¢, with a market capitalisation of $438 million, up from $214 million just after their 2014 IPO. Sure, this can't all be attributed to the group's content marketing strategy, but the approach is a key foundation for the business.
The best bit? These guys aren't done yet.
According to the Sydney morning Herald, Justin Cameron is eyeing more acquisitions in the action sports media space.
"SurfStitch's mission is to become the global destination for action sports and youth lifestyle content… Gold Coast-based SurfStitch is moving away from being a general brand aggregator to being a content network with a retail business."
This statement has content marketing pro's everywhere screaming in rapturous approval.
Sounds like these guys have learned a thing or two from big brother Red Bull.
Whoever would have guessed that a bunch of waxheads from the Gold Coast would be the pioneers of Australian ecommerce content marketing?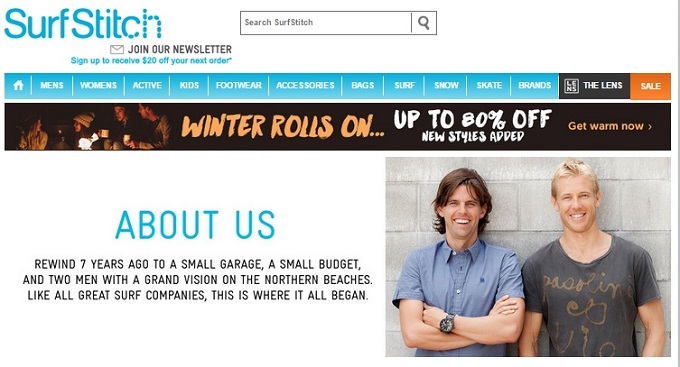 What ecommerce marketers can learn from SurfStitch
There's a few lessons to be had from this announcement.
Firstly, content marketing is a serious business. If SurfStitch are willing to invest $13.8 million to build their audience and transition from being a general brand aggregator to being a content network with a retail business, there has to be something in this approach, right? This approach isn't just another marketing fad.
Brands like Marriott, Red Bull, Chipotle and Net-A-Porter are going all-in with content marketing, and the results are clear. If you commit to the long term, and build a scalable, repeatable process within the business, you can build a business asset so incredibly difficult to compete with.
But, perhaps the most unique insight to be drawn from the SurfStitch announcement is one you've never considered…
Why build an audience, when you can just buy it?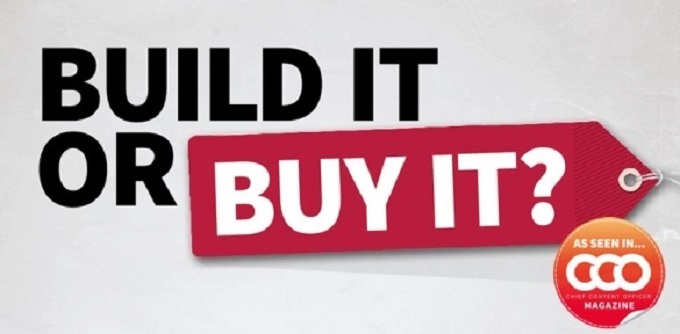 Growing a list of targeted subscribers from scratch is really hard. It's expensive, time consuming and resource intensive. If you don't want to pay a mint to Google, you need to start creating and promoting amazing, unique content to make it happen.
On the other hand, you could find a publisher in your niche and acquire their audience. You get the storytelling capacity that comes along with the business. You don't waste the opportunity costs involved in building an audience. And you get the consumer behaviour insights that come along with the publisher's data.
All of this adds up to a tantalising proposition. When you take into account the costs associated with building an audience of the same size, the buy might end up cheaper.
I recently penned a piece for the Content Marketing Institute exploring this very issue, so I am perhaps, a smidgen biased. If you want a detailed analysis of the build or buy decision, it's well worth a read.
In the meantime, put this concept out on the table. Kick it around. Run the numbers. It could be a cheaper, faster way to success.
Firstly, make sure subscriber acquisition and retention figures are central to your marketing ROI measurements.
Secondly, consider purchasing a publisher's established audience, and all of the business assets that come along with the package deal.
If a bunch of surfies on the Goldy can do it, you ought to jump on board.
Double shakas from us guys, we can't wait to see SurfStitch take on the action sports world and dominate it.