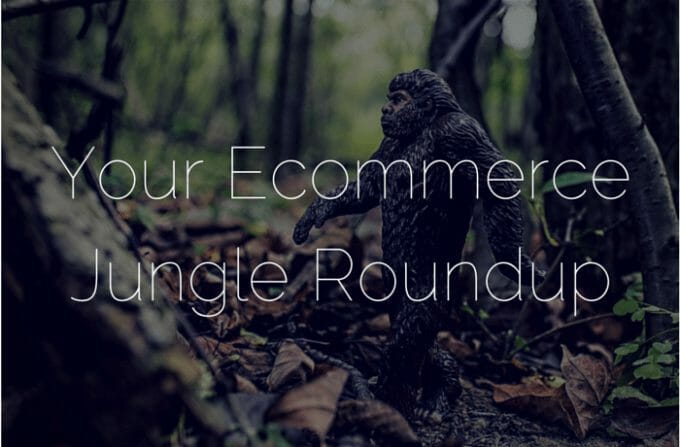 Each month our tribe of gorillas scavenge far and wide across the online marketing forest floor to bring you the best of the ecommerce bunch.
If you haven't already subscribed to our monthly email of eCommerce learning, get your inbox amongst it now.
This Feb we're talking interactive product pages, user-generated content and the importance of developing a documented content marketing strategy. We've thrown in some funny bone ticklers as well. You can expect to find out about the latest innovations in online pen marketing, customised pug furniture and robber baron eyewear.
Read on, learn, then sell more online.
What's the secret to eCommerce success?
Plan early and grow fast.
RJMetrics' 2015 Ecommerce Growth Benchmark Report studied over 200 ecommerce businesses with over $25 billion in transaction revenue.
Their objective?
To determine the indicators of breakout eCommerce success
The report analysed the sales trends of online retailers earning up to $60 million in revenue.
What did they find?
The best performers were making two and a half times more revenue than other eCommerce brands that made their first sale at the same time.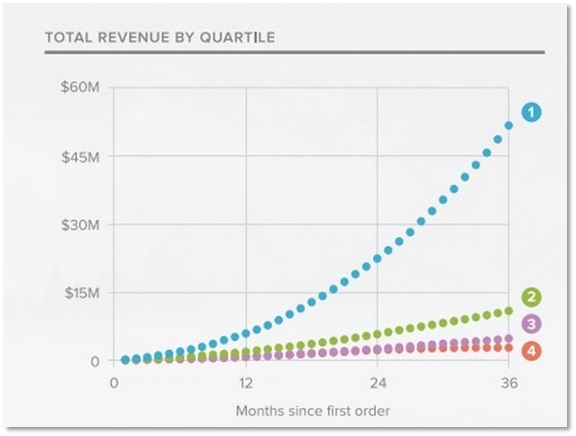 Shopify produced a fantastic article that does the reading, analysis and teaching for you. They've pulled out the key insights and explained what they mean to ecommerce marketers.
Firstly, you need rapid sales growth in your first 12 months if you want to join the industry leaders. Nothing ground-breaking in that statement, but Shopify's Tommy Walker explains what separates the dominant online retailers from the average majority:
"Top performing companies plan and test their customer acquisition strategies well ahead of their launch – often securing strategic partnerships, press contacts, and early buzz, months (if not years) in advance of the initial release.

The short version is this, top performing companies aren't launching to nobody and hoping to make sales. (They) aren't just acquiring customers once & hoping those customers come back. Instead, there is a plan in place, early on to get a person buying again and again and again as soon as possible, and getting them hooked on buying from you."
Lesson: If you don't have said plan yet, get one.
This graphic shows the importance of repeating revenue (or regular customers) to an ecommerce company. As we all know, attracting new customers costs more than keeping existing ones.

You need a documented content marketing strategy.
Work out how you intend to attract first time buyers, turn one off sales into genuine relationships, then grow a community of loyal repeat customers.
Just how big is the US ecommerce industry?
$300 Billion big evidently.
On Tuesday, the US Commerce Department released the final ecommerce sales numbers for 2014. They were impressive.
American online retail passed the $300 billion mark for the first time (totalling exactly $301.91 billion for those playing at home). This number highlights the furious growth of online retail. We've certainly hit the mainstream.
The telling stat? It's the 5th consecutive year that ecommerce sales have increased by 14% or more. That's a lot of growth. Let's make the most of the chance to grab the best seats before the bandwagoners clamber in and fight over what's left.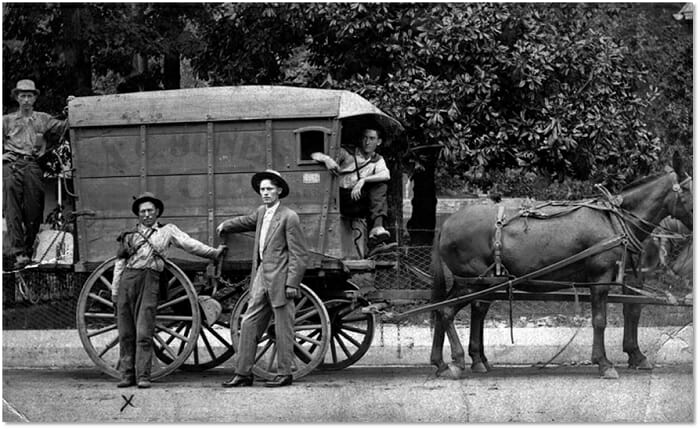 How to get your customers to do your ecommerce marketing for you
User Generated Content.
It's a buzzword that's flying around the online marketing world faster than you can say omnichannel responsive design.
But if you can make it happen, you'll be cartwheeling all the way to the bank.
What is UGC?
Basically – your customers doing your marketing for you.
Two obvious benefits stand out for an ecommerce marketer:
There's no costly content creation or promotion required on your part, and
The opinion of your customers is almost always more trustworthy than your brand's.
Win win.
If you've got a visually beautiful product in an exciting industry, user generated content should be at the top of your ecommerce marketing bucket list. If you can give your community the tools, resources and motivation to share their images and videos relating to your brand, the social sharing should happen. Just watch the hashtags fly.
If you want some inspiration, we profiled two of the best in online retail to show you how it's done.
The first is a brand behemoth who launched to their extreme heights of success directly because of their customer's social sharing. For those of you with brands that fit nicely into your customer's 'socially shareable' lifestyle, have a read of this article. The GoPro UGC formula works out pretty well.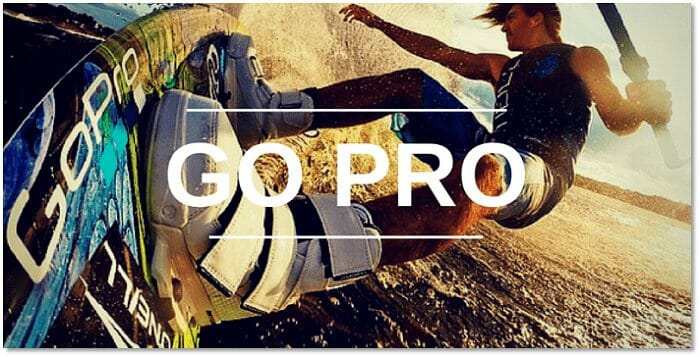 If you don't have the resources, dollars or industry dominance of a brand like GoPro (keeping in mind, these guys started out from nothing, with next to no marketing budget), we've put together another case study on a bootstrapped ecommerce startup that know exactly how to use images in their content marketing.
Frank is an Australian beauty products online retailer. Their content marketing strategy and sexy, differentiated branding has seen Frank skyrocket from unknown coffee scrub seller to cult Instagram celebrity.
Frank's user generated content will make you swoon, read up and you'll find out how to make it happen.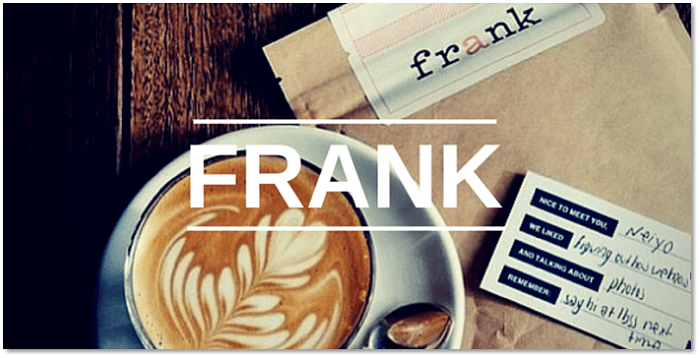 But user generated content is not confined to the hashtaggable, shareable, grammable online retailers. You don't need to be a gorgeous social media darling to get your customers to share the brand love.
We wanted to prove that user generated content is possible for all ecommerce brands – even the so called boring, bland and dull.
So we turned to one of our favourite ecommerce content marketing success stories – Goulet Pens. If a pen retailer can do UGC, you have no excuse. It's not about glossy images or Oscar-worthy videos. Nope, just a really good understanding of your target audience.
If you want to turn your customers into a loyal community of unpaid brand ambassadors, get amongst this article…
Why content marketing is the best cure for your costly ecommerce PPC addiction
The guys from Ecommerce Influence are doing some super work with their weekly podcast. Chad and Austin are some serious ecommerce over achievers. You'll learn a bunch of valuable practical insights from the lads – you can check out their career hitlist here (and be subsequently shocked that both have seemingly squeezed 50 years of work into 10).
Download the podcast – you'll be rewarded with regular interviews of the industries most interesting experts and success stories. The guys have a hunch of teasing out a bunch of hacks that will help you sell more online.
In Ep 61 this Feb, Tom Schwab is in the chair. He is founder and owner of Goodbye Crutches, the largest online distributor of direct to patient Durable Medical Equipment focused on serving those who can't bear weight or use crutches.
He also runs an inbound marketing blog and consulting service. Somewhere he finds the time to lead the eCommerce Hubspot user group.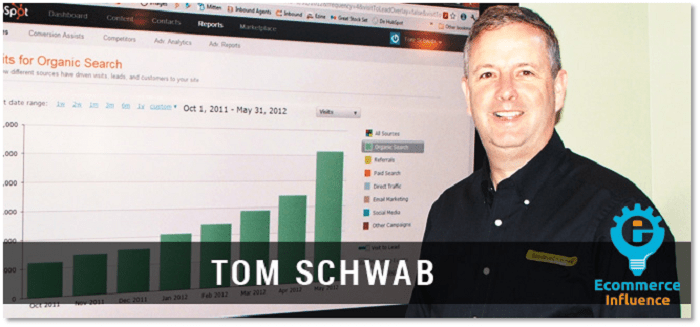 Sounds impressive, right?
He sure is. And he has some super important advice for all you ecommerce marketers that rely on pay per click advertising to bring in a steady stream of sales to your site.
If you've followed our blog, you'll know our thoughts on the SEO vs PPC ecommerce marketing debate. Don't get Scott started…
The message – stop paying Google for new customers over and over and over again. Instead, focus on the long term.
Start building your own content assets to attract new customers. Then set up a plan to grab their email addresses and keep talking to them over time. Sure PPC still has a place to fill up your funnel more swiftly, but use it to fuel a sustainable strategy.
Suddenly you're not repeatedly renting an audience for one off sales. Instead, you're developing long term relationships and turning one off sales into loyal repeat customers.
Listen in to the podcast – this is important big picture thinking that will help any ecommerce pro.
12 envy-inspiring examples of interactive ecommerce product pages
This is an inspirational list.
We love ecommerce innovation, so Econsultancy's article had us gorillas salivating for the future. As you'd expect, that's both a scary and ugly sight.
A teaser to get your own mouth watering? Okay – here's what to expect:
A customisable sitting cube
A build your own tent mechanism
And our personal favourite; a device that allows you to alter the weather of a romantic comedy in order to demonstrate the quality of a pair of shoes.
Enough said. You need to check this one out. Then find out how you can make sure your site makes the 2016 list.
Interactive ecommerce is the future. Or at least we hope it is.

Oh, and lastly…
The most spectacular ecommerce 5th birthday celebration you've ever seen
The warmest of birthday wishes to one of our favourite ecommerce pin ups, Warby Parker.
And what do you do when your ecommerce company turns five?
Throw a street parade, of course!
We'd be happy enough to see an online retailer celebrating their fifth birthday with hundreds of rapturous fans, a confetti laden marching band and Miss New York twirling a baton. Content marketing win.
But as expected, Warby Parker raised the bar even further, managing to seemlessly tie this audience delighting content back to their own profit.
Their bday content extravaganza served as a particularly heartwarming link to the brand's new birthday blue 'half decade' range. Well played Warby Parker.
Because who doesn't need a Colonel Monacle?

This is our favourite product description of 2015.
Warby Parker might just be the ecommerce content marketing benchmark.
Finally, someone who caters for the 21st century robber baron.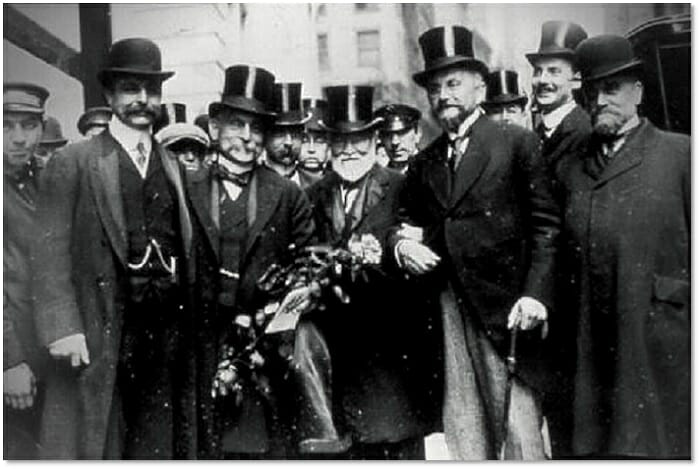 That's a wrap for February. If you have any jaw-dropping, lightbulb-flashing, forehead scratching ecommerce marketing info, we want to know it!
To have your best stuff featured in our monthly ecommerce marketing roundup, throw some love our way. You can catch our Content Manager, James on Twitter – that's one of his favourite online habitats.
Now it's time to go and make some more add-to-cart clicking happen.
Oh, unless you haven't signed up to grab our monthly roundup in your email inbox. Naughty ecommerce marketer! Fix that up right now and subscribe.