What are your local SEO goals?
This is a question we ask all our clients. The most popular answers are:
To rank number one on Google
To get more leads/sales
Ultimately, every client's end goal is to make money.
Google ranking is important, but if your business isn't getting leads then is ranking first on Google really worth it?
At Gorilla 360, we think beyond local search ranking factors. Yes, ranking number one on Google IS important. But there are so many other things you need to consider:
On-site recommendations: Updating your website's content, heading tags and technical SEO to improve rankings
Off-site optimisations: Attracting people to your website using third-party tools such as Google My Business, citations, guest post blogging
Grab a piece of paper and pen. Gorilla's chimps have created a user-friendly guide to teaching you about the most important local search ranking factors of 2019.
Implementing these ranking factors will help you:
Increase foot traffic to your store
Improve the total of sales leads
Rank number one on Google on more search terms
Unlike Google Ads, SEO takes time (you're looking at a 6-month timeframe before you see results). Local SEO is a long term strategy. But if done right, your business will reap the benefits.
To help you understand the different concepts, we'll use an example of an electrician who has opened a new business and wants to increase his customer base. While reading this guide, see if you can apply the teachings to your own business.
In the example scenario, your website is getting ready for launch. Your target market is Newcastle but you're also willing to go to the Central Coast, and Hunter Valley.
Let's jump into ways you can optimise your website for local SEO.
How to optimise your website for local SEO
Moz released a visual explainer of the local SEO ranking factors. From the diagram below, on-site optimisations you can make include:
Link signals
On-page signals
Personalisation (location-specific information)
We will explore each of these signals as well as more simple optimisations you can make to help increase your SEO rankings.
Here's the Moz image (in case you wanted to see it for yourself).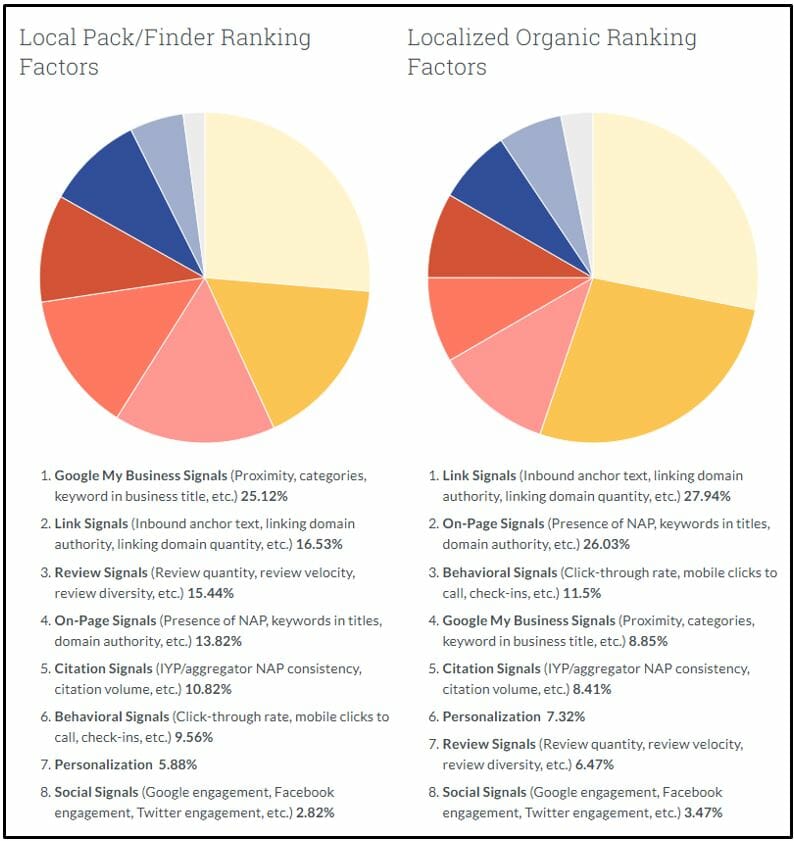 Title tags
The Moz diagram above mentions on-page signals — keywords in titles. Optimising page headings is one of the simplest and most effective ways to influence your search ranking.
Let's go back to our electrician example who wants to focus on Newcastle for your SEO, the Central Coast, and Hunter Valley. To optimise page titles, include your priority location in your page titles and heading two tags.
Quick tips for optimising your page title:
Ensure your page title is no longer than 60 characters, otherwise, Google will truncate the end
Include your location e.g Newcastle, Central Coast, and Hunter Valley
Ensure primary keywords in the page title
If possible, include secondary keywords in the page title. Remember – we can only use 60 characters
If possible, include the brand name. This is not mandatory and not crucial, but quite often brand helps people click through to the website (brand recognition)
Here's an example formula for local SEO optimised title tags:
Home Electrical Services | Electrician | Newcastle, Central Coast & Hunter Valley
The formula we used: Keyword | Service Type | Location
Heading tags
HTML (HyperText Markup Language) has six different heading tags — H1 (heading one), H2 (heading two), and so on.
H1 tags are most important because they tell the search engine what the page is about. Therefore, using heading tags correctly helps your search engine ranking (when used in conjunction with other onsite SEO techniques).
How to write great headings tags:
Portray your company voice in your tags
Include your primary keywords – most of the time the primary keyword will be used in the H1 tag
Include target locations in the H1 tag
Here's an example of an effective H1 using our electrician example:
Newcastle, Central Coast & Hunter Valley Home Electrician
The formula we used: Location + keyword
Page speed
What's your mobile website page speed?
Use Google's mobile speed tool to find out.
The verdict?
Is your mobile page speed less than 3 seconds?
No? I have some heartbreaking news for you then.  53% of mobile site visitors leave a page that takes longer than three seconds to load. And the average mobile website takes 15 seconds to load!
So what does page speed got to do with local SEO?
Let's go back to our example.
A person has just lost electricity and is rapidly Googling local electricians. Your business is ranked in the first five positions. The potential client clicks on your website.
And waits.
Waits more.
Several seconds have past and your website is still loading.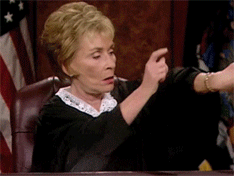 Impatiently, the searcher clicks the back button and goes to another result.
Goodbye potential customer.
Fast page speed is critical to capturing customers. Here are some tips from Moz to improve page speed:
Compress images
Minify CSS, JavaScript, and HTML
Reduce the total number of redirects
Improve server response time
Schema markup
According to well-known marketing influencer,  Neil Patel, schema markup is one of the most powerful yet least utilised forms of SEO available today. Schema markup is code you put on your website to help search engines easily recognise information that is helpful for users.
By highlighting local information on a website, we can send extra local information to Google.
Hence, help improve local keyword rankings!
Use the Google Search Console data highlighter tool for a quick way to mark up information so your site can be recognised in local searches.
Here's how you can use Google's highlighter tool to optimise your pages for local searches:
Log into Google Search Console
Go to the Optimisation section of Google Search Console and click on "Data Highlighter".
Add your URL and then select "LocalBusiness" information type
Choose your option – "Tag Just This Page" or "Tag This Page and Others Like It"
The tool will show a framed "Bot-view" version of the page you have selected as your first page. Tag as much information as you can. Make sure to at least tag the business name, address and phone number (NAP).
Useful in-depth content and location pages
Create a location page for each service area.
For example, our electrician may create three main location pages: Newcastle, Central Coast, and Hunter Valley.
Use E.A.T (Expertise, Authoritativeness, Trustworthiness) to optimise your pages.
Search engines want to show the most relevant content. You can optimise your content for Google by using the following tactics:
Use title and heading tags (see above)
Include your keyword in the URL
Craft an engaging meta description
Aim for a minimum of 300 words per page
Add internal links to other important service pages and relevant external links
Add alt text to your images
So that covers the most important on-site local SEO optimisations. Now for the off-site recommendations.
Off-site local SEO recommendations
Off-site SEO involves all the activities performed to improve the position of a website on the search engine results page.
Moz explains relevance, trustworthiness, and authority is important elements to help improve search rank. See below for a visual image of off-site SEO ranking factors.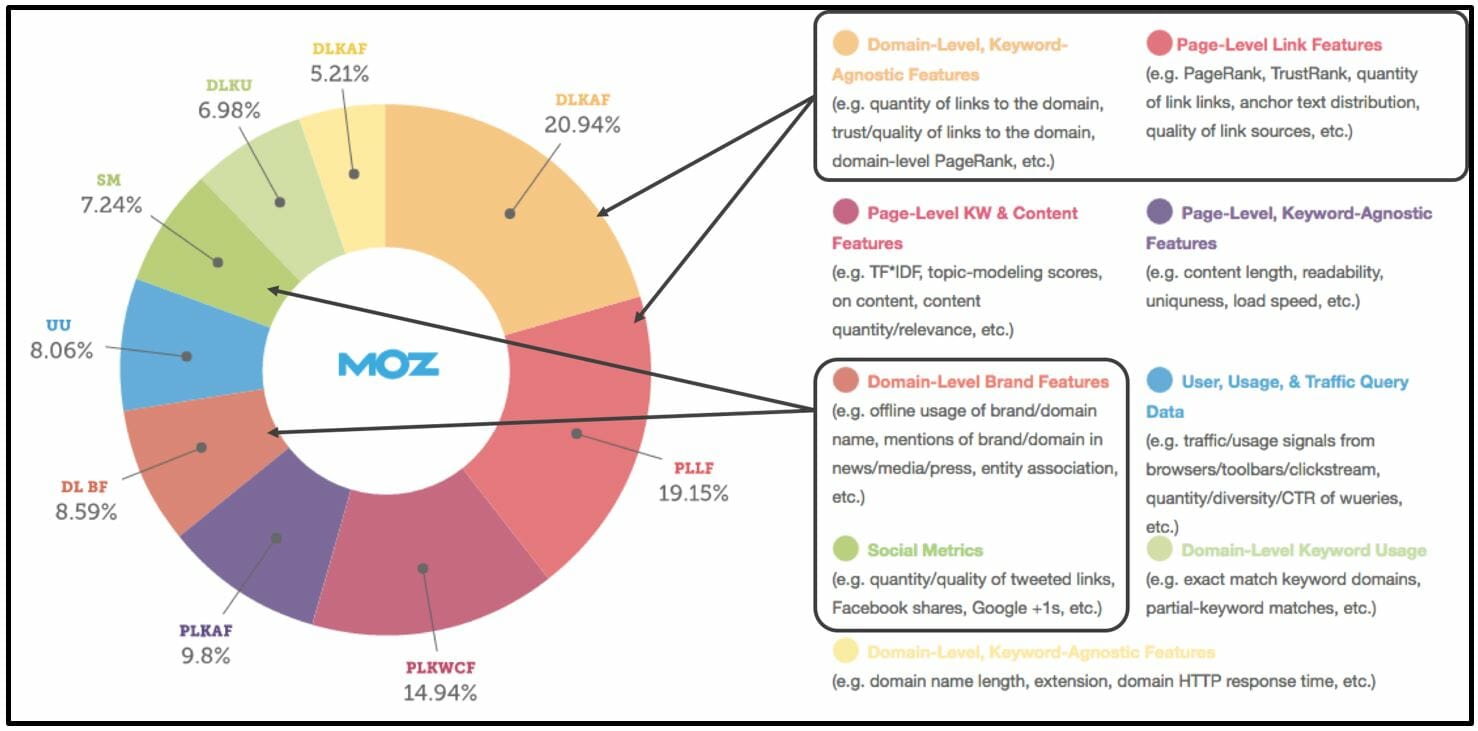 From the diagram, we can see the common off-site SEO techniques include:
Optimising Google My Business (GMB)
Creating citations
Link building
Let's start off with Google My Business.
Google My Business
Google My Business (GMB) is a free tool local businesses you can use to verify and submit basic details about their business, engage with potential and existing clients, and collect reviews to gain authority.
Google My Business listings show for local searches. For example, if someone types in Electrician Newcastle into Google, you will usually see a snack pack listing a number of businesses within the Newcastle region. A snackpack is what appears when you search for a service in your area.
Here's an example of a snackpack listing when searching, "electricians in newcastle".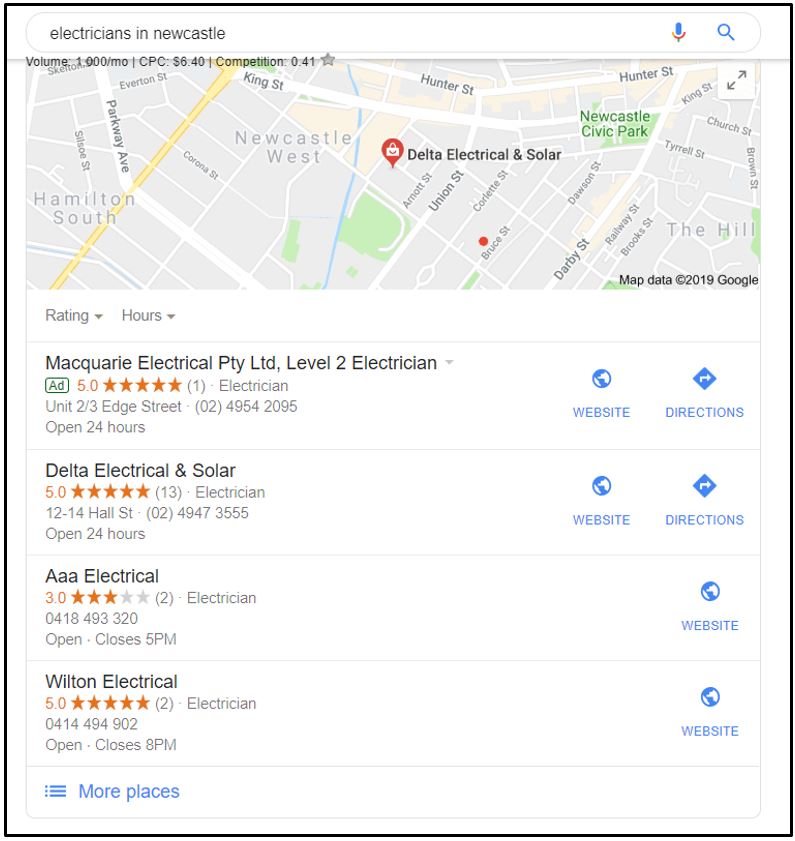 Optimise your Google My Business listing for local SEO by:
Ensuring the business name matches exactly what is on the website
Ensuring the phone number is consistent with the website
Selecting the most appropriate category as well as subcategories
Including opening hours
Creating a business description
Adding a business logo
Including photos of your workplace (if applicable)
Ask your customers to leave a Google review
P.S. there may come a time when someone leaves a bad customer review. Don't ignore it. Here are four rules to live by when responding to negative reviews.
Link building
Link building is super time-consuming. It can be quite overwhelming doing it on your own. However, putting in the hard yards to source valuable links can earn your local business serious cred.
In a previous article, we mentioned seven types of backlinks every business owner can get.
Here's the quick summary:
#1 Supplier and business contact links
#2 Competitor links
#3 Existing brand mentions
#4 Local and industry directories
#5 Links and resources pages
#6 Membership links
#7 Image links
One backlink strategy we will focus on is citation building (or submitting information to online directories)
Citations are mentions of your business across the web, including your brand name, address and phone number (NAP). This goes hand-in-hand with on-site signals including the presence of your NAP on your website.
We've mentioned the importance of NAP a few times already. Citation building is another way to help directories recognise your business details.
Start off with submitting listings to local or industry-relevant directories. Most directories are free to list on.
A major benefit of listing on directories is raising awareness.
Let's go back to our electrician.
Say someone needs an electrician but isn't sure who to call. The potential client hops online and looks up local directories. From this list, the potential client begins researching the electricians in the directory for more information on their reliability, Google reviews and contact details.
Moral of the story: if you're not listed on the same directories as your competitors then you're likely to miss out on potential new customers.
Social signals
Social signals (Google, Facebook, LinkedIn, Pinterest and Twitter engagement) are a way to help Google determine whether your business is talked about.
Social signals only contribute a small factor to rankings but the true value lies in being present where your customers are.
Moz outlines social signals have both a direct and indirect impact on SEO rankings. We've summarised the key ways social signals can help improve SEO rankings:
More traffic to your website: When people click the links in a social post, website traffic increases and therefore Google will recognise your popularity, quality and relevance
Increased positive reviews: Direct users to generate a positive Google My Business review
Increased inbound links: Improving the visibility of content across social media platforms won't improve social media rankings. But if people use the links you shared and put them on their own website then this will have an effect on SEO rankings
Let's go back to our electrician example. A presence on Twitter and Instagram isn't as relevant as being active on Google My Business postings and Facebook. When people search for electricians, they're most likely looking because they need one asap.
Optimise your local search rankings by using our eight tips
SEO takes careful planning, implementation and time to take full effect.
Taking the time to build an effective local business SEO framework will make it simpler for potential customers to find you on Google.
We've covered several ways to help you build an effective strategy to boost your local search rankings. Here's a refresher of what we covered.
Five on-site SEO local ranking tactics:
Optimise title tags
Optimise heading tags
Improve page speed
Use schema markup
Create in-depth content and location pages
And three off-site SEO recommendations:
Create a Google My Business account
Utilise Link building
Create a social presence
Struggling to find the time to improve your local search presence yourself? We get it. You have other things on your mind. Let our chimps help you. Contact us online for a free chat with one of our head Gorillas.