Turn the clock back with me.
It's exam time.
Huge, important, scary, life-changing, if-you-fail-you're-destined-for-eternal-homelessness type of exam.
Probably maths. Let's face face it. You're in marketing. The calculator keyboard button was invented for us.
It's the morning of the exam. You've been up until 5am the night before cramming, because, let's face it – you're in marketing.
At this point, you're tired, belligerent and only somewhat sane.
You will yourself out of bed, and force yourself to your study desk.
This happens…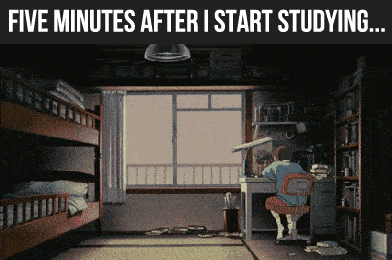 So – coffee.
Lots of coffee.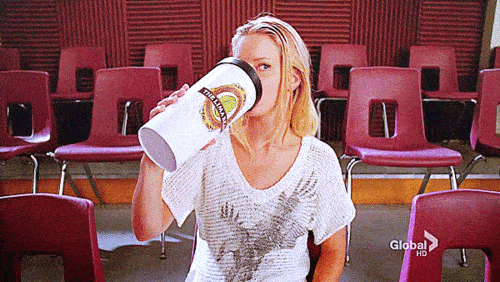 Ten minutes later…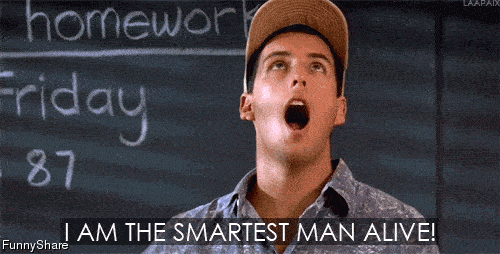 Then reality…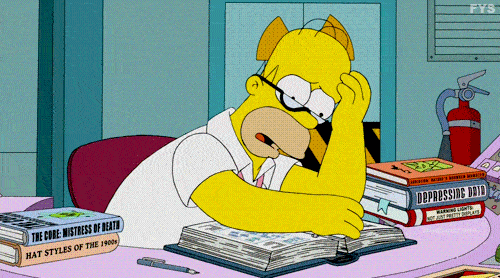 You feel like you know some stuff.
You also feel petrified that;
a) the stuff you know is not enough,
b) you just need a couple hours more cram-time and you'd be able to absolutely crush it,
c) you'll forget to take your calculator to the exam, and
d) you've obviously lost all sanity – even your thoughts have turned into multi-choice question format…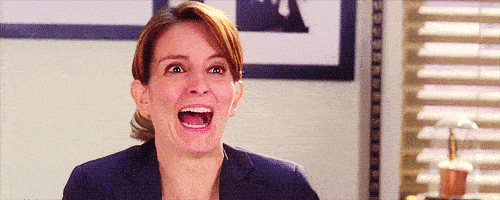 It's an e) all of the above.
At one hour to D-Day, it's time to leave the exam-free cocoon of your bedroom to travel to the exam-filled exam hall complete with it's exam, it's exam participants, the exam timekeepers, the surely-deliberately oversized exam clock, and the one would-be exam participant who just can't quite bear the stress levels, crumbling into a shrieking, tearful, can't-take-the-exam mess.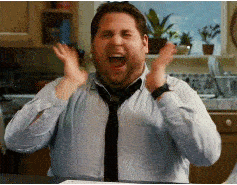 (You can tell by now that I loved maths exams and I was in no way neurotic. Or un-prepared for exams.)
Before you leave to face the impending self-implosion, you're busily knocking up a quick one page cheat sheet filled with feverishly scrawled, size 4 notes and formulas.
You know that one extra cramming hour is now more precious to you than an exotic Madagascan sapphire.
Imagine all the things you can learn and all the extra marks you can get from your dogged last minute preparation.
Your cheat will be there to soothe your angst right up until you hear the dreaded "Reading time starts now" death knell…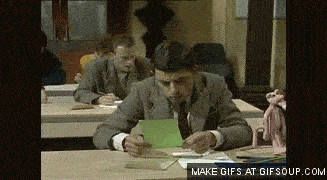 You know what happens next, right?
That inevitable, infuriating voice of pessimism stomping on your sudden surge of belief…
"If you haven't learnt it already, you won't learn it now.

There's no point doing any more.

You're only making yourself more stressed.

Just relax and do your best."
Dammit Mum/Dad/Girlfriend/Boyfriend/Girlfriend/Brother/Sister/Unsupportive-Inner-Monologue!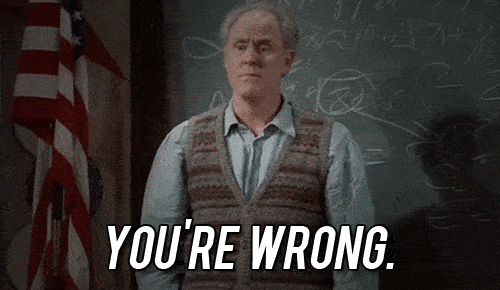 THERE'S ALWAYS MORE TIME.
Never ever ever ever ever give up.
(Winston Churchill said that. If I had stopped my last minute cramming for my history exam I would have no idea who said that. Hhmph!)
I don't care what the voice of reason says – there's always time before the finish line.
*Insert it's not over until cliché here*
Okay, back to current day marketing reality.
You can let that nostalgic stress go for now.
What I'm trying to say here is surprisingly inextricably linked to ecommerce marketing.
It's never too late to improve your customer experience. Never.
Sure, we're right in the guts of Christmas shopping mania. December ecommerce mayhem is here. You're proably clinging on for dear life, hoping your website doesn't break and hearing that pessimistic voice of reason:
"There's nothing more I can do now. Just sit back and hope for the best"
Lies! Loser Talk!
Winston would be ashamed of you.
There's still time to make your website visitor's Christmas shopping dreams come true
I've prepared your little ecommerce Christmas marketing cheat sheet for you.
I'm going to show you 7 things you can do within a day or two to improve your online shopping experience, make the most of your Christmas traffic explosion and silence that last-minute pessimist for good.
#1. Add A Last Minute Shipping Option
Many unorganised (read: male) gift givers leave the whole Christmas present thing to the very last minute. Make their lives easier! You can turn these frantic customers into lifetime customers if you help them through a tight spot.
Something as simple as a 'last minute shipping' option could keep the Christmas miracle alive.
Find the latest possible time you can ship (no matter the price), and offer this as an option leading up to the big day.
Promote your Christmas delivery lifesaver through your social and email channels – you might even want to create a Google ad campaign around your offer.
You don't need to be too concerned about an exorbitant cost, these customers will be desperate. They'll be thankful to you even if your courier takes them for a small mortgage.
Create a delivery options landing page for customers who want more specific information. You can't afford to miss out on a sale because of shipping date anxiety.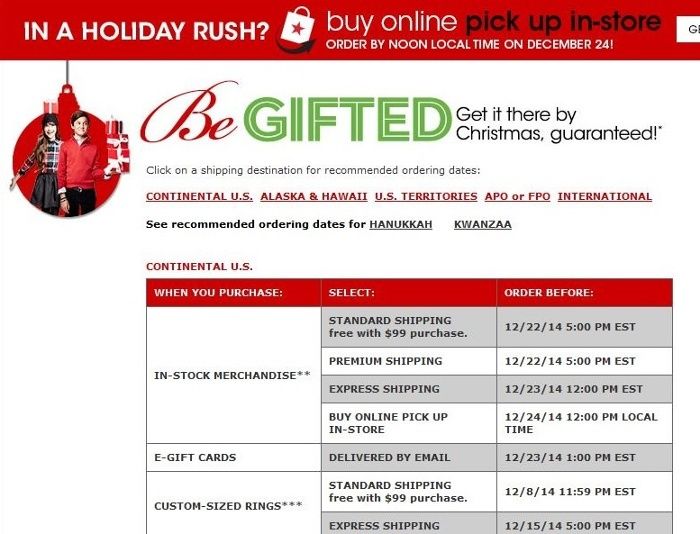 You also don't want to find yourself in a situation where customers buy after your Christmas delivery deadline expecting to receive their gifts before the big day. Make things as clear as possible.
David Jones have developed a brilliant delivery options landing page for this Christmas season. It's not too late to create your own and ease the mind of your potential buyers when they are tossing up a last minute purchase.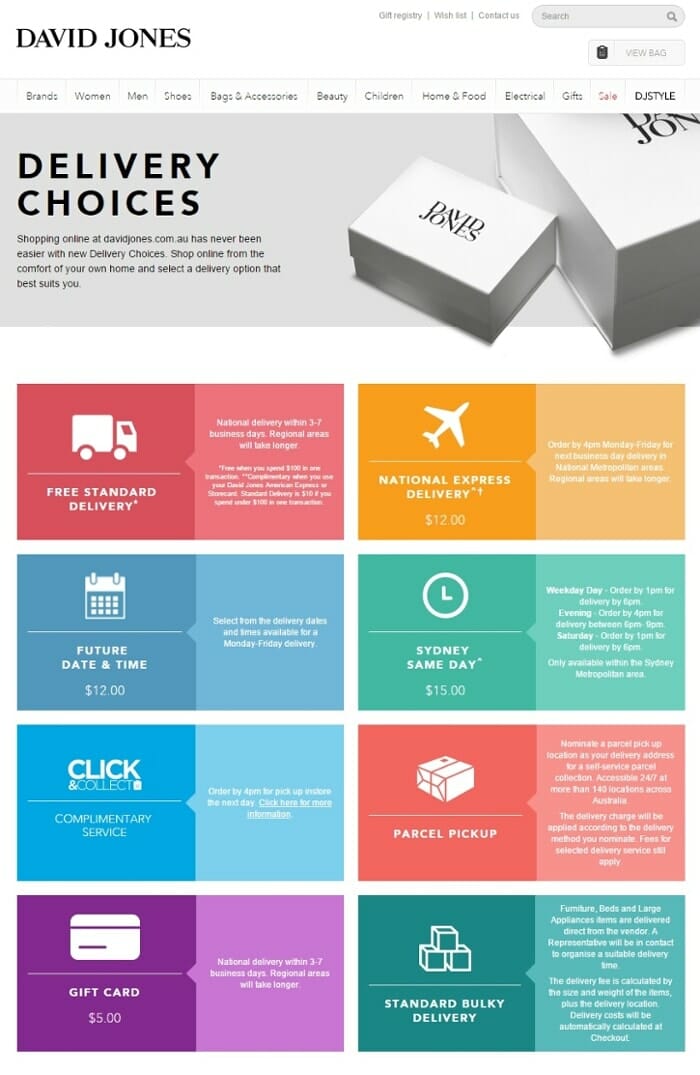 #2. Create Urgency To Turn Browsers Into Buyers
Christmas brings with it the tyre kickers and perennial browsers in unrivalled volume. For online shoppers, gifts are a difficult decision. When you're not buying for yourself, you want to have a good look around.
So how do we make sure we convert as many of these maybe-I-will browsers into buyers before Saint Nick arrives in earnest?
Give em' a deadline! The indecisive gift-buying folks are the same ones up until 4am cramming for an exam the next morning. Create urgency triggers that spark your potential customers into immediate action.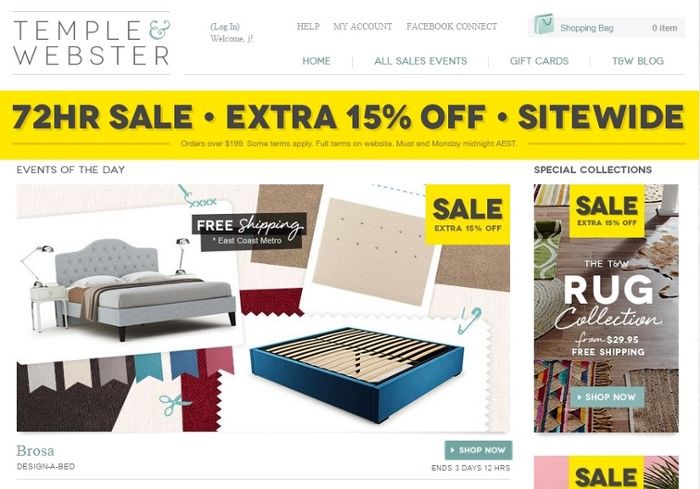 Temple and Webster use this technique throughout the year for their subscribing members. Just appropriate the idea for Christmas time with some festive design flourishes.
Make your pre-Christmas delivery deadlines clear, but don't just leave you customers with one cut-off date.
Offer a tiered pricing system to reward earlier purchases at a number of cut-off points. These short 2 or 3 day periods will help force the click of those umm-ers and ahh-ers.
Include inventory level labels on product and category pages. AS Colour use this urgency trigger to help give their customers a little nudge along.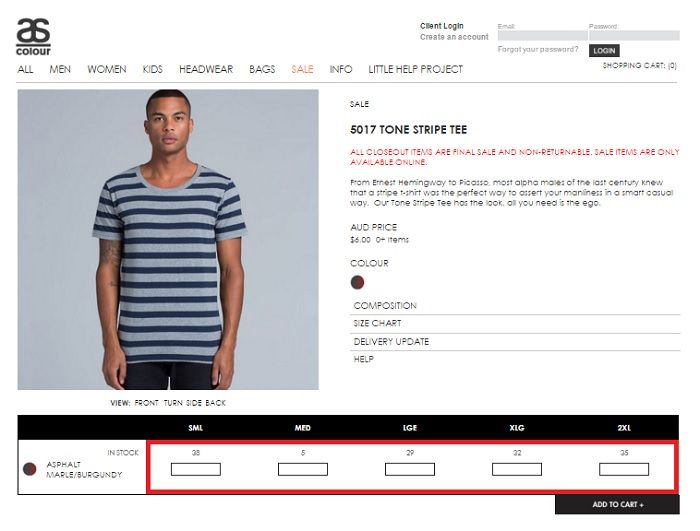 Instead of an automated countdown to zero – offer a bunch of different updates to create a sense of urgency.
"Running low", "Last chance" and "Selling fast" help to draw out those uncertain conversions – even if you're not down to your last 3 items.
Even better, create a series of special pre-Christmas flash sales with a one hour count-down each day.
Keeping these deals reserved for your previous customers, subscribers, or social media followers is a nice reward for their loyalty. Even better for you, this concept creates a feel of exclusivity and nurtures that long term relationship.
#3. Christmas Delivery D-Day Countdown
Keep your Christmas delivery details clear and prominent.
Shipping times can be the make or break for your Christmas ecommerce conversion.
Give your customers as many options as possible, and offer key information on all product and category pages.
Consider adding little breakout box with a deadline date to your homepage too (a countdown to D-Day will help your customers, and increase urgency for purchase).
Best not to stop there – finish the helpfulness job by offering a simple explanation of the returns process to allay any gift-giving fears.
This little visual from The Apple Store does the trick. Create clear calls-to-action for key delivery dates on any pages where this info doesn't quite fit.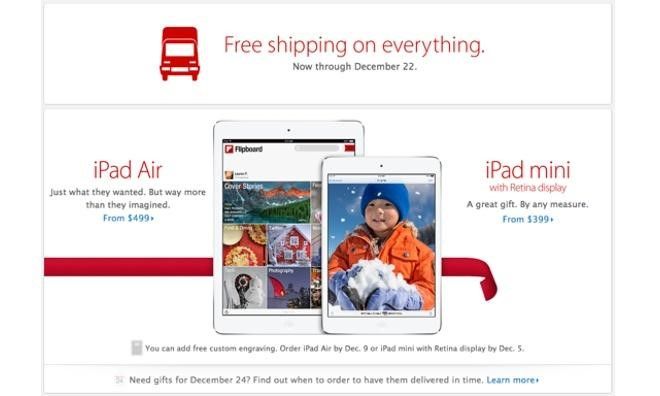 #4. Make The Extra Gift Wrapping Effort
Of course your Christmas customers would like their friends and family's presents ready to place under the tree! Give your buyers the gift of avoiding the banal time suck of gift wrapping and add a little extra helpfulness to your brand's offering.
Introduce a tick box on your checkout process to offer complimentary gift wrapping (or even an option to pay an extra fee if the cost is too much for you to bear).
The Perfume Shop do this whole gift wrapping thing right.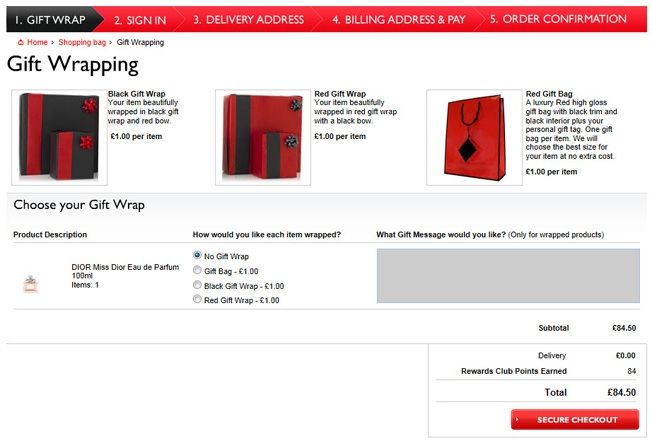 A couple of easy-to-tick options to add on to your order. Simple. Done.
#5. Include Special Giftee Receipts And Returns Info
Why not prepare a special Christmas version of your customer receipts?
Include instructions for a gift recipient to successfully return or exchange their gift. Add a special reply-paid package to make life even easier for the giftee.
If you make the extra effort to keep this process seamless, your customers can see that you care.
There's a good chance you'll turn a one-time buyer into a loyal brand fan.
Disney make gift giving easy for their customers and their logistics department. A simple tick-box at checkout time triggers an automated process.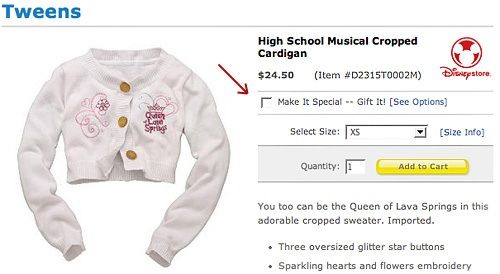 You can develop this functionality for yourself, including gift wrapping, a gift receipt, a separate billing receipt for the buyer, and returns instructions for the recipient.
#6. Don't Let Your Retargeting Ruin Christmas
Sure, retargeting can be a really handy tool for an online retailer. Some will argue that retargeting ads can actually help your customers, who may have otherwise forgotten about the gift they had been considering.
Regardless, retargeting can be an absolute Santa sabotage.
Put yourself in the position of your average Christmas period customer.
There's a good chance your buyer will be using a shared family desktop computer to browse and buy Christmas gifts for their loved ones. These same loved ones are probably using that same machine almost every day. Suddenly, your retargeting ads are at risk of ruining the Christmas surprise.
Maybe Mum had been browsing Bunnings for a brand spanking new BBQ to make Dad's day on Dec 25. A day or two later when Dad logs on, all he can see is barbecue ads. Worse, he might even see an abandoned cart reminder, asking him to continue the order.
Sometimes customer friendliness needs to come before ruthless selling. If you're going to use retargeting ads in the Christmas period, keep them general and brand focused. You'll still deliver the reminder to the browsing user, and you won't spoil a surprise for unsuspecting gift recipients.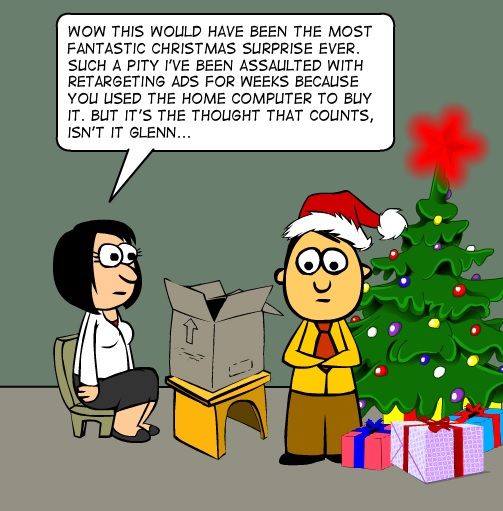 Poor Glenn. He doesn't deserve that. Next time you think about using retargeting ads at Christmas time, spare a thought for old Glenn. Then invest in something more customer friendly.
One really simple solution could insure most of your customer experience risk with retargeting blunders; make your campaigns mobile-only.
Chances are, even the closest of friends or family don't share personal mobile devices, so retargeting ads probably won't ruin any surprises.
#7. Take Customer Service To The Next Level
Go above and beyond your regular levels of customer service during the silly season.
Sure, you should be red-lining at the highest possible benchmark all throughout the year, but unfortunately your customers' anxiety levels don't stay at a constant level of calm. Christmas issues become catastrophes very quickly. Tensions and emotions flare redder than Rudolph's nose at the drop of a Santa hat.
Have yourself a crisis plan for orders that go awry, or the expectations that somehow can't be met.
Try to enable around-the-clock troubleshooting contingencies, and nip problems in the bud swiftly. If it all gets away from you, offer a hamper of forgiveness to keep your customers spirits festive. Or a hand written Christmas card…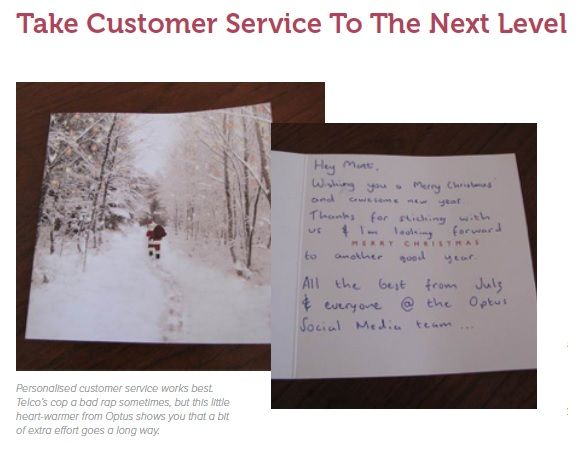 We've got a little bonus for you before you get stuck into improving your online store's customer experience…
It's one last, final, unforgettable, best ever, surprise Christmas advice-gift for your ecommerce marketing.
Whatever you do, think customer first, sales second.
This whole ecommerce growth thing – it's about attracting, converting and retaining. It's not about who can get the most one-time purchases.
Develop as much helpful, valuable content as possible. Sign up as many subscribers as you can. Create the best possible Christmas shopping experience for your visitors.
Remember, you want to make a great first impression on all of these people you plan to turn into lifetime customers.
Don't forget to unwrap your last 4 ecommerce Christmas gifts
We gorillas are the sharing type, and Christmas is the time of giving.
So we didn't Scrooge out on you with one lonesome present. There's four other articles full of online retail helpfulness left for you to unwrap.
If you missed them earlier, here's a recap.
Gift 1 – Online Store Technology Ideas
We help you prepare your site for the impending stampede of virtual traffic during the oncoming online shopping silly season. These changes might take a little more time than the rest, so we've got them ready to go for you right now!
Gift 2 – Promotional Ideas
Instead of the same old annoying promotional barrages, we show you how to develop customer-friendly content your subscribers actually want to receive. The goal for this type of promotion is a little bit different – dollars, sales and conversion rates are important – but real loyalty happens when your customers start thanking you for your marketing.
Gift 3 – Design
As the bricks and mortar retailers are busy rigging up the lights, decking the halls and Santa-pimping their shopfront window displays, we teach you how to add a few design flourishes to take your online Christmas shopping experience to the next level.
Gift 4 – Content Marketing
Christmas is the biggest, busiest, most important time of the year. You can't afford to narrow your focus to your customer's wallet. November-December gives you an annual chance to start a lifetime relationship with a whole stack of new visitors. We explain how to develop valuable content and turn your Christmas shoppers into loyal repeat customers.
After opening these 5 gifts of online retail marketing helpfulness, there's only one thing left for you to do…
Get into the Christmas spirit and show your customers how much you care.
We hope Santa comes to your ecommerce team this year.
If not, throw that lump of coal away and know that we gorillas will be there in the new year to continue sending learning gifts your way.