Imagine if you could create marketing your customers actually looked forward to receiving.
Just think for a minute how great it would be for your subscribers to look forward to your email marketing.
If this seems like a distant dream – you're doing it wrong.
You need to put down the promotional megaphone and step away from the sales soap box. Start thinking about improving your customer's shopping expe
rience instead of just increasing their cart size.
Christmas is your one annual opportunity to meet a huge stampede of new customers. Instead of trying to maximise your sales – you should have a laser focus on turning these new visitors into loyal subscribers.
A little bit of customer friendliness now could be the difference between a one-off Christmas sale and a lifetime repeat customer.
Our Ecommerce Marketing Gifts Series
This Christmas, we gorillas want to give you and your team the gift of ecommerce marketing knowledge.
It's a collection of practical marketing ideas you can use to help you attract, convert and retain as many of your Christmas shoppers as possible.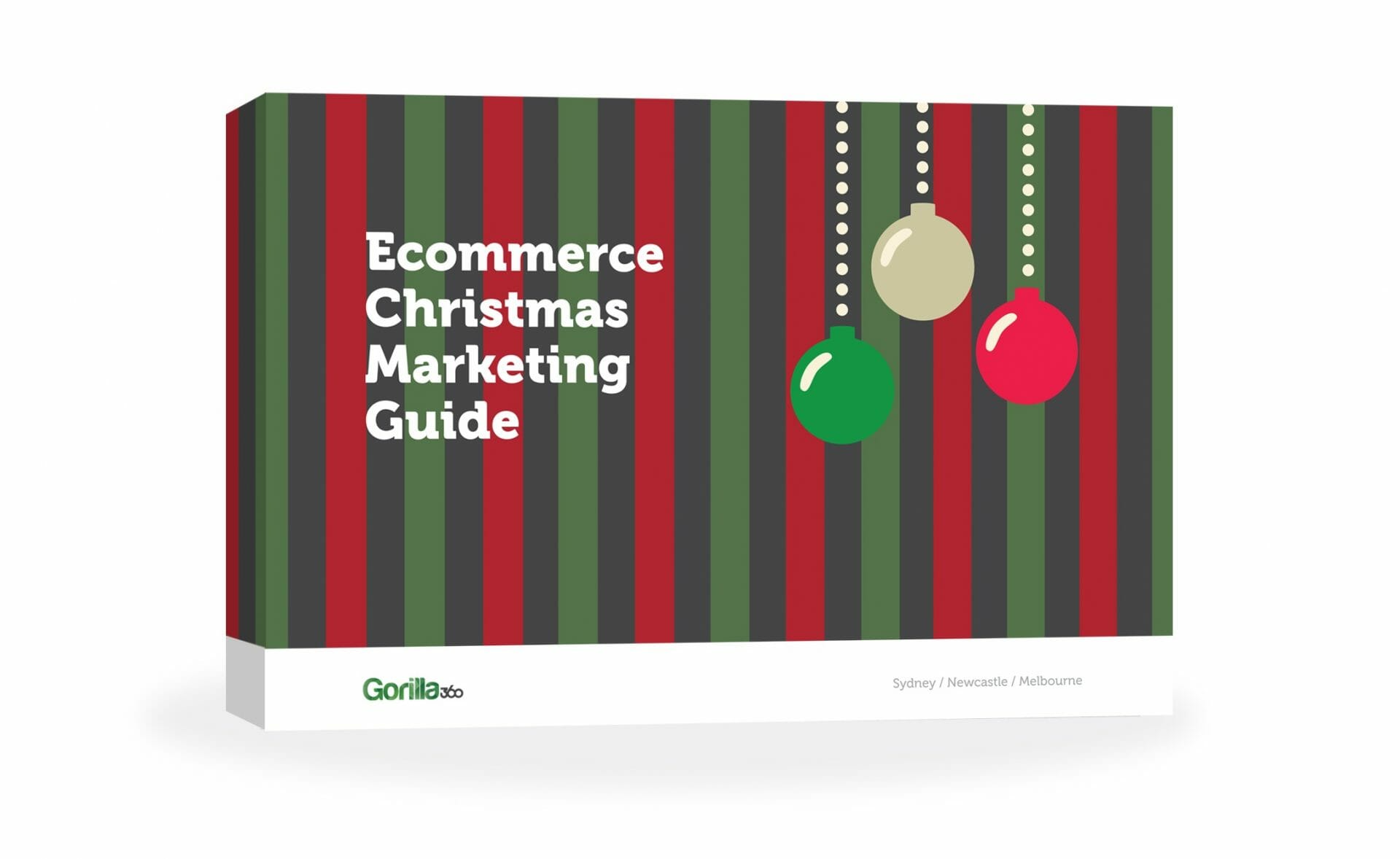 While you're at it, make sure you subscribe to our Weekly Jungle Insider newsletter to make sure any future ecommerce marketing gifts arrive on your inbox doorstep.
Your 5 weeks of Christmas gifts
We weren't just going to leave you one lonely present under the ecommerce knowledge tree!
Here's four more packages of online retail marketing wisdom for you to unwrap and enjoy:
Gift 2 – Online Store Technology (if you missed, it catch up now)
Gift 3 – Design (if you missed it, catch up now)
Gift 4 – Content Marketing (if you missed it, catch up now)
Gift 5 – Customer Experience (if you missed it, catch up now)
Now the formalities are out of the way, let's unwrap your promotional tactics gift and show you six ways to create marketing your customers actually want.
And for those who love a cheat sheet, you must have been very good this year:

For those of you who love the detail, let's dive in…
#1. Create Product Gift Bundles
Everyone's favourite Secret Santa gift? Surely it has to be the hamper. A delicious treasure trove of festive treats all wrapped up into one nice, neat package.
Where's your site's Christmas hamper?
Whatever you sell, whatever products or services you have available – maxi pack them. Create a special Christmas bundle offering to give your gifting customers an easy choice.
If you're a fashion retailer, you've got it easy. Create a themed outfit pack. Saturday races, work-to-play, beach holiday or casual workout bundles can turn a one item purchase into a revenue bonanza.
One of our favourite online retailers, Huckberry, understand the value of customer helpfulness. Their content marketing program is truly first in class, allowing them to develop strong relationships with loyal, repeat customers.
This year, they've latched on to this personalised gift-giving guide concept.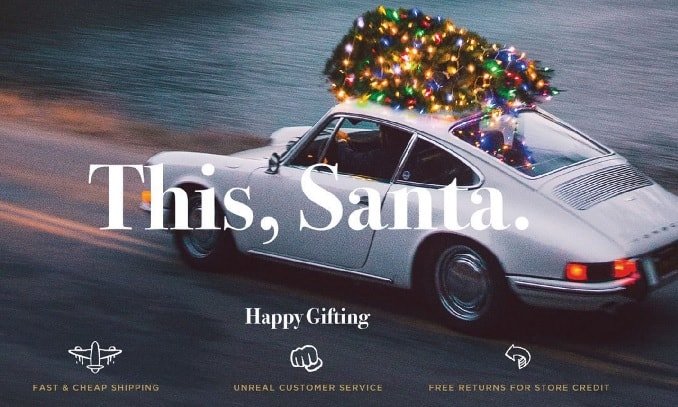 Other industries can get just as creative.
Travel e-retailer? You guys get bundling. Partner up with a restaurant, a hotel, and an events manager and create a weekend package.
Alcohol online store? Develop a special Christmas subscription gift pack – six new craft beers delivered to the recipient's door each month.
Office goods provider? Create a colour themed stationary hamper! Offer this as a Secret Santa special.
The options are endless. Just turn your products into Christmas gifts.
Can you prepare a Christmas subscription gift pack?
This concept will help you increase your average order size and frequency. It's a masterful repeat customer generator. And it's a supremely easy gift for your customer to buy.
Beer Days show you how it's done. Their product page checkout is something to behold.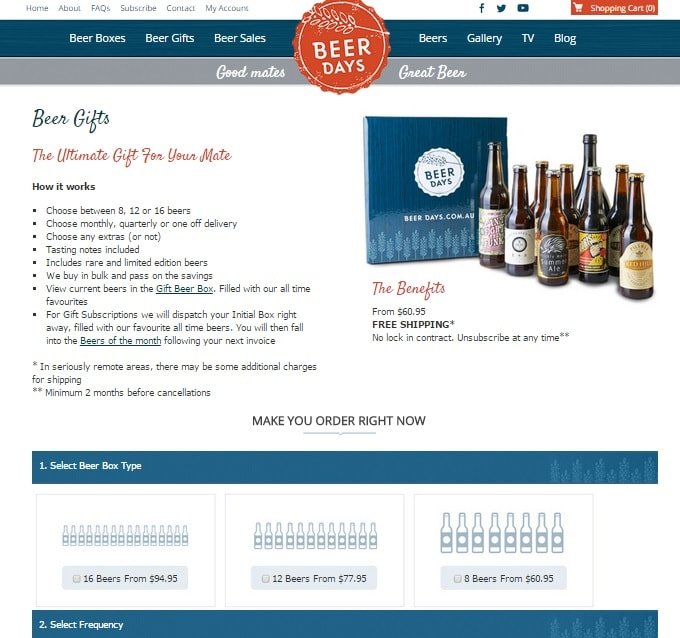 Think customer first, and create that special experience for your visitors and their gift recipients.
#2. Christmas Gifts Product Landing Page
November, December means more new traffic to your online store.
A sizable chunk of these visitors will be shoppers looking for gifts. If you can create an experience designed specifically for their needs and wants, you'll pump up your conversion rates and delight your new customers.
A specific gift ideas landing page is all you need to make these gift-giver's shopping experience a whole lot easier. For such a small amount of effort and cost, you can achieve a significant return.
Separate out the page into different bunches of curated products collected under specific gift-recipient types. Use historical purchase data to determine the type of stuff that typical customer types would want. If you're a menswear e-retailer – it's an easy exercise. Split your gift idea sections into "Outdoorsy", "Preppy", "Executive", "Surfer", "Sporty", "Muso" etc.
You're gift shop job's not done just yet. Consider setting up a Daily Christmas Surprise landing page. You can offer a new 1 hour flash sale each day leading up to your Dec 24 delivery deadline. You don't need to have a whole slew of products on offer each day. Just one will do the trick.
Promote this landing page through your social channels and email subscription list, and you'll create a real reason for your audience to return to your site each day. The flash sale concept also creates a sense of urgency, prompting indecisive browsers to pull the trigger.
Macy's is American retail's version of that super friendly, slightly nutty family that always hosts the neighbourhood Christmas party. They just do everything right.
It's no surprise Macy's online store has one of the most customer-friendly festive browsing experiences you will find.
Innovative Ecommerce fashion retailer Gilt, are mastering of the gift giving experience.
This Christmas, they're keeping it nice and simple, offering their customers a couple of gift shops based on a simple price range filter preference with clear visual calls-to-action.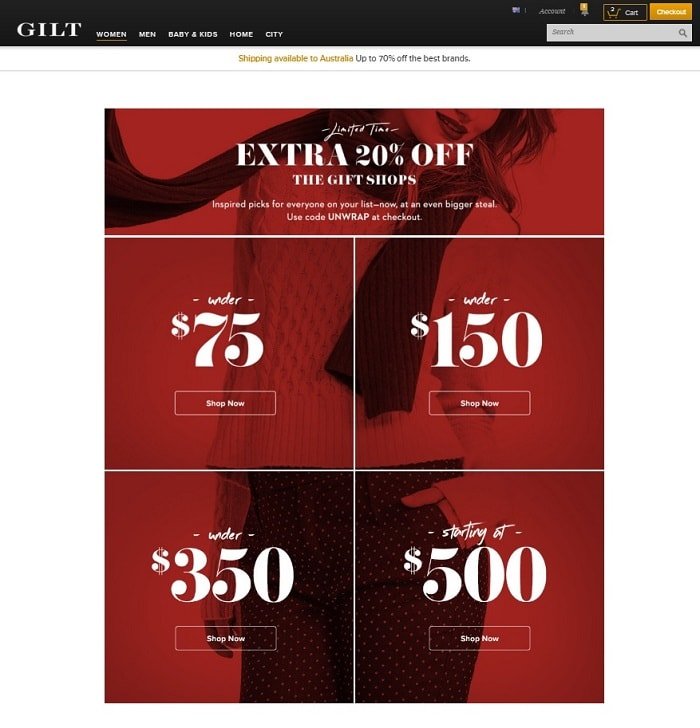 We reckon you can do better though.
Enter another Gorilla favourite – the homeware specialists, Temple & Webster.
These guys have taken the online Christmas gift shop to the next level. Even the big jolly red man himself would be more than impressed.
Yes – they've got your regular online Christmas gift shop. But that's just table stakes for T&W.
There's five different tabs of festive interior design helpfulness, infusing relevant Christmas themed product promotions with educational blog articles.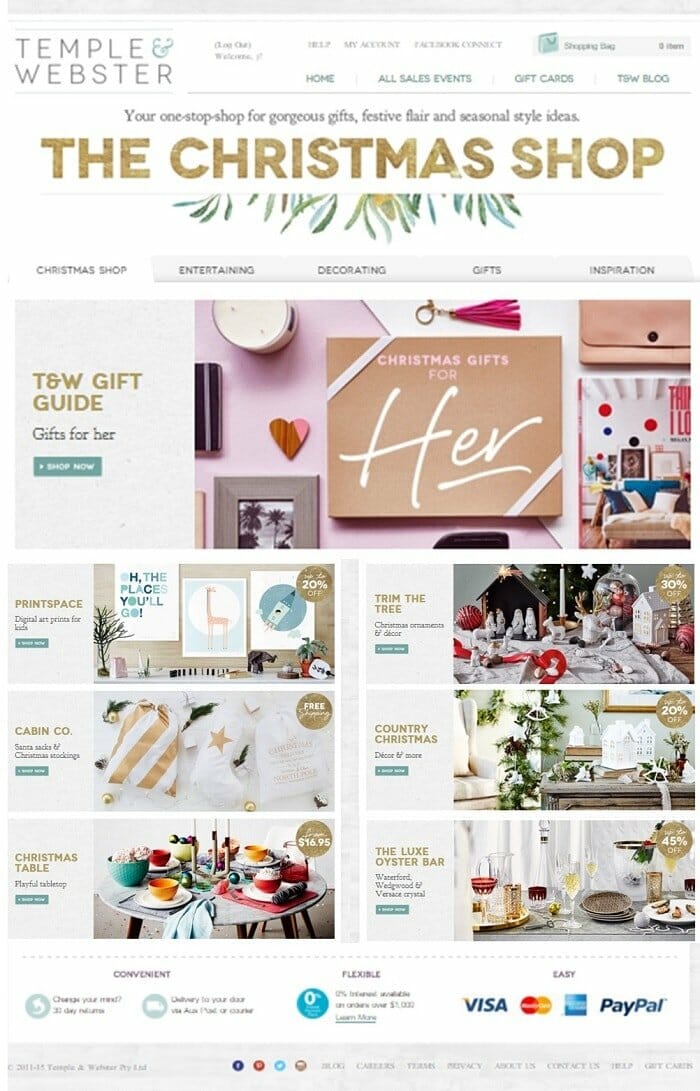 This is more Christmas-research-destination than online store. Of course interior design enthusiasts are going to absolutely love this content.
Even if visitors aren't prepared to buy, they'll be more than happy to receive email updates with more helpful decorative ideas and inspiration.
Temple and Webster have found a way to use their spike in Christmas traffic to establish long term relationships with a whole stack of potential customers. The sale might not come straight away, but T&W has earned some value credits from their subscriber with their content.
With future content sends via email, further trust is established and loyalty is developed. Temple & Webster become the go-to resource for interior design, and as a result, any future purchase will almost certainly be made on their platform.
This stuff doesn't require millions of dollars or hundreds of tech staff. It's just a customer-focused curation of relevant information presented in an easy-to-use library style format.
Create you own online gifting research resource this Christmas.
Your customers will thank you for it.
#3. Click Frenzy and Cyber Monday
If you're looking to increase sales over the Christmas period, Click Frenzy is an easy win.
Discounting comes with it's strategic dangers, so you might have to sacrifice some margin – but you'll gain a huge chunk of new customers. If you nurture these folks into repeat customers post purchase, you'll make up for the little margin dip.
If you're not familiar, Click Frenzy is an Australia wide agreement between a whole bunch of online retailers to offer wild 24 hour sales deals in an attempt to incite a single-day online shopping firestorm. The attempt works.
It's kinda like ecommerce's answer to the Boxing Day sales, except your customers don't have to park, queue, or elbow people away from the last size-12 left.
On the second last Tuesday in November, the online shopping gates swing open, and gleeful Christmas shopping bargain hunters thrust their credit cards at participating retailers.
If you're not part of the madness, you're missing a huge chance to meet some new customers.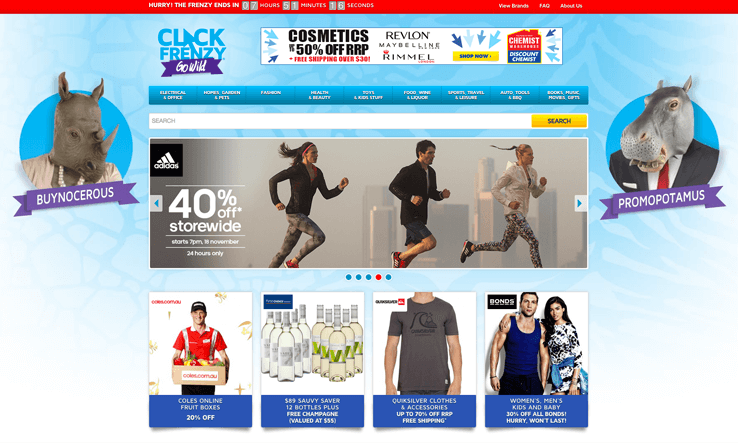 Check out the Click Frenzy website, and consider whether your online store needs to get on board.
(This concept is the Australian version of the wildly successful US ecommerce innovation that brought us Black Friday and Cyber Monday. If you ship to The US, you'll want to consider joining in the crowd here as well.
You'll have to be swift though. Black Friday is fast approaching on November 27, and Cyber Monday is the following Monday the 30th.
You can see how American retailer, J.C.Penney are drumming up excitement for the big day with this teaser of their Black Friday deal.)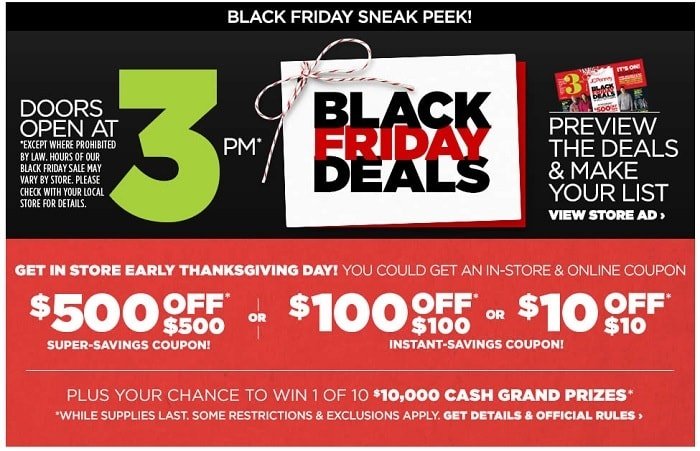 #4. Have A Christmas Party Social
For most online retailers, social media is a place to develop your relationships with potential and current customers.
It's a place to have fun, and a place to help out.
It makes sense that in December, you can ramp up the fun times, and the helpfulness with some extra special Christmas cheer. If your social media goal is to develop and nurture relationships, use the end of year period to show your followers what Christmas means to your brand.
Visuals and – if possible – videos are a must. The sights and sounds of the most wonderful time of the year are perfect for social media.
Chronicle your team's preparation for the silly season. Share the story behind the scenes of the logistics and processes involved in delivering your customer's gifts. Consider contests, and giveaways to generate some Chrissy goodwill. Encourage your customers to get involved and share holiday ideas, recipes, happy snaps, wish lists and more.
Asos are the reigning premiers of Christmas Ecommerce social media. The global fashion giants took things to the next level in 2014, creating a new @ASOS_advent twitter handle for an inspired Christmas contest.
The account posted a new photo every day until Dec 24, offering fans the chance to win a new prize daily. In a stroke of user generated content genius, Asos followers had to post a picture of their own and tag it using the hashtag #instadvent for the chance to win the prize of the day.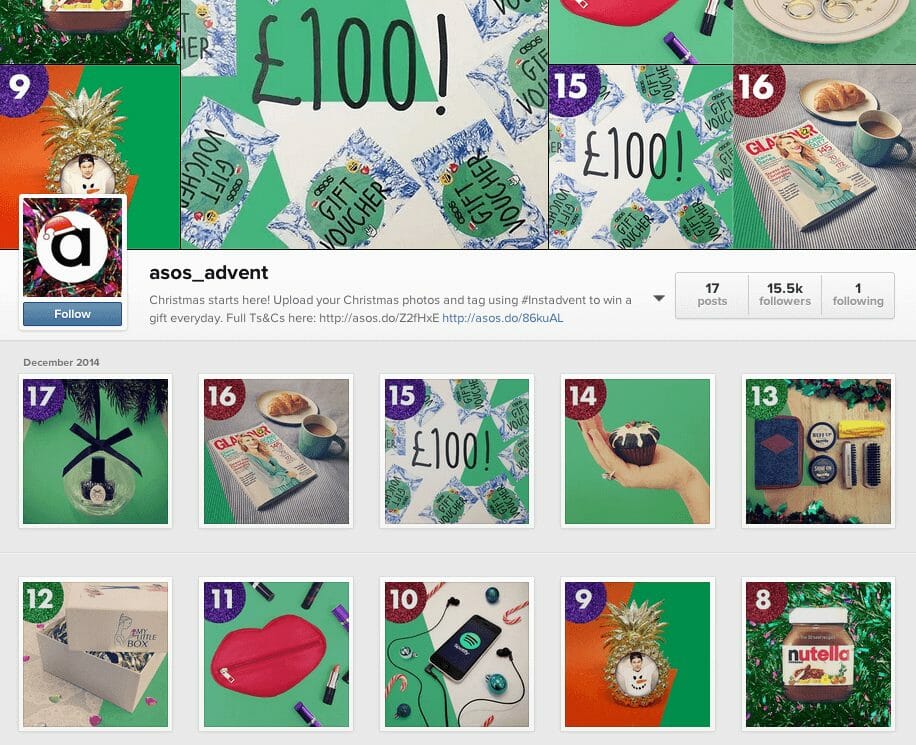 The lesson here is simple.
Don't just use your profiles to shout about your sales and deals.
Develop your brand's connection to your customers. Christmas time is about giving – not trying to make everyone buy your stuff.
If you need some more detailed inspiration to help you turn your online store's social following into repeat customers, we've put together four detailed guides full of top notch brand examples from the best in the ecommerce marketing business.
(Oh, and make sure you light up your social media profile pages with special season cheer. A couple of extra design flourishes will put a smile on your followers' faces.)
#5. Create Christmas PPC Ad Campaigns
If you're using pay per click Google advertising, you need to make the extra effort to create a Christmas-specific program.
It may sound like a no-brainer, but so many retailers forget – missing out on a bunch of profitable Christmas time keyphrases. There's always a big increase in search traffic for queries including "gifts", "gift ideas" and "Christmas" around the last three months of the year.
Try targeting these variations with your product campaigns – there's a big chance that bids on these terms will be cheaper, and you'll be a good shot at increasing your quality score while you're at it.
Give your conversion rate an extra kick with some Christmas-specific copy. Add in terms like 'Christmas Offers' and 'Christmas Special' and finish with specific calls-to-action like 'free Xmas delivery for all orders before Dec 15' and 'gift wrapping for all purchases'.
You should also consider Product Listing Ads (PLA's) if you haven't already. Visuals are a great idea at Christmas time – gift givers love to image browse.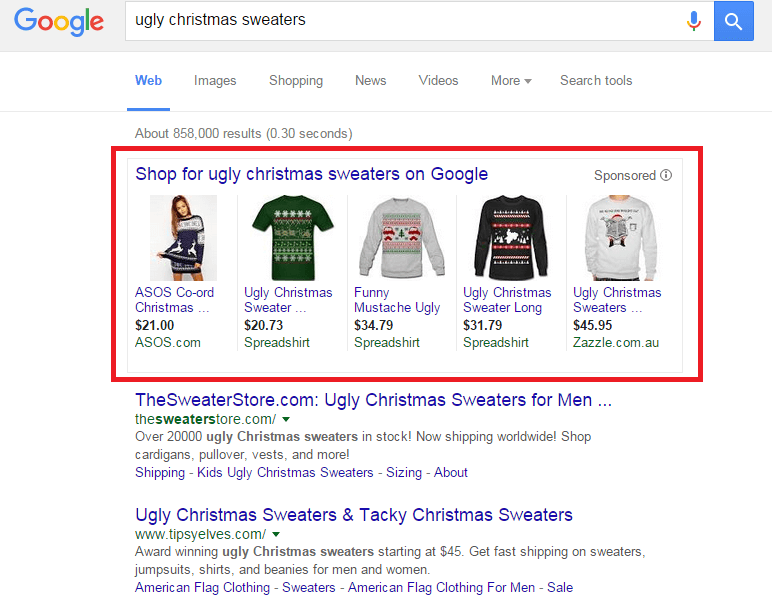 #6. Your Brand's 12 Days Of Christmas
Use this classic Christmas concept to develop a marketing campaign for your brand over the first 12 days of December. Offer your email subscribers a different special deal, and a helpful piece of content for 12 days straight.
This series will have your potential customers coming back each day for more. If your reader knows you have a new surprise for them every day -they are much more likely to open your emails.
You might want to complement your 12 days of Christmas campaign with a dedicated landing page to alert any website visitors to your plan.
This will create excitement and urgency amongst all of your visitors, enticing more email subscriptions from those wanting to get access to the deals.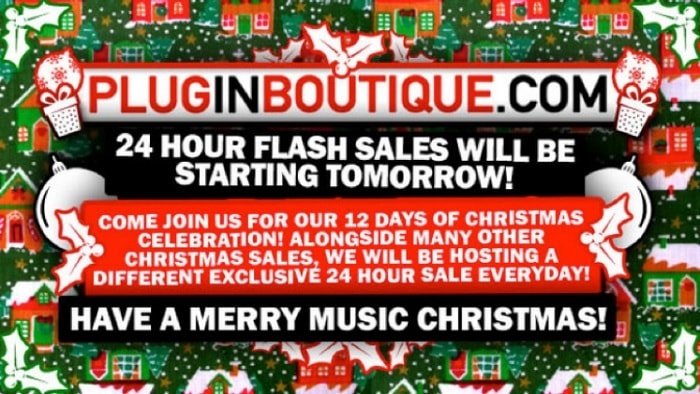 Try to tell a story with your content. Send genuinely interesting, educational, entertaining or informative content to complement any offer, deal or sale.
One of our favourite niche ecommerce retailers, Goulet Pens, know exactly how to develop customer-friendly marketing. Their creative take on the 12 Days of Christmas concept shows how much the brand cares for their subscribers.
The message from Founder Brian Goulet to readers explaining the Christmas clip shows just how passionate he and his team are about the brand and their fans;
"The Goulet Pen Company's purpose is to "Prove that business can be personal". This video brought together our personal talents in a way that allowed us to showcase some of what we're about here as a company. It was really great to take some time to do this as a unifying team-building activity, and have a video we think will be really amusing for you.
We wish you a Merry Christmas, Happy Holidays, and we hope that you enjoy watching this video as much as we did making it (though I doubt that is possible!)."
Have a bit of fun for your fans this Christmas time and show the human side of your brand. If you can spark up some positive emotions from your subscribers, you put another trust brick in the loyalty wall.
Don't just shout at your subscriber's inbox about your stuff – try to offer some value with your content. Christmas is a time of giving, not continually asking for your friend's money…
Next in your Ecommerce Christmas Gift Series – Design
Get excited about the next gift of online retail helpfulness in our five edition series. We've got a neat collection of design ideas to help you turn your online shopping experience into a must-see Christmas destination.
Don't leave the Christmas extravaganzas to the bricks and mortar stores.
We'll show you a few simple ways to pimp out your ecommerce store to give your customers those Christmas warm and fuzzies. You can read up and learn right now;
Ecommerce Marketing Christmas Gift – Design
And remember to subscribe to our weekly email updates to make sure you don't miss out on any more gifts of ecommerce marketing wisdom.
In the meantime, start working on the type of marketing your customers will thank you for!